The Inside Scoop on Scoop Shop
Wednesday, 27 June 2018 17:34
Last Updated: Wednesday, 27 June 2018 19:01
Published: Wednesday, 27 June 2018 17:34
Natalie Isak
Hits: 3984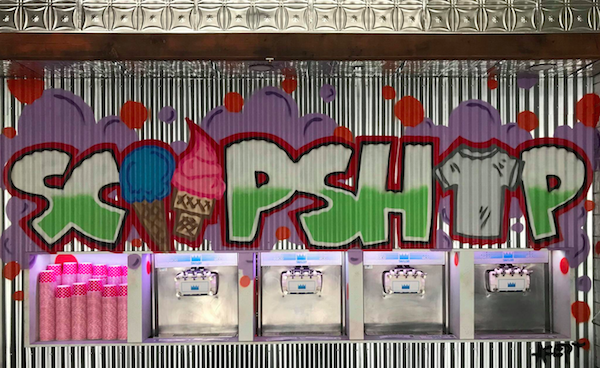 After over twenty years, Jon Deutsch – the previous owner of Last Licks – is back in Scarsdale with even more exciting plans than before.
In 1997, Deutsch opened an ice cream shop called "The Scoop Shop" in the Golden Horseshoe. After three years, Deutsch partnered with Steiner Sports and renamed the shop "Last Licks." The ice cream shop was often an iconic destination for sports teams after winning a game. Last Licks sold sports memorabilia and occasionally invited sports stars to sign autographs for customers.
In 2006, Deutsch split up with his business partner and left the shop. Last Licks eventually closed a few years later and was bought by Brian Levy, who opened All Good Things.
In the interim period between 2006 and the opening of Scoop Shop at the Golden Horseshoe this May, Deutsch was working in the customized apparel business. He opened up his own company, School House Tees, and sold a variety of customizable products such as shirts, water bottles, and magnets.
Now back in the ice cream business, Deutsch is planning on tweaking his previous business plan based on his new experiences. Coming soon, Deutsch will be selling customizable T-shirts, sweatshirts, and other merchandise at Scoop Shop. There will be a heat press in the back of the shop so people can design and receive their products within minutes. "You come in, you pick a shirt, and we'll have a book with all the different designs... Then I have printers so you can customize it any way you want. You want to put your name on it, you want to put your school name, your camp name, your college – you name it, I can put anything on it." Deutsch eventually hopes to expand and sell bar mitzvah gifts, party favors, and other larger projects.
Deutsch sees two major benefits from adding customizable merchandise. First, being able to create an individualized product adds to the experience of going for ice cream. "You're not going to come in here and buy a shirt off the rack. A kid is going to come in here and really create something on his own…it's an experience."
Second, Deutsch explained that – unsurprisingly – business dwindles during the fall and winter, so selling other products will help keep Scoop Shop popular year-round.
Another difference from previous ice cream shops in this location is the addition of self-serve frozen yogurt, which has already proved to be extremely popular among customers. However, Deutsch doesn't expect to face any competition from other local frozen yogurt places due to Scoop Shop's offering of ice cream and candy in addition to the yogurt. "I was thinking about not having the ice cream, but everybody I spoke to liked having the two options. They liked having regular ice cream sometimes, or let's say the wife and kids like to have the yogurt but the husband likes the ice cream – it's just more options."
Another change is that Scoop Shop now sells 16 different flavors of A La Mode ice cream, which is egg, sesame, and nut-free. In addition, Deutsch plans to allow kids to come up with their own flavors over the summer.
But perhaps Scoop Shops' greatest source of potential for success is Deutsch's passion. He met his wife in Last Licks almost twenty years ago and still feels close with the community and most of all the ice cream business. "I was in this business for 10 years and I missed it. I love interacting with the customers."
Scoop Shop is located at 1074 Wilmot Road, Scarsdale and open 7 days a week from 11 am to 10 pm. To learn more, you can follow Scoop Shop on Instagram at scoopshopscarsdale or call 914-472-1400.