The Hate U Give
Thursday, 29 November 2018 11:41
Last Updated: Thursday, 29 November 2018 12:08
Published: Thursday, 29 November 2018 11:41
Jordy Love
Hits: 1269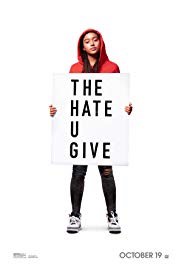 Currently in theaters, The Hate U Give is a film adapted from the debut novel by Angie Thomas about violence and racism towards African American youth. This young adult novel and NY Times bestseller has been appearing on more and more high school reading lists.
Starr, the main character straddles two different societies. She lives in Garden Heights, a low income neighborhood plagued by gangs but attends an expensive private school outside of her neighborhood. Starr's father, a former gang member and her mother, a nurse, work hard to keep Starr and her siblings away from gang involvement. Starr struggles to balance her two worlds and is often conflicted because she feels there are two very different versions of herself. She has a hard time remaining true to her Garden Heights roots while attending a posh school and secretly dating a wealthy white classmate. One night while leaving a neighborhood party with Khalil, her childhood friend from Garden Heights, the two are pulled over by the police. During the traffic stop the police officer shoots and kills Khalil, while Starr waits in the car. Khalil was unarmed. In an effort to protect Starr from the media, Starr's parents prevent her from going public about witnessing Khalil's death. Without witnesses, the officer is not indicted for Khalil's death which leads to protests followed by riots and more violence.
Both the novel and film seek to tackle complicated themes of social justice, race relations and police brutality. The Hate U Give, takes its title from THUG LIFE, a song by deceased Rapper Tupac Shakur. THUG LIFE is an acronym for The Hate U Give Little Infants F__s Everyone. The novel was inspired by the real life story of Oscar Grant, an unarmed youth who was shot and killed by a police officer. It explores the idea that hatred is vicious and when introduced young, it can trap its victims into a lifelong cycle. We see this repeated in violent riots, shootings, and police brutality prevalent in African American communities, which gave rise to the Black Lives Matter movement. While the film does stray slightly from the novel's storyline, the themes remain the same.
Some teachers debate whether or not The Hate U Give is school appropriate. The novel includes profanity and touches on sensitive and controversial subjects such as gangs, drugs, race relations, social media and teenage relationships. Another issue highlighted by the novel is the mistrust of police. After Khalil is killed by the police officer, Starr eventually decides to speak out about the incident, since he can no longer speak for himself. As a result, her family is targeted by the police. There are riots depicted in the movie that show police violence towards protesters as well as bystanders and address the issue of police brutality. According to the author, "There are so many misunderstandings. There's the assumption that it's an antipolice book, when the fact is it's anti-police brutality."
As a high school student who has watched in horror and lived in fear as the number of school shootings have shaken our country, I found this story's message extremely important and relevant. While it does not directly address school shootings, it still emphasizes the dangers of guns, especially in one of last scenes of the film.
Growing up in a suburban town like Scarsdale, I don't have any personal experience with police brutality to compare to Starr's. However, I found this book very powerful and informative. Because The Hate U Give is a teenage girl's story, I found it easy to relate to her character. I believe the issues of racism, gun violence, and police brutality are too important to ignore. I really enjoyed reading this book and believe that the more people that read it and watch the film, the better the chance of ending the cycle of hatred. If books and film encourage discussion of difficult topics then hopefully they will lead to better understanding and promote change.

Jordy Love is a junior at Scarsdale High School.