Color Your Night Lucky and Support Scarsdale Library
Wednesday, 27 February 2019 13:38
Last Updated: Wednesday, 27 February 2019 16:08
Published: Wednesday, 27 February 2019 13:38
Joanne Wallenstein
Hits: 1191
This letter was sent to Scarsdale10583 from Anne George, Wendy Kleinman, and Gabrielle Wise

Dear Scarsdale Community and Library Patrons,
Did you know that funds provided by the Friends of the Scarsdale Library ("the Friends") support the most popular programs at the Scarsdale Public Library? The Friends-sponsored programs include the SPL Writers Center, Film Screenings, Chess, Mad Science, Petite Concerts, Speaker Series, Museum Passes, Homebound Services, and many other special engagements.
The Petite Concert
This series introduces Scarsdale's youngest residents to the joys of listening to live music.
"I just wanted to share with you, that the concerts are AMAZING! My kids (twins) are 22 months and I can see how the attendance has been helping them loosen up and engage into the world of music and dance. Thanks so much for organizing them for our community!"
-- Karen Babba
The SPL Writers Center
The SPL Writers Center has been a favorite service, providing a stimulating and motivating environment for community scribes.
"I've been a very grateful participant in the Scarsdale Library writing groups, as well as the 'Festival of Writing' events. Both activities have supported my development to the point that I am currently getting acceptances for submissions to a NYC neighborhood news paper."
-- Jacqueline Beville
Museum Passes
The Scarsdale Public Library encourages cultural exposure outside of our village by offering free passes to explore the vast number of surrounding museums through our Museum Pass Program.
"The Museum Pass Program is a hidden gem available through the Scarsdale Public Library. We have recently been to the latest exhibits at the Frick Museum, the Stamford Museum, The Museum of the City of New York and The New York Historical Society. There was no charge at any museum using the Museum Pass."
-- Merle Brenner & Dr. Stephen Brenner
These testimonials represent just a fraction of residents who benefit from and enjoy the library's programs throughout the year. The Friends remains committed to supplementing the innovative, diverse and popular programs for all library patrons that would otherwise not be funded. Traditionally, the FOSL book sale has been a major source of support for the Friends; however, since the library building is under renovation and is unable to hold a book sale this year, the Friends welcomes you to our gala instead.
Please join us in support of lifelong learning in Scarsdale at our Casino Night fundraiser on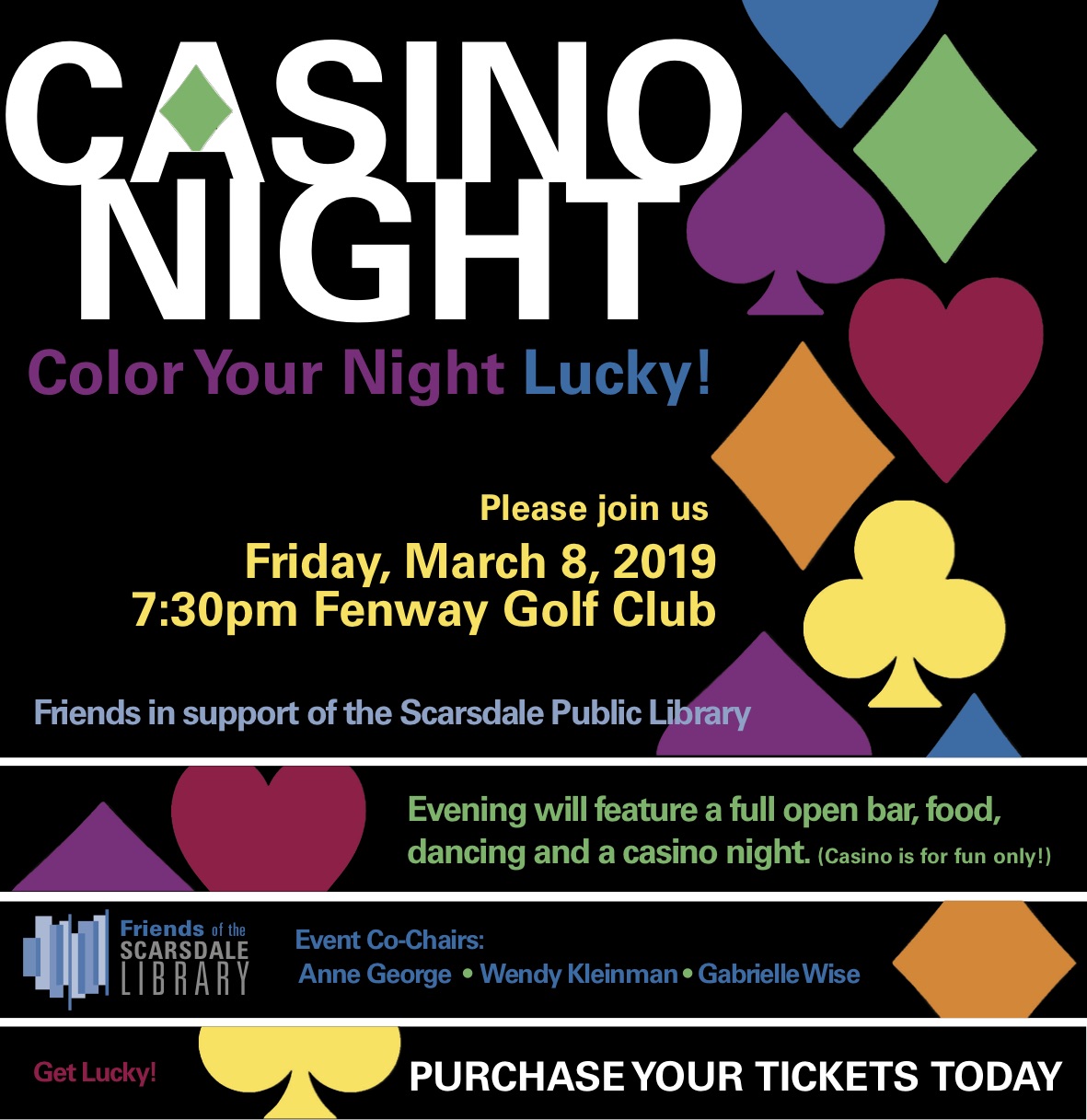 Friday, March 8th at 7:30 p.m. at Fenway Golf Club. The evening will feature a full open bar, passed hors d'oeuvres, buffet stations, dancing, a silent auction and casino fun. We hope to see you at this festive event to support the Friends and celebrate the future of our Library together! Casino Night tickets can be purchased here.
Can't attend Casino Night? Please consider becoming a Friend of the Library by clicking here.
With gratitude,
Anne George, Wendy Kleinman, and Gabrielle Wise
Casino Night Event Chairs and FOSL Board Members