Trustees Ease Regulations on the Installation of Solar Panels
Thursday, 14 March 2019 12:53
Last Updated: Thursday, 14 March 2019 15:52
Published: Thursday, 14 March 2019 12:53
Joanne Wallenstein
Hits: 5722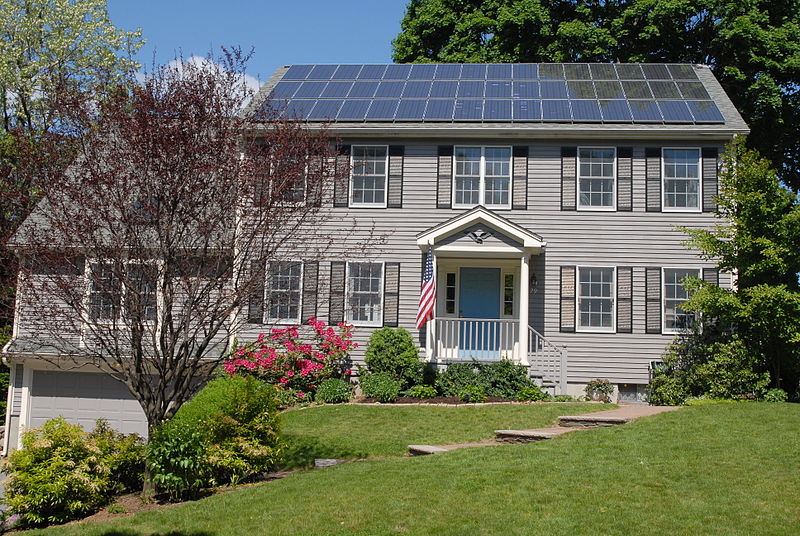 After considerable discussion and lengthy public comments the Scarsdale Board of Trustees passed a change to building code that allows property owners to install solar panels that meet a list of criteria without review by the Board of Architectural Review. This will allow property owners to install panels on front, side and back facing roofs without review by the BAR, as is now required.
Though the board was in general agreement about the installation of solar panels, the matter that was up for debate was whether or not street or front facing solar panels would still need to go before the BAR.
Part of the approval procedure for property owners will be to complete a checklist of criteria on the installation of the solar panels to be submitted to the building department. These requirements specify that residents would need to submit detailed plans for the solar panels, including a site plan, elevation and roof drawings showing the presence of the solar panels. The checklist includes requirements such as a maximum height that the solar array can be off of the roof, a requirement that the edges of the panels need to be flush, a requirement that the edges of the panel installation need to be parallel to the roofline and a requirement for anti-reflective coating on the panels. The application checklist is a combination of aesthetic and safety parameters.
The change to the code is underlined below:
"Matters exempted from review. Upon vote of the majority of the whole Board, the following additions or alterations or fences are designated as exempt from review by the Board: A. On any elevation:
(1) Repair or replacement in kind of any preexisting structure or architectural element thereof.
(2) Solar panels, except when referred to the Board by the Building Inspector."
At the public hearing, many residents and children spoke in favor of the change.
Jen Premisler said she went through the BAR process and installed panels on the street and side facing roofs of her home and offset her energy usage by 130%. She favored exempting solar panels from BAR review, calling the process "onerous."
She gave three reasons she supports this change:
-It attracts environmentally conscious homebuyers
-Considers the needs of generations to come
-If the Village limits the installation of front facing surfaces, some sections of homes could be at an economic disadvantage.
Jeanne-Marie Castiello 280 Mamaroneck Road agreed that solar panels should be permitted on any side without review of the BAR. Otherwise she said, "We discriminate against homeowners who don't have south facing back-sides for the installation of solar panels." She called solar energy clean and inexpensive.
Many high school students spoke in favor of the resolution to permit people to put solar panels on their house.
Richard Kantor of Innes Road spoke in support of the resolution and urged Scarsdale to place solar panels on Village buildings.
Renu Lalwani said solar panels take advantage of nature's most powerful and free resource. She said, "It is our duty to allow anyone to make this change without discrimination. It is unfair to restrict its use. I understand that solar panels may be an eyesore for some people. Charity and change begins at home. Change should begin with small measures in our homes."
Lana Deharveng of Hampton Road spoke in favor of permitting solar panels on all rooftops. She said in California, solar panels are everywhere.
Seema Jaggi of Hampton Road spoke in favor of front and rear facing solar panels. She said we have seen terrible storms here and climate change is already here. Since the government is not embracing change, the burden is on state and local governments who need to be bold. She said, "We should encourage the use of solar panels."
Darlene LeFrancois Haber spoke in favor of removing solar panels from BAR review. She said, "We are in the middle of a global crisis" and "We must reduce our fossil fuel consumption." For those with aesthetic hang ups, she said, "Solar panels can be our badge of honor."
Sabine Bochner, a member of the Board of Architectural Review. She said, "It's not either, or. We can come up with parameters that add to the aesthetics. Though the BAR members don't agree on this resolution, they agree on the aesthetics parameters they are giving to the community."
Adie Shore of Oakstwain Road said, "I appreciate the checklist but believe that limiting this to rear facing panels should be removed from the list."
Kathleen Dunlop from Lockwood Road said, "We have a leadership opportunity here in Scarsdale to show our children what we can do for the future." "Our actions have symbolic power for our children."
Ylva Cavali Bjorkman of Heathcote Road spoke in favor of the proposal. She said, "I had my solar panel application denied. We have geothermal heating. "
Michael Levine agreed, saying, "I think solar panels should be encouraged and there should be no reason to impede or obstruct it."
Ron Schulhof said, "I believe this will make it clearer and easier and support residential solar in Scarsdale." He called the proposed approval process "stringent," and said only those projects that meet these "narrow guidelines" could install solar panels without review by the BAR. He said the proposal "was the result of extensive research and compromise." He suggested that the checklist should be changed so that only solar panels on front facing asphalt roofs be permitted without BAR review – not slate or tile, a change that was ultimately adopted by the board. He said that Tesla tiles are not available and we don't know when they will be. He said, "that's years out."
Michelle Sterling read a letter from architect Bart Hamlin that said, "I am in favor of solar panels - even if they are visible from the street. This is basically a matter of priorities. Either you believe the Village aesthetic is more important than the environment or vice versa.
A letter from the CAC years ago basically stated that in the short term solar cells will look like applied appliances (like the current solar panels) but eventually solar cells will be fully integrated into building materials and therefore the impact on aesthetics will be greatly reduced. Solar roof shingle for example will improve solar's aesthetic characteristics rapidly (just see how Tesla is developing their solar roof tiles).
I believe it is only about 10-15 years during which these visible "appliances" will be replaced by an integrated type of solar cells. The next 10-15 years however happens to be the most critical time period for us to reduce the causes of climate change in order to mitigate severe climate related crisis.
This seems like a very small period of time for the aesthetics of Scarsdale to be compromised in order for Scarsdale to contribute to improving our climate and thus helping to avoid a climate crisis. Fortunately, at the end of the life cycle of anything installed today, I believe the replacement products will be compatible with the Scarsdale aesthetic. Therefore, the compromise to Scarsdale aesthetics will be short-lived but very worthwhile."
The Board debated the proposed change to the law and the building department checklist of requirements for solar panels. They agreed to modify the building department checklist to require any front facing solar panels on slate or tile roofs to require BAR approval.
Trustee Justin Arest feared that this checklist of provisions for solar panels could be changed in the future without any input from the Board of Trustees. Lena Crandall spoke in favor of keeping this checklist separate from Village code and the Village Manager said the Building Department would not change the checklist without approval from the Board of Trustees. Others objected to changing the checklist to require BAR review for front facing panels on non-asphalt roofs without another public hearing.
Ultimately the Board voted to approve the code change, permitting front facing solar panels on asphalt roofs, and installation on all other roofs that meet checklist criteria without approval by the Board of Architectural Review.
All voted aye except Justin Arest who said he is a supporter of solar energy but objected to the process whereby the Board voted on a new version of the law and agreed to a change in the checklist of criteria without an additional public hearing. He said, "This is a vote about bypassing the BAR."
Commenting on the change, Michelle Sterling said,"The application checklist is a conservative one - many towns in Westchester have fewer aesthetic requirements and have an even more streamlined approach than us. That being said, ours is an excellent and necessary first step. It will allow homeowners to obtain solar panels in what will be a much more streamlined process. I am happy to say that with this code change and this historic vote in favor, Scarsdale has landed on the right side of history and should be very proud."