Two Hours of Free Parking in Scarsdale Village 12/21- 12/25
Details

Written by

Joanne Wallenstein

Hits: 1262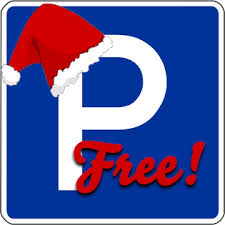 The Village of Scarsdale will provide two hours of free parking in the downtown business district from December 21, 2018, through December 25, 2018, at specifically marked metered locations.

This Village program is intended to attract residents and visitors to the downtown to shop local this holiday season. In order to ensure turnover and maximum access to the parking spaces, the Scarsdale Police Department will enforce the two (2) hour parking limit. Merchants and their employees will be permitted to park free of charge in the Freightway Garage (all levels) and Christie Place Garage (levels B1 & B2).

The decision to offer free holiday parking in the downtown business district was made after discussion with key stakeholders including representatives of the Village Board, Village staff, and the Scarsdale Business Alliance, a group of downtown merchants and property owners.

Please call the Village Manager's Office at 914-722-1110 with any questions.
Social Media Threat Heightens Awareness of School Security
Details

Written by

Jordy Love

Hits: 2006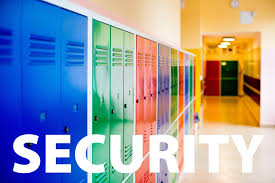 This is the opinion of SHS Junior Jordy Love: Following a peaceful Thanksgiving Scarsdale residents were shaken by rumors of a specific threat to a high school student.

On Saturday evening November 24, a Scarsdale High School student received a threat via social media. That student's parents alerted both the Scarsdale Police Department and the high school. This threat included gun violence and included the personal address, and phone numbers of the student and the student's family.
The Scarsdale Police Department began investigating the origin of the threat. The School Principal Kenneth Bonamo alerted the Scarsdale High School community in an email on Sunday morning. Because the threat was made towards an individual and was not a general threat, he said that school would continue as scheduled with extra police presence added as a precaution the following day. However, later on Sunday evening students and parents received another email from the school that said that the social media post also mentioned bombing Scarsdale High School. As a result of the bomb threat, the Scarsdale Police Department had the county bomb squad do a sweep of the entire high school on Sunday night and continued to monitor the school building throughout the night until school opened on Monday morning. School proceeded on Monday without incident.

These events, although unsettling, demonstrated strong cooperation between the Scarsdale Police Department and the high school to address student safety.
But in my view, cooperation is not enough. Although these posts were later discovered to be "jokes" by those trying to gain popularity for an Instagram page, the threat to the individual and our community was terrifying. In this day in age, with gun violence and threats to schools constantly plaguing our country, it is important that all communities develop a comprehensive approach to keeping students and staff members safe.

After the shooting at Parkland High School last year, in addition to the multiple mass shootings across the country, students nationwide expressed frustration over a lack of government intervention by participating in the March for Our Lives movement. Marches were organized in cities across the US and internationally to promote gun violence awareness, support gun control and encourage people to register to vote in order to demand change. In light of the lack of government progress on gun control, I believe we need to find other ways to make schools across the nation safer.

Districts all over America have already begun to have security upgrades installed throughout their schools. Cameras and doors with electronic locks seem to be the priority. Unfortunately most districts still believe that a school shooting will never happen in their community. Schools tend to be reactive rather than proactive. Most school shooters showed signs or spoke to others about what they were going to do and little to nothing was done to intervene before it was too late. Districts need to make more counselors available for students. Staff needs to be more involved with situations and notifications amongst each other. Schools need to do more to truly provide safe environments.
According to Chris Cooper, CEO of School Safety and Security Solutions, "We have met with many districts that have spent very high dollar amounts with little return on prior security and protocols. One district told us they spend millions a year in security and have no idea what they get. Our company was formed because nothing seemed to change. We have former law enforcement, secret service, retired SRO's, psychologist's and professors involved within our company to provide a very broad approach to helping secure schools beyond just cameras and locking doors. What we find most is that schools are no better prepared for any type of emergency situation. Most teachers are taught to wait for further instructions after an event unfolds. The planning stage usually consists of a small group and anyone outside it doesn't really know what to do. Lockdown drills are done with what a teacher thinks may work best rather than actually shown what is best. Some districts do not even include local law enforcement in the emergency planning strategies. Providing safer schools starts with the people in place already. See something, say something goes a long way. Offering anonymous ways to provide information is very helpful. Bringing awareness to students and their parents is also very helpful as we firmly believe in this approach. None of these events happened when the shooter woke up and decided to do this spur of the moment. They were all planned and discussed. When Parkland happened, the shooter was known even before proven by most everyone in the school. Even the FBI was contacted in regard to things he posted and nothing was done. We have our own campaign: Be Safe, Not Sorry… Reporting something saves lives plain and simple. In todays world we no longer have the luxury to just sit back, we all need to be more proactive to create safer schools."
Fortunately, we live in a community that is committed to keeping students and residents safe. Scarsdale residents are largely unaware of the work that District and Building Safety committees is doing to respond to concerns of teachers and parents, to plan for possible issues and to conduct emergency drills.
This year, the Scarsdale Schools contracted with security and safety management firm Altaris and we now have a full time Director of Security on site. They have taken many steps including (but not limited to) reviewing and revising emergency plans and protocols, training employees and conducting drills. Last February, the community approved a $65 million bond and some of those funds will be used to construct security vestibules at the five elementary schools and enhanced security cameras at all of the schools.
Other security improvements in the works are panic buttons at the security stations, motion detectors that work in conjunction with the alarm systems, high functioning PA systems, required school personnel IDs, and many others.
Let's hope that these measures are enough to keep us all safe.
The Hate U Give
Details

Written by

Jordy Love

Hits: 1353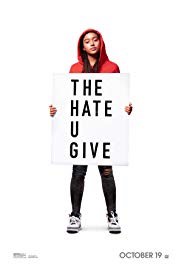 Currently in theaters, The Hate U Give is a film adapted from the debut novel by Angie Thomas about violence and racism towards African American youth. This young adult novel and NY Times bestseller has been appearing on more and more high school reading lists.
Starr, the main character straddles two different societies. She lives in Garden Heights, a low income neighborhood plagued by gangs but attends an expensive private school outside of her neighborhood. Starr's father, a former gang member and her mother, a nurse, work hard to keep Starr and her siblings away from gang involvement. Starr struggles to balance her two worlds and is often conflicted because she feels there are two very different versions of herself. She has a hard time remaining true to her Garden Heights roots while attending a posh school and secretly dating a wealthy white classmate. One night while leaving a neighborhood party with Khalil, her childhood friend from Garden Heights, the two are pulled over by the police. During the traffic stop the police officer shoots and kills Khalil, while Starr waits in the car. Khalil was unarmed. In an effort to protect Starr from the media, Starr's parents prevent her from going public about witnessing Khalil's death. Without witnesses, the officer is not indicted for Khalil's death which leads to protests followed by riots and more violence.
Both the novel and film seek to tackle complicated themes of social justice, race relations and police brutality. The Hate U Give, takes its title from THUG LIFE, a song by deceased Rapper Tupac Shakur. THUG LIFE is an acronym for The Hate U Give Little Infants F__s Everyone. The novel was inspired by the real life story of Oscar Grant, an unarmed youth who was shot and killed by a police officer. It explores the idea that hatred is vicious and when introduced young, it can trap its victims into a lifelong cycle. We see this repeated in violent riots, shootings, and police brutality prevalent in African American communities, which gave rise to the Black Lives Matter movement. While the film does stray slightly from the novel's storyline, the themes remain the same.
Some teachers debate whether or not The Hate U Give is school appropriate. The novel includes profanity and touches on sensitive and controversial subjects such as gangs, drugs, race relations, social media and teenage relationships. Another issue highlighted by the novel is the mistrust of police. After Khalil is killed by the police officer, Starr eventually decides to speak out about the incident, since he can no longer speak for himself. As a result, her family is targeted by the police. There are riots depicted in the movie that show police violence towards protesters as well as bystanders and address the issue of police brutality. According to the author, "There are so many misunderstandings. There's the assumption that it's an antipolice book, when the fact is it's anti-police brutality."
As a high school student who has watched in horror and lived in fear as the number of school shootings have shaken our country, I found this story's message extremely important and relevant. While it does not directly address school shootings, it still emphasizes the dangers of guns, especially in one of last scenes of the film.
Growing up in a suburban town like Scarsdale, I don't have any personal experience with police brutality to compare to Starr's. However, I found this book very powerful and informative. Because The Hate U Give is a teenage girl's story, I found it easy to relate to her character. I believe the issues of racism, gun violence, and police brutality are too important to ignore. I really enjoyed reading this book and believe that the more people that read it and watch the film, the better the chance of ending the cycle of hatred. If books and film encourage discussion of difficult topics then hopefully they will lead to better understanding and promote change.

Jordy Love is a junior at Scarsdale High School.
Is 1-on-1 Personal Training for You?
Details

Written by

Joanne Wallenstein

Hits: 2058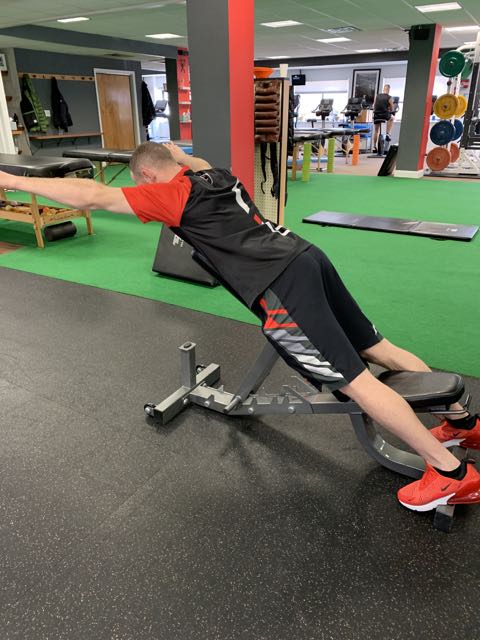 What's your preferred form of exercise? While some swear by self directed activities like walking, running or swimming, others play racquet sports, golf, spin, practice yoga or Pilates, attend boot camp or do some combination of several of these activities.
Still others opt for 1-on-1 sessions with personal trainers, customized for their abilities and tailored to avoid injury and strengthen areas that need work.
One popular venue for one-on-one training is Total Form Fitness, just over the bridge in Hartsdale. They have been working with adults and teens since 2007 and have a loyal following among those who have found that they get results from individualized programs.
I met with personal trainer John Marsh at Total Form Fitness, who put me through the paces and answered some questions about Total Form Fitness' carefully designed routine.
Here is what we learned:
What is the difference between one-on-one training at Total Form Fitness and group exercise classes like Spin or Pilates?
The major differences you will find between group classes and training 1-on-1 is the client to trainer ratio and how the workout is focused on a group or the individual. Personal Training, here at Total Form Fitness, is catered towards our clients. We put together a unique workout routine for each client's specific needs. We make sure all of our clients have perfect form for each exercise in order to prevent injuries, increase strength, and improve current fitness level.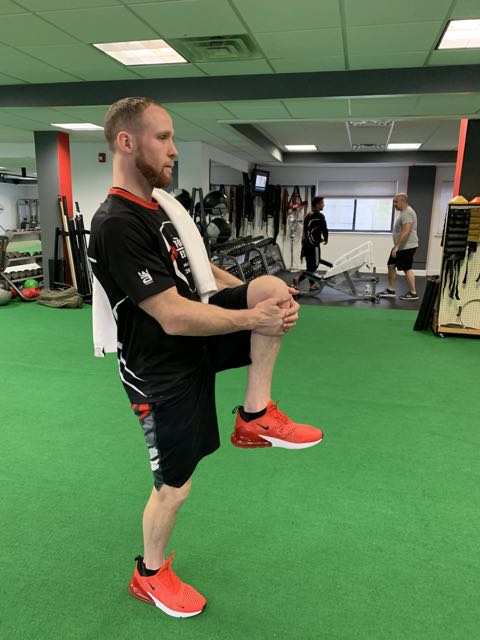 Group classes are focused certain style workout that a group of people, ranging in experience and fitness level, take for exercise. The classes tend to be fast, interval, circuit style training, or something specific like yoga, Pilates, or spinning. It is more difficult in that setting to get same level of individual attention you will receive training 1-on-1.
Why do clients choose 1-on-1 training?
There are so many reasons why a Personal Trainer is essential to achieving your fitness goals, whether they be weight loss based, or sports driving for athletic purposes. Here, we've put together the most critical reason why you should have a Personal Trainer, as well as the benefits that you are likely to achieve.
How Trainers Help
-Most important, it's educational.
-Perfect exercise form.
-Program workouts to maximize the training towards your specific goals.
-Work with your unique requirements.
-Set realistic goals
-Hold you accountable.
-Motivate you.
How is the work out customized to each client?
To customize a workout for client we must first to get know the client and for this reason the first session is free. That allows a client to try us and see if this is the place for them and for us to assess their current fitness level and their goals.
1-on-1 training allows the trainer to look at each aspect of a client's fitness … things like coordination, balance, strength, endurance, conditioning, flexibility, range of motion, and posture are important to everyone regardless of fitness level. At Total Form Fitness, many of our trainers played different sports at collegiate, national, and international levels so we also focus on athletic style training with speed, agility, acceleration, and sport specific exercise and drills. We help clients with functional movements and exercises, weight loss, and preventive exercise so that they are less likely to get injured during any of their daily activities, or sport activities. If a client is in rehab for an injury, we work with their doctors to help with the recovery and help them get back to their normal activities as soon as possible with post-rehab style training.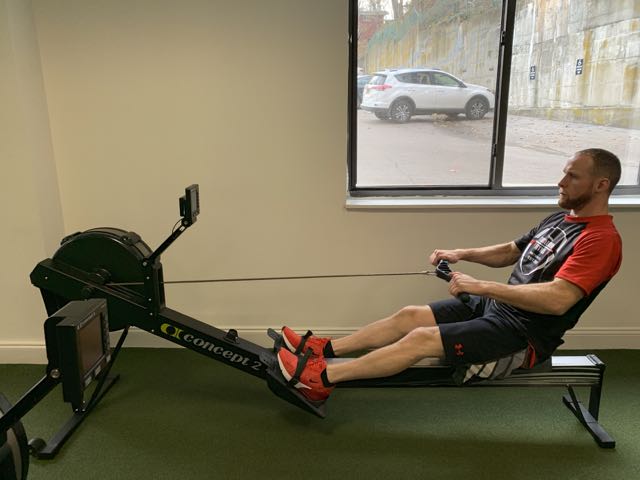 What are some of the exercises and routines that are frequently incorporated into the workouts?
Think of your body like a house, if built on a poor foundation, no mater how nice, it will eventually fall. We focus on your foundation ... posture, muscle imbalances, stability, muscle endurance and coordination.
With the right exercise selection to improve posture you will create a great foundation of stability, which will allow you to exercise and go about your daily life pain free.
Connected to your hips is your spine and spinal cord with many nerves that stem out and play a vital role in hip stability and posture. Your core is used to transfer movement from lower to upper body and to stabilize you and allow the lower and upper body to move. Posture is also affected by the spine.
Exercises like the ones below work on stabilizing the shoulder by focusing on the scapula. These improve upper back posture and protect the shoulder, a prime mover, assistor, and/or stabilizer in pretty much every upper body exercise.
Scapula exercises for stability/posture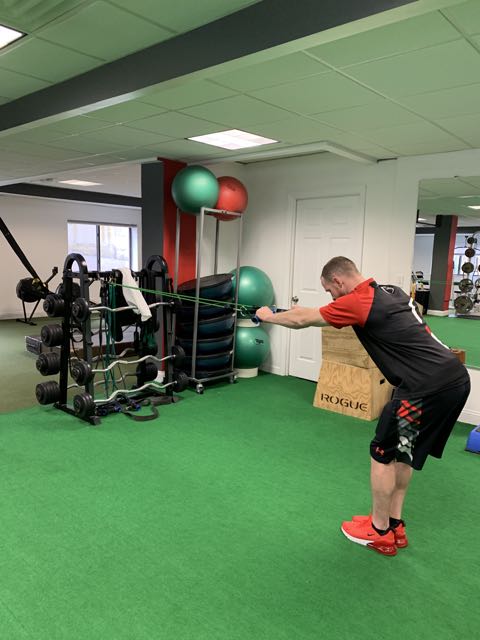 -Reverse flyes
-T' Y' I's
-Rows
-External Rotation
-Straight Arm Pull Downs
-Push Ups with Protraction
The following exercises work on stabilizing the hips which connect many muscles. Hip imbalance leads to injuries or pain. To improve hip stability we recommend the following:
Leg exercises for the hips
-Leg Raises
-Side Leg Raises
-Dead Bugs
-Single Leg RDL's
-Bridges
-Band Walks
Spine/Core Stability Exercises for the Hips
-Bird Dogs
-Superman's
-Russian Twist
-Hyperextensions
-Planks
-Side Planks
-Crunch and Sit Up variations
Multi-Joint Exercises for Overall Hip/Core Stability
-Dead Lift variations
-Squats variations
-Step Up variations
-Lunge variations
What can the workouts help clients to achieve?
Increases
-Health and Wellness
-Flexibility and Range of Motion
-Strength, Endurance, and Conditioning
-Speed, Agility, and Acceleration
-Coordination and Balance
-Sports Performance
-Bone Density
Decreases
-Stress
-Lower Back Pain (#1 reason why most people miss work)
-Major Joint Pain (neck, shoulders, elbows, wrist, hips, knees, ankles, and spine)
-Risks of Heart Attack and Stroke
-Prevents and/or Helps Diabetes
-Hypertension
How often do your clients usually come to Total Form Fitness?
Depends on clients needs and goals, this may range from 1-3 times per week.
Are there classes for high school athletes and teens?
Though we do not run classes, we do offer group training for 2 or 3 clients at a time.
What is the price range for the sessions?
We have no membership and initiation fee and the packages we offer range from $73-$115.
The first session is free. Give Total Form Fitness a try and see if 1-to-1 training is for you.
Total Form Fitness
250 East Hartsdale Avenue
Hartsdale, NY 10530
914-874-5451
totalformfitness.com
First Winter Storm Causes Gridlock and School Closing
Details

Written by

Joanne Wallenstein

Hits: 3056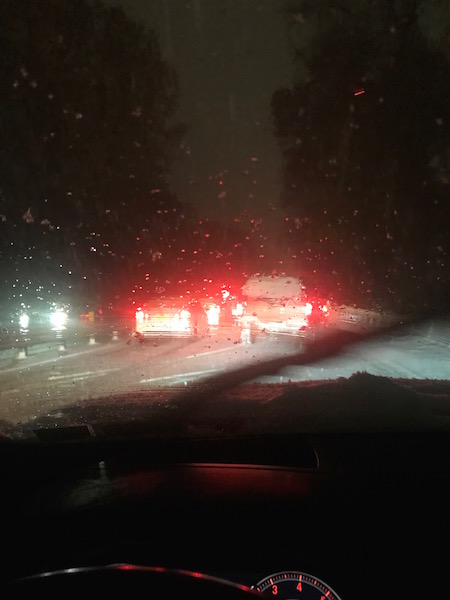 The Bronx River Parkway came to a complete halt on Thursday night.The first winter storm of the season wreaked havoc on drivers on Thursday night November 16. The original forecast was for two to three inches of snow, but as the sun went down temperatures dropped and a slick, wet snow fell heavily atop wet leaves in the street and caused treacherous driving conditions.
The Scarsdale Schools suspended after school activities on Thursday and originally announced a two-hour delay for the opening of school on Friday November 16. However at 8:15 am a second email was sent, announcing that schools would be closed for the day.
According to Scarsdale Police Captain Thomas Altizio, Scarsdale Police received 84 calls for help from drivers during the storm. Alitzio reports that a full complement of police were out, directing traffic, pushing cars out of ditches and attempting to clear a host of minor accidents that occurred.
Police manned intersections to try to alleviate the traffic but stuck cars caused gridlock and little could be done. The intersection of Fenimore and Fox Meadow Roads came to a stop, and the Popham Road bridge was blocked as well. When a rush of commuters attempted to drive home from parking garages in Hartsdale and Scarsdale, stuck cars blocked their way. Altizio says that intersections at the Post Road, Mamaroneck Road and Saxon Woods Road were also snarled.
Cars stalled and fishtailed on the icy surface. One Greenacres man reported that he was stuck in his car on the Bronx River Parkway for an hour, just a half mile from his home but unable to get off the road.
The Department of Public Works was unable to clear many of the blocked roadways as plows could not bypass the stuck cars. Plows worked through the night and as of Friday morning most roads are wet but clear.
Fortunately no one was hurt and Altizio has not heard of any big trees downed by the storm. However his own 40-minute commute home last night took five and a half hours. Many cars were abandoned along the highway. Conditions were no better at rush hour in downtown White Plains which also came to a complete stop when so many left their offices at once.