Procedure Committee Calls for Comments on Proposed Changes to the Non-Partisan Resolution
Details

Written by

Joanne Wallenstein

Hits: 1833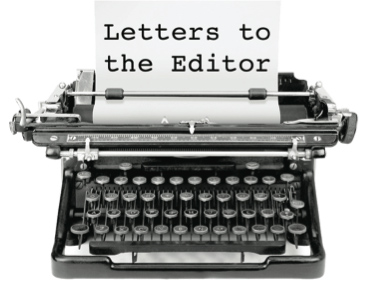 This letter was sent to Scarsdale10583 by Madelaine Eppenstein and Eric Cheng from the Procedure Committee:

To the Editor:

The Procedure Committee, the ad hoc group that administers the non-partisan election system in Scarsdale, is issuing one last, final invitation to all Scarsdale residents to help improve our unique system by commenting on proposed changes to its governing document, the Non-Partisan Resolution. Please visit the PC's website for an explanation of the proposed amendments and to review a copy of the current Non-Partisan Resolution marked to show proposed changes. August 31 is the deadline to send your comments to Procedure Committee chair Madelaine Eppenstein and/or vice chair Eric Cheng (meppenstein@eppenstein.com; chengchoi@optonline.net). Proposed amendments will appear on the ballot on Tuesday, November 13, 2018, when Scarsdale voters will simultaneously elect a new class of Citizens Nominating Committee members.

We are also inviting voters to join the Citizens Nominating Committee, whose purpose is to recruit, evaluate and select a non-partisan slate of candidates for the village offices of mayor, trustees and village justice – that election will be held on March 19, 2019. The CNC's simple application materials, a brief biographical form and nominating petition, are also posted on the same page of the Procedure Committee's website. This is your opportunity to have your voice heard on who will represent you at Village Hall and to participate in Village civic affairs.

This is a public service announcement from the members of the 2018 Procedure Committee, residents from each of Scarsdale's five elementary school neighborhoods: Charles Baltman; Sarah Bell; Eric Cheng; David Dembitzer; Madelaine Eppenstein; Timothy Foley; Jeff Goodwin; Mayra Kirkendall-Rodríguez; Eli Mattioli; David Peck; Richard Pinto; Pam Rubin; Gregory Soldatenko; Jill Spielberg; Nancy Steinberg; Michelle Sterling; and Bruce Wells.

Madelaine Eppenstein, Procedure Committee Chair
Eric Cheng, Procedure Committee Vice Chair
Email: meppenstein@eppenstein.com; chengchoi@optonline.net
Democrats Gather to Support Local Candidates
Details

Written by

Joanne Wallenstein

Hits: 1587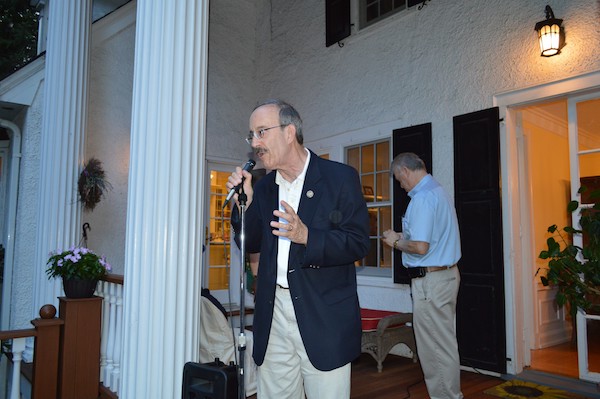 Congressman Eliot Engel Addresses the GrouDemocrats gathered on Thursday evening August 2 at the Scarsdale home of Marianne and Roger Pellegrini to support local candidates running for re-election. State Assemblywoman Andrea Stewart Cousin faces a primary challenge from County Legislator Virginia Perez and State Assemblywoman Amy Paulin will be challenged in November by Republican/Conservative Party Candidate Tom Roach.
Here are photos from the fundraiser:

State Assemblywoman Amy Paulin Makes Remarks

Mark Lewis, Judge Susan Capeci, Bill Alexander, Tim Idoni, Tony Scarpino, David Buchwald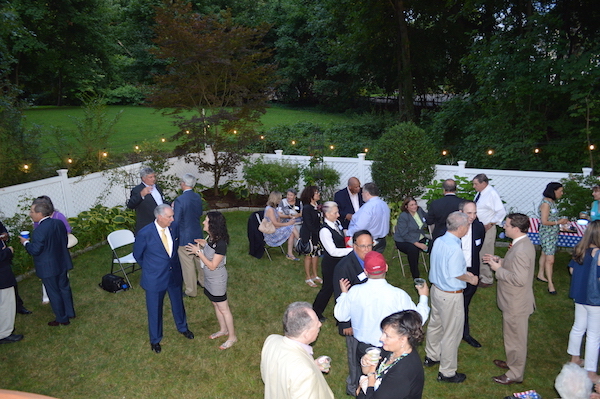 Elaine Weir, Mark Lewis, George Latimer
Police Use Phone Alert System In An Effort To Locate Missing Man
Details

Written by

Joanne Wallenstein

Hits: 1954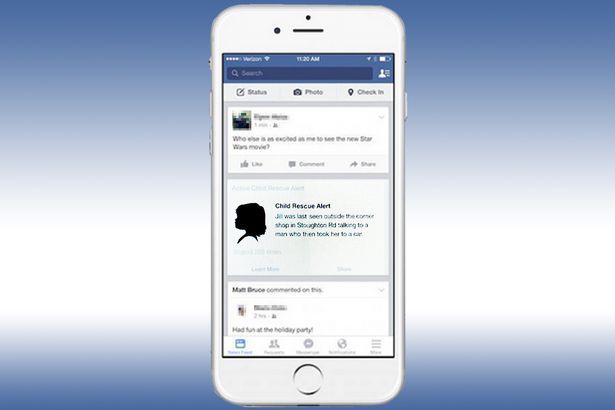 On July 11, police Scarsdale Police used "A Child is Missing Alert Program," in an effort to locate a missing elderly man. The program generates telephone calls to local residents within 15 minutes after initiation.
Residents who live near Rugby Lane received a call that said, "This is an urgent message from the Scarsdale Police Department. We are searching for a missing elderly person in need of medical attention in your area. The person is an 81 year old black male with grey hair and brown eyes, approximately 6 feet 5 inches tall. He was last seen near 25 Rugby Lane in Scarsdale Tuesday, July 10th at 10pm. He may be traveling in a 2007 grey Honda fit with a New York State tag plate number DYA 4365. We need your help. Please check your yard complex and vehicle. If you have any information please call the Scarsdale Police Department at (914) 722 1200. That's 914 722 1200. To view this message, please visit achildismissing.org. Thank you for your help."
On Tuesday after a friend of the missing man called police saying that she had arranged to take the man to a doctor's appointment at 3 pm but did not find him or his car at the house. She had last spoken to him on Monday morning and he said that he planned to go to the dump and Pet Goods on Central Avenue on Tuesday and he would be home in time to go for the appointment.
When she didn't find him at home she was concerned as he suffers from dementia and other medical conditions.
Police checked the house and found at least six cats, several litter boxes and food stations set up throughout the house, but there was no sign of the missing man. As they were discussing the situation, the man turned up in a cab.
It turns out that the man left his home at 11 am Tuesday but got lost on the way to the dump. He went to Scarsdale Pastry Center for breakfast and again tried to locate the dump but ended up on the Hutchinson River Parkway where his car broke down. He walked around for a while and later found a cab to take him back to where he had left the car but found that it had already been towed. By the time he got back to the house he learned the car was at Vincent's Garage and had a broken clutch.
Police confirmed the car was at Vincent's Garage and recommended that the missing man obtain a cell phone.
The Dancing is "DeLovely" At WBT's Anything Goes
Details

Written by

Barbara Solomon Josselsohn

Hits: 1778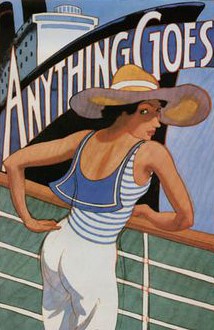 The feet are flying, the shoes are tapping, and the energy is off the charts aboard a lavish ocean liner bound for London, in the new production of Anything Goes now playing at Westchester Broadway Theatre in Elsmford.
This Cole Porter musical made it Broadway debut in 1934, when theatergoers were still in the throes of the Great Depression and hungry for fantasy and escapism. With its opulent setting, expensively garbed characters, madcap subplots, and grand-scale production numbers, Anything Goes was just what the audience ordered. The show revolves around the love-struck Billy Crocker, who sneaks aboard the ship in pursuit of the object of his affection, Hope Harcourt. Alas, Hope is engaged to another passenger – but Billy is not deterred. In his effort to win her over, he crosses paths with a nightclub star, a quartet of backup singers, a gangster, some sailors, and even a Pomeranian. Not surprisingly, in the end boy gets girl.
Of course, no discussion of Anything Goes is complete without paying homage to that fabulous Cole Porter score. While the action in the show is light, what endures are Porter's brilliant and sophisticated songs – such as "I Get a Kick Out of You," "Blow, Gabriel, Blow," "Anything Goes," and "You're the Top" (which features that iconic list of all the things that make life great, from the sublime to the mundane: You're a melody from a symphony by Strauss! You're a Bendel bonnet, a Shakespeare sonnet, you're Mickey Mouse!).
The WBT production is charming and fun, thanks largely to an exuberant ensemble with lots of dancing chops. Leeds Hill, Kelly Gleason, Katie Scarlett Brunson and Joseph Cullinane are among the cast members who are delightful to watch, both in the major numbers and as a diversion during scene changes. Stacia Fernandez, as nightclub singer Reno – a role originated by Ethel Merman and later revived on Broadway by Patty LuPone (1987) and Sutton Foster (2011) – gives a solid and endearing performance as this larger-than-life character. As the in-over-his-head Billy, Zach Trimmer is appropriately manic, and has a pleasing singing voice to boot. Particular kudos goes to Mychal Phillips, who is a joy as Erma, the gangster's girlfriend.
Anything Goes runs through September 9th. For exact dates and times, visit www.BroadwayTheatre.com.
Arthur Manor Holds 90th Annual 4th of July Parade and Picnic
Details

Written by

Matthew Martin

Hits: 2626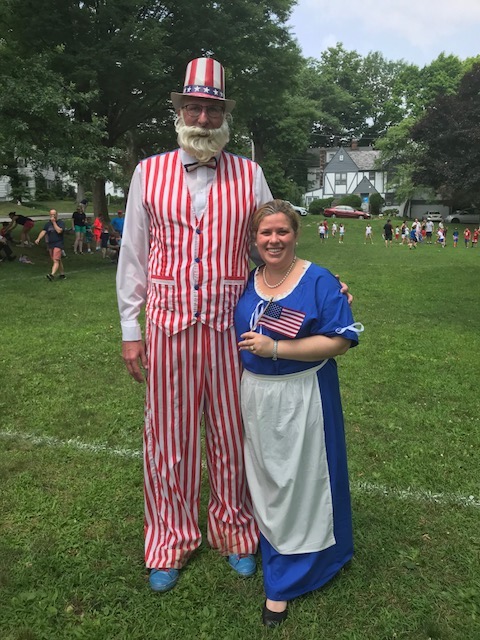 During a beautiful, sun-filled and very hot summer day, the Arthur Manor Neighborhood Association held its 90th Annual 4th of July parade and picnic at Davis Park on Tuesday, July 4th.
The day started out with parade marchers gathering at the corner of Sprague and Bell roads at 9:15 am. Before the parade started, the judges ranked individual and group marchers in categories such as most patriotic costumes, decorated scooters, bicycles, tricycles and strollers and floats.
The marchers, accompanied by a special police escort, the Westchester County Band and Scarsdale Volunteer Fire Company Number 1, started the parade from Bell and Sprague Roads at 9:45 am and marched through Arthur Manor to Davis Park where the traditional 4th of July ceremony was conducted in front of the flag pole at the North end of the park.
The ceremony began with the raising of the flag by the Scarsdale Volunteer Fire Company No. 1's color guard and accompanied by the trumpet playing of Dr. Jack Binder of the Westchester Band. Scarsdale Volunteer Fire Company No. 1 also celebrates its 125th year in 2018.
Next, Richard Gast sang the National Anthem which was followed by the recitation of the Pledge of Allegiance. The gathering then observed a moment of silence to remember all of the men and women who sacrificed so much for the United States and what it stands for – both at home and abroad.
Dan Hochvert, Mayor of Scarsdale, then spoke to the crowd gathered at Davis Park on the meaning of July 4th and the significance the day holds for all residents. Village Trustees Lena Crandall, Jane Veron and Matt Callaghan were also in attendance together with Arthur Manor's 4th of July all-star favorite, Uncle Sam (played by Teegan Lee).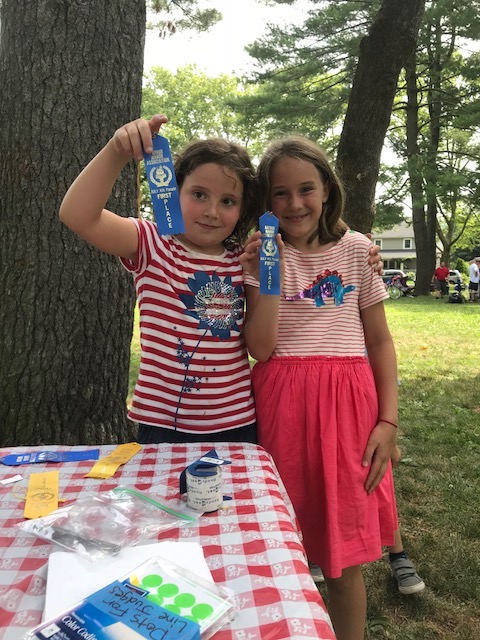 Al Stuart then held the award segment of the ceremony for the day's parade marchers and other participants in the various categories such as floats, bicycles, tricycles, etc.. (A complete list of the winners follows below).
This year's July 4th celebration was sponsored by Heather Harrison of Compass Realty and Scarsdale Volunteer Fire Company No. 1.
Following the end of the ceremony, the crowd the moved to the other end of the Davis Park field for the annual races including the three-legged race, potato sack, wheel-barrow, relay and the annual favorite "egg toss" -which first appeared at Arthur Manor's annual July 4th picnic in 1944! The games were conducted by Sam Bryant and his daughter, Olivia. (A list of the winning participants also follows below). This year's egg toss winners were Helen Gimbel and Avery Bower.
Hosting the event was the Arthur Manor Neighborhood Association's President, Matt Martin.
Refreshments included lemonade , hot dogs (courtesy of Kate and Gianni Porco), brownies and watermelon were on hand for all to enjoy.
This annual event in Arthur Manor is only made possible by the collective efforts of the Arthur Manor volunteer residents including especially the Marcus, Porco, Stuart and Bongiorno families, and all of the other Arthur Manor volunteers too numerous to list here. A special thanks also to Trader Joes's for donating the eggs for the renowned egg-toss.
Winners List For Arthur Manor Neighborhood Association Parade
Marchers in Patriotic Costume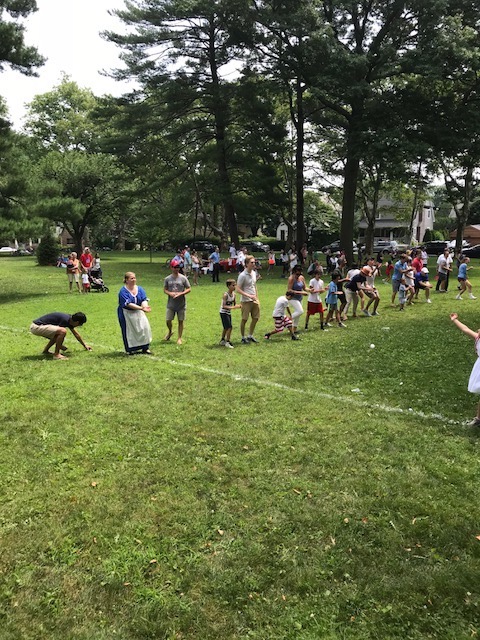 First Place: Beatrice Martin and Zoe Maidman
Second Place: Maxwell and Sidney Block
Third Place: Kuo and Oyaki Families
Honorable Mention: Sammy and Adam Rashid
Scooters
First Place: Ari and Benjamin Maibrunn
Second Place: Grace Horne
Third Place: John Bates
Honorable Mention: Ella Guarino and Johan Schuerhein
Bicycles
First Place: Madison Ferree
Second Place: Catilin Maddaloni
Third Place: Claire Carroll/Sloane Harshman
Honorable Mention: Grace Piekarski
Tricycles
First Place: Lola Schuerhein
Second Place: Bobby Kyle Carlton
Carriages and Strollers
First Place: Ethan Marcus
Second Place : Eliza Krause
Third Place: Shea Piekarski
Floats
First Place: The S.S. Neil Diamond/ Emily, Zoe, Jack Callaghan and Olivia
Second Place: Uncle Sam's Mobile/ James Martin
Third Place: Patriotic Mobile/ Lexi, Madison, Brook O'Grady
Honorable Mention: America/ Alex, Zara, Eva, Sienna
The Games Winners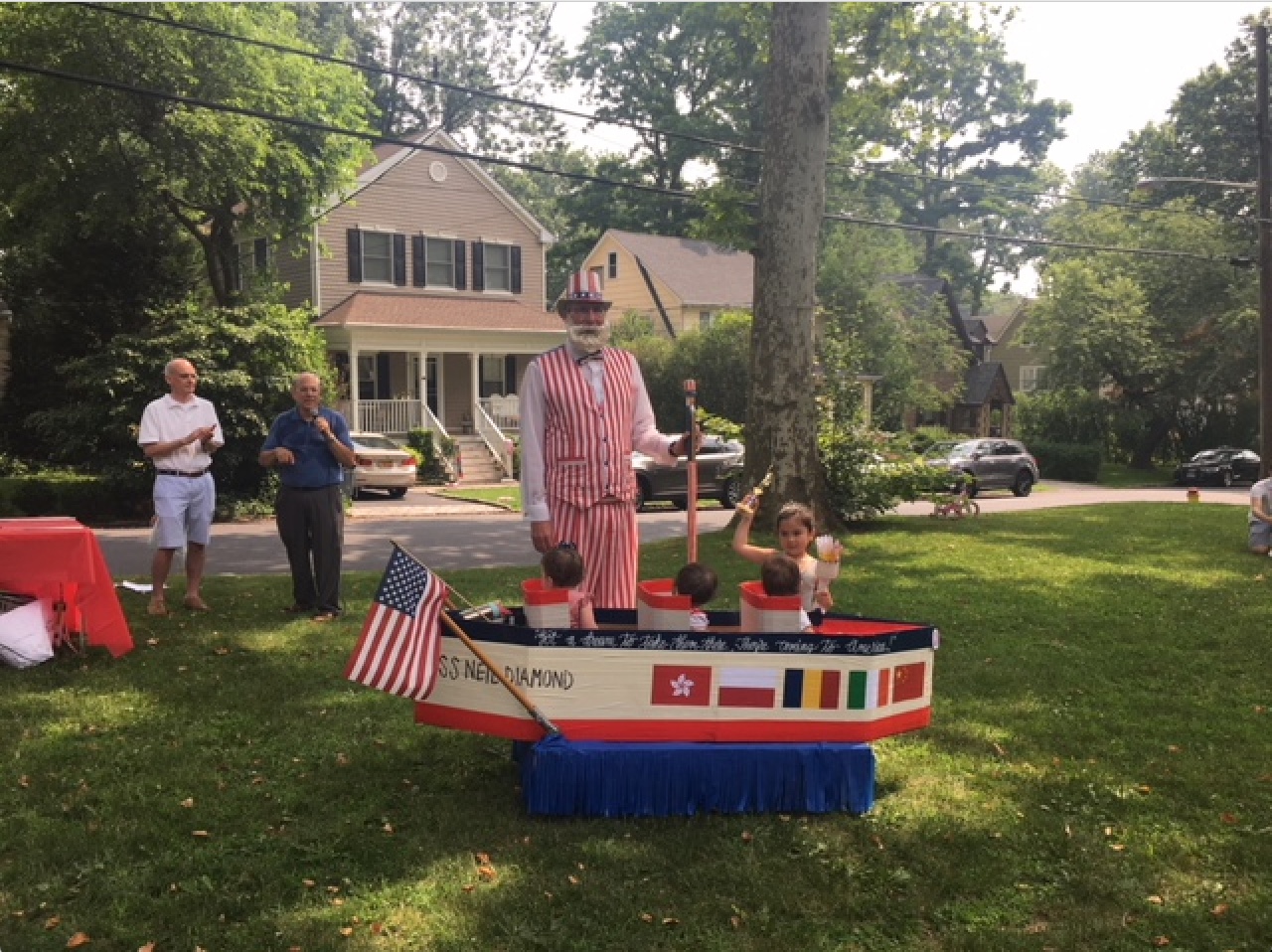 The Dash/ 5yrs old and under
1. Lillian Peterson
2. Jack Walker
3. Benjamin Maibrunn
6 and 7 year olds
1. Conner Coakley
2. Zoe Zheng
3. Ella Peterson
8,9,10 year old girls
1. Elena Sannicandro
2. Evie Schiff
3. Dia Mody
8, 9, 10 year old boys
1. Keisuke Ogaki
2. Connor Coakley/Ryan O'Shea
3. Julian Zlomislic
11 year old and older/girls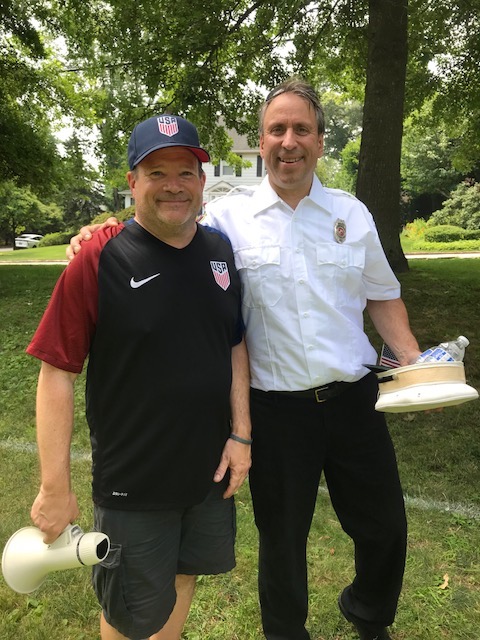 1. Asa Ogaki
2. Zoe Maidman
3. Ilona Goyal
11 yr old and older, boys
1. Dean Mancini
2. Daniel Hoey
3. Max Block
Wheelbarrow Race
7 yrs old and under
1. Heidi Debrabant/Paxton Debrabant
2. Henry Larch/John Bates
3. Colin Coakley/Aiden Roche/ Benjamin Maibrunn
8,9,10 yr olds
1. An Maibrunn/Matthew Mialkowski
2. Keisuke Ogaki/Perride Kuo
3. Sebastian Mange/Sergey Yanovsky
11 yr old and older
1. Max Block/Daniel Hoey
2. Bea Martin/ Ana Zerbo
Potato Sack Race/Girls
1. Ella Peterson
2. Aria Wang
3. Lexi O'Grady
Girls, 7 and 8 yr olds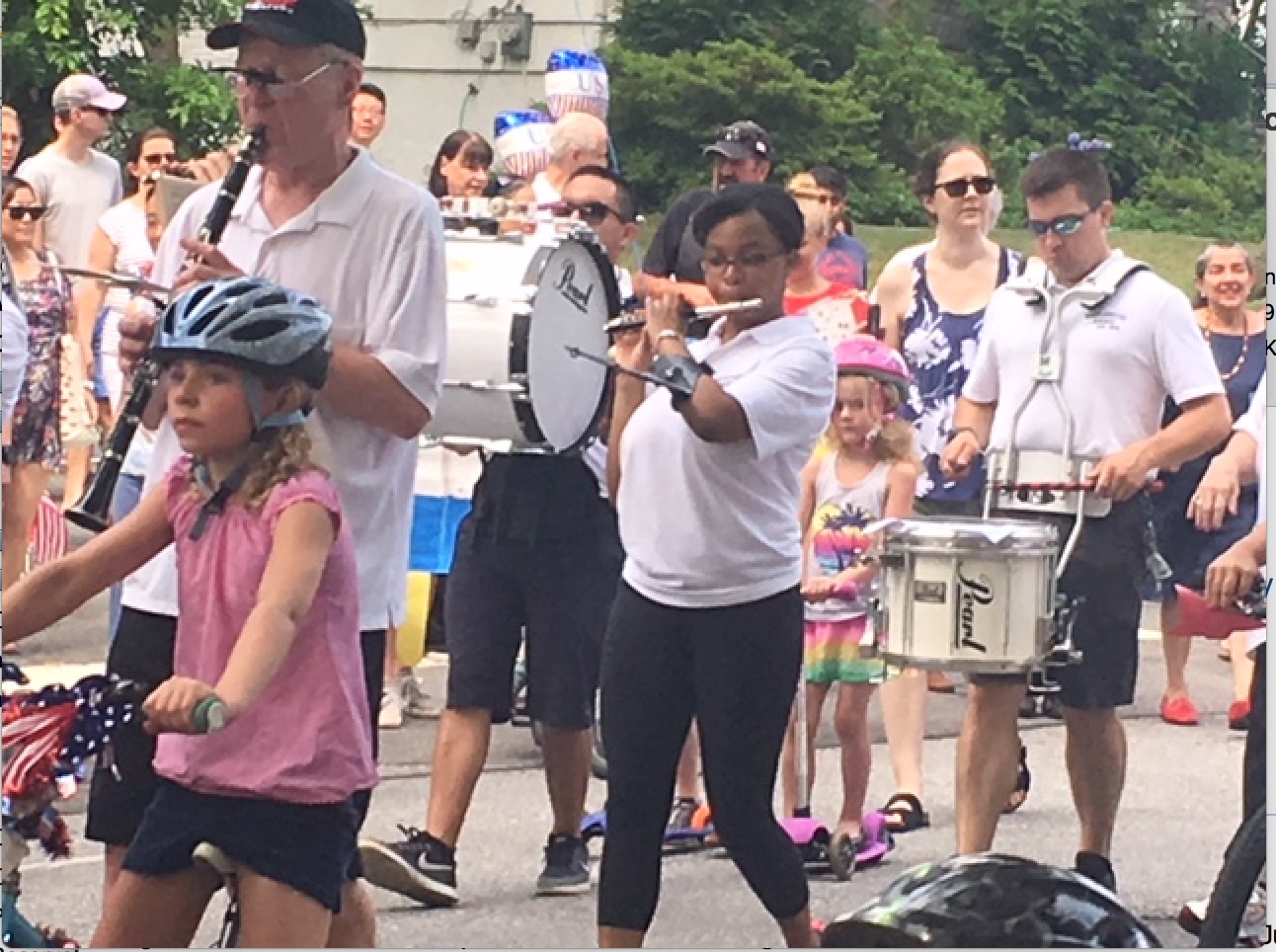 1. Riku Oba
2. Zoe Zheng
3. Asa Ogaki
Girls, 9 and 10 yr olds
1. Uma Scher
2. Eve Scheff
3. Elena Sannicandro
Girls, 11 year old and older
1. Zoe Maidman
2. Bea Martin
3. Ava Zerbo
Potato Sak Race/ Boys
6 years and under
1. Paxton Debrabant
2. Johan Schuerhein
3. Michael Miahoski/Alan Wang
Boys, 7 and 8 yr old
1. Connor Coakley
2. Matthew Miahoski
3. Colin Caokley/Henry Larch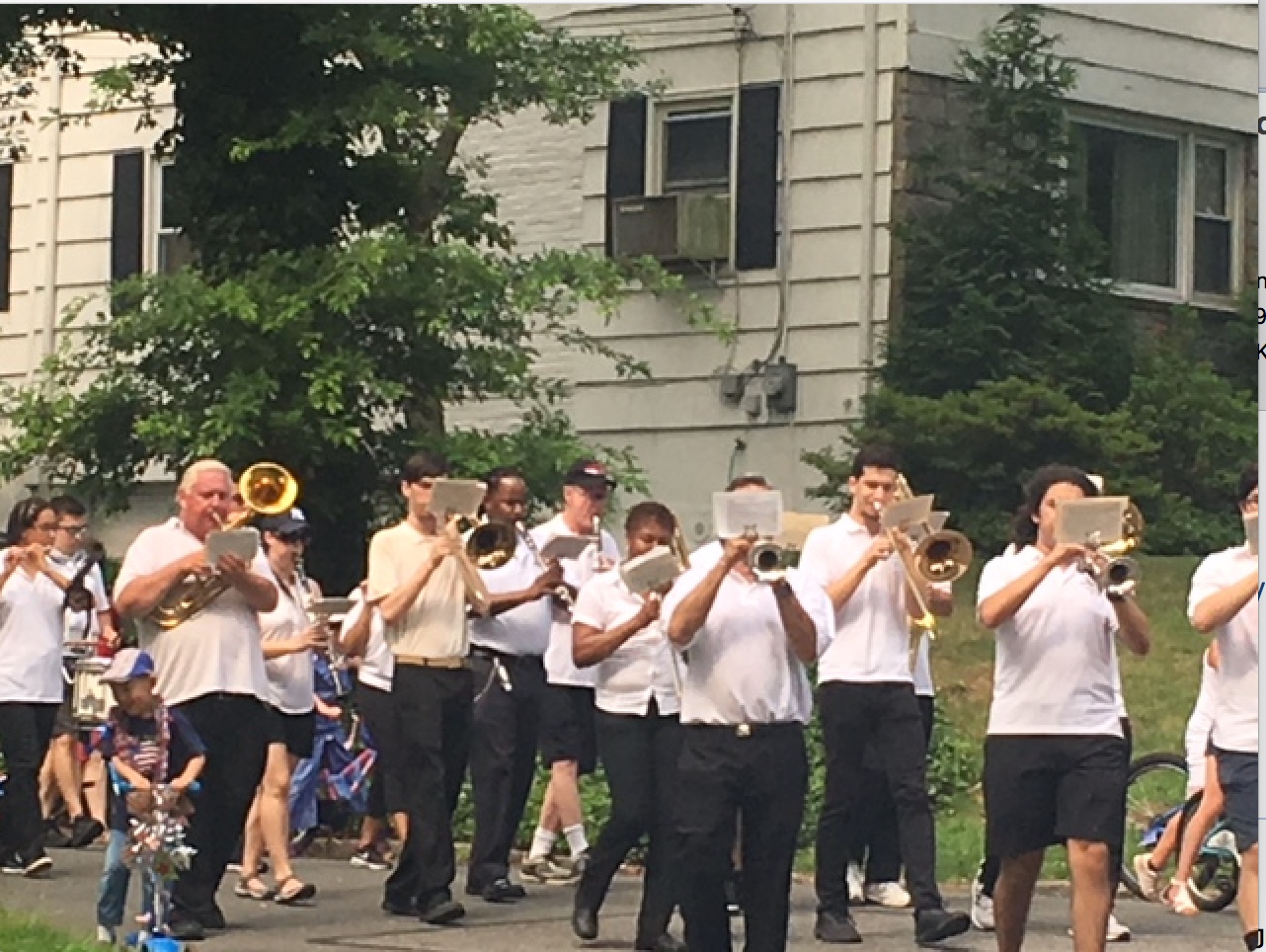 Boys, 9 and 10 yr
1. Sebastian Monge
2. Keisuke Ogaki
3. Ari Maibrunn
Boys, 11 and older
1. Daniel Hoey
2. Nicky Ebenes-Barst
3. Max Block
Parent Child Relay
Children Under 5 and under
1. Jonathan and Ellen Chang
2. Grace and Chris Piekarski
3. Micah and Uri Scher/ Benjamin and Marc Maibrunn
Children 6, 7, 8 yr olds
1. Dan and Connor Coakely and Christian and Oliver Elanisin
2. John and Patrick Bates, James and Lorenzo Martix
3. Henry and Daniel Lorch/ Rikku and Oba Uske/Asa Ogaki
Children 9 and 10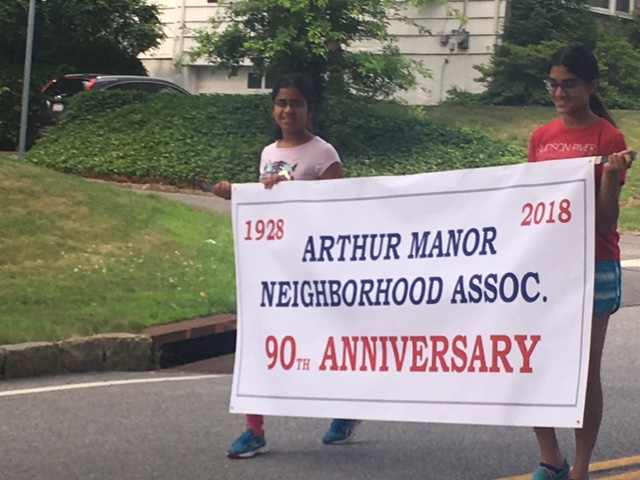 1. Alana and Uri Scher
2. Hugo Gueler/Serge Yanovskey
3. Julian Zlomislic
Children 11 and older
1. Daniel and Kevin Hoey
2. Dean and Lou Mancini
3. Max and Felicia Block
Three Legged Race
6 and Under
1. Michael Mialkaski and Benjamin Maibrunn
2. Monica Peterson and Lillian Peterson
3. Sasha Yanovskey and Miles Mancini
7 and 8 year olds
1. Conner Coakely/Julian Zlomislic
2. Ella Peterson and Zoe Zheng
3. Lynn Tamura and Asa Ogaki, Henry Lardon and Colin Coakley
9 and 10 year olds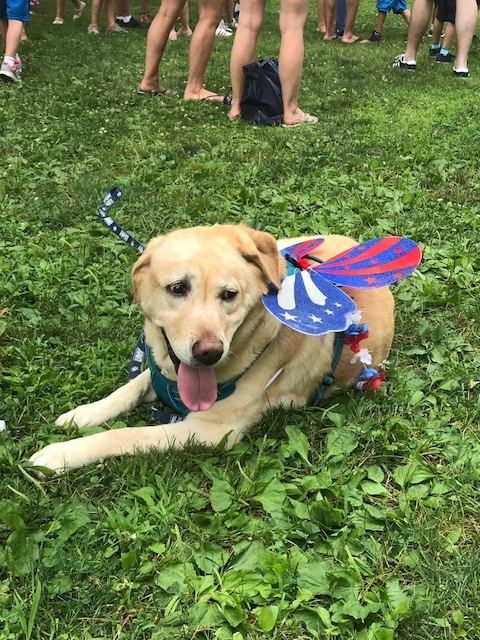 1. Mady O'Grady/Brooke O'Grady
2. Eve Schiff and Uma Scher
3. Matthew Mialkowski/Conor Roche
11 year olds and older
1. Bea Martin and Zoe Maidman
2. Max Block and Daniel Hoey
3. Nicky Eloner-Burst/Neal Mazza
Egg Toss
Winner- Helen Gimbel and Avery Bower