SHS Raiders Varsity Teams Celebrate Seniors by Sweeping the Competition
Details

Written by

Jordy Love

Hits: 2863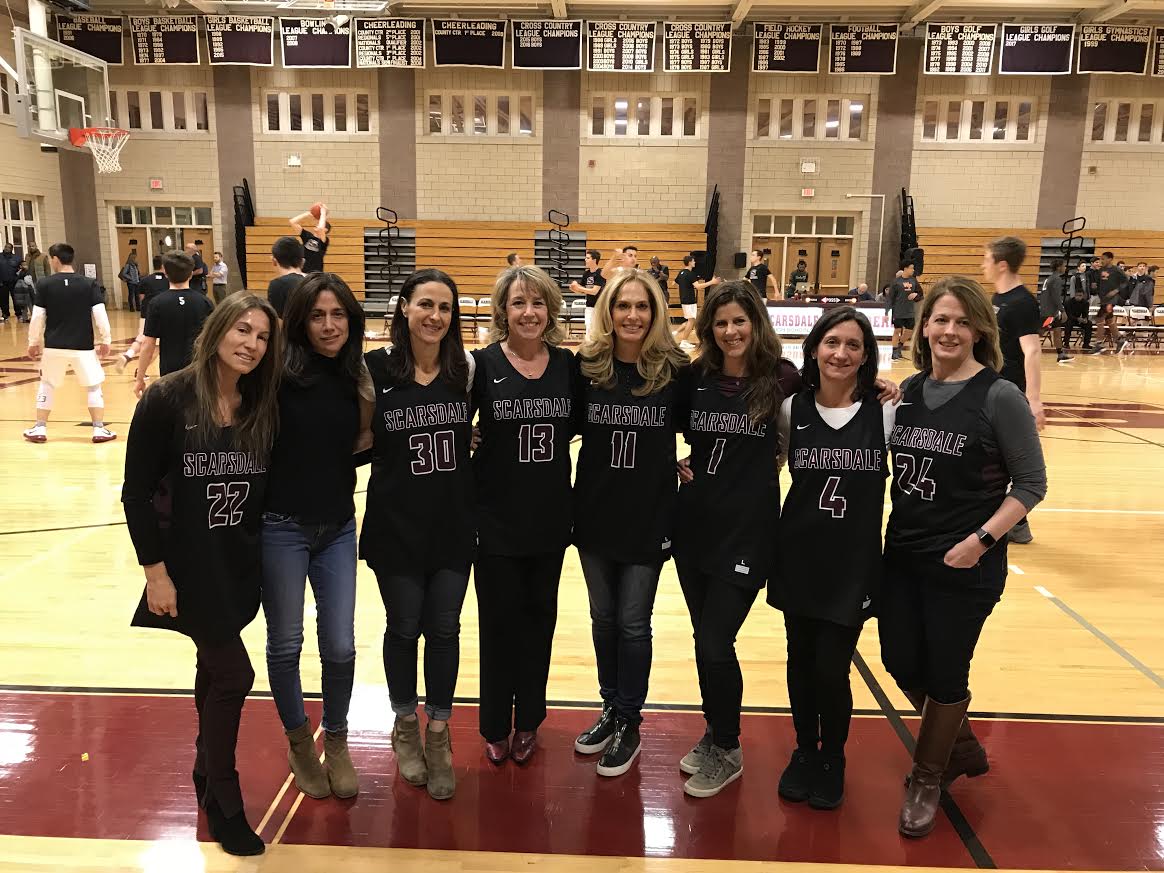 The Raiders Boys Varsity basketball team went on a 3 game winning streak under Coach Justin Washington. On February 6th, the boys played White Plains in their Senior game. Before the game, Seniors were joined by their parents on the court and presented their mothers with roses. The Raiders came from behind to beat White Plains 65-60. Fans packed the stands on Tuesday evening to show their support for the mostly Senior Varsity squad. On Thursday, February 8th the boys played Mt. Vernon on the road and managed an epic upset over the number one ranked team. It was Scarsdale's first win over Mt. Vernon in 21 years. Co-Captain Nash Goldman had 34 points. To cap off their week the boys then beat Tappan Zee 47-44 in a nail-biter during the championship game of the Kari Pizzitola tournament.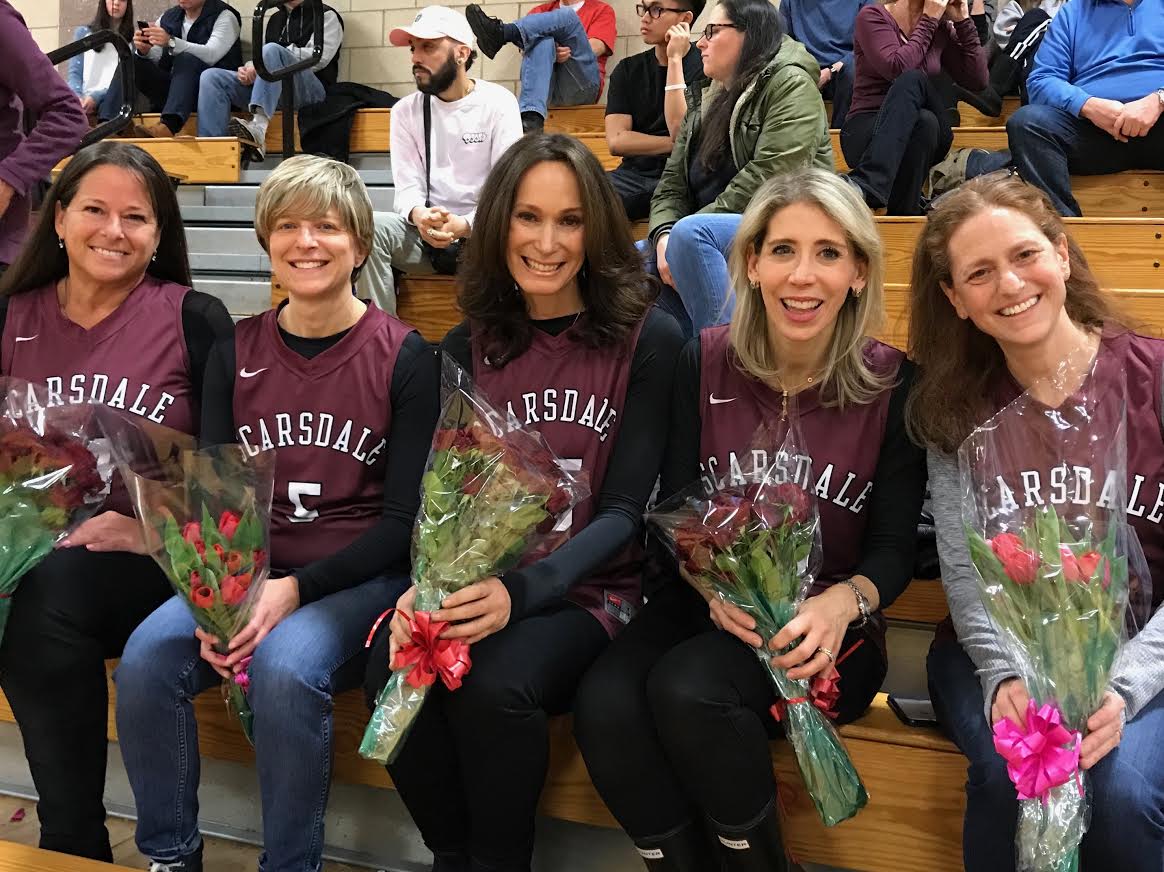 The Raiders Girls Varsity Basketball team played their Senior game on February 10th against Fox Lane during the consolation game of the Kari Pizzitola tournament at SHS. The Senior Ceremony took place before the start of the game where parents joined the girls on the court and Coach Mike Blanco spoke about each of his Seniors. After being down at the half, Tappan Zee managed to close the gap and take the lead. After a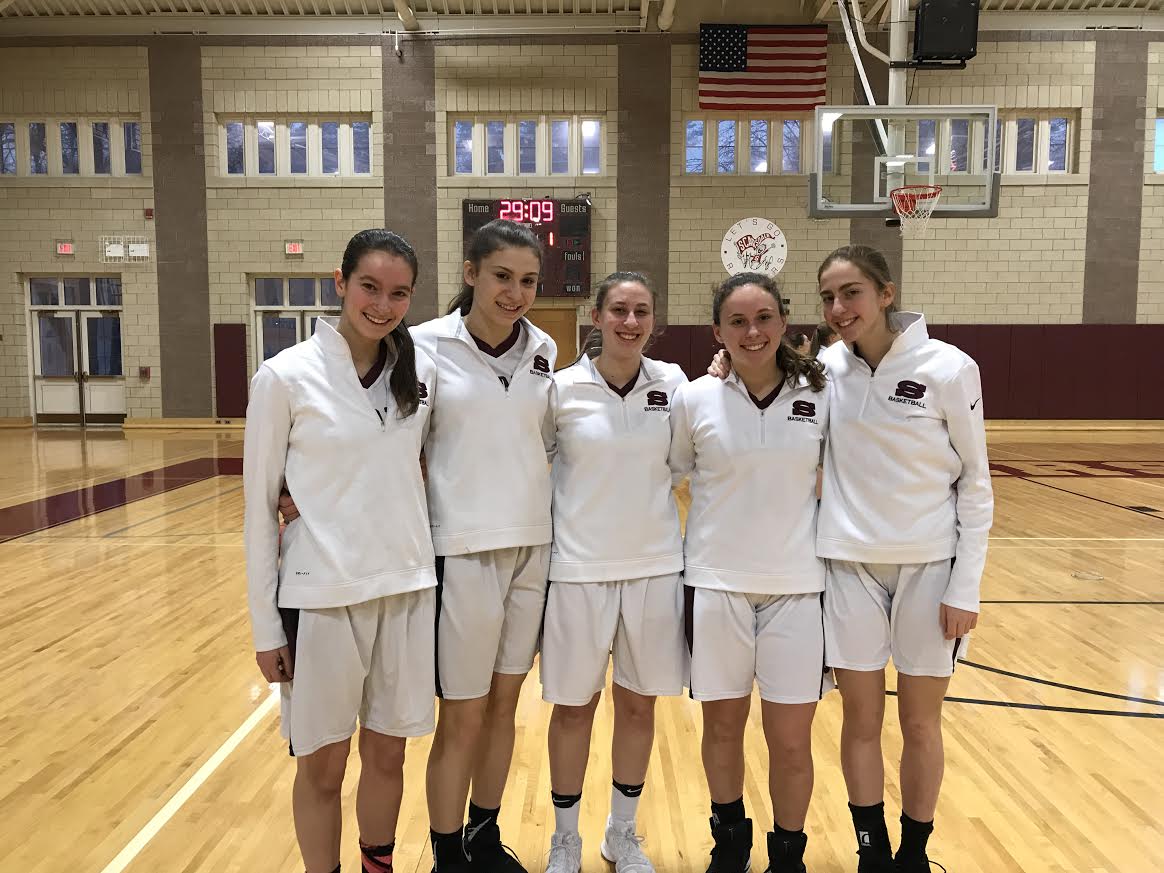 couple of key 3 point baskets by Kayla Maroney the Raiders were able to pull off the win, increasing their winning streak to 4.
The Boys Varsity Hockey Team celebrated Senior Night versus New Rochelle. Seniors joined their parents on the ice immediately before the game and underclass teammates read words written by the Seniors about their Scarsdale hockey experience. Raiders went into the 3rd period with a 2-1 lead over New Rochelle but the Huguenots were able to tie it up and send the game into overtime. Freshman Josh Bock scored the winning goal in OT to give the Raiders a 3-2 victory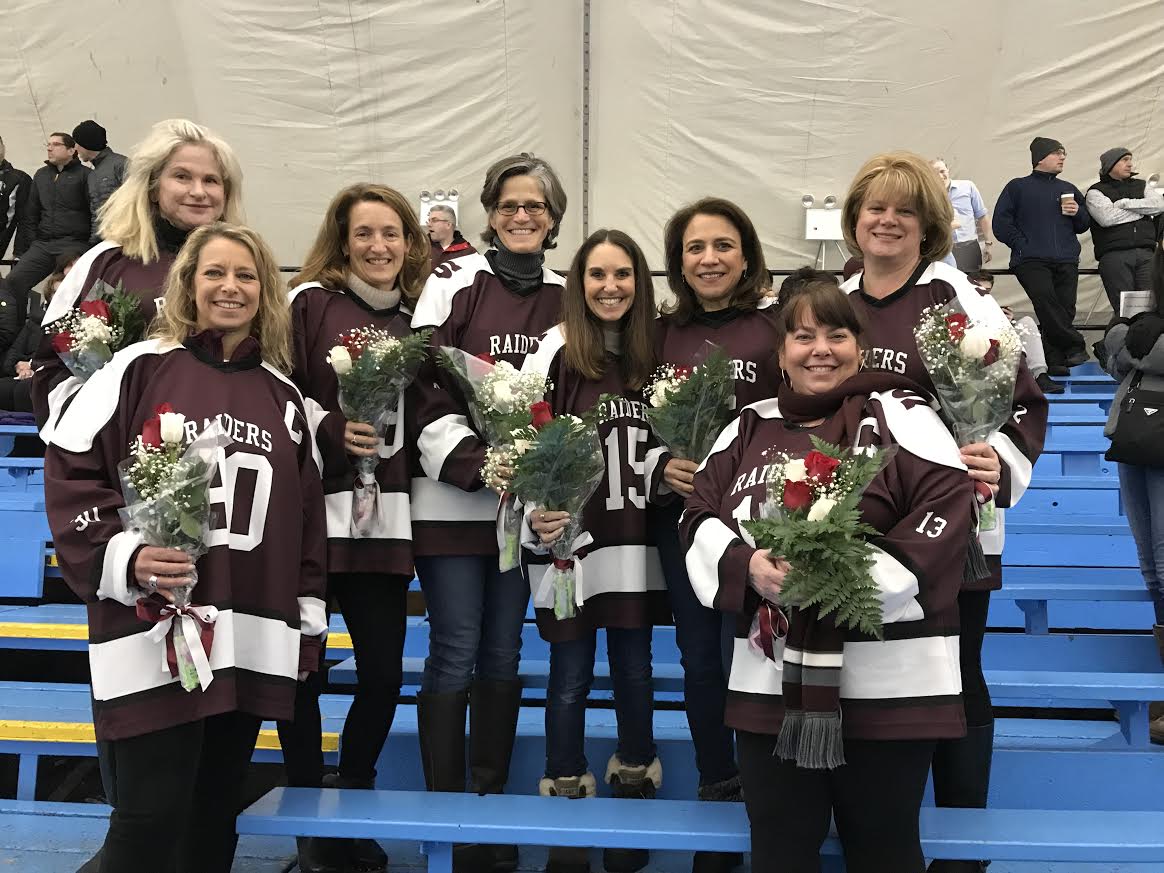 over New Rochelle.
In other Raiders news, more Seniors commit to continuing to play at the college level in football and basketball. Varsity Football Captains Max Bunzel and Noah Glantz announced their intention to play football at the college level this Fall. Bunzel committed to play at Bucknell University next year as a Linebacker. Bucknell has a Division I program that competes in the Patriot League.
Glantz will be playing at Trinity College in the Fall as a Defensive End. Trinity is a Division III football program that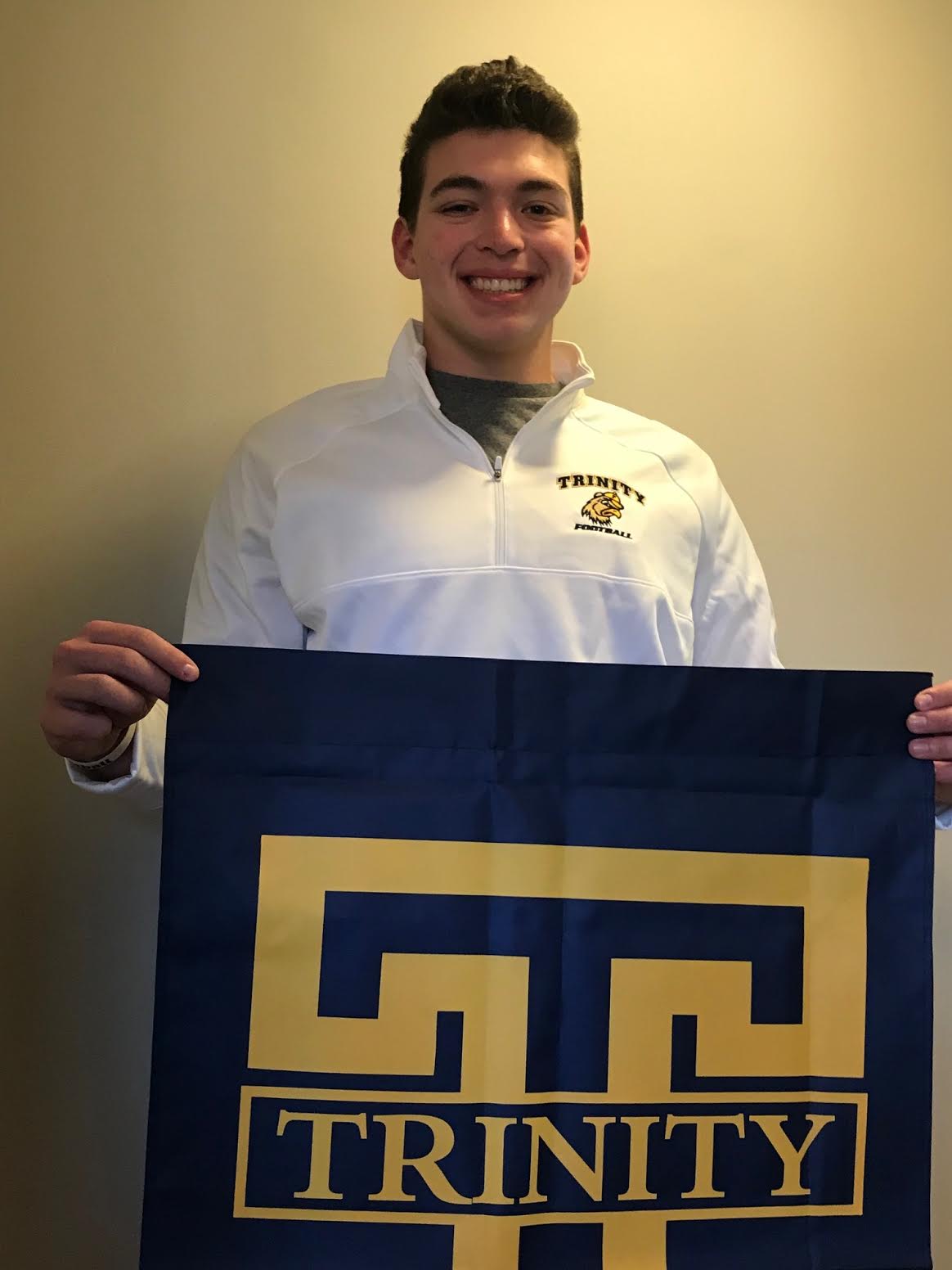 competes in the NESCAC conference.

Senior Audrey Shaev will be playing at Connecticut College after graduation. The Girls' Varsity Basketball Co-Captain said "I'm extremely excited to play at Conn and in college because I've been working towards it for as long as I can remember and to see it actually in the near future and in reality is just amazing and crazy." Connecticut College also competes in the NESCAC Conference.
Boys' Varsity Co-Captain and Senior Nash Goldman has committed to play for Middlebury College next year. Goldman will join former SHS teammate Max Bosco in Middlebury's Division 3 basketball program.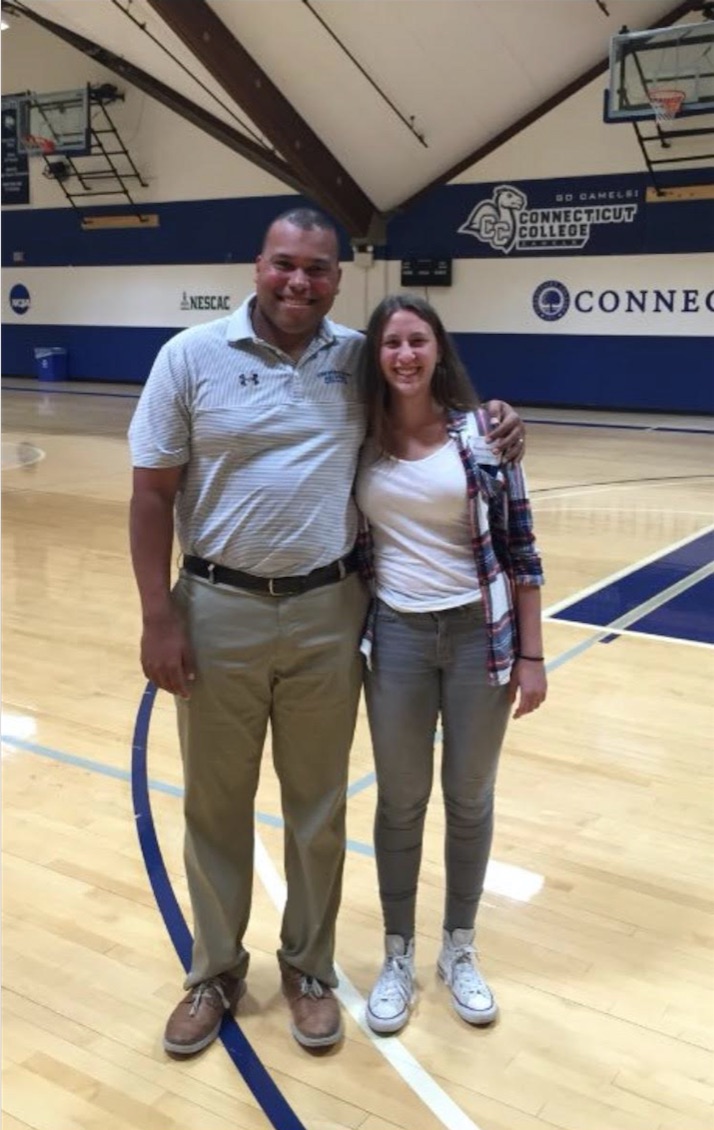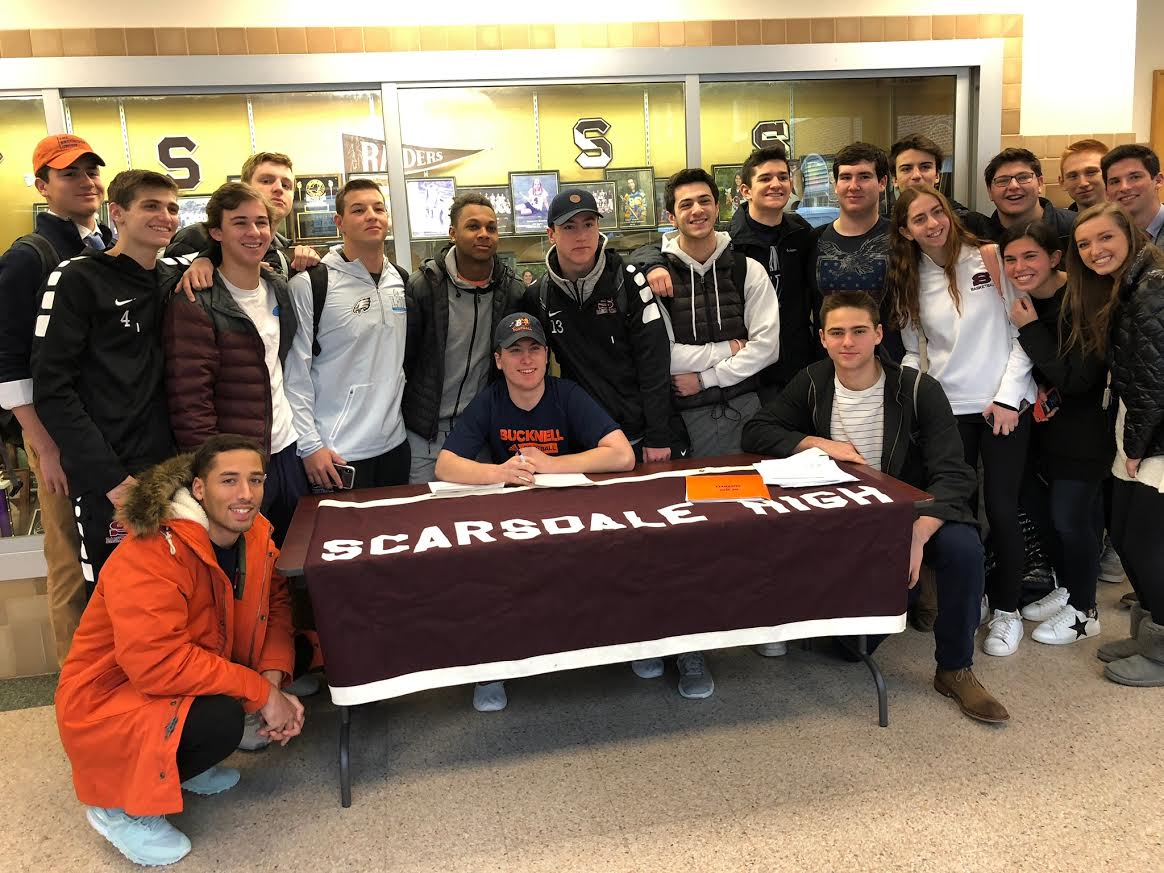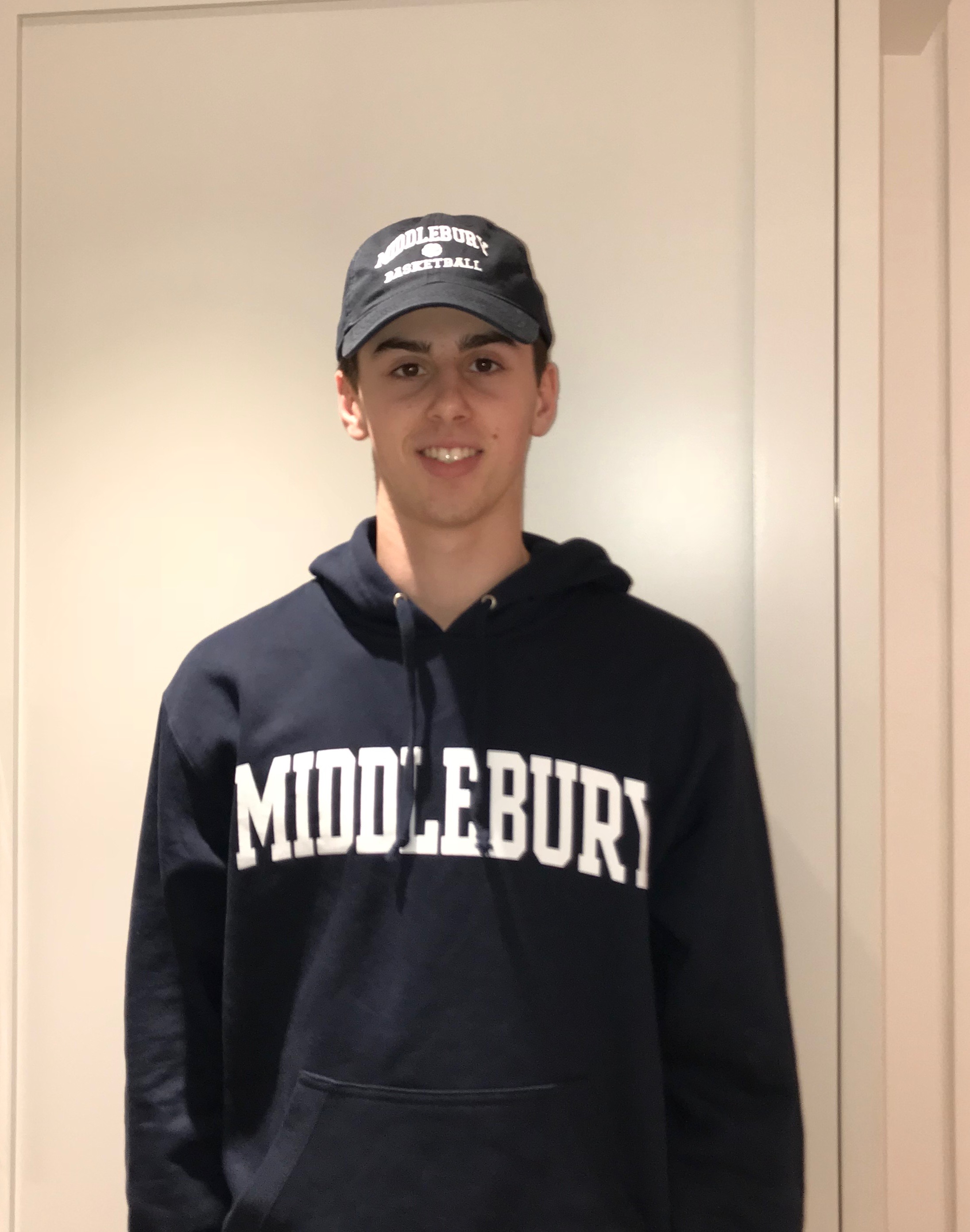 Scarsdale Foundation Offers Scholarship Aid
Details

Written by

Joanne Wallenstein

Hits: 2320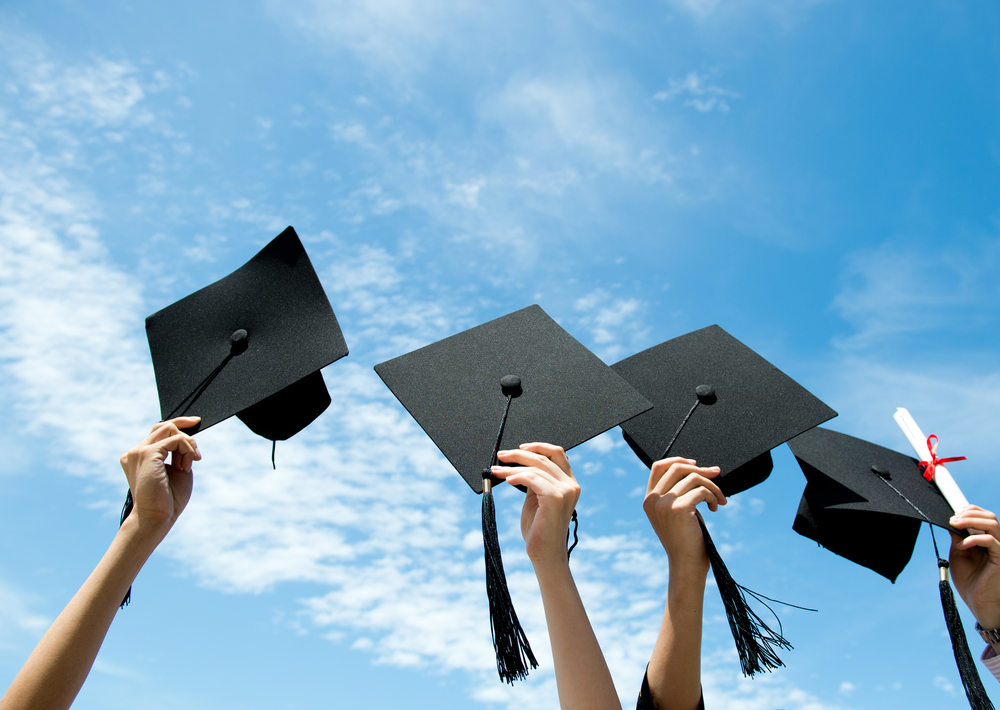 College students who have graduated from Scarsdale High School or lived in Scarsdale during high school and have completed their first, second, or third years of college are invited to apply to the Scarsdale Foundation for tuition assistance. For the 2017-2018 academic year, the Foundation awarded a total of $120,500 in need-based grants to students attending private and state-supported colleges and universities.

Applications should be submitted online to the Scarsdale Foundation's website: www.scarsdalefoundation.org (click on the College Scholarships link). Completed applications must be submitted by Monday, June 4, 2018. Please contact Scholarship Committee Chairs BK Munguia (beeks58@aol.com) and/or Anne Lyons (aulyons@gmail.com) with any questions. Please note "Scholarship Inquiry" in the subject of your email.

The Foundation relies on contributions from the community to carry on its tradition of helping our students in need pursue a college education. Donations may be made online by visiting the Foundation's website or mailed to the Scarsdale Foundation, P.O. Box 542, Scarsdale, NY 10583. Please earmark your donation "Scholarship Fund."

For more information regarding the work of the Foundation, please visit their website:

League of Women Voters of Scarsdale Opposes $64.9 Million Bond Proposal for Scarsdale Schools
Details

Written by

Joanne Wallenstein

Hits: 6762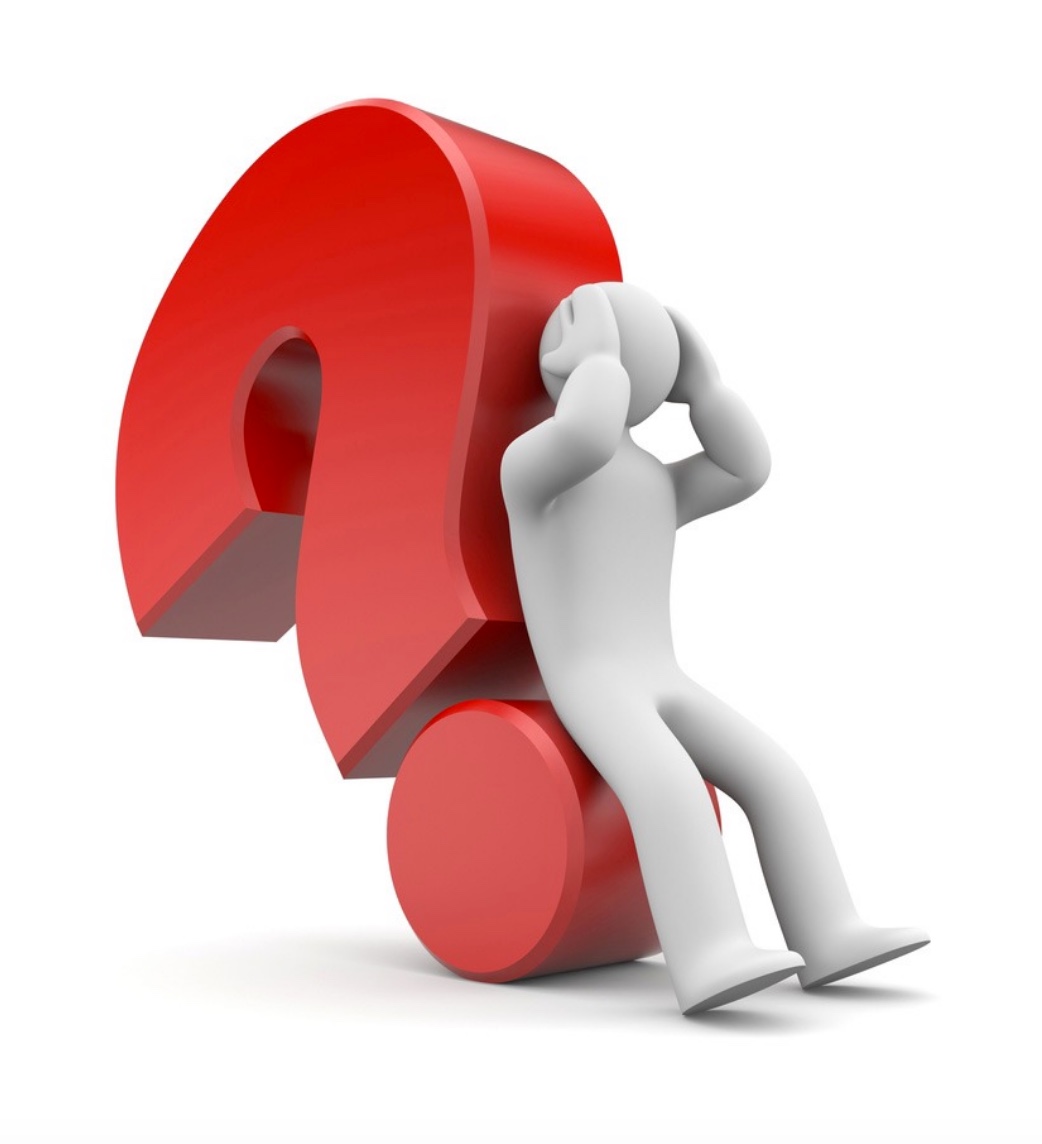 After months of study, the League of Women Voters of Scarsdale issued a surprising statement to the Scarsdale School administration and the Board of Education at their January 22, 2018 meeting. For the first time anyone can remember, the League came out against a school bond, saying, "We support a bond ... but not this bond." Though the League supports investment in the Scarsdale Schools, they "disagree with this proposal for substantive reasons and for the way in which it was conceived and presented to the community." Reviewing the development of the proposed $64.9 million 2018 bond, the statement, says,"the process for the development of this Bond was flawed and thus undermined the League's confidence in the result."

Furthermore, the consensus was that the community was not provided opportunities to give input on issues such as school cafeterias, air conditioning and sustainability or to vet options to renovate the Greenacres School vs. building a new school. They also questioned the Board's decision to limit the discussion to tax neutral solutions.

The statement concludes with a list of recommendations on how the Board can reach out to the community in the future, develop goals and a vision and build consensus.

The statement reflects the consensus of the membership of the League of Women Voters of Scarsdale and was read by Mary Beth Evans, who chaired the bond study committee, Linda Doucette-Ashman, co-President of the League and League Board member Amy Cooper.

Read the entire statement below.

Acknowledgements
The League of Women Voters of Scarsdale (the "League") thanks members of the Board of Education (the "Board") and District Administration (the "Administration") for their presentation and responses to League questions on the Proposed 2018 School Facilities Bond (the "Bond") at the League's General Membership Meeting held January 10, 2018.

The League acknowledges that much time and effort have gone into developing the Bond and we thank the Administration and the Board for their additional effort spent in preparing for our meeting and for providing the audience with informational handout materials on the Bond. The League also appreciates that members of the Board and Administration allowed additional time to respond to numerous audience member questions that extended the public information session past the scheduled time.

The League appreciates the opportunity to comment on the Bond. This statement reflects the consensus of League members at a meeting held immediately following the public information session on January 10, 2018.

Position
The League does not support the 2018 School Facilities Bond. To be clear, the League struggled with this statement because we do support investment in Scarsdale school facilities in order to maintain and enhance Scarsdale educational excellence and to ensure the health, safety and security of our students and staff. Moreover, we support a bond as a means of funding projects that address major facilities needs. We disagree with this proposal for substantive reasons and for the way in which it was conceived and presented to the community. Should the Bond be voted down, the League hopes that the Board and Administration will begin a new bond process without delay and with a more fully integrated long-range vision. In short, we support a bond but not this particular Bond.

Major Objections & Concerns
While we recognize that no bond process is perfect, the process for the development of this Bond was flawed and thus undermined the League's confidence in the result. The League notes that the process did not provide:


Timely, structured and thorough outreach to identify broad community values and priorities early on;

Timely, thorough and broad community input on such issues as elementary school cafeterias and kitchens, district-wide classroom air conditioning, and sustainability;

An opportunity for the community to thoroughly explore and vet all cost/value options;

A full cost/benefit analysis to justify the Administration's recommendation and Board's 
decision to renovate and expand versus building a new Greenacres School; or

A clear and compelling explanation of the Board's decision that the scope of the bond should be "tax neutral" (i.e., resulting in no associated tax increase to homeowners), especially given the long list of identified work and current favorable borrowing climate.

Furthermore, most conspicuously and significantly absent from the process that produced this Bond was a long-range vision for all of our schools. The process did not provide a coherent picture of what our buildings need in order to preserve and enhance a high quality Scarsdale education or a plan to address all facilities needs moving forward. The League believes that an opportunity was missed to develop a long-range master facilities plan and to present a framework for the future that could bring the community together in support of all of our school buildings.

The League acknowledges that ultimately:

• In late fall 2017, the Board did shift the bond vote date forward to include additional 
meetings that involved open Board member deliberation and opportunity for public input 
on key priorities and values;
• In October 2017, the Administration did articulate educational goals for the Greenacres 
School project; and
• In late December 2017, the District did provide the public with new informational 
materials that now present the Bond projects in a more digestible format and are readily accessible on the District website.


However, the League maintains that each of these positive actions were taken too late in the process. We therefore reiterate several concerns with the process expressed in various public statements at School Board meetings since July 2017 by the League School Bond Study Committee and League Board, including:

• The overwhelming volume of data presented at each public meeting;
• The constant shifts in narrative following real-time District decision-making;
• The absence of a clear statement of the Board's overall objective as it relates to the 
quality of our schools and Scarsdale's educational values; and
• The insufficient opportunity for public input and insufficient Board deliberation to fully 
inform the public in a manner that allowed the community more timely opportunity to engage, question, challenge and/or support the School Board's educational rationale and fiscal assumptions in deciding the key parameters of the Bond. 

The League further concludes that the District's presentation of how the proposed Bond project would address Greenacres School's educational needs lacked specificity. In the end, we lacked a sufficiently detailed picture of how students would experience the proposed new addition and changes to the existing building, and how the project would connect to the District's larger educational vision not only for Greenacres but for all District schools. There was also no clear answer provided as to how long we could expect the $35 million investment to serve the community. 


The League remains uncertain that the Bond's plan for Greenacres School represents the best investment of the community's resources. The League recognizes that the Bond's proposed project for Greenacres School would realize some long-awaited improvements and address some of the District's stated educational, health and safety goals for that building; however, the League has concerns that key spatial, health and safety needs are not being adequately addressed.

Recommendations
In order to produce a bond that maintains and enhances Scarsdale educational excellence in a fiscally responsible way that is in the best interests of the community, the League believes that the Board should implement an improved bond process that:

Begins with more timely, effective and thorough outreach to identify broad community values and priorities;

Articulates a clear vision as to the purpose of the bond;

Presents to the community a coherent picture of what our buildings need in order to 
preserve and enhance a high quality Scarsdale education, including sharing with the 
community the District's benchmarking method and results;

Develops the bond as part of a long-range facilities plan that provides a framework 
for the future of all of the schools; and

Is collaborative and builds community consensus from the ground-up. 


The League believes these process recommendations align with the Board's statements highlighting the importance of acting in partnership with the community. We agree that a successful bond process and proposal that makes sense for our community requires us to work together. To this end, a bond process must ensure that we all start from the same place and proceed forward together in a methodical manner, with a shared understanding of the basic underlying assumptions and overall District goals and educational values driving the process that a proposed facilities bond would address.

Conclusion 

While the League does not support this Bond, we support investment in our school facilities and a collaborative bond process that builds community consensus from the ground-up and results in a shared long-range vision for maintaining and enhancing our excellent Scarsdale schools.

The Bond vote will take place on Thursday, February 8, 2018 from 7 am to 9 pm at the Scarsdale Middle School. Information on how to register to vote and/or to obtain an absentee ballot is available by clicking either the "New Bond Website" link on the homepage of the District website (www.scarsdaleschools.org) or the "Voter Information" tab on our League website (www.lwvs.org). 
Respectfully submitted, 
Mary Beth Evans, Chair, School Bond Study Committee Linda Doucette-Ashman and Janice Starr, Co-Presidents League of Women Voters of Scarsdale
Brews to Chase Away the Blues at Winterfest
Details

Written by

Joanne Wallenstein

Hits: 1646
The Scarsdale Forum hosts its tenth annual membership party, Winterfest 2018, on Saturday, February 3rd at the historic Scarsdale Woman's Club, 37 Drake Road from
7 to 11 PM. (Snow date: Sunday, February 4th from 4 to 7 PM)
Kicking off Winterfest 2018 during the cocktail hour is pianist Angelo Di Loreto where the home brewed beers of Bruce Wells and the hot dog station reign. Diners will enjoy a delicious buffet dinner prepared by Plates in the beautifully appointed music room of the club. Forum members will take to the keys during the dinner hour. Door prizes donated by generous local vendors will be awarded throughout the evening. Desserts baked by Forum members and friends will be served in the large dining room. In the adjacent library, the a cappella group Counterpoint will top off the evening's entertainment. This festive event promises food, drink, music and lively conversations, perfect for chasing away the shivery winter blues.
The Scarsdale Forum is a charitable organization dedicated to improving life in Scarsdale. The Forum studies many issues affecting the Village and frequently provides input to governing bodies and elected officials on the local, county and state level via reports and statements prepared by its committees. Village of Scarsdale residents are encouraged to join the Forum and attend to the best block party in town! All profits from the event support the public programs offered by the Forum throughout the year.
Admission is $40 per person and limited to members and their guests. Due to the popularity of this event, advance reservations are encouraged.
Advanced reservations, membership renewal and joining the Forum for the first time can be done online at: www.scarsdaleforum.com or by mailing a check to Scarsdale Forum Inc., P.O. Box 86, Scarsdale, NY 10583. For additional information regarding the event, please contact the Forum office by phone at 914-723-2829 or by email at: office@scarsdaleforum.com.
School Administration Responds to Questions about Proposed Bond At LWVS Public Forum
Details

Written by

Joanne Wallenstein

Hits: 4801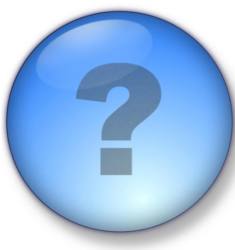 The League of Women Voters of Scarsdale posed some tough questions on the proposed 2018 school bond at their public forum on Wednesday January 10 2018 at Scarsdale Library. The $64.8 million bond would be roughly split between a renovation and expansion at Greenacres Elementary School and infrastructure work including ventilation, boilers, roofs, site work and ADA compliance upgrades at the rest of the district schools. The bond referendum will be held on February 8, 2018
Mary Beth Evans chaired the League's bond study committeeand presented the League's questions to the administration in advance of the meeting. Superintendent Thomas Hagerman and Assistant Superintendent Stuart Mattey arrived with their answers in hand. They were joined by School Board President William Natbony, Vice President Scott Silberfein and Greenacres School Principal Sharon Hill. Following that portion of the meeting, the floor was opened up to attendees who asked their own questions about the proposal.
Plans for Greenacres Elementary School drew the lion's share of the scrutiny, with questions posed about the scope of the plan, the decision to renovate rather than construct a new school, environmental concerns, sustainability and educational adequacy. Also questioned was the decision to assume that any capitol plan had to be tax neutral.
In a discussion about what priorities went into the decision about Greenacres, Dr. Hagerman presented a list that included some items that had not been previously reviewed, namely historic preservation and respecting neighborhood building character. It should be noted that the proposed building design extends very close to the street, includes two large retaining walls and maxes out the three-acre building site.
Here are the priorities for Greenacres identified by Dr. Hagerman:
Optimizing a design that works within the existing footprint – as we know, all of our older schools are on fairly tight lots and that's sometimes a tricky proposition

Ensuring proper drainage, elevations and walkways that fit within the overall design.

Keeping obviously the historical aesthetic of the existing school and the overall neighborhood – that was an important consideration at the onset of this process relative to Greenacres.

Ensuring shape, scale, scope matched the scale of other existing homes and buildings in the immediate proximity

Including sustainable elements and new plantings as part of the design.

Creating indoor and outdoor spaces that capitalize on natural light and the beauty of the adjacent park.
The budget for Greenacres School includes $1 million for historic preservation, which according to Assistant Superintendent Stuart Mattey has "been budgeted in the proposed bond in order to provide the ability for enhanced detailing, both interior and exterior in order to preserve, maintain and further the integrity of the historic architectural elements/qualities of this building."
In response to the League's following question, "Are there issues and needs at Greenacres School that the final bond project will not address? If so, please explain? Dr. Hagerman said, "We believe that all major needs will be addressed by this proposed bond with the caveat with new construction and renovations there is always the potential for some repairs so I don't want to assert that no work will occur at Greenacres after the bond project is complete. We are satisfied that it will be treated as regular maintenance." Stuart Mattey added, "The major part of this scope is building conditions.... electrical, plumbing. These have not been replaced for decades. These do wear out."
This was somewhat confusing as the district had previously identified $5 - $6 million more in additional infrastructure needs for the building that will need to be addressed beyond the work specified in the bond.
You can watch the presentation online here and read our transcription of the text below.
Here is a summary of some of the questions asked by the audience and the administration's response:
Susie Rush said, "I used to be engaged but have not been in the last year. People are going to make a decision to vote – maybe just based on what they hear from their friends or from reading the paper. I know my husband is going to ask why he should vote for this bond. I have to have a basis to argue it cogently. One of the biggest elements of this bond is Greenacres. The question is, why did we choose to renovate vs. build a new building? I have read some of the materials. I am not seeing points I can spout out about what I think. Can you give me 3 or 4 reasons why the board decided to go with renovation rather than new?"
Dr. Hagerman said, "There is not one reason. There were priorities established like educational adequacy and historical preservation. There were a number of issues that were raised. We felt a renovation and expansion best matched those. It was the architects and engineers opinion that Greenacres was a viable building, that it had some issues as all old building have issues, but they thought it was structurally a beautiful building, a pleasant building and with the proposed renovation and expansion we could make it an absolute diamond."
He continued, "The issues that were identified around classroom space, the adequacy of bathrooms, around the food service, around the multipurpose space are all being accomplished absolutely in the renovation that is proposed. The tax neutrality question came out as a primary consideration at the very beginnings of this process. Unlike the 2014 bond which was "tell us what you want, what you would like to see," this started with a hard look at every single building. I don't know if that had ever been done. When we did this, we said, we have a lot of needs. We have code compliance issues, we have space issues, we have educational issues, we have food service issues ... in order to take care of those issues and maintain neutrality, this was the best solution."
Board President Bill Natbony added, "We were comfortable that we could do it right at Greenacres and still do the other work across the district."
Greenacres Principal Sharon Hill said, "The process gave me and the teachers the opportunity to participate in the process. There are many ways we make do with the way the building serves us. It's not unusual to find the children working in the hallways on the floor. Because the space – for the older children --- is smaller. On indoor recess days it's hard to manipulate where the children are going to be. The proposal helps us to resolve some of those issues. We have a nice plan that addresses all of our needs at this point."
Victor Goldberg questioned district priorities. He said, "Suppose tax neutrality had been given a number that was 10% more. What would you have done? I was wondering what you left off? Interest rates are pretty low. I am not sure "tax neutrality uber alles is the right philosophy."
Dr. Hagerman replied, "We identified millions of dollars of additional work that the district is taking on through our operating budget. There was a lot of other work. Much of this is life, safety and code compliance. There are still wish lists for greenhouses and playgrounds. That was not entertained at all as part of this work."
Michelle Sterling said, "I find there to be many glaring omissions in this bond – not "nice to haves" but glaring omissions with this bond, one of the major ones is with the parking and drop off and pick up situation that is not is not addressed with this bond. That is not a nice to have. That has to do with the safety of our children and I think Principal Hill and any parent who sees the situation knows that it's a very unsafe situation and it has been this way for years. What's the plan to address that?"
She added, "My second one is that the district has hired a publicity firm to promote this bond. Is that true? Did we hire a publicity firm for the last bond? How much are we paying them and why are we feeling the need to do this? Thank you for your volunteer time."
Dr. Hagerman said, "There are a whole lot of things we are working on as a district that are not necessarily in this bond. Parking is a great example. We have parking issues at every one of our schools. We understand that parking in a neighborhood that was not designed for that kind of traffic flow around the school is an issue. We did look at a couple of items relative to Greenacres and the parking options were not sufficient. So we are continuing to look at it. We understand it is a critical issue."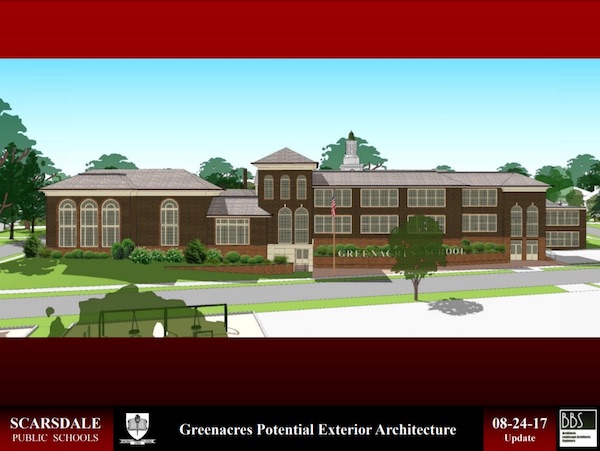 He continued, "We do have a public relations firm, Zimmerman and Edelson. The amount of volunteer hours for that effort on the last bond was insane. The timeline around this bond, the complexity of this bond, some of the unrest that came out as a result of conflicting views about this lead us to believe this was necessary to get out effective, good timely information to the community and so that was a decision that we made, not to promote the bond in a positive way, but to share accurate information about what was going on.... To make sure that people understood what the proposal was. I have only been here for four years so I can't answer for how long - but we have had committees doing this work. About the cost, $10,000 Stuart is telling me? It's a BOCES service and the cost is about $10,000. (Someone in the audience said the cost was previously reported at $18,000 but Mattey said that some of this would be reimbursed by BOCES)
Mona Longman said, "My question is also about the costs. In the past we were told that $33 million is going into the renovation and there is another $5-$6 million of lower priority items that still need to be done. And air conditioning could be more to be put into the building. Are we in the mid $40's? I question whether that's the best way to spend our money. There are other buildings being built around the country for under $40 million – two of which are zero energy schools. Other districts are talking about sustainability and low energy and we're going in the opposite direction and I don't understand why. You're talking about putting a lot of money into renovation... over $40 million – why is this a good use of my money?"
Dr. Hagerman responded saying, "I think we reviewed all the information about why we think this is a good renovation and expansion and met the criteria for all of them. We believe that this is the right move. Will we not spend more money on Greenacres moving forward? Of course we will. I don't know how to answer the question about air conditioning. We're divided on this issue. I have heard opposite views on this for the limited days that it will be used."
He continued, "On the issue of sustainability – we are doing a lot of efforts across the district. We are not going backwards. We can look at Scarsdale Village. Of course buildings are being razed and rebuilt. But the number of people who choose renovations and expansions over building a brand new house has to do with the character aesthetic. Sustainability has been part of our RFP. In terms of toilets, lighting – we have been making efforts in all these things."
Board President Bill Natbony added, "Without understanding where these other schools are or what's included does not mean they are comparable to us. We are very comfortable with the costs and estimates we have received."
Karen Brew asked, "What is the vision for all the 100 year-old buildings? How will you deal with all of that and keep all schools up to date?"
Dr. Hagerman said, "I am not going to tell you who is next in line to get major work done. We have heard similar concerns about other schools. Right now we are living in this moment. I have not thought one second about a bond in the future. That will be a community process. We will identify the needs at that time. I can't say anything about the future."
Nancy Alderman posed a question about the environmental hazards in the school. Mold was found in Greenacres School in October of this year, and the lead pipes in the building will not be replaced in this renovation. She said, "I am a first time, long time. I have been a member of the league but I have never come to a meeting. I am deeply concerned about health and safety. I am concerned about the mold and the lead in the pipes. The mold can be remediated and it can come back"
Dr. Hagerman agreed, saying, "Yes, mold is chronic problem, in your own home, in your basement in your shower. You have to constantly clean and remediate. That's the nature of mixing air and moisture together. We issued a report. We remediated four spaces with mold and they are completely remediated. Do we believe it will never come back? No, it will. We have put together a plan for remediation to test each school on a rotating basis. Randomized testing. We share your concern. We proactively tested for lead before it became a state issue. We remediated for lead. We are committed to making air quality and all contaminants a priority in the future in all buildings."
Cynthia Dunne discussed restoration vs. renovation. She said, "I have just gone through a restoration and expansion of a 100 year-old house. There are costs that you are going to run into that you never expected. What's the plan for the overages? If you are going to do in a sustainable fashion, it's going to ramp up the costs way above any architects estimate. At the end of the day we found it would have been break even to knock it down and rebuild it as a 100% efficient home. Was that analysis done? Did you compare the cost of rebuilding vs. restoring? You'll never get to 99% efficiency on an old building."
Stuart Mattey said, "The contingencies are built into the numbers to cover the unknown. The architects designed and built older buildings. Dollar wise it is covered. Time wise we are aware of those possibilities. The estimates for a new building are on the website."
Following the public session, the League held a consensus meeting for League members only. Using the feedback from that session they will issue a consensus statement that will be read at the January 22, 2018 meeting of the Board of Education.
You can watch the meeting in its entirety on SPTV. However here is a summary of some of the responses to the questions posed by the League of Women Voters:
Question #1
What is the District's vision for Scarsdale school facilities that the bond is intended to achieve? And how will the bond projects serve to maintain and enhance current and future Scarsdale excellence in education?
Dr. Hagerman
Educational vision is expressed as part of values. There is a legacy of excellence found in our current transition plan. What has influenced this work is long term planning, tax neutrality, SET 2.0, K-12 wellness initiative, students voice and choice and the technology needed to meet these goals.
Health and safety is a value. So we commissioned building studies to optimize learning spaces for students to thrive. We developed long term plans for both the bond and for planning purposes. The projects in the 2018 bond all address health and safety and security issues for example new fresh air systems in elementary schools. At Edgewood and Fox Meadow these systems do not meet current state requirements. Security vestibules and cameras will be constructed at all elementary schools. At Greenacres, the learning environment will be optimized for student achievement, new 4th and 5th grade classrooms will be provided and the learning commons will provide opportunities for more creative learning for all of our students. Reconstruction of existing space will result in new art, maker space and music rooms plus a cafeteria, which none of our other schools except Quaker Ridge has."
Question 2
We understand that flexible, collaborative learning space, access to advanced technology and sustainable buildings are some of the features of today's optimal K-12 learning environments. Please describe how the 21st-century spatial needs of the schools were assessed and how the final bond proposal addresses such needs?
Dr. Hagerman:
Major elements of a 21st century classroom include: flexibility, accessibility for all, even those with disabilities, mobility, spaces that allow for different types of learners, technology-infused spaces. Students should be inspired by their environment and have access to light and the natural world. The proposed spaces were assessed given these values. District and national norms were also part of this process. The classrooms identified for expansion have been identified based on these benchmarks. The smallish 4th and 5th grade classrooms will be part of the expansion and will overlook the beautiful park across the street.
Question 3
What specific building infrastructure and spatial work is needed but not included in the final bond proposal? And if some schools have yet to undergo a full spatial needs assessment, when do you anticipate this will occur?
Dr. Hagerman:
We started out with a different architect, KG&D and then continued with BBS when they came on board. They identified every issue. We went through these item by item and prioritized them and decided who would be responsible for them. There is a scope of work that is not included in this bond that we are taking care of through our ongoing maintenance budget or in our 2018-19 budget.
All of the buildings have gone through a spatial needs assessment. We are still talking about elements of a Scarsdale 21st century classroom. There has been a lot of talk about square footage over time, and it doesn't matter if you have a house that's 1,000 square feet or 2,000 square feet, if one house is filled with furniture and casework and they other one is minimally designed. It's how you use that space. So we've been talking about prototyping 21st century classrooms in the district for a number of years. For example at Edgewood, they have Room 18 an experimental classroom where students came in and tried different designs. We've been looking at furniture like stand-up desks. We'll collect information and data about their experience with that and decide if there is going to some creep of that across the building or at the district level.
Question 4
Please describe the design goal for Greenacres School and the process by which it was determined.
Dr. Hagerman:
Maximizing space and educational adequacy for both current and anticipated needs including classroom and multipurpose space
Optimizing a design that works within the existing footprint – as we know, all of our older schools are on fairly tight lots and that's sometimes a tricky proposition
Ensuring proper drainage, elevations and walkways that fit within the overall design
Keeping obviously the historical aesthetic of the existing school and the overall neighborhood – that was an important consideration at the onset of this process relative to Greenacres.
Ensuring shape, scale, scope matched the scale of other existing homes and buildings in the immediate proximity
Including sustainable elements and new plantings as part of the design
Creating indoor and outdoor spaces that capitalize on natural light and the beauty of the adjacent park
And including the feedback of the school and district staff – and as folks know we had a lot of community and parent input as well.
Question 5
Are there issues and needs at Greenacres School that the final bond project will not address? If so, please explain.
Dr. Hagerman
There is a significant amount of work and it is quite comprehensive. There are a host of things we recognize that the district is already taking care of. It is going to be a tight budgeting year. We all recognize concerns about changes that are occurring at the federal and state level so we did much of this work before we knew about these proposed changes. So I would encourage everyone to follow the budget discussions to see how much of this we will be able to get done in the next year and of course over the next five or ten years.
This question was specific to Greenacres, so let me be very clear about this. We believe that all major needs will be addressed by this proposed bond with the caveat with new construction and renovations there is always the potential for some repairs so I don't want to assert that no work will occur at Greenacres after the bond project is complete. We are satisfied that it will be treated as regular maintenance.
Stuart Mattey – "The major part of this scope is building conditions. Electrical, plumbing. These have not been replaced for decades. These do wear out."
Question:
What is the duration of the proposed bond and what is the useful life of the proposed Greenacres School asset – i.e., total building structure – once complete?
Stuart Mattey
"Work will occur over an 18-month period. The construction period is 18 months."
Mary Beth Evans:
In sum, how long would you say this investment is going to serve the community?
Stuart Mattey
"It's hard to predict the life of a building. We have buildings here that have lasted very long. We have been fortunate. We have invested in all of our buildings. We budget $325,000 a year for pointing and roof repairs. The roofs we are repairing are well out of warrantee."
Dr. Hagerman
Most of our buildings are close to 100 years old. What great learning spaces they are because of the folks that take care of them. We are expecting that same return on the bond proposal we are suggesting.