Students Find Creative Ways to Ask Their Dates to Prom
Details

Written by

Sarah Kazan

Hits: 4569
The Scarsdale Senior Prom is just days away. The big night is Thursday May 31 at the VIP Country Club in New Rochelle. Continuing a Scarsdale tradition, students are coming up with elaborate promposals or ways to ask their dates to go to prom with them. While some use balloons, cupcakes, and flowers, others plan scavenger hunts or elaborate surprises for promposals.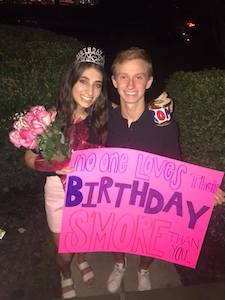 Sam Seltzer asked his date Aerin Cantor by surprising her at her house on her birthday. He hid inside a large box wrapped like a gift on her front door and rang her doorbell. She opened the box to find her date with a bouquet of flowers and a pint of s'mores ice cream, her favorite flavor, while his friends held a sign that said "no one loves their birthday s'more than you." All her friends were there for the surprise.
Katie Iver was asked to prom by Johnny Cohen after her Model UN meeting. She walked outside of the classroom to be surprised by her friends holding up flags of different countries and Johnny holding a sign that said "I couldn't think of a good pun but will you still be MUN (Model UN, rather than MINE) at prom?" Her friends then handed her foods from different countries as she walked down the hall to greet her date.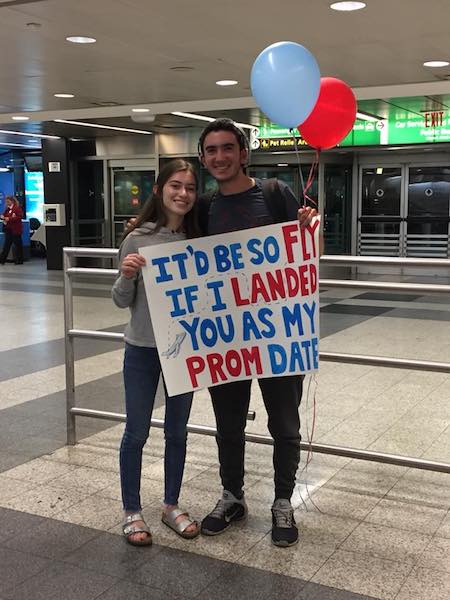 Boys are not the only ones to do the asking. Anna DeNelsky asked her boyfriend Michael Spiro by surprising him in the airport on his way home from college. She stood by baggage claim with balloons and a sign that said "It would be fly if I landed you as my prom date." Not only was he surprised to see Anna at the airport but the promposal definitely caught him off guard.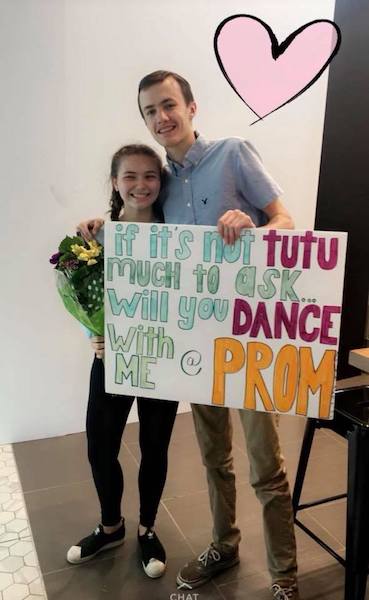 Another popular way kids ask their dates is by sending them on a scavenger hunt. Courtney Swift was sent to several different stores in the Westchester mall, including Sephora, Godiva, and Justice, where she was greeted by friends wearing tutus who gave her a clue to the next location. The scavenger hunt ended at Hai Street Kitchen in the mall's food court where she frequently orders poke bowls and where she found her boyfriend, Tom Fanning, wearing a tutu and a sign saying "if it's not tutu much to ask, will you dance with me at prom?"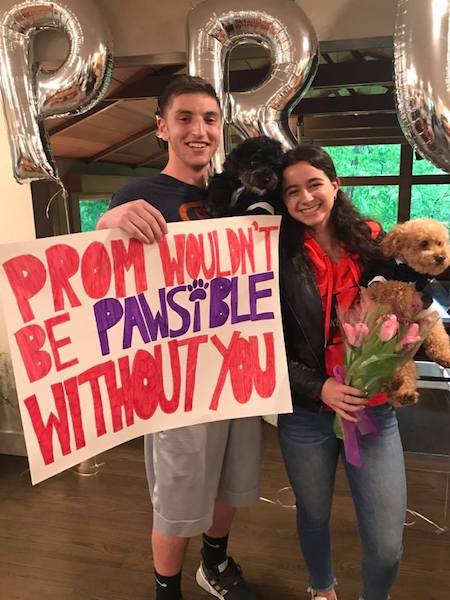 Jacob Brief surprised his date Carly Rubin by dressing her two dogs in tuxedos. When she walked into her house, she was welcomed by her friends, the dogs, balloons that spelled out "PROM?" and a sign that said "Prom wouldn't be pawsible without you."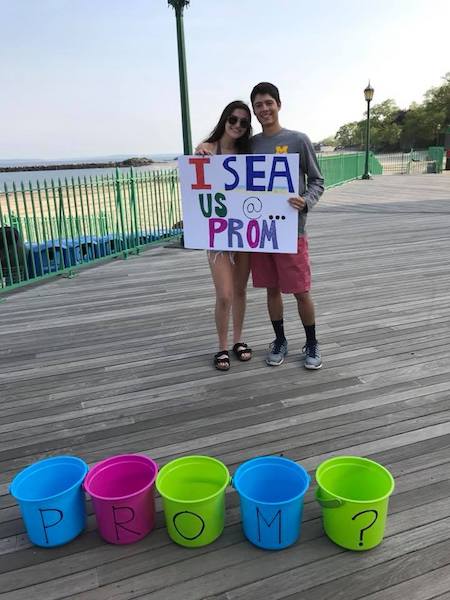 David Ostow asked Merritt Shelton to prom at Rye Playland beach. Her friends lined the boardwalk and as she walked down it she was greeted by her friends who each gave her a bucket. Each bucket had a letter that spelled out "PROM". The last bucket she received had a question mark drawn on it and was given to her by David who also held a sign that said "I sea us at prom." She said yes and all their friends cheered.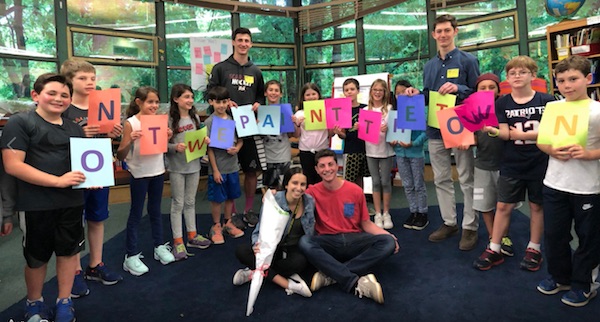 Abigail Suzman was surprised at her senior options by her date Steven Wetchler. Abigail, who is interning at Heathcote Elementary School, walked into her classroom to find her students each holding up a letter which spelled out "Why don't we paint the town at prom," and her date with a bouquet of flowers.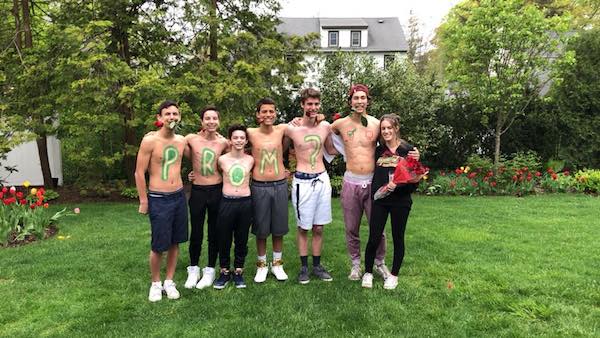 Abby Rosenstein came home to find all her friends in her backyard surrounding her younger brother and his friends with "PROM?" painted on their bare chests. She approached her date who had two check boxes painted on his chest, one that said "yes" and one that said "no" and was given a paint brush. She checked the box that said yes and all her friends rejoiced.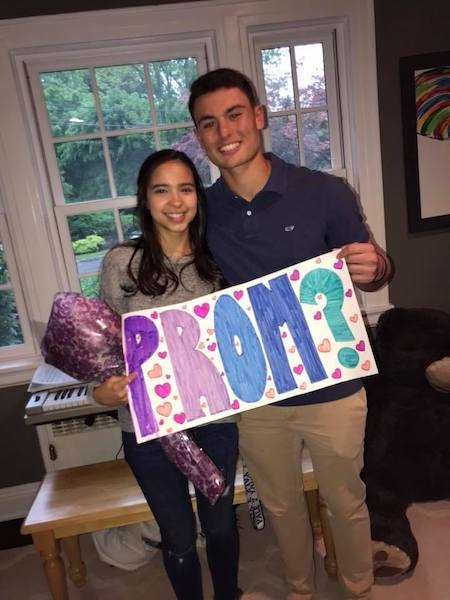 Camila Grisanti was surprised at a capella practice for her promposal. Her friends interrupted the practice to give her a "sing-a-gram". They then surrounded her and sung "Love is an Open Door" from the Disney movie Frozen as everyone watched. After the first verse, her date, Andrew Bernstein surprised her with flowers and a decorated sign that said "PROM?".
See these students and many more walk the red carpet to the prom bus on Thursday May 31 at 4 pm outside Scarsdale High School!
Have a good promposal you want to share? Email us at scarsdalecomments@gmail.com
Seniors Explore the Working World
Details

Written by

Sarah Kazan

Hits: 2680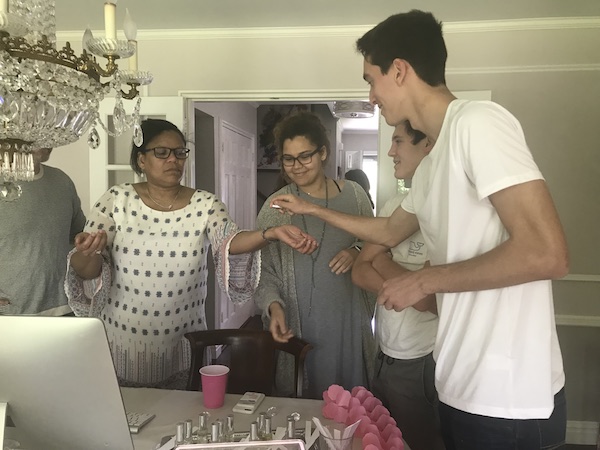 With college decisions behind them, SHS Seniors are in the home stretch. How can the school avoid senior slump and keep these students engaged until graduation? Senior options internships allow students seven weeks to intern with various businesses or companies instead of the traditional school day. Internships range from work in bakeries, to automobile shops, and even train to be an EMT.

We spoke to some seniors to see how they are spending their time.

A popular choice among students is to return to their elementary schools, as student teachers rather than students. Senior Anna DeNelsky is working at Solomon Schecter with her former kindergarten teacher. "I have had a really fun time working in my kindergarten class. All the kids are super cute and I loved getting to know them and their unique personalities so far. I usually help them with worksheets and assist the teachers with organizing work. I also play with them at recess and just help them out in general," comment Anna.

The senior options program is not only designed to keep seniors occupied but to give them insight into potential careers. "I definitely have gained a new appreciation for kindergarten teachers. All the kids have different learning styles and levels and some have a harder time focusing than others… The teachers work really hard and play an important role in shaping the kids interactions with the other kids and try to teach them right from wrong along with academics."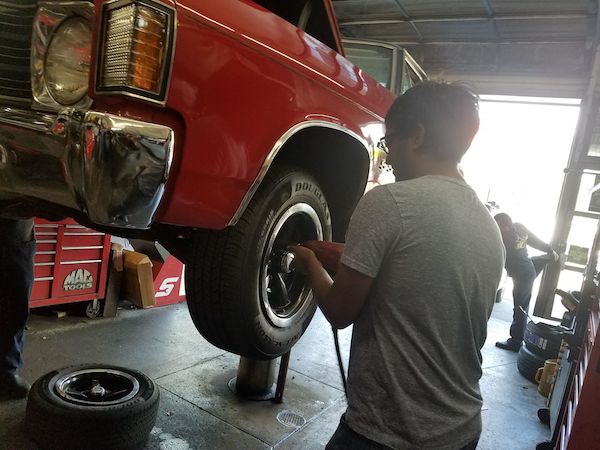 Varun Valada repairing a carTwo seniors have taken the unique opportunity to learn how to fix and maintain cars at an auto shop. Seniors Varun Valada and Jake Guastafeste are working at Lenny's Auto Clinic at the intersection of Brooke and Summerfield Streets in Eastchester. Under the apprenticeship of owner Lenny D and the other repairman, Varun and Jake have learned how to change the oil in a car, remove a wheel, rotate the tires, change the breaks, and assist the repairman in other ways. Additionally, the auto clinic doubles as a full service Sunoco gas station, so Varun and Jake fill up the gas for and process the payment of patrons who need gas. "It's really allowed me to expand by boundaries. I'm learning practical skills in a new environment that could become useful down the road" said Varun. "It's been a lot of fun and everyone here is extremely helpful" said Jake.

Another group of students are involved with the Scarsdale Village Ambulance Corps EMT training program. The goal is to become a certified EMT. One senior, Anna Distler, participating in the program comments "Each day, the class learns a new set of skills that will help us as we train to be EMTs. Although it is a lot of work and studying, I love the fact that I'm learning about stuff that I am truly interested it. It's just two weeks in and we have already covered about 20 chapters of our textbook. Despite moving at such a fast pace, I still feel like I 100% understand everything that I've learned." This opportunity definitely teaches students important life skills. She adds, "The class has been a lot of fun so far and I'm so glad I chose it for senior options. I can't wait for the next few weeks to come and I'm so thankful for this experience"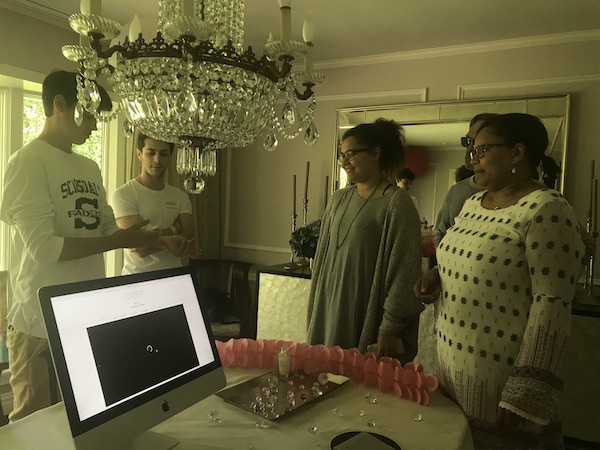 Jack Callahan and Andrew Gindi showing off fragrance primer at Mothers Day EventEight seniors are assisting local business owner, Abby Wallach who runs the fragrance company, Scentivent Technologies. The students reaching out to beauty bloggers and run the company's social media accounts to get the word out about their product. The interns have also learned about market research by going to different cosmetic stores and department stores to research what customers want. The team of interns also organized a Mother's Day event, where people could come in with their mothers and try out the products, which was a big success.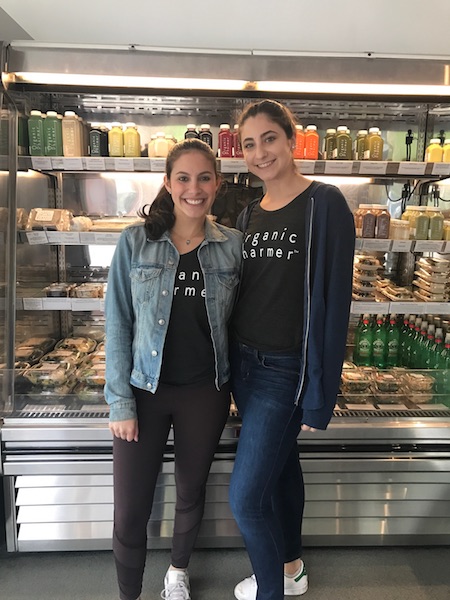 Katie Iver and Alex Rossano at Organic PharmerOther students have chosen to work in bakeries and local restaurants. Organic Pharmer, a purveyor of healthy foods and juices in Scarsdale Village employs three interns. Seniors Katie Iver, Alex Rossano, and Amanda Girardi work the register, make smoothies and advise customers on what to order based on what they are feeling.

While some stay local, others commute to the city daily for their internships. Senior Alex Goldman is interning at the Theater Center in Times Square, "It's difficult at times and makes me have a lot of respect for my dad, who commutes to his job everyday," said Alex. She was even stranded in Mount Vernon earlier this week after trains stopped due to severe thunder storms. However, she has learned a lot from her internship, "I've had the opportunity to connect with different people…. It's unlike any experience I've ever had before," she added.

Throughout this program, students have teacher mentors who not only make sure their students are working the correct amount of hours, but also helping them to reflect on the experience. "I think senior options is going very well so far. Students are getting out of the high school and engaging in work they wouldn't otherwise be participating in," said economics teacher and mentor Jonathan Pai.

Following the program, seniors prepare twenty minute presentations to give to their teachers, mentors, parents and sometimes even the business owners who managed them. It can be a revealing process both for the kids and the sponsors as the student cast a fresh light on the businesses they serve.
Jacqueline Friedland to Debut her Novel, Trouble the Water, at Barnes and Noble
Details

Written by

Joanne Wallenstein

Hits: 1859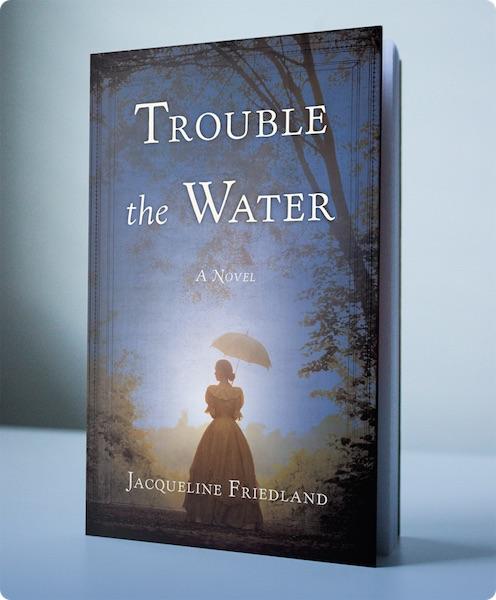 Scarsdale author Jacqueline Friedland will hold a book talk and signing of her debut novel, Trouble the Water at Barnes and Noble on Thursday night May 17 at 7 pm. Published by Spark Press, the novel won the Silver Medal in the Independent Publisher Book Awards, Best Regional Fiction South region in April.
Freidland is a Magna Cum Laude graduate from both the University of Pennsylvania and NYU Law School. She practiced as a commercial litigator at the New York law firms of Debevoise & Plimpton, LLP and Boies, Schiller & Flexner, LLP. After deciding that office life did not suit her, Jacqueline began teaching Legal Writing and Lawyering Skills at the Benjamin Cardozo School of Law in Manhattan and working on her first book in her limited spare time. Finally deciding to embrace her passion and pursue writing full time, Jacqueline returned to school to earn her Masters of Fine Arts from Sarah Lawrence College, graduating from the program in 2016.

Trouble the Water is set twenty years before the Civil War, and filled with authentic detail about The Underground Railroad and the Abolitionist movement. It is the story of Abigail Milton a girl who was born into the British middle class. When her family falls into debt Abby's parents send her to America to live off the charity of their old friend, Douglas Elling. When she arrives in Charleston at the age of seventeen, Abigail discovers that the man her parents raved about is a disagreeable widower who wants little to do with her. To her relief, he relegates her care to a governess, leaving her to settle into his enormous estate with little interference. But just as she begins to grow comfortable in her new life, she overhears her benefactor planning the escape of a local slave―and suddenly, everything she thought she knew about Douglas Elling is turned on its head.
Abby's attempts to learn more about Douglas and his involvement in abolition initiate a circuitous dance of secrets and trust. As Abby and Douglas each attempt to manage their complicated interior lives, readers can't help but hope that their meandering will lead them straight to each other. Set against the vivid backdrop of Charleston twenty years before the Civil War, Trouble the Water is a captivating tale replete with authentic details about Charleston's aristocratic planter class, American slavery, and the Underground Railroad.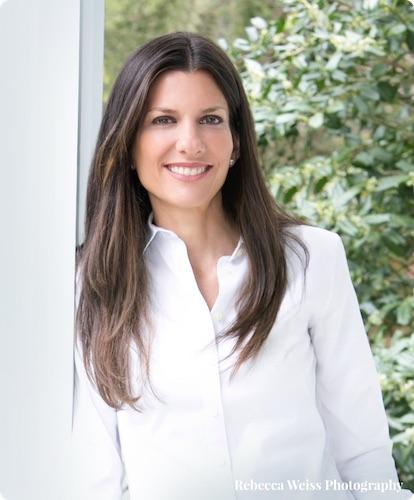 Author Jacqueline Friedland
We asked Friedland how she became interested in writing about slavery, abolition and the antebellum South and she said, "I knew that I wanted to write a historical novel, and I started with at least a basic foundation in American history, as I majored in US Culture & Literature in college (which was actually a sub-category within the English major). I've always been particularly interested in the time period leading up to the Civil War and in the people who risked their own safety to help slaves escape to freedom. Charleston was an important choice because it was a hotbed of slave trafficking, even after the international slave trade was outlawed. It was also a city that was far enough North that the possibility of escape was, while extremely difficult, not necessarily impossible (versus somewhere like Lousiana, where the journey North would have taken so much longer and been much more difficult). Finally, Charleston was also one of the wealthiest cities of this time period, which made the conditions that the slaves endured all the more horrid by comparison to others who were living large at their expense."
When not writing, Jacqueline is an avid reader of all things fiction. She loves to exercise, watch movies with her family, listen to music, make lists, and dream about exotic vacations. She lives in town with her husband, four children and a Cavalier King Charles. Trouble the Water is her first novel.
Why did she choose Scarsdale? Friedland says, "I am surrounded by family, as both my sister's family, and my husband's brother's family live in Scarsdale, and our parents and in-laws live in White Plains. I also love the strong community vibe in the town, the shops in the Village and the fact that I can hop a train to the city anytime."
The book has already won the Silver Award for Best Regional Fiction from the South from The Independent Publisher Book Awards and Kirkus Reviews says it "… will seize readers from the first page and not let go." Booklist says, "Fans of Paulette Jiles and Julia Quinn will adore this triumphant novel of intrigue, secrecy, and redemption." Author Susie Orman Schnall says, ""With compelling characters, a charming peek into Charleston society, a heart-racing romance, rich historical detail, and an epilogue that will have you holding your breath, Friedland has written a well-crafted novel that will stay with you long after you turn the final page."
Meet Jackie Friedland and check out her book, Trouble the Water, at Barnes and Noble at 680 White Plains Post Road in Scarsdale on Thursday night May 17 at 7 pm.
Historical Society Provides Additional Funds to Digitize Back Issues of the Scarsdale Inquirer
Details

Written by

Joanne Wallenstein

Hits: 2237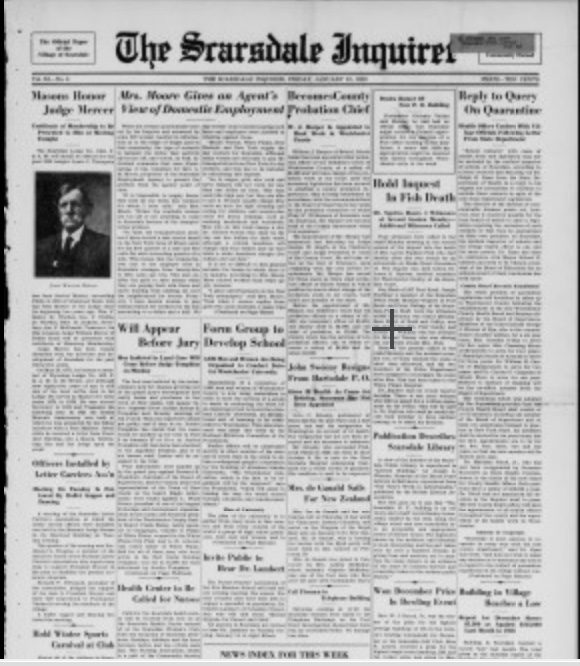 The Scarsdale Historical Society has committed an additional $37,000 to continue a joint project with the Scarsdale Public Library to digitize back issues of The Scarsdale Inquirer. The new funds will provide for digitization of the paper through 1977.

Previous grants of more than $50,000 from the society funded the first two phases of the digitization project covering the years 1901-1950.

The digitized material can be accessed at news.hrvh.org, an online resource housing historical newspaper as part of the Hudson River Valley Heritage (HRVH) service. Links to the paper can also be found on the on the society's website. The current project should be completed in one year.

"We are grateful to the Scarsdale Historical Society for their continued support for the digitization project," said Elizabeth Bermel, Library Director. "The Scarsdale Inquirer is an important resource for our community and having online access will increase its availability exponentially.

"The digitization of the Inquirer opens our community's history to students, researchers, and residents. In the past, access to back issues was available at the library in print and microfilm with limited finding aids created by Scarsdale librarians. The creation of these indexes was time intensive and did not allow for full text searching. Furthermore, there is no index for the years 1958-1979. Once issues are digitized, they are fully searchable, and the content can be found through Google searches."

Re-filming from the original papers and the generation of digital images is being done by Hudson Archival, of Port Ewen, N.Y. Generation of the metadata (METS/ALTO) necessary to put the images onto HRVH is by Digital Divide Data. Their innovative social model enables talent from underserved populations, including youth from low-income families in developing countries as well as military spouses and veterans, to access professional opportunities.
Letters in Support of Pam Fuehrer for Scarsdale School Board
Details

Written by

Joanne Wallenstein

Hits: 3707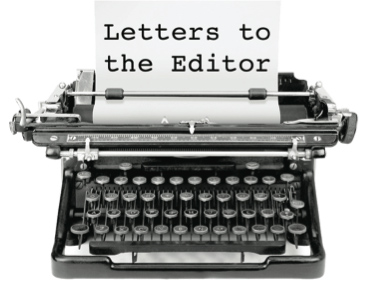 The following letters in support of Pam Fuehrer for Scarsdale School Board were sent to Scarsdale10583 for publication:
To the Editor:
It is with great enthusiasm that I endorse Pam Fuehrer for School Board Trustee. Pam, as a current member of the Board of Education, is the only candidate uniquely qualified for the position. As the experienced candidate, Pam Fuehrer represents the kind of continuity of leadership and stability that our school district both needs and deserves.
We entrust these members of our community to make crucial decisions and set the policies for all of our schools. It is vital that we maintain this level of experience as the Board continues its significant work.
I have lived in Scarsdale for almost 20 years. For 14 of those years, I have witnessed Pam Fuehrer's dedicated volunteerism. Those of you fortunate enough to have worked with Pam know that she is open minded, honest, a careful listener and a consensus builder. She is thoughtful, deliberative, and decisive. Her commitment to the children of Scarsdale is unparalleled.
As a Board member, Pam has a proven track record of doing what is in the best interests of our children. She understands and respects our parent community and their diverse points of view. She is not afraid to question the administration and hold them accountable.
Her extensive experience within the community and on the Board of Education affords her the unique perspective to deal with the myriad of legal, financial and business issues our Board must address on a daily basis. In order to ensure the smooth and seamless transition as new members join the Board, we must continue to support our veteran Board members who in turn will mentor our newcomers.
Experience counts. It is imperative that we have Pam Fuehrer continue in this role in order to sustain the exemplary education that the Scarsdale Schools provide for our community.
Sincerely,
Leanne M. Freda
To the Editor:
As former school board presidents, we know that when it comes to selecting board members, there is no substitute for experience, and an in-depth understanding of the complexities of dealing with our community's many stakeholder groups.
An extremely steep learning curve exists for anyone elected to a board of education, no matter how deeply they have been involved in recent school-related volunteer activities. Add to that the wealth of knowledge that needs to be mastered quickly in such diverse areas as employment law, collective bargaining, curriculum and instructional innovation, special education, school safety, state and federal advocacy, Regents regulations, tenure, state aid, budgets, and financial reporting, just to name a few of the topics listed in the NYS School Law manual, and you quickly get an idea of how important it is to retain experienced board members
It takes a good three years to begin to master these areas of responsibility. Over the past several years, the Scarsdale board has lost a number of members after serving for a single term. Another has chosen not to seek re-election this year. With such a rapid turnover, it is vital that we retain experienced members such as Pam Fuehrer to help guide the board through upcoming challenges, including teacher contract negotiations.
In addition to her term on the board, Pam Fuehrer has a lengthy track record of leadership roles in a number of important community organizations, including PT Council President, and President of both the Edgewood and Middle School PTAs. As a Scarsdale resident for 20 years, she has been actively involved in the League of Women Voters, Drake Edgewood Neighborhood Association, the Task Force on Drugs and Alcohol, and the Junior League of Central Westchester. With two children currently attending Scarsdale schools and one recent graduate, she has her finger on the pulse of our district's needs and community concerns.
So let's not waste all that valuable, hard-earned experience and knowledge.
Vote for Pam Fuehrer on Tuesday, May 15th and return her to our Board!
Rita M. Golden, Ridgedale Road
Barbara Jaffe, Kingston Road