Cookbook Author and Teacher Susie Fishbein at WRT
Details

Hits: 10952
Susie Fishbein, author of the popular "Kosher by Design" series of cookbooks, returned for a second annual visit to Westchester Reform Temple in Scarsdale on January 13 for an evening of teaching, cooking and, of course, eating.

As part of her cooking demonstration, Fishbein prepared a three-course dinner for the attendees based on recipes found in her various books.


A light but satisfying Zucchini and Lentil Soup was the first course she prepared and served, enhancing the soup with an herb-seasoned cracker made from baked egg roll wrappers. The soup was delicious, with a unique texture provided by the red lentils, which were added to the soup towards the end of the cooking time. From her book "Kosher by Design Lightens Up," the recipe is a healthy version of a hearty soup.

Next came a family-friendly recipe that was a twist on traditional lasagna. Called Mexican Lasagna, the dish replaced noodles with flour tortillas. Layers of tortillas alternated with layers of ground beef (ground turkey is another option) flavored with onion, green pepper and a packet of taco seasoning; crushed tomatoes; canned refried beans; and non-dairy cream cheese. Easy enough for a weeknight meal, the lasagna was perfect for hungry children and adults alike.

Dessert, which also came from the "Lightens Up" cookbook, was Baklava Bites, where Fishbein re-imagined traditional Greek baklava in a lighter, less-sweet format. Healthy walnuts replace pistachios in this recipe, and non-stick cooking spray replaces the butter typically slathered on the layers of dough. In her version, the defrosted phyllo sheets are folded with the nuts and honey and then cut into individual portions that are placed in muffin tins for baking. Pretty enough to serve to company, the bites were small enough that they would appeal to the calorie-conscious.

Throughout her demonstration, Fishbein provided interesting tips about food products, cooking utensils and cooking equipment. Knife skills, essential to anyone who cooks, were also demonstrated, as well as other useful techniques. Copies of her various books were on hand, which she signed for those interested.

Sponsored by the temple's Women of Reform Judaism, the evening was well attended by both members of WRT and by the outside community.

Ms. Fishbein has generously shared the recipes with us – so try them at home and send in comments to let us know what you thought:

Zucchini Lentil Soup – Meat or Parve – Makes Six Servings
Red lentils add an earthy tone to this soup and are one of the fastest cooking legumes. Lentils are even mentioned in the Bible, as Esau traded his birthright to Jacob for "a potage of lentils"! This historic legume is rich in fiber, niacin, potassium, and zinc. Don't overcook the lentils or they will start to come apart.
The spiced egg roll wrappers are a crisp garnish and sub in nicely for crusty bread or soup nuts.

Ingredients:

3 egg roll wrappers, such as the Nasoya® brand
1 egg white (from large egg)
1 tablespoon water
1⁄4 teaspoon dried dill
1⁄4 teaspoon dried basil
1 tablespoon olive oil
1 large sweet onion, such as Vidalia, cut into 1⁄4-inch pieces
4 cloves fresh garlic, coarsely chopped
1⁄2 teaspoon dried sage
1⁄4 teaspoon dried thyme
2 large or 3 medium zucchini, with skin, cut into 1⁄4-inch pieces
1⁄4 cup fresh dill, stems trimmed, loosely packed
6 cups chicken or vegetable stock
1 cup dried red lentils

Instructions:

Preheat oven to 425°F.
Cover a cookie sheet with parchment paper.
Lay the egg roll wrappers on the prepared cookie sheet. In a small bowl, whisk the egg white and water. Brush each egg roll wrapper very lightly with the egg white mixture. Sprinkle with dried dill and dried basil. Place into the oven and bake for 5 minutes or until just golden brown. Set aside.
Meanwhile, heat the olive oil in a large soup pot over medium-low heat. Add the onion, garlic, sage, and thyme. Cook until the onion is translucent; do not allow it to brown.
Add the zucchini and dill. Sauté for 4–5 minutes, until zucchini is a little shiny.
Add the stock. Simmer for 15–20 minutes, or until the zucchini is soft.
Using an immersion blender, right in the pot, purée the soup until creamy. This can also be done in batches in a blender.
Add the lentils. Simmer, stirring occasionally, for 8 minutes.

Ladle the soup into bowls. Holding a spiced egg roll crisp over the pot to catch the spices that may fall off, break each into uneven shards and stand a few in the center of each bowl.


Mexican Lasagne - Status: Meat
Prep Time: 15 minutes 
Cooking Time: 30 minutes
Yield: 12 servings

Ingredients:

1⁄4 cup canola or olive oil
1 Spanish onion, cut into 1⁄4-inch dice
1 green bell pepper, seeded and cut into 1⁄4-inch dice
2 1⁄2 pounds ground beef
1 (1.25-ounce) packet taco seasoning
6 (10-inch) flour tortillas or more if you are using smaller flour tortillas
1 (15-ounce) can refried pinto or kidney beans
2 (28-ounce) cans crushed tomatoes
1 (8-ounce) container nondairy cream cheese, such as Tofutti brand
5-6 scallions, chopped
3 tablespoons chopped fresh cilantro

Instructions:

Preheat oven to 350˚F. Spray a large (9- by 13-inch) rectangular oven-to-table baking dish with nonstick cooking spray.
Heat the oil in a large skillet over medium heat. Add the onion and green bell pepper. Sauté for 6 minutes or until vegetables are softened.
Add the ground beef and use a wooden spoon to break up the chunks of beef. Mix in the taco seasoning. Sauté until the meat is no longer pink. Remove from heat.
Spread 3–4 heaping tablespoons of the refried beans into a thin layer on one side of each tortilla. Cut each tortilla in half.
Place 4 tortilla halves, plain-side-down, into the prepared pan. Place the straight edges against the short edges of the baking pan so that they fill the bottom of the pan better. Overlap the two center tortillas as necessary in the middle.
Spread one-third of the meat mixture evenly over the refried beans.
Spread 11⁄2 cups crushed tomatoes over the meat.
Measure 3 tablespoons of the nondairy cream cheese and break into small pieces. Scatter the pieces of cream cheese over the tomatoes.
Sprinkle with one-third of the chopped scallions and a sprinkle of cilantro.
Repeat layering in this order 2 more times
Bake, uncovered, for 15 minutes. Serve hot.


Baklava Bites- Parve- Makes 10 servings


Baklava is a type of Greek pastry. In its original form, it is phyllo dough sheets coated in melted butter, with chopped pistachios between the layers. Immediately after baking, a sweet syrup is poured over the pastry and soaks through the layers.

In my re-made version, the sheets are sprayed with nonstick cooking spray to replace the butter. Walnuts, high in omega-3 fatty acids, replace the pistachios, and a small amount of honey in place of sugar syrup supplies enough sweetness while cutting down on the sugar content. All these changes, and the fact that the pastry is pre-portioned, make this sweet treat delicious and good for you.

Honey, composed of the sugars glucose and fructose, is also full of minerals like magnesium, potassium, calcium, sodium chloride, sulphur, and iron. This golden liquid glimmers with health benefits, but the value of the benefit depends on the quality of the honey. Some studies have shown that a single dose of buckwheat honey before bedtime effectively relieved the symptoms of night-time coughing and sleeping difficulties. Although honey is a healthier alternative to sugar, it is slightly higher in calories.

Ingredients:

10 sheets (13- by 8-inch) phyllo dough from 1/2 (16-ounce) box

Olive-oil flavored nonstick cooking spray

¾ cup walnuts

1⁄3 cup sugar

½ teaspoon ground cinnamon

¼ teaspoon fine sea salt

¼ cup honey

3 tablespoons water

1 teaspoon pure vanilla extract

Instructions:

Defrost phyllo according to package directions. Keep the stack covered with a damp cloth when not using, to prevent the sheets from drying out. Spray a 12-serving muffin tin with nonstick cooking spray. Preheat oven to 375°F.
In the bowl of a small food processor, combine walnuts, sugar, cinnamon, and salt. Pulse until the mixture is finely ground and uniform.
Place one phyllo sheet horizontally on the cutting board, with the long edge closest to you. Evenly coat the dough with the spray — enough to cover, but not soak the phyllo. Sprinkle about 5 teaspoons of the walnut mixture all over the sheet, and top with a second sheet. Repeat, so that there are 5 layers of phyllo dough, and 5 layers of walnut mixture.
Fold the dough into thirds, like you would a letter. You should now have a long piece about 13- by 4-inches. Spray the top.
Starting right to left, cut six 2- by 4-inch pieces. Gently fold in half so you now have a thick piece that is about 2- by 2-inches. Gently place each into a sprayed muffin cup. Repeat the whole process to make 6 more.
Bake about 15–20 minutes, or until golden brown and baked through. White spots in the dough may indicate that it is undercooked.
Meanwhile, in a small microwave-safe container, combine the honey and water. Heat for 40 seconds or until the honey and water are hot and thoroughly combined. Add the vanilla.
Remove the baklava bites from the oven. Let cool 5 minutes, then remove from the tin and place onto a wire rack. Drizzle the bites with the honey-vanilla syrup and cool completely.
Serve 1 baklava bite per person, with any extra syrup drizzled over the top or in a ramekin on the side.

Profiled in The New York Times and on CNN, Ms. Fishbein has been a guest on such network television and radio programs as "The Today Show," "Living it Up with Ali and Jack," and "Martha Stewart Radio." The release of "Kosher by Design Lightens Up" marks the sixth book in seven years for Ms. Fishbein. Other bestselling cookbooks in the series include "Kosher by Design," "Passover by Design," and "Kosher by Design Kids in the Kitchen." She has traveled the country sharing recipes and techniques through book signings and cooking demonstrations, and has been the featured celebrity guest on cruise ships. Ms. Fishbein has also taught at the Degustibus cooking school in New York.
Add a comment
SHS Cheerleaders To Go To The Nationals
Details

Hits: 2020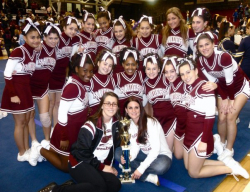 Good news … the SHS Varsity Cheerleaders will attend the National High School Cheerleading Championship at Walt Disney World February 13 and 14, 2010 and the championship semifinals will be on national television on ESPN.

We previously reported on the site, that the team had qualified to go, but lacked the necessary funds to make the trip.  In the interim, the resourceful girls on the team, raised money by selling ads in the program for the Scarsdale Invitational Cheerleading Tournament that will take place this Saturday at Scarsdale High School.  The school will host over 40 visiting area teams and the fun starts at 10 a.m. on 1/16. Tickets can be purchased at the door and refreshments will be sold.

Best of luck to Coach Stacy Monteiro and the Varsity Squad.
Add a comment
Paul Feiner's Response to Edgemont Residents
Details

Hits: 2600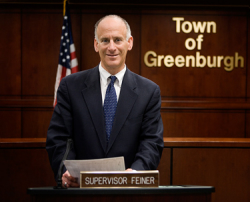 Is crime up in Edgemont?  According to Greenburgh Town Supervisor Paul Feiner, here are the actual statistics about area crime and his response to concerned Edgemont residents:

--From Paul Feiner

Reports circulating in some of the media would indicate that crime is out of control in Edgemont. This is not the case. As you will note from the data below, crime actually went down in Edgemont in 2009. In 2007 there were 29 robberies and/or burglaries in commercial or residential properties. In 2008 the number was down to 20 and in 2009 we were at 17.

Although crime in Edgemont is down from 2007 – the Town Board and I are determined to work hard so that Edgemont residents feel safe and are safe. We have advised the police chief that he will have the resources necessary to provide residents with the protection they need. We have authorized overtime, have been increasing patrols, and will be creating an Edgemont community policing post. The Town Board and I are in touch with the police department on a daily basis and will be re-evaluating initiatives taken to make sure that we're doing everything possible to keep people safe. We also have contacted the school district and have asked the schools if we should make available a Juvenile Officer who can answer questions students may have (stranger danger, other safety tips). Finally, the Police Chief, Captains and other high ranking officers are also spending some time patrolling the streets of Edgemont.

No. of Robberies or Burglaries in Edgemont by Year

2005                                                          17
2006                                                          10
2007                                                          29
2008                                                          20
2009                                                          17
Add a comment
Purple Haze
Details

Hits: 1795
I'm on the verge of putting a bumper sticker on my car that says "slap me: I'm obsessed with purple."  Purple shoes, purple sweaters, purple leather gloves with cashmere lining.  I've got it all.  I love it all!  I recently had to call a friend while I was standing in Lord & Taylor and demand an intervention on a purple pocketbook that was dangling on my arm.  It was begging me to take it home. "No more
purple!!!" Kate demanded.  "But...but..." I stammered, turning this way and that in front of the mirror, cell phone pressed to my ear.

"If you are thinking that this bag will look great with your new purple flats, you are seriously misguided.  That would be a fashion disaster."  

I sort of heard her through the purple haze in my brain. Then my mom beeped in.  "Hold on, Kate."  I switched over and immediately started talking.  "Mom, I know I just called you before and didn't leave a message.  I'm having a purple problem, but Kate's on it."

"Just say no!"  I heard her say as I hung up and switched back to an awaiting Kate, thinking that everyone sounded a bit too drug-era Nancy Reagan for me.  Because I was thinking just say yes.

What is it with trends?  How do I fall into every trap every season?  My friend Andie thinks it's because of the trend reports we receive from magazines and department stores, telling us what's on this year's "hot list" and "must haves."  It's sad but true.  I read those things and, suddenly, I find myself looking for accessories with studded hardware, or tops with cutouts at the shoulders (which, by the way look incredibly ridiculous on me).  It's hot!  It's a must-have, so I must have it…right?

Grey nail polish?  Awesome.  Just walk me to the counter and give them my credit card.  I'm like a fashion lemming.
When I go shopping, I try really hard to drown out the sound of the little voice telling me what's hot, cool and new.  And I know that, as I get older, most of these trends are not meant for me, at least not in their purest and hippest form.  I'm fine with a watered-down, suburban mom version of leggings, for example.  I have them, but I wear them with ballet flats and a long sweater instead of with heels, a micro-mini skirt, and a tank top that looks like it has been mauled by a rabid cat.  

Just, you know, for example.

By telling you about my recent color addiction, I like to think that I'm in the first steps of recovery.  The picture accompanying this proves that I'm not exaggerating.  Unfortunately.  

What's next?  I'm thinking rose gold jewelry.  It's so pretty.  And it looks great with purple.
Columnist and blogger Julie Gerstenblatt is always "on the verge" of something.  She writes with humor and candor about her life in Scarsdale, her friends and family, and the particular demands of motherhood and wifedom in modern-day suburbia.  This week, she's in a "Purple Haze."  Read what she has to say here, and then follow her online at: http://julie-ontheverge.blogspot.com/
Add a comment
Edgemont Residents Meet the Chief
Details

Hits: 4426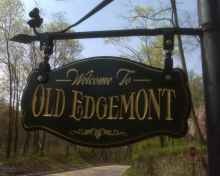 Concerned about a recent spate of crimes in their area, Edgemont Community Council (ECC) President Bob Bernstein invited Greenburgh's new Police Chief Joseph DeCarlo to attend their regular ECC monthly meeting.  The meeting was announced in the Journal News and over 60 residents attended and reports appeared on Eyewitness News, Fox, News12 and 1010Wins.

Fear has been mounting in the past few months due to three robberies of 7-11 stores and the Chase Bank on Central Avenue. Concern piqued when there was a home invasion in Edgemont on Sunday 12/20, where the residents were tied up at knifepoint and their home was ransacked.  Though police believe that the home invasion was not related to the burglaries, residents are still feeling wary and vulnerable. Sonya Brown, a Greenburgh Town Councilwoman who lives in Fairview, said that due to the high crime rate in her area, she is afraid to be home.

The Greenburgh Police Force has cut manpower by seven percent in the last two years and coverage of Edgemont has been reduced. In fact, at the meeting, Chief DeCarlo admitted that force coverage  has been cut to below the nationally-recognized levels of 2.9 officers per 1,000 residents.  In other incorporated villages of Greenburgh who fund their own forces, such as Irvington, Tarrytown and Elmsford, there has been no increase in burglaries and ECC members speculate that a higher ratio of officers to residents in these towns may prevent crime.

While police protection has been cut, Edgemont town taxes have increased by 55% in the past five years. And where do these funds go? Residents argue that millions are being spent needlessly on a multitude of non-essentials such as two separate recreation departments, each with its own set of commissioners, programs, summer camps and transportation departments. In addition, Greenburgh now has its own SWAT team, while Westchester County already had one, and funds have been spent on a Greenburgh after-school program, duplicating programs in each school district. Some also questioned the wisdom of the town paying more than $100,000 for messengers, a $52,000 annual salary for an Arts Consultant and the formation of a marine unit.

Paul Feiner, and three members of the Greenburgh Town Board attended the meeting and chided the ECC for inviting the press even though the ECC contends the press learned about the meeting in the Journal News. Feiner appeared concerned that negative press about crime in Edgemont would affect his administration.

To address the fact that there have been more that twenty home burglaries in one section of Edgemont in the past two years, police have added one squad car to patrol the area bordered by Ardsley, Fort Hill and Underhill Roads. However, if needed in another area, this extra car will be called away to assist. And since the area is now experiencing a series of armed taxi cab robberies, the extra patrol car could easily be diverted.

The solution? Some leaders are calling for the incorporation of Edgemont so that among other things, residents could fund their own dedicated police force and only pay for services they can use.

Watch the live Eyewitness News report and the Fox report
Add a comment