SHS Cheerleaders To Go To The Nationals
Details

Hits: 2388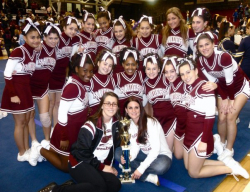 Good news … the SHS Varsity Cheerleaders will attend the National High School Cheerleading Championship at Walt Disney World February 13 and 14, 2010 and the championship semifinals will be on national television on ESPN.

We previously reported on the site, that the team had qualified to go, but lacked the necessary funds to make the trip.  In the interim, the resourceful girls on the team, raised money by selling ads in the program for the Scarsdale Invitational Cheerleading Tournament that will take place this Saturday at Scarsdale High School.  The school will host over 40 visiting area teams and the fun starts at 10 a.m. on 1/16. Tickets can be purchased at the door and refreshments will be sold.

Best of luck to Coach Stacy Monteiro and the Varsity Squad.
Purple Haze
Details

Hits: 2080
I'm on the verge of putting a bumper sticker on my car that says "slap me: I'm obsessed with purple."  Purple shoes, purple sweaters, purple leather gloves with cashmere lining.  I've got it all.  I love it all!  I recently had to call a friend while I was standing in Lord & Taylor and demand an intervention on a purple pocketbook that was dangling on my arm.  It was begging me to take it home. "No more
purple!!!" Kate demanded.  "But...but..." I stammered, turning this way and that in front of the mirror, cell phone pressed to my ear.

"If you are thinking that this bag will look great with your new purple flats, you are seriously misguided.  That would be a fashion disaster."  

I sort of heard her through the purple haze in my brain. Then my mom beeped in.  "Hold on, Kate."  I switched over and immediately started talking.  "Mom, I know I just called you before and didn't leave a message.  I'm having a purple problem, but Kate's on it."

"Just say no!"  I heard her say as I hung up and switched back to an awaiting Kate, thinking that everyone sounded a bit too drug-era Nancy Reagan for me.  Because I was thinking just say yes.

What is it with trends?  How do I fall into every trap every season?  My friend Andie thinks it's because of the trend reports we receive from magazines and department stores, telling us what's on this year's "hot list" and "must haves."  It's sad but true.  I read those things and, suddenly, I find myself looking for accessories with studded hardware, or tops with cutouts at the shoulders (which, by the way look incredibly ridiculous on me).  It's hot!  It's a must-have, so I must have it…right?

Grey nail polish?  Awesome.  Just walk me to the counter and give them my credit card.  I'm like a fashion lemming.
When I go shopping, I try really hard to drown out the sound of the little voice telling me what's hot, cool and new.  And I know that, as I get older, most of these trends are not meant for me, at least not in their purest and hippest form.  I'm fine with a watered-down, suburban mom version of leggings, for example.  I have them, but I wear them with ballet flats and a long sweater instead of with heels, a micro-mini skirt, and a tank top that looks like it has been mauled by a rabid cat.  

Just, you know, for example.

By telling you about my recent color addiction, I like to think that I'm in the first steps of recovery.  The picture accompanying this proves that I'm not exaggerating.  Unfortunately.  

What's next?  I'm thinking rose gold jewelry.  It's so pretty.  And it looks great with purple.
Columnist and blogger Julie Gerstenblatt is always "on the verge" of something.  She writes with humor and candor about her life in Scarsdale, her friends and family, and the particular demands of motherhood and wifedom in modern-day suburbia.  This week, she's in a "Purple Haze."  Read what she has to say here, and then follow her online at: http://julie-ontheverge.blogspot.com/
Edgemont Residents Meet the Chief
Details

Hits: 5421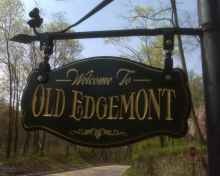 Concerned about a recent spate of crimes in their area, Edgemont Community Council (ECC) President Bob Bernstein invited Greenburgh's new Police Chief Joseph DeCarlo to attend their regular ECC monthly meeting.  The meeting was announced in the Journal News and over 60 residents attended and reports appeared on Eyewitness News, Fox, News12 and 1010Wins.

Fear has been mounting in the past few months due to three robberies of 7-11 stores and the Chase Bank on Central Avenue. Concern piqued when there was a home invasion in Edgemont on Sunday 12/20, where the residents were tied up at knifepoint and their home was ransacked.  Though police believe that the home invasion was not related to the burglaries, residents are still feeling wary and vulnerable. Sonya Brown, a Greenburgh Town Councilwoman who lives in Fairview, said that due to the high crime rate in her area, she is afraid to be home.

The Greenburgh Police Force has cut manpower by seven percent in the last two years and coverage of Edgemont has been reduced. In fact, at the meeting, Chief DeCarlo admitted that force coverage  has been cut to below the nationally-recognized levels of 2.9 officers per 1,000 residents.  In other incorporated villages of Greenburgh who fund their own forces, such as Irvington, Tarrytown and Elmsford, there has been no increase in burglaries and ECC members speculate that a higher ratio of officers to residents in these towns may prevent crime.

While police protection has been cut, Edgemont town taxes have increased by 55% in the past five years. And where do these funds go? Residents argue that millions are being spent needlessly on a multitude of non-essentials such as two separate recreation departments, each with its own set of commissioners, programs, summer camps and transportation departments. In addition, Greenburgh now has its own SWAT team, while Westchester County already had one, and funds have been spent on a Greenburgh after-school program, duplicating programs in each school district. Some also questioned the wisdom of the town paying more than $100,000 for messengers, a $52,000 annual salary for an Arts Consultant and the formation of a marine unit.

Paul Feiner, and three members of the Greenburgh Town Board attended the meeting and chided the ECC for inviting the press even though the ECC contends the press learned about the meeting in the Journal News. Feiner appeared concerned that negative press about crime in Edgemont would affect his administration.

To address the fact that there have been more that twenty home burglaries in one section of Edgemont in the past two years, police have added one squad car to patrol the area bordered by Ardsley, Fort Hill and Underhill Roads. However, if needed in another area, this extra car will be called away to assist. And since the area is now experiencing a series of armed taxi cab robberies, the extra patrol car could easily be diverted.

The solution? Some leaders are calling for the incorporation of Edgemont so that among other things, residents could fund their own dedicated police force and only pay for services they can use.

Watch the live Eyewitness News report and the Fox report
Paul Feiner's Response to Edgemont Residents
Details

Hits: 3012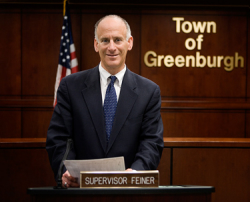 Is crime up in Edgemont?  According to Greenburgh Town Supervisor Paul Feiner, here are the actual statistics about area crime and his response to concerned Edgemont residents:

--From Paul Feiner

Reports circulating in some of the media would indicate that crime is out of control in Edgemont. This is not the case. As you will note from the data below, crime actually went down in Edgemont in 2009. In 2007 there were 29 robberies and/or burglaries in commercial or residential properties. In 2008 the number was down to 20 and in 2009 we were at 17.

Although crime in Edgemont is down from 2007 – the Town Board and I are determined to work hard so that Edgemont residents feel safe and are safe. We have advised the police chief that he will have the resources necessary to provide residents with the protection they need. We have authorized overtime, have been increasing patrols, and will be creating an Edgemont community policing post. The Town Board and I are in touch with the police department on a daily basis and will be re-evaluating initiatives taken to make sure that we're doing everything possible to keep people safe. We also have contacted the school district and have asked the schools if we should make available a Juvenile Officer who can answer questions students may have (stranger danger, other safety tips). Finally, the Police Chief, Captains and other high ranking officers are also spending some time patrolling the streets of Edgemont.

No. of Robberies or Burglaries in Edgemont by Year

2005                                                          17
2006                                                          10
2007                                                          29
2008                                                          20
2009                                                          17
Armed Robbery at Chase
Details

Hits: 3464

On Saturday morning November 7th,   a robber pushed his way into the Chase Bank at 850 South Central Avenue and got away with $150,000 in cash.  The suspect knocked over a bank employee at the door  and kept saying he was "gonna tear the place up." He rushed at the manager demanding that he open the vault and insisted that both the manager and the teller enter the vault with him, where he made them fill up his bags with money. With approximately $150,000 in his back pack and gym bag he fled the scene. The employees did not see him get into a car.

The suspect is described as a black male with a scruffy beard and a close haircut. He is approximately 5'5" in height and was wearing a brown hoodie, black pants, a black ski mask, and is thought to be in his mid-thirties. He displayed a silver handgun and carried a black back pack and a small gray gym bag.