Scarsdale Students Perform Beauty and the Beast at Tarrytown Music Hall
Details

Hits: 3348
A group of Scarsdale students are among the cast of the Random Farm Kids' theatre production of Beauty and the Beast, Jr. that will be presented at the Tarrytown Music Hall, January 29 – February 7th.

This 90-minute adaptation of the play includes all the well-known songs and characters from the Disney production, including illusion and dancing flatware. The production includes over 120 young people who are divided into four casts. They come from throughout the tri-state area and bring a wealth of theater, film and television experience.

Tickets for the play are $16 for children under 12 and seniors, and $18 for adults. To reserve tickets, go to www.tarrytownmusichall.org or call TicketForce at 877-0840-0457. Tickets will also be available at the door. For more information, visit the theater's website at www.randomfarms.com

Show times:
The play runs from January 29th – February 7th
Showtimes are: 
Friday at 10 am and 7 pm 

Saturdays at 1 pm

Sundays at 1 pm

Tarrytown Music Hall
13 Main Street
Tarrytown

Pictured here are the Scarsdale students who will perform in the show:
Top row: Sarah Cammarata, Rebecca Jacobs, Matthew Seife, Andrew Wang, Margaret Gandolfo

Middle row: Julia Rutkovsky, Alex Rossano, Shira Zisholtz

Bottom row: Sophia Roth, Lily Spitalny
Assemblywoman Paulin Responds to Child Pornography Found in Scarsdale
Details

Hits: 2564
In response to a report on Scarsdale10583.com last week about child pornography scattered on a Scarsdale lawn, Assemblywoman Paulin sent the following about her proposed legislation (A803 and A760) that would increase penalties against pedophiles.

(From Paulin's Office) The bills seek to make a distinction between those who make and distribute child pornography, and those who view it. While maintaining strict penalties to the viewer, the bills will lead to harsher penalties for those who create and distribute the material.

The bill, A803, would permit prosecution of internet pedophiles in proportion to the scale and danger of their criminal activity.

The other bill, A760, would create two different classes of the felony promoting an obscene sexual performance by a child. Increasing the felony class will help increase penalties to the worst offenders.

Over the past decade, explosive growth in computer disk storage and internet technology has enabled pedophiles to store and disseminate large collections of child pornography. They can now use sophisticated trade-or-profit based mechanisms to increase their distribution.

According to Scarsdale10583.com, police arrived at a Scarsdale home on Jan. 6 when a homeowner called to report photographs of child pornography that appeared on his property. Police searched the area and found five additional images. The materials were taken to the Westchester County Crime Lab for DNA testing.

"These bills are urgently required to help law enforcement keep up with catching perpetrators of child pornography in the face of ever-changing technology," said Assemblywoman Paulin, "Now that our bill has a Senate sponsor (Sen. Jeff Klein) we are in a good position for getting it passed during this session."

The bills also aim to use a graduated scheme for punishing those who commit child pornography offenses. This will be consistent with other New York statutes governing distribution and possession of contraband, as well as federal statues regarding child pornography.

Westchester County District Attorney Janet DiFiore supports Paulin's bills. According to the D.A.,"In order to keep up with increasingly sophisticated computer technology, we in the law enforcement community need tools that allow us to keep pace with offenders who store volumes of child pornography on their computers. These new laws will allow police and prosecutors to hold promoters or those who possess child pornography more appropriately accountable for the quantity of material found in their possession. And as a result, we will be in a better position to protect young children from those who wish to take advantage of them in this way."
Cookbook Author and Teacher Susie Fishbein at WRT
Details

Hits: 11969
Susie Fishbein, author of the popular "Kosher by Design" series of cookbooks, returned for a second annual visit to Westchester Reform Temple in Scarsdale on January 13 for an evening of teaching, cooking and, of course, eating.

As part of her cooking demonstration, Fishbein prepared a three-course dinner for the attendees based on recipes found in her various books.


A light but satisfying Zucchini and Lentil Soup was the first course she prepared and served, enhancing the soup with an herb-seasoned cracker made from baked egg roll wrappers. The soup was delicious, with a unique texture provided by the red lentils, which were added to the soup towards the end of the cooking time. From her book "Kosher by Design Lightens Up," the recipe is a healthy version of a hearty soup.

Next came a family-friendly recipe that was a twist on traditional lasagna. Called Mexican Lasagna, the dish replaced noodles with flour tortillas. Layers of tortillas alternated with layers of ground beef (ground turkey is another option) flavored with onion, green pepper and a packet of taco seasoning; crushed tomatoes; canned refried beans; and non-dairy cream cheese. Easy enough for a weeknight meal, the lasagna was perfect for hungry children and adults alike.

Dessert, which also came from the "Lightens Up" cookbook, was Baklava Bites, where Fishbein re-imagined traditional Greek baklava in a lighter, less-sweet format. Healthy walnuts replace pistachios in this recipe, and non-stick cooking spray replaces the butter typically slathered on the layers of dough. In her version, the defrosted phyllo sheets are folded with the nuts and honey and then cut into individual portions that are placed in muffin tins for baking. Pretty enough to serve to company, the bites were small enough that they would appeal to the calorie-conscious.

Throughout her demonstration, Fishbein provided interesting tips about food products, cooking utensils and cooking equipment. Knife skills, essential to anyone who cooks, were also demonstrated, as well as other useful techniques. Copies of her various books were on hand, which she signed for those interested.

Sponsored by the temple's Women of Reform Judaism, the evening was well attended by both members of WRT and by the outside community.

Ms. Fishbein has generously shared the recipes with us – so try them at home and send in comments to let us know what you thought:

Zucchini Lentil Soup – Meat or Parve – Makes Six Servings
Red lentils add an earthy tone to this soup and are one of the fastest cooking legumes. Lentils are even mentioned in the Bible, as Esau traded his birthright to Jacob for "a potage of lentils"! This historic legume is rich in fiber, niacin, potassium, and zinc. Don't overcook the lentils or they will start to come apart.
The spiced egg roll wrappers are a crisp garnish and sub in nicely for crusty bread or soup nuts.

Ingredients:

3 egg roll wrappers, such as the Nasoya® brand
1 egg white (from large egg)
1 tablespoon water
1⁄4 teaspoon dried dill
1⁄4 teaspoon dried basil
1 tablespoon olive oil
1 large sweet onion, such as Vidalia, cut into 1⁄4-inch pieces
4 cloves fresh garlic, coarsely chopped
1⁄2 teaspoon dried sage
1⁄4 teaspoon dried thyme
2 large or 3 medium zucchini, with skin, cut into 1⁄4-inch pieces
1⁄4 cup fresh dill, stems trimmed, loosely packed
6 cups chicken or vegetable stock
1 cup dried red lentils

Instructions:

Preheat oven to 425°F.
Cover a cookie sheet with parchment paper.
Lay the egg roll wrappers on the prepared cookie sheet. In a small bowl, whisk the egg white and water. Brush each egg roll wrapper very lightly with the egg white mixture. Sprinkle with dried dill and dried basil. Place into the oven and bake for 5 minutes or until just golden brown. Set aside.
Meanwhile, heat the olive oil in a large soup pot over medium-low heat. Add the onion, garlic, sage, and thyme. Cook until the onion is translucent; do not allow it to brown.
Add the zucchini and dill. Sauté for 4–5 minutes, until zucchini is a little shiny.
Add the stock. Simmer for 15–20 minutes, or until the zucchini is soft.
Using an immersion blender, right in the pot, purée the soup until creamy. This can also be done in batches in a blender.
Add the lentils. Simmer, stirring occasionally, for 8 minutes.

Ladle the soup into bowls. Holding a spiced egg roll crisp over the pot to catch the spices that may fall off, break each into uneven shards and stand a few in the center of each bowl.


Mexican Lasagne - Status: Meat
Prep Time: 15 minutes 
Cooking Time: 30 minutes
Yield: 12 servings

Ingredients:

1⁄4 cup canola or olive oil
1 Spanish onion, cut into 1⁄4-inch dice
1 green bell pepper, seeded and cut into 1⁄4-inch dice
2 1⁄2 pounds ground beef
1 (1.25-ounce) packet taco seasoning
6 (10-inch) flour tortillas or more if you are using smaller flour tortillas
1 (15-ounce) can refried pinto or kidney beans
2 (28-ounce) cans crushed tomatoes
1 (8-ounce) container nondairy cream cheese, such as Tofutti brand
5-6 scallions, chopped
3 tablespoons chopped fresh cilantro

Instructions:

Preheat oven to 350˚F. Spray a large (9- by 13-inch) rectangular oven-to-table baking dish with nonstick cooking spray.
Heat the oil in a large skillet over medium heat. Add the onion and green bell pepper. Sauté for 6 minutes or until vegetables are softened.
Add the ground beef and use a wooden spoon to break up the chunks of beef. Mix in the taco seasoning. Sauté until the meat is no longer pink. Remove from heat.
Spread 3–4 heaping tablespoons of the refried beans into a thin layer on one side of each tortilla. Cut each tortilla in half.
Place 4 tortilla halves, plain-side-down, into the prepared pan. Place the straight edges against the short edges of the baking pan so that they fill the bottom of the pan better. Overlap the two center tortillas as necessary in the middle.
Spread one-third of the meat mixture evenly over the refried beans.
Spread 11⁄2 cups crushed tomatoes over the meat.
Measure 3 tablespoons of the nondairy cream cheese and break into small pieces. Scatter the pieces of cream cheese over the tomatoes.
Sprinkle with one-third of the chopped scallions and a sprinkle of cilantro.
Repeat layering in this order 2 more times
Bake, uncovered, for 15 minutes. Serve hot.


Baklava Bites- Parve- Makes 10 servings


Baklava is a type of Greek pastry. In its original form, it is phyllo dough sheets coated in melted butter, with chopped pistachios between the layers. Immediately after baking, a sweet syrup is poured over the pastry and soaks through the layers.

In my re-made version, the sheets are sprayed with nonstick cooking spray to replace the butter. Walnuts, high in omega-3 fatty acids, replace the pistachios, and a small amount of honey in place of sugar syrup supplies enough sweetness while cutting down on the sugar content. All these changes, and the fact that the pastry is pre-portioned, make this sweet treat delicious and good for you.

Honey, composed of the sugars glucose and fructose, is also full of minerals like magnesium, potassium, calcium, sodium chloride, sulphur, and iron. This golden liquid glimmers with health benefits, but the value of the benefit depends on the quality of the honey. Some studies have shown that a single dose of buckwheat honey before bedtime effectively relieved the symptoms of night-time coughing and sleeping difficulties. Although honey is a healthier alternative to sugar, it is slightly higher in calories.

Ingredients:

10 sheets (13- by 8-inch) phyllo dough from 1/2 (16-ounce) box

Olive-oil flavored nonstick cooking spray

¾ cup walnuts

1⁄3 cup sugar

½ teaspoon ground cinnamon

¼ teaspoon fine sea salt

¼ cup honey

3 tablespoons water

1 teaspoon pure vanilla extract

Instructions:

Defrost phyllo according to package directions. Keep the stack covered with a damp cloth when not using, to prevent the sheets from drying out. Spray a 12-serving muffin tin with nonstick cooking spray. Preheat oven to 375°F.
In the bowl of a small food processor, combine walnuts, sugar, cinnamon, and salt. Pulse until the mixture is finely ground and uniform.
Place one phyllo sheet horizontally on the cutting board, with the long edge closest to you. Evenly coat the dough with the spray — enough to cover, but not soak the phyllo. Sprinkle about 5 teaspoons of the walnut mixture all over the sheet, and top with a second sheet. Repeat, so that there are 5 layers of phyllo dough, and 5 layers of walnut mixture.
Fold the dough into thirds, like you would a letter. You should now have a long piece about 13- by 4-inches. Spray the top.
Starting right to left, cut six 2- by 4-inch pieces. Gently fold in half so you now have a thick piece that is about 2- by 2-inches. Gently place each into a sprayed muffin cup. Repeat the whole process to make 6 more.
Bake about 15–20 minutes, or until golden brown and baked through. White spots in the dough may indicate that it is undercooked.
Meanwhile, in a small microwave-safe container, combine the honey and water. Heat for 40 seconds or until the honey and water are hot and thoroughly combined. Add the vanilla.
Remove the baklava bites from the oven. Let cool 5 minutes, then remove from the tin and place onto a wire rack. Drizzle the bites with the honey-vanilla syrup and cool completely.
Serve 1 baklava bite per person, with any extra syrup drizzled over the top or in a ramekin on the side.

Profiled in The New York Times and on CNN, Ms. Fishbein has been a guest on such network television and radio programs as "The Today Show," "Living it Up with Ali and Jack," and "Martha Stewart Radio." The release of "Kosher by Design Lightens Up" marks the sixth book in seven years for Ms. Fishbein. Other bestselling cookbooks in the series include "Kosher by Design," "Passover by Design," and "Kosher by Design Kids in the Kitchen." She has traveled the country sharing recipes and techniques through book signings and cooking demonstrations, and has been the featured celebrity guest on cruise ships. Ms. Fishbein has also taught at the Degustibus cooking school in New York.
What Brown's Win Over Coakley in Massachusetts Means for Politics in New York
Details

Hits: 4998
The immediate political beneficiaries in New York of the Scott Brown romp over Martha Coakley are Rick Lazio and Harold Ford, Jr.

Last fall we in New York saw precursors to the Brown win over Coakley in Massachusetts: incumbent Democratic county executives (arguably doing a decent job) were ousted in Westchester (Andy Spano) and in Nassau (Tom Suozzi). In neighboring New Jersey Chris Christie defeated Rob Corzine for governor. What are the implications of the Brown win over Coakley for the statewide races coming up in New York for 2010?

Governor: While Governor David Paterson's poll numbers have risen slightly -- almost no one believes today that his aspiration for winning a full term in his own right will be realized. The probable scenario -- likely to accelerate now with the Brown win in Massachusetts, will be for Governor Paterson to announce in February or early March that in lieu of spending time fundraising and running that he will instead opt out and spend the next year focusing on the cataclysmic state budget and economy. This will pave the way for Attorney General Andrew Cuomo to ascend to the Democratic gubernatorial nomination. Cuomo will likely attempt to re-run the Eliot Spitzer campaign of 2006 -- relying on his AG bona fides, name recognition, and nostalgia for his father, Mario. The leading GOP candidate right now is former Congressman Rick Lazio, who will endeavor to copy the Scott Brown playbook -- and attempt to separate the man from the myth. Lazio will have things to say about Cuomo's reign as HUD secretary during the Clinton administration. Lazio sat on the House Banking Subcommittee on Housing and Community Opportunity -- which oversaw some of the programs run by Cuomo at the time. Moreover, Andrew Cuomo is not Eliot Spitzer (and I mean the 2006 pre-scandal version), and Rick Lazio will have much broader appeal statewide than the 2006 GOP candidate, John Faso. Lazio is a fiscal conservative and a social moderate -- the right (and only) recipe for a successful GOP stateside candidate in New York (ala George Pataki). And Lazio has substantially better name recognition in New York today than Scott Brown did in Massachusetts two weeks ago (and George Pataki in January 2006). Lazio is personable and affable (like Scott Brown). Lazio has been racking up local endorsements -- most recently from the Nassau County GOP. And I love Lazio's proposal to convene a state constitutional convention to dissolve the two houses of the state legislature and replace them with a unicameral legislative body. If Lazio is the GOP candidate and could inflict some doubt and damage onto the Cuomo inevitability machine -- he could conceivably be the next governor.


US Senator: while Chuck Schumer and the Obama administration cleared the decks of most of the stronger primary opponent possibilities against Senator Kirstin Gillibrand, doubts about her viability still exist - and it's looking more and more like former Tennessee Congressman Harold Ford, Jr., may actually take on the mission of a primary challenge. Conventional wisdom says that the only viable primary challenge to Gillibrand would be from the left -- given her prior, pro-gun, blue dog record representing a congressional district in rural upstate New York. While fringe candidate John Tasini is mounting a primary challenge from the far left, recent New York transplant Harold Ford, Jr., has taken a leave from his Merrill Lynch gig and is strongly considering a run. Gillibrand is already branding Ford as an extreme conservative -- but her criticism of Ford rings hollow coming from the former Blue Dog. Ford's pro-choice credentials will probably be his toughest sell in New York – he has been for parent notification and opposed to partial birth abortions. Both Gillibrand and Ford had to modulate their positions on issues to satisfy their more parochial constituencies in upstate New York and Tennessee respectively. While Ford's introduction to the New York chattering class was a somewhat inartful interview in the New York Times, Ford is no Caroline Kennedy. He's an experienced, articulate, smart pol with the potential to go toe to toe with Gillibrand in the fundraising department. If the political climate continues to sour for Democrats nationally -- and in New York specifically -- Ford would be the stronger Democratic candidate against a Republican such as Bruce Blakeman or George Pataki in that Ford could more plausibly run as an outside, anti-establishment candidate.

Speaking of Republicans, the lack of a marquis GOP candidate for the Gillibrand seat at this point in the cycle is puzzling. The decliners so far include Rudy Giuliani, Long Island Congressman Peter King, and Larchmont Mayor Liz Feld. Former Governor George Pataki has not officially declined but all indications point to him opting out and making a full time run for the White House in 2012. So far that leaves as the only announced GOP candidate, Bruce Blakeman, a former Nassau County legislator, Port Authority board member, former candidate for State Comptroller and brief candidate for New York City Mayor. He's recently been noted because his ex, Nancy Shevell is dating Paul McCartney. If the Democrats stay with Kirstin Gillibrand, and runs as the establishment/favorite/incumbent -- Blakeman could gain traction.

Senator Schumer's seat is up in 2010 as well -- but no one seriously sees him at risk.
David A. Singer is a former political consultant/campaign professional and political junkie currently toiling as a lawyer in Westchester and managing real estate and media investments.
SHS Cheerleaders To Go To The Nationals
Details

Hits: 2875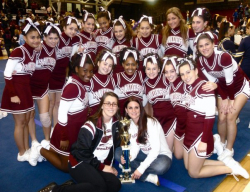 Good news … the SHS Varsity Cheerleaders will attend the National High School Cheerleading Championship at Walt Disney World February 13 and 14, 2010 and the championship semifinals will be on national television on ESPN.

We previously reported on the site, that the team had qualified to go, but lacked the necessary funds to make the trip.  In the interim, the resourceful girls on the team, raised money by selling ads in the program for the Scarsdale Invitational Cheerleading Tournament that will take place this Saturday at Scarsdale High School.  The school will host over 40 visiting area teams and the fun starts at 10 a.m. on 1/16. Tickets can be purchased at the door and refreshments will be sold.

Best of luck to Coach Stacy Monteiro and the Varsity Squad.