Raiders Girls Basketball Team Ends Regular Season with a 5-Game Winning Streak
Monday, 12 February 2018 11:56
Last Updated: Monday, 12 February 2018 12:00
Published: Monday, 12 February 2018 11:56
Emmeline Berridge
Hits: 2536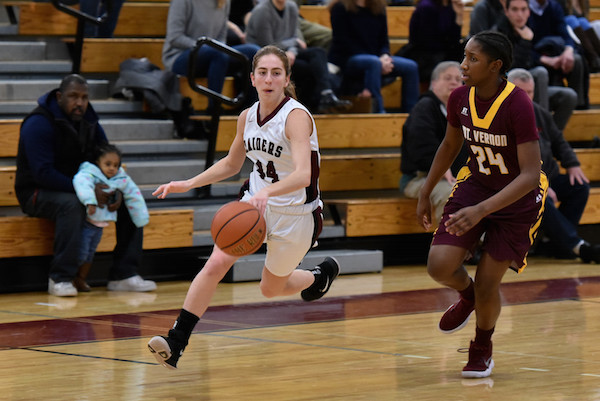 After a difficult stretch during December and January, the Scarsdale Girls Basketball team has turned around their season, finishing regulation play on 5-game winning streak. Wins include a three point victory against White Plains (42-39) and Mount Vernon (77-52). Both teams had beaten the Raiders earlier this season.
The team has improved on both their scoring and ability to control the pace of the game, as evident in their maintaining the leads throughout the entirety of both Mount Vernon and White Plains games.
The final league game of the season, also Senior Night, was against Fox Lane. The Raiders won 56-49. With this momentum, Scarsdale (#13 seed) will play Horace Greeley (#20 seed) in an out-bracket game for the playoffs at home on Wednesday (2/14), and the winner of Wednesday's game will face Ursuline (#4 seed) on Saturday (2/17.
Photos by Jon Thaler, see more here: