March For Our Lives
Wednesday, 28 February 2018 08:42
Last Updated: Wednesday, 28 February 2018 08:49
Published: Wednesday, 28 February 2018 08:42
Jordy Love
Hits: 2638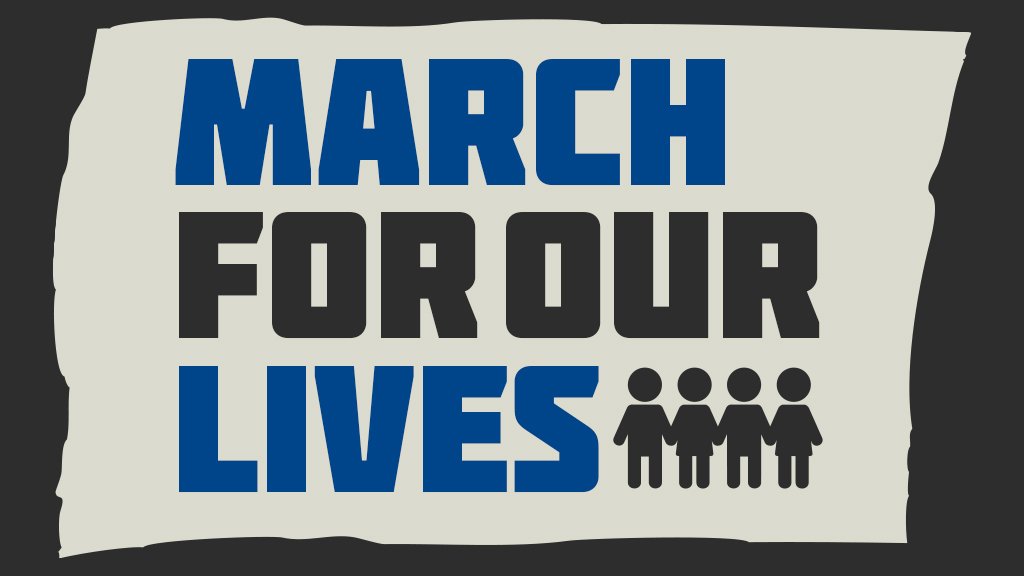 (This article was submitted by Jordy Love, a sohpomore at Scarsdale High School.) In the weeks following the fatal shooting at Marjory Stoneman Douglas High School in Parkland, Florida, students across America have been organizing rallies, walkouts, and marches to show their support for gun control. This tragedy has been a catalyst for the "Never Again" movement causing many to wonder why it took this long to spark action.
As many people know, the NRA carries a lot of influence over the Republican Party. With Republicans controlling our government, and Democrats and Republicans unwilling to agree, Congress often finds itself gridlocked and unable to make progress. In 2016, Democrats backed a filibuster, which forced Senate to vote on four gun control proposals. None of these proposals passed. In 1994, a ban on the manufacturing of different types of firearms was passed, but this gun control legislation expired in 2004 and attempts to renew it have been unsuccessful. Bump fire stocks, (also known as bump stocks) are devices that allow semi-automatic weapons to fire at a more rapid rate. The department of justice has announced that through a regulatory process, they may be able to reinterpret the legality of bump stocks and possibly ban them. Although this ban seems to be getting traction, people should not feel satisfied if it is accomplished. In the wake of the tragic Parkland shooting, Democrats have had a lot of pressure on them to "make a change" while Republicans have had an equal amount of pressure to stop accepting money from the NRA. Applying a ban to bump stocks is a step in the right direction. This being said, it gives both parties an opportunity to appear as if they are making huge progress and appear united in the eyes of American citizens when in reality, they have only tackled a smaller issue that falls under the umbrella of gun control.
Many people are thirsty for change but of course, laws aren't passed overnight. One solution President Trump has proposed is arming teachers. This approach makes many students and teachers feel uncomfortable and unsafe. The most important thing to do is limit access to guns and makes them harder to obtain; however, this is much easier said than done. Australia has not had a mass-shooting spree since 2002 and statistics show that Japan is one of the safest countries in the world as far as gun violence is concerned. This is because after horrific shootings, Japanese and Australian governments barred down and implemented strict gun-control laws. The United Sates is unique in the fact that the second amendment says we have the right to bear arms but many believe that this constitutional right is outdated considering the fact that when it was written, the technology for automatic weapons was non-existent. In our world today, rifles, handguns, and other fire arms are more dangerous and accurate than could have been imagined when the constitution was written —the weapons of today are easily obtainable and completely different than anything that existed in 1791.
On Monday at Scarsdale High School there was a possible threat against the school via social media. Police were notified and officers were posted on campus after school as a result of this threat. On Tuesday, five Westchester School Districts went into a lockout, preventing everyone but students and teachers from coming in or out of the school building. Although there were no actual incidents at the schools, students and community members are understandably concerned. Jen Farfel, a tenth grade student at Scarsdale High School says, "Students should not have to worry about guns anywhere. Not only in school, but also while walking around the streets of their community. Placing metal detectors and new security systems in the school is not a rational or healthy way to make school a safer place. Action has to come from politicians, and change should be rapid." She is not the only student who feels this way. Another Scarsdale High School sophomore, Sammy Rosenberg added, "School should be an environment where students feel safe at all times. We must begin with social awareness and build up to changing laws. Buying guns should not be a common or simple task." Students, teachers, and parents all agree that feeling safe in school is essential.
A note from the author:
Considering recent events, I have been feeling especially grateful for our teachers and their bravery. That being said, arming them and making rifles more accessible is not a solution to the lack of gun control in our country. Protective measures such as law enforcement at school entrances may make us feel safe temporarily, but the only way to see permanent change is to speak up for what we believe in and make it happen ourselves. The Republicans run our government but the NRA owns the Republican Party and has paid them for their silence. Puppet politicians offering condolences to victims and their families is not enough; we need policy change and fast. As the future of country we MUST stand up for what we believe in and let everyone know that it is not acceptable to feel unsafe at our own schools. We may be young but we will not be unheard. If you are tired of feeling helpless, please support the Never Again movement by joining the march for our lives on March 24th, a march for gun control which will be held in various cities around the nation.
Jordy Love is a sophomore at Scarsdale High School. After the tragic shooting at The Douglas School she feels compelled to voice her opinion on gun control and become involved. She hopes to see change and an end to gun violence.