Meet Christopher Welsh, Incoming Assistant Principal at SHS
Monday, 11 June 2018 13:16
Last Updated: Monday, 11 June 2018 13:17
Published: Monday, 11 June 2018 13:16
Joanne Wallenstein
Hits: 2497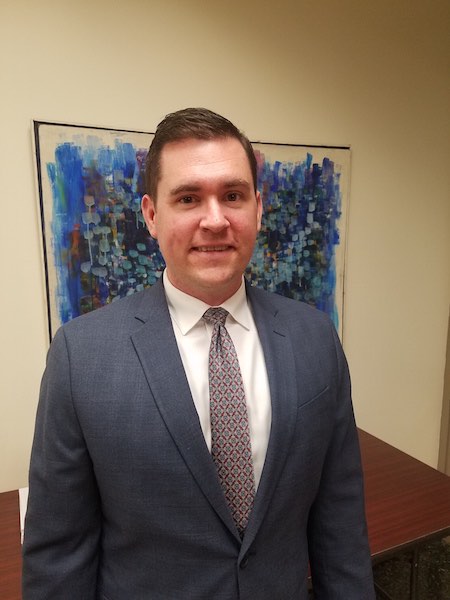 Chris Welsh will become an Assistant Principal at Scarsdale High School in July.Christopher Welsh will join the administrative team as an Assistant Principal at Scarsdale High School in July. In an effort to learn more about him, we asked him the following questions and here is what he shared:
Please tell us about your education and prior experience.

I hold a Bachelor's Degree from Fordham University with a major in Political Science and a minor in Business Administration. I received a Master's Degree of Science in Teaching - Adolescent Social Studies, also from Fordham University. Lastly, I completed a Master's Degree of Science in Education - Administration and Supervision, also from Fordham University.

I have worked at Pleasantville High School for the past 8 years. For the first 6 years, I served as a Social Studies/Special Education teacher, with assignments ranging from Resource Room to Advanced Placement Government and Politics. I then took on the role of Curriculum Coordinator while still maintaining a reduced teaching load. This year I concurrently served as the Coordinator of Student Services and Curriculum Coordinator, while no longer serving as a classroom teacher. I work closely with building administration on a wide variety of long term projects and the day to day operation of the school.

What were some of the curricular initiatives that you implemented or managed during your tenure?

I have served as the point person for our transition to the Microsoft 365 platform, which has required a significant amount of time for professional development. I have worked with the technology committee to develop our Tech 4 All program, where all 5th and 9th grade students will receive a convertible 2 in 1 computer. I spent a great deal of time working with a team to explore Active Learning spaces. I chaired a committee to explore block scheduling. I run the new teacher mentor program at the high school.

What was your role as Coordinator of Student Services? What did that involve?

The biggest responsibilities in this position have been Grade Reporting and Master Scheduling. Essentially, the position has allowed me to work closely with our Principal and Assistant Principal on circumstances related to teaching and learning as they arise.

What were some of the challenges of your previous position?

There has certainly been a learning curve for our staff as we have rolled out lots of new technology. The professional development demands often came into conflict with some of our other curricular programs. I think any time an organization which has experienced success tries to initiate change, there is a natural tendency to question the motivation. We have tried to overcome some of these difficulties by providing ongoing support, gathering feedback, and working collaboratively to ensure the needs of our students are met.

What are some of the differences between Pleasantville and Scarsdale?

The biggest difference is clearly the size of the schools. Scarsdale has about three times the number of students and teachers as Pleasantville. So it will certainly take a bit more time to get to know everyone, but that is certainly one of my first priorities. Otherwise, I think there are quite a number of similarities in terms of both being involved and supportive communities with high expectations.

What will be your role at SHS?

I will serve as the Assistant Principal for Academics and Operations, which involves work around schedule development, academic policy, and budgeting to name some the larger responsibilities. In general, I view myself as someone who will support students in any way I can.

What are you looking forward to in the new position? And when do you start?

I am extremely excited to become a part of such a wonderful community of learning. From my brief interactions, the students appear self-motivated and mature, the faculty is dedicated and cares deeply about their students, and the administration is top notch. Mr. Bonamo and his team have welcomed me with open arms, and are committed to helping my transition to SHS be seamless. I can't say enough good things about Mr. Renino, who I am replacing, as he continues to offer support and guidance. My official start date is July 1, 2018.