Scarsdale Track and Field Shatters School Records, Qualifies for Millrose Games and Qualifies for Nationals
Thursday, 24 January 2019 09:46
Last Updated: Thursday, 24 January 2019 14:56
Published: Thursday, 24 January 2019 09:46
Alex Wilson
Hits: 2866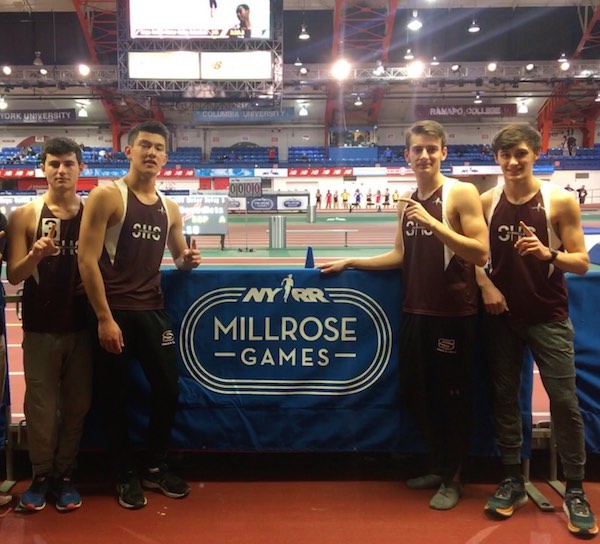 Boys 4x400 Relay Team (Left to right) Jonah Oxman, Nick Bernard, Eric Jacobson, and DJ Matusz.Even without a track at their disposal, the Scarsdale track and field team has had an exciting start to their winter season, with many individual athletes achieving high rankings in the section, state, and even nationally.

When the Scarsdale track and field coaches learned that they would not have a track at the high school for the winter and possibly spring seasons, they had to problem-solve and create a training plan that did not require the track. The solution amounted to sprint workouts on Dean Field, weekly trips to the track at Edgemont High School, and more runs on the roads. "Although there are some challenges, the coaches and runners have all stayed positive this season to stay competitive," said Captain Sierra Donovan '19. This altered training schedule was an adjustment for the athletes, but that did not prevent many of them from excelling.
The track team's winter season is long, cold, and intense, so to avoid injuries and burnout, the coaches chose to put fewer meets on the schedule this year. However, the meets Scarsdale has attended have been exciting and action-packed. In just the first meet on December 9th, Sophia Franco '20 ran a blistering 1:34.07 in the 600 meter dash -- at the time, the fastest time in the country and a new Scarsdale school record. She is currently ranked fourth nationally and looks forward to competing in that event at Nationals in March.
Franco will not be the only Scarsdale runner in attendance: at the Millrose Trials on January 9th, the boys' 4x400 relay qualified for the elite Millrose Games and Nationals with a time of 3:27.77. DJ Matusz's '20 opening leg of 53.367 seconds started strong, followed by Nick Bernard (49.887 seconds), then Jonah Oxman '19 (53.753 seconds) and a strong anchor leg by Eric Jacobson '19 (50.763 seconds). "Mod [Coach Modafferi] told us individually what our race strategies were going to be, and we executed that plan well, which allowed us to run fast," said Jacobson when reflecting on the meet. When the boys arrived at practice the next day, Coach Modafferi surprised them with news that their race also broke the school record.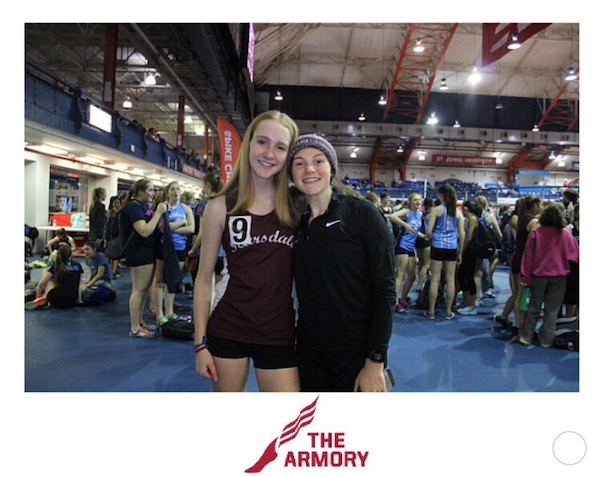 Long-distance runners Lizzie Hurshman '22 and Caitlin Barotz '20That weekend at Leagues, Bernard and Jacobson built on their momentum from the Millrose Trials and had stellar 600 meter races. For the entire race, the teammates and close friends were leading the pack in the first heat, pushing each other in each lap. Bernard finished in 1:23.08 and Jacobson right behind him at 1:23.43. These times ranked #21 and #28, respectively, nationally. Running next to each other "definitely helped, as I wouldn't have been able to pace myself if I didn't have someone right with me the whole time," said Bernard. Jacobson was happy to run alongside his friend, calling it "a fun race." The pair hopes to continue improving so that they place well at State Quals and States and have success at Nationals.
There have been many other notable performances this season that will carry some athletes to State Quals on February 17. On the girls' side, these include Brooke Bensche's high jump (5'2") and 55m hurdles (9.17), Donovan's 600m (1:41.20), Aliza Mehlman's 1000m (3:10.32), Franco's 300m (41.90) along with her 600m, and Victoria Capobianco's 3000m (11:17.27). Relays that can advance are the 4x200 (1:52.40) and the 4x400 (4:12.51).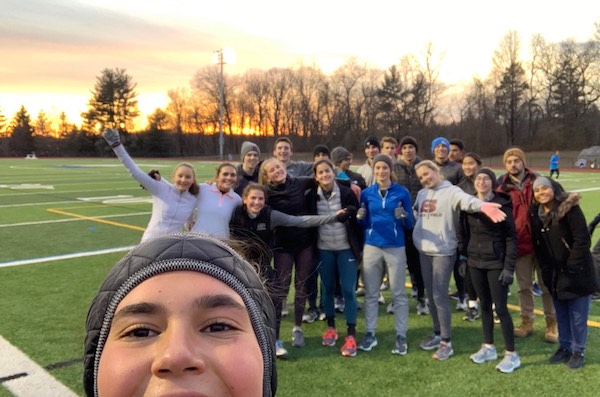 Middle-distance group picture after a workout at the Edgemont High School track Boys' performances eligible to advance to State Quals include Ward Bandsma's 1000m (2:41.38) and 1600m (4:41.52), Matusz's 1000m (2:42.67), Jake Coleman's 3200m (10:06.70), Andrew Levy's 3200m (10:13.06), Bruno Tassari's 3200m (10:17.23), Jacobson's 300m (37.32) and 1000m (2:38.80) as well as his 600m, and Bernard's 1000m (2:37.68) as well as his 600m. Relays that can advance are the 4x800 (8.22.05) and the 4x400.
With the County Meet coming up on Sunday January 27 and the Class A Meet the following weekend, the team hopes to continue improving and motivating each other so more Raiders can advance to State Quals and beyond.