Varsity Tennis Team Defeats Bronxville 4-3 in First Match of the Season
Thursday, 04 April 2019 04:51
Last Updated: Thursday, 04 April 2019 05:35
Published: Thursday, 04 April 2019 04:51
Anna Cho
Hits: 3821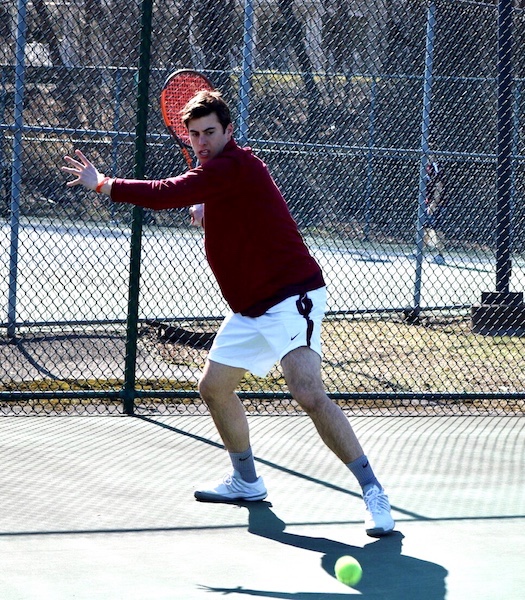 Senior and Co-Captain, Gus Thompson, helps lead the Raiders to victory as he plays 1st doubles.The Scarsdale Raiders Varsity A Boys Tennis team got off to a strong start with a 4-3 win against Bronxville High School on Wednesday April 3. This year's team has four freshmen, Adin Lamport, Jason Shuler, Ryan Gerson, and Jason Gans, "which is quite unusual," as Coach Roane remarked. In past seasons there are typically one or two players from the freshmen class, so having four freshmen on the team is uncommon.

"I think the team is pretty strong from top to bottom. We have a lot of youth on the team, a lot more freshmen than usual. I think the roster fills out pretty well," commented Senior Captain Jordan Ziffer.
While the number of freshmen on the team is greater than usual the team is still as strong as ever. The boys are looking forward to a great season with the hope of finally beating Horace Greeley in the Section Championships. Unfortunately the Raiders lost to Horace Greeley in last year's finals, but are aiming to bring Scarsdale a Section Championship this year. Catch the boys play on April 8 against Edgemont at Scarsdale High School.
Here are the stats from the match:
Scarsdale 4, Bronxville 3
1st Singles: Jason Shuler(S) vs. Liam Krall(B)- (3-6, 2-6), 2nd Singles: Jose Maronilla(S) vs. Charlie Nordahl(B)- (0-6, 1-6), 3rd Singles: Adin Lamport(S) vs. Jimmy Hennessy(B) (5-7, 3-6), 1st Doubles: Gus Thompson(S) and Jordan Ziffer(S) vs. Nate Kim(B) and Michel Swartz(B)- (6-1, 6-1), 2nd Doubles: Dylan Cohn(S) and Jake Singer(S) vs. Declan Broderick(B) and Harrison Brown(B)- (6-2, 6-1). 3rd Doubles: Ben Rossano(S) and Andrew Broom(S) vs. Spencer Blumenreich(B) and Manu Monogenis(B)- (6-1, 7-5), 4th Doubles: Ryan Gerson(S) and Jason Gans(S) vs. Griffin Patterson(B) and Will Grant(B)- (6-2, 6-1)
Photos and text by Anna Cho.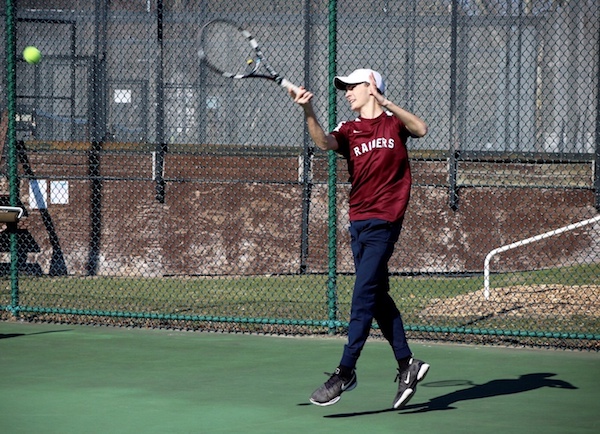 Jordan Ziffer, senior Co-Captain, is in the process of winning for his team alongside partner Gus Thompson.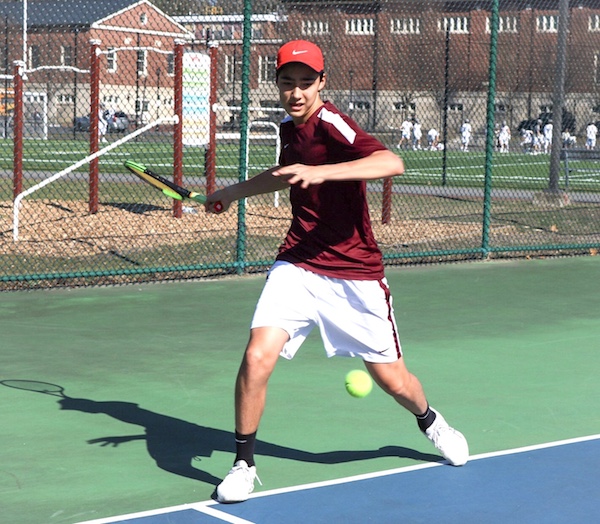 One of the new additions, freshman Jason Shuler, is grinding it out in one of his first matches as 1st singles.

Fourth doubles player and freshman, Jason Gans, is pictured working hard to win one of his first matches.

Third singles player and freshman, Adin Lamport is eager to play in one of his first matches on the team.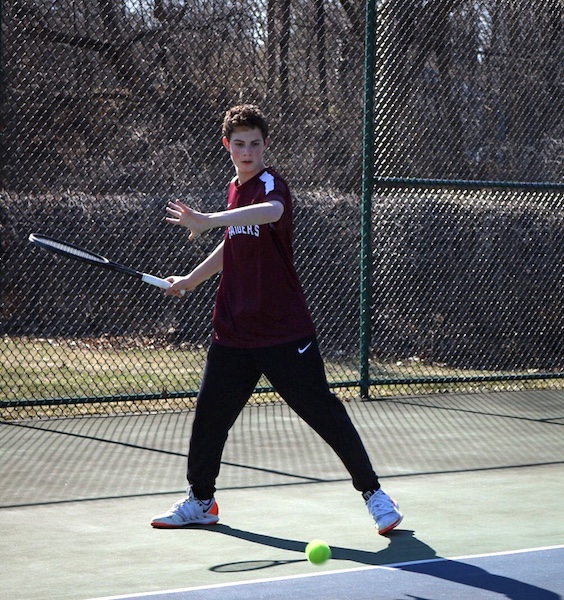 Freshman and 4th doubles player, Ryan Gerson, is shown warming up to play one of his first matches of the season.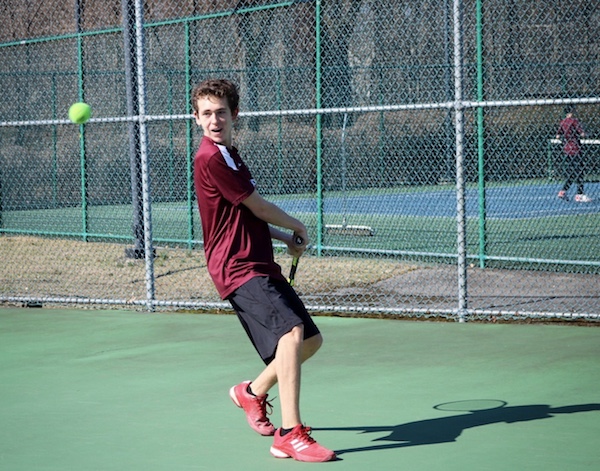 Only sophomore, Andrew Broom, is practicing his backhand as he prepares to play against Bronxville's 3rd doubles team.