SHS Class of '19 Gets Their Chance to Chalk
Details

Written by

Becca Sklar

Hits: 1463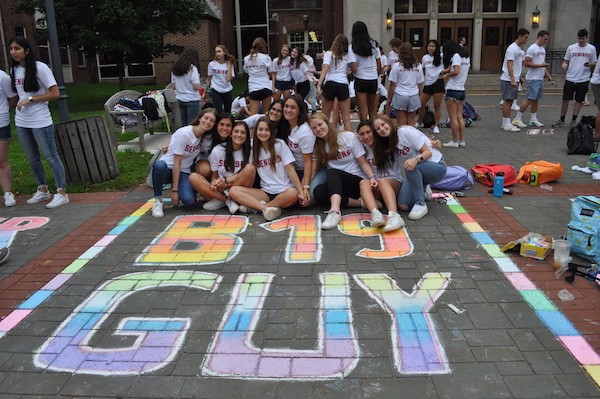 The SHS Class of '19 particpated in one of the rites of being a senior. On Friday September 14, Scarsdale High School seniors crowded around the Brewster Road entrance to participate in the annual Senior Chalking event. Students arrived as early as 6:15 am to begin work on their masterpieces. Students collaborated with their friends to draw a saying or a picture on the pavement and there were hundreds of hands on the ground, covered in colors from smearing shades together.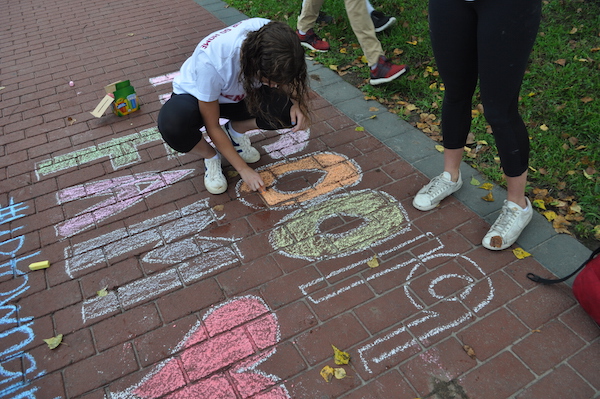 The artists sported bright white senior t-shirts, each with a large "SEN19RS" on the front and "GO B19 OR GO HOME" on the back, creating a sense of community and spirit amongst the senior class. A special event for seniors, chalking is something SHS students look forward to from the very start of high school. "Chalking was an awesome experience because it made us all really feel like seniors. After watching older kids participate in the tradition for years, it was crazy to think we were really the ones doing it now," remarked Kelli Rainer, an SHS senior.
Music played and enthusiasm filled the air as students were adding details to their brightly colored creations that involved some sort of pun with the number 19.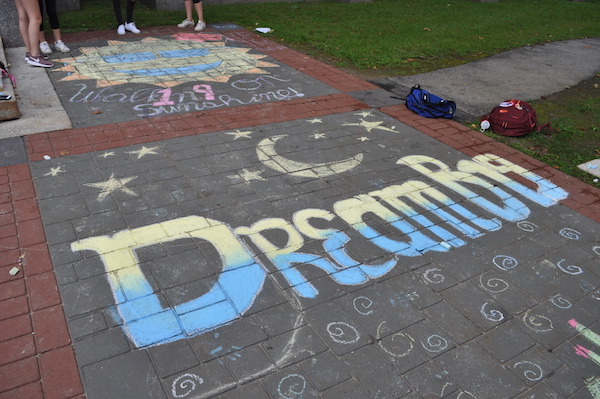 Despite the commonly perceived notion that chalking is highly exclusive, there was little evidence that anyone was left out. Seniors walked around with wide smiles on their faces spreading nothing but warmth. When the rest of the student body crossed the Brewster Road entrance to get to class, they were greeted by vibrant color designs drawn by groups of friends, teams, and clubs, completely obscuring the maroon and grey pavement that was beneath all of the chalk.
With the entire senior class actively involved and having fun the entire morning, Senior Chalking 2019 was a major success and will remain a tradition at SHS for years to come.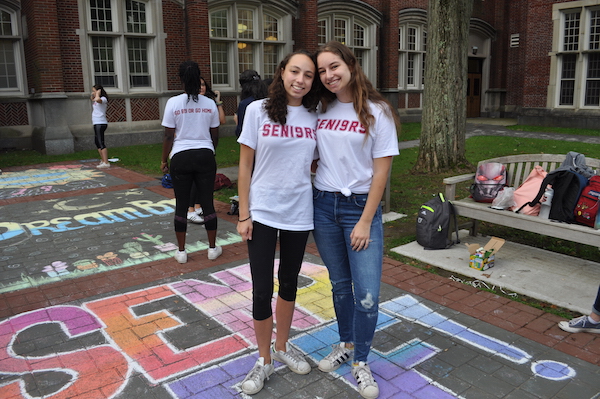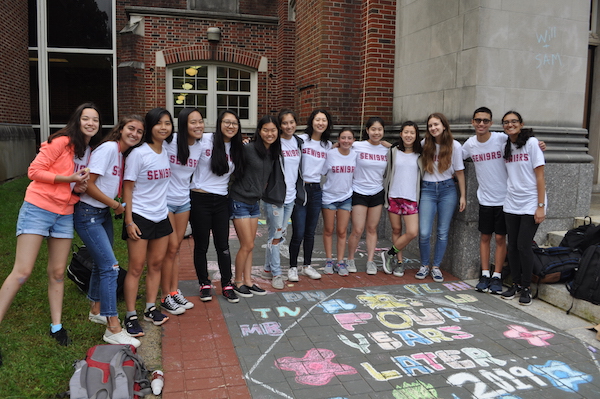 Scarsdale Students Recognize 9/11, 17 Years Later
Details

Written by

Sydney Albert

Hits: 1069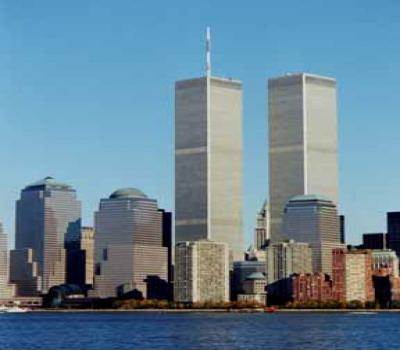 Tuesday September 11 marked the 17th anniversary of the attacks at the World Trade Center. A day that will live in infamy, 9/11 is typically commemorated in Scarsdale Schools in order to honor those who lost their lives on that day. Though none of the students in the school can remember that day, many were disappointed and angered when Scarsdale High School failed to acknowledge the anniversary of this tragedy in 2017.
Last year, on September 11, 2017 students at Scarsdale High School carried out a typical school day. Teachers and administrators failed to acknowledge the important events that took place sixteen years ago. This neglect angered students who wanted to ensure that the story of 9/11 continues to be passed down to younger generations that did not live through it. In prior years, the day had been discussed in SHS history classes but was not recognized in 2017.
In response to criticism from the student body, Scarsdale High School returned to its practice of commemorating the tragic events on September 11th. Although school was not in session for this year's anniversary due to Rosh Hashanah, a moment of silence was held on Friday, September 7. Many teachers extended the commemoration into their classrooms, discussing the lasting effects 9/11 has had on the country. Some teachers even chose to share their experience from that day, making some discussions rather emotional.
Students were much more satisfied with this year's anniversary. Becca Sklar, an SHS senior, shared her thoughts on how 9/11 should be remembered in the classroom: "Last year, I went home genuinely unsettled having not discussed the events of 9/11 in history class. It's imperative to commemorate 9/11 and to remember the victims; it is a piece of our country's history and should not be ignored. This year, being able to have a conversation and recall the devastating events that occurred that day gave closure to many students and was tremendously important."
Students in general felt a sense of relief once they heard Principal Kenneth Bonamo announce a moment of silence on the loudspeaker during first period on Friday. Most felt that this was a day that should be recognized as our country continues to be affected by the attacks and the repercussions of terrorism. In commemorating this day, students felt a sense of unity. It was comforting for them to feel the support of the school wide community in remembrance of the many local residents who lost their lives.
Kindergarten Enrollment Remains Low as Scarsdale Opens the 2018-19 School Year
Details

Written by

Joanne Wallenstein

Hits: 3073

The Scarsdale Schools will officially open next week with the lowest student population in a decade. Currently district-wide enrollment stands at 4,689 students, down 80 students from the 2017-18 count of 4,769. In 2014-15, district enrollment was at 4,821, 132 students higher than this year.
The majority of the decrease in the number of students is in kindergarten, where only 255 students have registered, which is 69 students shy of the demographers projections of 324 students and down 70 students from the 2017-18 kindergarten class of 325 students. As of the July 10, 2018 meeting 236 had registered for kindergarten, and Assistant Superintendent Drew Patrick hoped that more would move in during the summer –- but to date that number only climbed to 255 – another 19 students.
The population at Scarsdale Middle School was projected at 1,130 and now stands at 1,118, down 12 students. At the high school, projected enrollment was 1,519 and is three students over at 1,522.
The total number of elementary school sections remains at 103. The loss of new students is spread around the district, with Edgewood, Greenacres and Heathcote to have two kindergarten classes rather than three this past year and Fox Meadow to have three sections as compared to four last year. At Quaker Ridge, the number of kindergarten classes will remain at four.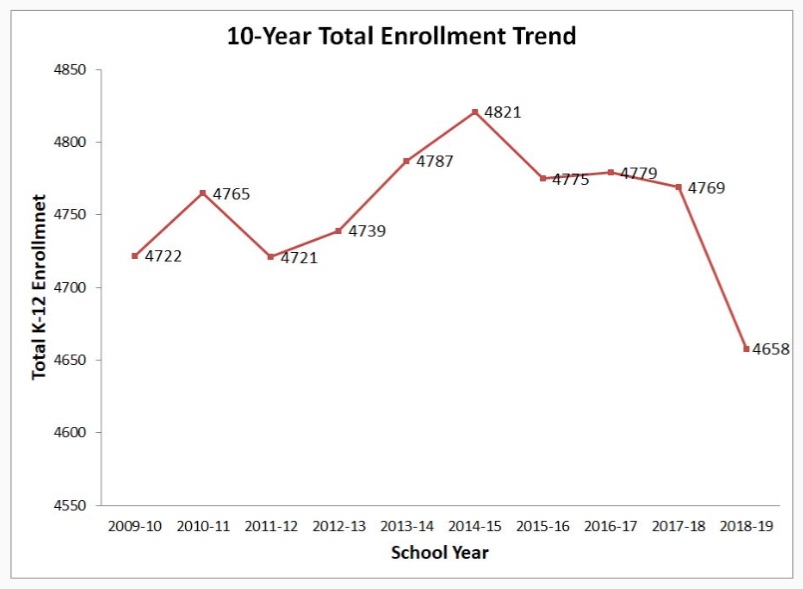 Enrollment Projection as of July, 2018. Enrollment now stands at 4,689 students for 2018-19


We asked Assistant Superintendent Drew Patrick for his thoughts on the numbers and here is what he shared:
What do you think are the factors behind this decrease in enrollment?
Hard to be certain, but it seems as if the change in the tax law may have stalled or delayed some people deciding to make a move to Scarsdale. Some real estate folks (through the grapevine) have indicated this may be a reason.
Will the sections be smaller? Why are there still 103 sections?
Our K-3 sections cap out at 22, and 4-5 at 24, so that drives the number of sections. The 103 represents where we were in June and in July, so this is consistent. We are down 3 from projected (106). Class sizes vary- where we have, say 52 kids, that demands three sections of 17, 17 and 18 (students), where if we have 43, that will be 22 and 21. I will give a full update on the September 17, 2018 Board of Education meeting.
Were any teachers laid off?
No. This was accomplished through attrition, though we did have to let go of 2 1-year leave replacement teachers. They were never promised more than a year, though.
Will the elementary schools be able to repurpose the space – and if so how will it be used?
That would have to be directed toward the schools- I can't speak for them. However, keep in mind this represents only 3 fewer classrooms total across 5 schools.
In other district news, Assistant Superintendent Stuart Mattey responded to our questions about the results of some ground testing at Greenacres that was done this summer in advance of the construction.
According the engineers, testing found the following:
-No groundwater encountered to a depth of 10'-0" below grade; and
-No changes to plans are required; and that
-Soil conditions are adequate for a typical foundation design.
Promising Start to Raiders 2018 Season
Details

Written by

Joanne Wallenstein

Hits: 1500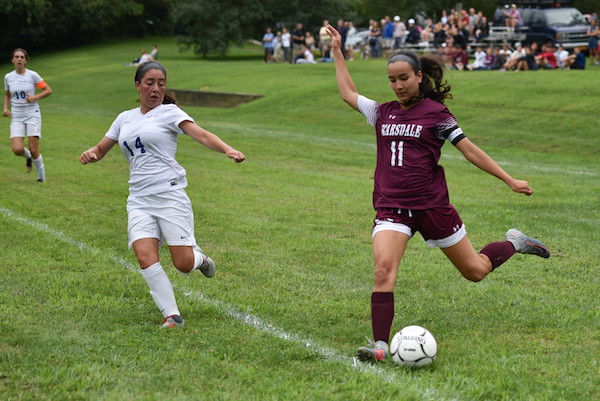 Co-captain Nayumi Parente-Ribeiro prepares to cross the ball during the first halfThe Scarsdale Girls Varsity A Soccer team has high expectations for the 2018 season, with a surfeit of talent returning amid hopes for a deep run in the Section 1 playoffs. The team began the season on a promising note with a 9-0 victory in its opening game against an overmatched Port Chester team, followed by a tough 3-1 loss against Somers High School.

The Port Chester game was played on Friday, August 31 at Scout Field. While the entire team played well, there were noteworthy performances by junior forward Olivia Bryant and senior mid-fielder Ella Ansell, each of whom tallied multiple goals, and several effective crosses by senior forward Nayumi Parenti-Ribeiro. Senior goalie Christina Coco played the first half and junior reserve goalie Sophia Caione played the second half. Neither one of them was tested. Every player on the Raiders' roster saw meaningful playing time, enabling head coach Mindy Genovese to showcase the depth of talent that is the cause of so much optimism about the team's prospects this season.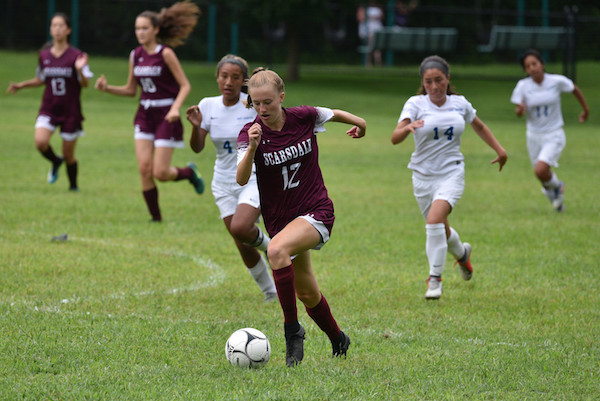 Junior forward Olivia Bryant races down the field with a Port Chester defender in pursuit

The team faced a sterner test in its game against the Somers Tuskers on Wednesday, September 5 at Scout Field. Somers is a perennial top team in Section 1 and the Raiders knew they were facing a tough opponent. The contest was played in 90 degree heat and high humidity, with several dozen spectators in attendance. Throughout the game, Coach Genovese rotated players in order to ensure that everyone on the field was properly rested and hydrated. Scarsdale scored first, on a beautiful combination started when midfielder Ansell received a pass and sent a beautiful ball down the right side line to a streaking Kelly Rutherford. Rutherford was fouled as she closed in on the goal. The foul in the box resulted in a penalty kick and junior forward Olivia Bryant dutifully placed the ball in the top left corner of the net for a 1-0 Scarsdale lead. The game remained 1-0 at halftime. Shortly after the second half whistle, Somers scored on a header off a corner kick to knot the score at 1-1. About five minutes later, mid-fielder Allison Stafford sent a rifle shot from the top of the box toward the upper left corner of Somers' goal, only to be thwarted as a Somers defender standing at the goal line managed to jump and head the ball just over the crossbar. Several minutes later, Somers took the lead on a misplay by the Scarsdale defense that led to a breakaway. Ansell had a chance to tie the score with a few minutes remaining in front of an empty net off a rebound in front of the Somers' goal, but the shot went just wide. Somers scored late on a defensive miscommunication. Overall, the game was evenly played with neither team dominating in terms of possession. It was a game the Raiders could have, perhaps should have, won and there was some consolation in that the team demonstrated that it is capable of playing with the top teams in Section 1.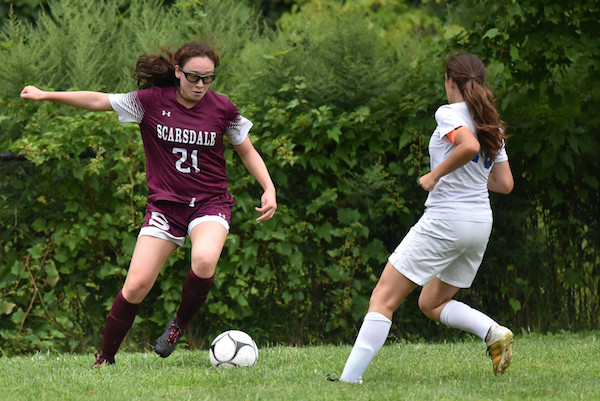 Senior mid-fielder Kelly Rutherford takes on a Port Chester defender one-on-one

The next game will be against Section 1, Class AA rival North Rockland at 4:30 p.m. on Friday, September 7 at Scout Field. North Rockland traditionally poses one of the Raiders' sternest challenges each season and this year promises to be no exception. Scarsdale10583.com will be there to follow and report on the action.
Photos by Jon Thaler – see more here: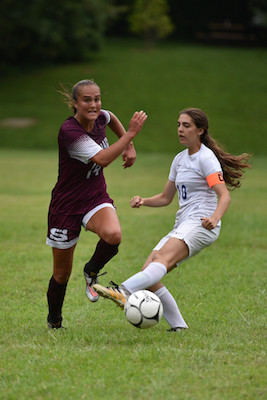 Co-captain Allison Stafford battles for possession against Port Chester
Co-captain Paige Barlow dribbles the ball up the left sideline
Advice on Standardized Testing from a Recent Scarsdale Grad
Details

Written by

Natalie Isak

Hits: 3268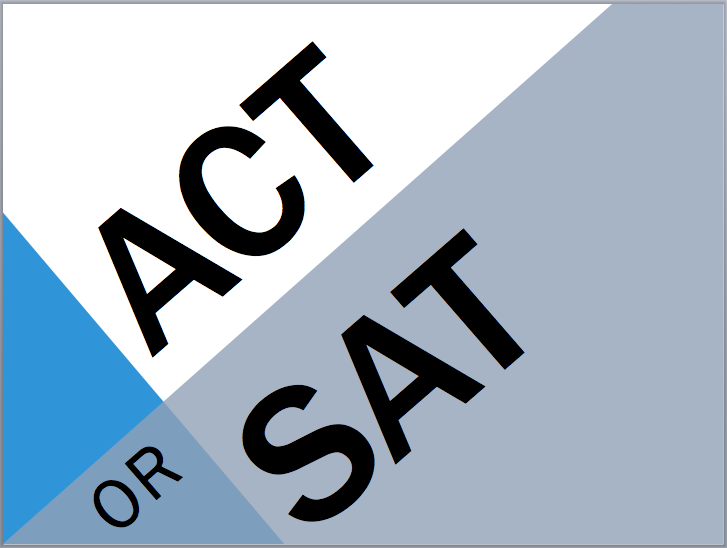 As the new school year approaches, many students are beginning to contemplate a dreaded part of high school: standardized testing. In this article, frequently asked questions about the SAT, ACT, and SAT II's are answered, such as, "When should I take the SAT/ACT?" and "What SAT II's should I take?" This article provides advice and answers specific to Scarsdale students.
Although standardized tests can be daunting, with the right guidance and preparation, students can be significantly less stressed and more successful.
SAT and ACT

How do I decide between the SAT and ACT?
This decision is completely personal. Most students take a diagnostic SAT and ACT a couple of months before they plan on taking the test. Usually, there will be a difference in scores, which will make this choice easier. Stefanie Lob, Partner at Private Prep Westchester, comments, "Private Prep recommends that all of our students take a full-length SAT and a full-length ACT diagnostic test to evaluate and compare the student's performance, and help guide the SAT vs. ACT decision in a diagnostic review. This is a very personal choice and we elicit student feedback, compare data section by section and evaluate other factors, like short-answer accuracy on the math sections of the SAT or timing on the ACT."
If the diagnostic test isn't enough, here are the pros and cons of each exam:
SAT PROS
More time per question (fewer questions)
SAT CONS
(Generally) harder questions
Fewer test-prep resources (this is a newer test than the ACT)
Certain colleges require all scores be sent (e.g. Barnard College, Georgetown University, Cornell University, Syracuse University)
ACT PROS
Score deletion
After receiving your score, it is possible to request the deletion of your score. This means that even colleges that require all scores be sent will not see this score
Easier questions
Some schools do not require SAT II's with this exam
ACT CONS
Less time per question
During some months (February and July in 2019), the ACT is not offered in New York. However, sometimes Scarsdale students will chose to take this test in Connecticut or New Jersey instead.
Another factor to consider is that the SAT has two math sections (calculator and non-calculator), whereas the ACT has a science section in lieu of the non-calculator section on the SAT. Depending on your math skills in comparison to your ability to analyze scientific passages and data, this could be important.
If you are still struggling with this decision, a helpful question to ask yourself is: "Do I prefer harder tests with more time, or easier tests with less time?" Oftentimes students with better time-management skills prefer the ACT while more slow-paced and thoughtful students prefer the SAT.
Should I take a test-prep class or get a tutor?
When making this decision, there are two main factors to consider: your schedule and your learning preferences.
If you have a busy junior year in regards to extra curricular activities and/or academic classes, attending a test-prep SAT/ACT class may be difficult. Tutoring sessions are generally more flexible since they can be rescheduled.
If you prefer to learn by discussing concepts with your peers, you may benefit from being in a classroom environment. If you find individual attention to be more beneficial, then tutoring would be the better choice.
When should I take the SAT/ACT?
The SAT is offered in August, October, November, December, March, May, and June. The ACT is offered in September, October, December, February, April, June, and July.

Students who take the test in the fall/winter of their junior years usually do so because they have time during their summers and want to spend the school year focusing on their academic classes. Other students chose to take the ACT/SAT during the spring of their junior years to face the test with the benefit of additional knowledge from junior year.
How many months/years do students need to be tutored for the SAT/ACT? How many times should the exam be taken?
According to Lob, "While every student has their own timeline, most will start their preparations 4 months out of their first exam and will plan to take the exam twice. While some opt to take the exam a third time, others may reach their goals on the first shot."
What are some local recommendations for test prep?

Tutoring Companies:
Private Prep
Advantage
Varsity Tutors
Jump Start Tutoring
Huntington Learning Center

Classes:
JCC (https://jccmw.org/teens/academic-center-college-prep/act-prep/)
CCB School of Westchester (http://westchesterccb.com/2018-summer-act-prep-course/)
For extra practice, Bespoke (https://www.bespokeeducation.com/) offers mock exams.
Are there any new test sections/test changes on either the ACT or SAT that are currently being tested?
The SAT recently underwent major changes. For example, the essay became optional and less of an emphasis was placed on memorizing vocabulary. However, many people are unaware of the small changes being made to the ACT. Here, Lob gives an inside view on these shifts, "Beginning with the December 2016 ACT exam, the math section has increased in difficulty substantially. Students are now asked a variety of high-level topics which can pose a confidence issue. However, the curves are more generous and students are able to answer more questions incorrectly while still achieving the same score. Starting in June 2016, the ACT also eliminated a science experiment, dropping from 7 to 6. Our curriculum team and tutors welcomed this change as students now have fewer experiments to analyze and we have continued teaching the same strategies with a great deal of success. Coming this September, the ACT will start introducing a regular experimental section. More information to come after that is administered this fall."
SAT II
Should I Take An SAT II?
In recent years, SAT II's are becoming less important in the college admissions process. Most colleges do not require SAT II's at all, and many other colleges will not require SAT II's if an ACT score is submitted.
However, a number of colleges will require SAT II's. Take a look at here for a list of colleges that require SAT II's.
If so, which one?

There are twenty SAT II tests available to students. At Scarsdale, some tests are more popular than others: biology E/M (freshman), chemistry (sophomore), math II (junior), and English literature (junior).
If you are a freshman or sophomore and are not sure where you want to apply yet, it is usually not worth taking an SAT II unless you feel confident in the subject. For instance, if you are in honors biology or chemistry and getting an A- or above, then taking the respective SAT II would be a good idea. Lob concurs, "When speaking to families, we consider what level class the student is taking, how the student is performing in this class and what classes the student may be taking in future years. Typically we suggest exploring the SAT Subject Test if a student is in an honors level class or higher, and will not be continuing on with the subject matter in subsequent years."
In addition, if you are fluent in a foreign language, SAT II's are available in Spanish, French, Chinese, Italian, German, Hebrew, Latin, Japanese, and Korean.
Finally, if you are taking AP classes your junior year, taking an SAT II in the same subject is an easy way to kill two birds with one stone. Many students in AT US History taking the AP exam will also take the US History SAT II.
Natalie Isak is a 2018 graduate of Scarsdale High School who is headed to Cornell University.