Kari Pizzitola Basketball Tournament on December 7, 8 and 9 at SHS
Details

Written by

Jordy Love

Hits: 1459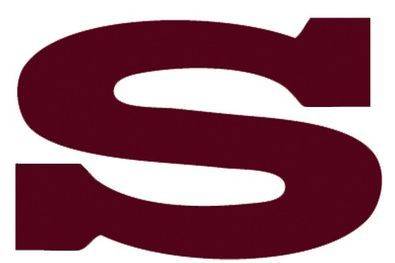 Support the Scarsdale Raiders Varsity Basketball Teams!
Come Support the Scarsdale Raiders Varsity Basketball Teams
Scarsdale's Maroon and White athletics and physical education booster organization will sponsor the 8th annual Kari Pizzitola basketball tournament on December 7th - 9th at Scarsdale High School. This holiday tournament honors the memory of Kari Pizzitola, a longtime Scarsdale resident and former Maroon and White President who passed away in 2008.
There will be free giveaways on both Friday and Saturday nights and mini "Scarsdale" basketballs to first 150 kids who arrive on Saturday Night. Additionally there will be a DJ Music and performances by Scarsdale High School Acapella groups. Half Time entertainment, and food will be provided as well as various incredible raffle prizes such as gift cards to Polpettina, Buon Amici, Amazon and Flatiron Hall, an Amazon Echo, Beats wireless earphones, a Candy Rocs gift basket and some personal training fitness sessions.

Schedule:

Thursday, December 7th:
4:00pm (Boys) Tappan Zee vs. Somers
6:00pm (Girls) Fox Lane vs. Truman
Friday December 8th:
4:30 (Boys) Bronx Science vs. Scarsdale
6:15 (Girls) TBA vs. Scarsdale
Saturday, December 9th:
4:00pm Girls' Consolation Game
5:00pm Girls' Championship Game
6:00pm Boys' Consolation Game
7:00pm Boys' Championship Game
Add a comment
SHS Seniors Sign National Letters of Intent; Students Ask For Response to Survey on Pesticide Use
Details

Written by

Jordy Love

Hits: 2842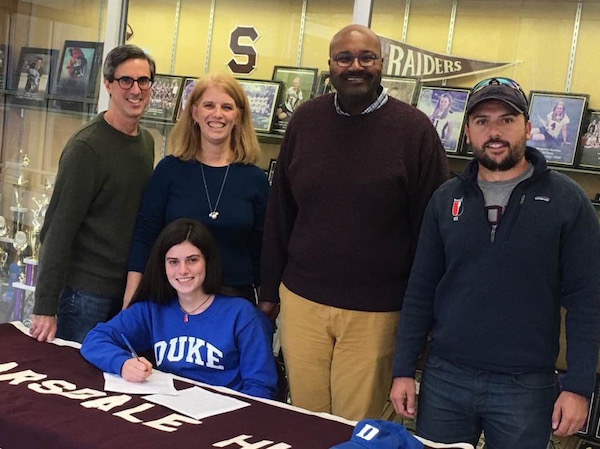 Scarsdale seniors Seth Thornton and Melanie Holmes joined student-athletes nationwide who committed to continue playing in college by signing National Letters of Intent during the early signing period. A National Letter of Intent is an agreement signed by a student-athlete who will be receiving an athletic scholarship from a university. It is a promise by a student to attend an institution for one year in exchange for the school's agreement to provide the student with athletic financial aid for the entire academic year. Student-athletes sign NLIs to end the recruiting process and commit to attend a specific institution.
On November 8, 2017 at Scarsdale High School, Thornton and Holmes made their commitments official. Next fall, Seth will be attending Syracuse University to play lacrosse and Melanie will be attending Duke University to row crew. Syracuse University has a Division I lacrosse program that has won 10 national championship titles. Duke University has a Division I Women's rowing program ranked as one of the top in the country.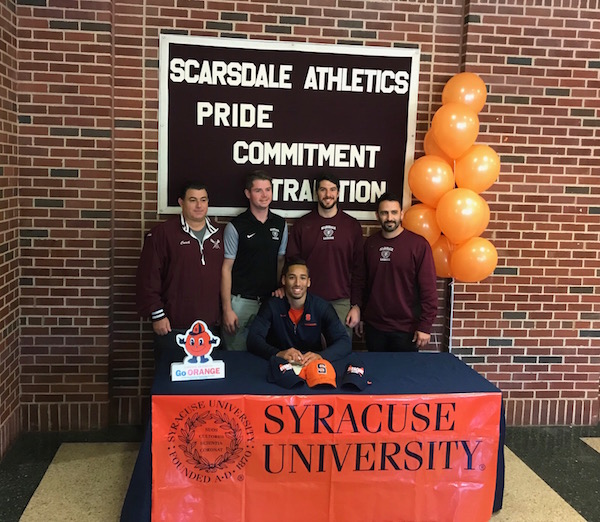 Seth Thornton plays for the Long Island Express in addition to the Scarsdale Raiders. He will play Midfield and FOGO at Syracuse. When asked about his decision to play at Syracuse Seth said, "I'm excited to train and play with some of the best players in the country."
According to Melanie, "Rowing has changed my life since I started and made me a lot more focused. I'm very excited to continue my rowing career at Duke." She is in her third year rowing and rows for RowAmerica Rye.
Chemical Pesticide Survey by Students in SHS's City 2.0 Class
Four Scarsdale High School students have created a survey to assess the use of chemical pesticides and fertilizers in Scarsdale. Through the use of this survey, they are hoping to find out how many people in Scarsdale are currently using chemicals on their lawns and plants and why they are using them. They hope to end the use of chemical pesticides and fertilizers in Scarsdale and ask Scarsdale10583 readers to would fill out this survey.
The five students, Charlie Abrams, Jack Lazarus, Lara Neishtadt, Daniella Archer, and Miyu Tachibana are doing this work as a project for their City 2.0 Class.
Add a comment
Emma and Willow
Details

Written by

Joanne Wallenstein

Hits: 1148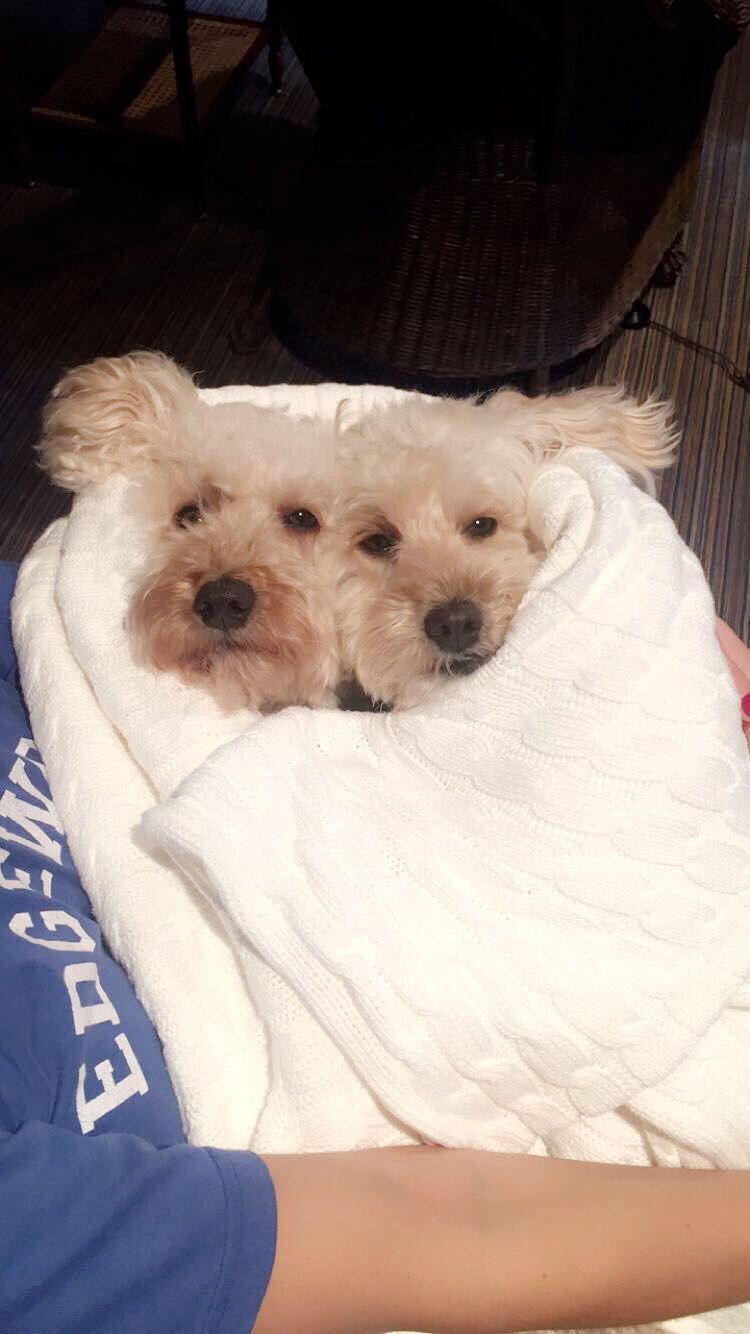 This week, we have two pets of the week: Meet Emma and Willow, sister petite mini golden doodles, originally from Wisconsin. The two of them together weigh around 30 pounds! They used to live across the street from each other in Heathcote, but now Willow lives in NYC. They love to visit each other and cuddle when they do. Emma dressed up as a TY stuffed animal for Halloween.
Share a story about your pet and a picture too. Email us at scarsdalecomments@gmail.com.
Add a comment
Do You Know Toby?
Details

Written by

Joanne Wallenstein

Hits: 1113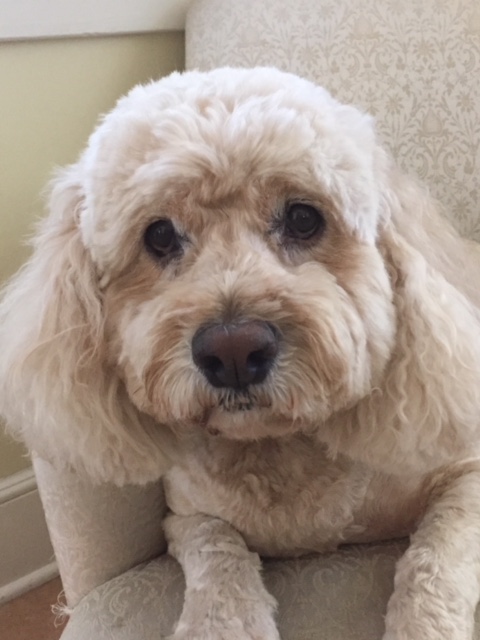 I'm Toby, a 12 year old cockapoo. I like long walks, cozy afternoons on the couch, and snacks. I have a wonderful life because people hug me a lot and I hang out with a number of very cute dogs in my beautiful Greenacres neighborhood. I was named after Toby Ziegler, a character from The West Wing, my favorite TV show.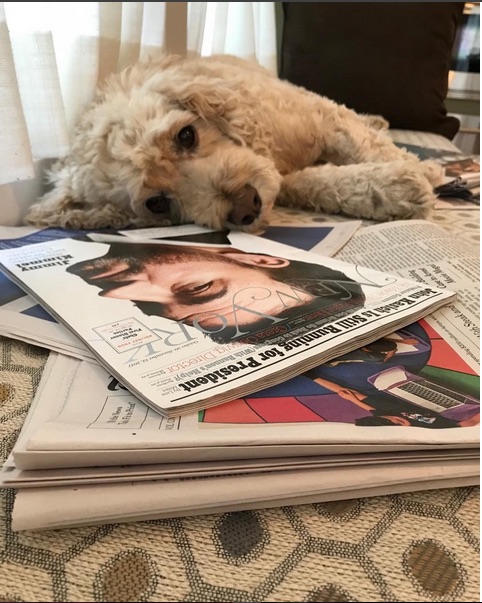 Add a comment
Is This Your Rabbit?
Details

Written by

Joanne Wallenstein

Hits: 1695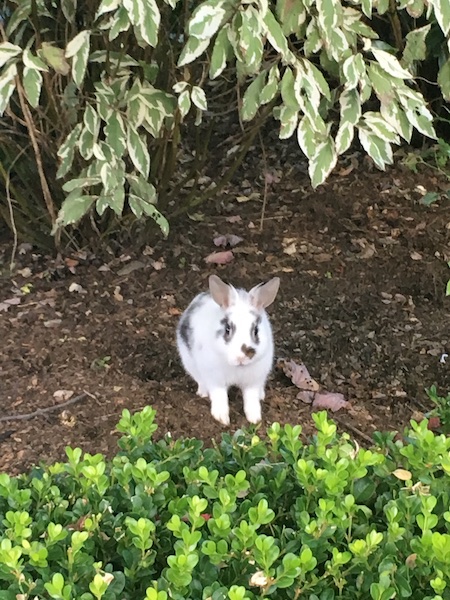 A domestic white bunny with dark gray spots was found in a yard in the vicinity of the library pond. If you are the owner please contact the Weinberg Nature Center at 914-722-1289 or info@weinbergnaturecenter.org.
Add a comment