Celebratory Walk for Fox Meadow School, Author Visits Greenacres
Details

Written by

Midori Sonada

Hits: 1660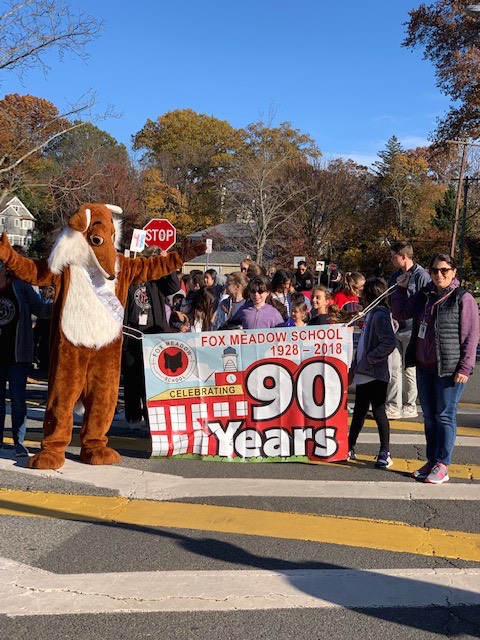 Over 400 students along with teachers and administrators took a celebratory walk from Greenacres Elementary School to Fox Meadow Elementary School on Thursday November 8 to commemorate the opening of Fox Meadow School 90 years ago.
The excited kids were bussed from Fox Meadow to Greenacres where they were greeted by police, fire trucks and Foxy the Fox. They lined up by class on the blacktop at Greenacres before forming a big line to walk down Brewster Road and commemorate the walk the students made 90 years ago for the opening of Fox Meadow School.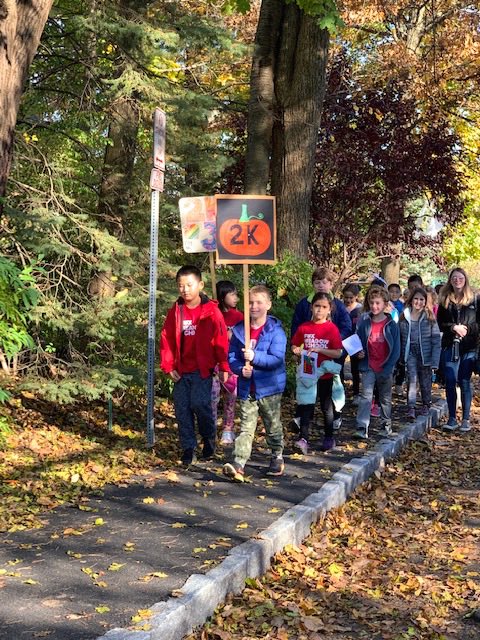 Dan Gutman, Author of My Weird School Visits Greenacres
Dan Gutman On Thursday, November 8th some lucky Greenacres students won a lottery to have lunch with visiting author, Dan Gutman. Mr. Gutman, a resident of New York City, is the author of the extremely popular My Weird School series. In addition, he has also penned several books on topics such as famous athletes, the electoral process, and a machine that does homework (the last being fiction).
While munching with his third, fourth and fifth grade lunch mates last week, Mr. Gutman discussed with them their futures, their teachers, and, of course, the weirdest thing to happen at Greenacres (a police incident was cited). Fifth grader Ella Hurwitz said, "Lunch was fantastic…he was really funny." Charlie Im, a third grader, said, "I think it's really interesting to hear how books are written. Maybe I'll write one one day."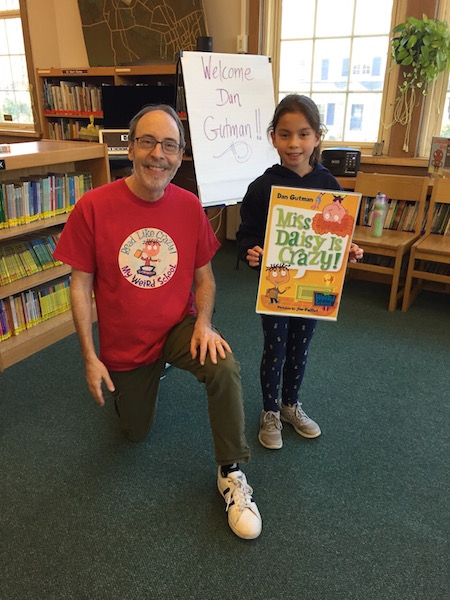 Mr. Gutman loves writing for children, and values the opportunity to meet face to face with his audience. In addition to the lunch with about a dozen students, he also met with each of the upper grades and also spoke at a school assembly. He shared with his young audience how being an author was not always so easy (such as receiving 20 rejections for one book) as well as what it's like when you get your rhythm (it takes about a month for him to write a book in the My Weird School series).
While he's had to say farewell to some of his beloved creations (Rappy the Raptor, a picture book series, is now sadly gone into extinction) he also sees new avenues for opportunity, such as ebooks and other media, on the horizon.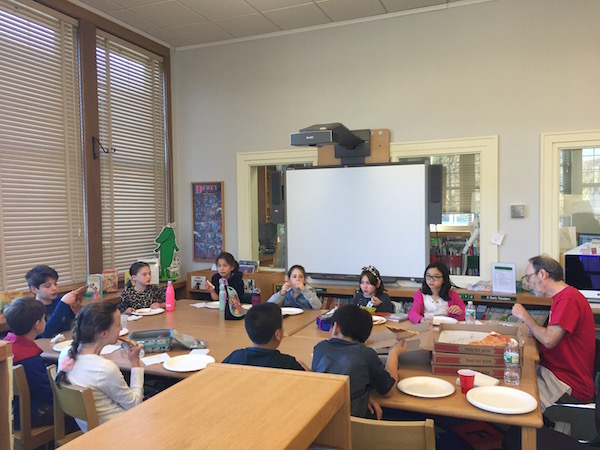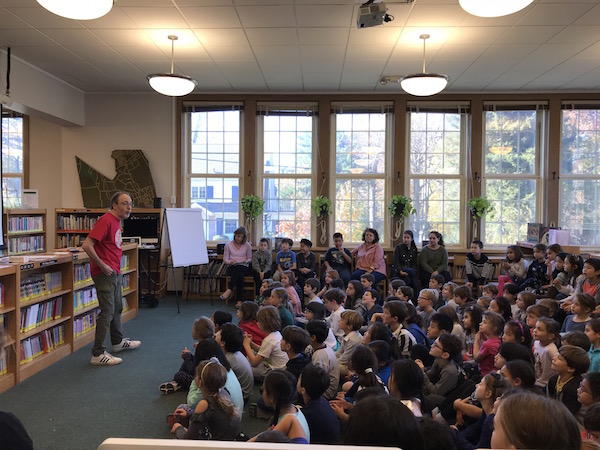 Photos from SHS: Charity Dinner Raises over $10,000, Rena Li's 100th Dig
Details

Written by

Joanne Wallenstein

Hits: 1982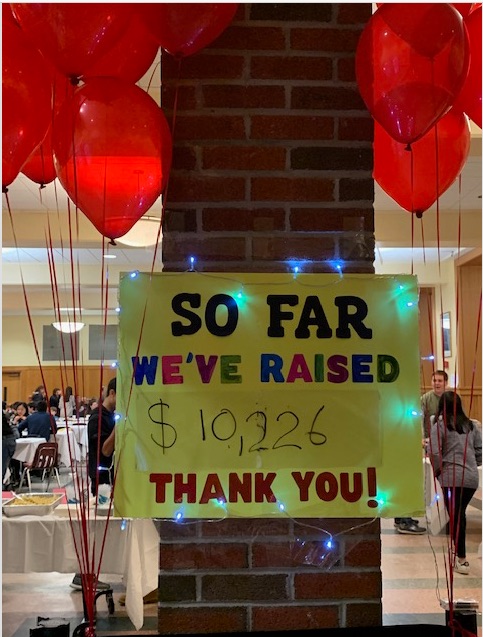 The Scarsdale High School student government charity dinner on Monday November 5 was attended by over 400 people and raised approximately $11,000 for the PaulieStrong Foundation. Class Advisors Ben Sawyer and Lauren Barton wish to thank everyone who attended or donated to the event including the students and faculty who volunteered their time to make the event a success, and, most importantly, the local restaurants who donated food to the event.

808 Bistro
Amendola's
Amore Pizza
BosphoRus
Buon Amici
Cherry Lawn
Cooked & Co.
Frank & Joe's
Frankie & Fanucci's
Galloway's Bakery
Garth Road Inn
Gianonni's
Greenharvest
Hunan Village
Irish Bank
Meritage
Metro Diner
Moscato
Pas-Tina's
PopoJito
Ruffled Feathers
Scoop Shop
SLICE of Scarsdale
Standing Room Only
Vega
Via Forno
Yeomiji
Rena Li's 100th Dig
Rena Li, Scarsdale Varsity Girls A Volleyball-team co-Captain, Senior, 4 year starter and member of the 2015 Championship team, achieved a significant milestone this season.
As a member of the team, Li has played many positions including defensive specialist, libero, and outside hitter. This year, Li stepped up to play setter in order to fill a void left vacant when Anne Marie Horn graduated. In the Raiders' Senior game against Mamaroneck, Li reached her 1000th career dig. What is most impressive about Li's accomplishment is that she did this as this season's setter.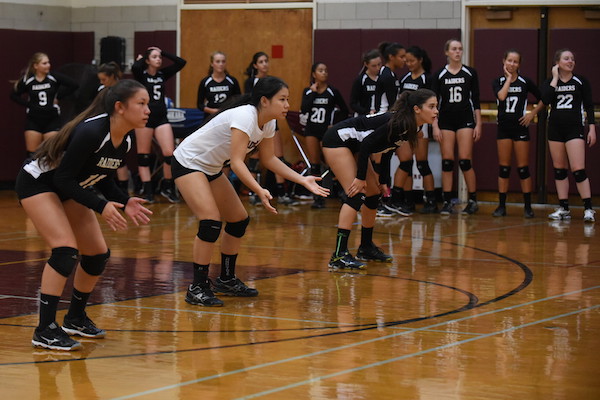 In their first round of playoffs, Li led the team in their opening game serving the first 13 straight points. The Raiders went on to sweep Hank Ketcham in 3 sets. The girls then won the quarter final round in 3-1 against White Plains. North Rockland's Red Raiders defeated Scarsdale 3-0 in the semi-finals ending their season. This was the third straight year the Raiders have made it to the semi-final round. The team will be graduating six players this year.
Scarsdale Young Writers' Workshop Returns for 3-5th Grade Students on November 17, 2018
Details

Written by

Joanne Wallenstein

Hits: 1621

Scarsdale Young Writers' Workshop (YWW) will return for its 24th year on Saturday, November 17, 2018, 9:00 am to 12:00 pm, at Scarsdale Middle School. All Scarsdale third, fourth, and fifth grade students and residents are invited for this exciting event to meet award-winning authors, sports writers, journalists, bloggers, illustrators and more. Students experience real-life writing activities in a small group setting, as well as gain a better understanding of a day in the life of a writer.
Registration for YWW will open Sunday, October 28, 2018, and run through Monday, November 5, 2018. Links to the catalog, additional information about workshop leaders, and the registration are available through the Scarsdale Parent Teacher (PT) Council Website at https://www.scarsdaleschools.k12.ny.us/Page/24353
Brooklyn native, Gabriel Gale, creator of Ages of Oz, will preside over this year's Keynote address. Gale's fantastical and epic expansion of the Oz universe was conceived ten years ago after Gale graduated from The Cooper Union with a Bachelor's in Fine Art. He then went on to receive his M.A. in Architecture from Columbia. After deconstructing and rebuilding all of the magic, characters, objects and settings from L. Frank Baum's original 14 Oz books, Gale created a world of his own and fit it into 1000 years of Ages of Oz History. Mr. Gale's fantastical world stays true to Baum's intentions while breathing life into countless Oz characters.
YWW participants are encouraged to bring new or gently used children's books for ages 5-12, on the day of the event. Collections will be given to JCY- Westchester Community Partners, a Division of the Family Service of Yonkers. The JCY's mission is to enhance the educational experience of children in Westchester County through effective learning initiatives and the engagement of volunteer mentors.
All questions about this event can be directed to the YWW Co-Chairs, Leah Dembitzer and Kerry Hayes at writers10583@gmail.com.
Beloved History Teacher Eric Rothschild Passes Away at 81
Details

Written by

Joanne Wallenstein

Hits: 4090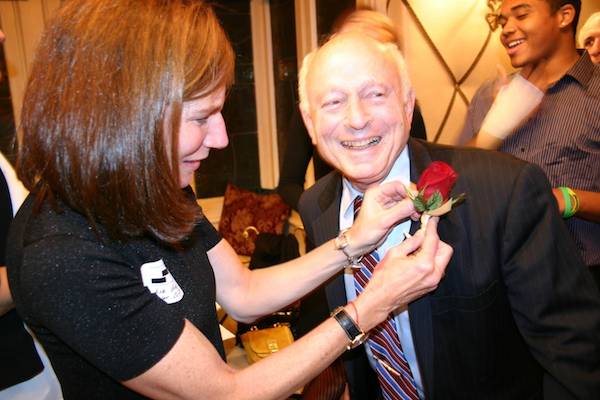 Elizabeth Gruber and Rothschild at the 45th Anniversary Party for STEPEric Rothschild, a beloved teacher, dedicated volunteer and lifelong resident of Scarsdale passed away on Monday October 29, 2018 at the age of 81. Rothschild grew up in Scarsdale, attended school here and eventually returned to teach, after graduating from Harvard in 1958 and serving a tour of duty in Korea.
A member of the Scarsdale High School class of 1954, Eric was a history teacher at the high school from 1964 to 1998 and served as chair of the Social Studies Department from 1973 to 1998. A profile of Rothschild published in the New York Times in September 1986 called him "a rare teacher." In 1966 he was instrumental in starting the STEP program (Student Transfer Education Plan) and welcomed the first students from the deep South. He went on to serve on the STEP Board and eventually became its President. Following his retirement he continued to be an active member of the STEP Board.
In 1973 Rothschild and his wife and two sons moved to Greenacres where he joined the Greenacres Association. Using his experience as head counselor at Camp Androscoggin, Rothschild coached baseball in the Recreation Department league. Following in his mother Amelie's footsteps, he served on many community organizations and eventually became the official Village historian. He was often called upon by the Committee for Historic Preservation to provide history on homes in the Village. His exceptional contribution to the life in Scarsdale was recognized in 2007 with his selection as the recipient of the Scarsdale Foundation's Scarsdale Bowl Award.
After he retired he became an active member of the Scarsdale Alumni Association as President from 1999 to 2005, as Secretary in 2006 and as Chair of the Distinguished Alumni Committee from 2006 ad 2006. He was well known in the community for selecting and presenting annual distinguished alumni awards to accomplished Scarsdale alumni.
Michael Blumstein, a member of the SHS Class of '74 said this about Rothschild, "Eric's dedication, knowledge, enthusiasm and warmth were second-to-none. Eric made history burst alive in room 232 of Scarsdale High School, and so many of us will remember him with love and gratitude."
Longtime resident Anne Lyons remembered Rothschild saying, "He was a mentor to me when I was a young mom at Greenacres. We use to chat at the park in the afternoon. He loved to engage the young moms to see what were the trends of the day. He was curious, always learning, studying and probing. He was a collector of information. But most of all he was a natural teacher.
He pushed me outside my comfort zone, always challenging me in my thinking. He also loved to share stories from his days at Scarsdale High School as a student and a teacher. I never had him as a teacher but I did have him as a friend."
At the 50th reunion of the Scarsdale High School Class of 1968, held this year from October 12 -14, Diana Raphael remembered Rothschild, saying "I never had a teacher like Mr. Rothschild again. On the first day of class he threw the history text book into the trash can and said we would be using all original sources."
In November 2011, STEP held its 45th anniversary celebration and honored Rothschild. At the time, SHS alum Steven Schnur kicked off tributes from Rothchild's fan club. Although Schnur regretted that he never experienced Rothschild in the classroom, he said they had since forged a relationship at their favorite haunt, The Scarsdale Library. Schnur praised Rothschild for "nurturing what is best within us." Former student Tom Vogel spoke of Rothschild, "not as a caretaker; he's a creator." He urged students to "do your own research, put yourself in others' shoes and go out of your comfort zone." Another former student Lyndon Tretter described Rothschild like "Tom Sawyer getting kids to paint the fence; he made them believe it could be cool to study hard."
Scarsdale Girls Varsity Swim and Dive Team's Historic Season
Details

Written by

Joanne Wallenstein

Hits: 2030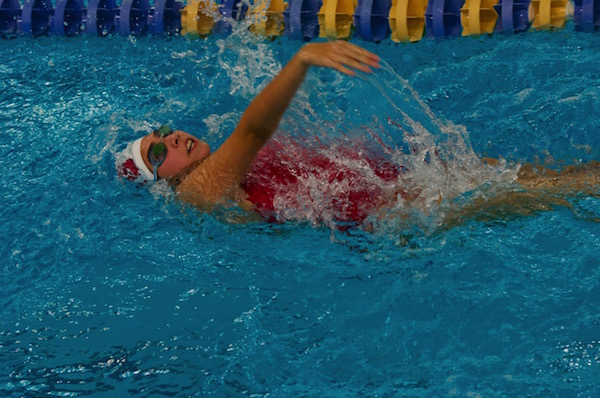 The Scarsdale Girls Varsity Swim & Dive team has followed up last year's break out season with an historical 2018 campaign. They started the season at the long standing White Plains Relay event, where they broke many records and came in first out of ten schools. They continued their run by winning all eight of their dual meets, with one last meet scheduled for Thursday October 18 when they are expected to complete the first ever undefeated season in school history.
The team has already qualified multiple relay teams and swimmers for the New York State Championships. Their three divers are hopeful that they will return to the States and improving on their impressive results from 2017.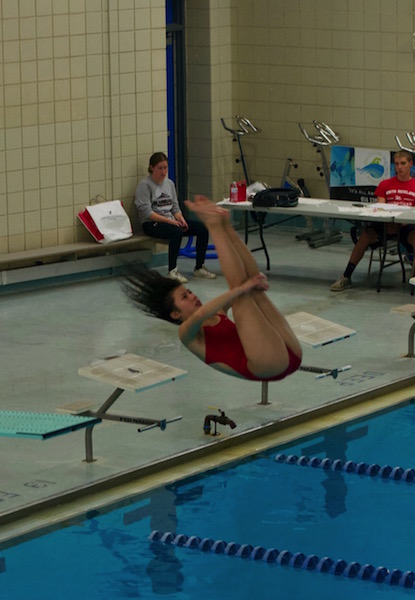 The Post Season begins on Friday, October 19th with the Conferences. This will be followed up with Sectionals that commence on October 29. Scarsdale is hoping to improve on their 2017 second place finishes in both Conferences and Sectionals.
To view Scarsdale Girls Varsity Swim & Dive team's most recent home victory meet (and Senior Night) against North Rockland on October 11th, please click here.