The Farmers Market is Thriving in Scarsdale
Details

Written by

Joanne Wallenstein

Hits: 2873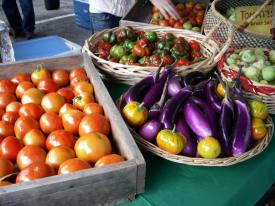 Local gardens are thriving and so is the Scarsdale Farmer's Market where you can feast your eyes and stomachs on the bounties of the season. This past Saturday we found a full complement of farmers, bakers, butchers, picklers, cheese makers and vintners selling their products.
Susan Froelich of the Next Generation Farm in Montgomery, New York had colorful tomatoes, tomatillos and peppers available and provided some tempting recipes to utilize them.
Here is her recipe for Mango and Tomatillo Salsa: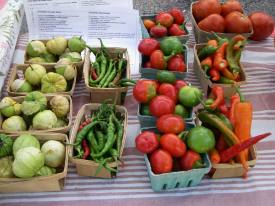 2 mangos, peeled and diced
10 tomatillos, husked and sliced
1 jalapeno pepper, seeded and sliced
¼ cup limejuice
¼ cup diced onion
¼ cup chopped cilantro
½ cup diced tomatoes
Combine all of the ingredients in a large bowl. Cover and let sit for at least 2 hours before serving.
Russell and Melissa Greenleaf, of Greenleaf Gardens were also at the market this week, selling a colorful assortment of organic produce including bright purple eggplants, red and green peppers and tomatoes that were pretty enough to paint.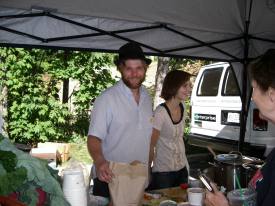 The Greenleaf's run a sustainable garden education program in the Scarsdale Schools and have planted successful gardens in all five of our elementary schools as well as the Scarsdale Middle School and High School. Community volunteers and their children tend these gardens and the results are impressive. Stop by the High School or Fox Meadow School to take a look. Also check out a recent article in the Journal News picturing Greenleaf's work in Scarsdale.
While you're doing your shopping at the Scarsdale Farmer's Market, every Saturday from 9 am – 1:30 pm, you can also meet your neighbors and sometimes your Mayor or members of the school board. It's a good opportunity to get a sense of what's going on in town as well as at the table. Carol Delisa runs the Scarsdale Market as well as another market in North Caste/Armonk on Thursdays from 3-7 pm. Read more about local markets on her Market Lady website.
ZaZa's Opens on Central Avenue
Details

Hits: 8201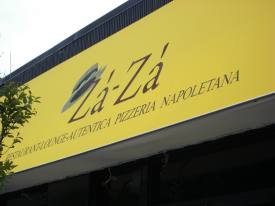 In another sign that the economy is on an upswing, new restaurants are opening every week in our area. This week we noticed bright yellow awnings on Central Avenue, where Rustico closed earlier this summer. We stopped in to investigate and were pleasantly surprised to see that the interior has undergone a total transformation and is now open for business.
Rustico has now been renamed Za'Za' and will be managed by Alessandro Calemme, an Italian native and former music producer whose family has been in the restaurant business in Naples and Milan for two generations. He is partnering with Nello Tizzano who ran Rustico for 17 years. Calemme brings both his musical and culinary skills to the enterprise –and has come up with an innovative menu and invited musicians to play acoustic guitar, jazz, blues and pop on Wednesday through Friday nights.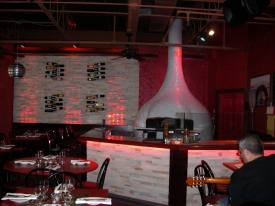 The restaurant now houses a floor to ceiling wood burning pizza oven and the menu lists seventeen variations of pizza and calzone including a seafood pizza with mussels, clams and shrimp, the "Donna Regina" with tomato sauce, mozzarella, basil, artichoke hears, mushrooms, olives and parma prosciutto, and an original margherita. The crusts are made with Caputo Pizza Flour from Italy and Calemme is importing his mozzarella and San Marzano tomatoes as well.
The menu features a wide array of antipasti, salads and pastas. Entrees will change daily and be shown on the restaurant blackboard. On the day we visited, specials included pasta with eggplant and mozzarella, Tagliata Di Manzo, branzino and thinly sliced filet mignon. From Sunday through Wednesday, Za'Za' is offering their special tasting menu, "L'abbuffata" which includes unlimited servings of antipasti, pizza and main courses for just $30 per person.
The restaurant is also open for lunch and panini and wraps will be served.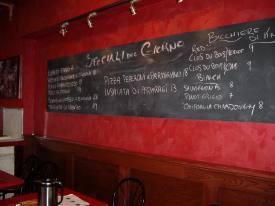 If you try Za'Za', please tell us how it was in the comments sections below:
Za'Za'
751 Central Park Avenue
Scarsdale, New York 10583
(914) 472-4005
Open Seven Days a Week for Lunch and Dinner
How Sweet It Is
Details

Hits: 3535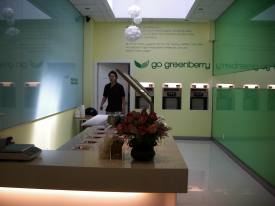 There's a great new treat available at 58 Garth Road. After several years of planning and research, former IT Manager Greg Sribhud has followed his passion and his taste buds and opened a beautifully-designed new frozen yogurt store in the former site of Enjou Chocolate. Why frozen yogurt? Sribhud shared that in his former life at the hedge fund he spent as much as $500 per month eating frozen yogurt and realized that he could go into the business and do it better.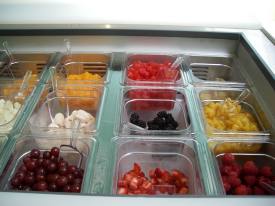 The sleek store features beautiful colored glass walls, shiny white floors, and colorful lighting and Sribhud designed the space himself. When asked what differentiates Go Greenberry from the nearby competition Greg had a quick answer. He offers novel flavors and toppings, and an interesting variety, all at the competitive price of just 49 cents an ounce. Go Greenberry is also eco-friendly with spoons made from cornstarch and biodegradable cups.
On my recent visit, in addition to plain tart yogurt, Go Greenberry was serving coconut, chocolate, mango, lychee and taro yogurts. Greg insisted I try the lychee and the taro and both were like nothing I have ever tasted before. They were light, sweet, cool, tart and addictive. In addition to an appealing array of fresh fruit toppings, Go Greenberry offers some novel addition such as mochi – which is japanese rice cake, yogurt chips, Cap'n Crunch cereal and white chocolate. The toppings give an added kick to the yogurt, which is about 80 calories for 10 ounces.
Stop by Go Greenberry once for a taste and you'll find yourself stopping by again and again. They are open seven days a week from 11 am to 11 pm.
Go Greenberry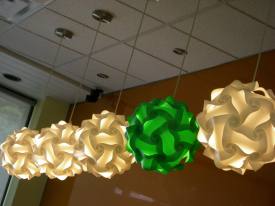 58 Garth Road
Eastchester, New York
(914) 722-2026
In other food news, Sakura Restaurant has closed and a new Asian bistro called Tengda is rehabbing the site on Garth Road. Tengda also has locations in Katonah, Stamford, Darien, Greenwich, Westport and Milford, According to their website the menu for each restaurant varies but they offer a mélange of Japanese, Chinese and Thai dishes, including creative sushi, cooked seafood, duck, and hot pots, all served with unconventional dips and sauces. Watch for Tengda at 56 Garth Road.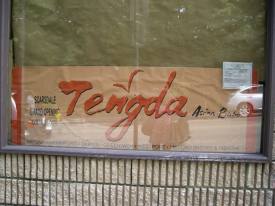 Good Life Makes a New Life in Scarsdale
Details

Hits: 2721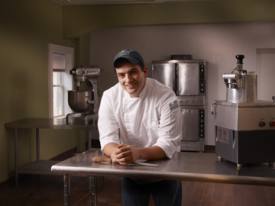 Scarsdale residents cheered when they saw Michaels reopen last week, and many marched in expecting to once again order their favorite mozzarella (mozzi) or turkey sandwich. But they were surprised to find much more than a sandwich and cheese shop. Greeted with a free sample of fresh watermelon-strawberry juice, customers quickly realized new tastes were in store.
Renamed, Good-life Gourmet, Spencer Place is now home to a three-meal-a-day operation. Headed up by chef Eric Korn who trained at the Culinary Arts Institute and served under a celebrity chef, Good Life Gourmet offers breakfast and lunch on site, prepared dinners to go and a full scale catering operation.
The shop has been redesigned and is an inviting environment where you can begin your day with Illy coffee fresh-squeezed juice and pastries, muffins and croissants baked by Martines in Tuckahoe. For lunch, Korn offers a changing menu of innovative sandwiches, salads and soups utilizing seasonal ingredients. The sandwiches are served on breads brought in daily from some of New York's finest bakeries. On a recent visit, the sandwich menu included a lemon roasted asparagus panini with basil goat cheese, brisket with caramelized onion and gouda and a five cheese sandwich with short ribs. On the lighter side, the salad menu featured roasted beet with goat cheese, heirloom tomato with roasted cipolliini onions and an herbed grilled chicken with carrots and apples in a tarragon vinaigrette.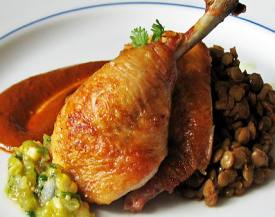 And if you're impressed with lunch, wait until you see what Korn has in mind for dinner. Every day Good-life will prepare fresh, "homemade" dinners, that you can pick up, heat up and serve. According to Korn, "these will look like real meals on your dinner table, not fussy food on a plate you'd find at a restaurant." His menu shows French roasted chicken in a red wine sauce, pan roasted halibut, and wild mushroom lasagna to name a few. However, the menu will change everyday and dinners are reasonably priced from $12-$16, which is far less than you would spend on a take-out meal. Good-life is offering a mobile program to make ordering easy from your phone. If you text "goodlife" to 51684, you will be sent a text message every morning letting you know what's for dinner. From your phone you can order and pay for your meal and pick it up when you get off the train in Scarsdale.
With the Jewish holidays upon us, Korn will be offering catered Rosh Hashonah and Yom Kippur selections, so stop by the store to see what's available. And when you do, you'll be happy to see that Michael and Jason Cairo are still on the scene, helping Good-life make a new life in Scarsdale.
Good-life Gourmet
13 Spencer Place
Scarsdale, New York 10583
914-723-3024
www.good-lifegourmet.com
Open 7 am - 8 pm Monday through Friday
Saturdays - hours TBD
Enricos Teams Up With the Cheesery
Details

Hits: 5724
Several months ago we reported that Enrico's Bakery of Scarsdale was moving a few doors down to the former home of Hartsdale Farms. Folks at the bakery let us know that their new location would be larger, include sidewalk tables and also sell smoked fish. Smoked fish? Though the bakery does sell kosher goods, it was puzzling how Italians from the Bronx would get into the business of selling lox and whitefish!


Well the mystery is now solved. Enrico's of Hartsdale is now installed in their new, expansive home at 214 East Hartsdale. They have joined forces with an old friend. Pat Hall, formerly of the Hartsdale Cheesery who is also on the premises, selling wonderful smoked fish and a full array of cheeses and flavored cream cheeses. Pat and bakery owners Joe and Michelle Floriano have teamed up to offer delectable treats for any occasion.


The bakery line has been expanded and there are a greater variety of cakes and pastries as well as custom made birthday cakes, doughnuts, homemade rolls and bagels on the way. I tasted their freshly baked raisin challah and had a hard time resisting seconds. Enricos is also selling Italian ices, flavored granitas and hot and iced coffee and tea.

For the upcoming holidays, Pat will be creating smoked fish platters, piled with Nova, Scotch or Gaspe salmon, plus whitefish, herring and gefilte fish with horseradish. Flavored cream cheese including caviar and onion, vegetable, apple strudel, blueberry and pistachio are available as well as fish, egg and fruit salads. All Rosh Hashanah orders should be placed by September 2nd and Yom Kippur orders by September 12th.

Stop by, check out the new premises and welcome Pat back. While the weather is warm, enjoy a drink or coffee and a pastry at one of the new sidewalk tables in front of Enrico's at 214 East Hartsdale Avenue.

Enrico's of Hartsdale

214 East Hartsdale Avenue
Hartsdale, New York 10530
914-723-0340
914-723-6839

Hours; Monday – Saturday 6:30 am to 8:00 pm
Sundays: 6:30 am to 7:00 pm