Police Report: Audi Windshield Damaged with Bullet Holes found on Bell Road
Wednesday, 11 April 2018 11:30
Last Updated: Wednesday, 11 April 2018 11:34
Published: Wednesday, 11 April 2018 11:30
Traci Dutton Ludwig
Hits: 3260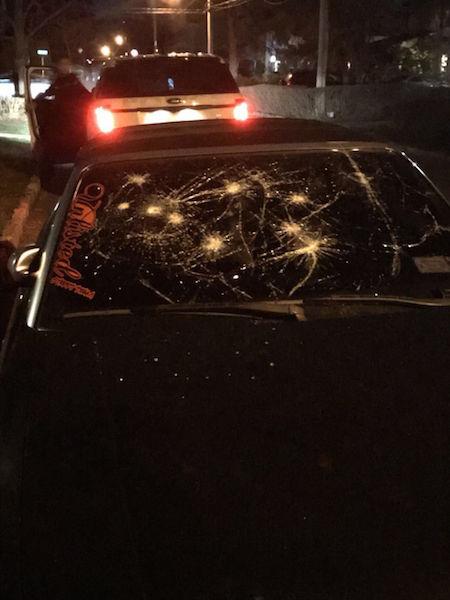 On April 8, around 9:30 p.m., a caller reported an Audi S4 with damage to the windshield, parked near the intersection of Bell and Sprague roads. Police responded to the scene and found the car, parked and unoccupied. The front license plate was missing, and there was extensive damage to the front windshield and the driver's side front and rear windows. Further observation revealed what appeared to be bullet holes in the front windshield and a gun magazine resting on the windshield wiper blades. While investigating the car, a Bell Road woman approached police and advised the car belonged to her 25-year-old son. She said she last saw her son and the car around 3 p.m. at home. The car had no damage at that time. She then said she saw a tow truck carrying her son's car in front of her house at 6:30 p.m., but the car was not dropped off due to many cars in the driveway and parked on the roadway in front of her house. Police accompanied the woman back to her house in an attempt to contact her son. He was upstairs in the house. He told police he had been home sick all day, and his ankle hurt. Police asked if he knew where his car was, and he said "no." He then changed his story and said he had been in a car accident in White Plains around 3 p.m. and had his car towed home. He could not provide police with any details about the accident, except to say his bumper hit a curb. He said he could not remember where the accident happened in White Plains. He said the car had no damage, except to the bumper. When shown the car in its current state, he said he did not known how the damage occurred, and he did not known who might have caused the damage. Police are following up.
DWI arrest
On April 7, around 2:15 a.m., police conducted a traffic stop of a car observed to be speeding down Post Road at a rate of 62 miles per hour. When speaking to the driver – Dennis W. Nelson, 47, of White Plains – police detected a strong odor of alcohol on his breath. His eyes were glassy, and he was unable to answer most questions posed by patrol. He said he was on his way home from a friend's house. He said he did not have his license on him, and he could not remember who was the registered owner of the car. He eventually produced a NYS driver's license, which police learned had been suspended and revoked. Patrol observed two open and partially consumed bottles of alcohol in Nelson's car. They were taken and vouchered as evidence. Nelson was unable to successfully perform field sobriety tests. An Alcosensor breath test measured a reading of .20. Nelson's car was towed to the police impound lot, and Nelson was arrested and taken to headquarters. Nelson was charged with driving while intoxicated (first offense), having an open container of alcohol in a motor vehicle on a highway, second-degree unlicensed operation of a motor vehicle, operation of a motor vehicle by an unlicensed driver, refusal to take a chemical test, speeding and moving from a lane unsafely. Nelson was released on $100 cash bail, paid by a friend. Nelson was issued an appearance ticket for Scarsdale Village Justice Court, returnable April 11.
Suspended license arrests
On April 4, police arrested Juan Montoya Acevedo , 41, of Stamford, on misdemeanor and infraction charges of operation of a motor vehicle by an unlicensed driver, second-degree aggravated unlicensed operation of a motor vehicle with three or more suspensions and a stopping, standing or parking violation on a highway. Patrol observed Acevedo's 2005 Toyota Corolla parked by the side of Post Road and conducted a traffic stop. Acevedo was hesitant to produce his driver's license, repeatedly saying he could not find it, although it was in plain sight in a stack of cards he was holding. A DMW check revealed Acevedo does not have a NY State license, and his Connecticut license was suspended six times on three different dates. Acevedo was arrested, and his car was towed to the police impound lot. He was released on his own recognizance, with an appearance ticket for Scarsdale Village Justice Court, returnable April 11.
On April 7, police arrested Paul V. Stewart, 49, of New Rochelle, on misdemeanor and violation charges of aggravated unlicensed operation of a motor vehicle with three or more suspensions and speeding. Police stopped Stewart's BMW on Post Road, after the car was observed speeding at approximately 50 miles per hour. Stewart provided patrol with a Connecticut license and a digital version of a valid insurance card. Stewart said the car had been newly registered, and he did not yet have a copy of the registration. A database check indicated that Stewart had a suspended NYS driver's license. There were four total suspensions, on three separate dates. A check of the Connecticut license also revealed it was suspended. Patrol asked Stewart if he was aware of the suspensions, and he said "no." The suspensions were as follows: failure to answer a summons in Manhattan South on May 9, 2017; failure to pay a fine in Manhattan South on July 18, 2017; failure to pay a driver responsibility assessment on Oct. 3, 2017; and failure to answer a summons in the Town of Harrison on Feb. 16, 2018. Stewart's car was towed to the police impound lot, and Stewart was arrest and taken to headquarters. He was released on $100 cash bail, paid by an acquaintance. Stewart was issued an appearance ticket for Scarsdale Village Justice Court, returnable April 18.
Stolen
On April 3, a Lincoln Road man reported two iPhones and two iPads were stolen from his house. He last saw them on March 30.
Domestic matter
On April 3, an elderly father called his adult daughter in Larchmont, asking if she had any gauze in the house. The daughter inquired further and learned something happened involving the mother. The daughter called police and went to her parents' house. There, a health aide said she had heard arguing but did not witness the incident. Details of the incident were not specifically released.
On April 8, an Edgewood mother reported her teenage son was being disobedient. When police arrived at the house, the son was not there. His mother said he had left on foot in order to collect himself because he was upset. Police said the 17-year-old son was legally able to leave the house to collect himself. Patrol suggested seeking assistance from Scarsdale Family Counseling if needed.
Delivery
A Wayside Lane woman reported a possibly suspicious delivery on her doorstep April 2. Police looked at the box and noticed it was from a food delivery service, addressed to a neighbor. Patrol delivered the box to the neighbor.
Key
A postal worker noticed a key resting in the lock of a Heathcote Road house April 3. Police contacted the homeowner, and it was agreed that police would place the key through the mail slot, in order to leave the house secured.
Lockouts
On April 4, police and firefighters helped a Dickel Road resident get back in the house after she was accidentally locked out.
On April 8, police and firefighters helped a River Road resident get back in the house after she was accidentally locked out.
Off road
A Meadow Road woman reported a blue sedan driven by a man wearing a baseball cap drove into her backyard April 6. She was in the yard with her children, niece and sister-in-law at the time. The car allegedly came to a stop near to where they were sitting and playing. Aside from tire tracks in the yard, the car did not cause any damage.
Tree
Police put caution tape on the support wires for a tree on Lyons Road, in order to make them more visible, April 8.
Cars and roadways
On April 5, police removed fallen tree limbs from Tisdale and Lockwood roads.

A disabled car was towed from Popham Road April 5.

A construction fence fell into Archer Lane April 5. Police spoke with the owner, who said she would call a contractor to repair the fence.

A car was parked in front of a Stonehouse Road tree that the highway department needed to work on April 5. Police contacted the car's owner who said she would move the car as soon as she returned to the village by train.

A "Stanley Steemer" van was parked in a Mamaroneck Road driveway while the homeowner was away April 6. The homeowner saw the van via his security cameras and called police. Patrol questioned the driver, and the driver said his company received a service request from the homeowner. However, upon checking the work order paperwork, the driver realized he was at the wrong address.

A resident of The Ambassador, on Saxon Woods Road, reported she had been in a minor car accident on Hartsdale Avenue in Greenburgh April 6. She told police that the other driver did not stop, and neither did she, because the damage was so minor. Police called Greenburgh police to check if there were any accident reports matching the woman's recollection of the accident, but there were not. Police helped the woman contact her insurance company to file a report.
Three car accidents were reported in the village this week.
Dogs
A loose dog was running and barking on Webster Road at 3:45 a.m., April 8. A resident caught the dog and notified the owner. When police arrived on scene, the owner was there, retrieving the dog. Police gave the owner a verbal warning about keeping the dog properly restrained.
Numerous callers reported two dogs were aggressively attacking each other on Stratton Road, and a man, who had been bitten, was hitting one of the dogs with a baseball bat April 8. When police arrived on scene, one of the dogs charged at police, and a sergeant had to use his department issued service weapon to defend himself. As a result, the dog turned away and left the scene. Patrol attempted to follow the dog but lost sight of it in the vicinity of Penn Blvd. Shortly thereafter, a Weaver Street man approached police and reported he was looking for his lost dog. The dog returned to its house, and patrol advised the owner about the dogfight and bite. The owner said he was unaware that his dog had gotten loose. He showed police a valid dog license and the dog's up-to-date immunization record. The animal control officer is following up.
Lost and found
On April 3, an Edgewood Road man reported losing his Irish passport somewhere within the village of Scarsdale. He was advised to notify the nearest consulate.

On April 7, a woman reported finding a black case on a Post Road sidewalk. It contained money, a U.S. Army ID, credit cards and a Connecticut driver's license. Police contacted the owner who came to headquarters and picked up his property.
On April 8, a Saxon Woods Road man reported losing his Resident Green Card somewhere in Scarsdale. The man also reported his three daughters lost their Spanish passports.
Firefighters
According to Scarsdale Fire Chief James Seymour, the fire department responded to 26 incidents this week. Seymour shared a few of the incidents listed below.
Firefighters assisted at a two-car accident on Fox Meadow and Chesterfield roads April 2. One person reported an arm injury. Firefighters assisted Scarsdale Volunteer Ambulance Corps with patient removal.
A child reported seeing fire on a stovetop inside a Stratton Road house April 4. Firefighters determined the stove had a delayed igniter. Firefighters shit the gas supply to the stove and advised the resident to call for service.

A Dolma Road resident was concerned one of his hot water heaters, which was over 10 years old, might be giving off carbon monoxide April 7. Firefighters checked the hot water heater and used meters to screen for the presence of carbon monoxide. No carbon monoxide was found. Firefighters detected an odor in the house, probably caused by the heating system, which had turned off. Firefighters advised the resident to call a heating contractor for service.
Firefighters notified Con Edison about a possible gas leak in an Overlook Road boiler room April 8. Con Edison arrived and sourced the leak to the meter valve. The resident was advised to call a plumber and repair the leak.
On April 9, police notified the fire department that they heard water running through a vent at the back of a Church Lane house. Police also spoke with the resident, who was away and did not want public safety personnel to force entry. The resident said all systems had been shut off in the house, according to her recollection. As a precaution, the water department shut off water service to the house.

This police report is sponsored by Scarsdale Security who does more than just security. Contact them about remote video for your home or business. Call 914-722-2200 or visit their website.
This report covering police and fire department activity from April 2-8 has been compiled from official information.