Police Report: Man Accused of Striking Balls at Private Investigator's Car
Wednesday, 06 June 2018 14:44
Last Updated: Thursday, 07 June 2018 07:34
Published: Wednesday, 06 June 2018 14:44
Traci Dutton Ludwig
Hits: 3074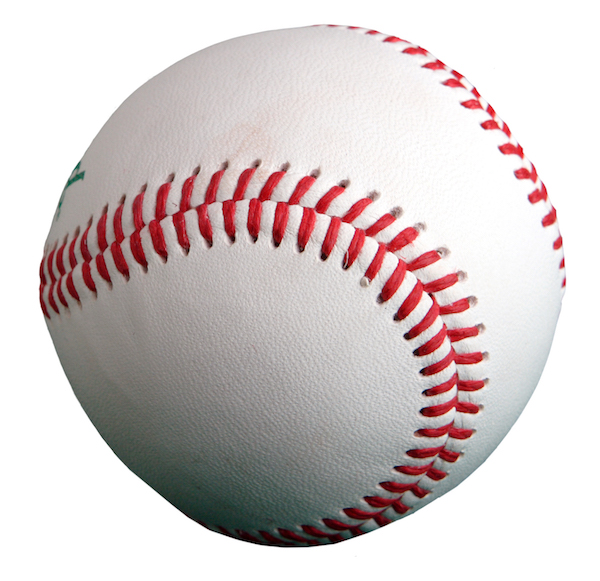 Identity theft
On May 29, a Saxon Woods Road woman reported her name was forged on a check for $2,900 cashed against her account. Chase Bank fraud department is following up. On June 1, a Hillandale Close resident a fraudulent Walmart store card was opened in her name in 2017. Several thousand dollars were charged on the card, and the woman only learned about it after receiving a collection notice. The name and address on the card were slightly different from the woman's actual name and address. A Brewster Road woman reported her China Merchants Bank credit card was fraudulently charged at a Mount Vernon business June 1. She informed the creditor, and the creditor is reversing the charge and cancelling the card.
Mischief
A female member of a surveillance team stationed at Wildwood and Vernon roads reported a male resident was intentional hitting baseballs into her car June 2. The man first approached her and asked her to move. She said she was legally parked and refused to move. Then man then returned to his yard and began hitting baseballs into a net with a lacrosse stick. Within a brief period of time, four balls hit her car. The woman then began recording the man with her phone. Video footage shows him intentionally aiming a ball at the woman's car, and propelling it with enough force to cause a quarter-sized dent in the car. Police determined the damage was intentional, particularly since the car was not parked directly behind the net. The woman said she did not want to immediately pursue charges. Police advised the man of their findings, and he went back inside his house.
Pedestrians
Police advised a man walking on Post Road at 11 p.m., May 29, that it would be safer for him to walk on the sidewalk. The man complied. The father of a Tunstall Road girl alleged that a neighbor harassed his daughter while his daughter was out walking her pet dog May 30. The daughter said the neighbor's car was travelling slowly, but she felt it was "too close" to her and her dog. Patrol spoke with the neighbor who said she always drives slowly and carefully through the neighborhood. She said she has no problems with any of her neighbors.
Knocking
On May 30, a Hampton Road man reported he was walking his dog while his kids were home alone. His kids then called him stating they heard knocking at the door. The man ran home and did not see anything out of order but possibly heard a strange noise coming from the Fox Meadow School area. Police canvassed the area but did not find anything suspicious.
Message
On May 31, a Fenimore Road couple reported a neighbor sent the husband a Facebook message at 3:50 a.m. The message did not appear to be threatening or harassing in nature, but the couple wanted police to document it.
Garbage bags
Kent Road neighbors were disputing the placement of garbage bags in regard to the property line between their houses June 2. Patrol advised them it was a civil matter and recommended they consult with Village Hall in regard to their property line.
Park bench
Police observed a man lying down on a park bench in the rain at Post and Edgewood roads at 1:40 a.m., June 3. The man presented identification that showed he was a village resident. He said he was waiting for an Uber to pick him up and take him to White Plains.
Cars and roadways
Patrol notified Verizon about a fallen wire at Drake Road and Woods Lane May 30.
A car stalled on Post Road because of a faulty transmission May 31. Police helped move the car to Village Hall parking lot while the driver waited for a tow.
Police contacted an employee of Village Hall to address an unsecured parking meter on Depot Place June 1. A gardener cleared a small amount of mulch from Heathcote Road while police stood by June 2. A neighbor complained about parents parking on Fayette Road during a T-ball game June 2. The parents moved their cars at police request. On June 2, on Post Road, police removed the license plates of a car with a suspended registration. The suspension was the result of unresolved parking violations incurred by the car's White Plains owner. The car was towed to the owner's house. Around 2 a.m., June 3, a driver of a disabled truck asked police if he could sleep in his truck in the parking lot of Heathcote Gulf, with the intention of getting his truck repaired in the morning. Appropriate arrangements were made, and the driver requested no further assistance. Nine car accidents were reported in the village this week.
Dog bite
A Walworth Avenue man reported being bitten by a Brewster Road dog while he was out walking in the neighborhood June 2. As the man passed the dog owner's house, the dog allegedly ran from its yard, circled the man, started biting his hands, jumped on his back and ripped his shirt. Kids in the yard were able to get the dog off the man and back into its yard. The dog owner came outside and gave the man a check for $25 to compensate him for his damaged shirt. After the man got home, his wife examined his back and noticed broken skin. She called the doctor and the police. Patrol spoke with the dog owner, who said her kids accidentally let the dog out of the house. She showed police vaccination records. Patrol advised her that the dog must remain confined for 10 days.
Animals
A Larch Lane dog got loose because its owner forgot to change the battery in the dog's electric fence collar May 31. Police issued the owner a summons for having a dog at large. On June 1, a Paddington Road man reported an injured rabbit on his property. Police gave the man contact numbers for local trappers. A Mamaroneck Road woman reported seeing three deer on her property June 1. The woman thought the deer were "behaving oddly and possibly injured." She asked police to check their condition. Police arrived and determined the deer were acting normally. The deer moved along without incident.
Village code
Patrol issued a Drake Road landscaper, who was riding on a lawnmower, a summons for using power equipment prior to 10 a.m. on June 2. On June 2, police issued a Post Road landscaper for summons for using a gas-powered leaf blower in violation of village code. Patrol also advised the landscaper to park his truck in a manner that would not impact traffic flow. Neighbors complained of noise from a party at Fox Meadow Tennis Club June 2. Patrol advised the host to reduce the volume of the music, and the host said the band was playing its last song. Police stood by while the band broke down its equipment.
Lost and found
On May 30, a man found a woman's purse on Spencer Place and gave it to police. Patrol contacted the owner, from Ardsley, and returned the purse to her. On May 31, a woman reported losing her wallet at DeCicco's Marketplace or somewhere in the village May 31. A Bank of America debit card was found near the intersection of Brite Avenue and Butler Road June 1. Police vouchered it for safekeeping. A passerby found keys on Kingston Road and brought them to headquarters June 2. Police are holding them for safekeeping.
Firefighters
This week, firefighters responded to 22 incidents according to Scarsdale Fire Chief James Seymour. He shared details about the following incidents:
On May 29, firefighters responded to a call of a defective train station elevator on Depot Place. No occupants were inside the elevator. Firefighters reset the elevator operation and checked to make sure it was functioning properly. An outlet inside a Sunset Drive house was sparking May 29. Firefighters found the resident had accidently dropped a metallic chain onto the light fixture's electrical cord striking the prongs connected to the wall outlet. This shorted out the light fixture. A check with a thermal imaging camera found no abnormal heat behind the outlet or anywhere in the wall surrounding the outlet. The circuit breaker did not trip. On May 30, a contractor struck a natural gas line on a Murray Hill Road property. Firefighters found the contractor had severed a gas line going from the meter to a generator behind the pool house. The contractor had shut down the gas line at the basement meter prior to firefighters' arrival. Firefighters found no leak or readings in the basement or at the damaged line. Con Edison trucks arrived to address the matter and released firefighters. On June 2, firefighters received an automatic fire alarm from a Continental Road house. They conducted an interior check and found water from an attic air handler had overflowed the catch tray and leaked into a second floor bedroom smoke detector. Water continued through the first floor ceiling light fixture. Firefighters disconnected the smoke detector, shut down the attic air handler and shut the circuit breaker to the affected light fixture. Firefighters advised the resident to call for service. On June 3, a Woods Lane resident reported an indoor odor of natural gas while changing gas connections between an old and a new dryer. Firefighters found a faulty gas valve and a second valve behind a sheet-rocked wall. Firefighters shut off the gas supply and stood by for Con Edison.
This report covering police and fire department activity from May 29-June 4 has been compiled from official information.
Scarsdale PBA Community Day, held at Chase Park on June 3, was a beautiful time for the community and Scarsdale police to come together for an afternoon of old-fashioned, outdoor fun. Food, games, music, photo-ops for kids, and even a dunk-a-cop-tank drew lots of smiles and joy. Sergeant Ronnie Arefieg, one of the event organizers, commented "We really felt the love, and we were delighted to share this very special event with a very special community. We're already looking forward to continuing the tradition next year."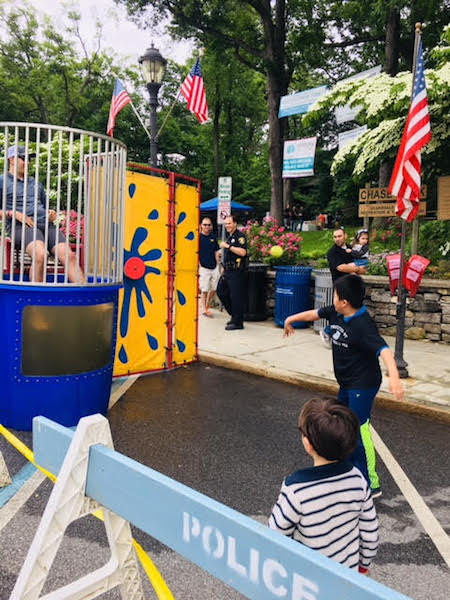 This police report is sponsored by Scarsdale Security who does more than just security. Contact them about remote video for your home or business. Call 914-722-2200 or visit their website.