Police Report: Firefighters Battle House Fire on Tunstall Road.
Wednesday, 13 June 2018 12:55
Last Updated: Saturday, 16 June 2018 13:27
Published: Wednesday, 13 June 2018 12:55
Hits: 3403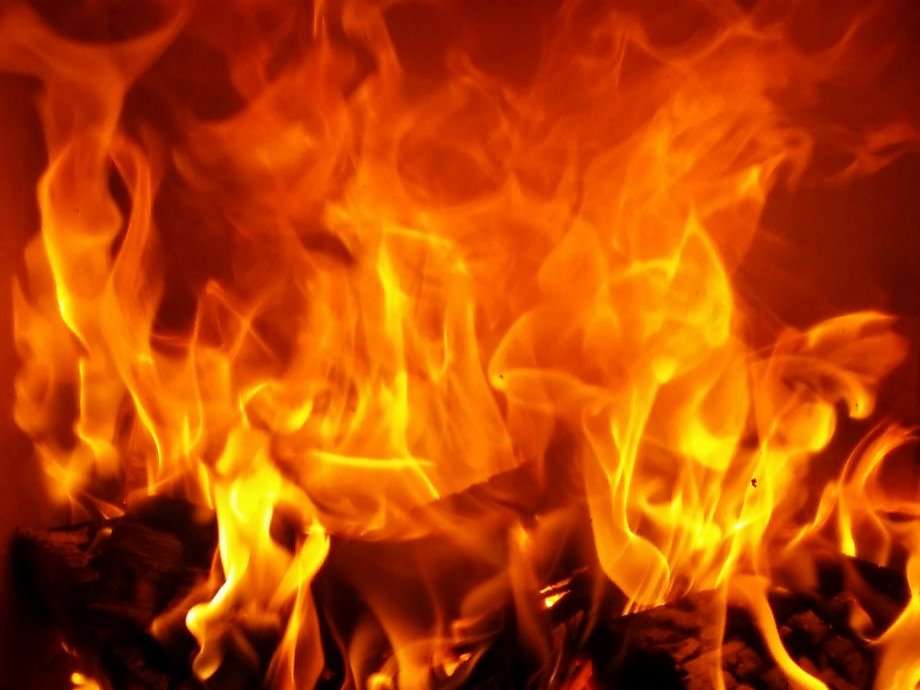 Fire on Tunstall Road
On June 8, fire was reported in a Tunstall Road house. Upon arrival, firefighters noted the house was completely filled with smoke, with smoke coming out of the chimney. Firefighters connected a hose line to a fire hydrant, stretched the hose to the house, forced open a side door and started to enter the basement where the source of the fire seemed was suspected. Heavy smoke was observed in the basement. Firefighters worked to suppress the fire, which had started in the utility room. They worked diligently and overcame challenges created by an overcrowded storage space filled with furniture and belongings. Firefighters used fans to ventilate heavy smoke from the house. Mutual aid units and volunteers arrived to assist. Hartsdale firefighters pulled a second hose line through the garage door and into the basement. Crews overhauling the room of origin reported electrica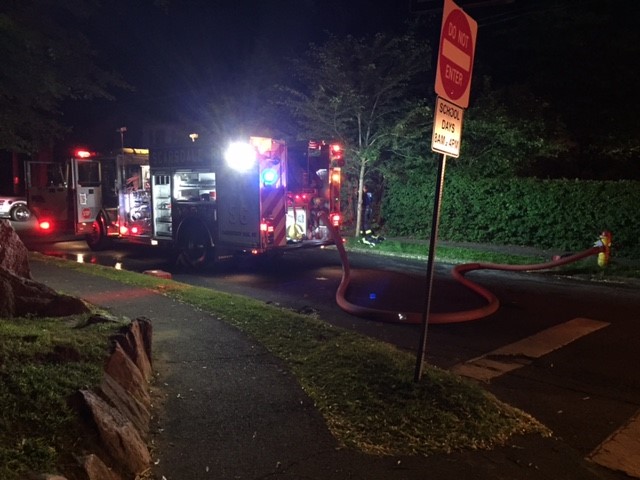 l arcing while pulling down the tin ceiling. The main power switch was then shut off at the panel. Con-Edison cut power to the house from the meter. Firefighters opened a first-floor dining room wall and found a burned wall joist. They checked the first and second floors for fire extension and confirmed there was no extension. The Westchester County Cause and Origin Team was called to the scene. The fire was determined to be accidental and caused by an electrical failure. Heavy smoke damage was reported throughout the house, with major charring of structural members in the room of origin. Scarsdale Volunteer Ambulance Corps evaluated one resident, found to be in good condition, on the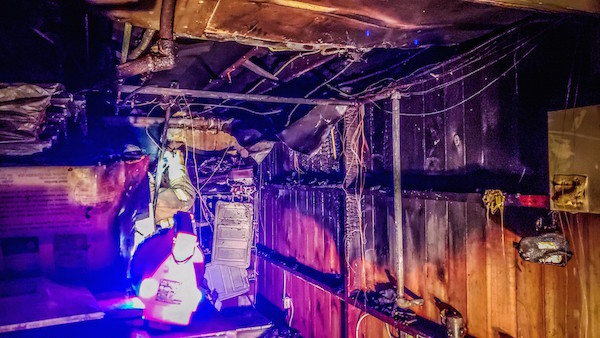 scene. The resident was advised not to stay in the house and to contact the insurance company. Firefighters helped the resident gather belongings and secure the house.
DWI arrests
At 4 a.m., June 9, police arrested Yhastrenky Perez Rigo, 27, of White Plains, on charges of driving while intoxicated (first offense), operating a motor vehicle with a blood alcohol content of at least .08 of one percent and moving from a lane unsafely. Rigo was arrested after police observed her 2015 Nissan swerving over pavement lines on Post Road. Patrol followed the car and noticed it crossing the double yellow line multiple times. Patrol initiated a traffic stop. Rigo said she had consumed several mixed drinks at a bar in White Plains. She showed physical signs of intoxication. Police asked her where she was coming from and where she was going, and she answered "White Plains" to both questions. Police administered field sobriety tests, which Rigo was unable to successfully complete. Rigo submitted to a pre-screening alco-sensor test. The test indicated a blood alcohol content of .16. Rigo was arrested and taken to headquarters. There, a Datamaster test confirmed her blood alcohol content at .16. Rigo was issued an appearance ticket to appear at Scarsdale Village Justice Court on June 13.
While conducting traffic enforcement on Post Road after midnight June 10, police observed a 2004 Honda Civic travelling north at a high rate of speed. The car passed a steady red light at Post and Olmsted. Patrol subsequently pulled the car over for a traffic stop. The driver – Javier Galeno Morales, 31, of White Plains, told police he had several beers in White Plains before driving. He showed physical signs of intoxication. Police noticed a small child lying down in the backseat, asleep, without wearing a seat belt. This child was later determined to be six years old. Another child, 9 months old, was observed in the lap of a woman and not in a car seat. Police administered field sobriety tests, which Morales was unable to successfully complete. Morales submitted to a pre-screening alco-sensor test. The test indicated a blood alcohol content of .14. Morales was arrested and taken to headquarters. There, a Datamaster test measured his blood alcohol content at .16. A database check of Morales's record indicated an active warrant out of White Plains for a vehicle and traffic offense as well as a previous arrest for driving while ability impaired. A notice was sent to Child Protective Services for follow-up regarding the incident. The district attorney's office recommended bail to be set at $20,000. Morales was arraigned at Scarsdale Village Justice Court on the following charges: driving while intoxicated (first offense), aggravated DWI with a child passenger less than four years old, a back seat passenger less than four without a restraint, speeding and moving from a lane unsafely. Morales's car was sent to the impound lot.
Identity theft
A Franklin Road woman noticed fraudulent charges on two store credit cards in April and May, and she reported it to police June 4. The charges occurred at a Lord and Taylor store in New York City and the Bloomingdales store in White Plains. She cancelled the cards and informed the store creditors. The incident might be related to a previous incident of identity theft.
Harassment
A Crossway man reported receiving harassing calls from the NYS Police Chiefs Foundation June 4. He said the calls have occurred over several months in order to solicit donations. Patrol called the organization and asked for the man to be removed from the list.
On June 9, a Stonehouse Road woman reported a tax grievance professional met with her at her house to evaluate her property June 8. The man said he might not be able to help the woman because her house would appraise at the current listed value. The woman said the man left but then started sending her numerous unprofessional and inappropriate text messages until 4 a.m. She asked police to call the man and inform him that he should refrain from communicating with the woman. Patrol contacted the man, and the man asked police to tell the woman not to contact him again either.
Pump
A caller reported a pump operating and causing noise at a Cushman Road construction site June 7. Police spoke with the contractor's wife because the contractor was in New York City at the time. She told police she thought the pump was malfunctioning and would address it with her husband.
Pedestrian struck
A 14-year-old Penn Road boy on an electric scooter was struck by a car at Meadow Road and Normandy Lane shortly before 4 p.m., June 9. The driver said the boy "suddenly appeared from the left and hit her car." The boy was taken to a local hospital for treatment. His condition was not disclosed in the report.
Cars and roadways
On June 4, police issued one summons to a car parked in violation of the two-hour parking restriction on Wayside Lane.
A truck knocked down a sign at the entrance to the Bronx River Parkway at East Parkway and Crane Road June 5.
A passerby noticed that a truck entered the Bronx River Parkway northbound on Crane Road June 5. Westchester County police were notified.
A parked car on Evon Court was hit by another car while the owner was away June 6. The accident caused damage to the bumper. The driver of the other car left a note about the accident but did not list any contact information. Police checked the car and placed the note in the owner's mailbox.
A man and a woman were stopped in a car on River Road June 6. They told police they were talking. Police advised them to carry out their conversation in a more public area.
On June 6, police noticed a 2003 Hyundai pass a police patrol car on the right on Post Road and run a red light. A traffic stop was conducted. At that time, patrol learned the 43-year-old New Rochelle driver had a suspended registration due to unpaid parking tickets. The license plates were removed from the car, and appropriate summonses were issued. The woman's ex-husband arrived to pick her up and take her to the DMV in order to rectify the suspended registration.
A parked truck was observed to have an open door on Mamaroneck Road June 6. Police examined the car and found nothing out of order. Police attempted to teach the owner without success. Patrol closed and secured the door.
A caller complained that gas station attendants on Scarsdale Avenue were parking customers' cars in permit-only spaces on Scarsdale Avenue June 7. Police spoke with the owner of the gas station. He said he would advise his employees to refrain from parking in permit-only spaces.
A passerby observed a car hit a parked car on Christie Place and leave the scene of the accident June 7.
Police issued one parking summons to a car illegally parked on Overhill Road and two summonses to illegally parked cars on Hampton Road June 7.
Patrol picked up an unused flare from Edgewood Road June 8.
The highway department was advised that the yellow bulb was out at a traffic light at Walworth and Greenacres avenues June 8.
A parked car was partially blocking a Corell Road driveway June 8. Police asked the driver to move the car.
Police checked on the Palmer Road driver of a minivan who was reported to have allegedly fallen asleep at the wheel several times June 8. The woman was not sleeping when police arrived and she declined medical attention.
The driver of a black Jeep stopped on Brite Avenue because he was not feeling well at 8:45 a.m., June 10. He called his mother who arrived at the scene and drove her son home.
Police informed the water department about a water main leak on Reimer Road June 10.
Eight car accidents were reported in the village this week.
Dogs
A Park Road dog was running loose on the street June 5. A neighbor and police caught the dog. Police tracked down the dog's owner who came to headquarters to pick up the dog. The owner received a summons.
A neighbor caught a loose dog on Post Road and turned the dog over to police June 9. Later a Post Road man came to headquarters inquiring about his son's loose dog – the same dog police had recently obtained. They were reunited, and the man was issued a summons. Related to this matter, a 24-year-old White Plains man called police to report he had sustained a dog bite to the hand while attempting to help the first neighbor catch the dog and prevent it from running into traffic. He declined EMS service and said he would go to his doctor on his own. Police are following up to obtain vaccination records.
A loose dog and its owner were reunited on Post Road at Evon Court June 10.
A woman walking her dog on Paddington Road found another loose dog lying on the grass June 10. She called the owner's number on the dog's tags, and she notified police. Police helped reunite the loose dog with its owner.
Lost and found
On June 4, a Webster Road man reported losing his driver's license somewhere in the village.
Village code
On June 5, police issued a summons to a village landscaper using a gas-powered leaf blower in violation of village code.
Neighbors complained of loud banging inside a Nelson Road house June 5. Police investigated the complaint and found a young child to be the source of the noise.
Police monitored village center for code enforcement regarding garbage truck activity during allowed times June 7 and 8. No violations were observed.
Patrol issued a summons to a landscaper using a gas-powered leaf blower in violation of village code June 8.
Neighbors twice complained of noise from a Bradford Road party June 8. Police asked the host and guests to lower the volume of music. The host and guests complied. The second time, a police officer assisted with lowering the volume of the music. A third complaint came in around 11:40 p.m. At that time, the party was dispersed.
On June 9, police issued a summons to a landscaper using a gas-powered mower on Palmer Avenue in violation of village code.
On June 9, police issued a summons to a landscaper using a gas-powered blower on Tompkins Road in violation of village code.
Police dispersed a noisy party on Rock Meadow Lane at 1:30 a.m., June 10.
Patrol responded to a noise complaint about an outdoor party on Bell Road around 4 a.m., June 10. At that time, the homeowner said a guest was highly intoxicated. Police called an ambulance to take the guest to White Plains Hospital Center.
A resident said a neighbor at Brite and Huntington avenues was "causing a disturbance" by mowing the lawn at 6:30 p.m., June 10. Patrol arrived at the scene and observed no violations.
Firefighters
According to Fire Chief James Seymour, the fire department responded to 28 incidents during this period, including a structure fire on Tunstall Road. Seymour shared the following details related to these incidents.
On June 5, a Rock Creek Lane house's carbon monoxide alarm was sounding. Firefighters met the resident in the driveway. The resident said he had unplugged two sounding stand-alone detectors from outlets and went outside. Firefighters found a carbon monoxide leak coming from the oven. Firefighters stood by for Con Edison.
On June 6, a Rock Creek Lane resident reported an interior gas odor. During investigation, no natural gas readings or odors were detected. A faint odor characteristic of overheated electrical equipment was noted near the kitchen exhaust unit. Firefighters disconnected the power supply and advised homeowner to repair or replace unit prior to restoring power.
On June 6, firefighters investigated a report of a gasoline spill in a Brite Avenue house. There, a floor showed signs of a recent leak from a portable generator that was moved outside prior to firefighters' arrival. Upon further investigation, the portable generator's fuel tank was found empty, but residual gasoline was leaking from the air filter. Firefighters advised the homeowner to service the unit and continue ventilating the garage until the odor subsides.
On June 7, a natural gas odor in a Lawrence Road kitchen was traced to a leaking stovetop valve. Con Edison was called. Technicians shut down the stove and advised the resident to replace it.
On June 8, a Colvin Road resident reported a smoking dryer. Firefighters unplugged the dryer and found it smoking from underneath the top cover. Upon removing the top cover, firefighters found a small fire that appeared to have originated in the wiring harness. Firefighters extinguished the fire and removed the dryer from the house.
EMT Graduation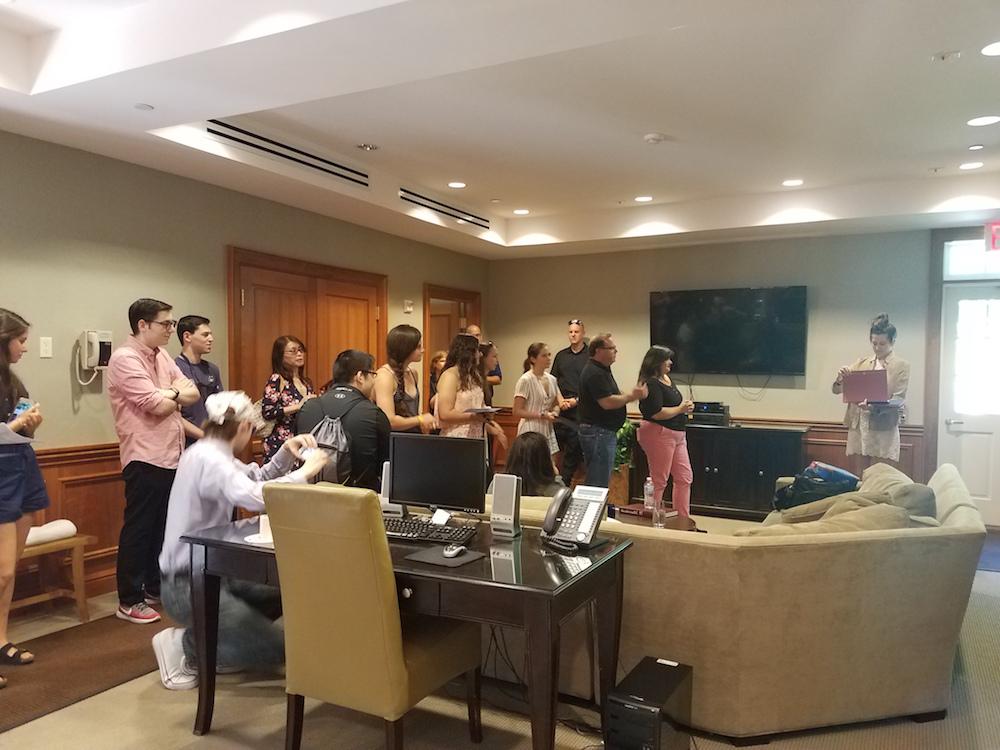 EMT Students Receiving Their Certificates
Nearly a dozen SHS seniors chose to undergo EMT certification as their senior options project. On Tuesday June 12th, they officialy graduated and recieved certification for their commitment to the program. The program began last year, and was a huge sucess, and proved to be a huge sucess again this year. As one instructor put it, "Even if [the students] don't go into the medical/emergency response field, they will now know how to properly respond to an emergency".
This report covering police and fire department activity from June 4-10 has been compiled from official information.
(Fire photos courtesy of the Scarsdale Firefighters)

This police report is sponsored by Scarsdale Security who does more than just security. Contact them about remote video for your home or business. Call 914-722-2200 or visit their website.