Police Report: Mailboxes Bashed in Quaker Ridge
Wednesday, 04 July 2018 13:36
Last Updated: Wednesday, 04 July 2018 23:04
Published: Wednesday, 04 July 2018 13:36
Traci Dutton Ludwig
Hits: 3543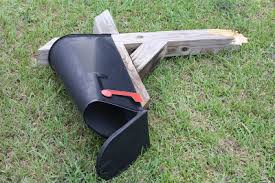 Criminal mischief
On June 29, a custodian reported a lock and chain had been cut on a playground gate at Fox Meadow School. The damaged lock was recovered. The chain was not found.
On July 1, two Bradford Road mailboxes and at least one Broadmoor Road mailbox were found to be knocked over. The mailboxes were found lying on the ground with dents in them. They each appeared to have been struck with a blunt object.
Identity theft
On June 25, a Bell Road woman reported fraudulent activity on her credit card account. She discovered the activity after receiving skincare product samples and a thank you in the mail on June 12. The note referenced purchases made at a Greenwich, CT, store that the woman did not make. On June 14, the woman contacted the sales associate who signed the thank you note and informed her that the sales and charges were fraudulent. The associate said she would follow up with her company's fraud department. On June 23, the woman received her credit card statement and discovered many more fraudulent charges. They were made between May 24 and June 7 at various store locations in Nevada, California and Connecticut. She reported the fraudulent charges to her credit card company, and the account was closed. The charges dated back to October 2016. No further information was released. Police are following up.
On June 25, a Woods Lane woman reported fraudulent activity on her debit card account.
On June 28, a Kent Road woman reported $8,500 was missing from her Chase checking account. No further information was released. Police are following up.
On June 28, a Park Road man reported his Staples credit card account had fraudulent charges on it. No further information was released. Police are following up.
Out of place
On June 27, a Hathaway Road woman reported her house had apparently been entered while she was out of town and items were out of place upon her return. Nothing was reported missing, but the woman said her car seat was in a different position; her bed had been made differently; a towel had been moved; and lights were dimmed. Patrol asked her to check with family members in case they used her house while she was away. Later, the woman called police to confirm that family members had indeed used her house while she was away.
License plates
A Catherine Road man reported he sold his 2012 Audi to an internet-based car buying company, and the transport company hired to pick up his car stole his license plates. The man advised that the driver said the plates should remain on the car for transport; however, the car buying company said the car arrived to its location without the license plates attached. The man is following up with NYS Department of Motor Vehicles.
Bicyclist hit
A 21-year-old bicyclist was reportedly struck by a car at Brite Avenue and Fenimore Road around 8 p.m., July 1. The driver said the bicyclist rode into the side of his car as his car passed the intersection, perpendicular to the bicyclist's direction of travel. Firefighters and police assisted with caring for the bicyclist until Scarsdale Volunteer Ambulance Corps arrived. The bicyclist was taken to White Plains Hospital Center.
Cars and roadways
A Fox Meadow Road woman could not get out of her driveway due to fallen branches in the road June 25. Police called the highway department to remove the branches and assist her.
A crosswalk signal was observed to be turned slightly on its pole on Mamaroneck Road June 25. It did not appear to have been tampered with. Police notified the highway department.
Patrol notified Verizon about a fallen wires Gorham Road June 25 and Wayside Lane and Cushman Road June 26.
Two occupied cars were reported in the sanitation yard parking lot after dark June 25. Police spoke with the drivers and learned they were private investigators updating each other on current surveillance in the area.
Police stood by while the owner of a car with a flat tire on Mamaroneck Road waited for a tow June 26.
A car broke down on Bypass, and a note was placed on the dashboard stating the car would be removed on June 26. However, at 4 a.m., June 27, the car was still there. Patrol tried to reach the owner to check on the status of the tow. At 6:30 a.m., the car's owner called police, and police arranged to meet the owner and help her organize a tow to Port Chester. The car was successfully removed around 10:30 a.m.
A driver reported striking a cat with his car on Mamaroneck Road June 27. He said the cat darted in front of his car, and he was unable to avoid it. Patrol assisted in removing the deceased cat from the roadway.
Police provided traffic safety while roadside assistance changed a driver's flat tire on Mamaroneck Road June 27.
A pickup truck belonging to a village resident had reportedly been parked in a Wayside Lane parking lot for several days. Police attempted to follow up with the owner June 28.
Police removed fallen branches from Heathcote Road June 28.
On June 29, police issued a Lockwood Road landscaper a summons for using a gas-powered leaf blower in violation of village code.
Con Edison and Verizon were notified about fallen electrical and telephone wires on Boulevard June 29.
Patrol closed Carthage Road due to a water main break while the water department attempted to make repairs June 29.
A 2018 Acura MDX was towed from DeCicco's parking lot at the request of management June 30. The towing company notified police.
Patrol moved a low-hanging branch on Fenimore Road June 30.
Patrol notified the highway department about a fallen tree on Gaylor Road July 1.
A man sitting in a parked car in Lincoln Road identified himself as a private investigator on assignment July 1.
Verizon was notified about fallen wires on Cambridge Road July 1.
Six car accidents were reported in the village this week.
Civil matters
A White Birch Lane resident complained about dirt deposited on her patio from a neighbor's construction site runoff June 25. Police mediated a conversation between the resident and the contractor. The contractor apologized and promised to send someone to power wash the woman's patio area. She was satisfied with the resolution.
On June 26, a Post Road man reported a car had driven onto his property and damaged approximately 100 feet of bamboo hedge. The damage appeared to have been caused in the past by a vehicle with dual rear wheels that jumped the curb.
On June 26, a home health aide who was dismissed from her job on Mohican Trail said her former employer failed to pay for services rendered the week of May 30 to June 7. Police advised the aide this was a civil matter.
A Montrose Road woman said she felt uncomfortable because neighbor entered her garage without her permission and handed her a piece of mail that had been delivered to the neighbor's house by mistake June 30. Patrol spoke with the neighbor. He said he was merely trying to give the woman her mail and would not enter her property again without permission.
Animals
A Chateaux Circle resident heard a small dog barking inside a Christie Place apartment June 26. Patrol spoke with the dog's owner and she agreed to close the door in order to keep the sound inside her apartment.
Village code
On June 25, police issued a Fox Meadow Road landscaper a summons for using a gas-powered leaf blower in violation of village code.
Four pest control solicitors riding Segways and walking on Brite Avenue and Fox Meadow, Chesterfield and Cushman roads were issued summonses for soliciting without permits June 25. Other solicitors from the same company were previously issued warnings that were apparently ignored. An employee of the same company was issued a summons for soliciting without a permit on Sheldrake Road June 27.
Kids were talking on Brittany Close around 2 a.m., June 27. Police advised them a resident complained of noise, and the kids left.
On June 27, police issued a Heathcote Road landscaper a summons for using a gas-powered leaf blower in violation of village code.
On June 28, police issued a Fox Meadow Road landscaper a summons for using a gas-powered leaf blower in violation of village code.
A young man accused of soliciting of Brown Road claimed he was dropping off gifts of candy to people who had donated money to his organization in the past, June 28. He said he understood soliciting without a permit was prohibited in the village.
Patrol issued a summons to a contractor who left a generator running at a Cushman Road construction site in violation of village code June 28.
Lost and found
A parking enforcement officer found a bag on Christie Place and returned it to its owner, who was out looking for it, June 26.
On June 28, a resident reported losing car keys in the village.
Sanitation workers found a credit card in Greenacres June 28. Police contacted the creditor who said the card had already been cancelled and should be destroyed.
A Rectory Lane person walked into headquarters and reported losing his wallet on Chase Road in the village June 30.
Patrol found a Kindle electronic reading device on a picnic table on Depot Place and notified the Kindle's owner July 1.
Firefighters
According to Scarsdale Fire Chief James Seymour, firefighters responded to 20 incidents between June 25 and July 1. Seymour shared the following details about some of those incidents.
On June 26, a Mamaroneck Road resident reported a problem with a generator that would not shut off. Firefighters assisted in shutting down the generator and advised the resident to contact a service technician.
On June 29, a Myrtledale Road resident reported an odor of natural gas at a gas-fired fireplace. Firefighters detected a gas leak, shut off the gas supply and stood by for Con Edison.
On June 30, firefighters saw smoke coming from the window of an East Parkway apartment and forced their way into the apartment. They found a burned pot on the stovetop. There was no fire. They removed the burned pot and ventilated the apartment with a fan. The building staff was notified to repair the door, and the resident of the apartment was notified.
Firefighters assisted at two car accidents this week.
This report covering police and fire department activity from June 25-July 1 has been compiled from official information.


This police report is sponsored by Scarsdale Security who does more than just security. Contact them about remote video for your home or business. Call 914-722-2200 or visit their website.