Electrical Fire Breaks Out in Murray Hill Road Kitchen
Wednesday, 15 August 2018 11:05
Last Updated: Wednesday, 15 August 2018 12:58
Published: Wednesday, 15 August 2018 11:05
Traci Dutton Ludwig
Hits: 2979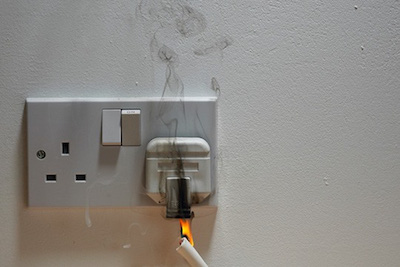 An electrical fire broke out in the kitchen of a Murray Hill Road house. Firefighters were called to the scene by an automatic fire alarm around 6:30 p.m. on Aug. 11. Looking through windows, firefighters observed smoke throughout the first floor of the house. Firefighters forced open the kitchen door and saw visible fire starting at the electrical wall switch and extending up to the ceiling. A hose line was stretched across the street and used to extinguish the main body of the fire. Firefighters' quick efforts managed to contain the fire damage to the location of origin. Firefighters checked for extension and shut power to the electrical panel. Volunteers, and mutual aid firefighters from other jurisdictions were called in for assistance and to help with overhaul. Con Edison and the water department shut utility services to the house. The Westchester County Cause and Origin team was dispatched. It was determined the cause of the fire was accidental and due to an electrical issue. Since a rear patio door was ajar, police were called to check the scene. No signs of criminality were observed. The homeowners were notified about the situation and arrived on scene for a debriefing.
Arrests
On Aug. 10, police arrested Emmanuel Gonzalez, 25, of New Rochelle, on charges of driving while intoxicated (first offense), operating a motor vehicle with a blood alcohol content of at least .08 of one percent (first offense), moving from lane unsafely, and speeding in zone. The arrest followed policed observation of Gonzalez's 2003 Honda Accord speeding and swerving over pavement markings on Weaver Street at approximately 12:45 a.m. Police conducted traffic stop, and Gonzalez said he had just dropped off a friend in White Plains. Gonzalez's breath smelled of alcohol; his eyes were glassy and bloodshot; but he told police he had not consumed any alcoholic beverages. He was asked to perform field sobriety tests, and he failed them. An alco-sensor pre-screening test indicated a blood alcohol level of .12 of one percent. At that point, police arrested Gonzalez. He was taken to headquarters and agreed to take a Datamaster test, which measured his blood alcohol at .11 of one percent. He was released on his own recognizance, with an appearance ticket for Scarsdale Village Justice Court, returnable Aug. 15. Hi car was secured in a parking lot on Weaver Street.
On Aug. 6, Scarsdale police arrested Kaspars Giberts, 27, of undisclosed residence, after Giberts attempted to pick up a UPS package that was not in his name at the Scarsdale Shell gas station on Scarsdale Avenue Aug. 6. Investigation determined that the item in the package had been fraudulently purchased used an identity theft victim's personal information. It was further determined that the package was rerouted from the victim's address to the Scarsdale Shell station for interception. Giberts was in possession of fraudulent government-issued Visa cards when intercepted by police. Giberts was charged with four counts of second-degree possession of a forged instrument.
Stolen
On Aug. 9, a New York City daughter reported her 93-year-old mother's jewelry had been unlawfully removed from her mother's house on Shawnee Road sometime in the past. Approximately 15 pieces of jewelry in a red jewelry case were stolen. The pieces included diamond, pearl, and emerald pins, rings, bracelets and necklaces. The case was last seen May 4 and discovered missing Aug. 1. The mother and daughter searched the entire house for the case before concluding it had been stolen.
Identity Theft
On Aug. 7, a South Church Lane woman reported fraudulent charges on her American Express credit card. She said the charges might be related to personal information she revealed to an unknown person, via a possibly fraudulent email received about alleged problems with her Apple password. As per the email's instructions, the woman shared her Social Security number and credit card number. American Express alerted her of possible fraudulent activity, and the account was closed.
Phones
An Olmsted Road woman asked police to help her since both her cell phone and landline phone were not working Aug. 8. Patrol went to the woman's house and was able to get the woman's cell phone operational. She said she would call Verizon about the landline with her working cell phone. She thanked patrol for the assistance,
Intervention
A resident with dementia called police because he wanted his live-in health aide to leave Aug. 8. The resident's wife said she wanted the health aide to stay, and she showed police a court order specifying 24/7 care for her husband. Patrol spoke with the resident, and the resident agreed to let the health aide stay.
Bikes
A Gaylor Road man reported someone left a Lime Bike in his front yard Aug. 6 and had yet to reclaim it by Aug. 9. Patrol advised the man he could move the bike from his property to another location. Patrol explained that the bikes could be accessed via an app that unlocks the bike for the next rider and that the bikes do not have to be returned to any specific location.

A bicycle was locked to a parking meter on East Parkway Aug. 9. Police left a note on the bike, instructing the owner to move the bicycle within 48 hours; otherwise, it would be impounded.
Key
A postal worker reported finding a key in a door lock of a Carthage Road house. When the postal worker knocked at the door, he received no reply. Patrol went to the house and found the homeowner reading on the back porch. She said she did not hear the postal worker knocking at the door. She thanked police for returning her key.
Suspicious
While conducting burglary patrol at 4 a.m., Aug. 8, police noticed a gray Chevy Pacifica with a temporary Texas dealer tag parked in front of a Colonial Drive house. Further investigation proved the car's hood to be hot to the touch, and water was observed to be dripping from the A/C system onto the street. The car had rusted wheels and dirt all over its exterior. A cell phone and NYS ID were observed in plain view on the center console of the car, and the car was noted to be parked more than 12 inches away from the curb and unlocked. Due to the way the car was parked and the fact that the engine was still warm, police believed the operator might be on foot in the area and possibly engaged in criminal activity. Police backup arrived, and officers canvassed the area, with negative results. A traffic citation ticket issued out of New Rochelle was observed in plain view in the car, and patrol was able to obtain a name and birthdate of a 24-year-old person residing in New Rochelle. Police attempted to run the VIN number but were unsuccessful in getting any results. Police documented details about the car to aid in future investigation, should any criminal activity be reported in the area in the near future. Police additionally issued a summons to the operator for parking more than 12 inches away from the curb.

A woman reported the driver of a suspicious black SUV, parked in the area of Bansom and Springdale roads, appeared to be watching her house from 9 a.m. to after 5: 30 p.m., Aug. 11. Police spoke with the driver of the SUV who said he was in the area conducting "private business."

On Aug. 12, a Wildwood Road resident reported a person sitting in a parked black Nissan for approximately two days. . Police spoke with the driver of the Nissan who said he was in the area conducting "private business."
Broken Window
A village employee was mowing grass at Popham and Post roads when the mower kicked up a small rock which then struck and shattered the front driver's side window of a white van Aug. 6. Proper documentation was presented to all parties involved. No injuries were reported.
Cars and Roadways
Dripped paint was observed on Lyons Road Aug. 6. Police notified the highway department.
Police stopped a White Plains driver of a red Toyota on Post Road and issued her summonses for driving with a suspended registration and third degree aggravated unlicensed operation of a motor vehicle Aug. 6. Police removed the car's license plates, and the car was towed to the driver's address.

The water department was informed about a broken water cap at Weaver Street and Hillandale Close Aug. 6.

Barricades around a department of transportation project on Post Road shifted in place and were impeding traffic flow Aug. 6. Police moved them back into position.

A tractor-trailer pulled down wires on Richbell Road Aug. 7. Patrol notified Verizon and Con Edison. On Aug. 8, a resident complained about downed wires left on the ground by Con Edison. The resident said Con Edison said the wires belonged to a damaged private utility pole that had to be repaired by the respective homeowner before Con Edison could reconnect the wires.

Con Edison was notified about fallen wires at Olmsted and Hampton roads Aug. 7.

Firefighters advised a driver struck a fire hydrant at Post and Popham roads Aug. 7. The water department was following up.

A woman was walking on the side of Weaver Street, alarming motorists who were concerned for her safety, Aug. 8. Police advised her to walk on the sidewalk.

Patrol secured low-hanging phone and cable wires on Nelson Road Aug. 8, pending the arrival of phone and cable technicians the following day.

A man seen near a car at Dean Field was determined to be exercising outdoors near his parked car Aug. 9.

Police removed garbage scattered across Mamaroneck Road and placed it in a nearby dumpster Aug. 9.

Roadway barricades on Chase Road had shifted out of position Aug. 9. Police moved them back into place.

The highway department was notified about a broken manhole cover on Post Road Aug. 9.

Con Edison was notified about a fallen secondary power line on Hampton Road Aug. 10.

The department of transportation was notified about a malfunctioning traffic light at Crane Road and Woodland Place Aug. 10.

Police notified Con Edison about a fallen tree branch in wires over Carthage Road Aug. 11.

An elderly driver stopped her car in the wrong lane of traffic on Popham Road Aug. 12. The woman told police she was lost and needed assistance getting to Ardsley. Patrol provided her with directions.

Sewer water was backing up into a Paddington Road house Aug. 12. Police notified the highway department.

Five car accidents were reported in the village this week.
Coyote
A coyote was observed in a Colonial Road backyard Aug. 9.
Village Code
Police issued a summons to a landscaper using a gas-powered leaf blower on Duck Pond Road Aug. 9.

A neighbor complained about loud music coming from a house party at Cushman Road and Willow Lane Aug. 11. Police told the homeowner to lower the volume of music to comply with village code.
Lost and Found
A passerby brought a wallet to headquarters Aug. 6. He said he thought it had been thrown out of a moving dark blue Jeep Wrangler on Mamaroneck Road. The wallet contained a Massachusetts driver's license, four credit cards and assorted personal receipts and papers. Attempts to contact the owner were not successful Police vouchered the wallet at headquarters for safekeeping.

On Aug. 9, a girl reported losing her iPhone, a $100 Visa gift card and a driver's permit. The items were last seen in a friend's car near Fenimore Road and Walworth Avenue.

A caller reported finding a key fob "somewhere on a trail" in the village while he was jogging for 10 miles in the village Aug. 10. Police vouchered the key fob at headquarters for safekeeping.
Firefighters
According to Scarsdale Fire Captain James Seymour, firefighters responded to 38 incidents this past week. Seymour shared some of the narratives below:

On Aug. 6, firefighters assisted at a three-car accident at Post and Popham roads. Scarsdale Volunteer Ambulance Corps transported one patient to White Plains Hospital Center, and firefighters cleaned up spilled automotive fluids. Police provided traffic control.

Firefighters found an air conditioning unit on the first floor of a Richbell Road house that was connected to a hot outlet Aug. 6. Firefighters advised the resident to replace the unit.

It was thought that lightning struck a Brookby Road house, causing a burning odor in the house Aug. 7. Firefighters checked the house and determined it to be in good order. They discovered the lightning actually struck a tree.

Firefighters assisted at a two-car accident on the Mamaroneck Road exit ramp of the Hutchinson River Parkway Aug. 8. Scarsdale Volunteer Ambulance Corps transported one patient to White Plains Hospital Center.

On Aug. 10, police responded to the Bronx River Parkway for a three-car accident involving injuries to a child. Scarsdale Volunteer Ambulance Corps transported the child to White Plains Hospital Center.

Firefighters blocked traffic while police and Scarsdale Volunteer Ambulance Corps tended to a one-car accident on the southbound Hutchinson River Parkway Aug. 10. Firefighters cleaned up spilled automotive fluids. The car was towed away, and the scene was turned over to Westchester County police.
This report covering police and fire department activity from Aug. 6-12 has been compiled from official information.

This police report is sponsored by Scarsdale Security who does more than just security. Contact them about remote video for your home or business. Call 914-722-2200 or visit their website.