Police Report: Women Arrested on Unrelated Charges of DWI and Shoplifting
Thursday, 06 September 2018 07:56
Last Updated: Thursday, 06 September 2018 15:55
Published: Thursday, 06 September 2018 07:56
Traci Dutton Ludwig
Hits: 2673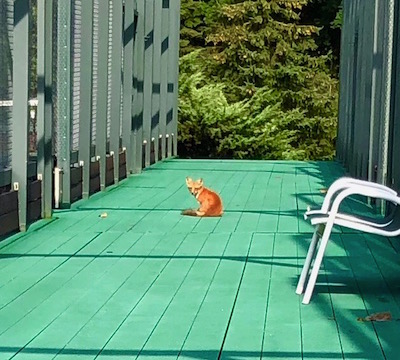 This fox was spotted on the paddle courts at Fox Meadow Tennis Club: Photo Credit Oscar GallegoArrests: On Aug. 30, police arrested Toniann Orichello, 26, of Scarsdale, on a charge of petit larceny. Orichello is accused of stealing approximately $400 worth of beer, in six packs and cases of 12, from the Popham Road CVS on multiple dates. She is due in court, to answer charges, on Sept. 12.
On Sept. 2, a car accident on Walworth Avenue and Berkeley Road led to the arrest of the driver on charges of operating a motor vehicle while intoxicated (with a prior conviction) and refusal to take a breath test. Responding to the scene at approximately 8 p.m., police observed a 2016 white Mercedes-Benz coupe with severe front-end damage, and its airbags deployed. A woman – Loren Messina, 31, of Bronxville, was sitting inside. Police asked her if she was injured, and she said her legs hurt. While gathering information, it became apparent that Messina was intoxicated due to physical markers such as an alcoholic breath odor, slurred speech, unsteadiness on her feet and bloodshot and glassy eyes. Messina denied being under the influence of drugs or alcohol. She was asked to perform field sobriety tests, and she twice refused. She also refused, three times, to submit to a field screening breath test. She was arrested, released on her own recognizance with an appearance ticket.
Identity theft
On Aug. 27, a Rock Creek Lane man reported an unknown person took over his T-Mobile account and transferred the number to a fraudulent Verizon account that was opened in his name. He received a bill for $400 for the Verizon account.
A Black Birch Lane woman reported someone called her alleging to be from the Chinese embassy Aug. 30. The caller said he was investigating a fraudulent bank account being opened in China in the woman's name. The caller asked the woman for her personal identifying information, and the woman provided it. When she became suspicious of the call and said she was going to report the matter to police, the caller became hostile. The caller told the woman she would be arrested if she did not cooperate with the caller's investigation. Scarsdale police advised the woman to contact the three credit reporting agencies regarding the matter.
Scam
On Aug. 31, a Parkfield Road resident reported an unknown person called her and attempted to scam her into allowing him access to her bank account. The caller told the resident that the company that had sold her an antivirus software program was going out of business. The caller said he wanted to refund the resident's money, but he first needed access to her computer. Then, he asked for access to her bank account to refund the money directly. The resident refused and notified police.
Harassment
A real estate firm's representative reported a man called the real estate office and made inappropriate, sexual remarks to two female employees Aug. 30. Police advise the representative that the employees should file reports themselves, if they wished to do so.
Doors
While on burglary patrol, police notified a Claremont Road resident about an open garage door at his house at 3:15 a.m., Aug. 28. The resident said he would close the door.
Police helped a 15-year-old Franklin Road girl get inside her house at approximately 1 a.m., Aug. 29. The girl's sister was home but sleeping and did not hear the doorbell or the girl's phone call. The girls' mother was advised.
Trash
Police advised a contractor working on Sage Terrace to refrain from throwing trash away in residents' garbage cans Aug. 27.
Broken glass
An exterior pane of glass on a Post Road sliding glass door was reported broken Aug. 28. Police determined a small object traveling at a high rate of speed caused the break in the glass. The tenant of the house advised that a landscaper had been at the house earlier that day. Police deduced the break was probably caused by a small rock kicked up from a mower. There were no signs of criminality.
MTA
Police notified MTA police about a report of a man allegedly shouting at people on the train station platform Aug. 30.
Order of protection
Police served an order of protection against a Fox Meadow man Aug. 30. After being served, the man experienced shortness of breath, began shaking and fell to the ground. Scarsdale Volunteer Ambulance Corps arrived at the house to evaluate the man's condition. The man was treated on scene and refused further medical attention. Police stood by while the man gathered a few belongings and left the house in an Uber.
Mail
On Aug. 31, a Murray Hill Road resident reported she was receiving mail from the DMV addressed to an unknown person at her address. Police checked the person's DMV records and learned the Murray Hill Road address was the last address on file. Police advised the resident to contact the DMV to advise that the man no longer lived at her address.
Shopping bag
Police observed a Lord and Taylor shopping bag left on the trunk of a parked car on Montrose Road Sept. 3. Police notified the car's owner, and the owner said she forgot to bring the bag inside.
Argument
A caller reported hearing a woman "berating" a man in Edgewood Sept. 3. Police went to the house, where a man and woman said they were having a minor disagreement over topical family matters. No police intervention was needed.
Civil matter
A Madison Road man alleged his neighbor's contractor drove over his lawn and damaged the grass Aug. 30. Patrol noted tire tracks, matted grass and dirt in the man's yard, as well as in the neighbor's construction site. Patrol spoke with the neighbor and advised him of the complaint. The neighbor said he would remind his contractor to stay off the man's property.
Cars and roadways
On Aug. 27, police set up flares around a disabled car on Crane Road while the driver waited for roadside assistance.
Police notified Con Edison and Verizon about fallen wires on Walworth Avenue Aug. 27.
A Con Edison manhole cover was found to be unsecured on Post Road Aug. 28.
Patrol blocked the area and notified Con Edison.
Patrol removed a fallen branch from Weaver Street Aug. 29.
Police moved a dead raccoon to the side of Bypass and notified the sanitation department for removal.
A caller reported a person in a blue car parked on Chase Road without putting money in the parking meter Aug. 30. Police issued a warning.
A caller reported a car parked at an expired parking meter on Chase Road Aug. 30. The owner of the car returned and moved the car.
Police stood by while the driver of a car with a flat tire waited for her father to arrive on scene and change the tire Aug. 30.
A passing truck pulled down wires on Weaver Street Aug. 31. Con Edison was notified, and the highway department cleaned up a fallen guy wire from a utility pole.
Responding to a reported "altercation" or incident of "road rage" on Weaver Street Sept. 1, police noticed a car parked on the side of the road. Inside, a woman was crying in the arms of the driver. Police asked if everything was OK, and the woman said she was emotional because of a call received from her grandmother. The driver was consoling the woman. Police advised them to park their car in a parking spot, for safety, while the woman regained composure.
Police stood by while a driver waited for a tow truck to arrive to address mechanical issued with the driver's overheated car Sept. 3.
Four car accidents were reported in the village this week.
Animals
An Autenreith Road woman reported a coyote in her yard Aug. 27. Police provided her with the phone number of a local trapper and advised her to call if the coyote returned.
Village code
After neighbors complained, police issued a summons to a Lee Road resident whose dog was creating excessive noise from barking Aug. 27.
Police issued summonses for using gas-powered leaf blowers to landscapers on Carthage, Tunstall and Franklin roads Aug. 29 and Tory Lane and Greendale, Taunton and Mamaroneck roads Aug. 31.
Following a noise complaint, police asked a group of people at a Horseguard Lane house to keep their voices down Sept. 2.
On Sept. 2, police advised a Deerfield Lane parent to reduce the noise level of her child's get-together with friends.
Lost and found
On Aug. 27, a passerby found a cell phone and a driver's license on Harwood Court. Police returned the license and phone to the owner.
A Myrtledale Road man reported losing his driver's license somewhere in the village Aug. 27.
On Aug. 27, a passerby found a wallet at Walworth Avenue and Brayton Road. Police attempted to contact the owner but were unsuccessful. The wallet was vouchered at headquarters for safekeeping.
A man walked into headquarters and reported losing his driver's license somewhere in the village Aug. 28.
On Aug. 31, a man dropped off a tennis bag containing a racket and sunglasses to headquarters. He found the bag on East Parkway near the train station. Police vouchered the bag for safekeeping.
Firefighters
According to Fire Chief James Seymour, the fire department responded to 22 incidents during the reporting period. Seymour share the following narratives below:
On Aug. 28, a Bradley Road resident reported an odor in the basement. Firefighters stood by for Con Edison, who detected a leak in the furnace.
On Aug. 28, firefighters shut the breaker to an electric oven that would not shut off and advised the homeowner to call for service.
On Aug. 29, a reported natural gas odor was determined to be a strong odor of polyurethane from a recent floor-refinishing project.
Firefighters assisted with a rollover car accident on the Hutchinson River Parkway Aug. 31.
Firefighters assisted with a car accident on Berkeley Road and Walworth Avenue Sept. 2.
This report covering police and fire department activity from Aug. 27 – Sept. 3 has been compiled from official information.


This police report is sponsored by Scarsdale Security who does more than just security. Contact them about remote video for your home or business. Call 914-722-2200 or visit their website.