Police Report: Graham Road Burglary, Car Break-in Bandit Spotted in Greenacres
Thursday, 13 September 2018 07:34
Last Updated: Thursday, 13 September 2018 07:40
Published: Thursday, 13 September 2018 07:34
Traci Dutton Ludwig
Hits: 3170
Burglary: A Graham Road woman reported finding her house broken into and items stolen, upon arriving home from a trip Sept. 3. Stolen items included assorted jewelry, jewelry boxes, a backpack and a decorative glass bottle. It appears that the suspect placed a ladder against the back of the house, climbed up and entered through a second-floor window. Police are following up.

Car break-ins
On Sept. 6, a Carstensen Road woman reported seeing a man going through her parked car at 2 a.m. The man took off running after the woman's outside motion light came on and the woman observed the man. Police canvassed the area but did not see anyone. Nothing was stolen.

A Rectory Lane man reported someone entered his car and rummaged through the contents at 1:40 a.m., Sept. 6. He told police the incident was captured on his home surveillance camera. The suspect was described as a light-skinned man wearing a jacket, jeans, mask and gloves. He was carrying a flashlight.

Stolen
On Sept. 3, a Scarsdale pool lifeguard reported his wallet had been stolen at the pool while he was cleaning up trash and attending a debriefing meeting at the end of the day.

On Sept. 7, a Fenimore Road woman reported wedding bands, jewelry containing emeralds and diamonds, designer handbags and silk ties had been stolen from house during a time period in which her husband required medical care. As a result, at least seven visiting nurses were in her house during the time period that the jewelry disappeared.

Arrest
On Sept. 8, police arrested Gabriel Llanos, 27, of Brooklyn, on charges of operating a motor vehicle while impaired by alcohol, failure to stop at a stop sign, driving the wrong direction on a one-way street and operation of a motor vehicle by an unlicensed driver. Patrol observed Llanos commit traffic violations while he was driving his 2007 Mitsubishi on Post Road and Huntington and Greenacres avenues. Police conducted a traffic stop and noted signs of alcohol consumption. Llanos failed field sobriety tests. Llanos was asked to submit to a breath-screening test, but he did not provide an adequate sample of breath. Police noted this might have been intentional on Llanos's part. He was arrested and taken to headquarters. There he agreed to submit to a Datamaster test, and his blood alcohol result came back at .07 of once percent. He was released with an appearance ticket to appear in court on Sept. 26.

Grandson Scams
A person called a Bradford Road woman alleging to be a lawyer representing her "grandson" Sept. 4. The person posing as a lawyer said the grandson had been arrested and requested $8,000 to pay for legal fees. The woman went to Chase Bank, withdrew the funds and then became suspicious of the call. She contacted police and was advised the call reflected the pattern of a typical scam.

On Sept. 5, a Black Birch Lane woman received a similar call from a person alleging to be a layer representing her grandson in a legal matter. No money was lost, and the woman's daughter-in-law reported the matter to police.

A Lee Road woman received a call from a potential scammer who stated he was in a van outside the woman's house, with the woman's "grandson" Sept. 7. Police did not see a white van in the vicinity of the woman's house and advised her the call was a scam.

Identity theft
On Sept. 7, a Stratton Road resident reported someone made fraudulent charges on her credit card. The person ordered six Dyson vacuum cleaners. Police are following up.

Harassment
On Sept. 4, a Beechwood Lane woman reported her former au-pair had allegedly gotten people to threaten the woman.

Bees and birds
Mutual aid was requested to assist in transporting eight people stung by bees at the Crestwood train station Sept. 5.
Police removed a dead bird from the sidewalk on East Parkway Sept. 6.

Help
Police helped an elderly Olmsted Road resident report a malfunctioning Fios box to Verizon Sept. 7.

A Dolma Road woman asked police to help her address strange noises coming from a generator Sept. 7. Patrol listened to the noises and determined they were coming from the pool pump motor. Patrol turned off the pump at the woman's request and advised her to contact her pool company for service.

Papers served
Police served a temporary order of protection to a village resident and stood by while he gathered belongings and left his house Sept. 7.

Crushed car
On Sept. 7, a Gilmore Court employee said a tree fell on her car while it was parked on the street during a storm March 2. The impact caused damage. She said she needed a report for insurance purposes.

Bag
A caller reported a suspicious bag on Heathcote Road Sept. 7. Police determined the bag contained water bottles and hand tools such as a hammer and screwdriver.

Photo
An Ogden Road man reported two people parked outside his house in a silver BMW, exited the car, walked onto his property and took pictures of his house Sept. 8. The man opened a window and asked the people to explain their actions. At that time, the woman allegedly said, "Isn't the house for sale?" Then, she returned to her car with the other person. The police log noted that a real estate sign from Compass was visible in the front yard. However, the man said the house had been taken off the market a few days prior to the incident.

Text
One brother decided to play a "prank" on another brother while they were eating in a village diner with their father Sept. 9. The pranking brother went to the restroom and texted his brother that he saw one staff member helping another staff member harm himself. The brother that received the message took it seriously and called 911. Police arrived on scene and determined the call was unwarranted.

Cars and roadways
On Sept. 5, a woman who parked her car on Brambach Road alleged that a resident came out of his house and yelled at her for parking in front of his house. She called police and said she didn't like the resident's "tone." He did not actually make any threats.

A person came into headquarters to report an altercation over the right of way with another driver on Christie Place Sept. 5. The person said the other driver slapped his car with his hand.

An open manhole cover was reported on Post Road Sept. 6. The highway department replaced it.

Police issued a summons to the registered owner of s car parked on the wrong side of Sage Terrace Sept. 6.

Police stood by while a woman waited for assistance from a service station because she accidentally locked her keys in her car while it was parked in the high school's gravel lot Sept. 6. She had gone to the high school to inquire about taking adult classes.

Highway workers and Con Edison were called to address a fallen tree and wires on Ridgecrest North Sept. 6.

The highway department cleared fallen trees from Post Road and Wayside Lane, as well as River Road, Sept. 6.

Police placed barricades around a flooded section of Brookby Road Sept. 6.

Police mediated a dispute between two drivers who stopped their cars on Chase Road Sept. 6.

Police advised a woman who was walking on Post Road at 1 a.m., Sept. 7, to stay off the road and to consider returning home for the night. The woman followed patrol's suggestions and decided to go home.

A truck got stuck in mud while trying to turn around on Mamaroneck Avenue Sept. 7. Police directed traffic around the truck while a tow operator helped dislodge it.

Patrol stood by while a driver waited for a tow on Post Road Sept. 7.

Police stood by while a driver with a flat tire waited for a tow on Heathcote Road Sept. 9.

Six car accidents were reported in the village this week.

Kids
Police stood by while a group of kids waited for rides home from a gathering on Colvin Road Sept. 7.

Animals
Police reunited a lost dog found on Walworth Avenue with its Greenacres Avenue owner Sept. 6.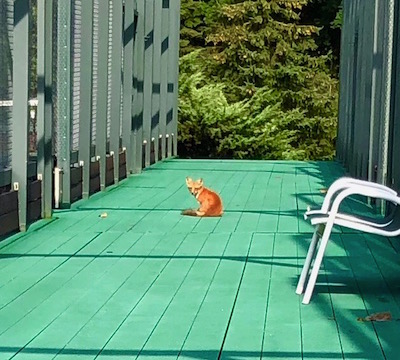 Police checked Fox Meadow School grounds after a fox was reported on site Sept. 7. The fox left the area before police arrived, and patrol provided school administration with trappers' numbers.

Coyotes were reported on Normandy Lane Sept. 7 and Deerfield Lane Sept. 8. They were gone before police arrived.

Village Code
Police issued summonses for using gas-powered leaf blowers to landscapers on Ardmore Road and Rock Creek Lane Sept. 4, Post and Myrtledale roads and Windsor Lane Sept. 5, Palmer Ave. and Sage Terrace Sept. 6, and Palmer Avenue Sept. 7.

Police confirmed that workers inside the Bank of America, on Wilmot Road, after hours, had valid permits Sept. 7.
Patrol advised a Brambach Road hostess that neighbors complained of noise after midnight, Sept. 8. The hostess said she would bring her gathering indoors.

A contractor using power equipment on Brite Avenue prior to allowed hours was told to stop, and he complied, Sept. 8.

A contractor conducting construction work on Rural Drive prior to the allowed time was issued a summons Sept. 8.

Police dispersed kids from playing basketball after dark on Hyatt Field Sept. 8.

Neighbors complained of noise on Saxon Woods Road Sept. 9. Patrol went to the scene and heard intermittent shouting coming from the rear of a house. Patrol spoke with the homeowner who said he would address the matter.

Police spoke with a Saxon Woods Road host to advise him of noise complaints at 2 a.m., Sept. 8, The host said he would bring his gathering indoors.

Lost and found
Police helped return a lost wallet, found on East Parkway and Popham Road, to its owner Sept. 8.
A passerby said she found a coin canister for a parking meter on East Parkway, which she brought to police Sept. 8.

Firefighters
According to Fire Chief James Seymour, firefighters responded to 27 incidents during the reporting period. Seymour shared the following incidents below:

On Sept. 5, firefighters turned off water in a Christie Place establishment because a pipe was leaking.
Firefighters asked Con Edison to examine a leaning utility pole on Lawrence Road Sept. 6. Firefighters noted the pole might have been struck by lightning.

On Sept. 7, firefighters used hand tool to open a locked bathroom door and free a child who was accidentally locked inside.

A Montgomery Road house had collected pockets of carbon monoxide Sept. 7. Firefighters determined the carbon monoxide was coming a bank of batteries being charged for the sump pump. Firefighters disconnected the batteries and removed them. Con Edison was notified to respond.

Water was leaking in a Cooper Road house Sept. 9. Firefighters shut water to the leaking HVAC unit, and they shut power to the lights and outlets nearby. Firefighters advised the homeowner to contract a service company.

This report covering police and fire department activity from Sept. 4 to 9 has been compiled from official information.



This police report is sponsored by Scarsdale Security who does more than just security. Contact them about remote video for your home or business. Call 914-722-2200 or visit their website.