Police Report: Firefighters Find Lost Child Knee-Deep in Water
Wednesday, 12 December 2018 18:24
Last Updated: Thursday, 13 December 2018 16:07
Published: Wednesday, 12 December 2018 18:24
Traci Dutton Ludwig
Hits: 4648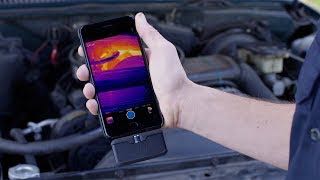 On Dec. 3, firefighters were called to Cayuga Road on the report of a missing 5-year-old child, who had last been seen more than 30 minutes ago. Firefighters used thermal imaging cameras to search the area on foot. They found the boy in a shallow waterway in the village, wet up to his knees. They warmed the boy as much as possible until Scarsdale Volunteer Ambulance Corps arrived. SVAC returned the boy to his house.
Arrest on warrant
Edwin C. Gonzalez, 32, of the Bronx, was arrested on warrant after being detained in Bronxville for an unrelated offense Dec. 5. The warrant, issued out of Scarsdale on Oct. 24, 2018, was for unresolved vehicle and traffic offenses. Following his arrest, Gonzalez was released on $50 cash bail. He was ordered to appear in court on Dec. 12.
Hate Crime
Purchase College student Gunnar Hassard was arraigned in Harrison Town Court for Aggravated Harassment in the First Degree, a class E felony, for hanging posters with Nazi symbolism in areas of the campus. On Sunday evening Dec. 8, 2018, during the Jewish celebration of Hanukkah, the felony complaint alleges that 18-year-old Gunnar Hassard of Oneonta, NY, and a student at SUNY Purchase, hung multiple posters, which incorporated a swastika and symbols of Nazi Germany, on and near the Humanities Building.

The complaint states that the defendant posted multiple flyers on the campus "frequented and utilized by members of the Jewish community…causing alarm, fear and annoyance to the members of the campus community during the Jewish holiday of Hanukkah." New York State University Police arrested Hassard and charged him with Aggravated Harassment, a hate crime which specifically states a person is guilty of this crime when one "Etches, paints, draws upon or otherwise places a swastika, commonly exhibited as the emblem of Nazi Germany, on any building or other real property…"
Identity theft
On Dec. 6, a Fox Meadow Road resident reported unauthorized charges on his credit card.
Criminal mischief
A Jeep was reportedly damaged at Scarsdale High School Dec. 4. According to police, it appears that someone used a blunt object to make scratches on the car's hood. Police are following up.
Domestic matter
A 21-year-old Fox Meadow young man reported that his mother took his prescription medication away from him without his permission Dec. 8. The mother said she took the medication because she was concerned about it and the unknown physician who prescribed it. The young man said it was a new doctor. The young man's parents requested that he leave their house. The medication was returned to the young man, and he left. Police advised the young man he could only return to his parents' house with their permission.
Dispute
A resident of a Post Road group home reported a verbal argument with another resident Dec. 4. Police went to the scene and found everything to be under control.

Help
Police helped a Lenox Road homeowner bring a large ladder into the house after being called to check the house's exterior due to concern over an alarm activation reported by the homeowner Dec. 3.
Police helped lift a person who had fallen out of a wheelchair in a Rural Drive house, in order to assist the person in getting back into the wheelchair Dec. 9. The person was uninjured.
Complaint
A caller on Scarsdale Avenue complained that a fuel delivery truck was delivering gasoline to the Gulf gas station on Scarsdale Avenue and "causing a disturbance to her" Dec. 6. Police went the scene and found both the delivery truck and the caller had already left.
At 1:37 a.m., Dec. 9, a Scarsdale Road resident that a fuel delivery truck was delivering gasoline to the Gulf gas station on Scarsdale Avenue. Patrol advised the truck driver of the designated hours during which deliveries can be made, as per village code.
Leaves
A Brown Road resident reported Axtell Road landscapers were blowing leaves onto her property Dec. 4. Police spoke with the landscapers who said they would try to control the leaves, but they acknowledged it could be difficult to fully prevent any leaves from entering the resident's property, especially during periods of strong wind.
Callers complained about large leaf piles obstructing traffic on Birchall Drive Dec. 8. Police issued a summons to the homeowner who was responsible for the leaf pile.
Civil matter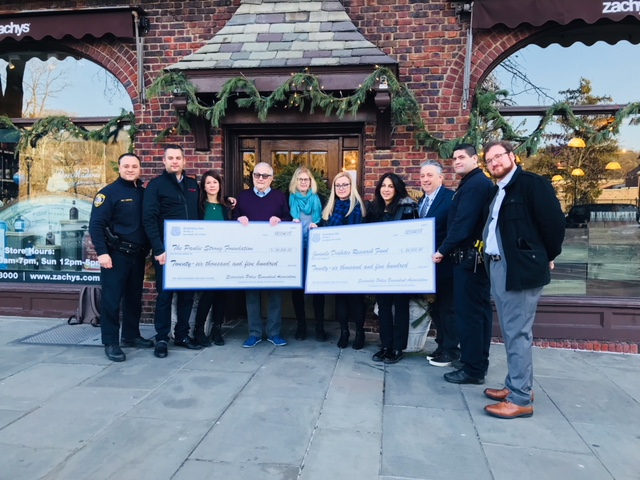 The Scarsdale PBA donated $53,000 to the Paulie Strong Foundation and Juvenile Diabetes Research Fund. Pictured here awarding the check in front of Zachys on December 11. Photo by Jon Thaler
A Bradford Road resident reported a New Rochelle florist has called her over 100 times about payment for flowers used in a bar mitzvah. The resident said she would pay the bill only after receiving proper paperwork about it. The florist said he was calling in an effort to obtain payment but would send his bill by email instead. Police advised both parties that their dispute was a civil matter.
Cars and roadways
On Dec. 3, police issued a summons to the owner of car parking in a no standing zone on Overhill Road.
As a courtesy, a driver moved her legally-parked car away from a resident's walkway on Olmsted Road Dec. 3.
After drivers complained Dec. 4, police notified the highway department about a large pothole on Popham Road.
Police asked landscapers to move their parked vehicles from Mamaroneck Road because they were causing a traffic obstruction Dec. 5.

A truck driver reported hitting low-hanging phone wires on Sheldrake Road Dec. 6. Verizon was notified.
On Dec. 6, a license plate reader alerted police to a car traveling on Mamaroneck Road with a suspended registration, due to its insurance not being in effect. Police conducted a traffic stop, removed the car's license plates and issued the driver a summons.

A Taunton Road resident reported tire marks in his yard, with a light pole knocked down, ostensibly from a hit-and-run accident Dec. 7.

Verizon was notified about a fallen wire at Griffen and Grand Park avenues Dec. 7.

Police removed a broken wire from Olmsted Road Dec. 8.

Police directed traffic around a disabled car on Post Road while the driver waited for a tow Dec. 9.

A bus driver reported hitting a lamp pole on high school grounds Dec. 9. The highway department was notified about the fallen pole and exposed wires.

Six car accidents were reported in the village this week.
Lost and found
A Heathcote Road man reported losing a driver's license somewhere in the village Dec. 4.

A woman reported losing her phone and ID in the Wilgrin parking lot on Palmer Avenue Dec. 7.
Firefighters
According to Fire Chief James Seymour, firefighters responded to 29 incidents during the reporting period. He shared the following narratives below.

On Dec. 3, firefighters assisted with a rollover car accident on the Hutchinson River Parkway.

On Dec. 3, firefighters responded to as fire alarm in a Tunstall Road house. There, they found painters who had been working with a heat gun in the dining room. The painters left the heat gun unattended on a stepladder. The heat gun then fell onto a quilted drop cloth and ignited it. The fire burned the dining room doorway and a door leading into the kitchen. The painters removed the burning drop cloth and heat gun to the rear yard. Firefighters removed the molding and checked for fire extension within the wall. They confirmed there was no extension. Firefighters contacted the homeowner about the incident.

A gas odor inside s Bradford Road house was traced to an all terrain vehicle leaking gasoline in the garage Dec. 5. Firefighters placed an absorbent material on the spilled gasoline and ventilated the space.

A Popham Road resident reported an electrical outlet fire Dec. 5. During investigation, firefighters found an overheated electrical switch. They shut power to the breaker and advised the homeowner to contact an electrician to replace the switch.

On Dec. 7, firefighters investigated a reported natural gas odor inside a Dickel Road house. The housekeeper said when she attempted to light a burner with a handheld lighter, "a flash and small explosion" occurred. She was not injured. Firefighters did not detect any gas leaks or gas odors. Firefighters stood by for Con Edison.

On Dec. 9, an electric dryer vent became detached in a Leatherstocking Lane house. Firefighters advised the resident to have the vent repaired.
This report covering police and fire department activity from Dec. 3-9 has been compiled from official information.

This police report is sponsored by Scarsdale Security who does more than just security. Contact them about remote video for your home or business. Call 914-722-2200 or visit their website.