Police Report: Storm Preparation and Undercover Auto Helps Police Snag Quick Arrest of Greenacres Car Break-in Suspect
Thursday, 17 January 2019 08:15
Last Updated: Thursday, 17 January 2019 21:11
Published: Thursday, 17 January 2019 08:15
Traci Dutton Ludwig
Hits: 4053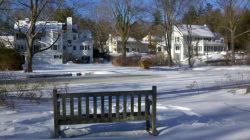 With snow in the forecast, the Scarsdale Police has issued the following advisory: The Village of Scarsdale is currently preparing for the snow storm tonight and this weekend. Keeping the Village streets clear and passable is critically important during periods of heavy snowfall. We ask our residents to take appropriate precautions and limit their travel to allow plow vehicles and Village crews to quickly clear snow and ice from roadways. Village of Scarsdale Department of Public Works crews are conducting equipment checks on snow plow vehicles and making necessary repairs to ensure effective use of personnel and resources during the storm. We don't suspend vehicular and pedestrian movement through the Village unless a local state of emergency is declared. This is determined based on the progression of the storm and the safety of the roads. Internal coordination is also being performed between various emergency services departments to ensure quick and efficient response to the storm. All after hour calls will be handled through non-emergency police phone lines at (914) 722-1200 unless otherwise notified.
Arrest: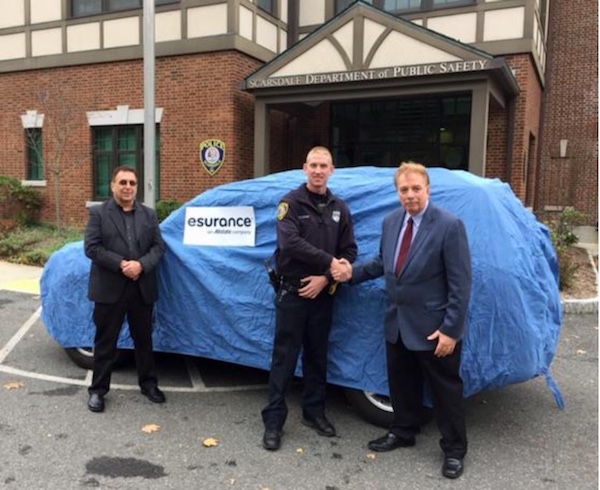 An undercover car helped catch a suspect on Fairview Road.At approximately 4 p.m., Jan. 11, a Fairview Road woman reported an unknown man smoking a cigarette in her driveway. He was described as black and wearing sweatpants and a gray hoodie. The woman said she saw the man approach her parked Chevrolet Suburban and activated the car's alarm via the key fob. In reaction, the man ran away from her car and fled. Upon checking her car, the woman noticed her black Prada handbag had been stolen, and the contents of the glove compartment had been tossed. Stolen with the purse were: an orange Prada wallet, a driver's license, cash, several gift cards, a glasses case, a phone charger and personal papers.
Police were called to the scene to investigate. Officers found a smoldering Newport cigarette butt and vouchered it as evidence. Police conducted a search of the area but did not find the suspect. At that time, all marked patrol cars left the scene; however, one undercover car remained in the area.
Shortly thereafter, the suspect emerged from hiding and was spotted by the undercover officer on Oxford Road, near Post Road. The undercover officer, together with police who were called back in marked patrol cars, stopped the suspect for questioning. He was smoking a Newport cigarette of the same brand found at the crime scene. Police conducted show-up, and the Fairview Road woman positively identified the suspect as the same man she saw in her driveway. At that time, the suspect – Jonathan Martin, 26, of White Plains – was arrested. The stolen property was found scattered in a Fairview Road backyard, and some gift cards were found in Martin's pockets, along with other valuables, such as watches, a cell phone, cell phone cases and two Metro cards, that are under investigation. Martin was arraigned at Scarsdale Village Justice Court on the following charges: fourth-degree grand larceny of a credit card, fourth-degree criminal possession of stolen property – credit cards, fourth-degree criminal possession of stolen property greater than $1,000, trespassing and fourth degree grand larceny of property greater than $1,000. Martin was transported to Westchester County Jail where he is being held on $15,000 bail.
According to SPD Captain Thomas Altizio, "The police department has used undercover vehicles in the past and is aware of the benefits of their use, but we are very pleased that the use of this vehicle resulted in an arrest so quickly. We are grateful to Esurance for this recent vehicle donation and to the Fairview Road resident for notifying us immediately of the suspicious activity and providing us with detailed information that lead to a quick arrest."
Car break-in
On Jan. 7, a Walworth Avenue woman reported two of her cars – a BMW 328 and an Audi Q7 – had been broken into at approximately 3 a.m., and an EZ-Pass was stolen from the Audi. Both cars were unlocked at the time. A third car, an Acura MDX, was locked and not entered, but its window had been damaged by an apparent attempt to cut the glass.
Identity theft
On Jan. 9, a Lyons Road man reported someone used his person information to obtain goods around December 29, 2018. Police are following up.
On Jan. 12, a Heathcote Road man reported an incident of identity theft in which $8,000 was withdrawn from a checking account with a forged signature on a withdrawal slip. The incident occurred in Florida on Jan. 9. Police are following up.
On Jan. 11, a Brewster Road man reported a fraudulent charge on his American Express credit card. Police are following up.
Text message
On Jan. 8, an Overhill Road employer reported receiving a text message containing obscenities. The message was allegedly sent by the boyfriend of a woman who interviewed for an employment position but was not hired. Police tried to reach the boyfriend and the interviewee for follow-up.
Bang
A report of "two shots fired in the area" was determined to be the use of noisemakers at Fenway Golf Club, activated to scare geese from the golf course Jan. 11.
Safe place
A caller reported four young men were "dealing cell phones" on East Parkway Jan. 13. Police went to the scene and interviewed the men. They said they were conducting a Facebook Marketplace transaction. They had decided to use a public place for safety reasons since the young men were not familiar with each other. Police said they could use public safety headquarters for safe Internet exchanges in the future, in order to avoid concern by the general public.
Accident investigation
Following a Mamaroneck Road/Crossway accident being investigated by White Plains police, in which a 2012 Nissan struck a telephone pole at 2:30 a.m., Jan. 12, a charge of driving while intoxicated (first offense) was entered against the driver – Nelson A. Barrios, 22, of Mamaroneck. In the course of the accident investigation, numerous items fell out of the Nissan while it was being pulled upright by a tow truck. These items included one large Ziploc bag and one small Ziploc bag, both containing a white powder believed to be cocaine, capsules believed to be a controlled substance, an oil vape pen and empty cartridges. Empty beer cans were observed in plain sight inside and outside the car. Further investigation and follow-up by Scarsdale police is forthcoming, pending the results of the WPPD accident investigation unit. One person was ejected from the car during the accident and was transported to a hospital by Scarsdale Volunteer Ambulance Corps.
Arrest
On Jan. 12, police arrested Melvis Gant, 49, of Mount Vernon, on the charge of operating a motor vehicle with a suspended registration. In the course of traffic patrol, police learned that Gant's car's registration had been suspended for failure to pay five parking tickets within 12 months, and a warrant for his arrest had been issued out of Scarsdale in Nov. 2018. Gant's car was impounded, and he was released on $65 cash bail. He was given a desk appearance ticket for Jan. 16, to resolve the charged violations.
Summons
On Jan. 10, police conducted a traffic stop of a car on Overhill Road, due to the car being stopped with its engine running. The driver stated the car belonged to his friend sitting in the passenger seat. A check of the driver's license revealed the license had been suspended on Oct. 25, 2018, because the driver failed to pay a driver's responsibility assessment order. Police issued two summonses to the driver – one for a stopping/standing/parking violation and one for third-degree aggravated unlicensed operation of a motor vehicle.
Improper license plates
Police stopped to help a motorist with a BMW leaking a large amount of fluid on Hutchinson Avenue Jan. 12. The driver, a Bronx man, produced a valid driver's license but improper registration and insurance proof. A computer check revealed the car's PA plate was registered to a different owner and different type of vehicle. The Bronx driver said he had just purchased the car and provided police with a copy of the sales documentation and a PA title signed in his name. He further explained to police that the seller told him he could use the existing license plate until he could obtain proper registration. Police issued the man three summonses – for an unregistered vehicle, improper plates and operating a motor vehicle without insurance. The plate was removed from the car and vouchered for safekeeping for its rightful owner.
Cars and roadways
Police notified Verizon about fallen wires on Walworth Ave. Jan. 7.
Traffic cones were moved closer to the curb near a Griffen Avenue construction site, as per police request Jan. 9.
The highway and water departments addressed a broken water main on Springdale Road Jan. 10.
Eleven car accidents were reported in the village this week.
Civil matters
Police helped an Ogden Road employer and an employee reach a mutual agreement regarding a verbal dispute Jan. 7.
On Jan. 8, a Kingston Road woman reported a monetary dispute with her interior designer. The woman claimed the designer did not deliver furnishings and window shades that the woman already paid for. Police tried to reach the designer to help mediate the dispute, but the designer could not be reached. Police advised the woman to follow up in civil court.
Lost and found
On Jan. 8, a passerby found a wallet on East Parkway. It contained a German driver's license, a Lufthansa ID card, Visa cards and approximately $75 in U.S. currency. Police reached out to a real estate broker, whose business card was inside the wallet. She contacted her German client, and he picked up the wallet from headquarters.
Firefighters
According to Scarsdale Fire Chief James Seymour, firefighters responded to 32 incidents during the reporting period. Seymour shared details of the following incidents below.
On Jan. 7, workers using gas-powered saw to cut concrete in the basement of a Cushman Road house released carbon monoxide into the house. Firefighters advised the workers about safety and ventilated the structure. Scarsdale Volunteer Ambulance Corps was called to evaluate occupants who had been exposed to the CO gas.
A light fixture inside a Morris Lane kitchen was emitting a burning odor Jan. 7. Firefighters disconnected the fixture and advised the homeowner to call an electrician.
On Jan. 8, firefighters assisted Eastchester firefighters and Con Edison representatives check houses for possible gas migration related to a gas leak at the Scarsdale/Eastchester border. No gas readings were detected in any of the structures checked.
Firefighters stood by for Con Edison and shut down a boiler leaking carbon monoxide inside a Kensington Road house Jan. 8. Firefighters assisted with ventilation of the house.
On Jan. 10, firefighters responded to an activated smoke alarm in a Webster Road house. The homeowner, who was not at home, said she left something cooking on the stove on "low." Firefighters entered the house and found a pot on the stove, with food burning inside. They removed the pot to the backyard and ventilated the house. They secured the door upon leaving.
Firefighters assisted with a rollover accident, with injuries, on Mamaroneck Road Jan. 11.
The oil burner of a boiler puffed back in a Greenacres Avenue house Jan. 11.Firefighters shut down the system, identified accumulation of carbon monoxide inside the house and ventilated the house. The resident was advised to call for service.
Firefighters assisted at a motor vehicle accident involving a Beeline bus on Popham Road Jan. 11.
Firefighters assisted at a one-car rollover accident on Mamaroneck Road, with injuries, Jan. 12.
Firefighters ventilated a Wynmor Road house and stood by for Con Edison due to a gas leak at the curb box servicing the house Jan. 13. Firefighters assisted Con Edison in checking other nearby houses, and no gas readings were found.
This report covering police and fire department activity from Jan. 7-13 has been compiled from official information.

This police report is sponsored by Scarsdale Security who does more than just security. Contact them about remote video for your home or business. Call 914-722-2200 or visit their website.