Police Report: Accelerating BMW lands on Boniface Circle Bushes, Bench and Trash Can
Wednesday, 23 January 2019 22:21
Last Updated: Monday, 04 February 2019 11:59
Published: Wednesday, 23 January 2019 22:21
Traci Dutton Ludwig
Hits: 2653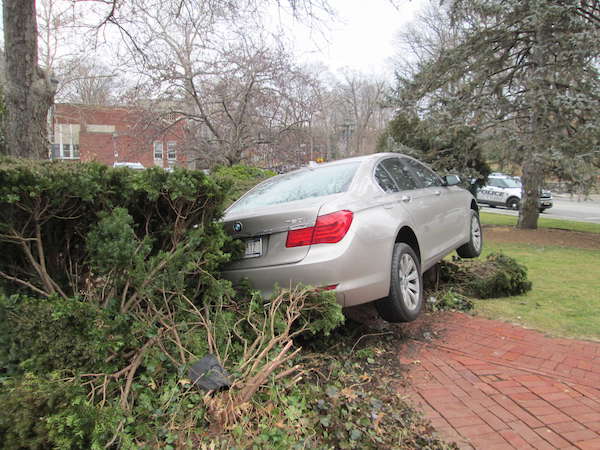 On Jan. 19, a 61-year-old Scarsdale man's 2011 BMW crashed into bushes, a trashcan and a park bench on Boniface Circle. The driver said the car was in "park" and shifted into "drive" and accelerated on its own. The force of the acceleration caused the car to break the bench and mount bushes and a trash can in Memorial Park. No injuries were reported. Firefighters assisted in removing the car from the bushes. A name plaque was recovered from the damaged bench and vouchered at the highway department for safekeeping, pending replacement of the bench.
Arrested
Police arrested Brian Quiman, 31, of New Rochelle on Jan. 16. He was picked up from Scarsdale Village Justice Court, in a "mussed" condition and charged with violating probation/conditional discharge/parole supervision. He was transported to Westchester Medical Center where the Westchester County Department of Corrections took custody of him.
Suspects
Eastchester police reported a suspect had stolen various food and medication from a CVS near the Scarsdale/Eastchester border Jan. 15. Police assisted EPD canvass the area for the suspect but did not locate him. He was described as a heavy-set, black man.
White Plains police reported they interrupted a burglary on Milford Drive, in White Plains, and were looking for a suspect last seen heading toward Soundview Avenue. He was described as a thin, white man, approximately six feet tall and wearing dark clothes. Police assisted WPPD canvass the area for the suspect but did not locate him.
Identity theft
On Jan. 15, a Park Road woman reported someone created a fraudulent AOL email account in her name. The account was linked to the woman's Barney's credit card. She closed the account and police advised her to monitor her credit.
Help
Police assisted an adult daughter research support solutions for her mother who was suffering from dementia, following a disagreement between mother and daughter on East Parkway Jan. 17.
Police checked the welfare of a Rochambeau Road family after a relative could not reach the family Jan. 19. The family was OK.
Police were called to possibly intervene in a verbal argument between two men on Chase Road Jan. 19. They argument was allegedly over maid service. One man left the scene before police. The men were advised to stay away from each other.
A 93-year-old Morris Lane woman died at home Jan. 20. Police provided assistance to the family.
Cars and roadways
On Jan. 14, police asked a woman walking on Wilmot Road to stay on the sidewalk and out of the way of moving cars. Callers had reported the woman out of concern for her safety.
A car ran out of gas on Post Road Jan. 15. A friend of the driver brought fuel to restart the car.
Two unoccupied running cars on Fox Meadow Road belonged to a local housekeeper and her friend Jan. 14. Police advised them to find a better place to park their cars and talk, as the cars' presence was causing residents to be alarmed and call police.
Police asked workers to move their trucks that were in violation of "no parking" signs on Old Lyme Road Jan. 18.
Highway workers used a cold patch to temporarily repair a Palmer Avenue pothole Jan. 20.
Police placed flares around a disabled Jeep on Heathcote Road, while the driver awaited a tow, Jan. 20.
Police moved a discarded Christmas tree from Post Road and notified the highway department for pick-up Jan. 21.
Police moved another discarded Christmas tree, this time from Coralyn Road, and notified the highway department for pick-up Jan. 22.
Five car accidents were reported this week.
Lost and found
On Jan. 17, a brown Coach keychain containing two keys was found on Dunham Road. Police vouchered it for safekeeping.
A Palmer Avenue woman reported losing a license plate Jan. 18.
Firefighters
According to Scarsdale Fire Chief James Seymour, firefighters responded to 25 incidents in the village between Jan. 14-21. He provided details as follows.
On Jan. 14, firefighters assisted at a car accident at Mamaroneck Road and the Hutchinson River Parkway. Two people were transported to a local hospital for injuries, and two cars were towed from the scene.

On Jan. 15, a cabinet-mounted microwave was emitting abnormal heat and electrical burning odor in a Boulder Brook Road kitchen. Firefighters removed the microwave from the cabinet and advised the resident to replace it or have it checked for repair.
Smoke was observed inside a locked Chase Road restaurant at approximately 3 a.m., Jan. 17. Firefighters entered the restaurant and found two trays of meatballs burning in two ovens. They removed the burning food to outdoors and ventilated the restaurant. Restaurant management was contacted to respond.
An odor of gasoline inside a Richbell Close house was traced to the sewer trap Jan. 19. A positive odor of gasoline was also detected in the street sewers, but the source of the spill was not identified.
This report covering police and fire department information from Jan. 14-21 has been compiled from official information.

This police report is sponsored by Scarsdale Security who does more than just security. Contact them about remote video for your home or business. Call 914-722-2200 or visit their website.