Police Report: UPS Driver Followed, Package Stolen from Graham Road Porch
Wednesday, 06 March 2019 14:37
Last Updated: Thursday, 07 March 2019 07:43
Published: Wednesday, 06 March 2019 14:37
Traci Dutton Ludwig
Hits: 2668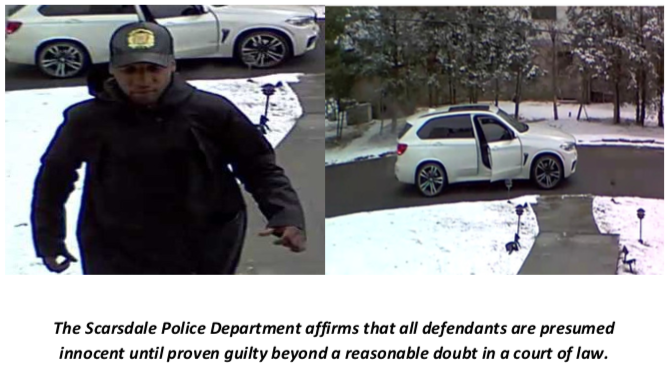 Stolen : A caller reported a man in a white SUV, possibly a BMW X-5, just stole a UPS delivery from a Graham Road front porch March 1. The package contained a $15 jar of almond butter. The theft was recorded by the resident's home security camera. Video footage shows the suspect stealing the package shortly after it was delivered, leading detectives to believe the suspect was following the UPS delivery truck. The suspect was described as a dark-skinned man – either Hispanic or African-American – with a small ponytail, wearing a dark jacket, jeans, white Adidas sneakers and a dark baseball cap with a gold emblem on it. The white SUV was driven by another suspect who could not be clearly seen in the video. Police took photographs of the suspect's footprints. Detectives are investigating,
Larceny
The owner of 7-Eleven, on Scarsdale Avenue, reported an employee did a card swipe of over $1,000 from the store's ATM machine and used the money to refill a pre-paid Green Dot Visa card on Feb. 25. On that day, the store's cash register was over $1,000 short. The employee's actions were captured on video surveillance. Police are following up.
Identity theft
On Feb. 27, a Wildwood Road woman reported someone called her claiming to be from Bank of America to report that a fraudulent line of credit had been opened in her name. She was given a case number advised to contact Equifax to report the alleged identity theft and was given a telephone number to make the report. She called the number and provided her date of birth and full Social Security number before the call was disconnected. She tried to follow up with a Bank of America representative at the local Scarsdale branch and learned the case number and Equifax number she was given were fraudulent. She then learned the scenario was a scam. Police advised her to monitor her accounts and to legitimately report the incident to Equifax.
A Weaver Street resident reported an unknown suspect had defrauded her March 2. The suspect illegally withdrew $2,107.05 from the resident's bank account and issued a fraudulent check in the amount of $2,450.
Arrest on warrant
On March 3, police arrested Daniel Smith, 39, of Valhalla, on the strength of an active arrest warrant issued out of Scarsdale. The warrant had been issued when Smith failed to appear to resolve vehicle and traffic charges. On March 3, Smith was picked up by White Plains police for an unrelated reason, and WPPD notified Scarsdale police who then picked up Smith from White Plains. Following his arrest processing in Scarsdale, Smith was released with an appearance ticket for Scarsdale Village Justice Court.
Scofflaw
A Mohegan Lake driver with scofflaw status resulting from $900 in unpaid parking tickets was observed parked in the Christie Place garage Feb. 27. Police had the car towed to the police impound lot.
Help
A Heathcote resident surrendered two rifles for destruction Feb. 25.
Police mediated a dispute between a driver and a pedestrian on East Parkway after the driver allegedly almost hit the pedestrian, and the pedestrian allegedly hit the driver's car Feb. 28.
An elderly man was found walking on Walworth Avenue March 1. He said he had just moved to the area and got lost on his way home from the store. Police provided the man with a courtesy ride back to his house.
Cars and roadways
On Feb. 25, a roadway barricade blew into Post Road. Police removed it and tied it to a pole.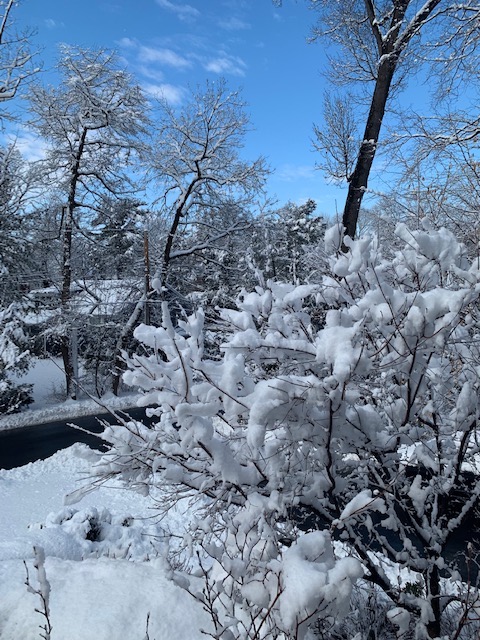 Cable and phone providers were notified about fallen wires on Brown Road and Windmill Lane Feb. 25.

A tree fell on an unoccupied car parked in a church parking lot on Heathcote Road Feb. 25. The tree caused damage to the car's hood and windshield.

Police put caution tape around a fallen tree on Corell Road Feb. 25. The highway department was notified for removal.

A woman accidentally locked her keys inside her running car parked on Garth Road Feb. 26. Duty tow responded to unlock the car.

A man was found "resting his eyes" in a parked car with its ignition running in a Palmer Avenue parking lot Feb. 26. Police checked on him and determined he was OK. He decided to leave the area.

A car ran out of gas at Griffen Avenue and Weaver Street Feb. 28. Police directed traffic until a friend brought gasoline to the driver, to refill the car's gas tank.

Police removed a fallen branch from Kensington Road Feb. 28.

Police stood by while a disabled car was towed from Post and Crane roads March 2.

Patrol notified Verizon about a fallen wire on Madison Road March 2.

Police called a tow for a driver with a flat tire on Mamaroneck Road March 3.

Con Edison was notified about fallen power lines on Montrose Road March 3.

Eleven car accidents were reported in the village this week.
Lost dog
Police reunited a loose black Poodle with its Ross Road owner March 2.
Lost
A Paddington Road woman reported losing a license plate from her car March 3. Police directed her to the NYS DMV.
Firefighters
According to Scarsdale Fire Chief James Seymour, firefighters responded to 16 incidents during the reporting period. He shared the following details below.
On Feb. 25, a large tree fell on a Kelwynne Road house. The impact caused a portion of the roof to collapse and shifted some of the walls. No injuries were reported. Occupants were instructed to leave the house and stay away until repairs could be made. The building department is following up.
On Feb. 26, high winds blowing through a chimney flue created a smoke odor in a Post Road house.
A gas leak was reported on Sycamore Road Feb. 26. Firefighters assisted Con Edison in making entry to at least seven houses on Spier and Sycamore roads. No gas migration was detected.
Firefighters assisted with a rollover car accident on the Bronx River Parkway Feb. 26.
Firefighters stood by for Con Edison at the site of a hissing outdoor gas meter on Shawnee Road Feb. 27.
This report covering police and fire department activity from Feb. 25 – March 3 has been compiled from official information.

This police report is sponsored by Scarsdale Security who does more than just security. Contact them about remote video for your home or business. Call 914-722-2200 or visit their website.