Police Report: Brooklyn Man Arrested for Trespassing on Ardmore Road Property
Wednesday, 31 July 2019 10:52
Last Updated: Thursday, 01 August 2019 08:48
Published: Wednesday, 31 July 2019 10:52
Traci Dutton Ludwig
Hits: 2738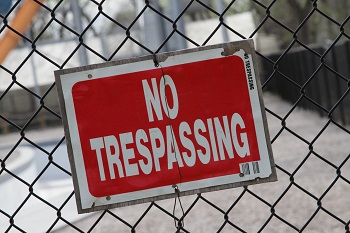 Arrested
On July 26, an Ardmore Road woman reported a man was ringing her doorbell July 26. She said the same man had also come to her house and rang the doorbell the day before. Upon further investigation, the man – Oumarou Barry, 20, of Brooklyn – was arrested for trespassing. He was charged with trespassing, possession of a forged instrument, due to a forged New Jersey non-resident temporary plate, and an unregistered motor vehicle. His car was impounded at the time of his arrest.
Stolen
A Brewster Road resident reported someone stole a package from a Madison property where the package had been delivered July 25. The package contained a gaming controller for an Apple TV.
A person reported his $400 unsecured Mongoose bicycle was stolen from the corner of Huntington Avenue and Montrose Road July 26.

A $600 bluestone necklace was stolen from the Holsten Jewelers sidewalk sale table July 27.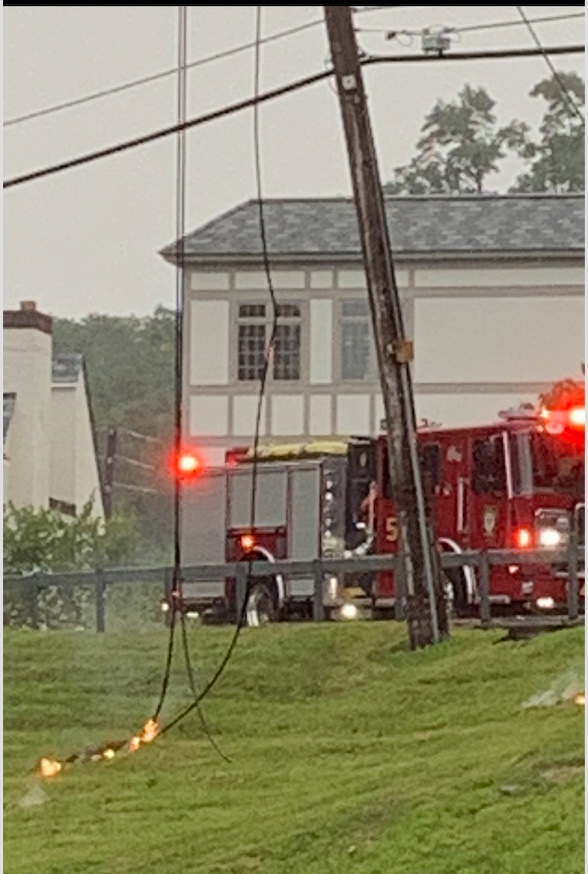 An electrical wire on fire at the Golden Horsehoe during a sudden storm on the afternoon of July 31. Photo credit Dawn Knief.
Identity theft
On July 22, a Farley Road man reported two credit cards and one debit card were stolen. ID theft occurred on June 25 when a MasterCard was fraudulently used at a White Plains location for $1,461.98, and two unauthorized charges were made to the man's American Express card – for $10,000 and $6,000. The fraud was reported, and the credit card companies are investigating.

On July 25, a Parkfield Road woman reported a credit card had been fraudulently opened in her name, and it had been used to purchase almost $5,000 worth of merchandise from Bob's Discount Furniture.

On July 27, a Lebanon Road resident reported the fraudulent use of her Bank of America account. She reported that since May 3, 2018, her account had been fraudulently used to purchase video game items and credits via Amazon and PayPal. The total amount of money lost was $2,375. She reported the matter to her financial institution, and the matter is being investigated.
Hacked phone
A Greenacres Avenue man reported someone hacked into his iPhone and left a threatening message in his phone's "notes" section. The threat mentioned the man's two daughters by name. The mater was reported to Apple's security department for investigation.
Wrong address
A Stratton Road woman called police to report an unknown man was attempting to get inside her house at 4:15 a.m., July 27. The man alleged he was staying at the house with his aunt and uncle. The homeowner, on the other hand, stated she did not know the man and she was not his aunt. The man, according to police, appeared to be intoxicated. Further investigation revealed that the man was in fact staying with his aunt and uncle who were residents of a different house on the street. It had been a case of mistaken address.
Slip and fall
A woman fell while attempting to board a train at the Scarsdale train station July 23. She was complaining of lower back and left hip pain. She was transported to White Plains Hospital Center by ambulance.
Chimney work
A Rural Drive resident reported a possible scam involving two women in a Mercedes-Benz with a Connecticut license plate July 27. The resident said the woman parked in his driveway, knocked on his door and said they had come to provide an estimate for chimney work. The resident told police he had previously contacted a chimney repair company to request an estimate for some repair work. He further said he was expecting to see a man in a truck – not two women in a Mercedes – and that's why he thought their story was not legitimate. Police followed up with the women. One of them was in fact the owner of the chimney company. She said she was performing estimates because some of her employees were on vacation.
Assistance rendered
On July 25, a Cornell Street resident told police her basketball net had been cut; a FedEx package had been stolen from her front door, and for several days, feces had been found right outside her door. She told police she wanted to document the incidents, but she was not ready to have them investigated.

Police called a taxi for a White Plains man who was in the process of walking home on Post Road because his cell phone died. It was after 11 p.m., July 26.
Scofflaw
Police told a woman who parked her car in Christie Place garage July 25 that she owed $790 in unpaid parking tickets to the Village. The woman processed to rectify the matter at Village Hall.
Accident
Police received several calls about a car driving over lawns and erratically maneuvering streets in Fox Meadow July 27. Police conducted a traffic stop of the car at Paddington and Olmsted roads.
Cars and roadways
Police helped a woman cross Weaver Street July 22, 23 and 28.

Police cleared fallen tree limbs from Fox Meadow Road July 23.

The highway and water departments were notified about a storm sewer drain at Old Lyme and Meadow roads that appeared too large and possibly presented a hazard.

Police helped a driver move a disabled car into the Supply Field parking lot to await tow services July 23.

Police issued a parking summons to a commercial vehicle that was illegally parked on Nelson Road overnight July 24.

The highway department was notified about a loose manhole cover at Mamaroneck and Catherine roads July 28.

The highway department cleared a fallen tree from Brite Avenue July 26.

Police notified Verizon about a fallen wire on River Road July 26.

The highway department was notified about a possible hole in Normandy Lane July 28.

A large snapping turtle safely crossed Mamaroneck Road July 28.

Police removed branches from Lockwood and Popham roads July 28

At approximately 1 a.m., July 28, a 17-year-old Madison Road boy parked his 2019 Nissan on Sage Terrace and exited the car. He then noticed the car started rolling down and across the street onto a Sage Terrance lawn. He went around and got into the passenger side of the car. He attempted to put the car into park. In the meantime, the car struck bushes and a lamppost. Police issued the boy summonses for a licensing violation and leaving the scene of an accident without reporting it.

Six car accidents were reported in the village this week.
Animals
On July 23, a UPS driver requested police response after she was bitten by a Farley Road dog while delivering a package to the address. The dog was identified as a black lab mix. The dog, and another dog, reportedly saw the driver approaching the front door, pushed the door open and ran outside. That is when the driver was bitten. The dog's vaccinations were up to date, but the dogs were required to be quarantined for 10 days as a precautionary measure. The driver's injuries were evaluated at the hospital, and she was released.

On July 25, a dog owner reported a black poodle attacked her small dog and bit him on the neck while she was walking her dog on Vernon Road July 25. The dog did not sustain any serious injuries. The owner wanted to report the matter for documentation purposes only.
A raccoon was stuck inside a garbage can on Mamaroneck Road July 27. Police helped release the animal and made sure it made its way to a safe location away from the public.
Village code
Police issued summonses to landscapers using gas-powered leaf blowers on Circle Road July 24, Overhill Road July 25 and Tompkins Road July 27.

After neighbors complained about noise, police asked a Mamaroneck Road resident to lower the volume of music playing at his house around 11:30 p.m., July 25.

People were outside around a pool making noise in a Dickel Road backyard around 4:40 a.m., July 26. Patrol advised them of village noise ordinances, and the people went inside.

Garden Road kids were asked to lower the volume of outdoor music July 28.
Lost and found
A lost Ralph Lauren wallet was found at Popham and Overhill roads July 23. It did not contain any identifying information.

A wallet found on the train was brought to police July 25. Police attempted to locate the owner and vouchered the wallet for safekeeping.

A woman reported losing her smart phone somewhere in the village July 26. She last saw the phone in the vicinity of East Parkway and Spencer Place.

A person found a key and lanyard near the curb on Tunstall Road July 26. Police vouchered it for safekeeping.
Firefighters
On July 24, turned off a water spigot that had been accidentally left on, allowing water to infiltrate the basement. Firefighters opened a trap in the basement to allow the water to drain out.

On July 24, firefighters found a tripped breaker in the basement panel at an Edgewood Road house, with residents reporting a burning odor in the garage. The odor was traced to an overheated sump pump in the basement. The sump pump was unplugged, and the homeowner was advised to contact a plumber to replace the pump.

On July 24, firefighters helped drain water from a Hillview Drive basement due to a sump pump not working. The house trap was opened to allow approximately four inches of water to drain.

Firefighters assisted with a car accident at Post and Kingston roads July 26.

On July 26, an odor and clicking sound were reported to be coming from a Fox Meadow Road stove. Upon arrival, firefighters found the stove clicking but unable to be lit. Firefighters disconnected power and gas to the stove, and they advised homeowner to call for repair.
This report covering police and fire department activity from July 22-28 has been compiled from official information.


This police report is sponsored by Scarsdale Security who does more than just security. Contact them about remote video for your home or business. Call 914-722-2200 or visit their website.