Eclectic Private Art Collection Now Open to the Public
Wednesday, 21 March 2018 13:17
Last Updated: Wednesday, 21 March 2018 17:13
Published: Wednesday, 21 March 2018 13:17
Joanne Wallenstein
Hits: 4325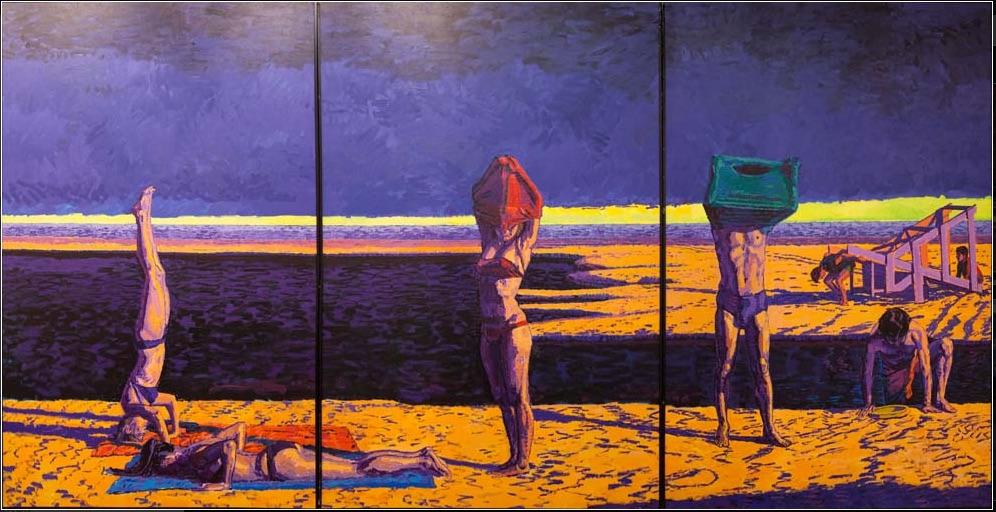 For years I have heard about a special private collection of art collected by William Louis-Dreyfus in Mount Kisco, but I had no idea how to get in to see it.

It sounded intriguing. Apparently Louis-Dreyfus, a successful businessman and the father of famed actress Julia Louis-Dreyfus, had been building this unique collection for fifty years. He passed away at the age of 84 in September 2016 and left a lifetime of artworks, among them a number of important self-taught pieces, in an unassuming building in Mount Kisco. How would I get in to see these 4,000 works?

Fortunately a friend mentioned that the collection, now officially The William Louis-Dreyfus Foundation, is open to the public by appointment and made a date for the two of us to tour it. When we arrived at the building, there were few signs from the outside that the former home of Ideal Electric had been converted into a 16,000 square foot museum.

Curator Christina Kee sat us down at a stunning Nakashima conference table and explained that Louis-Dreyfus was a unique collector who sought out unconventional works throughout his life, acquiring pieces from small auction houses and student exhibitions in addition to international galleries and art fairs. He assembled a diverse collection, purchasing the works of artists he admired throughout their careers. With an open mind and a discerning eye, he identified artists whose talent were not previously recognized or appreciated.

The result is an eclectic mix of drawings, paintings and sculpture, including a range of works from those who were once termed "outsider" artists, many who never attended traditional art schools and forged their own unique styles.

On view last week were the works of self-taught artists such as Bill Traylor, Thornton Dial, James Castle and Judith Scott – all with fascinating stories behind them.

We viewed a series of drawings by James Castle, who was born deaf in rural Idaho, who never learned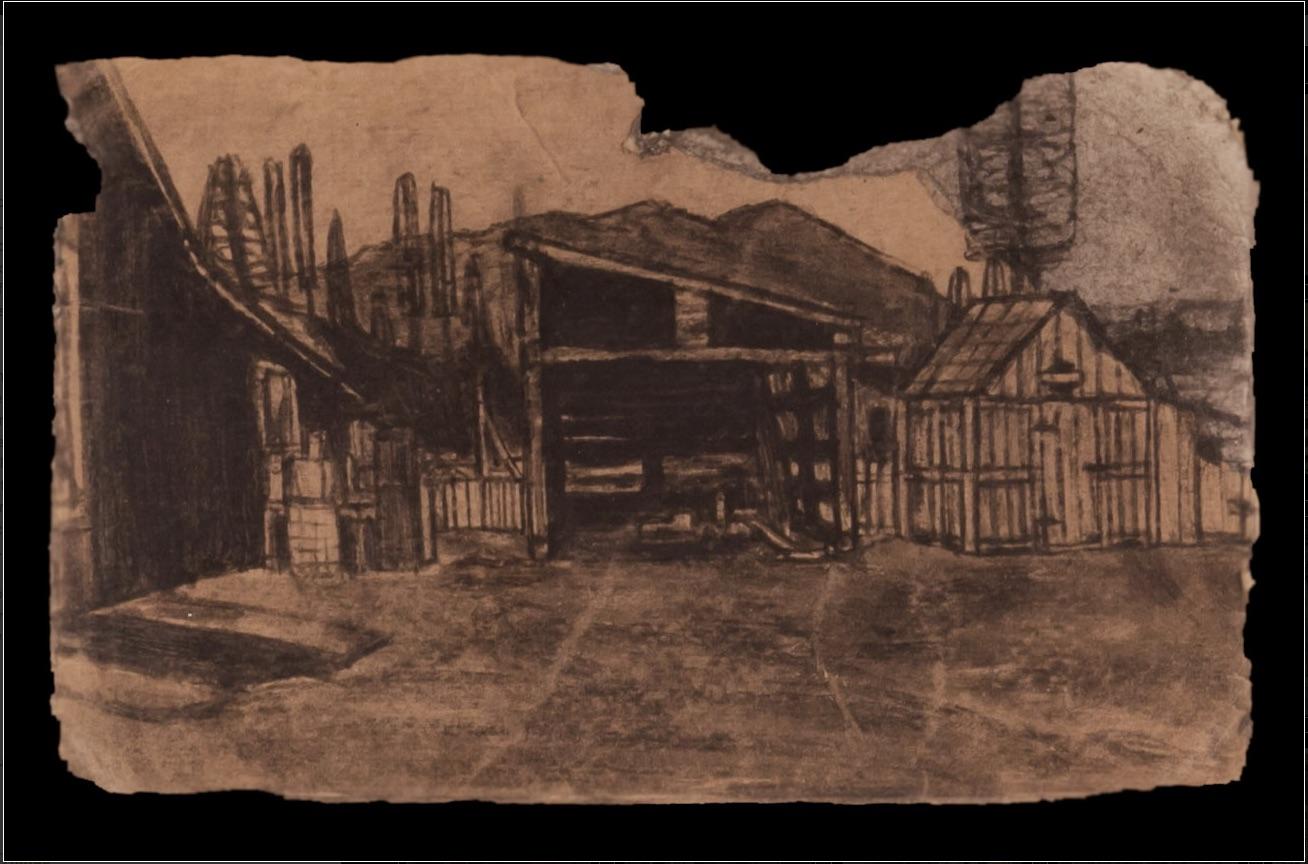 Farmyard View with Sheds by James Castle to communicate through any conventional means. He drew using a mixture of soot from the fireplace and his own spit, creating a medium called "soot and spit" by Castle scholars. He depicts a bleak and simple rural life, often drawing on the backs of cartons and containers.

Bill Traylor from Alabama was born into slavery and for most of his life he was a sharecropper on a farm. In fact, he did not start his career as an artist until the age of 84 when he set up his studio under a tin room in a marketplace in Birmingham. In the remaining years of his life he created over 2,000 drawings. They are simple but expressive works, depicting his unique experience in the south.

Not all the works are small. Large colorful canvases by Graham Nickson depict beach scenes in brilliant hues, and an extensive collection of paintings by the Italian artist Leonardo Cremonini are also part of the mix. Also view the works of celebrated artists like George Grosz, Raymond Mason, Red Grooms, and Claes Oldenburg.

The Foundation intends through the eventual sale of its artworks to benefit the Harlem Children's Zone, a New York non-profit that assists children in Harlem from toddlerhood through college. Founded by Geoffrey Canada the group seeks to end the cycle of poverty by positively impacting entire families over the course of their lives.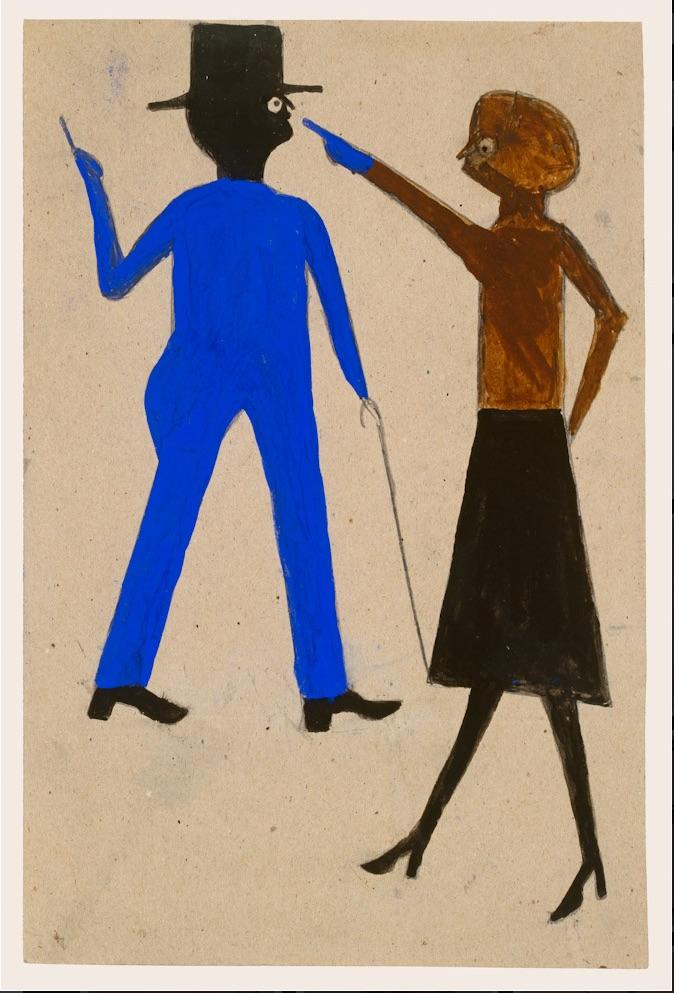 Woman Pointing at Man with Cane by Bill TraylorThe William Louis-Dreyfus Foundation is located in Mount Kisco and open year-round to the public by appointment, with tours regularly scheduled Mondays through Wednesdays. It will also be hosting an open house event on Sunday May, 20 from 1:00 – 4:00. To book a tour or attend the open house please contact info@wldfoundation.org. Space for the open house may be limited. Learn more here: www.wldfoundation.org.
William Louis-Dreyfus