Freebird Kitchen and Bar: The Comfort Dishes of the American South
Tuesday, 27 March 2018 21:53
Last Updated: Wednesday, 28 March 2018 08:00
Published: Tuesday, 27 March 2018 21:53
Judie Dweck
Hits: 4570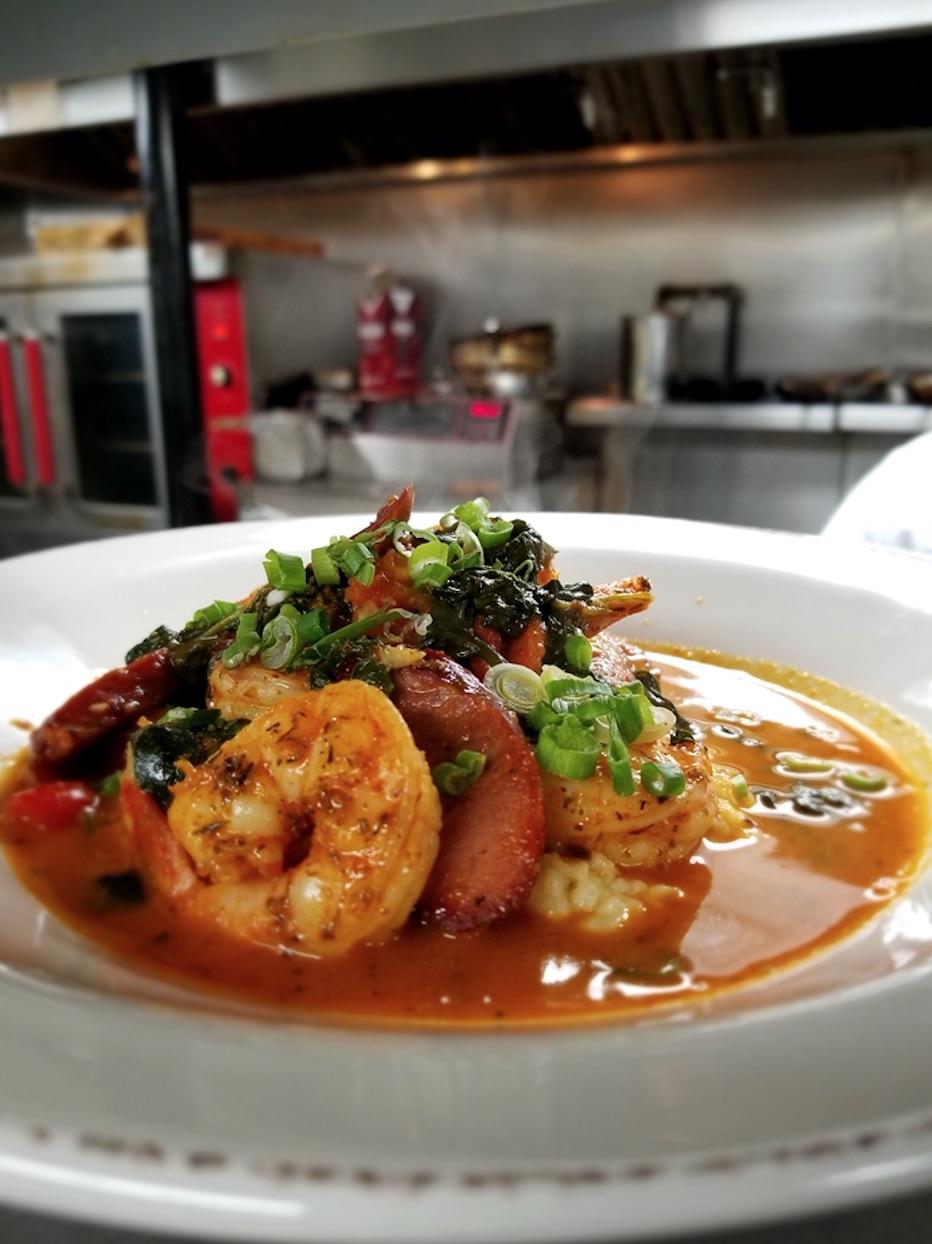 Shrimp and gritsCraig Claiborne, the renowned food writer who grew up in Mississippi, wrote, " Nothing rekindles my spirits and gives comfort to my heart and mind than thoughts of a platter of fried chicken, field peas, collard greens and a wedge of freshly baked pecan pie." The recently opened Freebird Kitchen and Bar, a new restaurant with tastes of our American South offers many of the comfort dishes of this part of our country, right here in White Plains.
As I entered this new dining spot, I was impressed with its rustic and comfortable atmosphere. Wood and brick with a beige and brown color palate gave it a country feel. On the main level, where I dined, there were many wooden topped tables, a large bar, seating 30 and many high top tables, as well. This dining room and bar area seats about 120 guests. Upstairs, there is rooftop dining, perfect for celebrations and seating about 120, as well, with its own bar. In warm weather, seating is set up for about 40 guests along Mamaroneck Avenue. The focal point of the main dining room, is a handcrafted mobile of about 250 origami birds suspended from the wood planked ceiling.
Owner Nick Fusco Jr. indicated that food was very important in his family as he grew up. He gained experience in the restaurant business at Mulino's and at his family owned Iron Tomato and earned a college degree in finance along the way. "I wanted to open my own restaurant and knew it had to be something different, not of the very popular Italian variety. A southern style seemed to be the next cool thing and our southern inspired idea led to the opening of Freebird Kitchen and Bar. As a restauranteur, it is most important to enjoy people and have good service so our guests enjoy a great experience while enjoying the well-prepared food. Being there is very important, as well."
We made ourselves comfortable at a wood planked topped table and spread our no-nonsense kitchen towels on our lap and proceeded to enjoy the warm house made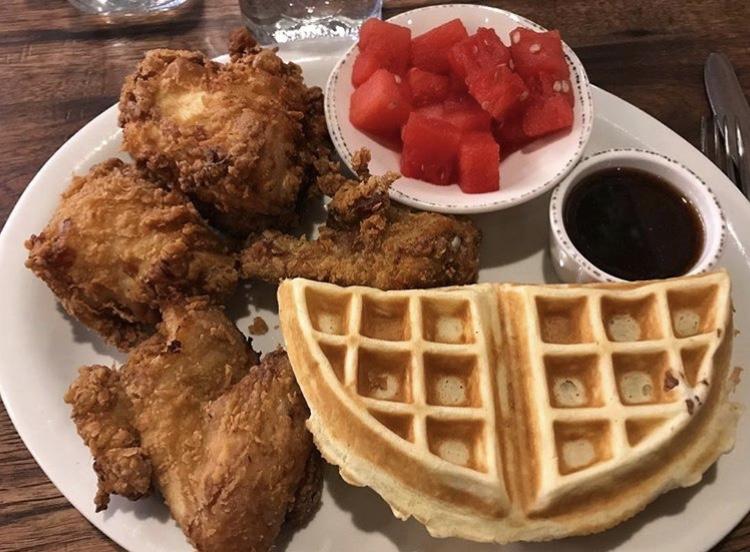 Chicken and Wafflescornbread. As we checked out the menu, the flock of origami birds were swaying overhead.
Heading the kitchen is Chef James McCue who graduated from The Culinary Institute of America. His interest in food started at a very early age when he accidentally broke a window in a pizza shop. The owner invited him in and proceeded to teach him some kitchen skills. His skills led him to culinary school and work at the kitchens of Crabtree Kittle House, ABC Kitchen, The Castle, and most recently at Kee Oyster House. His dishes at Freebird show off his ability to prepare dishes of the American South with his own special flair.
We started with selections from the snack and share section of the menu. Pei mussels were mingled with house-made crumbled sausage resting in a white wine sauce. Grilled bread slices absorbed the well-flavored sauce and provided a perfect shared appetizer. We enjoyed some very fresh grilled oysters with garlic butter. These juicy morsels had us picking up the shell and slurping down the fresh from the sea liquid they emitted. The oysters are delivered daily from a Connecticut oyster farm. A traditional lump crab cake was embellished with a creamy tomato and horseradish sauce. Arugula salad added another dimension to this classic dish. Other enticing starters are burnt ends chili, fried green tomatoes, house wings with a choice of sauces and rubs, and a trio of sliders allowing you to sample several appetizers. I tasted a variety of house-made sauces, as well, from Mississippi Comeback, a thousand island variety, Alabama BBQ, quite hot, dirty south, a creamy cheese sauce and hot pepper jelly both sweet and hot. Don't ignore the salads here. Kale and apple, BBQ bourbon and BLT salad sound quite good. We savored the candy-striped beet salad. Here, the sweet small fresh beets were presented with fresh blueberries and pistachio nuts and a few dollops of yogurt with a lemon vinaigrette. It was an excellent and refreshing combination that probably would even appeal to nonbeet lovers.
From the plates section, we enjoyed a classic of shrimp and grits. The tender tail on shrimp were seasoned with Cajun spices and sat atop cheesy grits along with andouille sausage, cherry tomatoes, and fresh spinach. The slices of spicy sausage added zest to this southern favorite and the grits calmed down the spicy taste of the sausages. Chicken and waffles seem to appear on many menus these days. At Freebird, they start with the exceptional Freebird chickens. The secret lies in the brining process for 2 days. Well coated and fried, the resulting chicken is crisp on the outside and very moist within. A drizzle of the nicely spiced maple syrup both sweet and savory and homemade waffles are a fine combination. Cubes of cooling watermelon completed this plate of many tastes. The dish can be ordered in Nashville Hot Style, as well as a spicier version. Among the plates offered I was very impressed with the off the bone bourbon-braised short rib. This mammoth slow cooked short rib was fork tender, no knife needed here. The flavorful juices permeated the steel cut oats and long-cooked collard greens that accompanied it. Although many would consider this a cold weather dish, I would be comforted by it all through the year. Grilled skirt steak with chimichurri sauce, grilled salmon with roasted red pepper sauce and seared cod are yet to be tried. For the burger lover, try the Freebird burger with pepper jack cheese, the pimento cheeseburger on Texas toast, or a comforting burger with buttermilk drop biscuit, cheddar cheese, mashed potatoes and country gravy. On the side try brisket disco fries, roasted Brussels sprouts, or string beans with house smoked bacon.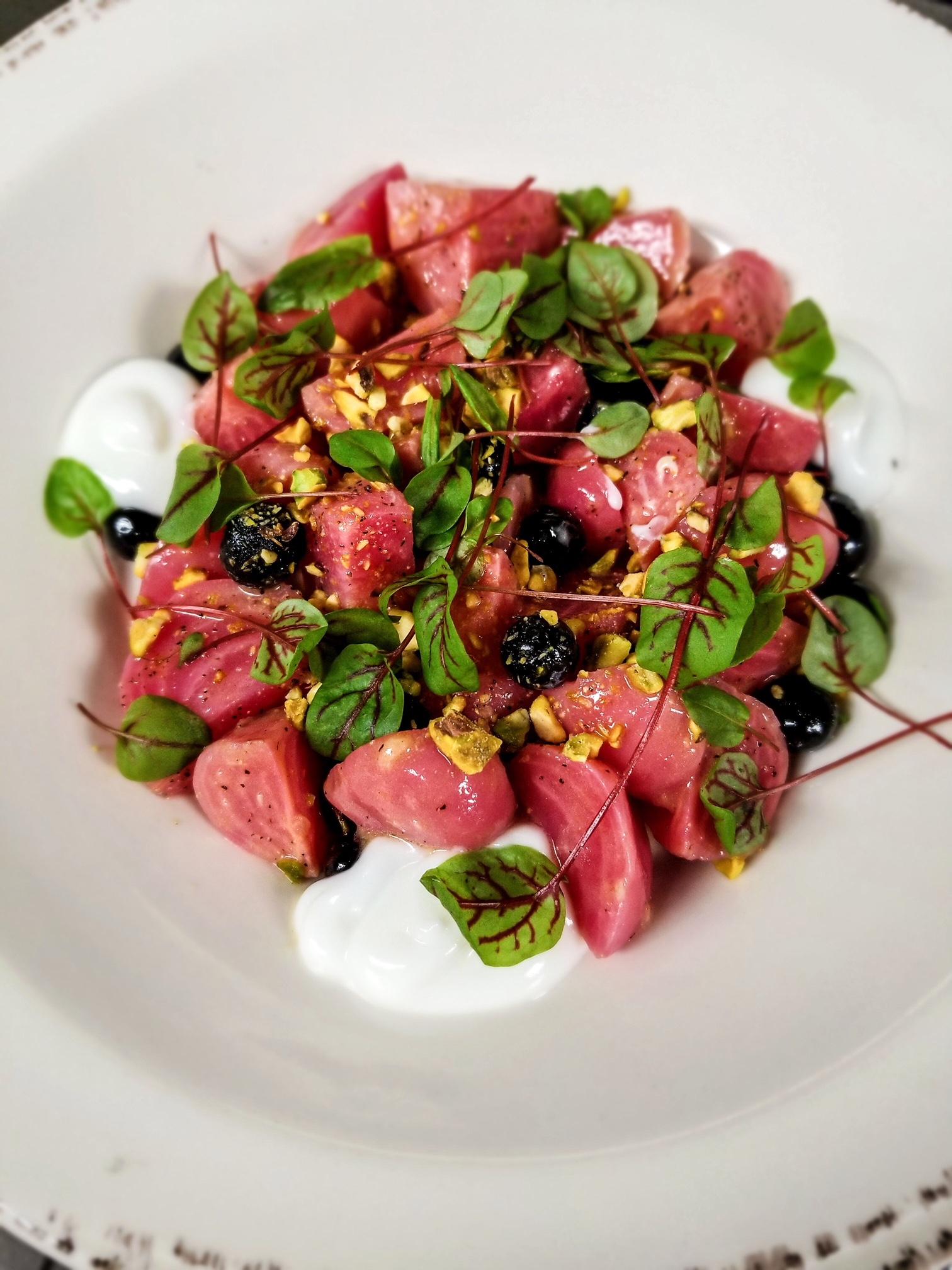 Beet saladYes, desserts are all house-made, as well. We loved the toasted angel cake. The angel cake was thinly sliced and toasted and layered with lightly simmered fresh berries in a Meyer lemon sauce. A sprinkling of confectioners' sugar completed this light and delicious dessert. Lunch and happy hour menus are varied, as well. Specials are offered each day. The roomy bar invites you to sample at least 28 rotating craft beers on tap, as well as small batch whiskey and inventive house smoked cocktails. To add to the feeling of southern hospitality, Thursday evenings offer live acoustic music.
On an avenue where the bar scene prevails, it is a real treat to visit the new Freebird Kitchen and Bar where American cuisine with the warmth and flavor of our American south assures a delightful experience. Visit it soon.
Freebird Kitchen and Bar
161 Mamaroneck Avenue
White Plains
914 607 2476
Recipe for Crab Cakes: (4 Crab Cakes)
1 pound lump crab meat
1 Tbsp. chopped parsley
1 Tbsp. chopped scallion
1 Tbsp. Old Bay Seasoning
½ cup mayonnaise
2 eggs
I cup panko breadcrumbs for the crabcake
1 cup panko breadcrumbs for the coating
1 Tbsp. Dijon mustard
¼ cup diced red pepper
¼ cup diced red onion
Juice of 1 lemon
Salt and pepper to taste
Vegetable oil or canola oil for frying
Directions:
In a bowl, mix together parsley, scallion, Old Bay seasoning, mayonnaise, eggs, 1 cup of panko crumbs, mustard, red pepper, red onion, lemon juice and salt and pepper. When they are well combined add the crabmeat and do not break it up too much. Form the mixture into four cakes and roll each in the extra cup of panko crumbs. Heat oil in a skillet and fry crab cakes until golden on both sides.