Casual Dining Roman Style At TVB : By Pax Romana
Monday, 22 October 2018 11:00
Last Updated: Wednesday, 31 October 2018 06:57
Published: Monday, 22 October 2018 11:00
Judie Dweck
Hits: 3179
The initials TVB roughly translate to I love you and I wish you the best. Ti Voglio Bene. Judging from the delightful tasting I recently enjoyed here, the food and the service clearly reflected the name TVB.

About a year ago, Pax Romana made its entrance in White Plains. The large space was bustling and as I reported then, was a welcome addition to the Westchester dining scene. Due to unforeseen circumstances, they vacated the space and left many diners disappointed. Perhaps it was a blessing in disguise. The young talented owners picked themselves up, brushed themselves off and started all over again. The result is the charming, welcoming contemporary TVB: by Pax Romana. The owners, Paul Russo and brothers Alfredo and Christian Runco are a constant presence at their new spot on East Post Road. Chef Cristian Petitta heads the open kitchen and much of the original staff joined them, as well. After just three months, the place is thriving. They have their talented family as part of the team. Giovanna Runco, mother of the Rusco brothers prepares the fresh pasta and sausage every day. And Graziella Fante, grandmother of Paul Russo prepares the pizzelle and tiramisu.

The team worked together to create an eclectic, contemporary welcoming space, in which to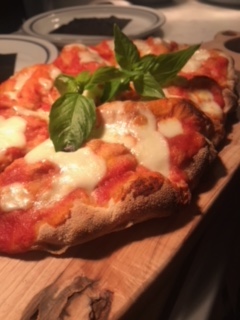 enjoy their delightful food. Seated about 75 guests, the bar area in in the front. Along one wall is a pasta preparation area and a complete open kitchen. Tables and banquettes adorned with vases filled with fresh seasonal herbs fill the remaining space. Russo called the space, "industrial redesigned." Interesting lighting catches your eye. Brick and wood are enhanced by black and white patterned tiles and some blue painted walls. These pops of color make an interesting setting. The restaurant is sparkling. Russo said," We believe in transparency with everything here. Cleanliness and organization are important and we work hard to offer authentic homestyle dining in which we have great respect for each other, our guests and our cuisine. "I chatted with Paul Russo who indicated that the best part of restaurant ownership, is that every day is different and you never know what the next day has in store for you. '' We are starting to offer cooking classes in the near future including pasta making, pizza making and desserts. If I were a guest here at our own restaurant, I might order burrata or suppli to start or perhaps an arugula salad. This might be followed by a bowl of spaghetti carbonara or spaghetti chitarra with clams. Our food is simple with the use of fine ingredients. We honor our Italian roots and consider ourselves humble and in support of others."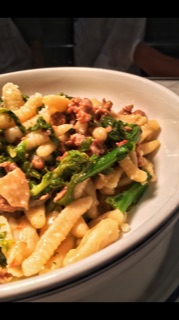 Starters here range from the familiar calamari fritti or burrata with heirloom tomatoes and balsamic glaze to several innovative presentations that I enjoyed. Olive ascolane arrived as a mini deep frying basket filled with meat stuffed green olives that were breaded and fried to a golden brown….. Just like potato chips, you can't eat just one. We also loved the suppli al telefono. These tomato flavored risotto fritters were stuffed with mozzarella cheese. Upon frying them, on biting into them you understand the name, as the cheese melts into strings like telephone wires. A classic of polpette were tasty meatballs combining beef, pork and veal and presented with tomato sauce and crusty bread for dipping. The sprinkling of parmigiana completed this dish. I look forward to sampling an appetizer of grilled octopus with a cannellini bean puree. Salads here include classic Caesar as well as quinoa with vegetables and goat cheese, arugula with nectarines or other seasonal fruit with toasted almonds and stracchino cheese and a nectarine vinaigrette. Add chicken, salmon or shrimp to your salad and it becomes a main dish. I enjoyed the nectarine salad with shrimp for lunch and it was delicious. The housemade sun dried tomato dip with country bread was an excellent addition to our lunch salads.

Most Italian restaurants offer pasta dishes, but not many offer them in the manner of Pax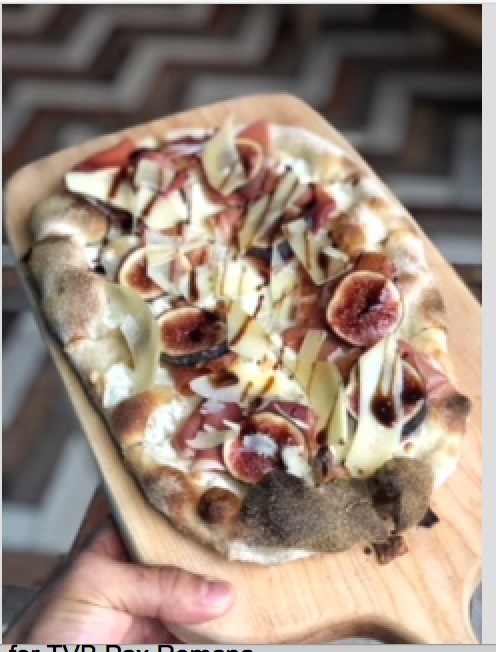 Romana where you can actually watch Giovanna Runco, the talented mother of the Runco brothers, as she prepares the dough and rolls and cuts it into various shapes. The pasta here is prepared daily and is never frozen or dried. Spaghetti Chitarra alle vongole was a light and delicious bowlful. The pasta was cut into strands on the guitar like implement called a chitarra. These long delicate strands were mingled with baby clams. Cooked al dente, the dish was delicious in taste and texture. I especially loved the cavatelli con broccoli rape e salsiccia. The sausage and the pasta are housemade by Giovanna Runco. Every forkful had an abundant amount of crumbled sausage and broccoli rape. Pappardelle here had a unique combination of ingredients. The pasta was infused with unsweetened cocoa for an interesting taste. The wild boar ragu that enveloped it was rich with flavor. The wide pasta was substantial enough to pair with the hearty ragu, a nice cold weather dish. As time goes on, I hope to try spaghetti carbonara, taglioline cacao e pepe, cheese ravioli, gnocchi sorrentina and other homemade pasta selections. Gluten free selections are available upon request.

Very popular in Rome is a classic dish of melanzane parmigiana. Here, as an entrée, the slices of eggplant are layered with mozzarella and tomato sauce. The chefs seem to have the secret of choosing sweet rather than bitter eggplants. Nicely seasoned with basil it is served with salad and a choice of pasta. This is a very classic dish. An American variation is chicken parmigiana, which is very popular here, as well. Branzino, that flavorful Mediterranean Sea bass is served with seasonal vegetables and salmoriglio sauce, a combination of lemon, garlic, olive oil and oregano. For the beef lover, try the tagliata, grilled sliced sirloin steak with arugula, cherry tomatoes and shaved parmesan.
A discussion of Roman cuisine would not be complete without a section on Pinsa Romana. At Pax Romana, the pinsa are very special. The flour is imported from Italy and the dough ferments for 72 hours. TVB Pax Romana is distinguished by being certified and first on the east coast to be the official restaurant using pinsa flour. Served on a wood cutting board made to fit the oval shaped pies, I'm working my way through the 6 varieties, with specials offered daily. We enjoyed chicken scarpariello with chicken, sausage, potato cubes, mozzarella and vinegar peppers. The potatoes and peppers added an interesting touch. My favorite was the funghi pizza with mushrooms, truffle oil, porcini cream and mozzarella. Each topping is enhanced by the wonderful crust.

Complete your meal with tiramisu prepared by Russo's grandmother, cheesecake or bomboloni. I ended my meal with a crisp pizzelle. A carefully selected variety of cocktails, beer and wine are offered, as well. Another note of interest... selections are color coded on the menu to indicate gluten free, vegetarian and vegan. Take out is an option for dishes that travel well.

Enjoy the generous and rich flavors that infuse the Roman cuisine at TVB Pax Romana. You will leave with the words Ti Voglio Bene.

TVB Pax Romana
171 East Post Road
White Plains
914 831 3303

(Recipe) Spaghetti Carbonara (Serves 4)

17 ounces pasta
5 ounces guanciale or pancetta
3 ½ ounces grated pecorino Romano cheese
4 egg yolks
1 whole egg
1 pinch ground black pepper or to taste
1 Tbsp. olive oil

Directions:
Bring a large pot of salted water over high heat to a boil. In a mixing bowl, whisk together the egg, egg yolks and pecorino cheese with a generous pinch of black pepper. Set aside. In a large skillet heat oil. Add pancetta or guanciale and sauté until the fat is rendered and the edge is crisp but not hard. Remove from heat and set aside. Add pasta to the water and boil until it is a little firmer than al dente. Just before the pasta is ready, reheat the pancetta if needed. Reserve 1 cup of the pasta water .Drain the pasta and add it to the skillet over low heat. Stir for a minute or two. Fill serving bowl with hot water to keep it warm. Empty the water and dry the bowl. Add the hot pasta mixture and stir in the cheese and egg mixture. Add some reserved pasta water if needed for creaminess. SERVE IMMEDIATELY, dressed with additional grated cheese and pepper.