Maria: Home Cooked Italian in New Rochelle
Monday, 03 December 2018 13:10
Last Updated: Monday, 03 December 2018 13:10
Published: Monday, 03 December 2018 13:10
Judie Dweck
Hits: 5063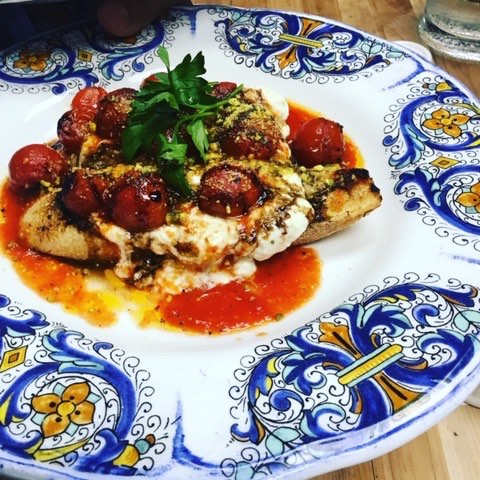 "Maria", I just discovered a restaurant named Maria, and it is quickly becoming a favorite. I had the pleasure of chatting with the hospitable Giovanni Cucullo, the co-owner and chef at the new Maria in New Rochelle. He and his brother Peter have been feeding guests on Huguenot Street in New Rochelle throughout the day. You can enjoy breakfast, pastries and coffee and lunch at Pop's Espresso Bar, wood fired pizza, pasta and light fare at Fratelli Pizza and Pasta, next door and in the corner space, on the same street is their latest project, Maria, a casual fine dining establishment with classic and innovative dishes at lunch and an ever changing menu at dinner. It has a bistro feel where its comforting atmosphere welcomes everyone.
The space, like the menu, combines modern elements as well as traditional ones.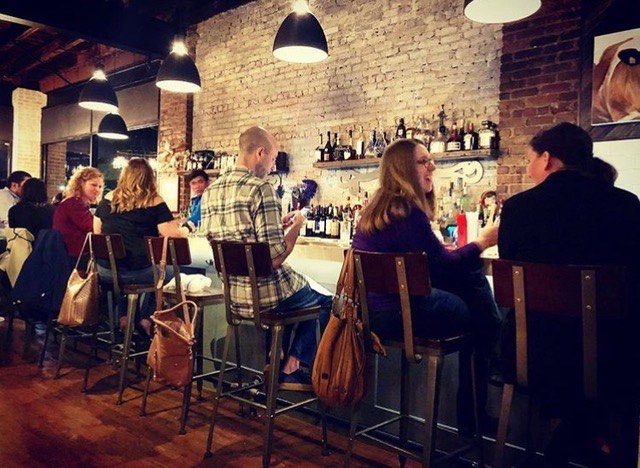 The white marble bar, with bar stools and high tables is separated from the dining area, by a partition, where you note the striking bright blue tufted banquettes and tables. Antique mirror, white exposed brick, interesting lighting and exposed beam ceiling all combine with eye catching family memorabilia such as photos, items from the Cucullo's childhood kitchen, vintage trays and even an old espresso pot all add to the coziness of Maria, named for the mother of the owners, Giovanni and Peter Cucullo. Yes, their mother Maria was an excellent home cook, who inspired them and shared her culinary talent with them. Upon chatting with Giovanni, I learned that he grew up around food. From early childhood, he helped out in the family pizza restaurant in The Bronx and at Fratelli, when they moved to Westchester. He then spread his wings and managed several high-end spots in Manhattan and San Francisco where he continued his culinary education.
He describes Maria as new Italian. "It is important for a restauranteur to have patience and empathy for his guests as well as his staff. You need to be part psychologist in this field. The best part of this business is relating to the guests and watching our staff grow. Our goal is for longevity as Maria evolves. We listen to our customer's comments and suggestions. "I asked Giovanni whom he would like to share a table with at Maria. His reply was Shakespeare, Leonardo Da Vinci and John F. Kennedy. Wow.. With each an artist in his own field it certainly would make for interesting conversation.
As we checked out the menu we nibbled on some country bread and olive oil topped with grated cheese and hot pepper flakes. With a dinner menu that changes daily, it is exciting to visit Maria often. As our food started to arrive, I just loved the china plates our meal was presented on. They were his Mom's china. Once again, the modern combined with the vintage. How nice to feel the memories of you childhood kitchen, as you embark upon the future.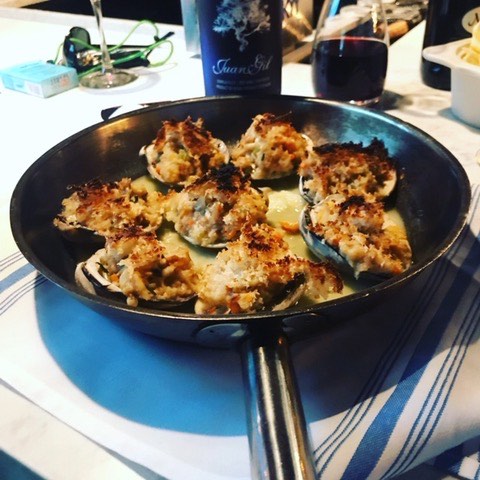 Appetizers here are varied from classic to innovative. We started with Mom's meatballs. These baseball sized treats were a mix of beef, veal and pork. They sat in a pool of house made chunky tomato sauce. Clearly, as the menu indicates, they are prepared with pomodoro and love. It is a dish that the Cucullo brothers grew up on.
I'm glad that Giovanni paid attention when his mom cooked. The real deal baked clams were another must have. Four large clam shells were filled with fresh clams, enough bread crumbs to hold them together and a touch of pork fat for added flavor. A squeeze of fresh lemon juice, and the clams were just great. Shrimp Diavolata reminded me of the Latin garlic shrimp. Here, large, tail on shrimp combine with garlic, marsala wine, arbol chili and thyme for Giovanni's version of garlic shrimp. Served in an individual metal pan it was sizzling and delicious. We used the country bread to absorb every bit of the fragrant sauce. Another appetizer, this time with a Greek influence was the excellent lamb crocchette. This large croquette was prepared with shredded lamb and braised chopped vegetables and was crusted with panko. It sat on a bed of Greek yogurt and garnished with a tangy mint chimichurri sauce. The flavors were well paired. Future appetizers may include grilled fennel sausage, Maria's big salad, or escarole and beans. For sharing, your table might enjoy a veggie board, with raw, pickled, marinated and grilled items, or a salumi board of meats and cheeses. Keep in mind, my selections were from a menu in early November. The menu changes daily.
We then perused the pasta selections. Gnocchi, rich and delicious was bathed in an oxtail ragu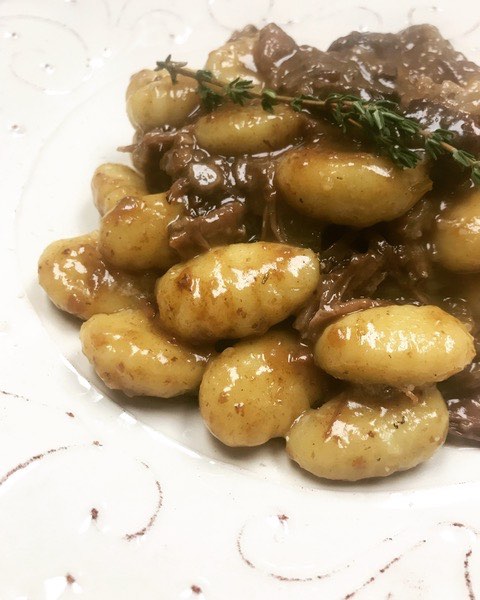 enriched with porcini mushrooms, marsala wine and cheese. A large bone with some meat still intact shared the plate in the event.
You don't mind getting a bit messy while dining. We also sampled black linguine rich with calamari rings and shrimp, tossed with that divine tomato sauce and some chili crumbs. Awaiting future visits are whole wheat fusilli with roasted eggplant and smoked mozzarella, cavatelli with broccoli rabe and maccheroni in Sunday sauce with meatballs and sausage. Main dishes ranged from seafood, poultry and meat. We loved our seared sea scallops with tomato farrotto and porcini agrodolce and gigante beans. Scottish salmon trout grilled to my taste, was simply delicious. Bacon wrapped monkfish, grilled pork chop and charred octopus sounded appealing, as well.
For dessert, the specialty of the house is the danoli- a combination of a donut and cannoli filled with cannoli cream, Nutella or berries. Cordials, wines and craft beers are available to accompany your meal.
If lunch is your meal of choice there are salads, jasmine rice bowls, farro chickpea bowls, a selection of sandwiches and choices from the dinner menu. From Monday through Saturday, from 3 pm to 7pm, a happy hour with wine, cocktails and killer bar snacks is offered.
Enjoy a meal at the charming and welcoming Maria, where classic dishes mingle with innovative ones for a tasty dining experience.

Maria
11 Hugenot Street
New Rochelle
914-636-0006
(Recipe)
Pasta With Eggplant, Tomatoes, Smoked Mozzarella And Basil
(Serves 4-6)
Ingredients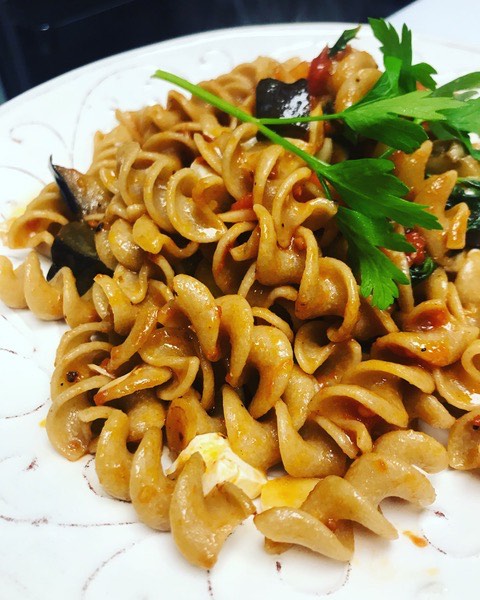 3 Tbsps. olive oil
1 small onion, coarsely chopped
3 cloves garlic, thinly sliced
1 medium eggplant about ¾ of a pound
2 ½ pounds fresh tomatoes
1 cup diced smoked mozzarella
4 Tbsps. fresh basil, coarsely chopped
½ tsp. salt
1 pound pasta of your choice, cooked
Instructions
In a large heavy skillet, warm 1 tbsp oil over medium heat. In it, sauté onion for 3 to 4 minutes until translucent. Remove garlic and onion with a slotted spoon and set aside. Wash and cut unpeeled eggplant into ½ inch pieces. Add remaining olive oil and eggplant to the skillet on high heat. Brown eggplant on all sides. Return onion and garlic to the skillet. Add tomatoes, 2 tbsps of the basil and the salt. Lower heat and simmer for 20 minutes. Add the cooked pasta, remaining basil, and smoked mozzarella and toss to combine. Drizzle with a few more tbsps. of olive oil as desired and spoon onto warm plates.