Scarsdale Chinese Association Celebrates Lunar New Year
Tuesday, 05 February 2019 08:05
Last Updated: Tuesday, 05 February 2019 08:22
Published: Tuesday, 05 February 2019 08:05
Lisa Tan
Hits: 2665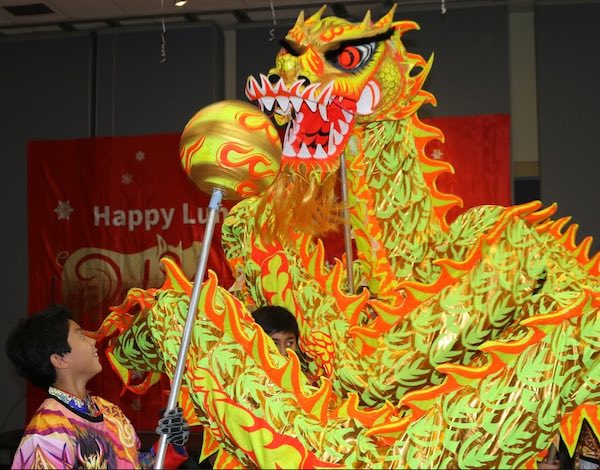 With the beating drums, clashing cymbals and resounding gongs, the exciting traditional Dragon Dance and Lion Dance initiated the annual Lunar New Year Celebration by the Scarsdale Chinese Association (SCA). The festival for the year of pig, which symbolizes fortune, wealth and prosperity starting February 5th, was held at JCCMW on Saturday February 2nd.

About 600 attendants joined the celebration, which featured wonderful lion and dragon dances, 2-hour long beautiful performances, varieties of delicious authentic and home-made food, fun arts and crafts projects, and enjoyable karaoke singings. It was a good time for people to socialize and catch up after a year going quickly by. The entire event was organized and run by Scarsdale Chinese. While such an event entails many hours of many volunteers' devotion, people cherish this opportunity to have fun together and work around a common good.

SCA chair Lisa Tan started the event with welcoming remarks. Scarsdale Mayor Dan Hochvert and JCC Marketing Director Rika Levin also sent their well wishes to the Chinese community, which has recently witnessed a strong growth in Scarsdale, from the inauguration of the SCA in 2005 with 25 families, to its present standing of more than 300 families. Among attendants are also Mayoral Candidate Marc Samwick, Board of Trustees Matthew Callaghan, Justin Arest, Lena Crandall, Board of Education member Chris Morin, candidate for Trustee Rochelle Waldman and Bob Berg from the Scarsdale Voters' Choice Party.
As stated by its mandate, the SCA is committed to serving the community of Scarsdale by promoting the appreciation of Chinese culture and heritage, and by enhancing cross-cultural exchange and understanding. SCA also encourages and supports its members to participate in local school and civic organizations and contribute to local community and cultural events.