Opera, Jewish Style, at Westchester Reform Temple
Wednesday, 27 March 2019 10:26
Last Updated: Wednesday, 27 March 2019 10:37
Published: Wednesday, 27 March 2019 10:26
Joanne Wallenstein
Hits: 2939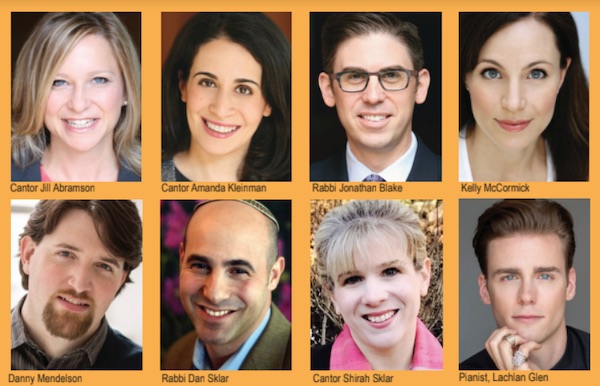 Cantors, a Broadway star and members of the WRT Adult Choir will host an evening of opera at Westchester Reform Temple on Sunday April 7 at 4 pm featuring Cantor Jill Abramson, Rabbi Jonathan Blake, Cantor Amanda Kleinman, Kelly McCormick, Danny Mendelson, Rabbi Dan Sklar, Cantor Shirah Sklar, and Pianist Lachlan Glen. This annual concert is held in memory of Cantor Stephen Merkel z"l.
This talented company of singers made up will join together to offer music that expresses the connection between Jewish life and the opera stage. Pianist Lachlan Glen, an alumnus of the Metropolitan Opera's Lindemann Young Artist Development Program, will share his operatic expertise. Enjoy the natural acoustics of the beautiful Westchester Reform Temple sanctuary as you experience the simplicity and grandeur of the human voice.
A Jewish Encounter with Opera is the brainchild of Cantor Jill Abramson, who is fascinated with the nexus of Jewish culture and the operatic repertoire. For more information, see Cantor Abramson's piece,
There will be a wine and cheese reception following the program. A suggested contribution of $15 supports continued programs for the community.
Here is the program:
"Zion's Walls" (Copland): Adult Choir and Soloists
"Olympia's Aria" (the Doll Song) from Les Contes d'Hoffmann (Offenbach) - Kelly
"Dudele" (Dan & Shirah)
"King David" Herbert Howells (Amanda)
"Laurie's Song" from Aaron Copland's The Tenderland (Shirah)

"Un Moto di Gioia" (Mozart) from Marriage of Figaro (Jill)
Mozart's librettist was Jewish and Stephen Merkel loved Mozart: he had a huge painting of him in his office.
"Rozhinkes Mit Mandlen" (From the opera Shulamis by A. Goldfaden)
Audience sing-along
Ching-a-Ring-Chaw (Copland) - (Dan)
Tombe degli avi miei (Donizetti) from Lucia di Lammermor (Danny M)
"Va Pensiero" or Chorus of the Hebrew Slaves from Nabucco (Verdi): Soloists
https://www.thoughtco.com/va-pensiero-lyrics-and-text-translation-724034
"A " Simple Song," Bernstein (Jon)
Note: Leonard Bernstein's centennial last year, and note the irony that, following his overtly Jewishly-themed Symphony No. 3 ("Kaddish") (1963) and Chichester Psalms (1965), Bernstein chose the Roman Catholic Mass as the subject of the work he composed for the inauguration of the Kennedy Center. "Mass" (1971) is a massively scaled, eclectic pastiche of classical, pop, Broadway, jazz, and blues elements; but "A Simple Song" belies all of that, and the Christian liturgical conventions of the Catholic Mass, by declaring a universal devotion to God with lyrics drawn from Psalms (co-written with Stephen Schwartz of Godspell, Pippin, and Wicked fame).
"See the Conqu'ring Hero Comes" (Judas Maccabeus): Adult Choir and Soloists
Encore: "Chad Gad Yah" (DM solo) Moishe Oysher, arr. Jacobson: Adult Choir and Soloists – as Passover is coming up.
Westchester Reform Temple is located at 255 Mamaroneck Road in Scarsdale, New York. For directions or information, call 914-723-7727, email to office@wrtemple.org or visit the website at www.wrtemple.org.
For more information about this program, please contact Cantor Jill Abramson at Westchester Reform Temple, 914-723-7727.