Breakfast, Lunch and Dinner- Filipino Style at Hapag
Tuesday, 14 May 2019 10:02
Last Updated: Tuesday, 14 May 2019 10:08
Published: Tuesday, 14 May 2019 10:02
Judie Dweck
Hits: 2855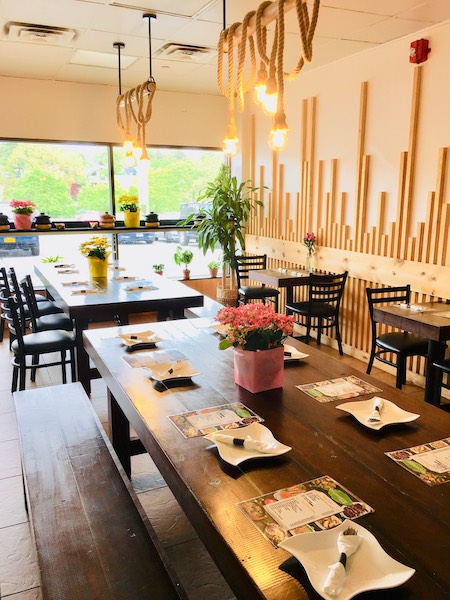 I've spent years sampling the cuisines if the world, from Italian, French, Japanese, and Spanish. However, I noticed the sign Hapag in The High Ridge Shopping Mall in Yonkers and realized I had never taster Filipino cuisine. With great enthusiasm at trying something new, I made plans to visit this newcomer to Westchester.
The windows were filled with many potted plants, and a colorful sign announced the recent opening of Hapag. In the Tagalog Filipino dialect Hapag translates as "long table". True to its name this compact space houses two long picnic style tables and benches, suitable for large groups or several small ones. There are also a few tables for two or three and counter space with stools, as well. They surely have made good use of their limited space. Light colored wood paneled walls and interesting rope lighting fixtures and traditional straw hats on the walls, complete this simple and functional spot.
My visit to Hapag was on a Sunday at noon. The intimate space was very busy. The two long tables were filled with happy family groups enjoying the very classic dishes of their Filipino heritage. Within minutes of my arrival, the line of people waiting to savor this interesting cuisine reached out the door. I was greeted by Jennie Berbano, who described Hapag as "family oriented, casual and friendly serving authentic Filipino cuisine. The chefs are adept at preparing these classic dishes. Jennie said, "Our goal for the future is to introduce the area to Filipino cuisine. We chose this location because it is convenient to many Westchester communities. Our cooking is influences by Chinese and Spanish cooking. Popular ingredients are garlic, onions, many fresh vegetables, rice, tomatoes, soy sauce, and vinegar and fish sauce. "The restaurant is owned by Jojo Berbano, Juando Laureles and Bong Camara, who bring the tastes of Filipino cuisine to Westchester.
You can savor this Filipino cuisine throughout the day at Hapag. Starting with breakfast among the choices are several fried egg combinations with garlic fried rice. A ginger based broth, arroz caldo with chicken sounded interesting. Breakfast meals arrive with orange juice or coffee.
With the long tables suitable for groups of friends or families, Hapag offers many dishes for sharing, which gives you the opportunity to try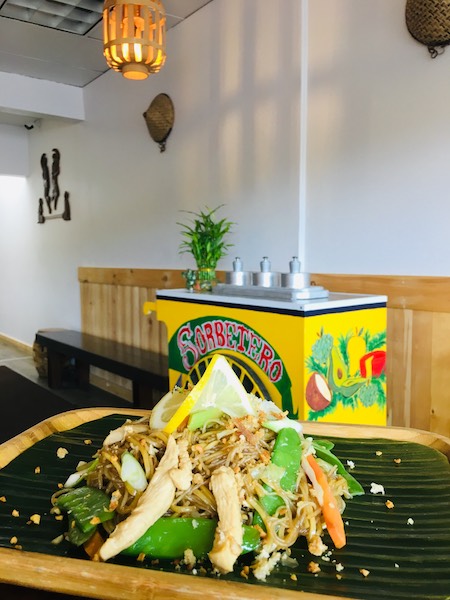 Pancit: Stir fried noodles and vegetablesmany dishes. As Sunday meal, I made my way through the menu of classic dishes. Very tasty with a similarity of the cuisine of China was a dish of pancit. These stir fried rice noodles were mingled with a variety of vegetables and cubes of both chicken and pork. Cabbage, carrots, scallions and peapods added crunch and color and a squeeze of fresh lemon added zest to this tasty dish. Sinigang arrived as a hearty bowl of tamarind flavored broth chock full of large pieces of vegetables, including white radish, eggplant and onion. Chopped tomatoes added an additional flavor component to this unusual potage. This sweet and sour broth filled with hearty vegetables is a fine cool weather choice.

One of the Filipino national dishes is adobong. We tried it with both chicken and pork. The meats were marinated in vinegar, soy sauce and garlic. The large pieces arrived in a dark and rich sauce, a bit heavy for my taste. Among all of the dishes I tasted, one of my favorites was ukoy. This was a large and crispy fritter of a julienne of carrots and bean sprouts in a sweet potato batter with sliced scallions on top. In the center was a head and shell on prawn, waiting to be devoured. Lumpia, another favorite of mine, and very popular is an eggroll wrapper filled with pork or vegetable, tightly rolled and fried until golden. You can't eat just one. Served with a sweet and sour sauce, they were addictive. Skewers of bbq pork were delicious, as well. Yet to be sampled as I become more daring are pork cheek, pork belly, and shrimp paste stew. A pleasant beverage to pair with your meal is calamansi, prepared with the juice of a small lemon like fruit.
It was time for dessert. Very popular is halo halo, which means mix, and quite a mix it is at Hapag. A large goblet is filled with shaved ice and layered with sweetened beans, jelly of various colors and milk. It is a colorful ending and seemed to make several guests quite happy at a nearby table who shared it. I opted for a Spanish influenced leche flan. This vanilla custard was smooth, creamy and very soothing, just sweet enough to satisfy my need for dessert. Other tempting sweets are the classic biko, a sweet rice and coconut milk confection with caramelized brown sugar and cassava budin, a yucca based bread pudding.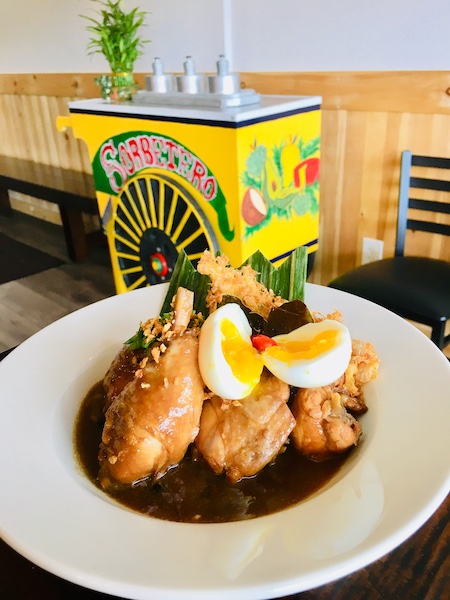 AdobongAfter sampling many of the dishes at Hapag, I can advise people waiting on line that it will be worth the wait. Enjoy adding another dimension to your culinary knowledge and try the interesting cuisine in a friendly atmosphere at Hapag.
Hapag
1789 Central Park Avenue
High Ridge Shopping Center
Yonkers
914 652 7773
Recipe: Chicken and Adobo – Serves 2
2 pounds chicken in serving pieces
3 pieces dried bay leaves
8 Tbsps. soy sauce
4 Tbsps. white vinegar
5 cloves garlic, crushed
½ chopped onion
1 ½ cups water
3 Tbsps. cooking oil
2 Tbsps. cornstarch
1 tsp. sugar
¼ tsp salt
1 tsp. whole peppercorns

In a non reactive bowl, place chicken pieces with soy sauce, vinegar and, 3 cloves of garlic and marinate it refrigerated for 4 to 12 hours to absorb the flavors. In a large pot, sauté the onion, bay leaves, peppercorns and 2 remaining cloves of garlic. When the mixture is golden place chicken pieces, skin side down in the sauté pan. Add water and bring to a boil. Lower heat and simmer for 20 minutes. Turn chicken over and cover and simmer for 10 more minutes. Mix together the cornstarch and sugar and enough water to make a slurry. Add it to the chicken pan while turning the chicken every now and then. Keep boiling the mixture and basting the chicken pieces uncovered until the sauce thickens and is reduced by half or for about 2 or 3 minutes. Serve.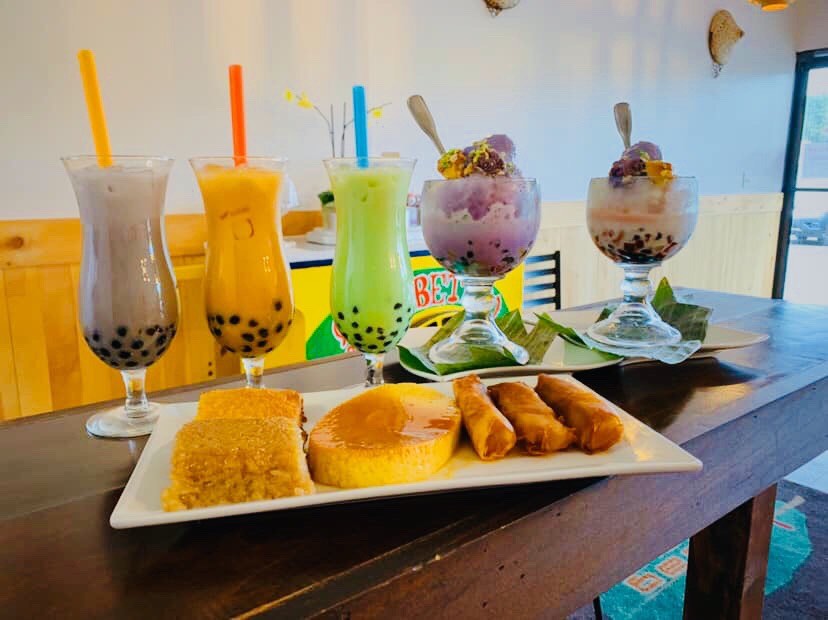 Halo Halo