Vintage and Rare Cars Wow Visitors to the 17th Annual Scarsdale Concours
Details

Written by

Joanne Wallenstein

Hits: 1861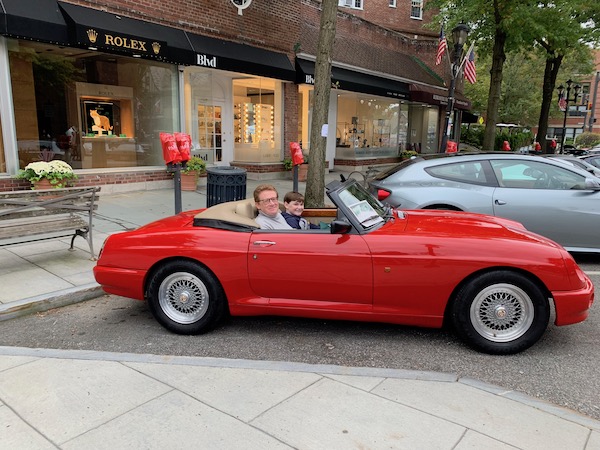 Jay and Barney Read in their 1994MG RV8Organizers estimate that as many as 1,000 people visited the 17th annual Scarsdale Concours in Scarsdale Village on Sunday October 6. The event attracted even more entrants than last year, with 150 cars on display. The cars, some of them true antiques, were driven to town by local owners, from Long Island, Brooklyn and Connecticut and as far away as Maryland and Pennsylvania.
The oldest car on display was a 1910 Model O Steam Car, owned by Scarsdale residents Mitchell and Wendy Gross. We spotted a Packard, Porsche, Fererari, Chevrolet, Coup de Ville and many car brands we no longer know.
Each car had a story behind it. Father and son team Jay and Barney Read explained that their red 1994 MG RV8 had belonged to Jay's dad who lived in England. The family moved to Connecticut a month ago and couldn't bear to leave the coveted car behind. So here it was, in Scarsdale.
This year's event raised over $40,000, which will be shared among three charities:
The Scarsdale Police Benevolent Association
The Scarsdale Volunteer Ambulance Corps
Scarsdale & Edgemont Family Counseling Service
The event is a big logistical job – and here is a list of the board members who made it happen:
Andy Albert
Alex Forschner
Kevin Higgins
Richard Hubell
Sanford Miller
Kevin and Will Reed
Mark and Ben Rossano
David Rossett
Lawrence Sachs
Ken and Zachary Schneider
Leif Waller
Commenting on the show, Board Member Andy Albert said, "The car show was a great success this year! We put in a lot of hard work through out the year in preparation for the show – I am happy that the weather once again cooperated, and we were all able to enjoy the many cars on display. It is particularly rewarding to participate in a car show like this, and be able to give back to the community and it's charitable organizations. I hope everyone enjoyed the show."
The Scarsdale Concours Board wishes to thank their sponsors:
Advocate Insurance/Chubb
Pepe Auto Group
Miller Motor Cars
Jaguar and Land Rover of Larchmont
Photos by Sophia Albert and Joanne Wallenstein
Moscato Ristorante – A Dining Gem in Scarsdale
Details

Written by

Judie Dweck

Hits: 2862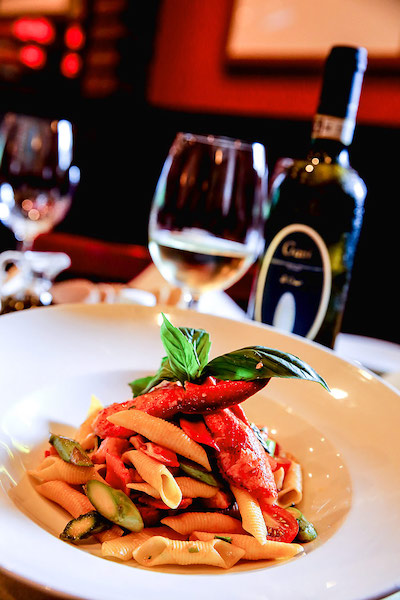 Italian restaurants seem to be the most popular genre in our lower Westchester area. With so many choices, Moscato in Scarsdale is on the top of my list of favorites for traditional fine quality Italian and Mediterranean dishes. Mario Fava heads a restaurant dynasty consisting of Lusardi's and Chat 19 in Larchmont and Chat American Grill and Moscato in Scarsdale. He visits each location daily to see that the kitchens and dining rooms are running at the highest level. Fava said," It is very beneficial to learn all aspects of the restaurant business." He came up through the ranks as dishwasher, busboy, and now, as owner of four successful restaurants." I am a glorified manager. It is of utmost importance to have respect for the freshest of ingredients, as well as for your staff and your guests." When asked how he felt about the many Italian and Mediterranean restaurants opening in the area he said, "Competition makes you better and keeps you on your toes. We are now seeing a new generation of the families that were here in our early days, which is very gratifying. Many members of our staff have been here since our opening and we are like family. I love meeting people and watching them enjoy their dining experience. Fava's dad instilled Mario's excellent work ethic and Mario would have loved to have his dad enjoy seeing the success he has achieved. When asked how he manages four restaurants, he said, "It's one big party. He clearly enjoys his work. For those who prefer to dine at home, Moscato delivers meals through Uber Eats and GrubHub, or you can pick up a fine meal when you get off the train.


The charming Moscato is conveniently located close to the train station as offers a parking lot as well as metered parking. Seating about 80 guests inside and 40 outside where tables are set up in the front and side of the restaurant. Colorful flower boxes are well cared for and separate the diners from the street. I describe Moscato as both sophisticated yet very comfortable… upscale without being pretentious. As you enter, you are greeted warmly by one of the managers. A small bar is near the entrance and you will be escorted to you white linen clad table. Dark wood, beamed ceilings, classic chandeliers, beautiful fresh flower arrangements, mustard colored walls and delightful black and white restaurant related artwork grace the walls.

To set the mood, the menu items are listed in Italian, but described in English. All of your senses are awakened as you savor the carefully prepared dishes at Moscato. Wonderful crusty bread, baked in the kitchen here each morning, will arrive at your table as you check out the menu of traditional exquisitely prepared dishes. The antipasti here are varied and it was difficult to make a choice. We chose polpo alla griglia. The tender-as-could-be octopus was grilled and presented with sliced fingerling potatoes, sliced Kalamata olives and oven roasted tomatoes. Enhanced with a touch of lemon and garlic oil, it was outstanding. Next, a covered cast iron pot arrived. The top was removed and an aroma of zuppa di cozze filled the air. These pristine Edward Island Mussels were swimming in an excellent spicy tomato broth. The crushed tomatoes added a zesty flavor to the just opened mussels, just spicy enough to tease the palate. Future appetizers may include salsiccia tartufata, grilled sausage over arugula and endive, eggplant rollatini, fantasia di mare, a mixed seafood salad or crisp artichokes in a mildly spiced tomato sauce. On previous visits I have especially enjoyed fegatini di pollo al balsamico. Here, the chicken livers are sautéed with balsamic vinegar, onions and mushrooms and served in a parmagiana basket with field greens. I remember being a meal in itself. If you enjoy starting your meal with a salad, there are classic and innovative choices. We loved the blood orange salad with baby arugula, strips of fennel, cubes of fresh red beets all tossed with toasted almonds in a wonderful dressing flavored with ginger and honey. A watermelon and arugula salad was a good choice, as well.

Among the dozen pasta selections, the gnocchi alla trentina could not be matched. The delicate handmade potato morsels were tossed with a ragu of braised
shredded shortrib. The result was rich and delicious. Homemade fettuccine al funghi with mixed mushrooms, parsley, garlic and oil, agnolotti alla Moscato filled with cheese in a pink sauce with crisp bacon on top and paglia e fieno, the green and white housemade pasta await my tasting. Note that, upon request, gluten free and whole wheat pastas are offered.

Entrees include preparations of chicken, beef, veal, calves liver, pork and fish. During my recent visit, I sampled branzino alle mandorle. A totally boneless filet of Mediterranean sea bass arrived coated with sliced almonds toasted to a golden hue. This elegant entrée was set atop sautéed green beans that tasted as though they were just plucked from the garden. Lemony sauce and a wedge of lemon completed this light and elegant dish. The simplicity of this dish makes the diner aware of the freshness and quality of the ingredients. At Moscato, there is no reason to cover up the dishes with overpowering sauces. Here, the gift of dinner is to marvel at the freshness of each ingredient without the use of heavy sauces to mask the ingredients. When commenting on a restaurant, ordering a veal scallop dish is a good test of the restaurant. One forkful of the vitello martini and you know you are dining at a quality restaurant. Here, the delicate veal scallopine is encrusted with parmagiano and simply served with a lemon and white wine sauce. Imagine eating veal with only a fork. No knife was need for this tasty dish. Fresh green beans, cooked until just crisp shared the plate. In the past, I have love the salmone al frutti di Cremona where the fish is brushed with Italian mustard fruits. Other nice entrees are flatiron steak, pollo scarpariello, grilled pork chop with hot and sweet peppers, onions and mushrooms and chicken breast saltimbocca. The wine list here is 95 % Italian.

If you have left room for dessert, they are all housemade. We loved the spolverato di choccolata. This individual chocolate mousse cake with a touch of coffee flavor was enrobed in a dark chocolate glaze and sat beside a scoop of housemade ice cream. A sprig of mint finished this lovely dessert. It was a dessert that a chocolate lovers dreams are made of. The traditional ricotta cheesecake with the chocolate drizzle on top was a nice ending, as well. Other housemade endings of tirami su, crema catalina, apple tart and baked Alaska are waiting to be sampled. If you can't decide a tasting dessert plate of three is offered. Just request "un momento dolce" as the conclusion of a superb meal at the warm and friendly Moscato, right here in Scarsdale.

How fortunate we are to have Moscato, a gem of the dining spot in our community, where fine dining and professional caring service combine to make it my "go to" spot for an elegant yet comfortable dining experience at lunch or dinner.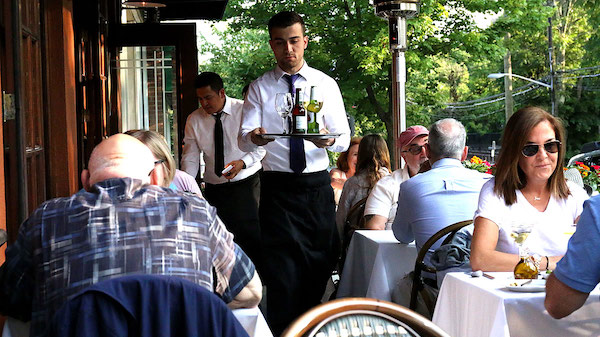 Moscato Ristorante
874 Scarsdale Avenue
Scarsdale, NY
914 723 5700
If You Crave a Caribbean Meal …..Try Krave, a New York Eatery in New Rochelle
Details

Written by

Judie Dweck

Hits: 3523
Pork belly sticky bunsAs many new residential buildings arise in New Rochelle, take note of the many new restaurants arriving, as well. One of the very exciting additions to this dining scene is the colorful Krave, A New York Eatery. With the closing of A Place to Go, Edwin Crisp, known as Chef Chrissy, and his charming wife Chyrisse, the general manager, embarked upon their new venture in April with the opening of Krave, where great service compliments the food.

Chef Chrissy said, "Krave is a showcase of Caribbean food, a modern take on comfort food." His eyes light up when he talks about his passion for cooking. "I grew up watching my mom cook at home. My dad owned a bar and I helped out there, as well. My family roots are in Jamaica and I grew up in the Bronx. My parents are my inspiration and I put my own special touches on traditional dishes. Cooking always came easy to me. My goals for the future are to create an environment that showcases the Caribbean style. We live in New Rochelle and love our community. We want Krave to be the "go to "place in New Rochelle for solid comfort food and a New York City type environment, a place to unwind at the end of the day. I enjoy cooking for people who love food. I would have loved to have Anthony Bourdain as a guest at Krave. I look at my ability to cook as a gift and I get great pleasure of sharing this gift with our guests."

Enter into a cheerful roomy lounge and bar area with bright yellow and green seating, large windows letting the sun shine in. Many high top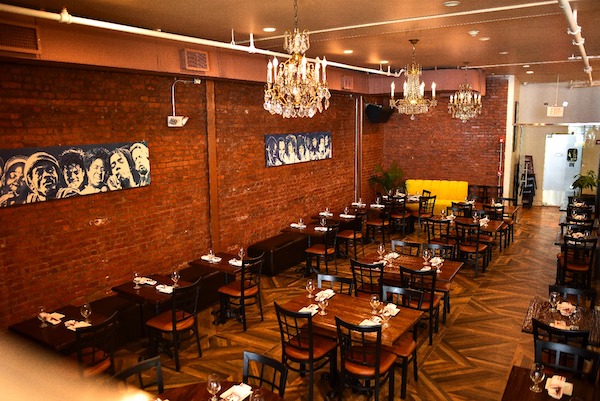 tables, a classic wood and marble bar, t.v. screens blue velvet banquettes and a larger than life planter provide a perfect spot to socialize with a very NYC vibe. A large selection of rum drinks add to the Caribbean mood. Seating about 130 guests, the dining room is divided into a glass enclosed area, often used for parties and an open area as well. Crystal chandeliers provide lighting. Two montages of famous faces from the entertainment world grace the walls. They are the works of Jamaican artist Michael Escoffery. You will dine with Jim Hendrix, Bob Marley, Etta Jones and Miles Davis, to name but a few familiar faces.

The menu here is filled with Caribbean flair. Not to be missed among the small plates are the superb peppered shrimp. Here, tail on shrimp are sautéed and served in an outstanding scotch bonnet pepper sauce guaranteed to perk up all of your senses. I requested some bread and warm pita triangles arrived and I dipped the bread into every last bit of this tangy sauce. Egg roll wrappers are filled with jumbo lump crabmeat, lobster and breadcrumbs along with red chilies, garlic and Chef Chrissy's blend of spices and sophisticated tartar type sauce. Chef Chrissy puts his special twist on the Asian eggroll. Coconut shrimp, cod fish cakes, Krave wings with lemon pepper, jerk or fried await our taste. If you wish to start with a salad try the quinoa salad with the grain tossed with grapes, cashews and seasonal vegetables.
Reading an article about luxurious dining in California's wine country, a dish of mac and cheese was highly praised. It arrived in a golden egg. At Krave a porcelain bowl is the container of choice and the healthy portion of mac and cheese could not have been more satisfying. Chef Chrissy's mac and cheese is one of the favorite a la carte accompaniments and you don't have to travel to the west coast to enjoy it. Be prepared for a very rich rendition of this classic where the mini elbow macaroni is mixed with a variety of cheeses each imparting its unique flavor such as asiago, gouda, provolone, mozzarella and cheddar.

Rice and peas, a Caribbean staple is a delightful combination of rice and peas with coconut cream, fresh ginger and other spices permeating the dish. It is a perfect side to enjoy with many entrees.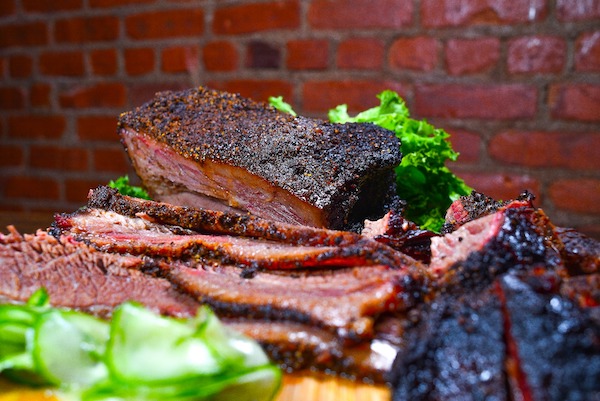 Beef brisketEntrees that we sampled were traditional comfort foods. Each selection showed off the skill that Chef Chrissy uses with his spice rubs and sauces. He is a master at this art. I just loved the jerk pork, "the other white meat", which was so tender- no knife needed and crunchy on the outside. The complex sauce had hints of allspice, cinnamon, Scotch Bonnet peppers, onion and fresh ginger in perfect proportions for a tantalizing result. Jamaica boasts its preparation of oxtail stew. In Chef Chrissy's kitchen the long cooking slowly simmered stew cooks in its own gravy which combines a mirepoix of ginger, scallions, thyme, garlic and of course, Scotch Bonnet peppers, resulting in a glossy gravy, pleasing to the eye, as well as the mouth. I look forward to trying Dutch Pot fried chicken, and jerk chicken, as well. For the vegetarian at your table curried tofu with fresh vegetables, tofu chop suey and vegetable fried rice are offered. Fresh seafood dishes of whole red snapper, stewed, steamed or escoveitch, whole bronzino with jerk sauce, and lobster tail curried or jerk await future visits, as well as surf and turf and even a krave burger.

If you arrive at Krave from Thursday through Sunday, you will be fortunate enough to avail yourself of their house smoked meats and bbq prepared in their in house top of the line smoker. We sampled the beef brisket. Seasoned with the chef's dry rub it was melt in your mouth delicious. We look forward to sampling other smoked specialties of baby back pork ribs, housemade jerk sausage and the very popular pork belly sticky buns with housemade coleslaw. Even the coleslaw has the chef's special touch with a bit of Dijon mustard in the dressing. On Sundays from 12- 3, enjoy selections from the brunch menu such as ackee and saltfish, chicken and rum infused waffles, fish and grits and snapper with green bananas.

We ended our tasting with the double trouble cake. The bottom layer was the popular rum fruit cake also known as black cake which was
Pepper shrimptopped with cheesecake and drizzled with berry sauce. Sweet potato pudding, mango berry cheesecake and coconut rum cake are other choices.

Enjoy Krave a delightful dining experience with a Caribbean twist at the new and exciting restaurant in New Rochelle.
Krave…A New York Eatery
8 South Division Street
New Rochelle
914 740 7240

A Tasty Note:
Ii recently returned to Ambadi in White Plains, which I wrote about in January, and I was delighted to find the food and service excellent. If Indian cuisine is your desire, visit Ambadi for high quality nicely seasoned dishes prepared with love and care.
Fencing Her Way Through Sophomore Year: Scarsdale's Sedna Gandhi
Details

Written by

Joanne Wallenstein

Hits: 2484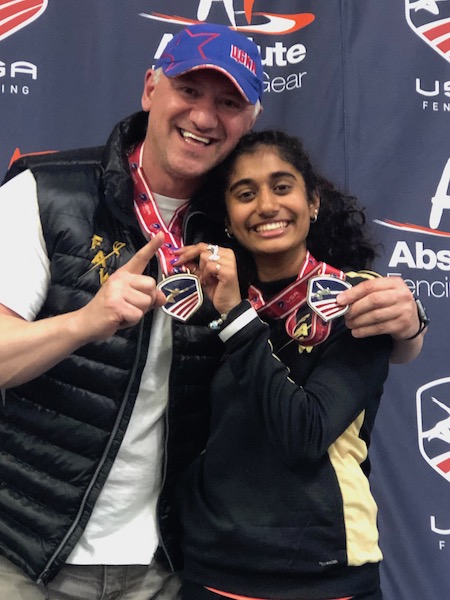 Sedna Ghandi with her coach Vadim DiambekovSHS sophomore Sedna Gandhi is one of the top ranked fencers in her age group in the country and participates in fencing through the US Fencing Association. In July 2019 Sedna won a gold medal at the US National Championships in Columbus Ohio.
In addition to her recent gold medal, during Sedna's freshman year she earned an A rating (the highest rating in fencing) and made the All-American First Team. Only a handful of girls in the country were awarded this rating and first team status as high school freshmen. In August she earned a Silver Medal in the Bordeaux International Fencing Tournament in Bordeaux, France and she was just chosen to represent the USA team on the world cadet circuit.
Sedna has only been fencing for four years and trains locally at the Fencing Academy of Westchester (FAW) with Vadim Diembekov in Hawthorne. She does all this traveling and competing while maintaining her academics at Scarsdale High School.
We asked her how she manages and here is what she shared: "Because of the challenges of balancing both school and fencing I have had to spend a lot of time creating a consistent schedule. During the week, I make use of any free time in between classes for some of the work. Once I come home after school, after a quick snack, I try to finish as much of the work as possible. If I can't get it done, then I study in the car on the way to fencing practice or during any downtime at the club. Since I train 2-3 hours every evening, except in unusual circumstances, I try not to leave anything for the late-night because I know I have to get to bed at a reasonable time so I can start the routine all over again the next day."
She continued, "The tournaments that take me away from home for a few days also require me to plan well in advance for every class to make sure I do not fall behind in any subject. I do miss some days of school but my teachers have been very supportive and work with me to make sure I can make up the assignments and tests."
Why does she love the sport? "I love to fence for a few reasons. As a combat sport it is physically challenging and certainly keeps me strong and in shape. The adrenaline rush I get as I am about to fence an opponent is like nothing else I do. I am excited and a little nervous at the same time and I love that feeling. Fencing is also a lot about strategy, almost like a chess match. In epee, the type of fencing I compete in, fencers have different styles, which makes each point unique. Epee is the heaviest "sword" of all three weapons, and you can hit (score a touch) anywhere from head to toe. Because of the different fencing styles, every bout requires a different strategy and I need to think one or two steps ahead if I want to win. It is both physically and mentally challenging. I also enjoy fencing because of my club and the friends I have made. I have been training at the Fencing Academy of Westchester since I began and have developed many close relationships with other fencers and my coach. More recently, I have been lucky enough to travel all around the US and attend international training camps where I have also gotten to spend time with fencers from all over the world."
And what's down the road? Sedna said, "Over the next few months there are many national and international tournaments in which I am planning to compete. Next week I am headed to the European World Cup in Budapest, Hungary where I am thrilled to be representing the US for the first time.
Over the next few months she plans to fence in tournaments both nationally and internationally in Grenoble, France and Bratislava, Slovakia.
She says, "Fencing is such a major part of my life that I hope to be able to continue to fence through my high school and college years. I have also seen many people enjoy the sport lifelong which I also hope to do"
Watch a video of Sedna winning the Gold Medal at the 2019 US National Tournament here.
Culinary Poetry Awaits at Haiku Asian Bistro and Sushi Bar in Scarsdale
Details

Written by

Judie Dweck

Hits: 2287
Lava RollFor years, the word Haiku brought to mind a type of Japanese poetry of three lines and seventeen syllables which leaves the reader with strong feelings and impressions. In recent years haiku added a new definition, the casual and delightful Asian bistro with branches in Bronxville, White Plains, Cross River and for eight years right here in Scarsdale. Each has its own atmosphere and special dishes. In Scarsdale, Haiku's manager is the capable Daniel Teoh. He describes the Scarsdale Haiku as an Asian fusion restaurant with dishes from China, Japan, Malaysia, Indonesia, Thailand and Vietnam. Teoh said, "The best part of my job is seeing my guests happy with their experience here. I owe our longevity here to our fine food and service. We use quality ingredients and each dish is prepared to order for the best results. Some of our most popular dishes are Szechuan shredded beef, General Tso's Chicken and Mongolian Beef."

Scarsdale's Haiku is conveniently located on Post Road in The Vernon Hills Shopping Center which has plenty of parking. It has a contemporary look, with earth tones. The bar is near the entrance and has high tables, bar stools and even some plush chairs. The restaurant seats about 50 guests. A compact sushi bar is toward the back. Decorative wall hangings and amber and crystal chandeliers offer a pleasant lighting effect. The staff is efficient and quite pleasant.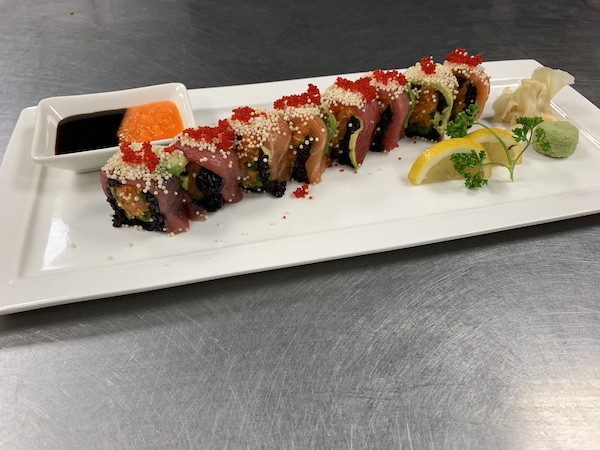 Black rice rollTo start your feast at Haiku, choose from kitchen or sushi bar appetizers. From the kitchen, we have enjoyed chicken and beef satay with peanut sauce, shumai, gyoza, mixed tempura and chicken lettuce wrap. On my recent visit, I tried the Malaysian style Indian Pancake. This thin wafer was fried in a skillet and cut into quarters. Sharing the plate was a bowl of a wonderful curry paste flavored sauce. A large chunk of potato floated in the sauce. We dipped each triangle of our pancake into this fragrant sauce and if I didn't know of the treats to come, I might have requested a spoon to savor the remaining sauce. There are several pleasant appetizers from the sushi bar, as well. We have enjoyed the seven pieces of pristinely fresh sashimi, beef negimaki, and black pepper seared tuna, as well. At my recent visit, we savored a tuna pizza. The tortilla crust was spread with nicely seasoned avocado and topped with fresh sliced tuna. A sprinkling of orange roe and a drizzle of mayo sauce resulted in a fine explosion of color and flavor. It is a tasty appetizer to share at your table. If salmon is your fish of choice the pizza can be prepared with salmon instead of tuna.

Salads are popular at Haiku. Among the choices are crispy calamari, grilled shrimp with miso vinaigrette, seaweed salad with sesame vinaigrette, and my all time favorite of Vietnamese Salad with a julienne of mango, jicama, kiwi and carrots in a citrus dressing with crushed peanuts and crisp cellophane noodles.

Sushi and sashimi can be ordered by the piece in 2 dozen varieties. Sushi entrees are served with soup and salad. Three roll combos and hand rolls are offered, as well. For the more adventuresome, examine the long list of the chef's special rolls with names including volcano roll, thunder roll, out of control roll, and lava roll and a very special black rice roll prepared with natural black rice. Upon observing the sushi chef at work, it is obvious that he is well trained and is very intense and serious about his sushi preparations, which are prepared to order with great care and pride.

It was time to try some of these special rolls. Would it be the heart shaped passion roll with a variety of fish and seaweed salad, the out of control roll with spicy tuna and salmon wrapped in eel and scallion or a pacific roll with sweet potato tempura, lobster salad and bonito flakes? We chose the jungle roll. This outstanding roll was filled with crispy shrimp tempura, cucumber and rice encased in strips of avocado and mango. The artistry of this preparation added to its appeal. The twin roll was excellent, as well. Here, spicy tuna, shrimp tempura and avocado were topped with crisp soft shell crab. The texture and taste were top notch. We also had a taste of Teoh's choice of black rice roll with a variety of fish and jalapeno for extra kick.


Beef SatayAmong the dinner entrees I often enjoy are Asian spicy mango sauce with shrimp. The jumbo shrimp are tossed with squares of jicama, mango and red bell pepper and snow peas. Szechuan shredded beef is another favorite. When delivered both dishes travel well. At my recent tasting I sampled one of Haiku's very special dishes, Mongolian Beef. The perfectly seasoned tender slices of rib eye steak are lightly dusted with flour and sautéed with sliced onion slivers and scallions. A slightly sweet sauce enrobes this delicious dish. On the mild side, I especially enjoyed the seafood treasure platter. It showcases the quality of the ingredients. Truly extra jumbo shrimp, plump large scallops and crabmeat are perfectly cooked and were mingled with snow peas, asparagus, carrots and mushrooms all enveloped in a mild white sauce. This was a delicate seafood choice, aptly named a treasure platter. Future visits might include pad Thai with chicken, shrimp or vegetables, Japanese stir fried udon noodles, Malaysian red curry, a variety of teriyaki dishes, Indonesian sambal sauce with your choice of protein, sautéed flounder filet with peas and mushrooms or crispy Grand Marnier prawns with honey walnuts. Classics of baby eggplant in mild garlic sauce, baby bok choy with fresh minced garlic and broccoli in brown sauce are several of the simply prepared dishes.

If you need to satisfy your sweet tooth, after partaking of the glorious dishes at Haiku some choices are molten chocolate cake, fried mango cheesecake and Godiva chocolate cheesecake. These sweets may not be typically Asian but seem to be popular here.

Enjoy the large variety of beautifully prepared Asian Fusion dishes at Haiku in Scarsdale that have been satisfying our desire for Asian food for eight years. They will also be delighted to cater your next party.
Haiku Asian Bistro & Sushi Bar
717 White Plains Road
Vernon Place Shopping Center
Scarsdale
914 722 4200
http://www.haikuscarsdale.com
Tuna Pizza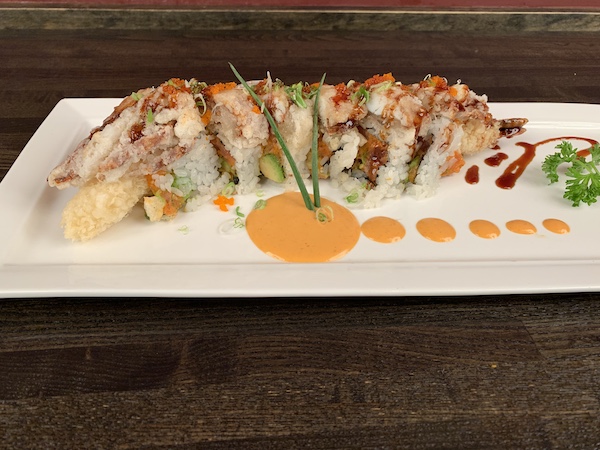 Twins Roll