Casa Amore: Where Love Is An Important Ingredient
Details

Written by

Judie Dweck

Hits: 2070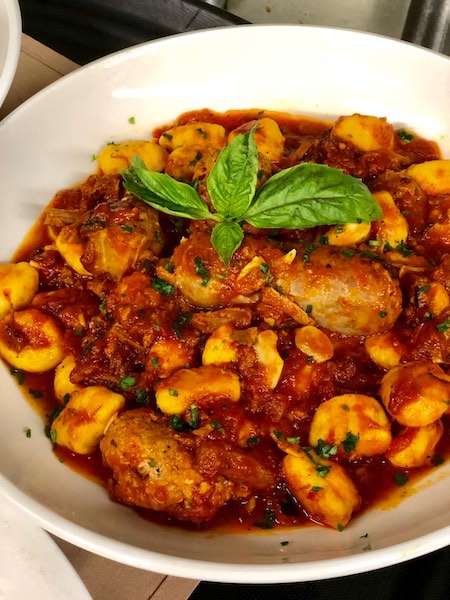 Love is the theme at the new Casa Amore in Pelham. Even the poster board menus carry the heart and love motif. Two large planters with colorful blossoms as well as greens and pansies line the building's façade and announce the arrival of spring. Yes, we have arrived at the new Casa Amore in Pelham – now the totally renovated former site of Villa Nova who occupied the site for forty seven years. The dining room seats over 100 guests and a large bar shares the room. A beamed ceiling, wood and mustard colored painted arches add character to the large space. At the back is a handsome red tile wood burning pizza oven where a large variety of pizzas and many roasted dishes are prepared. Crisp linens and fresh flowering plants give the tables a festive appearance. There are also two banquet rooms upstairs, each seating over 100 guests.
Growing up, wwner Christopher Gizzo worked aside his father in the restaurant business. He has had extensive experience in nightclubs, fast food, banquet preparation and restaurant management. His most recent project was to open Casa Amore. " A successful restauranteur must love what he does. You must be passionate and have pride in your work, be serious and treat your guests and staff well. Our atmosphere is upbeat and not stuffy. We offer classic and innovative dishes. Given the chance, I would have loved to serve Aretha Franklin and Denzel Washington, who both had and have a great appreciation of good food. Our goal is to provide our guests with a dining experience that is above and beyond their expectations and to make people happy."
As I settled myself at a table near the window, a familiar face from the past, in chef's whites, walked toward my table. It was Chef Brian MacMenamin, whose talent in the kitchen I enjoyed at Heathcote Tavern, Larchmont Oyster House and Club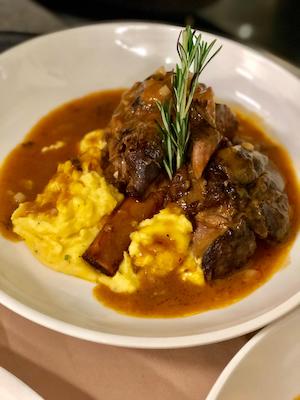 Car, to name a few of his endeavors. With Chef MacMenamin in the kitchen my expectations for a fine meal were very high. Casa Amore is not your ordinary Italian dining spot. MacMenamin indicated that, " Our menu is 90% organic. It is easier to get organic ingredients then it was in the past, and we enjoy using them. Our menu includes many classic Italian dishes as well as a variety of grilled meats . Interesting preparations of Wild Scottish Salmon, Arctic Sea Bass and Piedmont truffles add a glorious touch to this varied menu. Chef MacMenamin is the third generation of culinary professionals in his family. He studied at The Culinary Institute Of America as well as in Switzerland for pastry arts. " A chef must have patience. I enjoy using high quality meats, fish and vegetables. Roasting lamb and beef in the wood-burning oven, in addition to preparing pizzas, gives the dishes here a great flavor. "
With this talented chef in the kitchen, I anticipated creatively presented dishes exhibiting his flair and expertise. The charming menu at Casa Amore starts with many appetizers titled first kiss. For sharing there is a cold antipasto, a raw bar platter and a raw bar castle for four. We began our meal with tuna and avocado tartar. The presentation added to the fine ingredients in this dish. Ripe avocado tossed with cubes of pristinely fresh tuna, formed the centerpiece. Surrounding this large mound of tartar, were fresh greens and enoki mushrooms, as well as crisp triangles of fried wontons. Wasabi and white balsamic sauce was piped onto this dish along with dots of red caviar. A quail egg topped this refreshing starter.
Another fine choice was the grilled Portobello mushroom. Here, the two mushroom caps surrounded a mound of seasoned goat cheese. A variety of wild mushrooms and pesto flageolet completed this pleasant starter. Baked stuffed little neck clams were combined with bits of turkey bacon and bread crumbs. A fresh flower decorated the plate, adding a touch of the season. Eggplant parmigiana, mussels fra diavolo and Nonna's meatballs are some classic Italian starters.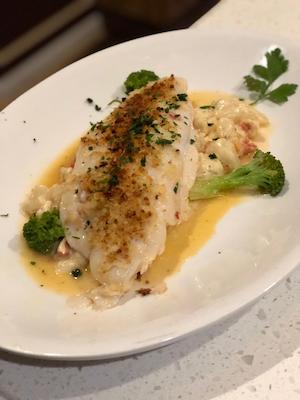 Several salads, such as burratta with figs, classic Caesar, and chopped gorgonzola are among the lighter starters which can become entrees with the addition of a protein. Lentil and hot sausage soup, minestrone and brandied lobster bisque in a bowl of bread are some soup options.
Pasta dishes include many classic options such as penne ala vodka, cavatelli casa amore with broccoli rabe and sausage, fettuccine carbonara and even Sunday gravy with potato gnocchi and many meats. Quite delicious was the elegant butternut squash ravioli surrounded by roasted sea scallops and chunks of lobster in a browned sage butter. Yummy… I wouldn't mind a dish right now.
Among the main courses are classic chicken scarpariello, parmigiana, veal marsala and Sorrentino , lamb osso bucco and lobster fra diavolo. This kitchen does beautiful things with fish. Porcini varnished salmon and seafood gratinato are just waiting to be tried. Truly divine was the pesto crusted sea bass. Here the fish was cooked to perfection with a pesto crumb delicate crust, resting atop coarsely crushed potatoes tossed with chunks of lobster in a beurre blanc sauce. It was rich and absolutely divine.
From the grill, steaks range from porterhouse, T bone, New York Strip and filet mignon. Choose a housemade sauce to accompany your steak. Rack of lamb, lobster tails and surf and turf are other choices. We savored the Berkshire Farms master reserve Wagyu double cut pork chop. WOW …so tender. It is pork's answer to kobe beef. This generous chop was surrounded by cherry peppers, both hot and sweet, (I chose only sweet), sliced sausage, potatoes and onions. It was a hearty excellent entrée.
Sweet endings include carrot cake bread pudding, peach and marscarapone torta rustica, chianti roasted pears, house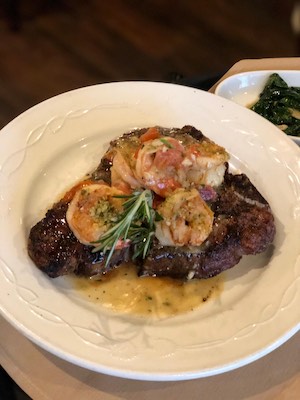 made zeppole and even chocolate chip home bakes cookies and milk. The banana cream pie presented to me with its caramelized banana slices, pie crust and freshly whipped cream was a perfect ending, although I was only able to manage a spoonful of its goodness after my enormous and delightful meal. Maybe I'll begin my next tasting with dessert. I also must return to try the many varieties of pizza that are offered. If I return for a light bite, many interesting sandwiches burgers and earthy special await the lunchtime guest.
Enjoy a meal lovingly prepared and served at Casa Amore in Pelham.
CASA AMORE
65 First Street
Pelham
914 365 1044
Tuna Tartar (serves 2)
4 ounces sushi grade tuna in small dice
1 medium shallot, minced
½ avocado, semi firm, in small dice
2 ounces agenori seaweed salad, minced
2 Tbsps. dark sesame seed oil
1 Tbsp. wasabi powder
Salt and pepper, to taste
2 fresh quail eggs
Wasabi drizzle sauce
Wasabi and chili pepper tobiko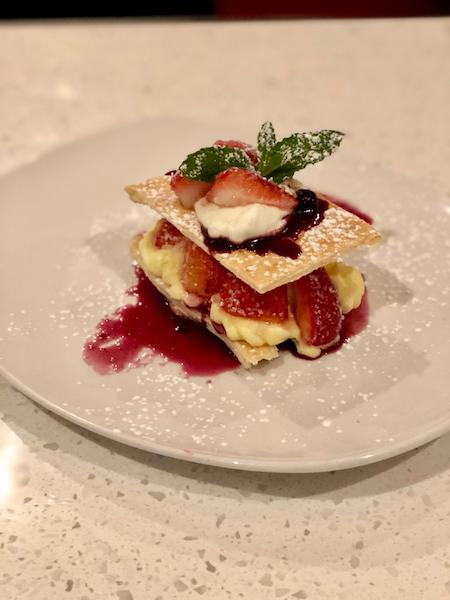 Enoki mushrooms
Mix the first seven ingredients together carefully. Divide mixture into two molds of 4 ounces each. Chill for a half an hour. Unmold onto two cold plates. Garnish each with a quail egg, wasabi drizzle sauce, chili pepper tobiko and enoki mushrooms . Serve very cold with plum wine or green tea martini or crisp Australian sauvignon blanc.
150 Lucky Women Attend Game Night at Westchester Reform Temple
Details

Written by

Joanne Wallenstein

Hits: 2163
Event Hosts Stefanie Cohen, Audrey Weinberg and Iris GreenCanasta and Mahjongg are big in Scarsdale …. so big that a game night at Westchester Reform Temple on Tuesday night April 23rd attracted 150 women who played in the synagogue's social hall. This was the third annual event, which gets bigger every year.
As the event fell during Passover, snacks included crudité and macaroons instead of the traditional "bridge mix," and players sipped kosher wine.
The event was chaired by Stefanie Cohen, Iris Green and Audrey Weinberg who attracted a crowd of women of all ages, from near and far. In addition to a night of fun, all participants received a hat that said "Lucky," noting the fact that they were all lucky to be there.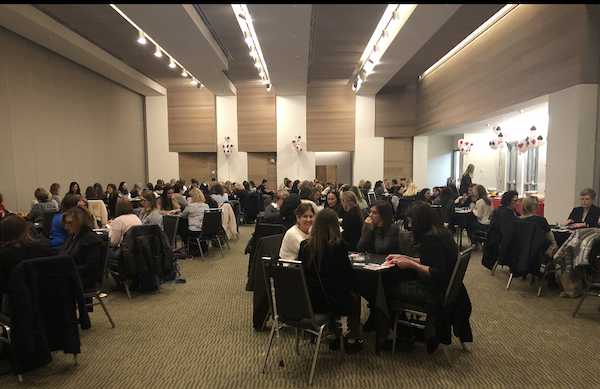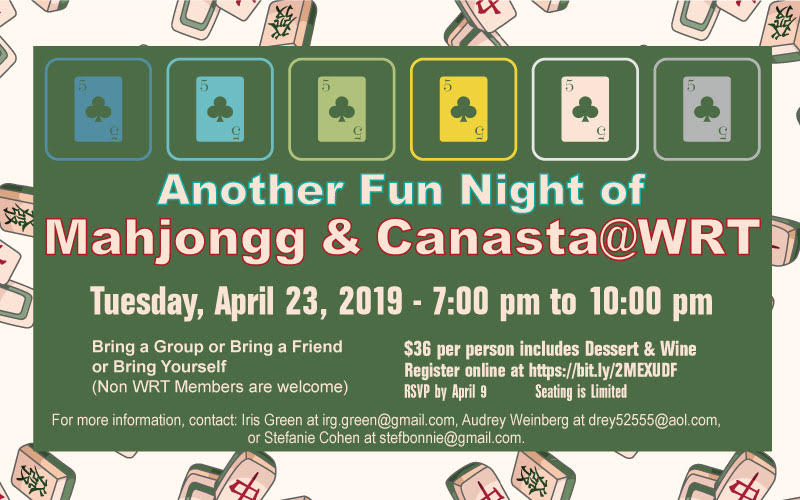 Claudette Colvin, Civil Rights Pioneer, To Receive Congregation Kol Ami's "Be the Light" Award for Social Justice
Details

Written by

Joanne Wallenstein

Hits: 1563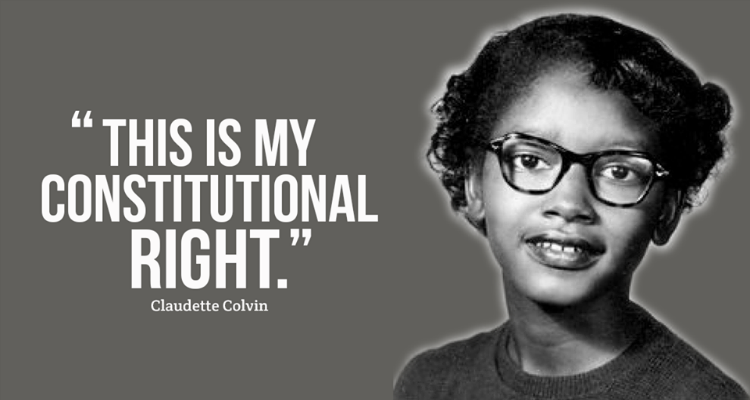 Congregation Kol Ami, of White Plains, New York will honor Claudette Colvin, the "young woman before Rosa Parks," as part of a special program to be presented on Sunday, April 28, 2019 (2:00-3:00 P.M.). Ms. Colvin's brave and dramatic protest in 1955 against bus segregation laws in Montgomery, Alabama ushered in an era of civil rights activism.
Not a week goes by without the tragic news of a school shooting, wrongful incarceration, or personal scandal. The news is often so overwhelming that it leaves us numb, exhausted and frustrated. But for Claudette Colvin, she hopes such injustices make us so angry that we stop standing on the sidelines and take the action needed to drive progress -- just as she did on March 2, 1955.
Only 15 years old at the time, Ms. Colvin, refused to accede to a bus driver's demands that she move to the back of a public bus. "Pride in black history and the many heroes that I had studied about in school, simply glued me to the seat," she said. For her defiance, the police hauled her off the bus, arrested her, and threw her in jail. The courageous Ms. Colvin acted without the help of others, and did so 9 months before Rosa Parks. Colvin's act of rebellion helped spark the Montgomery Bus Boycott and a federal lawsuit challenging Alabama bus segregation laws. Ms. Colvin went on to become one of five plaintiffs in a State and then Supreme Court case that sought to end segregated bus system practices in the south. They won, but the battle was tough, and on many levels continues today.
Ms. Colvin will present her story of bravery and share what motivated her to stay put in her seat that fateful day. She hopes that her tale will continue propelling young people to standup for what they know in their hearts to be true.
The Calvary Baptist Church choir will honor Ms. Colvin in song, and a group of young people, led by Kol Ami congregant George Guidall, the preeminent audiobook reader in the United States, will read excerpts from the biography, "Claudette Colvin, Twice Towards Justice."

Ms. Colvin will be honored on April 28, from 2:00 PM to 3:30 PM at Congregation Kol Ami located at 252 Soundview Avenue, White Plains.
The program is open to the public free of charge and geared for all ages. A reception and question and answer period will follow this important program.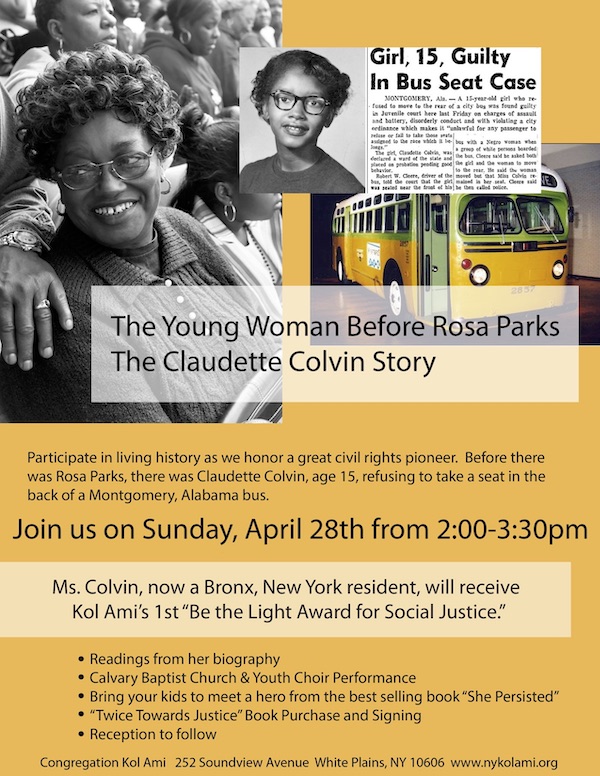 Hoff-Barthelson Music School's Festival Orchestra Holds Auditions for 2019-20 Season
Details

Written by

Joanne Wallenstein

Hits: 1311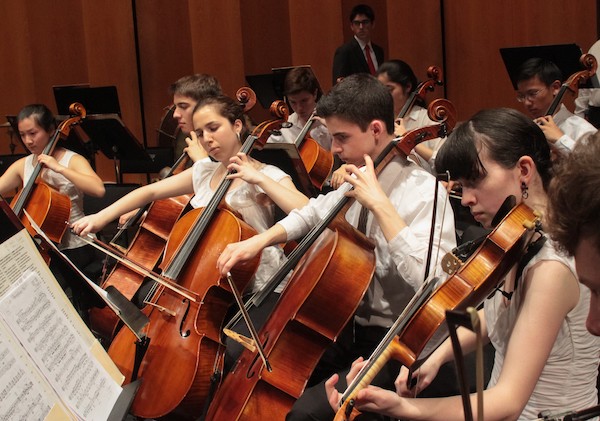 Hoff-Barthelson Music School's Festival Orchestra. Photographed by Steven Schnur.Students in grades 9 through 12 are invited to be a part of one of the finest high school orchestras in the United States. Auditions for Hoff-Barthelson Music School's Festival Orchestra will be held at the School on Tuesday, May 14, 2019, from 6:00 pm - 10:00 pm; Wednesday, May 15, 2019, from 7:00 pm - 10:00 pm; and Wednesday, May 22, 2019, from 7:00 pm - 10:00 pm.
Hoff-Barthelson Music School's Festival Orchestra is a full symphonic orchestra for high school students at the highest level of technical ability and musical artistry. Under the direction of conductor Jun Nakabayashi, the Festival Orchestra performs three concerts annually; two are with guest artists of international stature in full-length concerto performances. The final concert of the season is held at the Performing Arts Center at Purchase College. The Orchestra meets on Tuesday evenings from 7:15 - 9:30 pm. Members of the Orchestra participate in sectional coachings with members of the New York Philharmonic at the School. Auditions are open to the public. Students not yet in high school, but who demonstrate exceptional ability and maturity, may also audition.
Audition Information:
Interested students or parents may contact the Orchestra's Manager, Mark Kushnir at festivalorchestra@hbms.org.
Applicants must perform a 2 minute section from a piece written for their instrument that is comparable to a NYSSMA Level 6 piece; scales; and prepared excerpts. Timpani applicants must perform a demonstration of rolls; a rudimentary solo of choice; and prepared excerpts. Excerpts can be downloaded at http://hbms.org/festival-orchestra.php
Repertoire for the 2019-2020 season includes:
• Bach: The Art of the Fugue, orchestrated by Jun Nakabayashi
• Beethoven: Coriolan Overture, Piano Concerto No. 4, and Symphony No.7
• Handel: Hallelujah Chorus (Mozart version)
• Haydn: Symphony No. 104 London
• Mozart: Clarinet Concerto, Overtures to Don Giovanni and Le nozze di Figaro
(Repertoire subject to change.)
2018-2019 Concert Dates:
• December 14, 2019
• March 14, 2020
• June 6, 2020
About Hoff-Barthelson Music School:

Hoff-Barthelson Music School has achieved national recognition as a premier community music school for its unsurpassed leadership in education, performance and community service. With a faculty drawn from the region's most talented teachers and performers, the School has long been one of Westchester County's most cherished cultural resources. Whatever a student's age or level of musical interest, HBMS' diverse offerings provide the highest quality musical education, personally tailored to his or her specific passions and goals in a supportive and vibrant community.
Opera, Jewish Style, at Westchester Reform Temple
Details

Written by

Joanne Wallenstein

Hits: 2539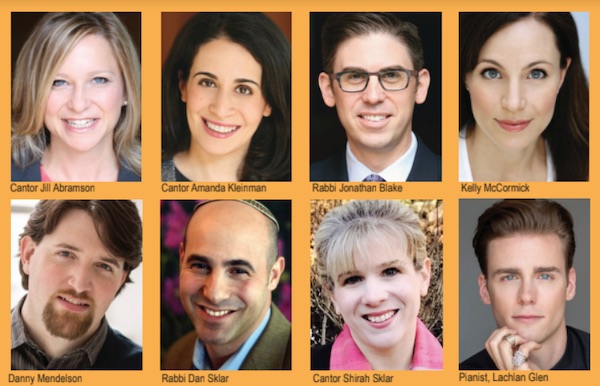 Cantors, a Broadway star and members of the WRT Adult Choir will host an evening of opera at Westchester Reform Temple on Sunday April 7 at 4 pm featuring Cantor Jill Abramson, Rabbi Jonathan Blake, Cantor Amanda Kleinman, Kelly McCormick, Danny Mendelson, Rabbi Dan Sklar, Cantor Shirah Sklar, and Pianist Lachlan Glen. This annual concert is held in memory of Cantor Stephen Merkel z"l.
This talented company of singers made up will join together to offer music that expresses the connection between Jewish life and the opera stage. Pianist Lachlan Glen, an alumnus of the Metropolitan Opera's Lindemann Young Artist Development Program, will share his operatic expertise. Enjoy the natural acoustics of the beautiful Westchester Reform Temple sanctuary as you experience the simplicity and grandeur of the human voice.
A Jewish Encounter with Opera is the brainchild of Cantor Jill Abramson, who is fascinated with the nexus of Jewish culture and the operatic repertoire. For more information, see Cantor Abramson's piece,
There will be a wine and cheese reception following the program. A suggested contribution of $15 supports continued programs for the community.
Here is the program:
"Zion's Walls" (Copland): Adult Choir and Soloists
"Olympia's Aria" (the Doll Song) from Les Contes d'Hoffmann (Offenbach) - Kelly
"Dudele" (Dan & Shirah)
"King David" Herbert Howells (Amanda)
"Laurie's Song" from Aaron Copland's The Tenderland (Shirah)

"Un Moto di Gioia" (Mozart) from Marriage of Figaro (Jill)
Mozart's librettist was Jewish and Stephen Merkel loved Mozart: he had a huge painting of him in his office.
"Rozhinkes Mit Mandlen" (From the opera Shulamis by A. Goldfaden)
Audience sing-along
Ching-a-Ring-Chaw (Copland) - (Dan)
Tombe degli avi miei (Donizetti) from Lucia di Lammermor (Danny M)
"Va Pensiero" or Chorus of the Hebrew Slaves from Nabucco (Verdi): Soloists
https://www.thoughtco.com/va-pensiero-lyrics-and-text-translation-724034
"A " Simple Song," Bernstein (Jon)
Note: Leonard Bernstein's centennial last year, and note the irony that, following his overtly Jewishly-themed Symphony No. 3 ("Kaddish") (1963) and Chichester Psalms (1965), Bernstein chose the Roman Catholic Mass as the subject of the work he composed for the inauguration of the Kennedy Center. "Mass" (1971) is a massively scaled, eclectic pastiche of classical, pop, Broadway, jazz, and blues elements; but "A Simple Song" belies all of that, and the Christian liturgical conventions of the Catholic Mass, by declaring a universal devotion to God with lyrics drawn from Psalms (co-written with Stephen Schwartz of Godspell, Pippin, and Wicked fame).
"See the Conqu'ring Hero Comes" (Judas Maccabeus): Adult Choir and Soloists
Encore: "Chad Gad Yah" (DM solo) Moishe Oysher, arr. Jacobson: Adult Choir and Soloists – as Passover is coming up.
Westchester Reform Temple is located at 255 Mamaroneck Road in Scarsdale, New York. For directions or information, call 914-723-7727, email to office@wrtemple.org or visit the website at www.wrtemple.org.
For more information about this program, please contact Cantor Jill Abramson at Westchester Reform Temple, 914-723-7727.