Mister Chen In Mamaroneck: Handmade Dumplings and Authentic Chinese Cuisine
Details

Written by

Judie Dweck

Hits: 4507
In recent years, many Asian restaurant openings were a combination of several far eastern cuisines. As these "fusion" restaurants became very popular, and some, quite good, I found myself craving some authentic Chinese cuisine. Paul Chen must have heard my plea, with the recent opening of Mister Chen Authentic Chinese Cuisine in Mamaroneck, in the space vacated by Haiku. The contemporary space seats about 80 guests. A carved black screen with the Mister Chen logo greets you as you enter. Free standing tables, a long banquette and a few high tables provide seating. Striking is the wall sized mural above the banquettes depicting the many regions of the far east from Hong Kong, Taiwan, Shanghai, Beijing, and Taipei.
With its black ceiling and black chairs, the space emits a simple but sophisticated appearance. Paul Chen, the owner, said," Mister Chen serves authentic Chinese food.

We have brought a bit of Flushing, Queens, where Chinese restaurants are in abundance, to Westchester.
My favorite part of restaurant ownership is the excitement and challenge that greets me every day. I enjoy meeting new guests and welcoming old ones. Mamaroneck is a family oriented place and brings a great variety of guests to its many restaurants."
The food at Mister Chen is traditional and many of the recipes are those of Paul Chen's mother, the executive chef at Mister Chen. She owned a restaurant in New Jersey where Paul Chen helped out and honed his restaurant skills.

At a recent lunch, I chose several items from the menu. They were all presented at the same time and reminded me of the saying, "To the Chinese, a western meal is like a short story, but the best Chinese meal runs the length of War and Peace." Since a Chinese meal combines many dishes, contrasts of color, flavor and textures become part of your dining experience." Appetizers here include spring rolls with vegetables or shrimp and vegetables, scallion pancakes, pork belly sandwiches, salt and pepper calamari, lettuce cups with chicken or shrimp and as I sampled, spareribs, very meaty and glazed with a light honey sauce. I look forward to sampling the red bean paste cake and shredded turnip puff pastry on future visits.

My favorite part of the Mister Chen dining experience is the dumpling station, where I observed two dumpling chefs in their pristine white coats and caps, as they briskly cut, rolled and filled the many varieties of dumplings and buns. Especially tasty are the delicate soup dumplings filled with crabmeat and pork or just pork. These hand pleated treasures arrived in a bamboo steamer. Bite off one corner of the dough wrapper and allow the juices to fill your porcelain spoon. Sip it slowly to get the full flavor and then enjoy the filling and the thin dough wrapper. Although I have never visited China, I have tasted these dumplings in Manhattan's Chinatown as well as in Flushing. At Mister Chen, they are exceptionally delicious.
We also found the pan-fried pork buns excellent. Here, the light bread like dough encased chopped pork filling. Black and white sesame seeds and thin slices of scallions enhanced these lovely buns. Other filled handmade creations to be sampled are vegetable dumplings, pan fried dumplings, shrimp and pork dumplings in chili oil and vegetable and pork wontons tossed with chili oil, as well. For me, a variety of these made from scratch dumplings and buns with perhaps a bowl of Chef Chen's Taiwanese braised beef and noodle soup would constitute a fine meal.
From Taiwan, we enjoyed a bowl of Taiwanese mei fun. At Mister Chen you can order these thin noodles with chicken, shredded pork, beef, prawns or vegetables. Our noodles were mingled with julienne slices of pork, scallions, fried egg pieces, red onion slivers and shredded carrots. Colorful, mild and fresh are words that come to mind when devouring this hearty bowlful. Other classic noodle dishes are cold sesame noodles with peanut sauce and cucumber, noodles with pork and black bean sauce and the popular lo mein. Pad Thai and crispy Shanghai noodles are available with chicken, shredded pork, beef, prawns or vegetables. With cool weather on the way you may enjoy some soup. There are the familiar, wonton, hot and sour, egg drop, chicken and corn as well as minced beef and egg whites or seafood and bean curd soups and a Chen family favorite of braised beef and noodle soup. Fried rice is prepared here with a choice of additions such as chicken, pork, beef, shrimp, vegetables or Chinese sausage. Rice a Chinese staple can be ordered as minced pork or pork belly over rice or with a combination of ingredients in the house special fried rice.
For your entrees, choose among poultry, men style pork ribs, braised pork belly and jumbo prawns and
scallops with garlic sauce each sounded interesting. If you wish to stick with the familiar there is General Tsao's Chicken, crispy shredded beef, mixed seafood in a bird's nest and beef and broccoli. I tried the orange flavored beef, nicely presented with the crispy beef slices surrounded by bright green broccoli florets and scattered with hot peppers and large segments of dried orange peel, which infused the sauce with wonderful flavors. For the vegetarian in your group, broccoli, bok choy, string beans, Chinese water spinach, eggplant and Chinese cabbage are prepared in interesting ways.
If you wish to enjoy a beverage with your meal, beers, wines and original cocktails such as orange oasis, blue China, Green dragon and Crouching Tiger await you. At the time of my visit the dessert menu was just being assembled. Meanwhile, I sweetened my taste buds with an imported Chinese fruit flavored hard candy, in a bowl at the door.
Enjoy authentic Chinese cuisine soon at the new and appealing Mister Chen, where dumplings and buns are one of the star attractions.
MISTER CHEN
265 Mamaroneck Avenue Mamaroneck
914-77701221 or 777-1212
www.misterchenny.com
Medical Marijuana: A Solution for the Elderly's Nagging Health Problems?
Details

Written by

Andrea Seiden

Hits: 1453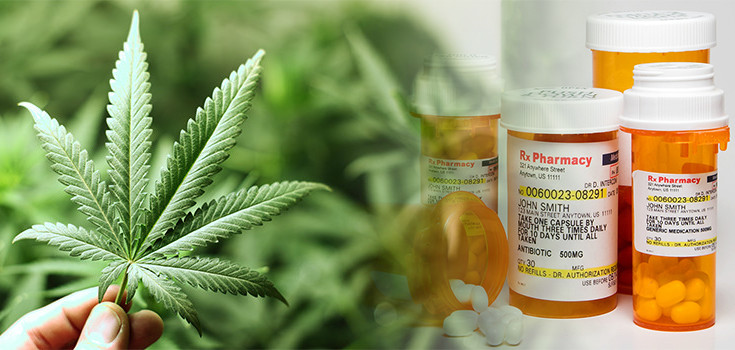 The Holocaust followed my dad and colored his world every step he took -- despite escaping from Hungary during the uprising of 1956. Family members who were not sent to concentration camps, were starved during the war while hiding in the Jewish ghetto located just behind the majestic Dohany Synagogue.

His conversations frequently lead back to 1945 and how difficult it was for him satisfy his aching hunger. Years later, while he and I were traveling by train through the English countryside on an antiquing trip, we started talking with a fellow passenger. He was just about my father's age and eager to chat. It wasn't long before the subject veered off to the war. He too, knew what it was like to go without food. "We would have killed for potatoes" he exclaimed. To that my father replied, "We would have been happy with just the potato peels."

He often reminded me and my sister Cynthia that Americans have it so good. "No one in this wonderful country knows what it is like to go hungry." And it was true, we didn't know. We grew up in the 70's eating Twinkies, nibbling on Captain Crunch cereal straight from the box, and sometimes, gluttonously frying up a steak to eat after school while watching Gene Rayborn host Match Game '76.

To my deep embarrassment as a teenager, after most meals, he would declare, "We may be poor, but we eat well." While, he applauded a good appetite, and appreciated good cooking, he could not stand throwing food away. Better to push away from the table with our jeans unzipped and feeling nauseated than to leave a few morsels and be subjected to Dad's proselytizing.

Shopping at Stew Leonard's with my Dad was a mind-blowing experience for him. "If someone would tell me when I was a child in Hungary that I would live to see mounds of oranges and bananas piled in large bins – I would never have believed them." Like a greedy child, he grabbed the samples that Wow the Cow enthusiastically pushed into customer's hands. He once cried in the middle of the store – mumbling his constant refrain, "Americans are so blessed." With loads of shopping yet to do, I lost it. "Dad" I sternly said, "You are making a scene. Please don't cry every time you see a fallen chestnut. Now help me find the Splenda."
At nearly 89 years of age, Dad is once again starving, not at the hands of cruel oppressors, but because of the effects of kidney disease and a life time of high blood pressure. No matter what is being served, he cannot manage more than a few bites. He pushes his food around the plate like an anorexic hoping we won't notice that he isn't eating. Well-meaning suggestions, such as "Dad, even if you aren't hungry – try small bites; eat more snacks; drink Ensure in the morning" have done little to put any meat on his old bones.,
I recently took my father to see a local neurologist who is certified in the medical use of marijuana in the hope that she could help. He hardly had the energy to answer her questions and sat on the examination table, slumped over wearing his little boy jeans, blue down vest, and Brooks sneakers. "Tell me what brings you in?" "What do you hope to achieve with the marijuana?" By the end of our appointment she understood that dad weighed about 107 pounds with his clothes on, and was slowly disappearing. She had everything she needed to justify a medical marijuana card.

Later that afternoon, the pharmacist, a young girl with cherry red hair wearing a reassuring white lab coat, at the local Medical Marijuana Clinic recommended to start dad's treatment with a balanced blend of anti-inflammatory properties and a mild relaxant. We sat at her desk while she reviewed the color-coded THC scale, and explained that we landed smack on the center blue dot. She underscored that this was a process of trial and error – and that there were few controlled studies demonstrating effectiveness. Dad, a physician himself, tucked away the lack of science, and agreed to try the "hash pills". He stopped short of purchasing the vaping pen for a quick hit of intensified relief. Just before exiting through the labyrinth of locking doors with a 2-month supply of pot nestled neatly in recycled brown paper bag, the receptionist helped us to sign up for the rewards program. Dad would be able to keep up with all the Medical Marijuana News and earn points toward his next purchase.

Eager to see if the marijuana improved his appetite and mood I made an early bird reservation at a local restaurant where we all watched him swallow down the pills. I was hopeful that I would soon, once again, hear my dad say, "We may be poor, but we eat well."

A few weeks later, while sitting with my dad and sister in the communal living room at his independent residence in Yonkers, I asked if the marijuana was helping him with his appetite and mood. He was out of it, not because of TCH, but because of the lack of sleep and effects of his progressive kidney disease. Before dad could straighten up and ask me to repeat the question, David, a 90-year old whose wife was now at the Hebrew Home because of advanced dementia, lamented that he had tried marijuana for the stabbing, burning neuropathic pain he was experiencing in his feet. "Nothing wrong with it, it just didn't do much for me." He was resigned to living with the pain caused by diabetes. Just as my father's fog started to lift and he was almost able to jump into the conversation, Barbara, an elderly wheel chair bound woman to my left quietly chimed in. She told her aid that she wanted to try marijuana for her aches and pains as well. When we asked her about any previous use, she smiled and confessed to the small group that she had tried it years ago and enjoyed it. Dad dramatically clearing his throat and taking a sip of his high protein drink, finally joined the conversation. "Yes. Yes girls, I am eating more. See?" I wish I could have given him a gold star for his efforts.
Practical experience will dictate marijuana's place in an older person's cocktail of life sustaining drugs. For now, I found it interesting that my father and his new friends were so hopeful about the potential use of plant for controlling pain, easing anxiety and improving appetite levels. Ironically, it wasn't that long ago, that my dad rushed up to my bedside while I was in college armed with medical literature condemning its use, when I dramatically freaked out after eating hash brownies. Today, he is as accepting of it as he is of his granddaughter's ever changing hair color. Bright blue, purple, red – a rainbow bridging the generations.
$1.7 Million Raised at White Plains Hospital 125th Anniversary Gala
Details

Written by

Joanne Wallenstein

Hits: 2815
Geralyn Della Cava, Kathy Winterroll ,Anna Cappucci, Wendy BerkThe Friends of White Plains Hospital hosted the 125th Anniversary Gala of White Plains Hospital on Saturday, September 29th. The sold-out evening at the Sleepy Hollow Country Club, the site of the Hospital's first gala in 1956, raised $1.7 million for hospital programs and services. The gala was co-chaired by Wendy Berk, of Scarsdale; Anna Cappucci, of Harrison; and Geralyn Della Cava and Kathleen Winterroll, both of Scarsdale. 800 guests enjoyed a historical video tribute showcasing the hospital's remarkable longevity in the community, followed by dinner, dancing, a silent auction, and fireworks display.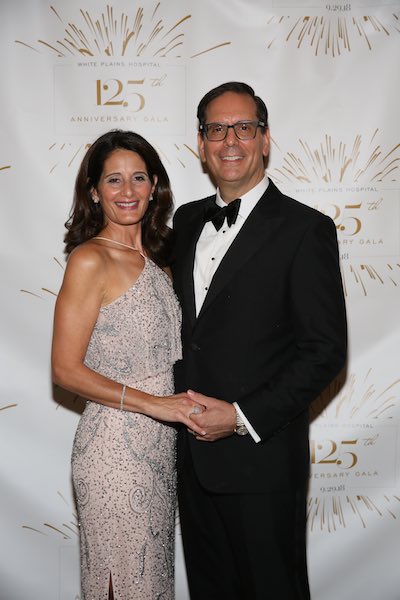 Annette Cappucci and Dr. Roger Cappucci
Lindsay Zaken Karen Tolchi Andrea Tucker Allyson Simon Lisa Gans and Kate Eichel
Amanda Zaitchik, Jill Spielberg, Dara Gruenberg, Randi Culang, Allison Arest
The Evocative Flavors Of Homemade Greek Food At Tzatziki Greek Grill
Details

Written by

Judie Dweck

Hits: 3393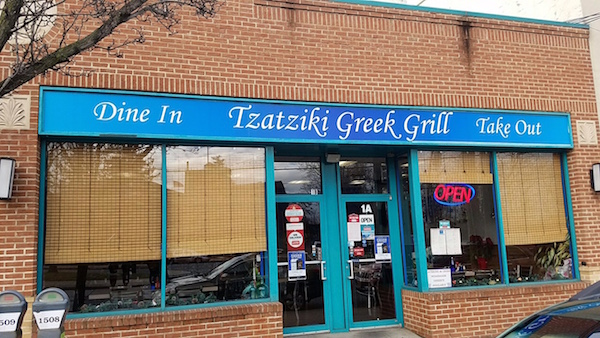 The well known chef Paul Prudhomme said," You don't need a silver fork to eat good food." The inviting Tzatziki Greek Grill in New Rochelle, might be small and unassuming but the flavors of their homemade Greek dishes are very big. A visit here is like arriving at the home of friends who are really good cooks.
A small bar is tiled in blue. The walls are the blue of the sea. Bottles of wine, Greek pottery and artwork line the walls. Blue glass worry beads and painted glass eyes to ward off evil hang on the walls. The evocative aroma of lemons, and fragrance of oregano and other fresh herbs and olives permeate the air and whet your appetite.
The owners of Tzatziki Greek Grill always look toward the future. They hope to bottle their homemade sauces and make them available to a larger audience and perhaps a Greek food truck will be available for parties in the future, as well.
Seating about 45 guests, Tzatziki is very casual. Greek music plays in the background. I visited on a weekday afternoon. Many young people, possibly students from nearby Iona College were enjoying their meal as well as local business people. I sat down with manager Lena Toumaras and after a few minutes, I felt as though I knew her and her family forever. She explained that the owners Fay and George Nanakos, and Dimitri Toumaras opened the New Rochelle spot about 2 years ago. Their chef and partner Billy Kokoranis is a CIA graduate and together they have developed a large and varied menu of classic and innovative Greek dishes. They say it is Greek cuisine with a twist. The family has been in the restaurant business for 30 years with restaurants in Manhattan and New Paltz. According to Lena," fresh and authentic, diverse and innovative describes our food. We love food and are passionate people and take great pride in all of our homemade creations." When asked whom she would like to serve, the first who came to mind was her dad followed by the rat pack, those early Hollywood stars. "Our staff and guests are like family. We say our staff works with us, not for us.

At least two dozen starters are offered here. Some are purely classic and some are creative variations on the classics. Try the saganaki cheese sticks. Here fingers of saganaki cheese are rolled in crumbs and fried. Enjoy them with the skordalia, potato and garlic dip for a wonderful beginning. For the gluten free crowd spanakopita and zucchini bites are perfect choices. Rolled in gluten free crumbs and fried, they are served with tzatziki, freshly prepared with Greek yogurt, perfect for a cocktail party, as well. Keftedes, the classic Greek meatballs are bathed in a lovely tomato sauce and topped with shredded feta cheese. Tender grilled well-seasoned octopus with red wine vinegar, olive oil and herbs is another fine choice. Grilled calamari, falafel, grape leaves filled with rice and dill, tzatziki wings, a 5 dip sampler, and tzatziki nachos are other varied starters. A selection of these would certainly constitute a varied meal. Salads, small or large come in several varieties and can be topped with a choice of souvlakis, falafel, gyro, calamari, shrimp or salmon. I savored the beet salad where cubes of beets were tossed with feta, arugula, and onion and roasted pine nuts in a balsamic dressing. Also interesting are the cranberry, walnut, feta salad with romaine and cucumbers, a lentil salad, and horiatiki a village salad with a house made Greek dressing.
The traditional gyro, the combination of ground beef and lamb can be enjoyed as a sandwich on pita or as a gluten free wrap enhanced by tomato, lettuce, onion and tzatziki or as a Zeus burger where the gyro tops a burger and feta cheese. On the subject of burgers, try the signature burgers of Santorini with sautéed tomatoes, onions and feta or the Athenian with fig spread, feta and balsamic glaze and the list goes on. Specialty sandwiches are tempting here, from a variety of souvlaki and gyro sandwiches to meatball, homemade Greek sausage to name but a few. I loved a traditional lamb souvlaki on pita with tender chunks of lamb, lettuce, tomato and tzatziki sauce on the side. This sandwich went well with well-seasoned house made fries. For the vegetarian there are many choice sandwiches such as falafel, lentil, hummus, grilled kasseri cheese and sautéed vegetables. If you prefer a platter, grilled salmon, shrimp, swordfish souvlaki or gyro are presented with pita, lemon potatoes, rice or fries and tzatziki or tahini sauce.
Not far from Iona College, Tzatziki offers a college student special lunch of choice of gyro, souvlaki or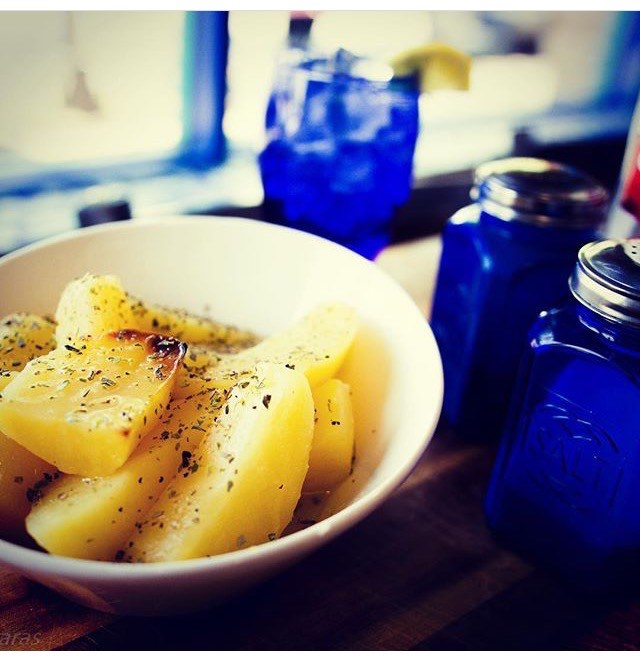 falafel sandwich with fries and a soda.
On to a selection of Greek favorites. Very special was a platter of grilled baby lamb chops, beautifully spiced and well trimmed, served with their excellent lemon potatoes infused with freshly squeezed lemon juice and salad. Pastichio, a rich classic with layered pasta , meat tomato sauce and topped with a crown of béchamel sauce, as well as moussaka with grilled eggplant slices, zucchini and potatoes, tomato beef sauce also topped with the rich béchamel were both deliciously filling. Perhaps I will sample the spanakopita, a spinach feta and fila pie on a future visit.
You might not have room for dessert but even if your tables shares just one sweet, I suggest the baklava bread pudding with a caramel metaxa sauce. It is sweet, rich and studded with walnuts, unusual and divine. Loukumades, the classic honey puffs, those fried balls of dough dipped in honey cinnamon syrup are classic and hard to resist. Baklava, baklava ice cream, baklava cheesecake, the custard filled galactoboureko, and Greek yogurt with honey and walnuts will certainly satisfy your sweet tooth. These house made treasures add a fine finish to your Greek culinary experience.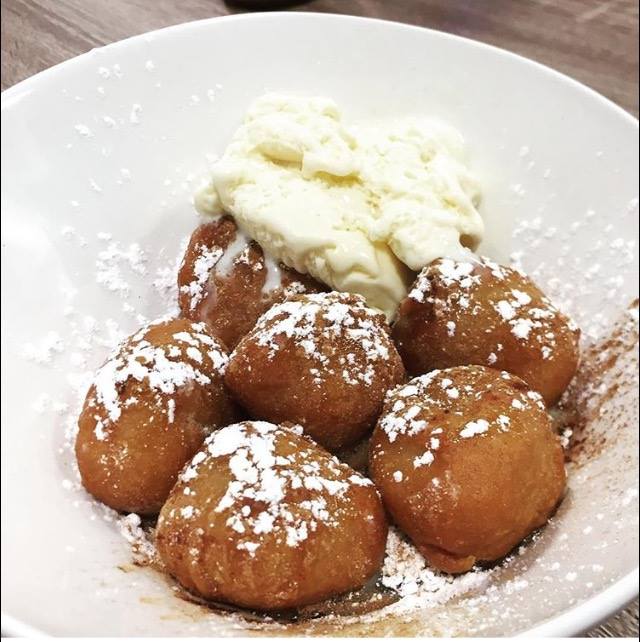 Tzatziki Greek Grill offers catering services and they have a large take out business as well. If you are north, they have a second location on Wheeler Avenue in Pleasantville.
Kali Orexi or bon appetite as you enjoy a meal at Tzatziki Greek Grill.

Tzatziki Greek Grill
1 Huguenot Street
New Rochelle
914-738-2737
Recipe: Skordalia Dip
4 medium potatoes, peeled and cut into chunks
6 cloves garlic, peeled
Salt, to taste
¾ cup olive oil
¼ cup red wine vinegar
Bring a large pot of water to a boil. Lower heat to medium and add potatoes. Cook until potatoes are fork tender. Drain potatoes and reserve ½ cup of the cooking water. Crush garlic to form a paste in a food processor or mortar and pestle with salt. In a bowl, mash the potatoes and add the garlic mixture. Add oil a little at a time and mix until it is absorbed. Add vinegar and mix well. Add salt to taste. If it is too thick add some of the potato water. Refrigerate and serve at room temperature as a dip.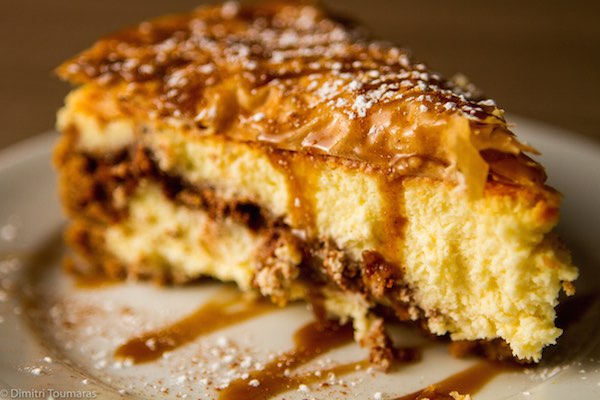 Casual Dining Roman Style At TVB : By Pax Romana
Details

Written by

Judie Dweck

Hits: 2666
The initials TVB roughly translate to I love you and I wish you the best. Ti Voglio Bene. Judging from the delightful tasting I recently enjoyed here, the food and the service clearly reflected the name TVB.

About a year ago, Pax Romana made its entrance in White Plains. The large space was bustling and as I reported then, was a welcome addition to the Westchester dining scene. Due to unforeseen circumstances, they vacated the space and left many diners disappointed. Perhaps it was a blessing in disguise. The young talented owners picked themselves up, brushed themselves off and started all over again. The result is the charming, welcoming contemporary TVB: by Pax Romana. The owners, Paul Russo and brothers Alfredo and Christian Runco are a constant presence at their new spot on East Post Road. Chef Cristian Petitta heads the open kitchen and much of the original staff joined them, as well. After just three months, the place is thriving. They have their talented family as part of the team. Giovanna Runco, mother of the Rusco brothers prepares the fresh pasta and sausage every day. And Graziella Fante, grandmother of Paul Russo prepares the pizzelle and tiramisu.

The team worked together to create an eclectic, contemporary welcoming space, in which to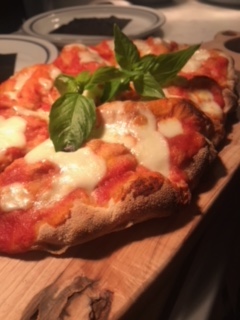 enjoy their delightful food. Seated about 75 guests, the bar area in in the front. Along one wall is a pasta preparation area and a complete open kitchen. Tables and banquettes adorned with vases filled with fresh seasonal herbs fill the remaining space. Russo called the space, "industrial redesigned." Interesting lighting catches your eye. Brick and wood are enhanced by black and white patterned tiles and some blue painted walls. These pops of color make an interesting setting. The restaurant is sparkling. Russo said," We believe in transparency with everything here. Cleanliness and organization are important and we work hard to offer authentic homestyle dining in which we have great respect for each other, our guests and our cuisine. "I chatted with Paul Russo who indicated that the best part of restaurant ownership, is that every day is different and you never know what the next day has in store for you. '' We are starting to offer cooking classes in the near future including pasta making, pizza making and desserts. If I were a guest here at our own restaurant, I might order burrata or suppli to start or perhaps an arugula salad. This might be followed by a bowl of spaghetti carbonara or spaghetti chitarra with clams. Our food is simple with the use of fine ingredients. We honor our Italian roots and consider ourselves humble and in support of others."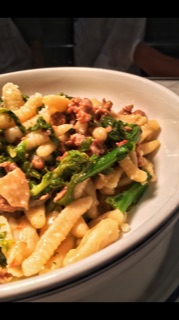 Starters here range from the familiar calamari fritti or burrata with heirloom tomatoes and balsamic glaze to several innovative presentations that I enjoyed. Olive ascolane arrived as a mini deep frying basket filled with meat stuffed green olives that were breaded and fried to a golden brown….. Just like potato chips, you can't eat just one. We also loved the suppli al telefono. These tomato flavored risotto fritters were stuffed with mozzarella cheese. Upon frying them, on biting into them you understand the name, as the cheese melts into strings like telephone wires. A classic of polpette were tasty meatballs combining beef, pork and veal and presented with tomato sauce and crusty bread for dipping. The sprinkling of parmigiana completed this dish. I look forward to sampling an appetizer of grilled octopus with a cannellini bean puree. Salads here include classic Caesar as well as quinoa with vegetables and goat cheese, arugula with nectarines or other seasonal fruit with toasted almonds and stracchino cheese and a nectarine vinaigrette. Add chicken, salmon or shrimp to your salad and it becomes a main dish. I enjoyed the nectarine salad with shrimp for lunch and it was delicious. The housemade sun dried tomato dip with country bread was an excellent addition to our lunch salads.

Most Italian restaurants offer pasta dishes, but not many offer them in the manner of Pax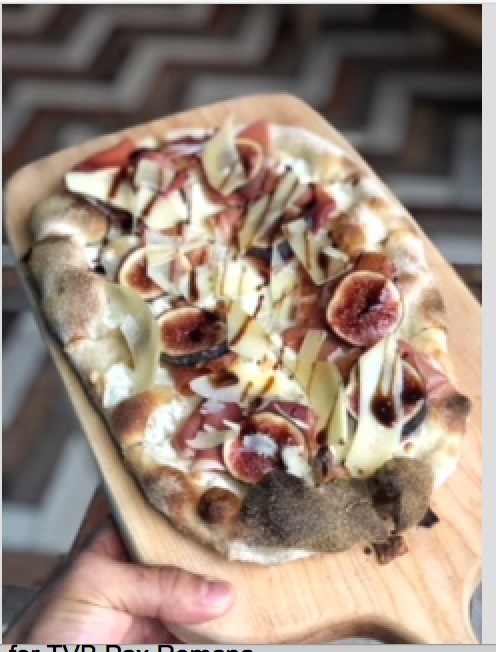 Romana where you can actually watch Giovanna Runco, the talented mother of the Runco brothers, as she prepares the dough and rolls and cuts it into various shapes. The pasta here is prepared daily and is never frozen or dried. Spaghetti Chitarra alle vongole was a light and delicious bowlful. The pasta was cut into strands on the guitar like implement called a chitarra. These long delicate strands were mingled with baby clams. Cooked al dente, the dish was delicious in taste and texture. I especially loved the cavatelli con broccoli rape e salsiccia. The sausage and the pasta are housemade by Giovanna Runco. Every forkful had an abundant amount of crumbled sausage and broccoli rape. Pappardelle here had a unique combination of ingredients. The pasta was infused with unsweetened cocoa for an interesting taste. The wild boar ragu that enveloped it was rich with flavor. The wide pasta was substantial enough to pair with the hearty ragu, a nice cold weather dish. As time goes on, I hope to try spaghetti carbonara, taglioline cacao e pepe, cheese ravioli, gnocchi sorrentina and other homemade pasta selections. Gluten free selections are available upon request.

Very popular in Rome is a classic dish of melanzane parmigiana. Here, as an entrée, the slices of eggplant are layered with mozzarella and tomato sauce. The chefs seem to have the secret of choosing sweet rather than bitter eggplants. Nicely seasoned with basil it is served with salad and a choice of pasta. This is a very classic dish. An American variation is chicken parmigiana, which is very popular here, as well. Branzino, that flavorful Mediterranean Sea bass is served with seasonal vegetables and salmoriglio sauce, a combination of lemon, garlic, olive oil and oregano. For the beef lover, try the tagliata, grilled sliced sirloin steak with arugula, cherry tomatoes and shaved parmesan.
A discussion of Roman cuisine would not be complete without a section on Pinsa Romana. At Pax Romana, the pinsa are very special. The flour is imported from Italy and the dough ferments for 72 hours. TVB Pax Romana is distinguished by being certified and first on the east coast to be the official restaurant using pinsa flour. Served on a wood cutting board made to fit the oval shaped pies, I'm working my way through the 6 varieties, with specials offered daily. We enjoyed chicken scarpariello with chicken, sausage, potato cubes, mozzarella and vinegar peppers. The potatoes and peppers added an interesting touch. My favorite was the funghi pizza with mushrooms, truffle oil, porcini cream and mozzarella. Each topping is enhanced by the wonderful crust.

Complete your meal with tiramisu prepared by Russo's grandmother, cheesecake or bomboloni. I ended my meal with a crisp pizzelle. A carefully selected variety of cocktails, beer and wine are offered, as well. Another note of interest... selections are color coded on the menu to indicate gluten free, vegetarian and vegan. Take out is an option for dishes that travel well.

Enjoy the generous and rich flavors that infuse the Roman cuisine at TVB Pax Romana. You will leave with the words Ti Voglio Bene.

TVB Pax Romana
171 East Post Road
White Plains
914 831 3303

(Recipe) Spaghetti Carbonara (Serves 4)

17 ounces pasta
5 ounces guanciale or pancetta
3 ½ ounces grated pecorino Romano cheese
4 egg yolks
1 whole egg
1 pinch ground black pepper or to taste
1 Tbsp. olive oil

Directions:
Bring a large pot of salted water over high heat to a boil. In a mixing bowl, whisk together the egg, egg yolks and pecorino cheese with a generous pinch of black pepper. Set aside. In a large skillet heat oil. Add pancetta or guanciale and sauté until the fat is rendered and the edge is crisp but not hard. Remove from heat and set aside. Add pasta to the water and boil until it is a little firmer than al dente. Just before the pasta is ready, reheat the pancetta if needed. Reserve 1 cup of the pasta water .Drain the pasta and add it to the skillet over low heat. Stir for a minute or two. Fill serving bowl with hot water to keep it warm. Empty the water and dry the bowl. Add the hot pasta mixture and stir in the cheese and egg mixture. Add some reserved pasta water if needed for creaminess. SERVE IMMEDIATELY, dressed with additional grated cheese and pepper.