Sea Flame Restaurant: A New Addition To The Scarsdale Dining Scene
Details

Written by

Judie Dweck

Hits: 5910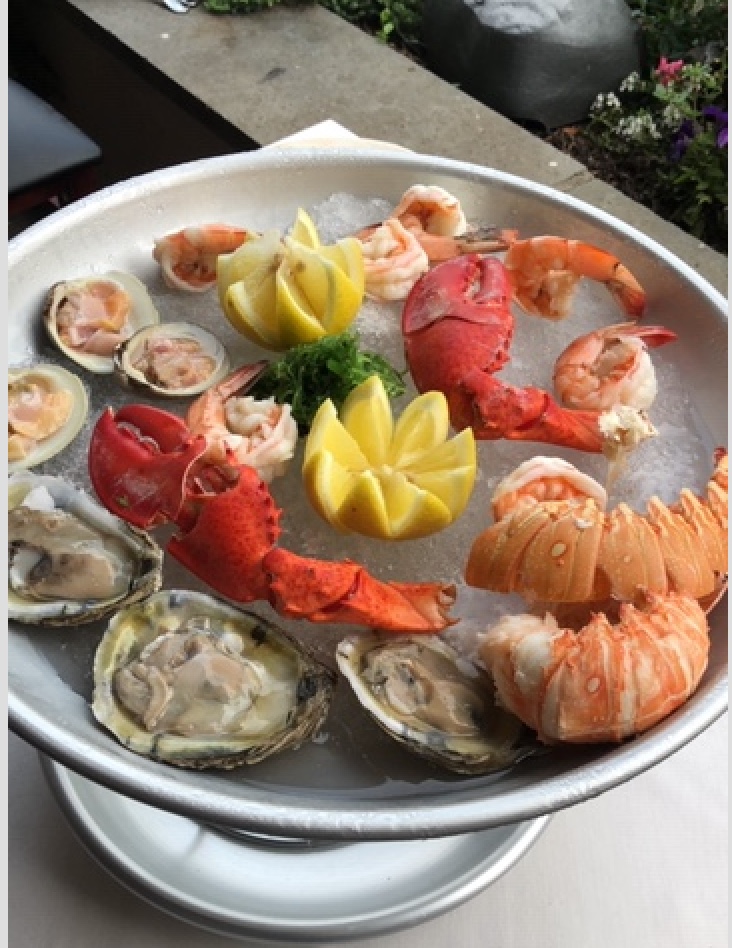 As I settled at a table near the window of the recently opened Sea Flame Restaurant in The Vernon Place Shops, across from Lord and Taylor, in Scarsdale, many curious shoppers stopped to peek in and read the menu in the window. After partaking of a lovely lunch, my advice to these onlookers who came to this area to shop, is …stop in for lunch, dinner, brunch or happy hour to enjoy this friendly, welcoming new dining choice right here in Scarsdale.

Sea Flame Restaurant is owned by the gracious Tim Demaj, a veteran in the restaurant business who has owned restaurants in Manhattan and Yorktown. He truly makes his guests feel comfortable, as I observed him visiting several tables in the dining room and chatting with the guests. Demaj said, "I live nearby and noted that the area needed a restaurant like Sea Flame. The dishes here are traditional and the name Sea Flame indicates that we serve both seafood and steak, as well as many Italian inspired dishes. I'm very fussy about the details at Sea Flame, Consistency is very important here. Our name is a variation of the phrase surf and turf. Our goal is to provide good quality and service and to make our guests feel comfortable. Our fresh fish and seafood is delivered daily. Our prime steaks are dry aged for 21-30 days. One of our signature dishes is our tomahawk rib eye steak. With the bone intact, it requires a hearty appetite. The best part of this business is socializing with my guests. I feel great happiness when they say how much they enjoyed their experience here. If I were dining here, I would probably start with a crab cake, followed by a tomahawk rib eye or a porterhouse steak."

The space has been decorated with an eclectic flair. Seating about 120 guests, a bar is to the left. Attractive Moroccan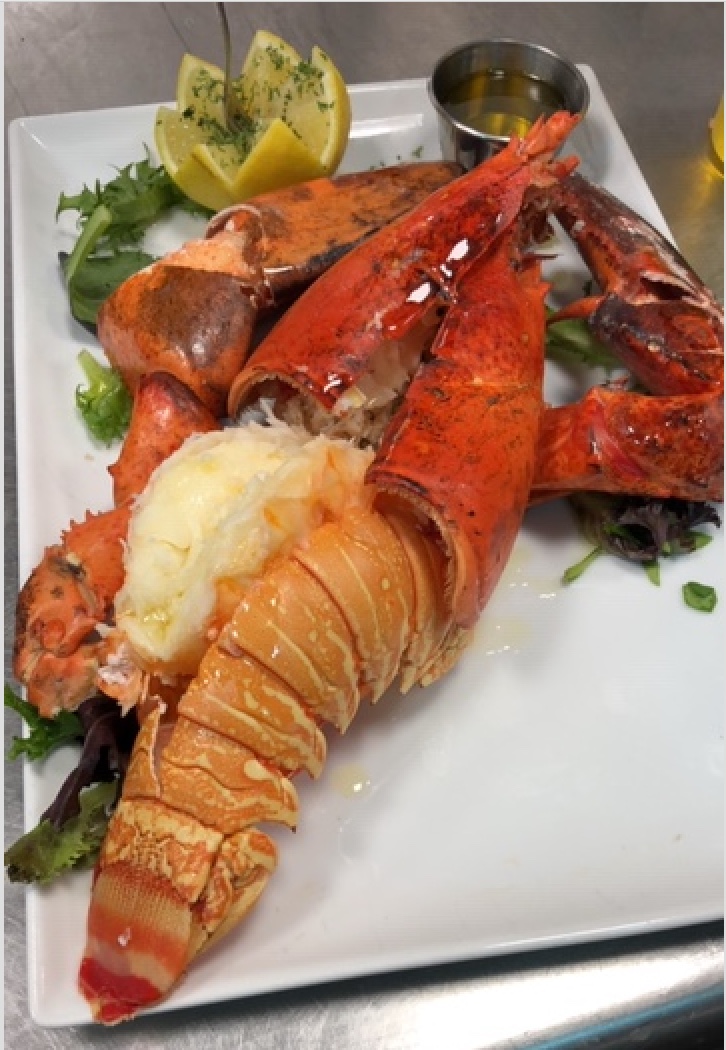 chandeliers light the area. Several TV screens are there for your enjoyment. On the opposite side of the room are several banquettes. Delicate cappa shell wall hangings give each area a bit of privacy. The tables that fill the center of the room are set with rust and white linens and each table boasts contemporary salt and pepper grinders and an oil and vinegar cruet. In contrast to the bar area, the lighting here is super modern. My eye kept focusing on the ' tie dyed ' blue, coral and gray painted wall towards the back- very soothing indeed. As I sat on a very comfortable chair, I checked out the menu as mellow music played in the background.

My recent meal included selections from the sea as well as the flame. Each dish was nicely presented on white china, which provided a fine palette for displaying the food. Grilled octopus, its tentacles carefully arranged on the plate, was grilled to perfection, and tender as could be. It sat beside a crisp salad of mixed greens, cucumbers, tomatoes, red onion in a lemon dressing. A carved lemon sprinkled with parsley completed this plate, a most refreshing beginning to my tasting. A "crabby" crab cake followed. It was a hearty size and nicely seasoned. A mixed salad shared the plate. Lemon garlic aioli was there for dipping. For me, it is important that the predominant ingredient in a crab cake is crabmeat and not breadcrumbs and at Sea Flame this was accomplished.

Future appetizers may include smoked salmon, fried calamari, baked clams, or tuna tartare. Another nice way to start your meal is with selections from the raw bar. Oysters, clams, lobster, colossal crabmeat or shrimp cocktail, all delivered daily are offered. A seafood tower combines many of these treasures from the sea where freshness is paramount. If you choose to start your meal with a salad I suggest the spring salad with greens, apricots, cranberries, cucumber, and Asian pears in a balsamic vinaigrette. On a cooler day, try minestrone, or onion soup or perhaps lobster bisque that a gentleman at a nearby table appeared to be devouring with gusto.


Onto the entrees: We opted for the stuffed shrimp. The truly super jumbo shrimp, tail on, were butterflied and very generously filled with a crabmeat filling. Garlic, white wine and fresh lemon enhanced this excellent dish. Note that all of the dishes here are quite generous in size. From "the fire" we were presented with a sizzling platter, with the warning that the platter was very hot, of porterhouse steak. Sliced tableside, each slice revealed its charred crust and very rare center, as requested. Hash brown potatoes were a fine accompaniment.

On future visits I expect to try Chilean sea bass marechiara with clams, mussels and a light marinara sauce, crab stuffed lobster, seafood risotto with shrimp, scallops and lobster, grilled lamb chops or perhaps surf and turf with filet mignon and lobster tail. Some fresh asparagus, creamed spinach, sautéed onions and mushrooms might accompany my meal.

Complete your meal with a house made dessert, perhaps cheesecake, tiramisu, panna cotta, apple strudel, chocolate cake or crème brulee.

The lunch menu includes a starter, entrée and dessert at a modest cost. Some options are Caesar salad, lobster bisque or baked clams to start. Entrees include linguini with clam sauce, penne vodka with grilled chicken, chicken martini, or perhaps a chicken Caesar wrap or California burger. Cheesecake, panna cotta or tiramisu can complete your weekday lunch.

On Monday through Friday lunch is served until 4 PM. There is weekend brunch, as well. There are happy hours Monday through Friday from 3.30 to 7 pm, well priced for appetizers and drinks.

A visit to Vernon Place Shops is enhanced with the new and long awaited addition to this shopping strip opposite Lord and Taylor on Post Road, where grocery shopping, clothing shops, a greeting card store, a nail salon and sneaker store are neighbors of Sea Flame Restaurant.

Sea Flame Restaurant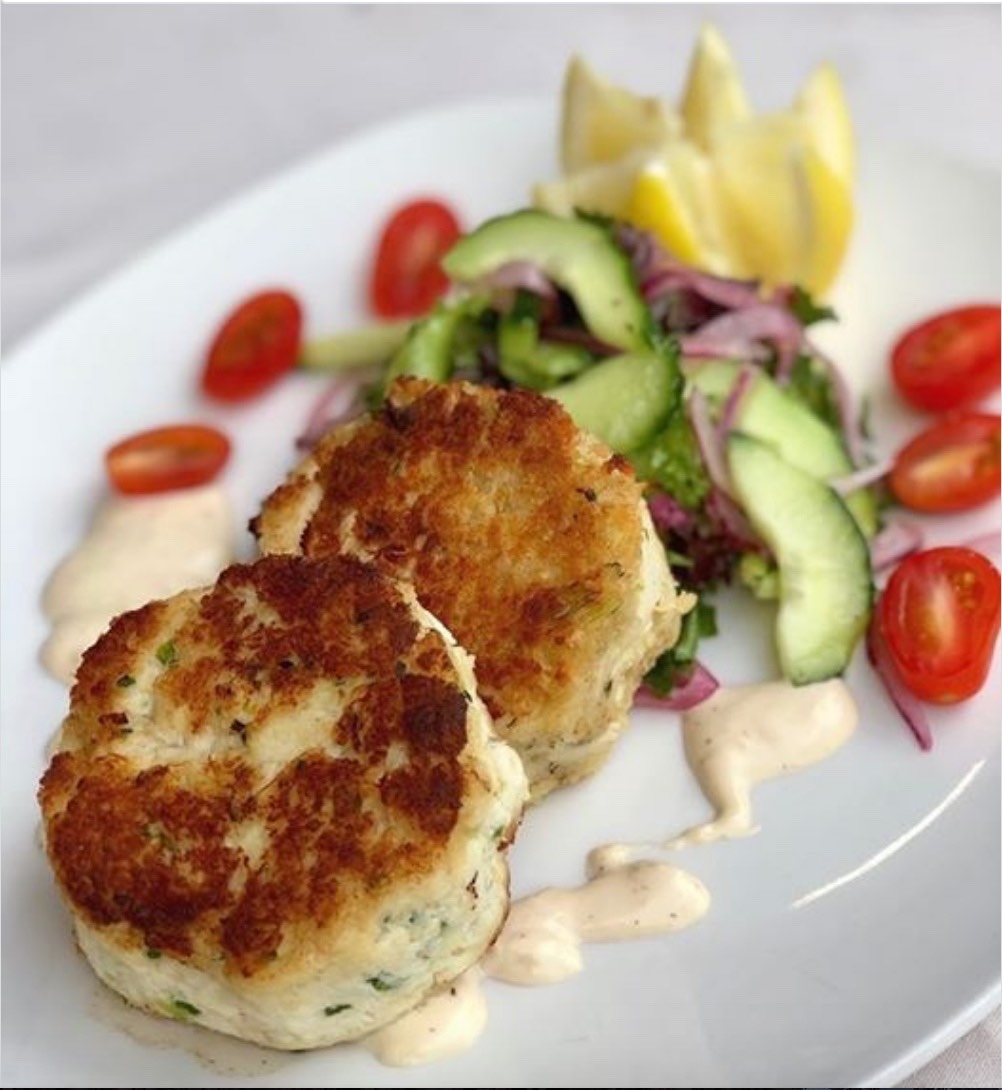 709 Post Road
Scarsdale, New York
914 874 5366

Recipe:
Linguini with White Clam Sauce (serves 4)
Following is my rendition of this flavorful dish.

Ingredients:

36 small clams, well scrubbed

1/4 cup olive oil
4 whole cloves garlic
¼ tsp. freshly ground black pepper
½ tsp. chopped oregano
2 Tbsps. minced parsley
½ tsp. chopped basil
1 pound linguini cooked al dente and drained
Directions:

Heat oil in saucepan. Brown garlic in it. Discard garlic. Add clams and herbs to the oil. Cover the pan and cook on low heat for about 10 minutes or until clams open. Place the hot drained pasta into 4 bowls. Let clams rest for 5 minutes and then divide the mixture among the pasta bowls. Serve.
Summertime Dining in Scarsdale
Details

Written by

Judie Dweck

Hits: 4958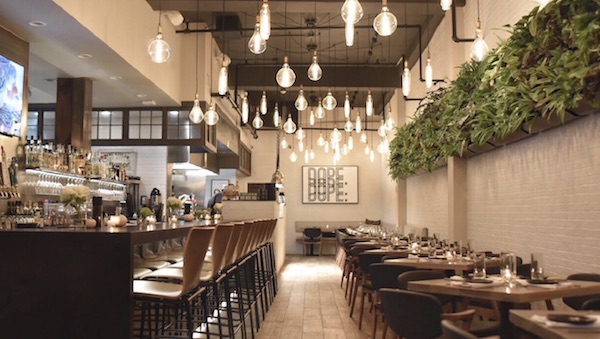 Cooked and Co.
From super casual to more formal, Scarsdale's summertime dining scene offers many choices. Here are just a few of the many options.
Scarsdale Village

Popojito Med Mex Kitchen
46 Christie Place
Scarsdale
914 713 8946

If you are seeking out a completely gluten free spot to eat, with a south of the border flavor, head to Popojito Med Mex Kitchen. This casual spot seats about 45 inside and during the warm summer months seating for 12 guests is set up outside. The colorful space with its open kitchen is totally gluten free and uses no gmo's antibiotics, refined sugar or transfats. Chunky guacamole was familiar and nicely seasoned. Soft shell tacos were quite good. We enjoyed a variety of fillings of pulled pork with salsa verde, seared mahi mahi, and cilantro garlic shrimp. Vegetables here are organically sourced from local farms. Quesadillas are a good choice, as well. Summertime choices of salad with lime vinaigrette and a med mix bowl of charred snap beans, quinoa, bitter greens, radish, cucumber and onions topped with a choice of proteins is especially nice during the warm days of summer.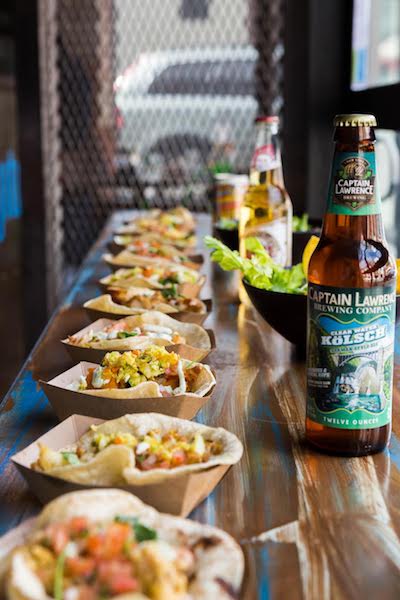 Tacos at Popojito

Sapori of Scarsdale
2 Chase Road
Scarsdale
914 874 5316

On the lovely corner of Chase Road and Popham Road is the sophisticated Sapori of Scarsdale serving Mediterranean food. With its comfortable patio seating about 30 guests, and its welcoming interior, it is a delightful spot at which to enjoy summertime dining. If lunch is your meal of choice, many light dishes are offered. On the patio or indoors start with a Dungeness crabcake, burrata and heirloom tomatoes, prime sirloin carpaccio, or tuna tartare Follow these appetizers with a beautifully presented salad and if you wish, top it with chicken breast, hanger steak, seared salmon or Maya shrimp, all of the finest quality. Salad choices include shredded kale and romaine Caesar, endive and apple, Greek salad and even a Scarsdale salad with mesclun, avocado, mango, tomato, and shaved fennel with a champagne dressing. If you choose to enjoy dinner at Sapori, start with Moroccan meatballs, Mediterranean mini skewers of prime steak or iron skillet Maya shrimp or butternut squash soup. Summertime entrees include Faroe Island citrus salmon, seared diver scallops, Mediterranean branzino or artisanal seafood pasta. All dishes are prepared using fine ingredients. The generous portions are beautifully presented by a solicitous staff. Sapori translates to flavors, and flavors certainly do abound at Sapori of Scarsdale. With dishes from countries surrounding the Mediterranean you certainly can enjoy the culinary creativity and artistry of Sapori's kitchen both indoors and out during the warm summer months and of course all year round.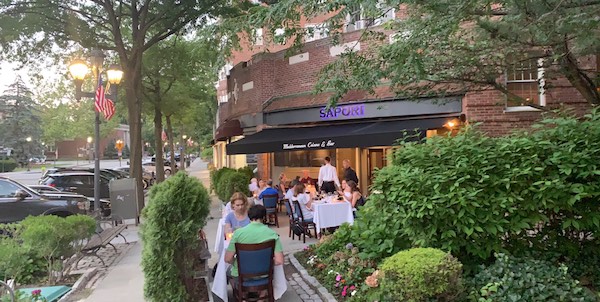 Dine al fresco at Sapori
Garth Road in Scarsdale seems to have become restaurant row. Stroll down and here are some delicious options:

Cooked & Co.
128 Garth Road
Scarsdale
914 205 3939

South on Garth Road is the newly expanded and renovated Cooked & Co. Enter the bright and cheerful space, and if you plan on enjoying a summer breakfast lunch or brunch, walk to the right. If your preference is to have the talented kitchen staff prepare dishes for you to take home, enter the market to the left. We availed ourselves of both options. At the time of my visit in July, the dinner menu was being revised and dinner service will resume in august. The space is contemporary with modern décor and a young and friendly staff who described Cooked & Co. as a fun loving fast paced spot, where care and love are the ingredients in their dishes. Choose to dine at a table or at the roomy bar. At my recent visit the place was filled with happy guests, many in their tennis togs. Many refreshing dishes appear on the lunch menu such as avocado toast, a variety of burgers and salads. On a warm summer day, try the spring green salad with greens, candied walnuts, and feta or perhaps a Caesar salad. A fun choice is to create your own salad with many ingredients to choose from. I enjoyed a rice bowl with well-seasoned adobo chicken, red cabbage, pickled jicama, charred corn, cilantro, lime and avocado. A paprika aioli added a delightful flavor to the Spanish rice and its varied toppings. If you visit for brunch, there are eggs and omelettes, a popover special with fried eggs, bacon and gruyere. If you prefer, there are pancakes, waffles and French toast in many varieties. Perhaps you would enjoy rice krispie French toast, Nutella stuffed French toast or cinnamon waffles. If you choose take out from the market the choices are endless. Try chicken corn salad, sesame noodles, cashew kale salad, chicken enchiladas, fried bbq chicken wings, lime spiced chicken as well as pistachio cannoli mini and regular muffins and Nutella crunch muffins. New items appear each day and the variety seems to indicate that you may never have to turn on your oven all summer.

Café Alaia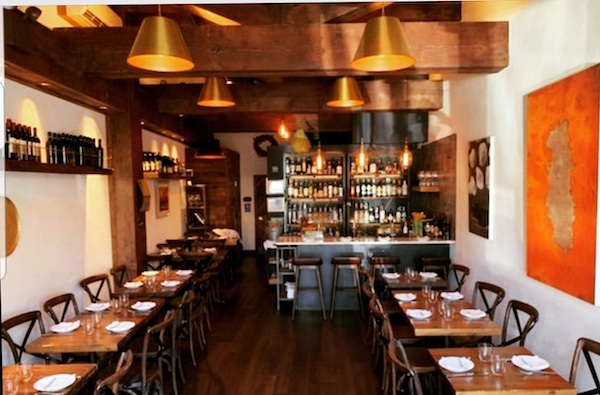 Summertime in Italy at Cafe Alaia
66 A Garth Road
Scarsdale
914 725 3000

A bit further up the road you will arrive at the intimate and charming Café Alaia where owner Vincenzo Alaia greets you as though you were a guest at his home. You might not get to Italy for this summer vacation but a good substitute is a meal at Café Alaia. A relaxing summertime meal here might start with a selection of crostini. Here the grilled rustic bread can be topped with mixed wild mushrooms and caciocavallo cheese, or perhaps cherry tomatoes, scallions, basil and extra virgin olive oil. Other summertime delights on the menu are grilled octopus over a salad of potatoes, fresh green beans, parsley and olive oil. Grilled shrimp with sautéed cannellini beans is another delightful warm day starter. House made potato gnocchi enrobed in fresh basil pesto will add a summertime flavor to your meal. The pristinely fresh fish entrees include a refreshing pan seared wild salmon with a peppercorn mustard lemon sauce. The citrus addition is perfect on a warm summer evening. Each of the entrees here share their plate with the freshest of vegetables. Add a selection of the hand picked wine at Café Alaia and you will feel like it is summertime in Italy.

Jackie B's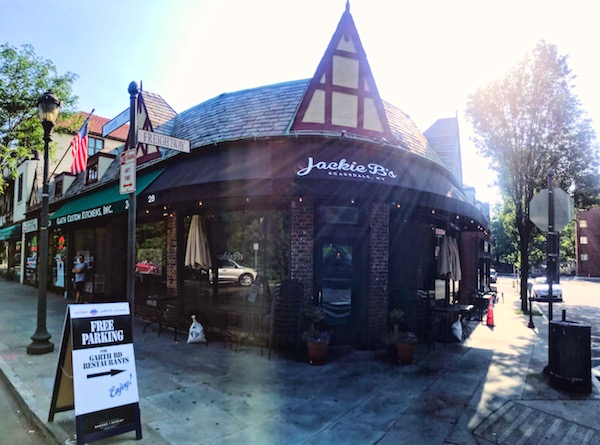 Jackie B's
28 Garth Road
Scarsdale
914 874 5328

New to the Garth Road restaurant scene is Jackie B's. The compact space is contemporary in feeling. The walls are filled with photos of notable " Jackies" in history from Jackie Robinson to Jackie Mason to Jackie O. Fresh flowers are on each table at this black and white decorated spot. The cozy space manages to fit a bar, high and regular tables comfortably. On a pleasant summer day or evening take advantage of the outdoor tables at the front and side of Jackie's and enjoy a lunch or dinner al fresco. At lunch savor the Jackie B's burger with smoked bacon, caramelized red onion, avocado, Vermont white cheddar and special sauce on a brioche. The Greek turkey burger is tasty as well. Jackie's salads are perfect on a warm day or evening. Try Asian chicken salad, faro salad or arugula watermelon salad with feta cheese, pumpkin seed and raspberry balsamic dressing. You can build your own salad here, as well. Try some of the unique sandwich combinations. At dinner entrees of bbq ribs, bourbon glazed NY strip, parmesan crusted salmon or slow cooked brisket are good choices. The many signature cocktails are all prepared with fresh fruit and freshly squeezed juices to add to your enjoyment. Jackie B's indicates " Great food, great people and great times." It is a cozy, fun neighborhood spot.

Via Forno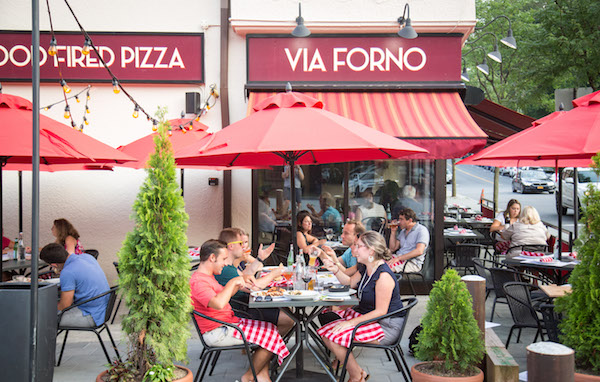 Via Forno
2 Garth Road
Scarsdale
914 556 6464

Note the bright red umbrella tables awaiting its outdoor diners at Via Forno. It is here that the imported wood fired pizza oven is producing a variety of excellent pizzas as well as scrumptious roasted vegetables and other Italian inspired dishes. Dine at the semi circular marble counter and watch your food baking, at a table inside, or on the outside patio seating about 60, where you can watch the flow of cars and people on this bustling street. On a summer day or evening, enjoy one of the many pizzas build your own pie or order a gluten free variety. Light warm weather suggestions include the dal mare pie with clams, calamari and shrimp, mia terra with roasted mushrooms, onions, basil truffle oil and mozzarella or marinara with tomato sauce, oregano flowers, basil, fresh garlic and olive oil. Summertime salads will delight from a roasted beet salad with kale, fennel, blackberries, cranberries, goat cheese, candied walnuts and a balsamic vinaigrette. Other warm weather treats include roasted appetizers of cauliflower, broccoli rabe, mushrooms and carrots. Each is beautifully flavored and delicious. Paninis and calzone in many varieties are lovely at lunch or dinner. Weekend brunch is a great summertime adventure at Via Forno and happy hours at the bar are very popular.
Sidewalk Sale, Party in the Park, and More on the Calendar in Scarsdale
Details

Written by

Jamie Robelen

Hits: 2282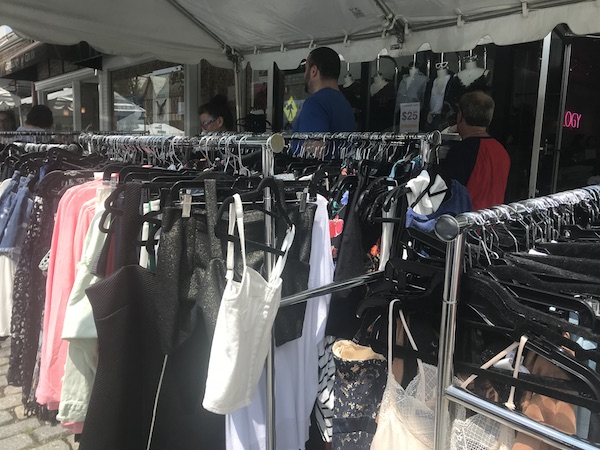 Even in the lazy days of summer, there's never a dull moment in Scarsdale. Here are some activities to keep in mind over the next few weeks.
Westchester Band Summer Concert
This week's Westchester Band Concert, scheduled for tonight, July 18, will take place in the Scarsdale High School auditorium, due to the rain. The Westchester Band holds seven concerts throughout the summer at 8pm, with free admission, typically in Chase Park (weather permitting). The band is known for playing a wide variety of music, from classical works to show tunes to pop hits. They were at the annual Scarsdale Pool fireworks, playing pieces from classic American anthems to a medley of music from West Side Story. After this week's concert, there will be three more concerts, on July 25, August 1, and August 8, hopefully all to be held in the park.
Party in the Park at Crossway Field
On Friday, July 19, the Parks and Recreation Department is hosting a Party in the Park at Crossway Field from 6:00pm-8:00pm. Everyone is invited to come to Crossway for an evening of music, ice cream and fun. Admission is free, and families are encouraged to bring blankets and dinner and relax. There will also be balloon artists and face painters for kids.
Scarsdale Business Alliance Summer Sidewalk Sale
The Scarsdale Business Alliance's annual Sidewalk Sale will take place on July 25-27 in Scarsdale Village. Local businesses that are part of the SBA will be having blowout sales over the three days. There will also be food trucks in the village, and a performance in Chase Park on Saturday morning. Mark your calendar for some great deals!
iCan Bike Westchester
Rising SHS junior Natalie Schonfeld is working with the non-profit organization iCan Shine to bring a camp for disabled individuals to Westchester this summer. Natalie is hosting an iCan Bike camp, where volunteers help people with disabilities learn to ride bikes. The camp takes place from July 29 through August 2, and each camper attends a 75 minute session each day. By the end of the program, about 80% of the campers are able to ride a bike independently. If you or anyone you know would like to learn to ride or would be interested in volunteering, feel free to reach out to Natalie directly. To enroll, donate, or volunteer, email Natalie at icanbikewestchesterny@gmail.com.
100 Years of Classic Neapolitan Dishes at Mario's Restaurant on Arthur Avenue in The Bronx
Details

Written by

Judie Dweck

Hits: 3768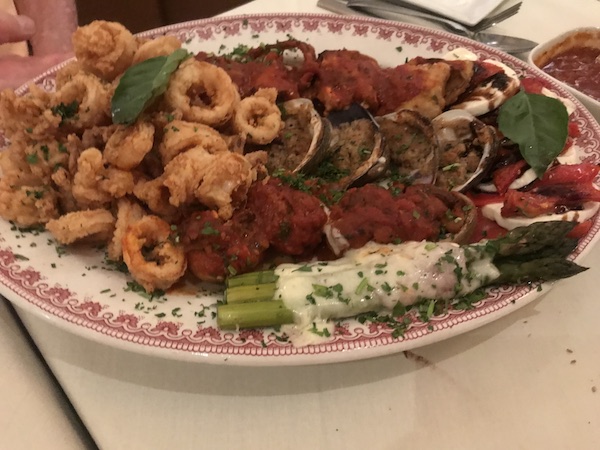 On the wall at Mario's Restaurant is a plaque that states "Happiness is a kitchen full of family." I might add to that, "Happiness is also a dining room filled with guests enjoying the authentic Neapolitan dishes at Mario's." The restaurant is celebrating its 100 year anniversary. It is the fourth and fifth generation of the Migliucci family who continue to please its guests with robust Neapolitan dishes.
I recently revisited Mario's and chatted with Joseph Migliucci, the fourth generation of this restaurant family. The story of his family's journey from Naples to Egypt to Harlem and finally to Arthur Avenue in 1919 is explained in a brochure at each table. Joseph is a presence every day, but now it is his daughter Regina Migliucci-DelFino who has taken the business into modern times. In the kitchen is Chef Michael, Joseph's son and Chef Massamo Celso. To what does Joseph owe the restaurant's longevity? "We treat our guests like family. We make them comfortable and accommodate their needs. We have hosted many famous people through the years from the arts and from politics but to me all of our guests are celebrities. "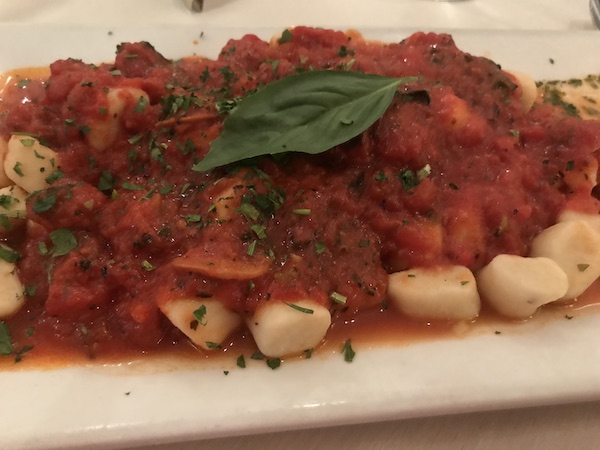 Through the years, at the Arthur Avenue location, the Migliuccis bought the building and expanded by offering catering facilities with several party rooms in the two story building. Just as the many generations of the Migliucci family have molded Mario's, the guests span the generations, as well. As you enter, a valet will attend to your car, a great asset on this busy street. The large dining room remains very traditional with walls displaying scenes of Naples, family photos and photos of famous guests. Rolling arts are still used to bring your meal. How splendid it is as they bring out your order, the platters brimming with delights. Much of the capable staff has been there for many years and the service is professional and friendly. Joseph indicated," We have served governors, mayors and judges and I would enjoy serving all time baseball players from the past, as well as the present.
When New Yorkers talk about Little Italy they are often referring to Manhattan. Closer to our Westchester communities is Little Italy in The Bronx, namely Arthur Avenue and its surrounding streets in the Belmont area of The Bronx. Visitors to the nearby Bronx Zoo and Botanical Gardens can combine these visits to include a walking, shopping and eating experience on Arthur Avenue, where grocery stores, bakeries and other food stores await. It is one of my favorite ways to spend some time and to make the day really special we enjoy lunch or dinner at Mario's, which is both welcoming and delicious.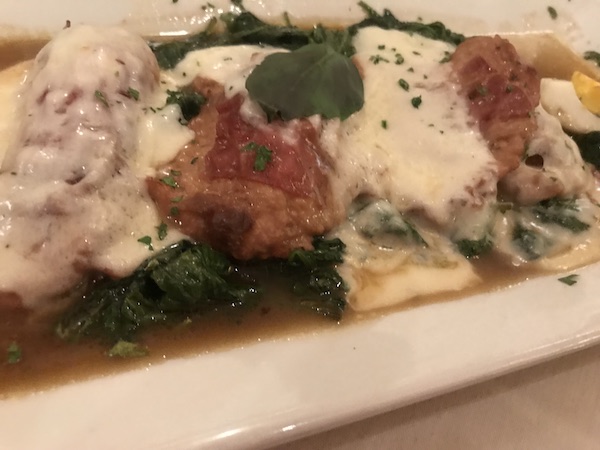 Fresh as could be, thick slices of Arthur Avenue sesame crusted bread and a cruet of olive oil as well as a dish of those " famous" pickled carrots, a specialty that Joseph's mother prepared daily for many years. How fortunate we are that she passed down the recipe for all of us to enjoy as we remember this elegant lady. A typical Italian dinner begins with antipasti. At Mario's, our special hot antipasto seemed like a complete meal. The large platter with its delightful aroma filling the room was rolled to our table. There were clams oreganata, whole and succulent, baked, melt in your mouth mozzarella wrapped asparagus stalks, crisp rings of fried calamari gently dusted with flour before frying, eggplant rollatini stuffed with ricotta, stuffed mushrooms and thick slices of house made mozzarella topped with roasted peppers and tomatoes , fresh basil and balsamic glaze. Other appetizer choices include the classic and very popular spiedini alla romana. The fresh mozzarella is skewered with cubes of bread and fried and topped with a fragrant anchovy sauce, very delicious, indeed. Stuffed artichokes, burrata, octopus salad, clams on the half shell and a cold antipasto are some other starters. If you wish to start your meal with soup, try stracciatella, escarole or minestrone. On a lighter note, enjoy a Caesar salad or Mario's salad with mixed greens, olives, tomatoes and onions. It was time for the pasta course. We couldn't resist the homemade manicotti. The delicate pasta crepes were filled with ricotta, parmesan, prosciutto and parsley for an excellent result. We also sampled the house made gnocchi. Joseph said for success in preparing this dish," You must start with Idaho potatoes." Flour and egg yolks are added to the dough which is kneaded by hand, often by Joseph. The resulting mini pillows of dough were perfect with melted butter, grated parmesan or Pomodoro sauce.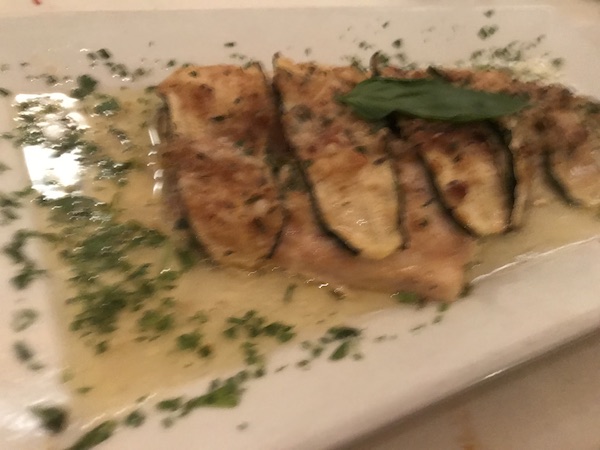 As an intermezzo, before our entrée, Joseph brought out a mini version of their excellent pizza. Simple sauce, a scattering of mozzarella and a crisp crust, it was perfect in its simplicity. Many varieties of pastas and sauces are offered, as well. I look forward to sampling the homemade lasagna and lobster ravioli with vodka sauce in the future.
For an entrée, choose from many preparations of chicken, fish, veal, beef and lamb. We sampled the veal saltimbocca. The delicate scaloppine was resting on fresh spinach and topped with prosciutto and mozzarella. A marsala sauce enhanced this fine offering. We savored Mario's super special potato croquettes with it. The cigar shaped morsels of potato, prosciutto, mozzarella and parmesan were lightly crusted and fried to a golden brown. It was hard to just eat one. From the fish selections we tried the bronzino. The filet was baked with thin slices of zucchini on top. It was light and excellent, fresh as could be. Future entrees may include zuppa di pesce, gamberetti scampi, shell steak pizzaiola, veal sorrentina or chicken scarpariello. There are so many choices it will require many visits.
We did manage to have a few bites of nicely filled cannoli for dessert.
The regular menu at Mario's is very extensive. In addition, each day features a multicourse dinner special and a varied lunch special as well. Each evening, several special dishes are offered.
Bring your family or friends and most important bring a hearty appetite for a visit to Mario's Restaurant on Arthur Avenue for lunch or dinner.
Mario's Restaurant
2342 Arthur Avenue
Bronx, NY
718-584-1188
Marinara Sauce [about 5 cups of sauce]
6 cups imported Italian plum tomatoest
¾ cup salad oil
1/3 cup thinly sliced garlic
10 snipped fresh basil leaves
1 Tbsp. chopped fresh parsley
Freshly ground pepper, to taste
Empty the tomatoes into a bowl and crush them by hand. Place oil in a pot and when hot add the garlic. Then add the remaining ingredients and the crushed tomatoes and simmer for about 30 minutes, stirring often. Serve with your favorite dish.

………………………………………………………………………………………………………………………………………………………………
If you were inspired by our visit to Arthur Avenue and would like to stock your kitchen with Italian ingredients, here are some suggestions of where to shop. If cooking is not your desire then just visit Mario's soon.
Addeo Bakery
2372 Hughes Avenue
718-367-8316
Arthur Avenue Retail Market
2344 Arthur Avenue
347-396-0555
Artuso Pastry Shop
670 East 187 Street
718-367-2515
Biancardi's Met Market
2350 Arthur Avenue
718-733-4058
Borgatti's Ravioli and Egg Noodles
632 East 187 Street
718-367-3799
Calabria Pork Store
2338 Arthur Avenue
718-367-5145
Calandra's Cheese Store
2314 Arthur Avenue
718-365-7572
Casa Della Mozzarella
604 East 187 Street
718-584-3583
Consenza's Fish Market
2354 Arthur Avenue
718-364-8510
Tietel Bros.
2372 Arthur Avenue
718-733-9400
A Dazzling 4th of July Fireworks Show at the Scarsdale Pool
Details

Written by

Jamie Robelen

Hits: 2172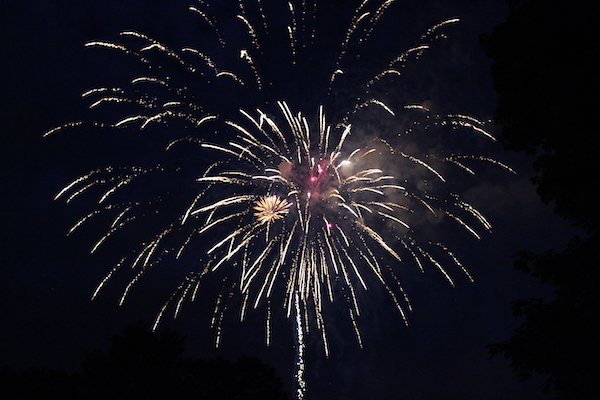 Families flocked to the Scarsdale Pool on Tuesday, July 2, for the annual 4th of July fireworks display. Like every year, everyone is welcome to attend, whether or not they are members of the pool. People came early to get good seats; even at six o'clock, the pool area was filling up. In addition to the pool's snack bar, there was a Nathan's Famous Hot Dogs truck and two ice cream trucks for everyone to enjoy. SVAC provided water to all and there were EMTs to attend to any emergencies. Some of the EMTs present were the recent SHS graduates who'd completed the EMT course for their senior options.
Starting at 7:30pm, the Westchester Band provided wonderful music for all to listen to. They played a wide variety of pieces, from a West Side Story medley to Stevie Wonder's Sir Duke. As the fireworks drew closer, they played a medley of popular songs from World War II and other patriotic tunes, including Anchors Aweigh and You're A Grand Old Flag.
The fireworks were beautiful and fascinating to all. The big finish had everyone gasping and applauding. The 2019 Scarsdale Pool fireworks were a great success.