Greenacres Goes Under the Sea
Details

Written by

Joanne Wallenstein

Hits: 1777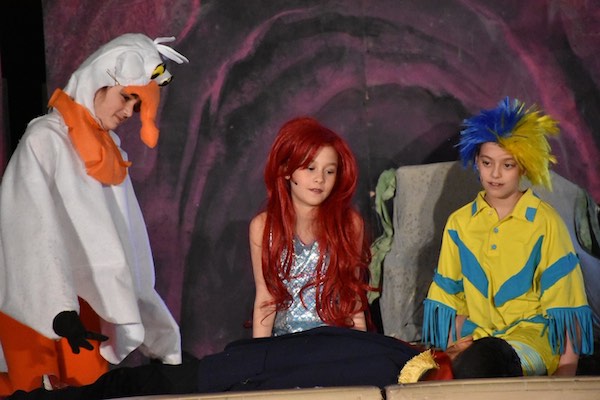 Scuttle, Ariel and Flounder come to the aid of Prince Eric who's fallen overboard. Left to right: Salma S., Blair R., Ava G., Arjun B. (laying down)Greenacres students showcased their talents in two performances on January 26 and 27 in performances of The Little Mermaid Jr. Two casts comprised of 106 Greenacres students appeared in four performances of the play which was produced through the collaboration of the Greenacres PTA with Westchester Sandbox Theatre. Dedicated parent volunteers supported the children, spanning grades kindergarten through five, through their rehearsals and performances.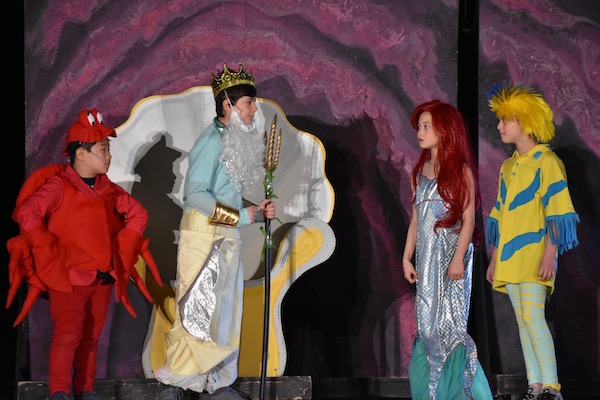 Sebastian and Flounder support Ariel as her father, King Triton warns her of the dangers of the human world. Left to right: Orson H., Dylan L., Blair R., Ava G. Photo by Susan Rudsenske.
Once again, the School Play Committee teamed up with the Greenacres Community Service Committee to help support the school's non-perishable, cold weather food drive for Feeding Westchester which ran from January 14th through the 28th. Every attendee was asked bring at least one item to the show as payment for the fun. Greenacres students collected a total 904 pounds of food, the equivalent of 753 meals worth of food items.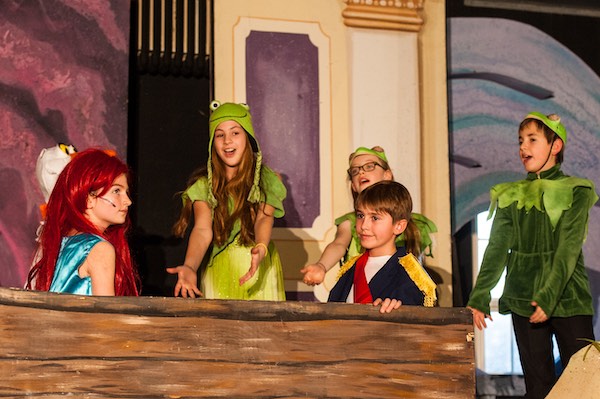 The lagoon animals help sing "Kiss the Girl" to Prince Eric and Ariel. Left to right: Kate O.; Leah B.; Kate S.; Xavier S. Photo by James Faucette.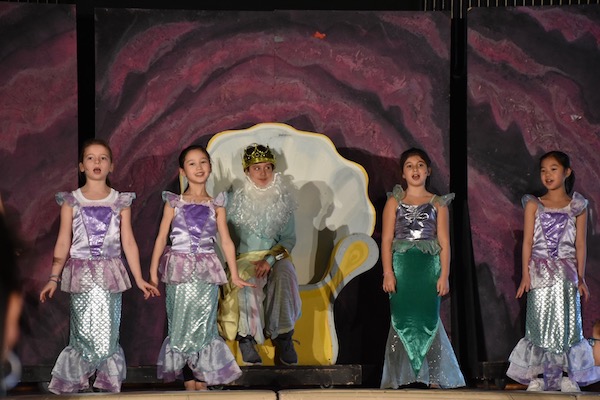 The princesses introduce themselves as the daughters of Triton. Left to right: Lois L., Whitney R., Dylan L., Ivy F., Isabella T. Photo by Susan Rudsenske.
Photos and text provided by Toni DiMartino-Stebich, Greenacres PTA Secretary/Publicity Chair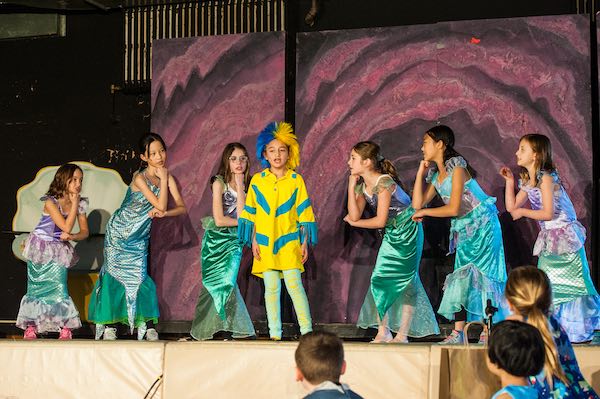 Flounder and the Princesses sing "She's in Love." Photo by James Faucette.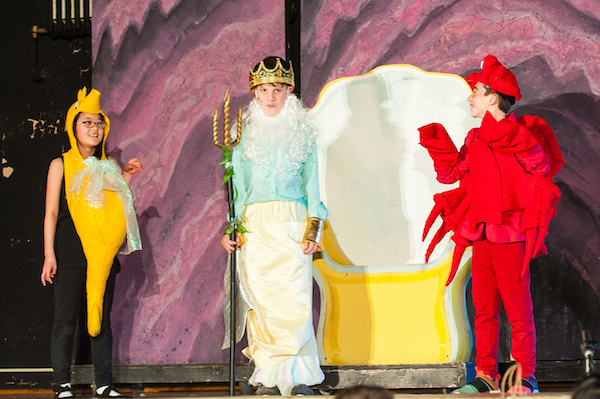 The Seahorse and Sebastian visit King Triton's court. Photo by James Faucette.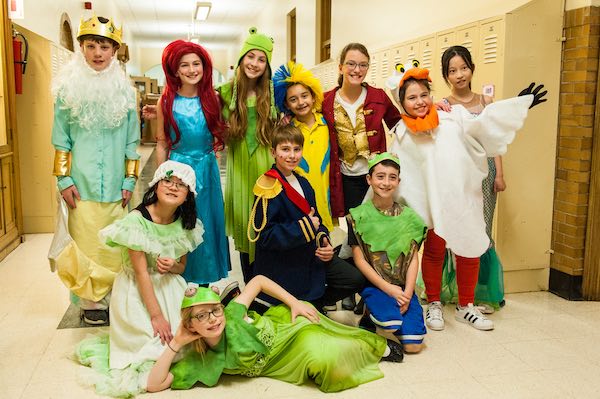 The 5th grade members of Cast B - Photo by James Faucette

Casino Night to Benefit the Scarsdale Library
Details

Written by

Joanne Wallenstein

Hits: 1832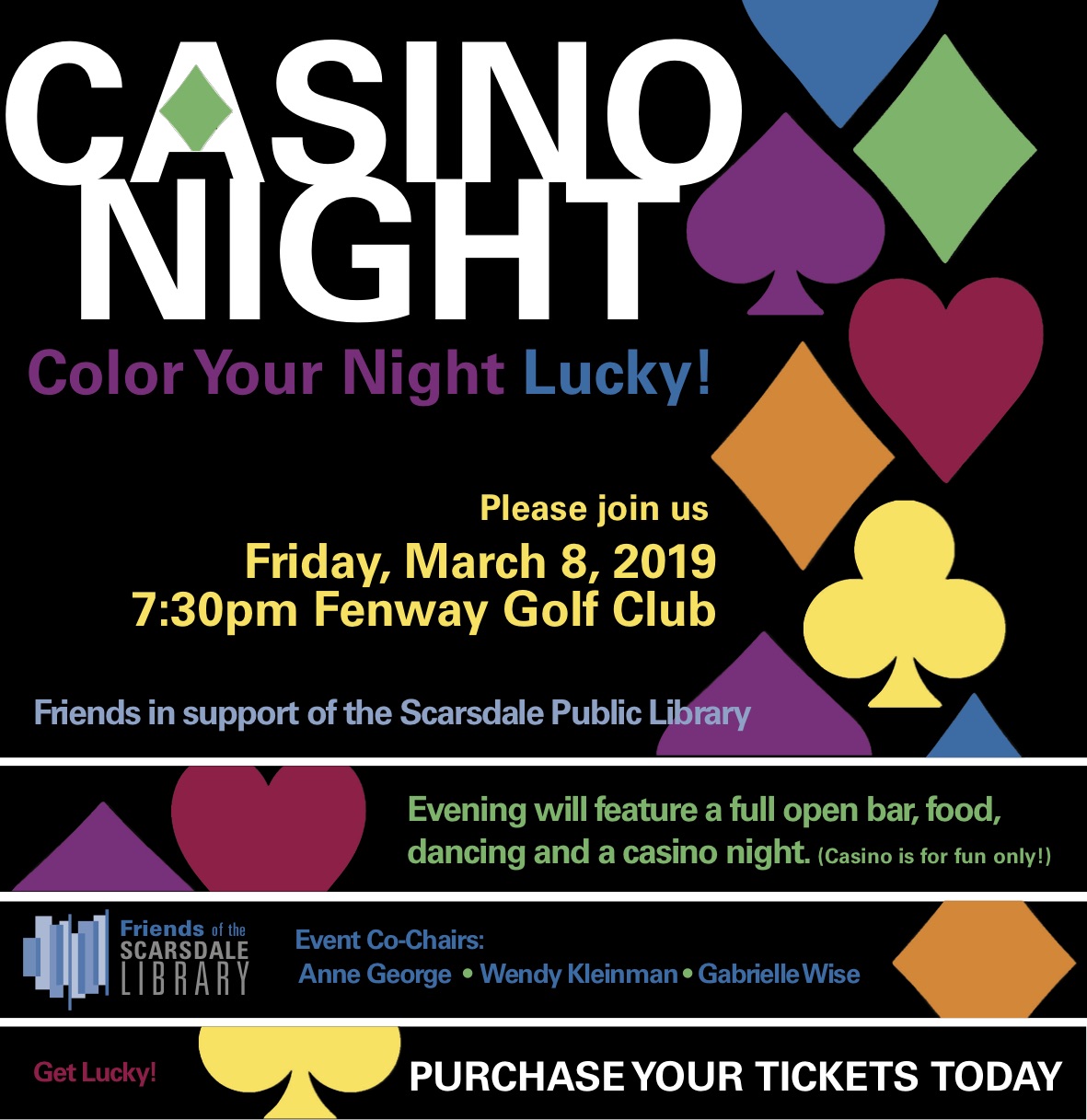 The Friends of the Scarsdale Library will be hosting Casino Night at Fenway Golf Club on Friday March 8th at 7:30 p.m. The evening will feature a full open bar, passed hors d'oeuvres, buffet stations, dancing, a chance auction and casino fun!
The Friends the Scarsdale Library provides funding for many programs that the library offers such as chess, Mad Science, petite concerts, adult special programs, speaker series, museum passes, homebound services and the SPL Writers Center.
Tickets available for advanced purchase here.
Infinite Combinations of Herbs and Spices at Ambadi Kebab and Grill
Details

Written by

Judie Dweck

Hits: 2439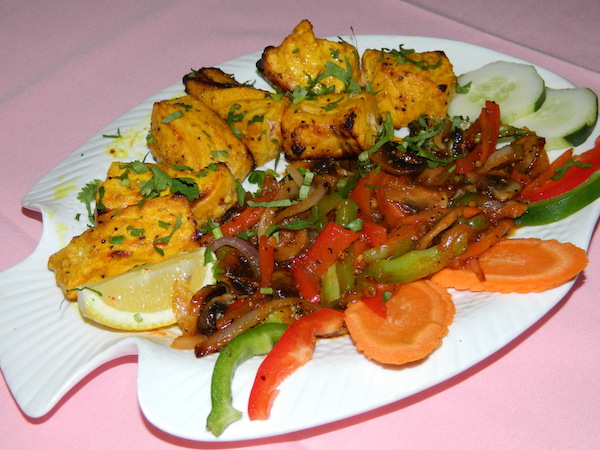 Varied and exciting, both spicy and subtle delights await you at Ambadi Kebab and Grill in White Plains. Recently purchased by Mahammad Alam, the place has been redesigned, and is serving outstanding Indian and Halal food. I first made the acquaintance of Alam at his Valhalla restaurant, Mughal Palace, when he said," Our way of doing business is giving from your heart to everyone and do your best. "At Ambadi, the kitchen staff includes many of the chefs that cooked at Bengal Tiger which succumbed to fire several years ago. Alam said, "My wife Tangina Yesmin runs the day to day operation at Ambadi and I check in daily. I believe that quality is most important. We wish to be an integral part of the community. Our food spans India and I call it Royal Indian Cuisine. We offer dine in, take out, delivery, and catering services."

Many things are considered when writing about a restaurant. Of course quality of the food, presentation and atmosphere are very important. At the new Ambadi Kebab and Grill, the first thing that struck me was the warm greeting each guest received from the owners, Mahammad Alam and his gentle soft spoken wife Tangina Yesmin.

Seating about 40 guests, the restaurant may be small in size but is grand in its varied menu and truly delicious prepared to order dishes. Colorful pendant lighting suspends from the ceiling, Indian music plays in the background, jewel encrusted paintings and art work of Indian scenes fill the walls and a painted carved wood screen add color to the room. On a recent lunchtime visit, the space was filled with locals enjoying their meal, as the pleasant staff attended to their needs. At the rear of the space, is a buffet offered at lunch every day from 11.30 to 3 pm. There are lunch boxes offered to go at lunch, as well.

One could easily make a meal of the glorious appetizers here. We started with mixed pakoras. These chick pea battered cauliflower, broccoli, potato and onion fritters were crisp and delicious. Nicely spiced, and served with tamarind sauce and coriander chutney they were a fine beginning. Bhel puri, India's snack food was a tasty combination of crunchy spiced crisps and potatoes mixed with both sweet and spicy chutney…it was addictive. We then sampled the lamb kati roll. Mexico has its tacos, Greece has its souvlaki sandwiches and Ambadi has a variety of kati rolls in many forms. Our flaky paratha was stuffed with tender chunks of lamb and onion and was served with lettuce and tomato. I look forward to sampling the chicken, paneer and potato varieties. Another great beginning was the dish of jumbo shrimp and mango. Here, fresh mango, onions, bell peppers, tomatoes and a blend of fragrant spices resulted in a lovely dish. The sweetness of the mango added a nice touch to the shrimp. Samosas, honey vindaloo wings, tandoori wings many chat choices such as aloo tikka chat with potatoes, yogurt, chick peas and onions are offered as well. Breads of many types are an integral part of an Indian meal. Kulcha, paratha, chapatti and poori are offered here. We savored the aloo naan stuffed with potatoes, peas and cilantro.

The cuisine of India is heavenly for the vegetarian or vegan in your group. At Ambadi, these dishes are plentiful and executed to perfection. The sag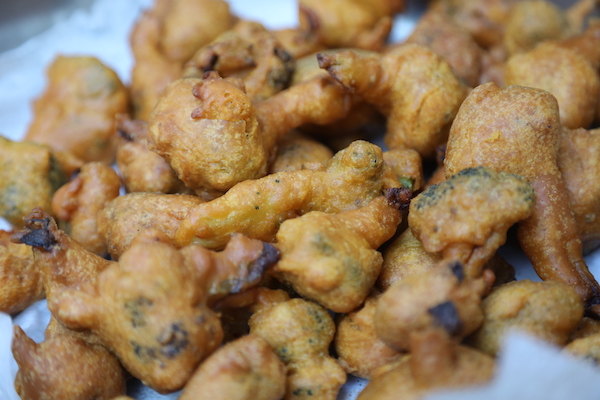 paneer with its homemade cubes of cheese mixed with a delicate, nicely spiced spinach sauce, might make the fussiest diner a lover of this vegetable. Okra, prepared as bhindi do paeza was excellent, as well. The slices of okra were cooked with onion, tomato, herbs and spices and were infused with the wonderful flavor of fresh ginger. The chefs here have figured out how to avoid the sticky texture that often oozes out of cooked okra. Malai kofta is another wonderful vegetarian offering. These vegetable dumplings are shaped into egg like mounds and cooked in a creamy, mild sauce enriched with cashew nuts. Yet to be tried from the 15 vegetarian entrees are mushroom sag, gobi mutter with cauliflower, potatoes and peas, baingan bhurtha, a mashed eggplant combination and dal makhani, a black lentil dish.

Many entrée emerge from the clay oven, or tandoor. Chicken, lamb, shrimp and fish arrive in all their glory when cooked this way. We enjoyed the Kashmiri style sheek kebab. Here the minced lamb is blended with herbs and spices and wrapped around skewers and roasted in the clay oven. It was excellent and went well with our shrimp biryani cooked with saffron rice, slivered almonds and ghee, an Indian form of clarified butter. There are many entrees of chicken, lamb, goat, beef and seafood, as well. We chose lamb korma with almond coconut sauce. Here, the fine quality of the lamb, shone through. The mild sauce mingled with the chunks of lamb for a perfect marriage. We also loved the Kerala fish curry. Here, large chunks of salmon were bathed in a coconut sauce enhanced with curry leaves. Shrimp Malabar, beef vindaloo, lamb rogan josh and chicken Pondicherry await our tasting.
Kulfi, kheer, glulab jamun and gajar halwa are classic desserts to complete your feast. For me, a glass of mango lassi was a refreshing way to end my meal.

At the heart of all Indian cooking is the ability to combine herbs and spices well. The kitchen at Ambadi Kebab and Grill owns this special gift.

Ambadi Kebab and Grill
141 East Post Road
White Plains
914 686 2014

Recipe: Gobi Pakoras (Serves 6 appetizers)

Ingredients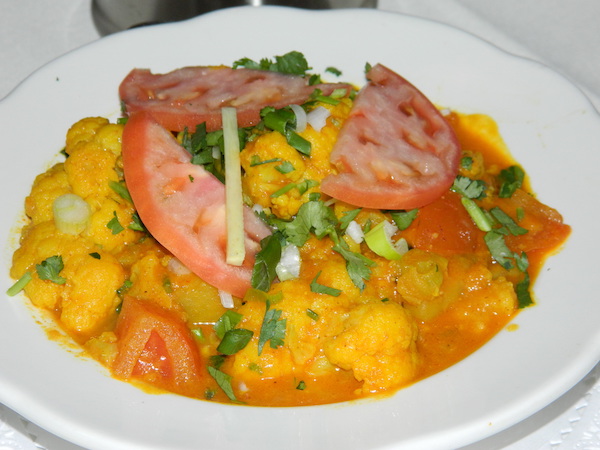 Oil for deep frying
1 large head cauliflower, cut into florets, stem attached
1 tsp. salt
1 tsp. red chili powder
1 tsp. ajwain*
1 tsp. ginger paste
1 tsp. garlic paste
1 ½ cups chick pea flour
2 pinches baking powder
1 tsp. red chili powder
Pinch turmeric
About ½ cup water or enough to make batter of pouring consistency

Instructions:
Boil 3 to 4 cups water with 1 tsp. salt. Add cauliflower florets and remove from flame. Let it rest for 15 minutes. Drain off the water and place the florets on a clean kitchen towel Rub the florets with the chili powder, ajwain, garlic paste and ginger paste. Set aside. In a bowl mix the chick pea flour with baking powder, chili powder, turmeric and enough water to form a pouring consistency. Heat oil in a deep pot. Dip each cauliflower floret in batter and deep fry on low to medium flame until golden. Set aside. At serving time, flatten each paktor slightly and refry in medium hot oil until well browned and crisp. Drain and serve.

* Any unusual ingredient can be found at Indian grocery store
Dine Like Royalty at the New Z Prime Italian Steakhouse
Details

Written by

Judie Dweck

Hits: 5861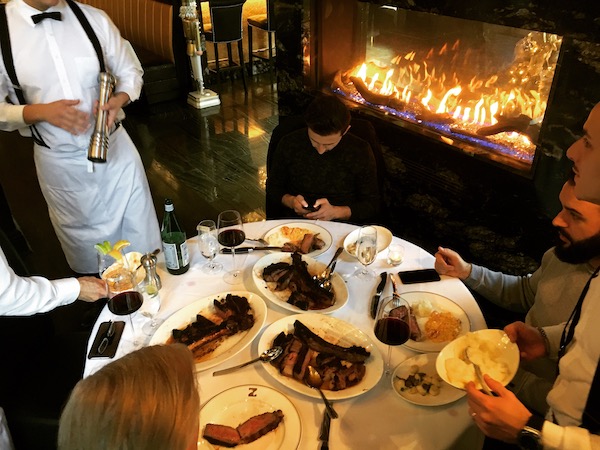 At a time when everything seems to be rushed, it's a joy to enter the new and stunning Z Prime Italian Steakhouse, to enjoy an upscale meal served with care in a luxurious setting. This corner of East Post Road has housed many restaurants through the years. The latest reincarnation is striking. Enter its doors. Are you in Dubai, Las Vegas or perhaps in one of Manhattan's upscale dining emporiums? No, you are right here in White Plains and as you step inside you are transported to a past era, where lavish surroundings were an integral part of the dining experience.

The mastermind behind this new and elegant dining spot is Scarsdale resident Zef Perlleshi. His creative talents are many. He created a palace like atmosphere with love. General manager Duge Perlleshi keeps things running smoothly. Everything here is top of the line, from the fully equipped kitchen to the beef aging box to the fine quality food and service. The capable wait staff offers professional service dressed in black pants, crisp white shirts, black suspenders and bow ties. Zef Perlleshi said, "a visit to our restaurant makes you feel like royalty with quality in food, service and ambiance. We offer the best of all worlds. Our location is convenient for the residents of the surrounding communities who wish to enjoy an upscale dining experience. Perhaps a chain of restaurants is in our future." Perlleshi would have loved to serve Frank Sinatra, Sammy Davis Jr., Jackie O, Marilyn Monroe and Grace Kelly.

To set the scene, the bar and lounge area is quite comfortable. My eye immediately focused on a gold sculpture of a woman above the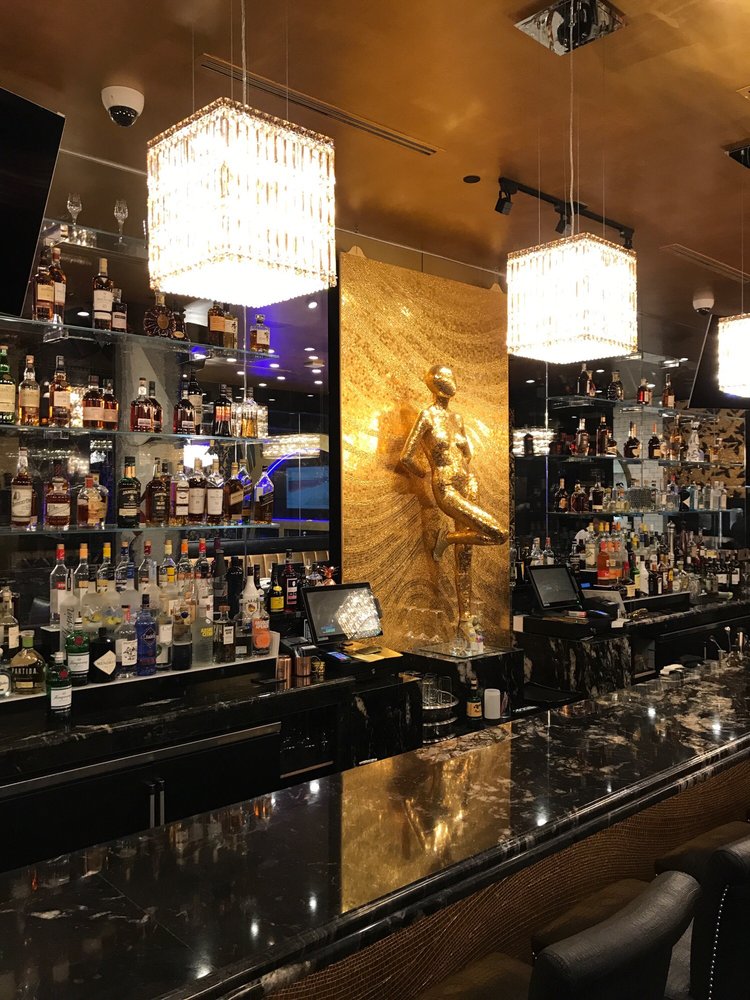 bar, formed from small gold mosaic tiles.

We proceeded to the breathtaking dining room, a vision in gold and black. Sparkling Swarovski crystal chandeliers light the room. The banquettes are upholstered in black and gold leather, walls are covered in tile mosaic patterns and the gold ceiling and flaming fireplaces cast a warm glow on the room and on the guests. Glass doors at the far end of the dining room lead to several private dining areas. What a lovely venue for a celebration. The tables are set with crisp white linens and gold rimmed china monogrammed with a Z.

The carefully designed menu has several raw bar choices to start. Oysters, seafood towers, shrimp cocktail, tuna tartare and wagyu carpaccio are offered. We enjoyed a truly colossal crabmeat cocktail The oversized portion, certainly enough for 2, arrived on a large crushed ice filled container. The crabmeat sat atop it with a sprinkling of radicchio. A tangy cocktail sauce and spicy white horseradish and fresh lemon completed this fresh and abundant starter. On future visits, I might try sautéed mussels, Wagyu meatballs, grilled octopus, slab bacon or crabcake. For a lighter starter, several soups and salads are available. The Z prime arugula and cranberry salad with pine nuts, manchego and parmesan cheeses with a champagne vinaigrette would be a fine beginning.

On to the main event. Filet mignon, black and blue, perfectly cooked, was my steak of choice. It was succulent, tender and divine. Future visits might include New York strip, bone in rib eye, porterhouse or perhaps a veal chop, Colorado lamb or Berkshire pork chop. Z has its own aging box, in house, where the beef is dry aged for up to 35 days. Side dishes include traditional steakhouse choices of creamed spinach and hash browned potatoes and much more. There are Brussels sprouts with pancetta, caramelized onions and lemon, broccoli rabe with sautéed cherry peppers, loaded potatoes au gratin with bacon, cheddar and smoked gouda which each sounded great. We were blown away by the lobster creamed corn. This generous dish of corn off the cob, with large chunks of lobster meat, bacon, mascarpone and parmesan cheese was a creative and outstanding dish. Savoring this unique side dish with my tender filet mignon was a taste of heaven. Several sauces were offered to accompany the steak from hollandaise to béarnaise, red wine and au poivre but for me it would have been a pity to mask the texture and taste of my filet with any sauce.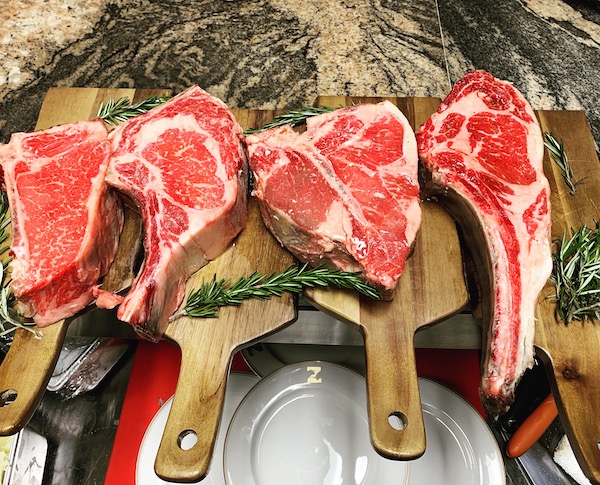 There are several seafood entrees, each with interesting preparations. Would it be branzino with cherry tomatoes, nicoise olives and capers, sesame encrusted ahi tuna with a soy ginger glaze or perhaps a whole lobster with infused drawn butter? We chose the salmon which arrived on a cedar plank topped with a crabmeat and sun dried tomato cream sauce. The topping enhanced the fish without overpowering its fresh taste.

Since Z is a prime Italian steakhouse, several Italian inspired dishes are offered. Here is pollo parmesan, piccata di vitello, black truffle gnocchi and a delightful sounding lobster arrabiata with capelllini, butter poached lobster, San Marzano tomatoes and a touch of chili flakes.

Several dolci sounded excellent, but I passed on dessert so I could keep the memory of my superb steak and side dishes with me. Perhaps my next visit will include ricotta donuts, tartuffo, big apple pie, or gelato or sorbetto. An international wine list has many selections to accompany your meal.

At lunch you may start with soup or an arugula salad. Follow that with an entrée salad of lobster Cobb, seared tuna, steakhouse salad or Cajun salmon. You may choose from a selection of burgers and sandwiches. There is a brunch burger with wagyu beef, avocado, smoked bacon, cheddar and fried egg, wagyu meatball sandwich, Philly cheese steak, crab cake or an extravagant millionaire burger with Wagyu beef of the finest quality, shaved black truffles, foie gras and pink Himalayan salt.(Check the price on that burger before ordering it.)

With Frank Sinatra melodies in the background, singing "My Way", I concluded that Zef Perlleshi created the new upscale Z prime Italian Steakhouse "his way". From ambiance to food and service it is a fine addition to the Westchester dining scene. Enjoy a special lunch or dinner at Z where fine food, and a lush setting combine for a lovely dining experience.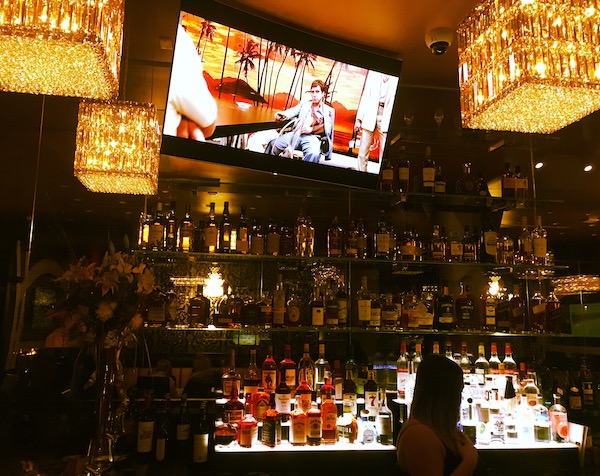 Z Prime Italian Steakhouse
189 East Post Road
White Plains
914-682-0011
https://zprime.com/
Rio Bravo Tacos and Tequila Opens In Tuckahoe
Details

Written by

Judie Dweck

Hits: 4577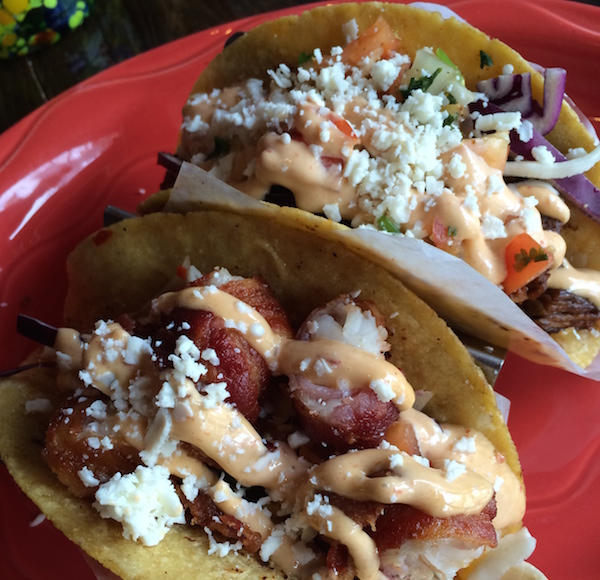 Entering the newly opened Rio Bravo Tacos & Tequila is a feast for the eyes. A colorful variety of Mexican tiles line the walls. Heavily carved dark wood archways give privacy to the booths and Mexican dolls, ornaments, pottery and figurines are artistically placed in alcoves on the walls. The large comfortable bar area is to the left of the festive dining room. The food arrives on pottery dishes in a kaleidoscope of colors, orange, yellow, green, blue and red which immediately puts you in a happy mood.

Upon chatting with Manager Eliseo and server Ezekiel, they indicated that they experiment with planning their service and menu to see what works best to please their guests. They describe Rio Bravo as upgrade gourmet Mexican with some fusion elements. "Rio Bravo takes you back in time to a Mexican hacienda feeling. Freshness, fine quality and good service, sets us apart from many other Mexican dining spots." Owners Edgar and Hector Brambila from Jalisco, Mexico arrived here many years ago and started building their restaurant empire. They now own about 13 restaurants from North Carolina to Connecticut and Massachusetts and Larchmont. We now welcome them to Tuckahoe. They say, we are "in a great location directly across from the Crestwood train station with no other Mexican restaurants in the immediate area. We look forward to further expansion in the metropolitan area."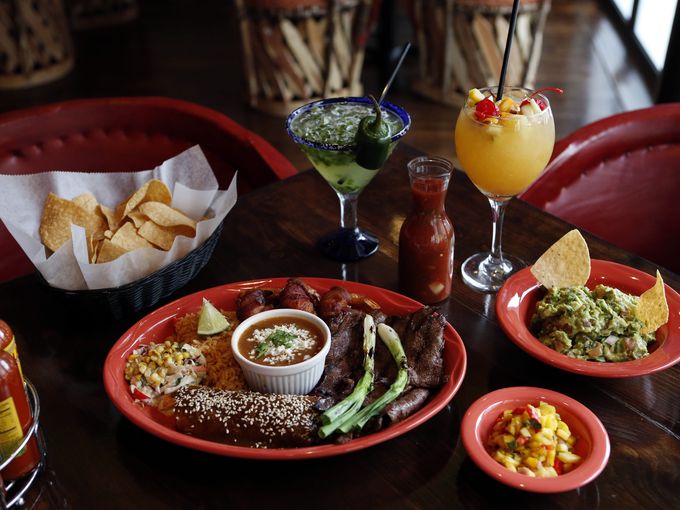 As you await your meal, enjoy some chips with house made salsa or try one of the four varieties of hot sauce at your table. "Top shelf guacamole" is a fine beginning. It is prepared tableside to your taste. Rajas taquitos corn tortilla stuffed with poblano peppers, corn, potatoes and caramelized onions as well as queso fundito an Oaxaca cheese and chorizo casserole are nice choices as well. Buffalo wings, sweet, sour and spicy with ranch dressing bone in or boneless are popular starters, as well. I started with ultimate ceviche. It was unique with shrimp, bay scallops and tilapia marinated in citrus with tomato, onion, cilantro and jalapenos. Sliced avocado garnished this bowlful for refreshing results.
If quesadillas are your desire, you might enjoy one filled with skirt steak or grilled chicken or an open faced variety with pork carnitas. We were adventurous and savored a mango club quesadilla. This tasty filling of cheese, grilled chicken, caramelized onions, fresh mango relish, Applewood smoked bacon and avocado was Mexico's answer to a BLT sandwich. We loved it, with its multi flavored combination of ingredients. The offerings of south of the border dishes include popular chile relleno and pork carnitas, as well as several innovative dishes such as Portuguese shrimp, stuffed with ham and cheese, wrapped in bacon and topped with a Dungeness crab sauce and square knot salmon with roasted pineapple. I just loved the camerones 1800. Here, the jumbo shrimp were sautéed with sliced mushrooms and pecans in olive oil. The tequila 1860 crema sauce with a hint of cilantro worked well with this dish. Carne asada was simply prepared and tasty, as well. The tender thinly sliced skirt steak was charbroiled and topped with green onion and guacamole. Enchiladas can be savored with shrimp, sun dried tomatoes, tomatillo sauce and cilantro crema. Suiza style is also popular as are vegetarian varieties. I enjoyed the enchilada con mole. These chicken enchiladas were generously topped with a fragrant long cooking apple scented mole sauce. This many ingredient complex sauce incorporating unsweetened chocolate was superb. If you can order only one dish at Rio Bravo I would go for the enchilada con mole.

There are 7 varieties of fajitas served with onion, green peppers, charro beans, lettuce, red rice pico de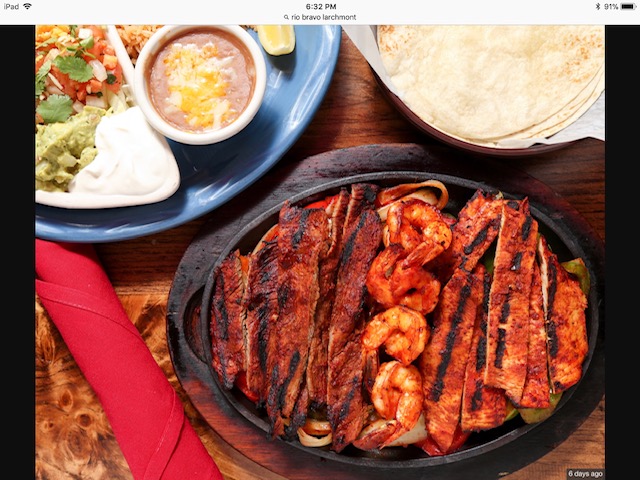 gallo, sour cream, guacamole, shredded cheese and warm handmade flour tortillas. Choose, chicken, skirt steak, salmon or vegetables to name but a few. There is also a selection of chimichangas and a variety of combination plates. It is fun to make your own combination plate of 1 taco, 1 enchilada and one quesadilla.

Tacos are available as classic street tacos to creative international varieties. Tacos al Pastor are filled with melted jack cheese, caramelized onion, shredded cabbage, braised pork, pineapple relish, pico de gallo and a drizzle of Mexican crema. French tacos are filled with melted cheese, caramelized onion, skirt steak, chorizo and chipotle crema for added spice. Marco Polo tacos were excellent with bacon wrapped shrimp as its main ingredient and tempura fish tacos, calamari tacos, Milanesa tacos, and fried chicken tacos are other interesting possibilities. Each taco has a generous amount of filling and arrives with red rice, citrus chipotle slaw and a choice of beans.

For dessert, churros, those fried squiggly fingers of dough and fried ice cream are available. I chose the house made flan, just smooth and sweet enough to complete your meal.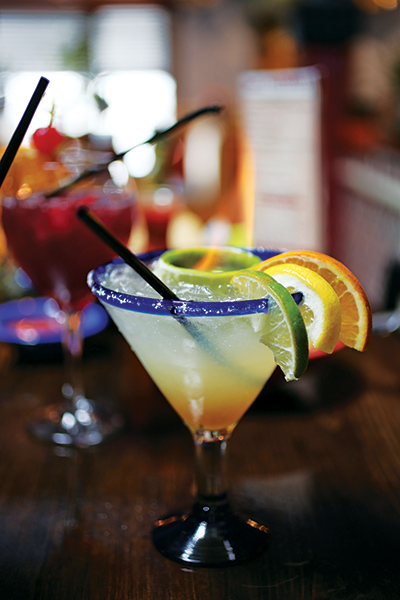 Not to be overlooked are the beverages. There are 13 margarita varieties listed using a choice of tequilas and fruit flavors. You have the option of building your own margarita by choosing one of the 60 [yes 60] brands and grades of tequila, a selection of juice mixers and seasoning. Rim your glass with salt, sugar or nothing at all.

There are daily features here such as taco Tuesday with $1 tacos at the bar and siesta Sunday with ½ price bottles of wine.

Enjoy a meal in the hacienda like atmosphere of Rio Bravo Tacos & Tequila for a festive and fun filled south of the border style experience

Rio Bravo Tacos & Tequila
296 Columbus Avenue
Tuckahoe
914 361 1515

Recipe: Skirt Steak Tacos

Ingredients
2 ½ pounds skirt steak - trimmed of excess fat and butterflied
10 4-inch flour tortillas

For The Marinade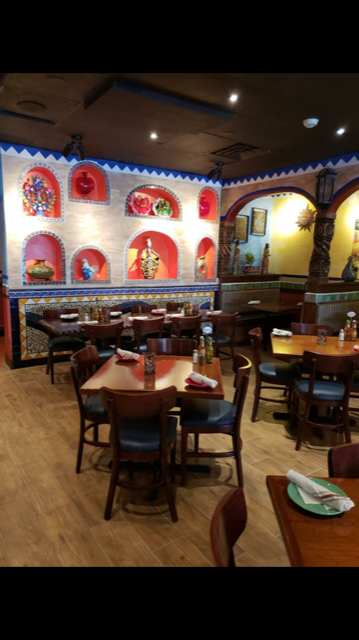 1 cup roasted garlic cloves
1 tbsp. Mexican oregano
Juice of 2 limes
2 cups olive oil

Combine garlic, oregano and lime juice and process to a paste in a food processor. Drizzle in the olive oil until well combined.

For the Salsa Verde
2 bunches cilantro
1 jalapeno
3 cloves raw garlic
2 tsps. capers
½ bunch parsley
3 green onions
1 cup olive oil
Salt to taste

Blend all in processor until smooth. Adjust seasoning with salt if needed and set aside

Garnishes
3 avocados
4 limes, halved
Crumbled queso fresco

Preheat grill to medium or medium high heat. Cover steak with marinade and let it rest for 30 minutes or up to 6 hours covered in refrigerator. Drizzle avocado with olive oil, salt and pepper. Season steak with salt and pepper. Grill for 2 to 3 minutes per side for medium rare. Let the steak rest for 5 to 10 minutes. Slice against the grain into ¼ inch slices Add avocado halves to the grill until slightly charred. Cut into slices when cool enough to handle. Lightly toast tortillas on the grill for 30 seconds on each side. Stack them and cover with a towel to keep warm. Grill limes cut side down for 1 minute. Assemble taco with steak, salsa verde, grilled avocado and queso fresco. Serve with grilled lime.