The Sky's the Limit at City Limits Diner
Details

Written by

Judie Dweck

Hits: 2701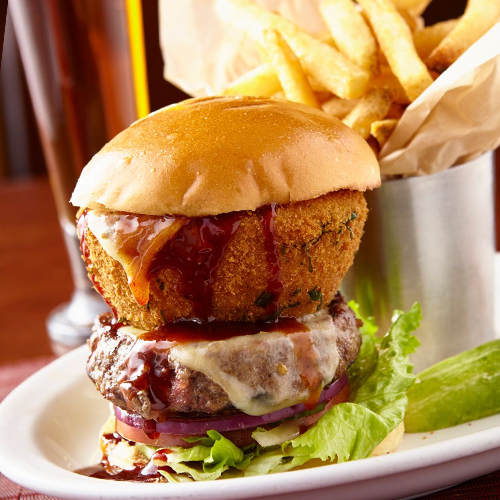 Smokehouse BurgerWhere shall we eat today? Often, on a Saturday afternoon, after a strenuous ballet class, several mature ballerinas are deciding where to dine. One wanted a salad, typical ballerina fare, one wanted something breakfasty, perhaps smoked salmon and a bagel, one wished to have something with a Mexican flavor, maybe a chicken quesadilla, one wanted dessert, maybe some key lime pie and one could not wait to dig into a juicy burger. Our decision was easy to make, as we made our way to City Limits where an extensive and varied menu awaits. As you enter, note the inviting pastry display, which will certainly whet your appetite. Choose to dine at the bar or in the bright dining room at a booth or a table. They seat 270 guests. As you observe your surroundings, note the oversized City Limits cup and saucer, a staple of the restaurant since its opening 25 years ago.

Make yourself comfortable as you check out the large and varied menu. For the breakfast lover, the choices are many and are served throughout the day. Many egg dishes and omelets are very appealing. A vegetable frittata with potato, spinach, leeks, tomato and feta cheese, a chorizo sausage and egg quesadilla, and a Maryland lump crab and lobster cake benedict are all enticing. House smoked Atlantic salmon with bagel and cream cheese, and corned beef hash are very popular. For me, an orange lemon waffle, crisp and flavorful topped with fresh fruit and real maple syrup is my breakfast choice. This made from scratch waffle just can't be beat.

I recently shared a wonderful tasting of City Limit's treasures with Nick Livanos who explained that City Limits, Moderne Barn in Armonk and Molyvos, Ousia, and Oceana in Manhattan form The Livanos Restaurant Group. John Livanos, his dad, emigrated from Greece in 1957 and by 1960 opened his first restaurant. As they celebrate their 25 anniversary of City Limits, the third Livanos generation continues the legacy. Nick, Bill and Corina, John's children are all involved in the business. Nick's three children are part of the operations, as well.

Nick Livanos indicated," We are true to diner characteristics since we serve breakfast all day. Add to this, the high quality restaurant style entrees. We owe our longevity to consistency, quality and diversity in our food. Through the years, we have found that seafood has become more popular. Our house smoked salmon and variety of burgers are favorites of our guests." If Nick Livanos was dining here he might start with a salad followed by soy chili glazed Atlantic salmon. He might take home a seasonal fruit tart for dessert. He would have loved to share a dining experience at City Limits with Henry Fonda, whom he admired as an actor and a person. With the restaurant bustling at all times, the staff from the family , to the kitchen, to the dining room assure that everything is run efficiently in a warm and friendly manner.

Heading the kitchen is Executive Chef Juan Rodriguez. Born into a large family in El Salvador, he helped his mom in the kitchen. As a young teen, he harvested produce at a local farm. Upon arriving in New York, he worked his way up from prep work to executive chef. His dishes are varied and beautifully presented.

Our tasting started with several small plates and appetizers. Lobster wontons arrived as crisp pillows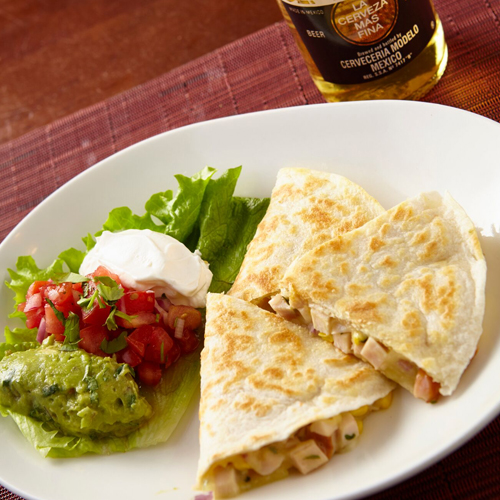 Chicken Quesadillaof fried won ton skins filled with fresh Maine lobster ready to dip into sweet and sour sauce or soy sauce. Fresno chilies and scallions added a bit of spice to these delightful morsels. Resting on a bed of crisp lettuce leaves, these were a perfect small plate to begin a meal with. House smoked pork provided the filling for nicely spiced quesadillas. Accompanied by sour cream, guacamole and pico de gallo, these flour tortilla "sandwiches" were divine. Topped with the tomato relish, guacamole and sour cream this was a great south of the border treat. Chicken empanadas with a thick corn dough shared the plate with a smooth avocado salsa , a mild red sauce and shredded pickled vegetables. Tuna tostadas arrived as sesame crusted slices of fresh tuna resting on a crisp flat fried wonton shell. Layered with a julienne of vegetables the tuna slices and a squiggle of wasabi soy dressing. This was a light very fresh start to our meal. Other starters waiting to be tried are beef tacos crispy shrimp, chipotle ribs, grilled octopus and a mid east vegetarian sampler.

In the past, I have loved spinach and endive salad with pear dressing, Oriental chicken salad, and roast turkey cobb salad which are among the unique salads offered. The burgers here are Black Angus beef and are juicy and delicious. Try the mushroom and Swiss cheese burger or the City Limits burger with bacon, grilled onion, cheddar cheese and bbq sauce. Sandwiches and wraps are numerous. Some of my favorites are house smoked pulled pork, sirloin steak sandwich and southwestern hanger steak wrap.

During our tasting, we moved on to a selection of pizza from their custom oven. There is a classic margherita, Bianca, mushroom and truffle and chicken with jalapeno. We opted for the shrimp pie. The nicely crisp crust was topped with mozzarella, mushrooms, olives and a generous sprinkling of shrimp and arugula, a very pleasant choice. We savored the soy glazed chili Atlantic salmon. A medium rare portion of salmon sat atop a combination of bok choy, bean sprouts, mushrooms and carrots. The salmon was garnished with fried taro root. It was a wonderful Asian flavored dish.Top quality steaks, New York Strip and Hanger steaks are offered with a variety of homemade sauces and side dishes.

A carefully selected choices of wines and beer and signature cocktails are awaiting you to accompany your meal.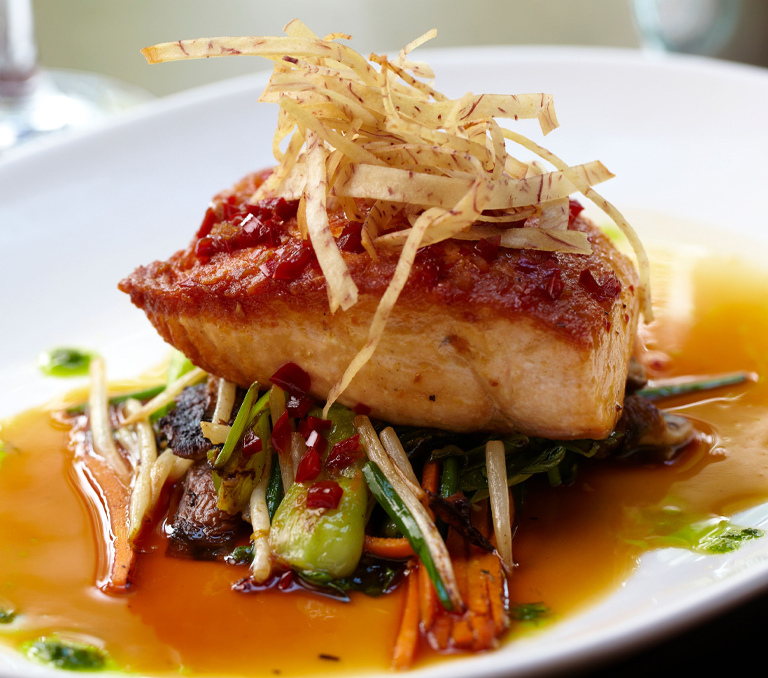 Glazed SalmonIt would be difficult to leave without sampling some of the tempting baked goods A rich layered chocolate and yellow cake slice embedded with hazelnut crunch, a seasonal strawberry and rhubarb individual tart and a rich and outstanding banana cream pie with a layer of chocolate and a mountain of freshly whipped cream are a few of the possibilities. Chocolate mousse torte, tiramisu, key lime pie French chocolate filled cookies, muffins, scones and artisanal breads fill the showcase. I love to leave with a shopping bag filled with focaccia, raisin walnut bread, carrot muffins and scones and perhaps a few double chocolate chip large cookies and some homemade peanut brittle. If a beverage is your idea of a treat, take a trip to the past and enjoy a New York Egg cream or a City Limits Milkshake with house made ice cream.

Celebration cakes of great beauty and catering services are offered here as well.
City Limits is a place to enjoy breakfast, lunch, dinner or a snack Perhaps we should call it The Sky's the Limit. This is not your ordinary diner. The inventive menu offers suggestions for every taste providing comfort foods as well as sophisticated dishes. Enjoy the City Limits experience with family and friends soon.

City Limits Diner
200 Central Avenue
White Plains
914 686 9000

A special note: Part of the Livanos family will be featured on Thursday evening at 9 PM on ABC's Family Food Fight.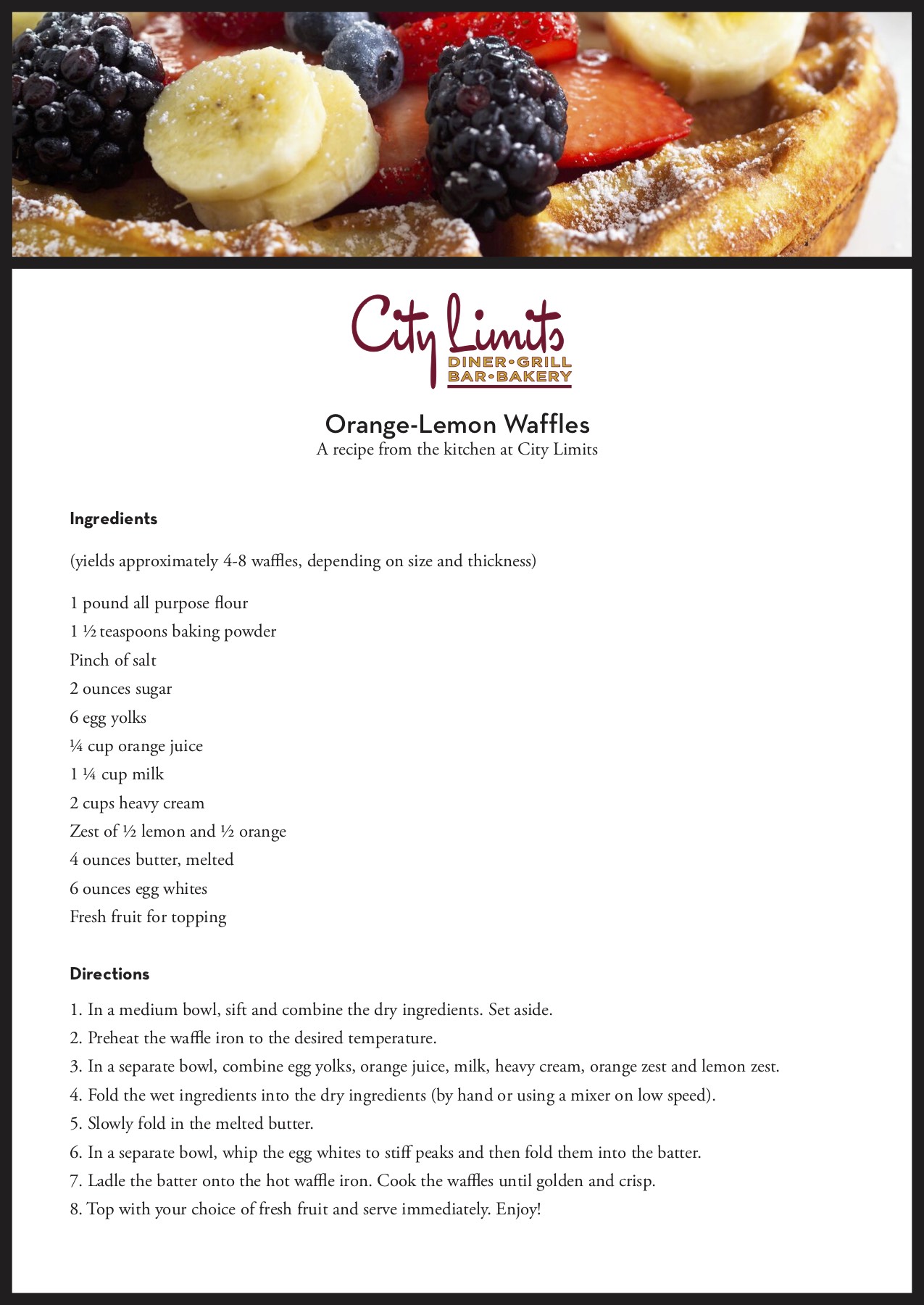 Dine Indoors or Out at the New Contemporary Upbeat Wood & Fire Pizza...Restaurant…Catering…Bar
Details

Written by

Judie Dweck

Hits: 5150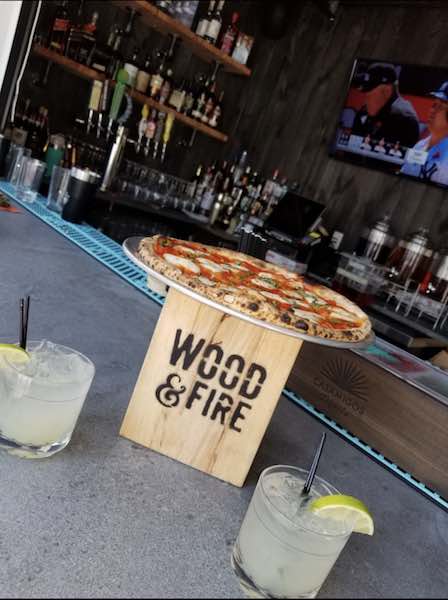 When long time restaurants close their doors here in Scarsdale, we are sad but are hopeful that the new ones that replace them will bring us much joy, as well. Such is the case when Mezza Luna closed their doors and Wood & Fire renovated the space on Brook Street and has provided us with an upbeat casual new Italian restaurant where the menu offers a large variety of classic and innovative pizza, pasta entrees and much more.

I had the pleasure of chatting with owner Michael Ferrara who started working in restaurants as a young high school student. He fell in love with this area of work, and worked his way up from bus boy to server and to manager in Westchester, Florida and New York City. He now owns several restaurants including Wood & Fire in Pleasantville and the newly opened Wood & Fire in Scarsdale. With partners Franco and Bobby Carenza and with Chef Pasquale Abbatiello, a culinary school graduate who studied in Italy, you can be assured of a finely tuned operation. "With so many Italian restaurants in the area, we are special because our food and service separate us from the rest. Our food is not typical because we add our modern twist to each dish. We are a hands on operation, and we stay on top of everything, with an owner on the premises at all times. Our wood burning oven uses only natural fuel and no gas. Top quality flour and San Marzano tomatoes assure outstanding pizzas. My favorite part of the business is enjoying the varied customer base that we serve both young and older. "

As summer approaches, and the warm weather is here, guests are delighted to enjoy the lovely outdoor patio as well as the indoor facility. Avail yourself of the private parking lot or street parking and walk up a few steps into the cheerful Wood & Fire. A friendly bar is in front and as you enter the dining area, take note of the outstanding Italian imported wood burning pizza oven. Informal and comfortable aptly describe the dining area with its wood topped tables and red metal chairs. On the dark wood walls is the logo Wood & Fire Restaurant, Catering, Bar, Neapolitan Style Pizza. Contemporary lighting on the wood slat ceiling and a stone floor complete the setting. This room leads to the lovely outdoor patio. The restaurant seats about 130 guests. During a recent weekday lunch, it was evident that this new dining option is gaining popularity quickly. Many tables were filled with very happy guests enjoying excellent service. At a table for 12, all dishes appeared to arrive promptly, quite a feat. Diners varied from business groups to families and all seemed to be having a good time.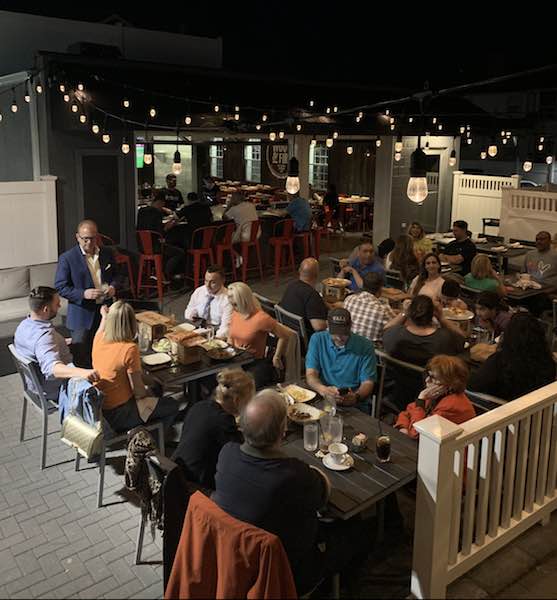 There are 15 varieties of pizza listed on the menu with an additional choice of many toppings such as olives, meatballs, sausage and spinach. The pies are 12 inches and the combinations of ingredients are unique. The wood burning oven helps to make these pies exceptional we loved the charred vegetable pie, a colorful choice. Here eggplant, zucchini, roasted peppers, San Marzano tomato sauce and fresh mozzarella gave a garden of flavor to the pie. Also worthy of a try is the prosciutto and arugula pie. Here, whole leaves of baby arugula and thinly sliced prosciutto rested on the wonderful crust. Fresh mozzarella, a touch of San Marzano tomato sauce, extra virgin olive oil and a sprinkling of finely shredded parmigiana reggiano completed this fine pie. Other appealing possibilities are Wood & Fire Pie with burrata, marinated tomatoes basil and fresh garlic and The Prince Street with a Sicilian crust, crispy pepperoni, San Marzano tomato sauce, mozzarella and shaved parmigiana. Even the presentation was unique. A contemporary variation of the metal pizza stand, arrived as a wood block with the restaurant logo with the tray of pizza on top.

For starters, many lovely salads are offered. Beet and Brussels, calamari and lobster, steak and avocado salad and a Scarsdale salad with greens, fruits and nuts all sounded and looked appealing . Judging from an adjoining table each salad was quite hearty in size and beautifully presented.

We chose to start our tasting with selections from the piattini section of the menu. Wood fired mussels were outstanding. The large PEI mussels were swimming in a white wine herb and cream infused sauce. A squeeze of lemon juice and the result was ideal. The delicate sauce was a perfect accompaniment for the very fresh mussels, which added flavor without overpowering the dish. Sicilian rice balls , a classic, were well prepared. The rice, beef ragu, mozzarella and pea filling surrounded by a crunchy crust and accompanied by a dish of San Marzano tomato sauce for dipping was so good. It was difficult eating just one. Future meals will definitely start with charred octopus, fritto misto, prosciutto bread or burrata and eggplant caprese.

The many pasta selections include popular favorites as well as innovative combinations. We decided upon a classic of pappardelle Bolognese. At Wood & Fire, a slow roasted Angus beef ragu enveloped the delicate ribbons of pappardelle. Fresh basil, parmigiana and mascarpone enriched this delicious classic. I look forward to sampling spaghetti, pesto and shrimp with pine nuts, string beans, shrimp and toasted breadcrumbs, gnocchi Toscana with Italian sausage ragu, and linguini nero with mussels, shrimp, calamari and salmon in a spicy sauce. Wood & Fire classic lasagna, meatballs and spaghetti and ravioli al forno with vodka sauce are calling my name, as well.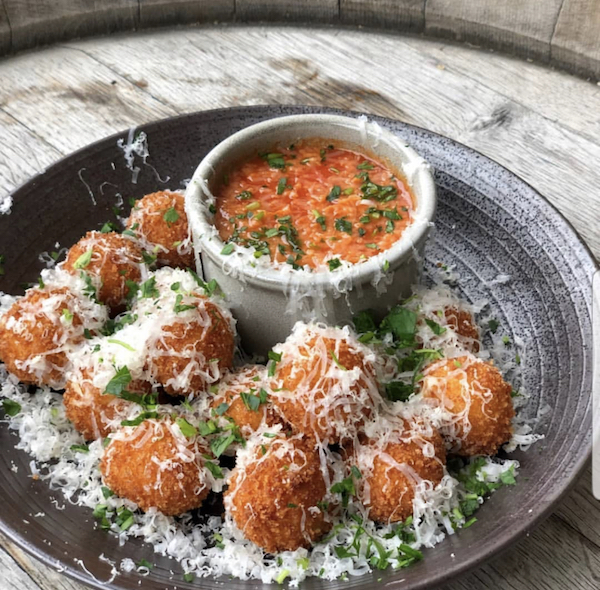 Large plates at dinner span choices of eggplant parm, chicken saltimbocca, chicken scarpariello, and chicken parm for 2. Veal in several forms, steak, short rib, branzino and salmon are offered, as well. We enjoyed jumbo lemon shrimp. This large platter contained truly jumbo shrimp, tail off, breaded and prepared francese style, surrounded by a lemon white wine sauce. Roasted baby carrots and slices of grilled zucchini enhanced this plate for a light and excellent entrée.

If you have saved room for dessert, choose from Italian cheesecake, tiramisu, zeppole, Nutella pizza or cannoli, to name just a few of the choices. Enjoyed Wood & Fire's rendition of crème brulee. Traditional crème brulee is always a nice way to end a meal. Infuse it with espresso and this smooth creamy pudding with its crackling crunchy topping is a perfect conclusion to your meal.

Original cocktails, sangria, wine and beer are plentiful at the front bar as well as the patio bar. There are also many cocktails with intriguing names.

Friendly, upbeat and happy describe Wood & Fire in Scarsdale. Tempt your taste buds there soon.

Wood & Fire
118 Brook Street
Scarsdale
914 722 4854
Scarsdale Seniors Put On a Happy Face at Weekend Production of Bye Bye Birdie
Details

Written by

Jamie Robelen

Hits: 1996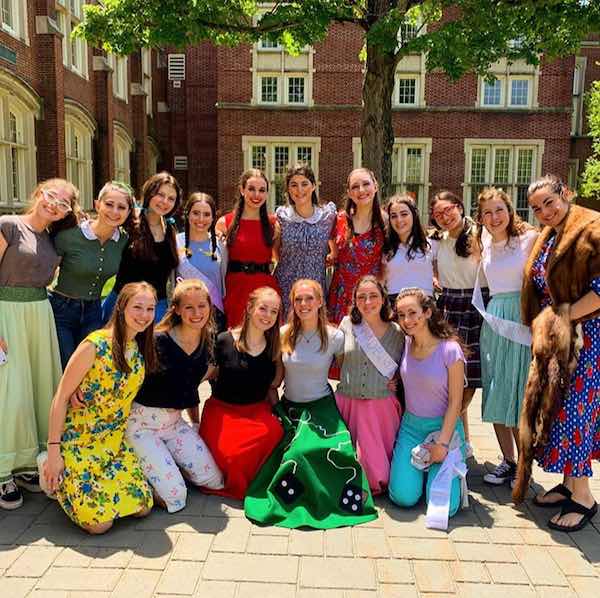 Each year it's a Scarsdale tradition for the senior class to put on a musical starring the kids who haven't had the chance to be onstage throughout high school. This year was no different: the cast of Bye Bye Birdie was mainly made up of kids who you might not expect to be involved in a musical. There were athletes, Speech and Debate team members, and Model UN kids. After only seven weeks of rehearsal, the show had a three-day run from May 17th to 19th in the Scarsdale High School auditorium.
The two female leads, Lindsay Gelles as Rosie and Becca Sklar as Kim, were standouts in the cast. Both girls had lovely singing voices and great stage presence as their characters. Lindsay is an avid dancer and she got to show that off in a few of her numbers, especially the Shriner's Ballet and Spanish Rose. Christina Coco and Simon Krohn were the funniest people onstage. Christina played Willy Wonka in the class of 2019's eighth grade musical, and is known for her singing, so it was no surprise that she brought so much to the role of Mae Peterson. Simon, on the other hand, is known for being a Scarsdale athlete. As Harry MacAfee, he brought so much personality to his character and had the audience laughing on almost all of his lines.
The show came together under the production team, and the leadership of Director Katie Nova with help from Assistant Director Aerin Gelblum. Each aspect of the production- direction, music, choreography, costumes, publicity, props, sets, and makeup- were headed by students. Class advisors Carol D'Angelo and Michael Egan produced the show, and Steve Bogardus was the technical advisor, but other than that, the seniors took responsibility for their jobs and made sure everything that they were in charge of got done.
The whole community came to see the show, from families of cast members to high school classmates to parents bringing their elementary schoolers. Everyone in the cast had a great time working on the show. The senior musical is a great Scarsdale tradition that leaves enduring final memories of high school for everyone involved.
The Taphouse- An Upscale Pub-Steps away from the Tuckahoe Train Station
Details

Written by

Judie Dweck

Hits: 2795
Across the street from the Tuckahoe train station, is the charming and friendly Taphouse. After a busy day in the city, it is refreshing to make a stop at The Taphouse just steps away. This upscale pub has been satisfying our tastebuds since 2007. With its varied menu and welcoming atmosphere, you can dine on the main level with its long wood and marble bar or at one of the many tables with bentwood chairs. Wood paneled walls, rich paisley wall paper, wood fans and antique lighting set a very comfortable mood. Past the open kitchen, at the rear, is a more intimate dining room with a glowing fireplace. Upstairs is a 75 guest dining room and downstairs is a wine room. These separate dining rooms suggest a great opportunity for private parties. If you choose to enjoy drinks with your meal, many craft beers, bottled beers, wines and cocktails are plentiful.
Operating partner, Chris O' Brien is a constant presence at The Taphouse, where his friendly charismatic manner sets the relaxing mood at this local dining spot. He grew up helping his dad, who owned several restaurants. O'Brien describes The Taphouse as, "An American restaurant with upscale pub food, offering a high quality product. We have a good foundation. A large part of our staff has been here since we opened in 2007. I have loved to watch our restaurant grow through the years. We have many loyal customers, whom we have developed relationships with. It is important to keep relevant and keep our eyes and ears open to restaurant trends. These days our guests are well educated in the culinary field and each day at The Taphouse provides a new experience. My favorite part of the business is developing good relationships with our staff and our guests. I would have loved to serve the late Anthony Bourdin at The Taphouse."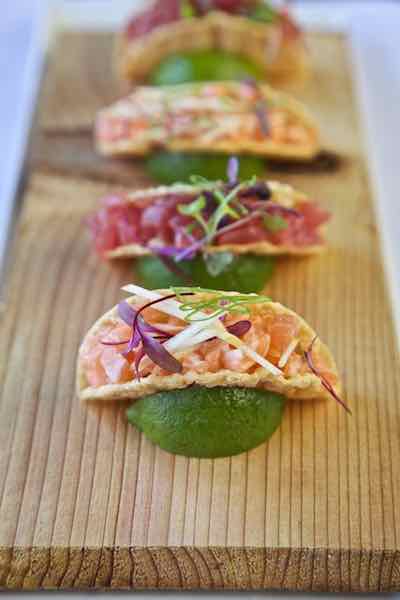 We chose a table at the front windows, where we could watch the trains go by. The varied menu at both lunch and dinner with daily specials allows you to visit often and enjoy a great variety of creative dishes. The menu is divided among snacks, classic starters, soups and salads, big salads, sandwiches and pub fare. After a sampling of the dishes here, I would add the words upscale and elevated to the description of The Taphouse.
Among the snack offerings are house made pretzels, and braised Brussels sprouts with bacon, Dijon mustard and crostini. We loved the tuna tartar. The very fresh cubes of tuna were tossed with avocado and mango and dressed with a hint of ginger and soy sauce. Surrounded by house made potato chips, the pure simplicity of this dish was evident. Very creative was a dish of eggplant meatballs. Resting on a pool of romesco sauce, the meatless meatballs were rolled in a thick layer of panko crumbs. When sautéed, they resulted in a scrumptious appetizer, with mozzarella, parmesan and basil adding an Italian flavor to the dish.
Among the classic starters there are crab cakes, calamari and Buffalo wings and probably the best PEI mussels I have had in a while. Large, meaty, plump and tender, this bowlful swam in a broth of white wine and just enough garlic and herbs to give them zest. The grilled bread was perfect for dipping so we enjoyed every last bit of this lovely dish. Soups and salads each had their Taphouse touch. Mushroom soup had the flavor of truffle oil. Spinach salad was tossed with butternut squash, pecans, cambozola cheese and lingonberry jam and a roasted beet salad paired with baby greens, walnuts, goat cheese and champagne truffle vinaigrette were each fine combinations.
Main courses range from interesting sandwiches to big salads and pub fare. In the past I have loved their char grilled Taphouse burger with everything fries and crispy onions on a brioche roll. Shortribs and sirloin sliders are popular, as well. Entrée salads of cobb, grilled shrimp, blt salad, steak salad are each nicely prepared. On my recent visit, I enjoyed some pub fare entrees each beautifully presented. Pan seared salmon arrived with sliced roasted zucchini, halved grape tomatoes and fingerling potatoes, each nicely browned. Romesco sauce and a bouquet of fresh dill completed this delightful dish. Very unique and pretty sophisticated to be called pub fare was a hearty bowlful of forbidden rice. Black rice was tossed with edamame, shitake mushrooms and carrots. Large chile glazed shrimp surrounded the rice and sliced avocado added a trendy touch. Strips of fried wontons added crunch to this ginger flavored dish. If beef is your desire, try the open faced steak sandwich topped with caramelized onions, mushrooms, onions, bleu cheese and a thick slice of house smoked bacon. A red wine sauce and skinny fries completed this hearty dish. Future entrees might include the very popular organic roasted chicken with lemon pan sauce, Taphouse meatloaf or fish and chips.
For dessert enjoy a cookie ice cream sandwich, the Taphouse version of a chipwich, double chocolate lava cake, beer battered apple fritter or other sweet endings to your meal.
All of these creations are the work of Chef Kevin Bertrand who has been heading the kitchen here for many years, almost since its inception. Each day there are lunch and dinner specials offered in addition to the printed menu. Chef Bertrand offers his creative slant to the classics using high quality ingredients and combining them in appealing presentations.
Enjoy creative American fare at The Taphouse which brings pub food to a new level of culinary artistry.
The Taphouse
16 Depot Square
Tuckahoe
914-337-6941
Recipe: Pan Roasted Frenched Chicken Breast for 2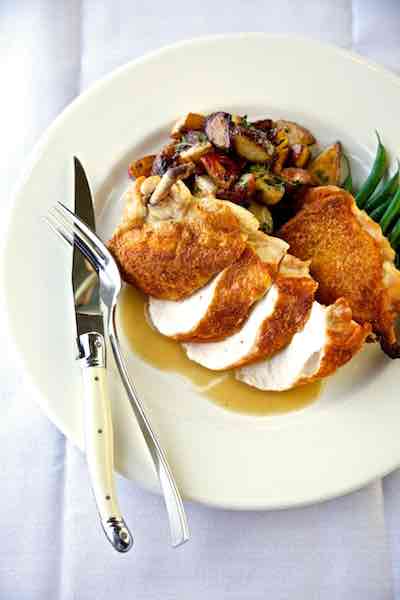 2 chicken breasts with skin on
Salt and pepper to season breasts
3 ounces white wine
2 sprigs of fresh thyme
1 cup chicken stock
1 ½ Tbsps. unsalted butter
………………
3 red bliss potatoes cut into quarters
2 quarts cold salted water
3 cloves smashed garlic
6 to 10 black peppercorns
¼ bunch thyme
Olive oil for browning potatoes
Thyme, salt and pepper to season potatoes

Season breasts with salt and pepper. Place chicken skin side down in heated sauté pan with a bit of olive oil. Lightly brown for 4 to 5 minutes. Place chicken in 450 degree oven for 18 - 20 minutes. Remove chicken and let it rest for 10 minutes, skin side up. Remove excess fat from pan and deglaze pan with wine and thyme. Reduce by half and add the chicken stock. Reduce to 2 ounces of liquid and add the butter. Strain and serve,
For the Potatoes
Bring the water to a boil and add garlic, peppercorn and thyme along with potatoes. Cook until potatoes are fork tender. Drain and cool. Place oil in pan and brown potatoes in it with thyme, salt and pepper. Pat dry and serve with chicken.
Breakfast, Lunch and Dinner- Filipino Style at Hapag
Details

Written by

Judie Dweck

Hits: 3015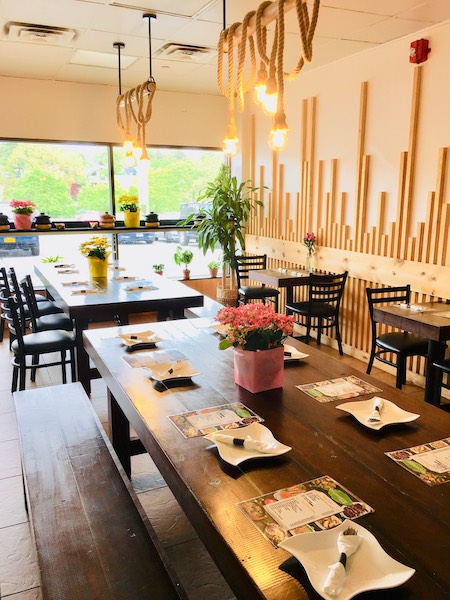 I've spent years sampling the cuisines if the world, from Italian, French, Japanese, and Spanish. However, I noticed the sign Hapag in The High Ridge Shopping Mall in Yonkers and realized I had never taster Filipino cuisine. With great enthusiasm at trying something new, I made plans to visit this newcomer to Westchester.
The windows were filled with many potted plants, and a colorful sign announced the recent opening of Hapag. In the Tagalog Filipino dialect Hapag translates as "long table". True to its name this compact space houses two long picnic style tables and benches, suitable for large groups or several small ones. There are also a few tables for two or three and counter space with stools, as well. They surely have made good use of their limited space. Light colored wood paneled walls and interesting rope lighting fixtures and traditional straw hats on the walls, complete this simple and functional spot.
My visit to Hapag was on a Sunday at noon. The intimate space was very busy. The two long tables were filled with happy family groups enjoying the very classic dishes of their Filipino heritage. Within minutes of my arrival, the line of people waiting to savor this interesting cuisine reached out the door. I was greeted by Jennie Berbano, who described Hapag as "family oriented, casual and friendly serving authentic Filipino cuisine. The chefs are adept at preparing these classic dishes. Jennie said, "Our goal for the future is to introduce the area to Filipino cuisine. We chose this location because it is convenient to many Westchester communities. Our cooking is influences by Chinese and Spanish cooking. Popular ingredients are garlic, onions, many fresh vegetables, rice, tomatoes, soy sauce, and vinegar and fish sauce. "The restaurant is owned by Jojo Berbano, Juando Laureles and Bong Camara, who bring the tastes of Filipino cuisine to Westchester.
You can savor this Filipino cuisine throughout the day at Hapag. Starting with breakfast among the choices are several fried egg combinations with garlic fried rice. A ginger based broth, arroz caldo with chicken sounded interesting. Breakfast meals arrive with orange juice or coffee.
With the long tables suitable for groups of friends or families, Hapag offers many dishes for sharing, which gives you the opportunity to try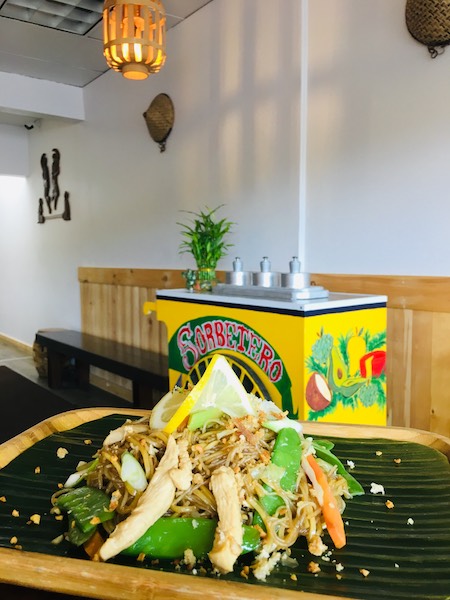 Pancit: Stir fried noodles and vegetablesmany dishes. As Sunday meal, I made my way through the menu of classic dishes. Very tasty with a similarity of the cuisine of China was a dish of pancit. These stir fried rice noodles were mingled with a variety of vegetables and cubes of both chicken and pork. Cabbage, carrots, scallions and peapods added crunch and color and a squeeze of fresh lemon added zest to this tasty dish. Sinigang arrived as a hearty bowl of tamarind flavored broth chock full of large pieces of vegetables, including white radish, eggplant and onion. Chopped tomatoes added an additional flavor component to this unusual potage. This sweet and sour broth filled with hearty vegetables is a fine cool weather choice.

One of the Filipino national dishes is adobong. We tried it with both chicken and pork. The meats were marinated in vinegar, soy sauce and garlic. The large pieces arrived in a dark and rich sauce, a bit heavy for my taste. Among all of the dishes I tasted, one of my favorites was ukoy. This was a large and crispy fritter of a julienne of carrots and bean sprouts in a sweet potato batter with sliced scallions on top. In the center was a head and shell on prawn, waiting to be devoured. Lumpia, another favorite of mine, and very popular is an eggroll wrapper filled with pork or vegetable, tightly rolled and fried until golden. You can't eat just one. Served with a sweet and sour sauce, they were addictive. Skewers of bbq pork were delicious, as well. Yet to be sampled as I become more daring are pork cheek, pork belly, and shrimp paste stew. A pleasant beverage to pair with your meal is calamansi, prepared with the juice of a small lemon like fruit.
It was time for dessert. Very popular is halo halo, which means mix, and quite a mix it is at Hapag. A large goblet is filled with shaved ice and layered with sweetened beans, jelly of various colors and milk. It is a colorful ending and seemed to make several guests quite happy at a nearby table who shared it. I opted for a Spanish influenced leche flan. This vanilla custard was smooth, creamy and very soothing, just sweet enough to satisfy my need for dessert. Other tempting sweets are the classic biko, a sweet rice and coconut milk confection with caramelized brown sugar and cassava budin, a yucca based bread pudding.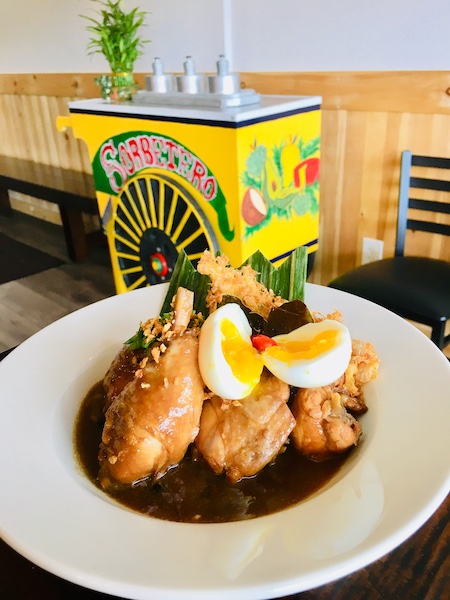 AdobongAfter sampling many of the dishes at Hapag, I can advise people waiting on line that it will be worth the wait. Enjoy adding another dimension to your culinary knowledge and try the interesting cuisine in a friendly atmosphere at Hapag.
Hapag
1789 Central Park Avenue
High Ridge Shopping Center
Yonkers
914 652 7773
Recipe: Chicken and Adobo – Serves 2
2 pounds chicken in serving pieces
3 pieces dried bay leaves
8 Tbsps. soy sauce
4 Tbsps. white vinegar
5 cloves garlic, crushed
½ chopped onion
1 ½ cups water
3 Tbsps. cooking oil
2 Tbsps. cornstarch
1 tsp. sugar
¼ tsp salt
1 tsp. whole peppercorns

In a non reactive bowl, place chicken pieces with soy sauce, vinegar and, 3 cloves of garlic and marinate it refrigerated for 4 to 12 hours to absorb the flavors. In a large pot, sauté the onion, bay leaves, peppercorns and 2 remaining cloves of garlic. When the mixture is golden place chicken pieces, skin side down in the sauté pan. Add water and bring to a boil. Lower heat and simmer for 20 minutes. Turn chicken over and cover and simmer for 10 more minutes. Mix together the cornstarch and sugar and enough water to make a slurry. Add it to the chicken pan while turning the chicken every now and then. Keep boiling the mixture and basting the chicken pieces uncovered until the sauce thickens and is reduced by half or for about 2 or 3 minutes. Serve.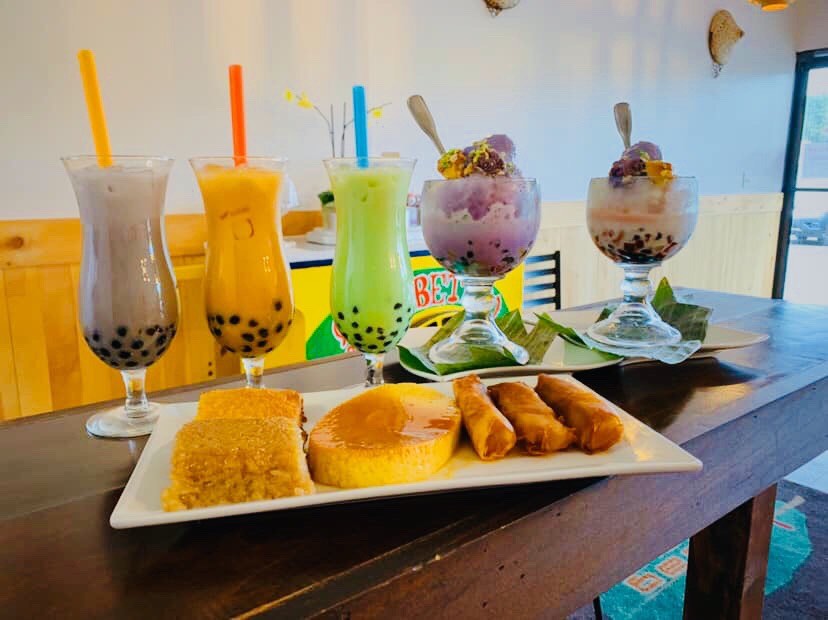 Halo Halo