Sofia's Italian Bistro: A Taste of Naples in Mamaroneck
Details

Written by

Judie Dweck

Hits: 2981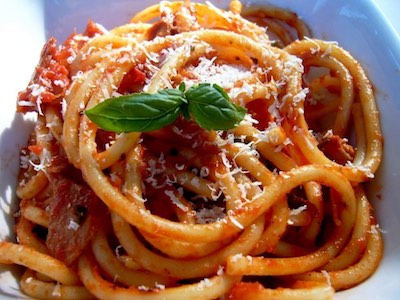 Italian food appears to be the most popular choice in Westchester. I believe that if you choose to dine at an Italian restaurant every week for a year, you would never need to visit the same spot more than once. We have just added a new option to our Italian restaurant choices. Sofia's Italian Bistro just opened its doors in Mamaroneck at the space occupied by Lum Yen for many years.

The owners Antonio Mauro and Sammy Reys, the executive chef have worked together for many years in New York City and at their sister restaurant La Vela, an upscale spot in Manhattan.

Sofia's is simply decorated with dark woods and white walls. Several food related wall hangings add color. As you enter, there is a roomy bar with tv screens and several tables where you can enjoy a casual meal. If you are wondering about the name, Mauro chose Sofia as in Sophia Loren (different spelling), an inspiration and food lover who said, "Everything you see I owe to pasta." The main dining area is filled with well-spaced tables. At lunch placemats are on the tables and at dinner pale blue linens lend a more formal look.

Antonio, "Tony", started his restaurant career in Naples. He indicated that he treats all of his guests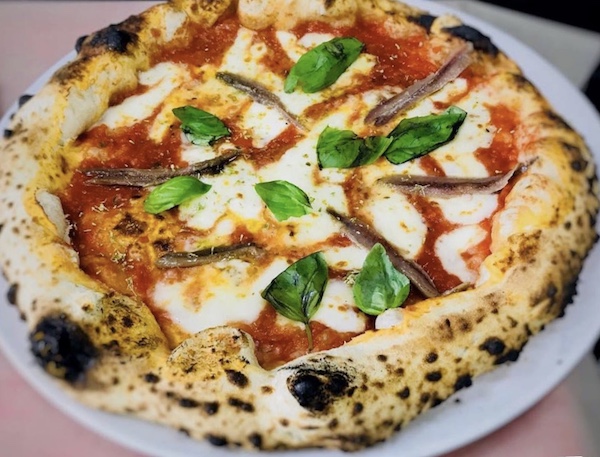 the same. "We serve large portions. Many of our ingredients are imported from Italy. Our meats, fish and vegetables are hand picked. Only dry goods are delivered. "If Tony was dining in Sofia's, he might start with calamari followed by linguine alle vongole and perhaps bistecca alla griglia or skirt steak. The kitchen staff is led by Executive Chef Sammy Reys, whose style combines classic with innovative touches. "Our goal is to make our guests happy. " Reys studied his craft at Villa Santa Maria Pescara Culinary School in Italy. He loves to visit the food show in New York and become aware of new products. He is always ready for a challenge in his work. This is a family run business and everyone is very friendly. Antonella, a family member, graciously served my varied dishes and was very helpful in answering my questions and getting a recipe from the kitchen.

The wood fired pizzas at Sofia's are prepared in the Neapolitan style with a thin soft crust. With about 14 choices it was difficult to make a choice. The flour for the dough is imported from Italy and contains no preservatives or chemicals. Pablo Herrera, otherwise known as "the pizza man", prepared 2 varieties for me to sample. The Pizza Vela was topped with fresh mozzarella, fried rounds of zucchini, very fresh ricotta and halves of grape tomatoes. This was a fine combination of tastes and textures. The carretiera pizza was topped with crumbled sweet sausage and broccoli rabe and was a hearty pairing of ingredients. The selection ranges from the popular margherita and marinara, to the interesting tartufata white pie with mushrooms, truffles and prosciutto, vegetarian with cherry tomatoes, peppers, zucchini and eggplant, Sofia with escarole, mozzarella, black olives and capers, and diavola with tomato sauce, mozzarella and hot sopressata. You may also request gluten free pies. Herrera said, "I love making pizza. My spirit is in its preparation and I get satisfaction in watching my guests enjoy it."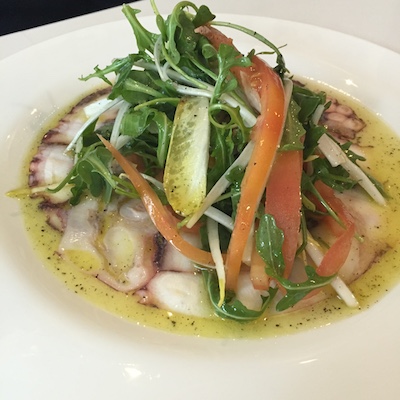 The antipasti selections at Sofia's include classics of calamari fritti and burrata fresca to creative presentations of calamari vela with spicy marinara sauce, cherry peppers, olives and capers. We loved the polipo Sofia where the grilled tender octopus arrived in a plate sized circle of octopus filled with olives, celery, roasted peppers, tomato and lemon. Another excellent choice is the bruschetta Sofia, a true original. Resting on housemade squares of crisp grilled croutons were melted mozzarella, chopped tomato salad, and slices of grilled skirt steak. A ginger mandarin sauce finished this tasty dish. I look forward to trying vongole al forno in a white wine sauce and cozze al Pomodoro sautéed in fresh basil tomato sauce.

If you wish, choose one of the 6 salad offerings. Sofia's salad with baby arugula, shaved parmigiana, and butterflied grilled shrimp are tossed in a pear, lime vinaigrette for a lovely result. Rucoletta combines baby arugula with a iulienne of endives, pears and tomato in a red wine vinaigrette. The La Vela Salad is a hearty offering with beef tenderloin over spinach with bacon croutons, grilled onion, oven dried tomatoes in a bacon blue cheese vinaigrette. The portions are large, so try not to fill up on these starters since there are many pastas and entrees to follow.

It was difficult to choose among the many pasta choices. Would it be a classic of penne all arrabiata, rigatoni Bolognese or linguine alle vongole. We opted for cavatelli Gino. These morsels of pasta were tossed with shrimp and a julienne of carrots and zucchini and topped with a crown of crisp potato strips. It was a creative combination and an attractive presentation. Other tempting choices are Fiorette al Profumo di Bosco, very popular, where the packets of cheese filled pasta are served in a pink sauce with diced prosciutto , peas and mushrooms,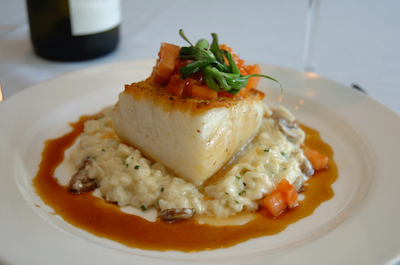 and short rib ravioli in a parmesan sauce. If risotto is your desire try the risotto al frutti di mare. The perfectly cooked rice is not too dry or too soupy and was combined with little neck clams, squid and shrimp in every spoonful. It was delicious. Next time we will try the risotto with mixed mushrooms and parmigiana. The vegetarian at your table can enjoy eggplant parmigiana, veggetali alla griglia and other vegetable creations. Entrees are varied and range from braised pork shank, chicken parmigiana, bistecca alla griglia, filet of sole with shrimp in a tomato caper sauce and whole branzino, to name a few.

If you have room for dessert, enjoy a cup of cappuccino with house made tiramisu, zeppole or toasted almond cake.
For lunch, pizza in its many variations is offered as well as interesting paninis, hearty hero sandwiches and even a Sofia burger. If you indulge in a hearty lunch, it may be difficult to return to work. Several kids meals are offered with appealing choices of cheese ravioli, spaghetti and meatballs and pizza margherita.

Add Sofia's Italian Bistro to your Italian dining choices and savor their pizzas and varied menu soon.

Sofia's Italian Bistro
100 West Boston Post Road
Mamaroneck, New York
914- 6304501

Recipe: Cavatelli Abruzzese (Serves 2)

Ingredients:
1 pound bulk Italian sausage sweet or hot, or 1 pound sausage removed from its casing
1 pound broccoli rabe, trimmed and stems removed
1 pound frozen cavatelli, cooked al dente and drained
3-4 cloves garlic, thinly sliced
2 Tbsps. extra virgin olive oil
½ tsp. red pepper flakes
Salt and pepper to taste
Grated parmesan or romano to taste

Directions:
Heat oil in skillet. Add sausage and sauté until cooked through. Add broccoli rabe and garlic and sauté until garlic is golden and broccoli is cooked through. Toss the pasta into the skillet and toss in the red pepper flakes and salt and pepper. Serve topped with grated cheese.
A Mid East Feast For All The Senses At Fez Turkish Meze
Details

Written by

Judie Dweck

Hits: 2533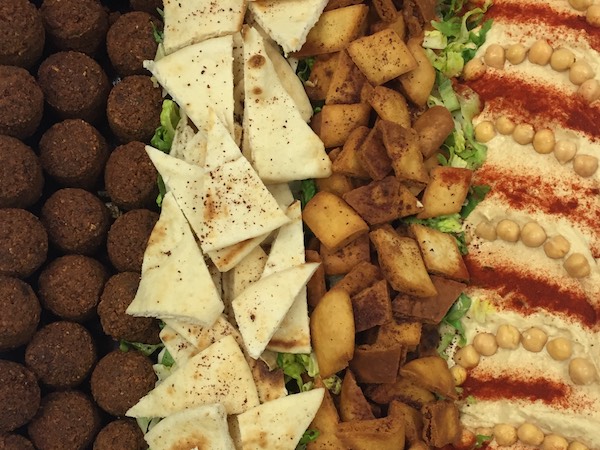 Do the words grape leaves, pomegranate molasses, sumac, pine nuts, kibbeh, tabbouleh and baklava make your taste buds sing? If they do, pay a visit to Fez Turkish Meze where the rich aromatic flavors of the Mid East combine for healthy, wholesome and very tasty dishes, in a warm friendly setting. Fez occupies the space that for many years was another very pleasant Turkish restaurant. The new owners are the welcoming Khaled Daas and his wife Ahoud Bata. Seating about 60 guests, Daas was proud to inform me that the simple space was completely redecorated by his family and himself, from the stucco walls, dark wood beams, vintage copper cooking utensils on the walls, and turquoise recycled water glasses on the tables, the color reminiscent of the Mediterranean. The dining rooms are separated by a large entrance area. Mid Eastern music was playing in the background, setting the scene for the meal to follow.

Daas indicated that, "I love the social aspect of restaurant ownership. Many of our guests have become friends. We consider every guest a VIP and we make them all feel at home at Fez. Our goal is to grow gracefully and maintain the family feeling. "Busy in the kitchen, is Chef Ahoud Bata. The Turkish and Mid-East cooking is a reflection of her time spent in the kitchen with her mother and grandmother. At Fez, Chef Bata instills her dishes with her love of food and her desire to prepare her dishes for the pleasure of her family and guests. The dishes are traditional and many are adapted to modern techniques. "We are aware of the need for gluten free and vegan dishes and offer many in those categories. Our food is very healthy. Vegetables, grains and lamb are important ingredients in our cooking."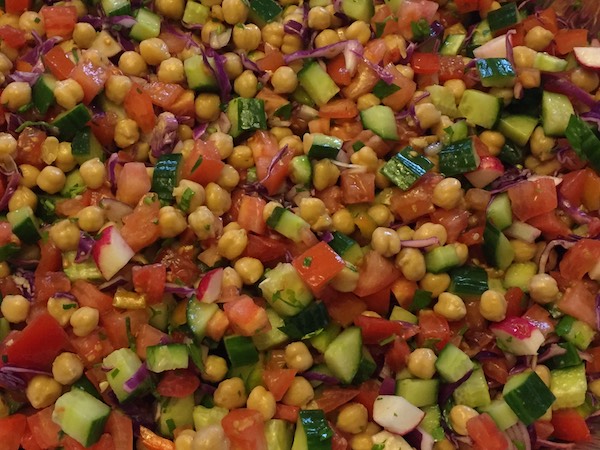 France may have its hors d'oeuvres, Spain its tapas, China its dim sum and Italy its antipasti, but Turkey and the Mid East has its meze. At Fez, the selection of meze is so varied that several of the selections can certainly constitute an entire meal. The meze here is truly a miniature feast. First, there are the dips, served with a basket of warm pita bread. Some are familiar such as the hummus with chick peas and tahini and lebne a rich strained yogurt. We sampled a superb baba ghannoush. The eggplant is roasted and blended with tahini, yogurt and seasonings. It was addictive with its chunky texture, smoky flavor and sprinkling of fresh parsley. Yet to be tried are modammas with fava beans, garlic and fresh lemon juice, and mhammara, a walnut red pate with spicy red pepper paste and walnuts, walnut lebne yogurt with garlic and walnuts and lentil pate. Next we sampled some of the finger foods. There was zatar pie, cheese puffs, falafel, kibbeh balls and zucchini pancakes. We chose lahmacun. These were 6 inch rounds of homemade dough topped with ground beautifully seasoned lamb. They are baked and are Turkey's answer to individual pizzas. Phyllo pastry is the wrapper for many fillings from minced lamb, spinach and cheese to simply feta cheese. Rolled into cigar like packages the sigara borek, fresh out of the oven were hard to resist. Dolma, grape leaves are enjoyed throughout the mid east. Here the leaves are softened for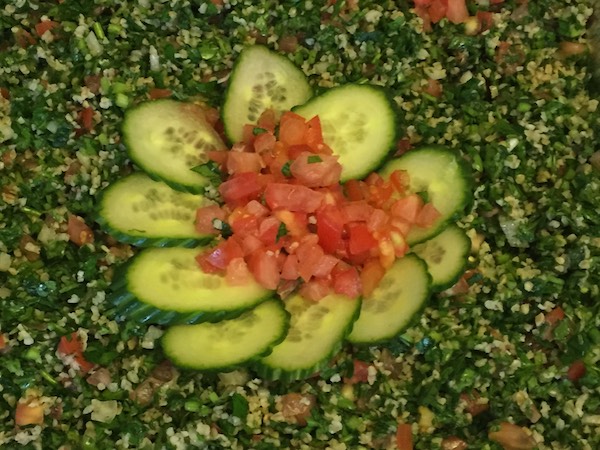 easy eating and filled with a rice and vegetable mixture. They are served at room temperature. Hints of lemon and pomegranate molasses were evident. In my home the grape leaves are served in the Syrian style filled with ground meat and rice and cooked with dried apricots and pomegranate molasses. The third section of meze at Fez includes a variety of vegetable stews or soslu. They are served cold with pita or hot with rice. The varieties include eggplant, okra, butter beans, potato and coriander, and cauliflower with garlic, coriander and lemon juice. On cool day you may wish to try homemade red lentil, hearty vegetable or chicken noodle soup.

There are about 9 salad choices ranging from tabbouleh with bulghur, parsley, tomato, onion, lemon and olive oil, to the ever popular fattoush with romaine, tomato, cucumber, pepper, radish, onion and lemon juice. Olives, pita chips and a sumac vinaigrette complete this salad. The salads can be topped with meat, vegetables or fish. For a light bite, wraps are offered.

Fez entrees run the gamut from chicken or lamb adana or kefta shish kebab or a mixed grill of several skewers. We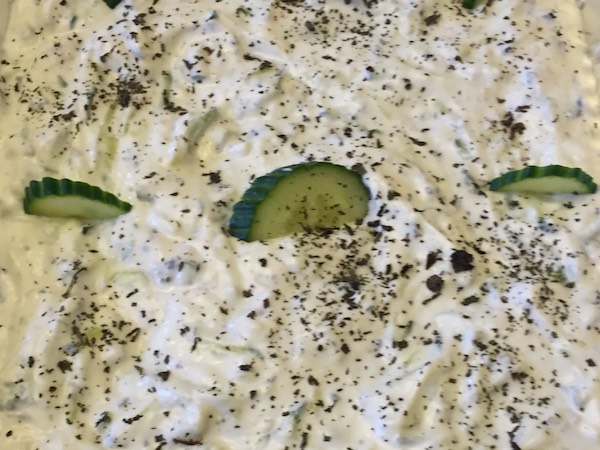 enjoyed the kefta shish kebab. The finely minced lamb was lightly seasoned and mixed with onion and parsley and threaded onto skewers and grilled. Basmati rice and a nicely tossed salad shared the plate. These kebabs are an example of simple cooking at its best. We also sampled the eggplant pot pie. Here eggplant was roasted with the skin intact and layered with minced meat, tomato sauce and Fez tahini blend. This was topped with toasted pine nuts and pita chips for a rich combination. Other entrees include grilled lamb chops, branzino, salmon, lamb shank, cabbage rolls, moussaka. Several chicken dishes and mujaddra, a lentil and rice dish.

If you wish, bring your own wine to enjoy with dinner.

Homemade baklava, rice pudding chocolate pudding and semolina cake are dessert offerings. I simply ended my tasting with a cup of Turkish coffee served in a gold leaf decorated demi tasse cup. In the mid east tradition, I let the coffee grinds settle at the bottom of the cup so my fortune could be read. It appeared to say you will return to Fez soon.
Share a meal with family and friends at Fez soon. The meze selection is perfect party fare and Fez will be delighted to cater a party for you.

Fez Turkish Meze
409 Mount Pleasant Avenue
Mamaroneck, New York
914-341-1122

Recipe: Baba Ghannoush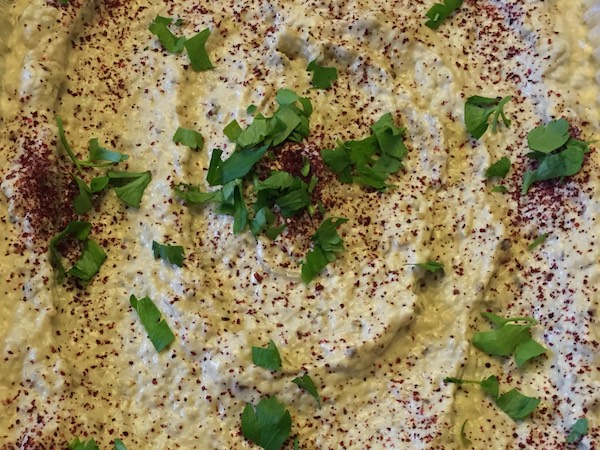 2 Large Eggplants
½ Cup Tahini
½ Cup Plain Yogurt
1 Tbsp. minced garlic
2 – 3 Tbsps. fresh lemon juice
Salt and pepper to taste
Olive oil for garnish
Ground sumac for garnish

Roast the eggplants. Cool and peel off the skin. In a bowl, mix tahini, yogurt, garlic and lemon juice until it is creamy. Cash the eggplants and add it to the tahini mix. Add salt and pepper to taste. Place in a serving dish and garnish with olive oil and a sprinkling of sumac.
Unusual ingredients are available at mid-east markets.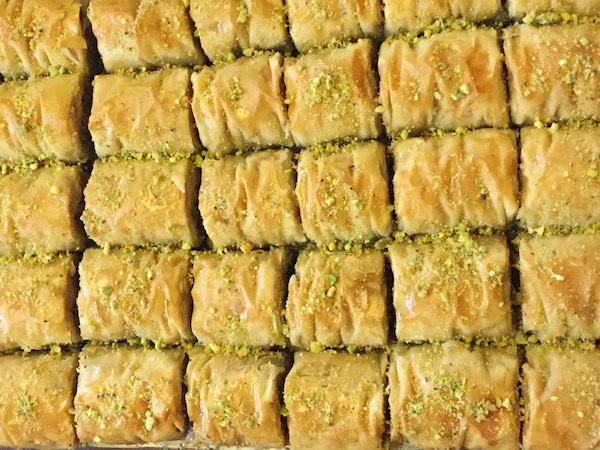 Sidewalk Sale: Thursday-Saturday in Scarsdale Village
Details

Written by

Joanne Wallenstein

Hits: 3195
The Scarsdale Village Summer Sidewalk Sale will run for three full days, rain or shine, from Thursday July 26th through Saturday July 28th from 10AM to 6 PM. This is a once a year shopping experience, with amazing deals from almost all of Scarsdale's unparalleled group of retailers. Savings tend to run from 30% to 70% on women's wear, men's wear, children's clothing and accessories, home furnishings, toys, books, gifts, food, jewelry and so much more. The sale will also feature food trucks and music. Come visit and see the Village of Scarsdale in all of its summer glory…and SAVE!
Songs for Seed will host a free outdoor summer concert in Chase Park at 10:30 am on Saturday July 28 at 10:30 am -- bring the kids! On Friday and Saturday, food from the Westchester Burger Company and The Souvlaki Truck will be available in the village.
Participating retailers and businesses include:
All State
Bango Bowls
BLVD
Bronx River Books
Douglas Eliman
Eye Gallery
Great Stuff
Häagen Dazs
Holsten Jewelers
Houlihan Lawrence
I AM MORE Scarsdale
LF
Mixology
Nordic Cryotherapy
Pamela Robbins
Petticoat Lane
Plushblow Scarsdale
Pookie & Sebastian
Rothmans
Soul Cycle
Trapp Opticians
Value Electronics
Wilson & Son Jewelers
Wyatt Lily
The event is sponsored by the newly formed Scarsdale Business Alliance. Questions? Please contact Darci DeMatteo, Executive Director, at darci@scarsdalebusinessalliance.com.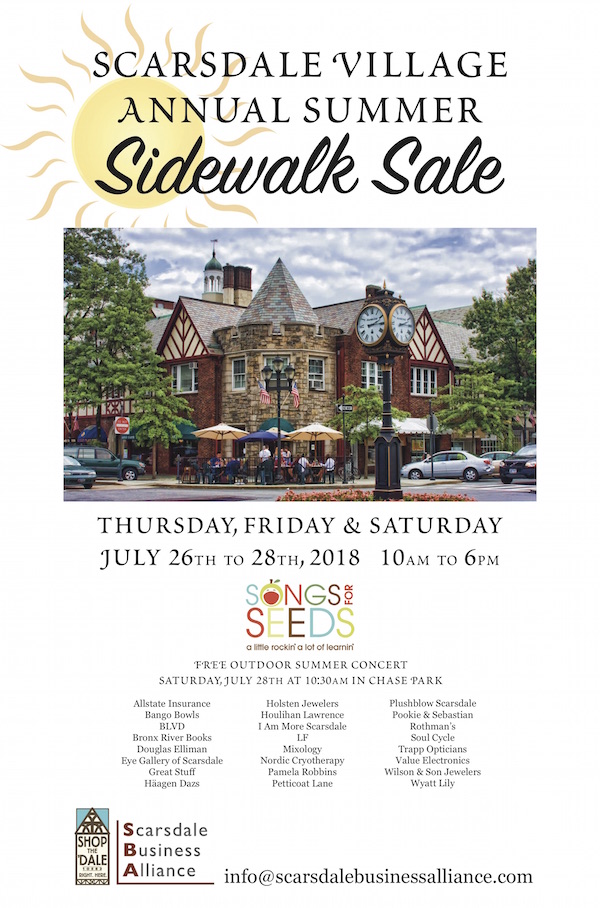 Unique Burgers with a Latino Flair at Gaucho Burger Company
Details

Written by

Judie Dweck

Hits: 3084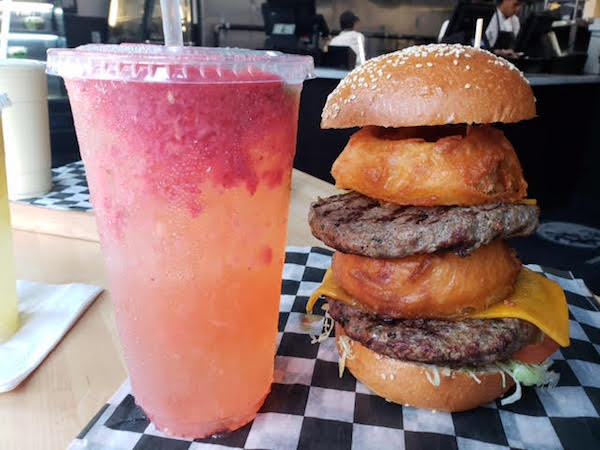 Have you enjoyed meals at Tango Grill, Gaucho Grill, Milonga, and Taleggio in the past years? You are about to sample a super casual Argentinean hamburger spot in White Plains, as conceived by one of the restaurateurs who brought us the cuisine of Argentina. As I chatted with one of the principals of the Gaucho Latino Investment Group, this confident, enthusiastic gregarious restaurateur said, "This is not a burger place, it is THE burger place." What makes it unique? "We use 90 percent Argentinian grass fed beef and 10 percent Wagyu fat for our burgers. Added house made chimichurri and marinating for 48 hours results in a great tasting burger."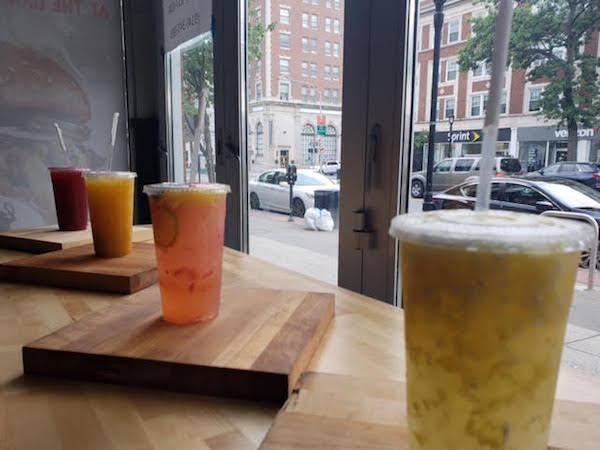 The Gaucho Burger concept was born on the streets of New York at farmer's markets and festivals. "We set up 3 tents in New York, Connecticut, and New Jersey. We are the first Argentinian burger joint on the east coast. Our goal is to feed New York one burger at a time." The owners are very passionate about their venture.

As I parked on busy Mamaroneck Avenue, balloons and large posters announced the opening of Gaucho Burger Company. It is not a grand space like the other ventures into Argentinean cuisine, but one thing caught my eye. On the walls were those authentic black and white cowhide panels that previously adorned the walls at Gaucho Grill. Black floors and tables and booths provide seating for about 30 people and rugs with the Gaucho Burger logo cover the floors. The cooks were busy at work in the open kitchen with its large grills. The ventilation system worked very well and the small space remained non smoky, even with the constant grilling. It is kept very clean, as well. My visit was during the first week of opening and very cleverly, a high table was set up at the floor to ceiling glass paneled door, visible from outside, with several of the tempting dishes and drinks displayed, for all to see. The colorful lemonade based drinks and sky high burgers were enticing to those lined up and waiting to order, as well as the passer by on Mamaroneck Avenue. If you choose to eat in the spot, place your order at the counter and it will be served to you at your table.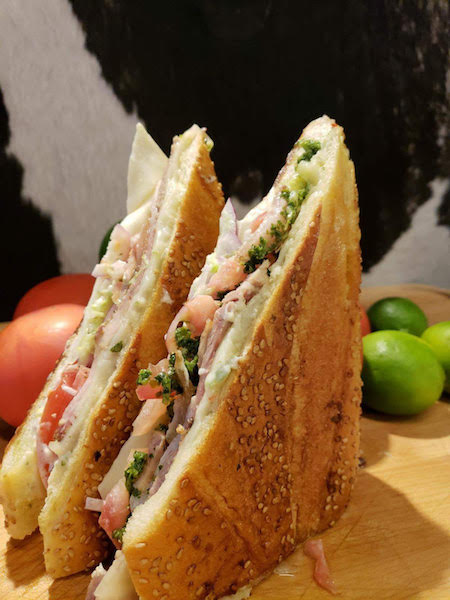 A limited menu was available for the first few days and it is expanding quickly to include a variety of treats. As explained, "We are more than a burger place and we offer handcrafted Argentinian sandwiches." Our tasting started with several sips of the extra special and quite large varieties of lemonade, chunky with fruit purees, colorful and ultra fresh and refreshing and not too sweet. We loved the blackberry variety. The berries are grown in South America and pressed. The juice is extracted and the resulting puree is frozen and shipped here. The varieties are numerous, including passion fruit, pina colada and strawberry pineapple. Tropical smoothies of kiwi coconut, pineapple and banana are appealing as well.

On to the namesake, The Gaucho Burger. Ours arrived in a black and white lined disposable basket. It was a tower of delights. Open wide, actually very wide, or be more gentlemanly or ladylike and use a fork and knife to devour this mountain of goodness. Shredded lettuce, a tomato slice and onion rested on the bottom of a sesame seeded brioche. This was layered with a delicious Argentinian beef burger drizzled with chimichurri mayo dressing and a slice of real cheddar cheese. A huge crisply battered onion ring covered the beef and it was sealed with the top half of the brioche. It was messy but very good. You can also order the double variety. You may have to stand up to reach the top of it. As I devoured my burger, I couldn't help but note the long line forming out the door. With the owner expediting orders to the cooks, it brought to mind (for those of you old enough to remember) the 1978 Saturday Night Live skit called Olympia Restaurant, where John Belushi and Dan Aykroyd are serving cheese burgers to hungry customers. At Gaucho Burger the orders were accomplished in a more orderly fashion. If you prefer your burger without the mayo sauce let the cook put it on the side.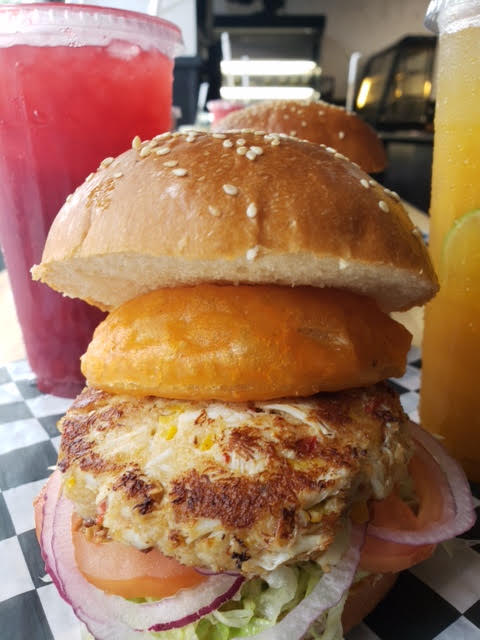 Next, we enjoyed jumbo lump crab burger. The quality of the crabmeat resulted in a fine seafood burger. The recipe was equally as refined as those we enjoyed at past meals at Tango Grill and Gaucho Grill in the past. Here it was presented with the same accompaniments and chimichurri mayo as the burgers. We also sampled the baby back ribs, meaty and well seasoned with a tangy barbecue sauce.

The full menu includes Gaucho chicken, pork, veggie, lamb and Cubano burgers. You can add bacon, sautéed onions or mushrooms to these choices. For the children a kid's burger or chicken fingers are offered. The handcrafted sandwiches are large here, like everything else here. Try the chicken or pork milanesas with lettuce, tomato and onion and your choice of classic chimichurri or spicy or mild chimichurri mayo. Fish, sausage, porketta and veggie sandwiches are other choices. On the side, enjoy some gaucho fries, yucca fries, plantain chips or tostones. For the salad lover, a Gaucho salad, classic Caesar or strawberry and goat cheese salads are offered and can be topped with beef, chicken, pork or shrimp. Both Italian and Argentinian desserts are offered ranging from flan and tres leches cake to tiramisu and mixed berry bread pudding.

Whether you decide to eat in or take out, Gaucho Burger Company is a unique concept in casual burger spots with a Latin flair.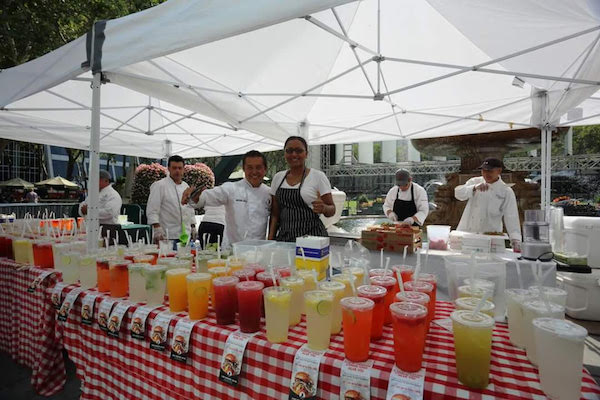 Gaucho Burger Company
66-68 Mamaroneck Avenue
White Plains
(914) 217-4146

Classic Chimichurri

¾ cup parsley
⅓ cup cilantro
5 cloves raw garlic
1 red pepper
1 yellow pepper
3 tsps. red wine vinegar
2 tsps. salt
Juice of 1 lemon
¼ cup extra virgin olive oil

For extra spice… chop in some serrano, jalapeno or habanero pepper
Place all ingredients in food processor and pulse until slightly chunky. Store in a glass container in refrigerator. This chimichurri sauce is an Argentinian pesto to use on steak, chicken, fish, seafood, vegetables or pasta
Fall off the Bone BBQ and More at Smokehouse Tailgate Grill
Details

Written by

Judie Dweck

Hits: 3022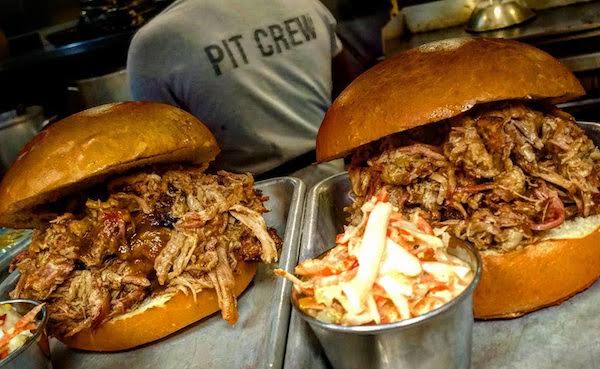 With the warm days of summer upon us, we think of barbecues and grilled treats. Enjoy the taste of bbq without the fuss of preparing it yourself by taking a ride to Smokehouse Tailgate Grill in Mamaroneck, and you can savor a great variety of rubbed, smoked and grilled delights and much more. I was first introduced to Smokehouse Tailgate Grill several years ago, when owners Justin Zeyzoonian and Mike Hofer opened a casual eatery in New Rochelle near Iona College. At the time, they were contemplating a second venue and two years ago Smokehouse Tailgate Grill opened in Mamaroneck.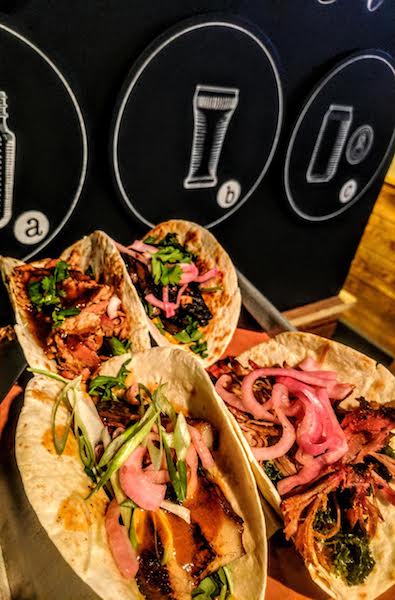 Located on busy Mamaroneck Avenue with Sal's Pizza on one side and Subway on the other is the casual friendly and delightful Smokehouse Tailgate Grill. The brick faced exterior has a couple of beer keg tables and stools perfect for an outdoor snack and drinks. Enter the space, and choose to dine at tables, booths, high tables or at the roomy bar. The light colored wood shellacked tables are well spaced for maximum comfort. There are many television screens tuned into a variety of sports events; tennis and golf accompanied my recent visit. Blackboards illustrating the various cuts of meat, as well as those announcing daily specials line the walls. The bar is well stocked with a large selection of beers and wines Many unique inventive cocktails such as watermelon froze, peach plum, and smokeshow are offered. Their "fresh shook " lemonade was a perfect accompaniment to their food.

When asked to describe their restaurant, Justin Zeyzoonian simply said, "bbq, burgers and beer." He added, "We believe in fall off the bone barbecue. We brine, marinate and dry rub our meats for good results. We believe in hard work for ourselves and our staff. Our chef, Anum Bandele started as our dishwasher in our New Rochelle venue and worked his way up to executive chef here in Mamaroneck because of his talent and work ethic."

Casual and fun is the name of the game here. Our table setting included a bucket filled with serviceable knives and forks, paper napkins, and a shaker filled with a fragrant dry rub mix. The aromas of onion, garlic, Cajun seasoning, paprika, salt and pepper lent a nice touch. A container of hand wipes was a thoughtful addition, since things can get quite messy here.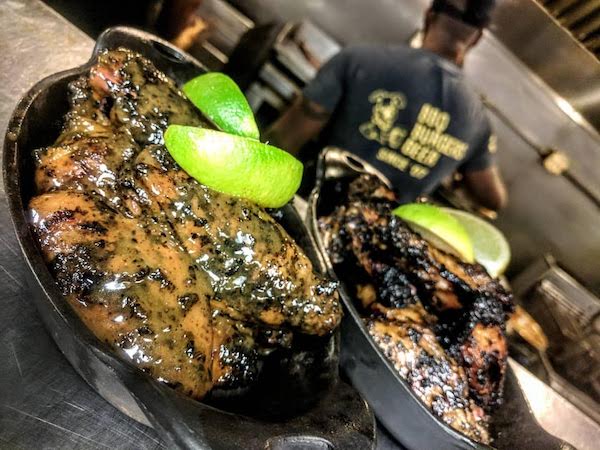 On to the food. The recipes are not limited to one regional style. They are a creative combination of ingredients for sauces and rubs. There are small apps and big apps. We bit into the flaky pastry of our empanadas to reveal a braised brisket and mozzarella filling. Served with a cilantro and herb mayonnaise based sauce, they were divine. Pork belly tacos followed. The tortilla was generously filled with thickly sliced smoked pork belly, arugula, pickled red onion, cilantro and a Korean flavored barbecue sauce with sesame seeds. The sauce permeated the arugula for a wonderful flavor. Other small apps are smoked meatball sliders, bacon fried baby back ribs, house made pork sausage platter, and Guinness French Onion Soup. From the big apps, we sampled some chicken and waffle sliders. This dish has become very popular. Here, the chicken was fried to perfection and nicely seasoned. Other popular big apps were belly fries with smoked pork belly, fries, fontina and a runny egg, as well as pulled buffalo chicken.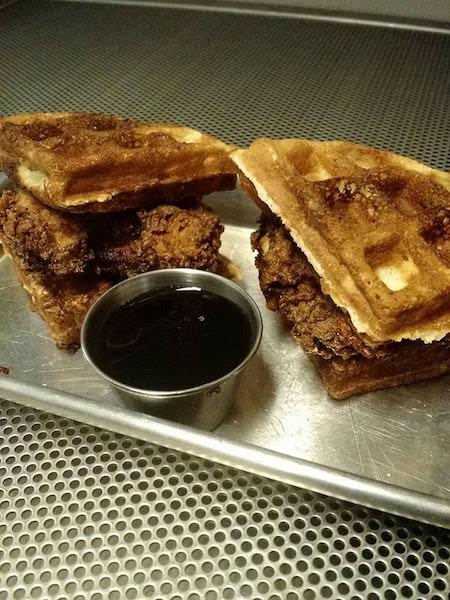 The greens section includes a wedge blt, cranberry, apple, pecan and mozzarella with a raspberry vinaigrette, or grilled corn and tomato with pineapple jalapeno vinaigrette. Chicken or seared ahi tuna can be added to these salads. How refreshing to see innovative salad choices. We moved on to the tailgate wings. They were dry rubbed, smoked, grilled and rolled. They were meaty and really finger licking good. After a few of these the wipes on the table certainly came in handy. From the pit, smoked St. Louis ribs, crispy skin chicken and smoked pork shank glazed with bbq sauce over risotto are awaiting my tasting at future visits. These items arrive with an excellent cheddar cornbread. Drizzled with agave butter, it was a fine addition to our meal.

Pit plates are a nice dinner choice from the hand cut ribeye with crumbled blue cheese, fried mushrooms and whipped potatoes or cast iron salmon, blackened and citrus glazed. A mixed grill for 2 includes smoked chicken, ribeye, ribs and side dishes. From the doughboy section, we enjoyed pulled, dry rubbed, smoked pork shoulder on a potato roll. A couple of sides of red pepper slaw, spicy and crunchy kale slaw with red onion and creamy dressing added a nice kick to our pulled pork. Another very good doughboy selection is the tuna taco. The thick, blackened, slices of tuna, cooked medium rare was combined with arugula, pickled jalapeno slices, lime zest and chili aioli. Several handmade ½ pound burgers in many variations are yet to be tried.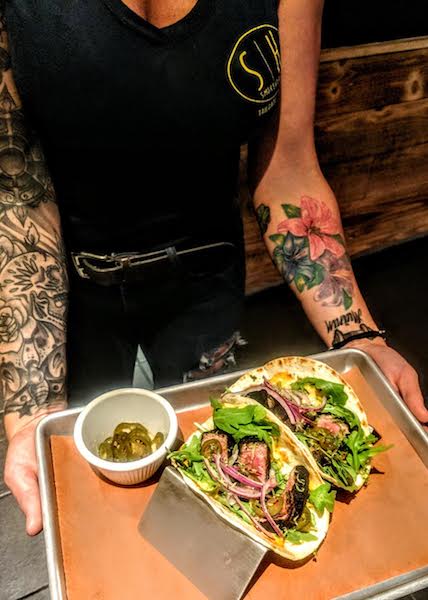 For dessert, try the cast iron cookie. What could be more satisfying than a freshly baked to order warm chocolate chip cookie, from a recipe of Zeyzoonian's Mom, topped with Longford's vanilla ice cream? Yummy. A fresh fruit cobbler with a homemade crust and that rich ice cream, mascarpone cheesecake and iced coffee bread pudding are enticing as well.

For a friendly, fun filled meal visit Smokehouse Tailgate Grill and enjoy some of the best wings, ribs , burgers and much more. Keep in mind, the menu at Smokehouse provides perfect party food and they will cater parties for you at their place or yours.

Smokehouse Tailgate Grill
320 Mamaroneck Avenue
Mamaroneck
(914) 341-1655
Cornbread

1 Box (5lb) of corn muffin mix
6 oz cheese sauce ( we have a proprietary sauce, but any store bought sauce would work as well)
1/4 cup brown sugar
5 cups water

Mix all ingredients with stand mixer until very smooth. Spread about an inch thick across deep sheet pan. Bake at 350 until golden brown. Cut into 1"x1" squares

Blackened Tuna Tacos

Blackened seasoning:
2oz cup kosher salt
1.5oz cup white sugar
5oz paprika
3.75oz cumin
3.75oz garlic
2.5oz coriander
2.5oz fennel seeds
2.5oz black pepper
1.25oz celery seed, chili powder, ground basil, oregano, ground ginger, granulated onion

Mix all seasoning together in grinder or robo coupe to blend smooth. Bredge 6oz raw tuna loin in blackened seasoning, flour, and 4oz cajun seasoning. Pan sear until desired temperature (recommended medium rare). Slice into medallions and place in 6" soft shell tortilla (corn or flour based on preference) over arugula. Top with salsa (recommended a light salsa like pineapple) & aioli (mayonnaise based).