This Sunday in Scarsdale Village: The 16th Annual Concours D'Elegance
Details

Written by

Sydney Albert

Hits: 1601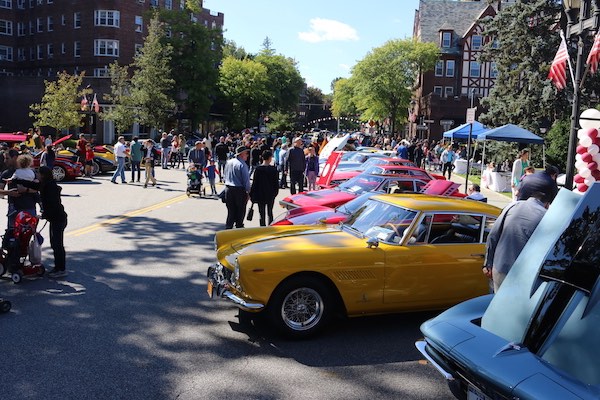 Scarsdale Concours D'Elegance of 2017. Photo by Andi SchreiberThe 16th annual Scarsdale Concours D'Elegance returns to Scarsdale on Sunday October 7th. It will take place in the Scarsdale Village. Each year, over 100 different vintage or exotic cars are showcased around the village of Scarsdale. Currently, the oldest car registered is from 80 years ago, an unrestored 1938 Buick Century Model 61.

The Scarsdale Concours D'Elegance was founded upon three ideas:

A passion for great cars both new and vintage
A desire to showcase Scarsdale students as part of a constructive and giving community
The opportunity to raise significant funds for area charities.

The show has evolved greatly over the past 15 years. Evan M. Cygler and Dennis O'Leary III founded the show as high school sophomores, creating a solid foundation for a show that has become an enjoyable community event. Students are still large contributors to the success of the car show. There are currently six students on the official board, all passionate about their work as board members. "I enjoy being on the board of the car show because it brings the community together. It combines charity with our love for cars," says Jonah Schneider, who has been a board member since his freshman year of high school.

The admission and car registration fees, combined with community sponsors, advertisements, and donations, raise the significant amount of money that is donated to various charities after the show each year. The show's 16 board members choose multiple charities each year to which they plan to donate. The show has raised over $400,000 total for different charities across Westchester County.

With just a few days until the show, board members are finishing up their preparations for the event. Members are extremely excited for the show and anticipate a great turnout. Andy Albert, who has been a dedicated board member for five years, has enjoyed his time spent working on the show. Albert said, "It is a great way to give back to the community and enjoy a top shelf car show."

If you are interested in registering your vehicle for this year's show, you can learn more here.
Culinary Artistry at Sakana Japanese Cuisine
Details

Written by

Judie Dweck

Hits: 2983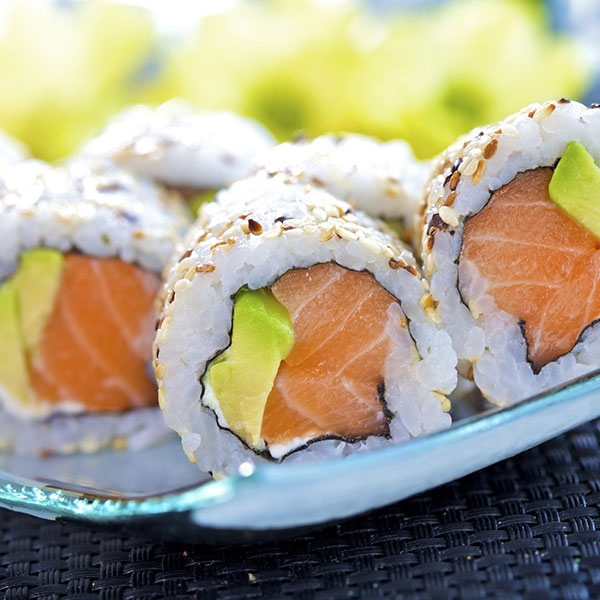 With the opening of Sakana Japanese Cuisine, culinary artists have taken up residence on North Avenue near Quaker Ridge Road in New Rochelle, where pristinely fresh Japanese food is presented for your dining pleasure.
It is said that Japanese cuisine is considered both fuel for the body as well as food for the soul. Upon chatting with Jason Lin, I learned that, "great emphasis is placed on quality and freshness of ingredients. We get our fish 4 times a week and we offer great service, fresh fish and creative presentations. We look forward to the residents of the area to get to know us as we become part of the neighborhood and become better and better. We even have a special refrigerator in our kitchen which keeps the delicate fish at the correct temperature."
The décor at Sakana is simple. As you enter a large sign announcing Sakana hangs above the sushi bar at the rear of the space, which seats 5 guests. Here you can observe the sushi chefs busy at their craft. There are modern black booths, tables and a banquette seating about 49 guests. A tall bamboo plant graces the sushi bar, a token of good luck. One wall has a wavy framed art installation which lends a calming and peaceful atmosphere.
The executive sushi chef is Brian Chen, whose creations are as appealing to the eyes as to the palate. My suggestion is to start your meal with selections of sushi appetizers and hot appetizers. Several of these choices are traditional such as gyoza, edamame, crispy calamari, yakatori, sashimi appetizer and assorted Japanese pickles. We chose some of the more creative beginnings. Outstanding was the crispy famous pancake. The thin, crisp, glasslike pancake sat at the bottom of the plate, and was topped with julienne strips of the freshest of seafood, tuna and other pristine fish, mango and avocado. It was a delicate and delicious starter. We also loved the lobster wrap. Here, a rectangular strip of fresh salmon was filled with lobster salad and matchstick strips of
cucumber. It was rolled up, and was a lovely combination of textures, with the smooth salmon, chunky lobster salad and crunchy cucumber. Pepper tuna acted as a wrapper for several vegetables. It was rolled up and resulted in a savory bite. The cool vegetables paired well with the spicy tuna. Rock shrimp arrived on a bed of greens in a white bowl. The shrimp were lightly fried and topped with a fragrant creamy sauce. If you wish, several soups are offered, from the traditional miso soup to hot and sour miso soup, seafood soup, shitake mushroom soup and shrimp won ton soup. Salads are varied, as well.

It was time to sample the vast selection of rolls. There are the classics of California roll, spicy salmon, spicy tuna, eel cucumber, king crab and the list numbers about 40 possibilities. For the more adventuresome, I suggest working your way through the 22 house special rolls. With names like angry dragon, sexy girl, fire and ice, volcano roll, ocean roll and Godzilla roll, it is hard to choose. We made 3 very fine selections. The Madonna roll was composed of shrimp tempura, spicy tuna and asparagus filled with a wrap of yellowtail and white tuna sprinkled with tobiko and scallion. A perfect complement was a slightly sweet house made sauce. The marble trio was worth a try, as well. Here seaweed infused soy paper which was marbleized in appearance, encased tuna, salmon, yellowtail and avocado was quite good and pretty as well. Our third choice was the signature Sakana Roll. Here, black salmon and asparagus was the filling, topped with tuna, eel, salmon, yellowtail and avocado. It was finished with red and black tobiko and was a nice and spicy offering. Sushi and sashimi are also available a la carte or on a platter with miso soup or salad.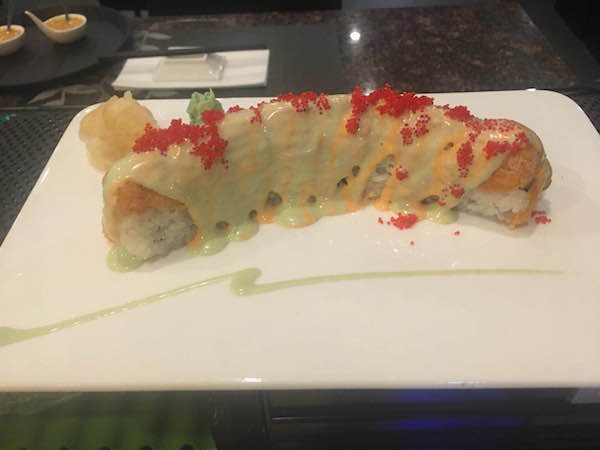 If hot dishes are your desire, enjoy the hibachi offerings prepared on the kitchen hibachi table. Chicken, steak, salmon, shrimp, vegetable, scallops and lobster tail are available. The tempura is excellent, very crisp and cooked a la minute. The shrimp and vegetable tempura were both light and non-oily. Absorbent paper beneath them picked up any extra oil. The shrimp were cut lengthwise before being dipped into the batter and broccoli, squash, and sweet potato worked well when cooked tempura style. Katsu dishes, also lightly crusted, were tasty, as well when sprinkled with fresh lemon juice. Teriyaki can be ordered with tofu, shrimp, chicken, beef, salmon, tuna or seafood. Our chicken variety was grilled and sliced and paired with fresh vegetables and topped with sesame seeds. Bento boxes of teriyaki, tempura, beef negimaki, katsu, sushi or sashimi offer a nice tasting. If you visit at lunch, there are lunch specials, lunch boxes and hibachi lunches.

Complete your meal with mocha ice cream, fried banana or tempura ice cream.

Enjoy the artistic preparations of pristinely fresh ingredients at the new Sakana Japanese Restaurant which offers takeout and delivery, as well.

Sakana Japanese Cuisine

1287 North Avenue
New Rochelle
914 637 8888
http://sakananr.com/
Katsu Chicken
3 chicken breasts
¾-1 cup cooking oil
1 cup flour divided
2/3 cup panko crumbs
½ teaspoon salt
½ teaspoon garlic powder
¼ teaspoon Lawry's seasoning salt
1/8 teaspoon cayenne pepper
1/8 teaspoon onion powder
1 large egg, beaten
3 tablespoons milk
Pinch salt and pepper
Place chicken breasts one at a time in a plastic bag. Flatten each one using a rolling pin or a meat hammer to ½ to ¾ inches thick uniformly. Repeat until each breast is pounded out. Cut breasts into palm sized pieces. Mix together ½ cup of the flour, panko, salt, garlic powder, seasoning salt, cayenne and onion powder. Set aside. In another bowl mix egg and milk. In a third bowl place ½ cup flour with a few shakes of salt and pepper. Mix well. Using a fork, dunk each piece of the chicken into the flour, then the egg wash and then into the panko mixture. Be sure that at each step the chicken is completely coated. Fry in medium or medium high heat in preheated oil in a skillet until golden brown on both sides and the inside is no longer pink. It should take about 6 to 7 minutes depending upon your stove. Remove from the oil and let it sit for 3 to 4 minutes on a wire rack before serving.
Sofia's Italian Bistro: A Taste of Naples in Mamaroneck
Details

Written by

Judie Dweck

Hits: 3305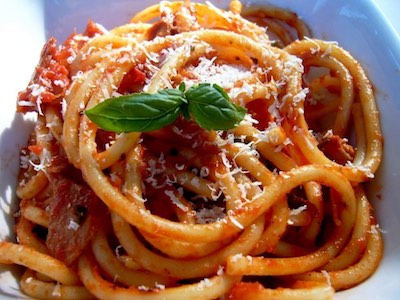 Italian food appears to be the most popular choice in Westchester. I believe that if you choose to dine at an Italian restaurant every week for a year, you would never need to visit the same spot more than once. We have just added a new option to our Italian restaurant choices. Sofia's Italian Bistro just opened its doors in Mamaroneck at the space occupied by Lum Yen for many years.

The owners Antonio Mauro and Sammy Reys, the executive chef have worked together for many years in New York City and at their sister restaurant La Vela, an upscale spot in Manhattan.

Sofia's is simply decorated with dark woods and white walls. Several food related wall hangings add color. As you enter, there is a roomy bar with tv screens and several tables where you can enjoy a casual meal. If you are wondering about the name, Mauro chose Sofia as in Sophia Loren (different spelling), an inspiration and food lover who said, "Everything you see I owe to pasta." The main dining area is filled with well-spaced tables. At lunch placemats are on the tables and at dinner pale blue linens lend a more formal look.

Antonio, "Tony", started his restaurant career in Naples. He indicated that he treats all of his guests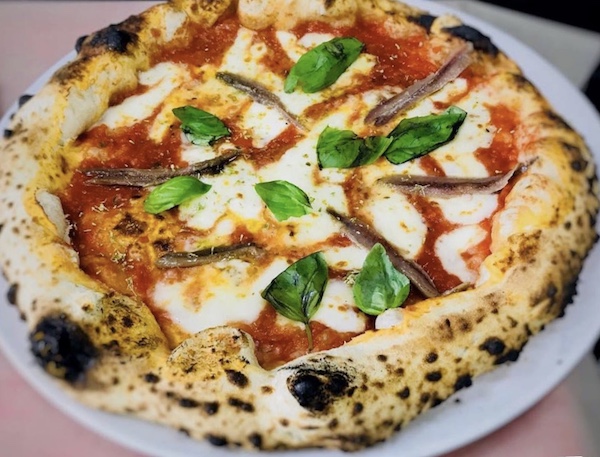 the same. "We serve large portions. Many of our ingredients are imported from Italy. Our meats, fish and vegetables are hand picked. Only dry goods are delivered. "If Tony was dining in Sofia's, he might start with calamari followed by linguine alle vongole and perhaps bistecca alla griglia or skirt steak. The kitchen staff is led by Executive Chef Sammy Reys, whose style combines classic with innovative touches. "Our goal is to make our guests happy. " Reys studied his craft at Villa Santa Maria Pescara Culinary School in Italy. He loves to visit the food show in New York and become aware of new products. He is always ready for a challenge in his work. This is a family run business and everyone is very friendly. Antonella, a family member, graciously served my varied dishes and was very helpful in answering my questions and getting a recipe from the kitchen.

The wood fired pizzas at Sofia's are prepared in the Neapolitan style with a thin soft crust. With about 14 choices it was difficult to make a choice. The flour for the dough is imported from Italy and contains no preservatives or chemicals. Pablo Herrera, otherwise known as "the pizza man", prepared 2 varieties for me to sample. The Pizza Vela was topped with fresh mozzarella, fried rounds of zucchini, very fresh ricotta and halves of grape tomatoes. This was a fine combination of tastes and textures. The carretiera pizza was topped with crumbled sweet sausage and broccoli rabe and was a hearty pairing of ingredients. The selection ranges from the popular margherita and marinara, to the interesting tartufata white pie with mushrooms, truffles and prosciutto, vegetarian with cherry tomatoes, peppers, zucchini and eggplant, Sofia with escarole, mozzarella, black olives and capers, and diavola with tomato sauce, mozzarella and hot sopressata. You may also request gluten free pies. Herrera said, "I love making pizza. My spirit is in its preparation and I get satisfaction in watching my guests enjoy it."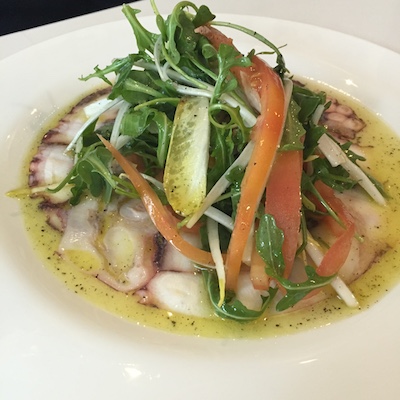 The antipasti selections at Sofia's include classics of calamari fritti and burrata fresca to creative presentations of calamari vela with spicy marinara sauce, cherry peppers, olives and capers. We loved the polipo Sofia where the grilled tender octopus arrived in a plate sized circle of octopus filled with olives, celery, roasted peppers, tomato and lemon. Another excellent choice is the bruschetta Sofia, a true original. Resting on housemade squares of crisp grilled croutons were melted mozzarella, chopped tomato salad, and slices of grilled skirt steak. A ginger mandarin sauce finished this tasty dish. I look forward to trying vongole al forno in a white wine sauce and cozze al Pomodoro sautéed in fresh basil tomato sauce.

If you wish, choose one of the 6 salad offerings. Sofia's salad with baby arugula, shaved parmigiana, and butterflied grilled shrimp are tossed in a pear, lime vinaigrette for a lovely result. Rucoletta combines baby arugula with a iulienne of endives, pears and tomato in a red wine vinaigrette. The La Vela Salad is a hearty offering with beef tenderloin over spinach with bacon croutons, grilled onion, oven dried tomatoes in a bacon blue cheese vinaigrette. The portions are large, so try not to fill up on these starters since there are many pastas and entrees to follow.

It was difficult to choose among the many pasta choices. Would it be a classic of penne all arrabiata, rigatoni Bolognese or linguine alle vongole. We opted for cavatelli Gino. These morsels of pasta were tossed with shrimp and a julienne of carrots and zucchini and topped with a crown of crisp potato strips. It was a creative combination and an attractive presentation. Other tempting choices are Fiorette al Profumo di Bosco, very popular, where the packets of cheese filled pasta are served in a pink sauce with diced prosciutto , peas and mushrooms,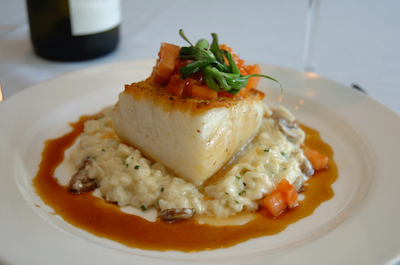 and short rib ravioli in a parmesan sauce. If risotto is your desire try the risotto al frutti di mare. The perfectly cooked rice is not too dry or too soupy and was combined with little neck clams, squid and shrimp in every spoonful. It was delicious. Next time we will try the risotto with mixed mushrooms and parmigiana. The vegetarian at your table can enjoy eggplant parmigiana, veggetali alla griglia and other vegetable creations. Entrees are varied and range from braised pork shank, chicken parmigiana, bistecca alla griglia, filet of sole with shrimp in a tomato caper sauce and whole branzino, to name a few.

If you have room for dessert, enjoy a cup of cappuccino with house made tiramisu, zeppole or toasted almond cake.
For lunch, pizza in its many variations is offered as well as interesting paninis, hearty hero sandwiches and even a Sofia burger. If you indulge in a hearty lunch, it may be difficult to return to work. Several kids meals are offered with appealing choices of cheese ravioli, spaghetti and meatballs and pizza margherita.

Add Sofia's Italian Bistro to your Italian dining choices and savor their pizzas and varied menu soon.

Sofia's Italian Bistro
100 West Boston Post Road
Mamaroneck, New York
914- 6304501

Recipe: Cavatelli Abruzzese (Serves 2)

Ingredients:
1 pound bulk Italian sausage sweet or hot, or 1 pound sausage removed from its casing
1 pound broccoli rabe, trimmed and stems removed
1 pound frozen cavatelli, cooked al dente and drained
3-4 cloves garlic, thinly sliced
2 Tbsps. extra virgin olive oil
½ tsp. red pepper flakes
Salt and pepper to taste
Grated parmesan or romano to taste

Directions:
Heat oil in skillet. Add sausage and sauté until cooked through. Add broccoli rabe and garlic and sauté until garlic is golden and broccoli is cooked through. Toss the pasta into the skillet and toss in the red pepper flakes and salt and pepper. Serve topped with grated cheese.
Create Culinary Memories At Donjito Tacos And Tapas
Details

Written by

Judie Dweck

Hits: 2672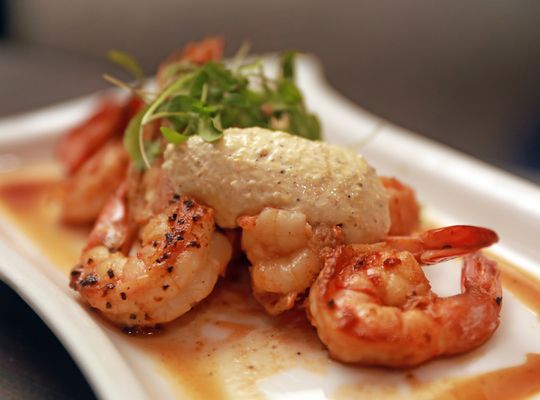 As new restaurants pop up frequently in Mamaroneck, I seem to be visiting this diverse community frequently. Most recently, there was Sofia's, and Fez. Newest among these choices is the unique Donjito. The group who brought Popojito to Scarsdale recently has graced Westchester with its charming Donjito Tacos and Tapas in Mamaroneck. Here the menu is a unique rendition of Nuevo Latino dishes. Executive Chef Carlos Rodriguez said, "We hope to create memories for our guests and meet their expectations of dining out in a spot where the nucleus of our dishes are of Latin and Spanish roots." They indicated that Mamaroneck is a community experiencing revitalization with a very diverse population.

Sue Vitiello, General Manager, a welcoming presence in the dining room, described Donjito as having the appearance of a Spanish wine cellar. The bar area in the front has high tables and many seats at the bar. The dark woods, brick and brown textured leather lend a sophisticated look to the space. Seating about 69 guests in the interior and about 40 in the lovely outdoor back patio, the mood is set for a great dining experience.

Headed by Executive Chef Carlos Rodriguez, and Chef de Cuisine Sean Fitzgerald, this is a kitchen where real care is taken in each step of the preparation resulting in excellent finished products. It is refreshing to note that both Chef Rodriguez and Chef Fitzgerald appear to be on the same page with their attention to high standards. Executive Chef Rodriguez majored in acting in college and worked in restaurants to earn his tuition. His exposure to the culinary field, in addition to the fact that his mom is a chef, led him to "his happy place." He worked his way up the culinary ladder at many restaurants in the tristate area to the title of Executive Chef. Chef de Cuisine Fitzgerald enjoyed cooking from an early age. He believes in learning the basic methods of food preparation and studied at The Culinary Institute where he learned all of the basics. "You need to know all of the rules before you can break them and add your own touches." Their philosophy includes the thought that, "We do the best that we possibly can. We owe that to our guests and are thrilled that they chose us."

The menu and presentations at Donjito show off the artistic eye of the chefs. Each dish is carefully designed to appeal to all of the senses. Good stock makes good sauce. Chef Rodriguez indicated that, "All of our sauces are homemade starting with a good kitchen made stock. ... No pre prepared stock bases in this kitchen." Some very important basics in this kitchen are garlic, salt, water and tomatoes.

A recent meal at Donjito was delightful. If I needed to use one word to describe the dishes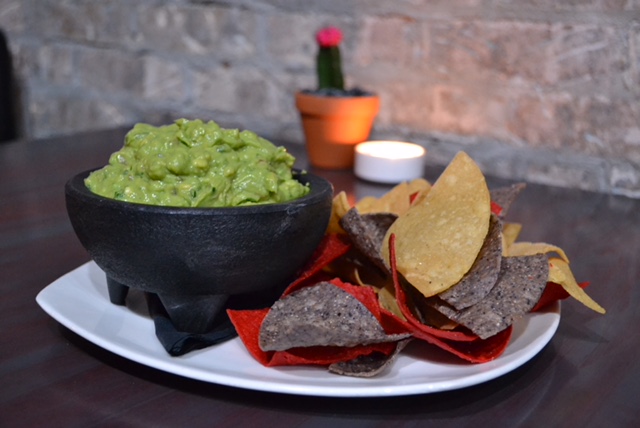 here it would be balance or harmony. Each dish had many facets of flavor and a perfect balance of tastes and textures is achieved for maximum enjoyment. Most of the menu is gluten free and dishes that are not gluten free are marked with 2 stars. The first thing that caught my eye was the heavy silver flatware, a sign of quality which followed throughout the meal. Dishes for the table included the familiar guacamole. Here the ingredients added to the avocado are crushed before being added to the avocado, lending even distribution of spices to the dip. Chorizo flatbread, Donjito wings, and shishito blistered peppers are offered, as well. We started with outstanding mussels. Served in a large skillet, they were nicely spiced with just the right amount of kick. The charred chunks of garden tomatoes, melt in your mouth roasted garlic and white wine broth with toasted pita bread was divine. I'm glad they included a soup spoon at my setting since the broth was so good. From the tapas section, I couldn't resist a favorite of gambas al ajillo. Both head on and shelled jumbo shrimp were seared with a garlic sauce. This was not your every day garlic shrimp. Served with a heavy cream enriched fresh corn mousseline and guajillo salsa and flour tortilla and garnished with microgreens, it was unique and delicious. If you are gluten free request a corn tortilla instead of the flour variety. A rustic pottery dish of pulpo a la plancha looked like a still life. The crisp octopus was poached in white wine and then seared resulting in its fine texture. Burst cherry tomatoes, balsamic onion jam, red chili salsa, red radish, paprika oil and micro cilantro garnished this tasteful presentation. Future tapas choices may include beets prepared three ways, tuna tostada and gazpacho.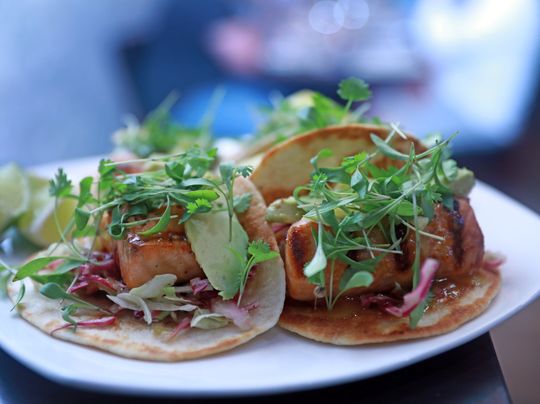 For the tacos choices, once again, they are creative and wonderful. With three tacos to each plate, choose from grilled chicken with black bean puree, slow roasted pork or wild mushrooms or as I sampled, salmon with marinated cabbage, avocado and mango habanero salsa. Here a thick slab of salmon sat atop the accompanied ingredients. A wedge of lime completed this dish, excellent in its simplicity. I also loved the short rib barbacoa taco. Here the juicy short rib was shredded and filled with flavor. It was braised in Mexican coke, different from the American coke since it is made with sugar cane. A thick slice of candied chipotle bacon, fried shallots and red radish slices completed this excellent dish, bringing tacos to a very high level. I look forward to trying the wild mushroom and goat cheese taco in the future. If you are with a group, try the Donjito Taco Mezcla, a ten taco platter.

Entrees include the very popular Paella Barcelona with bomba rice, shrimp, chicken,
chorizo, mussels and octopus, chicken enchiladas, or chile rellenos. I opted for the churrasco. The skirt steak was marinated with chipotle peppers and served with that wonderful Mexican street corn on a skewer with spices and cheese and a potato chorizo hash.

To accompany your meal, there is a creative hand crafted cocktail selection, many of which are created by Sue Vitiello, with an interesting twist, bottled beer, beer on tap, wine and sangria. Desserts are prepared in house and include molten chocolate cake flavored with tequila, churros, and tres leche cake to name a few.

Get into a Latino state of mind and enjoy the carefully prepared dishes awaiting you at Donjito Tacos and Tapas.
Donjito Tacos And Tapas
122 Mamaroneck Avenue
Mamaroneck, New York
(914) 902-5486
www.donjito.com
Sunday – Wednesday 11:30 – 3:30, 5:00 – 10:00
Thursday – Saturday 11:30 – 3:30, 5:00 – 11:00
Take out is available too.
Recipe: Gambas al Ajillo (serves 1)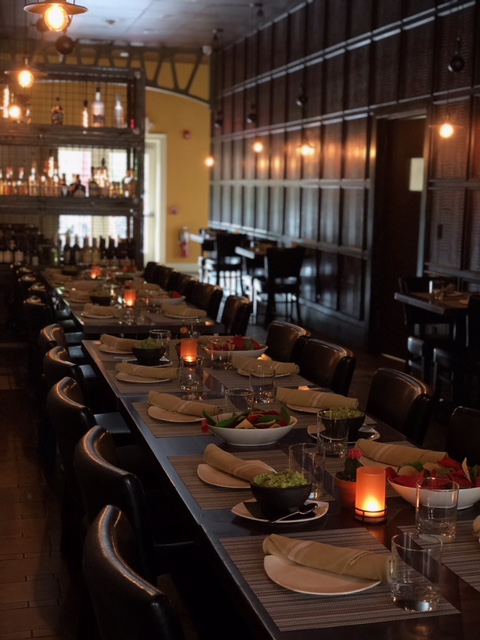 3 gulf shrimp head off
1 gulf shrimp, head on
1 Tbsp. sliced garlic
1 Tbsp. dried guajillo chiles
3 ounces white wine
6 ounces shrimp stock
1 white onion
1 carrot
½ bunch celery
1 bay leaf
½ bunch thyme
4 Tbsps. tomato paste

In a large pot place shrimp shells, onion, carrot, celery bay leaf, thyme and tomato paste Add 2 quarts of water. Simmer and reduce by 1/3 for about 45 minutes.

In a hot sauté pan add a bit of oil until hot but not smoking. Season the shrimp to taste and saute until colored on both sides. Add garlic until golden brown. Add 1 Tbsp.butter until melted and bubbling. Deglaze pan with wine. Once the wine is reduced away add shrimp stock and guajillo chiles and keep moving pan around to emulsify the sauce. Season to taste with salt and pepper.

For the corn mousseline, grill 2 ears of corn and cut off the kernels. Place in a saucepan with 1 pint of heavy cream Cook down to a pasty consistency and add pinch of salt and 1 Tbsp. butter. In a separate bowl whisk 1 pint heavy cream until light and fluffy. When corn mixture is cool fold it into the whipped cream and refrigerate.

Place the shrimp on a plate. Pour sauce over shrimp. With a heated tablespoon, scoop out the corn mousseline and place next to the shrimp. Enjoy with tortillas or toasted bread.
A Mid East Feast For All The Senses At Fez Turkish Meze
Details

Written by

Judie Dweck

Hits: 2728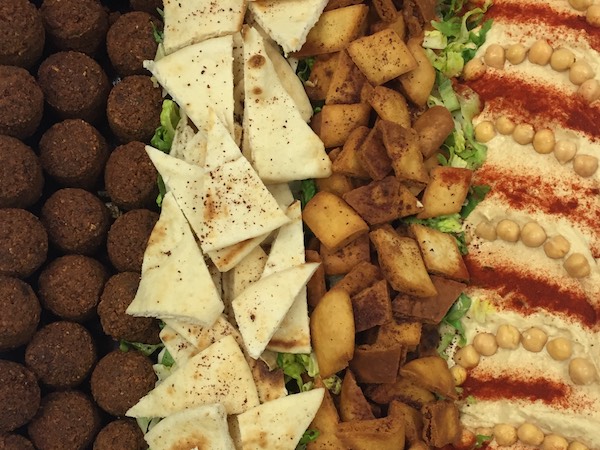 Do the words grape leaves, pomegranate molasses, sumac, pine nuts, kibbeh, tabbouleh and baklava make your taste buds sing? If they do, pay a visit to Fez Turkish Meze where the rich aromatic flavors of the Mid East combine for healthy, wholesome and very tasty dishes, in a warm friendly setting. Fez occupies the space that for many years was another very pleasant Turkish restaurant. The new owners are the welcoming Khaled Daas and his wife Ahoud Bata. Seating about 60 guests, Daas was proud to inform me that the simple space was completely redecorated by his family and himself, from the stucco walls, dark wood beams, vintage copper cooking utensils on the walls, and turquoise recycled water glasses on the tables, the color reminiscent of the Mediterranean. The dining rooms are separated by a large entrance area. Mid Eastern music was playing in the background, setting the scene for the meal to follow.

Daas indicated that, "I love the social aspect of restaurant ownership. Many of our guests have become friends. We consider every guest a VIP and we make them all feel at home at Fez. Our goal is to grow gracefully and maintain the family feeling. "Busy in the kitchen, is Chef Ahoud Bata. The Turkish and Mid-East cooking is a reflection of her time spent in the kitchen with her mother and grandmother. At Fez, Chef Bata instills her dishes with her love of food and her desire to prepare her dishes for the pleasure of her family and guests. The dishes are traditional and many are adapted to modern techniques. "We are aware of the need for gluten free and vegan dishes and offer many in those categories. Our food is very healthy. Vegetables, grains and lamb are important ingredients in our cooking."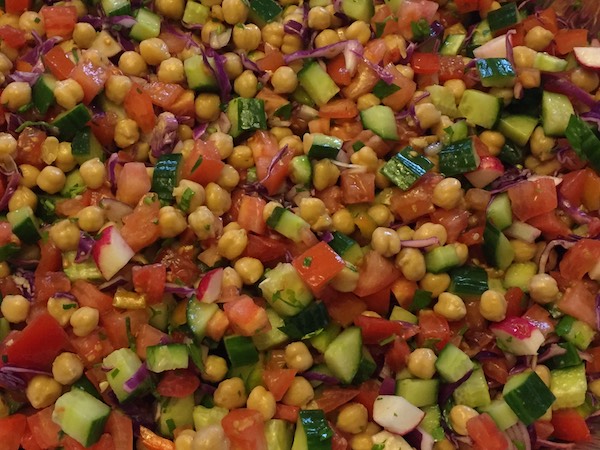 France may have its hors d'oeuvres, Spain its tapas, China its dim sum and Italy its antipasti, but Turkey and the Mid East has its meze. At Fez, the selection of meze is so varied that several of the selections can certainly constitute an entire meal. The meze here is truly a miniature feast. First, there are the dips, served with a basket of warm pita bread. Some are familiar such as the hummus with chick peas and tahini and lebne a rich strained yogurt. We sampled a superb baba ghannoush. The eggplant is roasted and blended with tahini, yogurt and seasonings. It was addictive with its chunky texture, smoky flavor and sprinkling of fresh parsley. Yet to be tried are modammas with fava beans, garlic and fresh lemon juice, and mhammara, a walnut red pate with spicy red pepper paste and walnuts, walnut lebne yogurt with garlic and walnuts and lentil pate. Next we sampled some of the finger foods. There was zatar pie, cheese puffs, falafel, kibbeh balls and zucchini pancakes. We chose lahmacun. These were 6 inch rounds of homemade dough topped with ground beautifully seasoned lamb. They are baked and are Turkey's answer to individual pizzas. Phyllo pastry is the wrapper for many fillings from minced lamb, spinach and cheese to simply feta cheese. Rolled into cigar like packages the sigara borek, fresh out of the oven were hard to resist. Dolma, grape leaves are enjoyed throughout the mid east. Here the leaves are softened for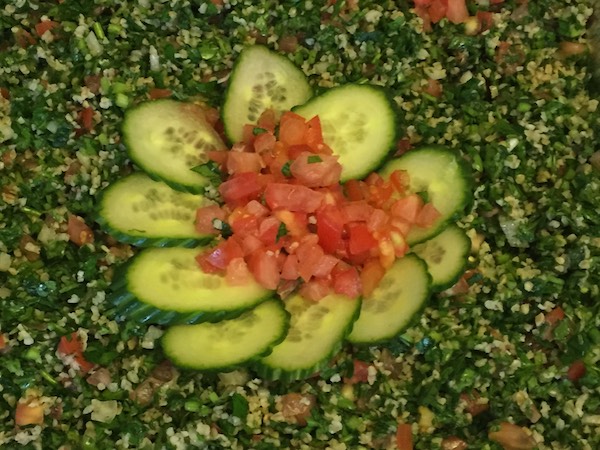 easy eating and filled with a rice and vegetable mixture. They are served at room temperature. Hints of lemon and pomegranate molasses were evident. In my home the grape leaves are served in the Syrian style filled with ground meat and rice and cooked with dried apricots and pomegranate molasses. The third section of meze at Fez includes a variety of vegetable stews or soslu. They are served cold with pita or hot with rice. The varieties include eggplant, okra, butter beans, potato and coriander, and cauliflower with garlic, coriander and lemon juice. On cool day you may wish to try homemade red lentil, hearty vegetable or chicken noodle soup.

There are about 9 salad choices ranging from tabbouleh with bulghur, parsley, tomato, onion, lemon and olive oil, to the ever popular fattoush with romaine, tomato, cucumber, pepper, radish, onion and lemon juice. Olives, pita chips and a sumac vinaigrette complete this salad. The salads can be topped with meat, vegetables or fish. For a light bite, wraps are offered.

Fez entrees run the gamut from chicken or lamb adana or kefta shish kebab or a mixed grill of several skewers. We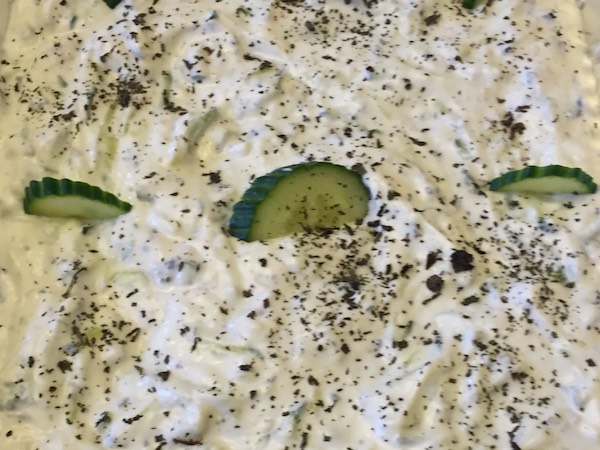 enjoyed the kefta shish kebab. The finely minced lamb was lightly seasoned and mixed with onion and parsley and threaded onto skewers and grilled. Basmati rice and a nicely tossed salad shared the plate. These kebabs are an example of simple cooking at its best. We also sampled the eggplant pot pie. Here eggplant was roasted with the skin intact and layered with minced meat, tomato sauce and Fez tahini blend. This was topped with toasted pine nuts and pita chips for a rich combination. Other entrees include grilled lamb chops, branzino, salmon, lamb shank, cabbage rolls, moussaka. Several chicken dishes and mujaddra, a lentil and rice dish.

If you wish, bring your own wine to enjoy with dinner.

Homemade baklava, rice pudding chocolate pudding and semolina cake are dessert offerings. I simply ended my tasting with a cup of Turkish coffee served in a gold leaf decorated demi tasse cup. In the mid east tradition, I let the coffee grinds settle at the bottom of the cup so my fortune could be read. It appeared to say you will return to Fez soon.
Share a meal with family and friends at Fez soon. The meze selection is perfect party fare and Fez will be delighted to cater a party for you.

Fez Turkish Meze
409 Mount Pleasant Avenue
Mamaroneck, New York
914-341-1122

Recipe: Baba Ghannoush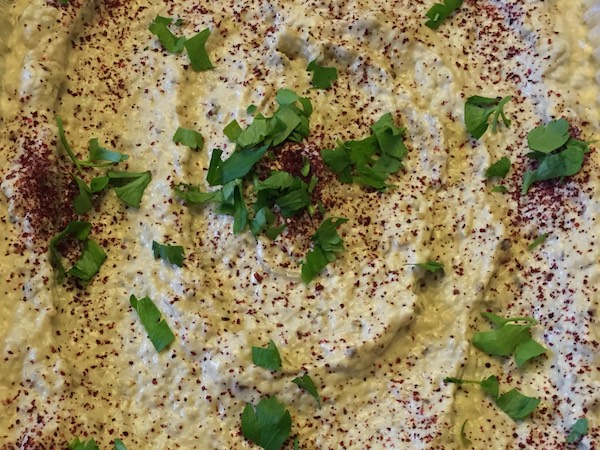 2 Large Eggplants
½ Cup Tahini
½ Cup Plain Yogurt
1 Tbsp. minced garlic
2 – 3 Tbsps. fresh lemon juice
Salt and pepper to taste
Olive oil for garnish
Ground sumac for garnish

Roast the eggplants. Cool and peel off the skin. In a bowl, mix tahini, yogurt, garlic and lemon juice until it is creamy. Cash the eggplants and add it to the tahini mix. Add salt and pepper to taste. Place in a serving dish and garnish with olive oil and a sprinkling of sumac.
Unusual ingredients are available at mid-east markets.