African Music Star to Come to Scarsdale to Benefit SALT at Scarsdale Congregational Church
Details

Written by

Sarah Kazan

Hits: 1141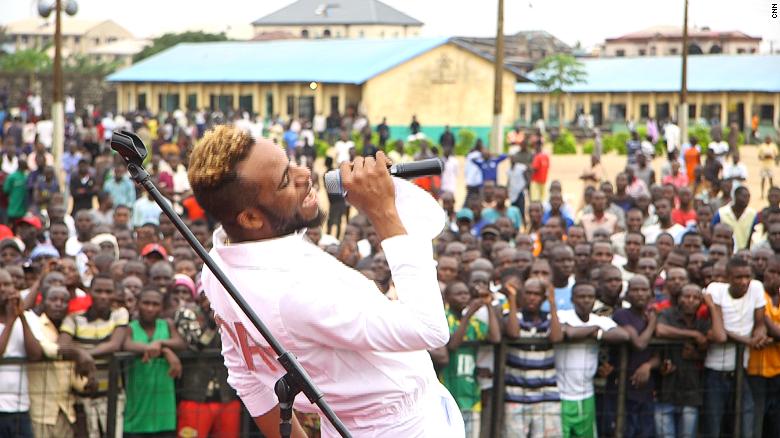 International Afro Dance Hall star and Nigerian native Lamboginny will preach and sing at Scarsdale Congregational Church at 10am on Sunday, July 15.
Lamboginny's music is rooted in the sounds of Jamaican Reggae integrated with elements of West African music known as Afrobeat.

Born Yinka Lawanson in the mid-80s, Lamboginny grew up in Lagos, Nigeria. In his early twenties, Lamboginny was inspired by artists like the late Bob Marley and Afrobeat music creator "Fela Anikulapo Kuti" who used their voices and music for more than entertainment. An opportunity to serve arrived in October 15, 2009 when a friend paved the way for Lamboginny's first prison concert. "Prisons permit pastors and teachers to minister to the inmates, but what about musicians? When I saw their hope after hearing my music, I knew then that I'd found my purpose," Lamboginny said.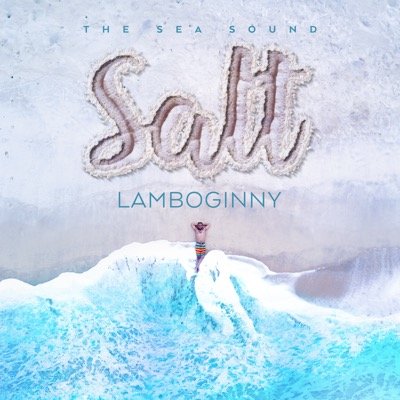 Since he began performing, Lamboginny has been using his talents to spread the message of supporting troubled youths who are trying to make positive changes. He founded Saving All Lives Together (SALT), a movement that raises money to provide music therapy to the prison population, and more importantly, to pay legal costs of young people who have been wrongly incarcerated or cannot pay fines for petty infractions like street begging. Further, Lamboginny gained considerably greater popularity when he began booking performances for the inmates at the prisons in Africa. He is now the first official Music Ambassador to the Nigerian Prison Service

To date, Lamboginny has performed more than a dozen prison concerts and has arranged for the release of 120 young Africans. With funds that he raises through his performances and record sales, he works to reintegrate released inmates into society, to find them jobs, and to provide vocational workshops to juvenile offenders still in prison. Lamboginny is known for his hit song "Say No To Crime" featuring Nigeria All Stars, Gbaladun with Olamide and I Believe in Africa. His current album, SALT, has garnered great reviews and is available on iTunes. Concert footage can be seen on YouTube.

Join them to hear his remarkable story and voice. Proceeds from a special offering will go to SALT endeavors, including raising funds for juvenile education and health facilities in Abeokuta, Ogun State, Nigeria.
Scarsdale Congregational Church
1 Heathcote Road
Scarsdale, NY 10583
The Robust Flavors of Southern Italy at Via Garibaldi
Details

Written by

Judie Dweck

Hits: 2794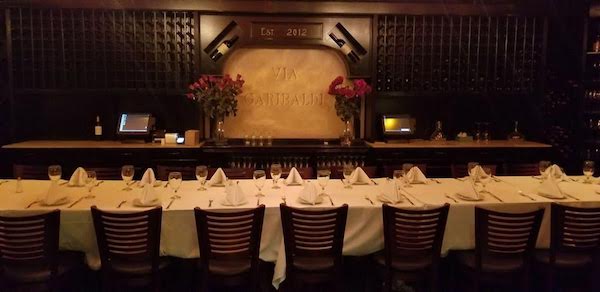 The cuisine of southern Italy is robust and reflects the vitality of the country and its people. One of the newest venues to enjoy the tastes of Italy is at Via Garibaldi on North Broadway in White Plains, at the site of the former Gaucho Grill. Ariano and Patricia Pardo are the proud owners of the recently opened Via Garibaldi Italian Ristorante. They also own Via Veneto, in White Plains, as well. The menus are similar, but Via Garibaldi is much larger in size. "We strive to provide our customers with a traditional family style experience. In addition to our varied menu, we serve a selections of prestigious wines from Tuscany, Liguria and Sicily."


Upon chatting with the personable Patricia Pardo, I discovered that Ariano, her husband and herself decided upon a second restaurant in White Plains that could accommodate many guests for parties. When Gaucho Grill closed the perfect opportunity arose and Via Garibaldi was born. Pardo said, "White Plains is a popular city where many people dine. We offer food for everyone and can accommodate all diets from vegan to gluten free. Many of our dishes are Southern Italian. We focus on good service. Our guests feel like this is their home. I love to see people complete their meal and tell us that they had a great time. Our goal is to continue servicing both old and new guests and to create memorable parties both in house and off premises." He added, "Given the opportunity, I would love to serve dinner to Richard Gere and Ben Stiller, two of my favorite personalities. If I were a guest at our restaurant, I might start with shrimp marsanielo, followed by snapper marechiara with tiramisu for dessert. Our kitchen is very accommodating, and depending upon availability of ingredients, we will create dishes for you." The Pardos are very enthusiastic about future ideas, such as an elaborate Sunday lunch buffet.


As you enter this new restaurant, note the cheerful front terrace, planted with colorful floral displays, a pleasant spot for cocktails and a meal on a warm summer day or evening. The terrace seats roughly 40 to 60 guests. Once inside, the bar and lounge area has plenty of seating and is a popular gathering spot. A few steps up, and you enter the spacious main dining room with black leather tufted banquettes as well as free standing white linen clad tables. It is surrounded by two smaller additional dining rooms. One immediately realizes this is a fine venue for many sized events and parties. The main dining room has a warm glow, with its yellow walls, gold tiled ceiling, crystal chandeliers and elegantly framed scenes and posters of Italy; the room seats over 100 guests. Overseeing the entire space is a painting of Mona Lisa. In the rear of this dining room, a chef is busy forming the dough for pizzas that will emerge from the hot oven behind him. The Princess Room is an elegantly appointed dining room for 10 to 30 guests. It reminds one of a Tuscany vineyard with its collection of wines and murals of vineyards. The Illuminata Room seats 40 to 60 guests and each room is separated from the main room by multi paned doors.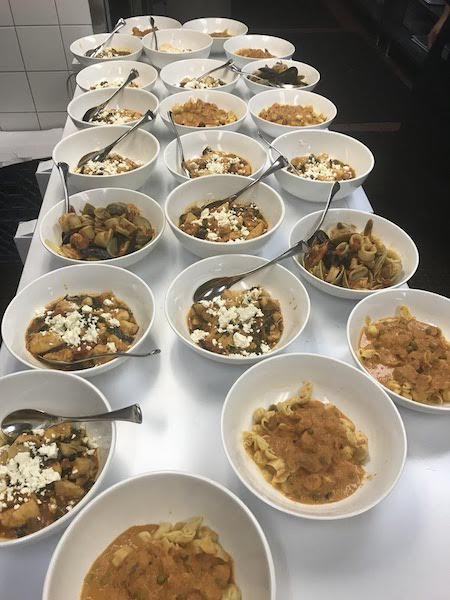 A basket of warm fragrant bread, fresh out of the pizza oven arrived with a hot pepper infused olive oil dip. We enjoyed this, as we looked at the antipasti selections. Spiedini Romana has always been a favorite of mine. At Via Garibaldi it is well prepared. This Roman style "cheese sandwich" is filled with mozzarella cheese, coated and fried. Cut into squares and topped with capers and a touch of sauce, the result is hearty and crisp on the outside and meltingly delicious on the inside. Shrimp Marsanielo were jumbo shrimp, tail intact, and wrapped in prosciutto. The sweetness of the shrimp combined beautifully with the salty prosciutto for a tasty dish. A bed of arugula and roasted red pepper strips complimented the shrimp. Another interesting shrimp appetizer was shrimp incazzati. Here, the grilled jumbo shrimp were combined with charred, smashed grape tomatoes, leeks, garlic and a touch of jalapenos to add some spice. Mussels were tender and nicely seasoned with a basil and garlic red sauce for the mussels posillipo. We expect to sample burrata semplice, polpo al forno, calamari di Ariana and asparagus with four cheeses in the future. The selection of antipasti at Via Garibaldi is so varied that I believe several of these classic and innovative choices could result in a fine dinner.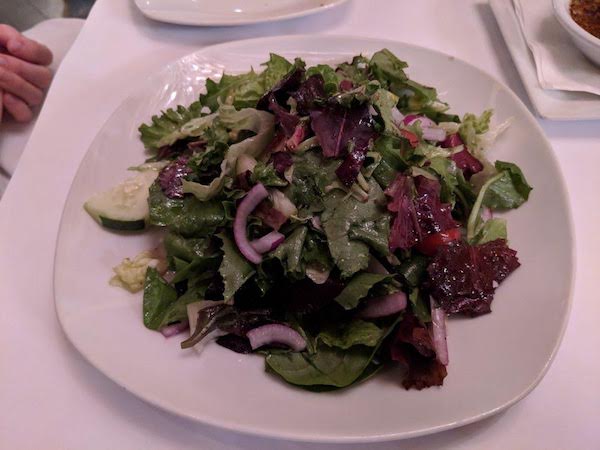 Salads are fine starters here as well. A combination of mesclun with raisins, apples, pears, walnuts and strawberries or arugula with bacon, sun dried tomatoes, gorgonzola and walnuts were enticing. However, we couldn't stop there and moved on to the pasta selections. Of the dozen pasta choices, fioretti rustica was a favorite at Patricia Pardo's childhood home. These delicate pasta bundles look like flowers with their pleated tops. Fontina cheese fills these little pasta bundles. Peas and sliced mushrooms and a pink sauce result in a delightful pasta course. Other selections include lobster ravioli with artichokes, roasted peppers and vodka sauce, rigatoni Machiavelli with portobello mushrooms, arugula, tomatoes and grilled chicken and pappardelle de la mama with scallops and crabmeat in a pink sauce. Classics of linguini in red or white clam sauce and fettuccine carbonara are offered, as well.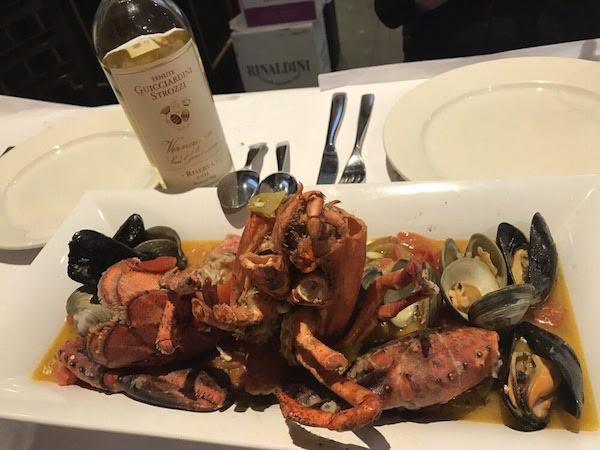 Entrée selections run the gamut from chicken and veal preparations, grilled beef, lamb or pork, to the sea with branzino with zucchini, red snapper with clams, mussels and white wine tomato sauce, salmon al forno and zuppe di pesce. For the pizza lover the pies arrive in small and large sizes, ranging from classic Margherita to rustica with artichokes, pepperoni and gorgonzola, Grandmother Pizza with pesto, or as I enjoyed, Abruzze. Here the thin crisp crust was piled high with chopped broccoli rabe, thinly sliced sweet sausage, slivers of roasted garlic and mozzarella cheese. It was hearty and delicious.

Desserts include homemade zeppole, reminiscent of the street fairs in the city, cannoli and tiramisu, gelato, and even a dessert pizza with Nutella, bananas and strawberries.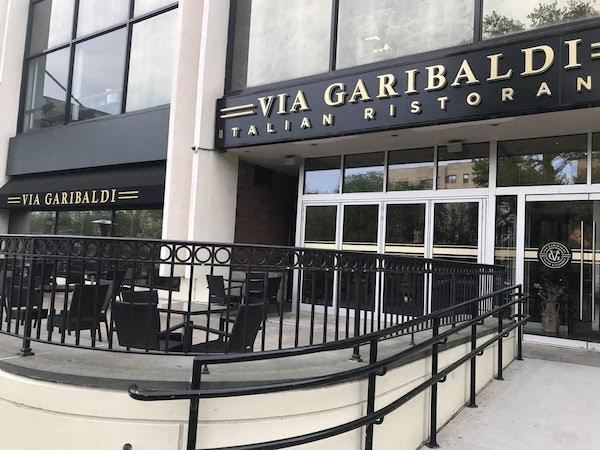 Family style dinners offer choices of appetizers, entrees, wine, coffee and dessert at a set cost. Thursday evenings include Italian music, a nice touch during dinner. At lunch wraps salads, pastas and entrees are offered.

If you desire a robust Italian lunch or dinner or a catered affair on or off site, Via Garibaldi is a fine place to visit.

Via Garibaldi
1 North Broadway
White Plains
914 468 1888

Grandma's Recipe for Linguine Di Savoia

4 tsps. olive oil
3 cloves garlic, sliced
2 handfuls baby arugula
1 cup sliced zucchini
1 cup sliced asparagus
A touch of cognac or homemade grappa
4 shrimp, shelled and deveined
Fresh linguine, about 3 ounces per serving

Sauté garlic in oil. Add zucchini, asparagus and arugula and sauté for 2 minutes at medium heat. Add the cognac or grappa. Add shrimp and cook for 2 minutes. If you are using packaged pasta boil it until al dente and toss with the other ingredients. If you are using fresh pasta use "Nona's secret" and cook it along with the other ingredients.
Argentinean and Italian Cuisine Expertly Combined at Magno's Grill
Details

Written by

Judie Dweck

Hits: 3477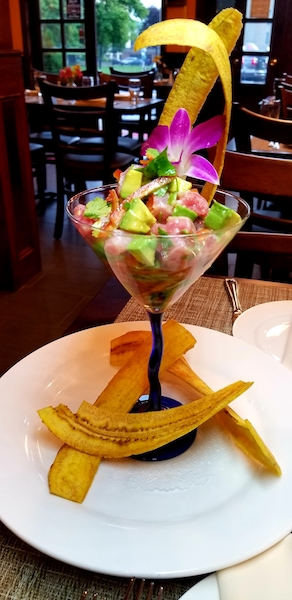 In my restaurant travels through the years, some spots have a special place in my memory. Many years ago I savored many fine meals at Tango Grill in White Plains. I described the executive chef Angel Magno, "an angel in the kitchen." In a few years, when the Tango Grill closed, I followed Chef Magno to Milonga and Gaucho Grill and then lost track. How delighted I was to discover Magno at Magno's Grill in New Rochelle, where he partnered with long time associate and general manager Vincent Reba, brother and chef Pac Magno and sister Gloria. Argentinean and Italian cuisines combine at Magno's Grill for a truly superb culinary combination. Several dishes are signature dishes from Chef Magno's repertoire, such as Argentinean empanadas, Magno's paella and grilled parrillada. The setting might be very simple and casual, but the food preparation and presentation are quite sophisticated. Food of this quality deserves crisp linen cloths on the tables. The restaurant seats about 42. Wood paneling, mustard colored walls and dark wood tables and chairs fill the room. Latin inspired posters including one of tango dancers embellish the walls. There are fresh flowers on each table and you may dine at the bar, as well. Multi paned doors open onto the street. In the near future, the backyard will be transformed into an outdoor dining area for barbecues and casual dining.

Chef Magno and manager Reba have a great relationship and respect each other's opinions. "Our food is authentic and prepared with love, the right way. Everything is house made. We believe you must walk before you run. We aim to establish comfortable, personal family feeling so our guests will return. We are very attentive to our guests." Magno and Reba indicated," In addition to our regular clientele, we would love to invite some well-known chefs to sample our dishes."

Warm from the oven, the focaccia presented to us is baked fresh daily. Served with country bread, as well, it was accompanied by an olive oil, basil garlic and balsamic dip at lunch and topped with bruschetta at dinner. Try not to fill up on this, since the dishes to follow are quite generous in size. As a recent tasting began, I noted that the presentations are photo worthy. Ceviche, popular in Latin countries, takes on a delightful twist at Magno's Grill. Presented in a long stemmed cocktail glass, embellished with crisp plantain chips it is prepared with small cubes of ahi tuna tossed with cubes of avocado, peppers, tomatoes and red onion and dressed with fresh lime juice and a touch of sesame oil. This generous cilantro flavored dish was a most refreshing starter. Argentinean empanadas were a real treat. The flaky dough crescents were filled with a lovely mixture of ground beef and caramelized onions. The two large empanadas were served with Chef Magno's chimichurri and garnished with his signature mashed potatoes, plantain chips and a fresh orchid. Chicken, vegetable, pork and crab fillings are planned for the future. We savored a bowl of mussels with a nicely spiced cognac sauce dotted with crushed tomato and enhanced with a touch of cream. Magno's signature crabcake, chock full of crabmeat, sets the standard for this dish with its honey mustard sauce. Sticks of thin pasta, fresh parsley and a rose petal add drama to this starter. From the Italian inspired appetizer offerings, we enjoyed tender clams oreganata, with a light lemony sauce. If you prefer to start with a salad, there is a classic burrata caprese, an innovative campo salad with baby kale, one with strawberries and goat cheese and a classic tropical salad with mango and berries, reminiscent of Tango Grill.

The entrees are plentiful and varied, with many Italian specialties and classic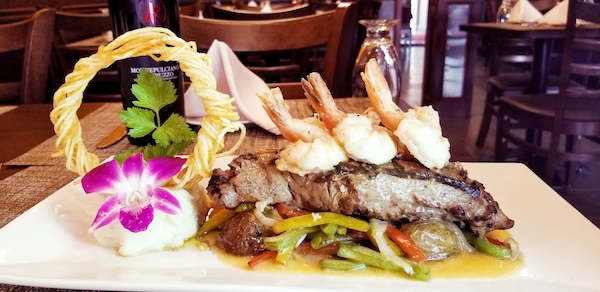 Argentinean grilled selections. We sampled homemade cavatelli with broccoli rabe, sausage and oven roasted tomatoes, all tossed with olive oil and garlic. A sprinkling of parmesan and an orchid added color and completed a perfect pasta dish. Very delicious was the crabmeat and shrimp risotto topped with slices of avocado. The chunks of sweet crabmeat and shrimp studded the creamy rice for a rich and delicious dish. Pork Valdostana was a mammoth sized chop filled with Portobello mushrooms, caramelized onion, prosciutto and mozzarella with a marsala sauce. The plate was garnished with Magno's signature ring of julienne fried potatoes. It was enough for 2 meals. A scoop of lemon sorbet refreshed our palate before continuing. A walk around the block might have been helpful. Of the many fish, veal and pork entrees, we enjoyed veal martini with lemon wine sauce. A hint of butter enriched the sauce and fresh spinach topped the dish. Red snapper was a winner here. Diced mango, tomato and spinach provided a base for the almond crusted red snapper filet with a cognac and lobster sauce, a super combination of ingredients.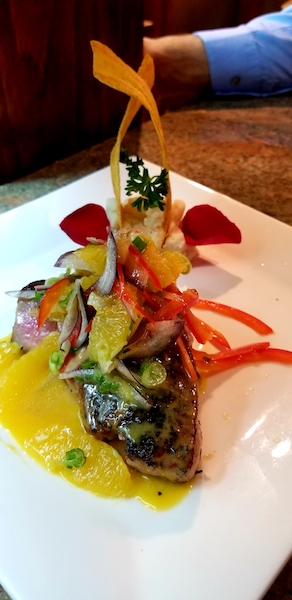 The piece de resistance were the Argentinean choices from the grill. We loved the classic mixed grill, the Argentinean Parrillada. It included samplings of skirt steak, hangar steak, flatiron steak. shell steak and Italian sausage which shared the plate with yucca and potato wedges and that wonderful chimichurri sauce. The varieties of steak, each had a unique texture and flavor and provided a delightful mouthful for the beef lover. Return visits may include blackened tuna with orange sauce, seafood stuffed filet of sole with scampi sauce, pork osso bucco, churrasco, mendozino steak with chorizo, mushrooms potatoes and caramelized onions, or Magno's shell steak with roasted potatoes, onions, peppers, mushrooms, shrimp and scampi sauce, and the list goes on. Many vegetables and side dishes are beautifully prepared, as well and a side dish of sweet plantains are a must have.

Which country would provide our dessert choices? All choices are homemade from tiramisu, to dulce de leche crepes. We chose an excellent tres leches cake and smooth and delicious flan. By the way, it took two visits to sample the many dishes offered. At the time of my visits, the restaurant was only opened for two weeks and they were awaiting their liquor license. Wines will be offered from Italy, Argentina and The United States. At lunch, a variety of paninis, wraps, salads, pastas, and entrees are offered.

Enjoy a meal at the new Magno's Grill where the friendly staff serves the many Argentinean and Italian delights as prepared by "The Angel in the kitchen", Chef Owner Angel Magno.

Magno's Grill
108 Centre Avenue
New Rochelle, NY
(914) 235-0008

Recipe: Tuna Ceviche (Serves 2)
Ingredients:
1 pound sushi grade tuna in ¼ inch cubes
1 small red onion, diced
1 bell pepper, diced
¼ cup fresh lime juice
1 plum tomato, diced
1 large Haas avocado, diced
¼ cup coarsely chopped cilantro
Salt, to taste

Instructions:
In a medium bowl, stir onions, peppers, lime juice, cilantro, tomatoes, avocado, and salt. Serve in martini glasses and garnish with plantain chips
The Summer Games: Best Board (and other) Games for your More (or Less) Adult Friends
Details

Written by

Stacie M. Waldman

Hits: 4176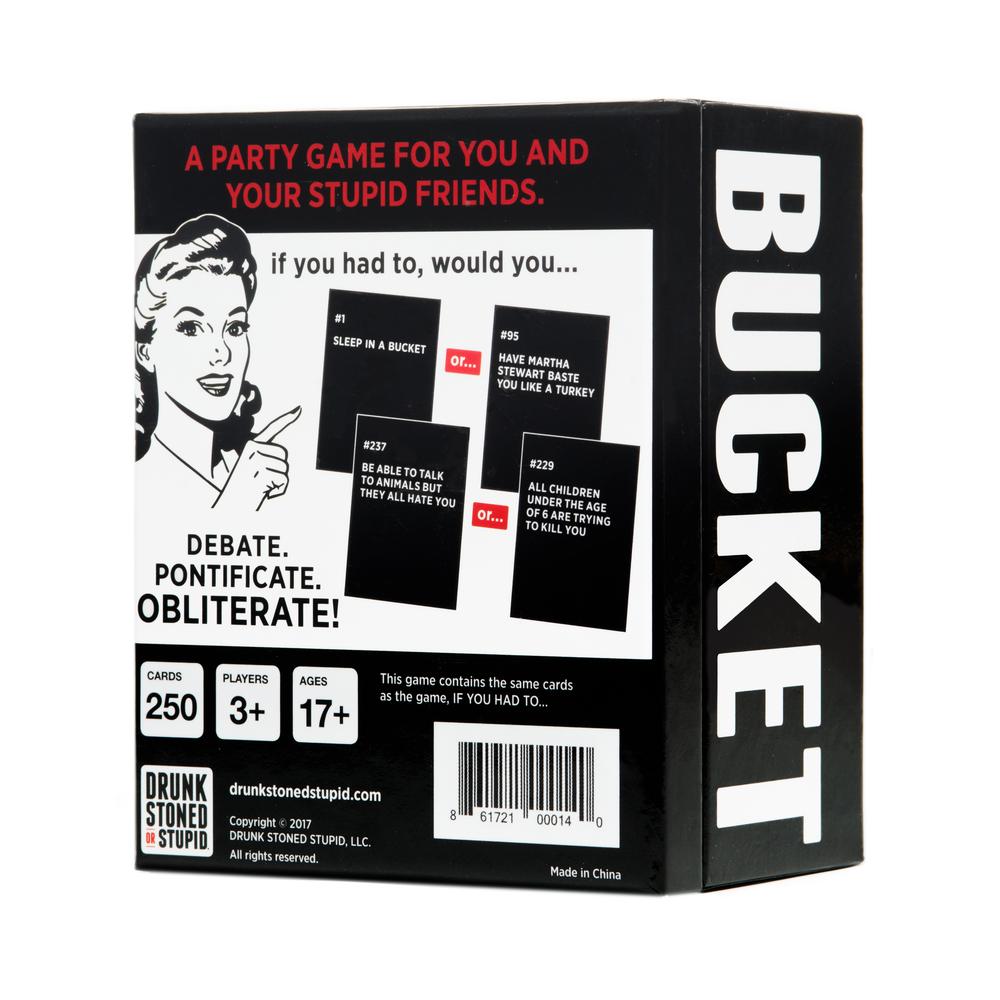 Board games have come a long way in recent years in terms of creativity, fun and let's face it, even perversion! Cards Against Humanity broke barriers when it rose to popularity a few years ago, and there are many other great ones out there to entertain a houseful of summer guests. What are the hottest games for summer to play with friends and adult family members, preferably with a drink by your side?
What do you Meme?
If you think you'll play this while the kids are still awake, think again. With reviews like, "I laughed so hard I had a six-pack of abs the next morning," be prepared for hysterical but potentially raunchy pairings of captions with memes. Up to 20 of your BFFs can play this game together and you can make the game even more fun by printing pictures of the people with whom you're playing the game ahead of time to pair with game-provided captions.
Sleep in a Bucket
This party game can also accommodate large groups of people and is a variation on "Would you Rather?" You can come up with situations on your own for free or just buy them. A rotating judge gets a card from each player and chooses what he or she would least like to do and the person who gave them that card gets a point. For example, would you rather have all children under the age of six trying to kill you or have to maintain eye contact with your best friend whenever they had sex? Laughs and inappropriate convo guaranteed.
Fact or Fiction
This is a fun game that you can play anytime, anywhere. It's also best to do this with people who know you, but not TOO well, so playing with friends (girls weekend?) is better than playing with family members. It's a great game to find out more than you wanted to know about people and you can come up with your own rules such as "what happens in Vegas stays in Vegas," meaning anything you learn about your game-mates stays there! Everyone comes up with two things about themselves that may not be believable but are true and one thing that is not true. Everyone has to guess which of the statements is fiction. For example, which of these three things about me is not true? 1. I have ridden an elephant bareback, 2. I have my pilot's license or 3. My now-97-year-old grandma gave me lingerie for Valentine's Day a few years ago. A little bit of planning ahead of time goes a long way to making the game the most fun as it can be hard to think of things on the spot.
Joking Hazard
Described as "extremely not for kids," you've got to put three cards together at a time to build a comic strip that your other players like. Popular phrases people use while playing this game are "OMG," "That's disgusting" and "I think I gave myself a hernia." Expansion packs are available and most reviews say they're needed after playing the game a handful of times so prepare to make the small investment if you like the original version.
Smartass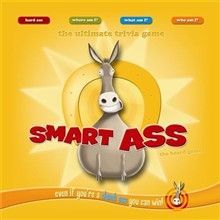 Smartass is a fun game that includes everyone in each hand, keeping your whole crew engaged. One person picks a card and starts reading off clues about a person or a place or a thing, for example. People can shout out their answer whenever they want and the card-picker keeps reading down the list of clues until someone gets it. Clues start off very vague and difficult and get easier as the reader moves down the list. Fun for trivia buffs, this is one of the "cleaner" games on this list.
Storylines
I actually have no idea what this game is called and I have no idea where I learned it, but it is literally one of the best games I have ever played with kids and/or adults (or both). You need at least 4 people for this game and up to 12 comfortably. Everyone gets a sheet of paper and a pen. Each player starts off by writing something at the top of the page. It can be anything; a line from a song, nonsense, something funny about the person to your left or right...then everyone passes the paper at the same time to the person on their right. That person draws a picture based on what is written. Before passing it to the right, everyone folds over what the original person wrote so the next person only sees the picture and they have to write a sentence based on what they see in the picture. Then the paper gets folded over again (over the picture) and the next person draws a picture based on the visible sentence (and so on). You do it until it gets back to the original person if the group is large or you can do several rounds with a smaller group. Everyone gets to read all of the Storylines (there's no winner or loser) and it's always hilarious! Adults, of course, tend to make the game a little grosser and more risqué. Kids tend to keep it clean with the exception of fart and poop pictures and sentences.
Beyond Balderdash
Although this game is only sold used on e-bay or through Amazon third-party sellers, it is by far my favorite game to play with a group of 4-8 fun adults. It's a game of bluffing and creativity. There's one real answer that the rotating dealer writes down, and every other player writes down their bluff or what they think is the real answer. There are five categories from which to choose: people (who was this person/what did they do?), movie titles (what is the plot of the movie?), dates (what happened on this date in history), acronyms (what do these initials stand for) and definitions (what does a certain word mean?). For example, one person chooses the definitions category and the word is "furfur." They write down the true definition; everyone else writes down their proposed definition, then the person who knows the real answer reads all possible answers aloud and everyone has to guess the real answer. A point is given for guessing correctly AND a point is given if someone else chooses your answer, even if it's not the true answer. For example, furfur might mean: 1. A type of moustache popular in the Victorian era, 2. A Siberian squirrel with 5 stripes down its back, 3. Flakes of dandruff, 4. A sea snail or 5. An edible South American fruit. Which is it?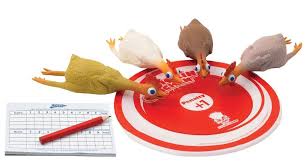 Flickin' Chicken
This popped up as an Amazon suggested purchase right before Father's Day so…so bought it! In fact, the reviews were so good that I bought two!. It's a great backyard game or beach game. Flickin' Chickens is basically like golf except you throw a disc to a random landing point and then everyone has to hurl their chickens towards the disc hoping to hit it in the least number of hurls. The chickens themselves are hilarious. They are made out of high-quality rubber and have substance to them, and there really is little funnier than flying rubber chickens. Okay, so maybe it's not really like golf, but it's a great game nonetheless.
Pandemic
This is a game for a smaller group of people, like just two of you, or maybe two couples or a few friends. You all have to work together to save the world from deadly diseases. What's nice about this game is that it requires cooperation and you either all win or all lose to a deadly epidemic. It's suspenseful and the game has varying difficulty depending on what cards are chosen and what moves are made. Definitely a traditional board game that you'll keep coming back to whether you win or lose. And not many laughs with this one; it's super intense.
Cards Against Humanity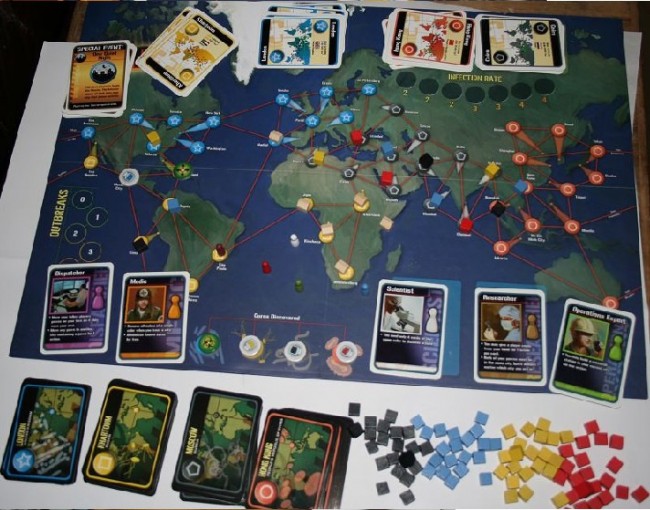 Still haven't played this after all the hype? Do yourself a favor, add it to your game bin and hide it from the kids. It's described as "the game for horrible people." It's quite distasteful so the square mother-in-law might not be the right player for this game but it's funny and sort of sick all at the same time. One person reads a question and the rest have to answer it with their choice of prewritten cards in their hands. The reader chooses the best answer (subjectively) and that person gets a point. It's a really creative game and many others are based on this game.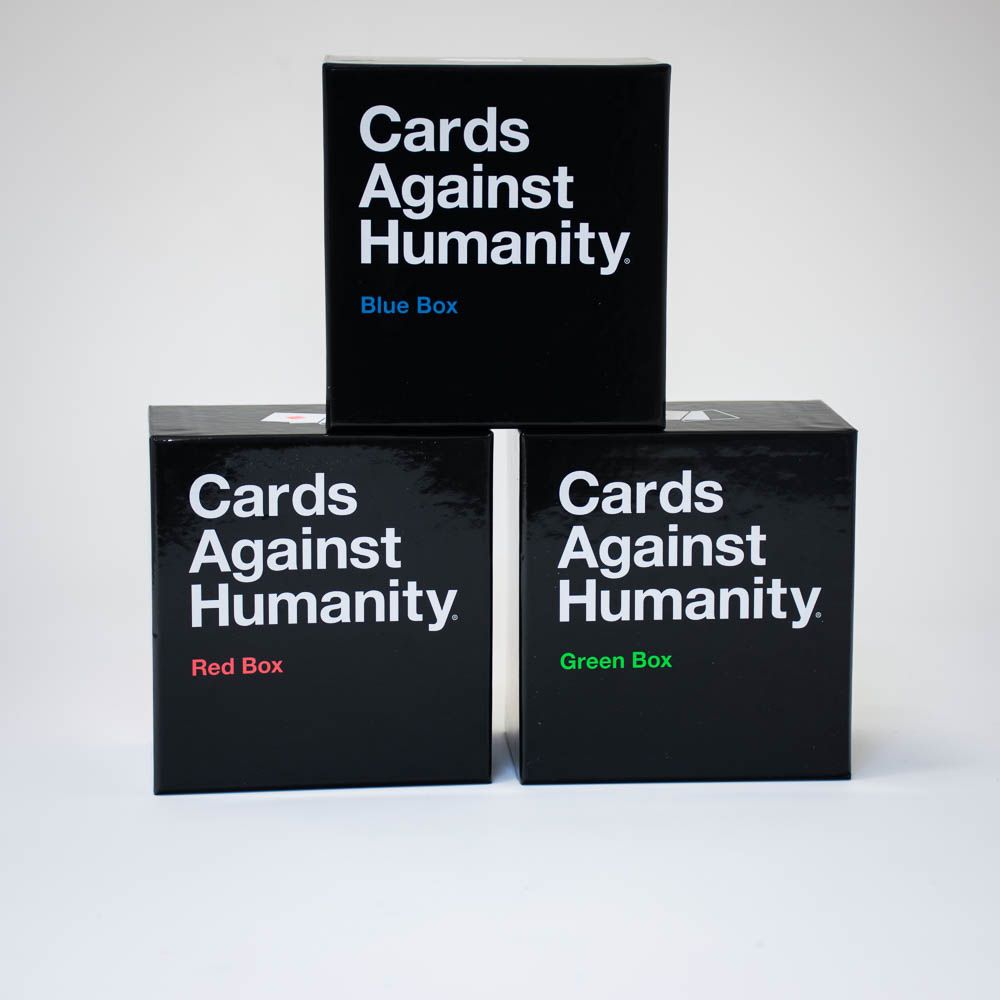 Have you played any of these games? Thumbs up or thumbs down? Do you have any favorites not listed here? Comment below!
Maroon and White Honors Senior Athletes at June Barbeque
Details

Written by

Emmeline Berridge

Hits: 2735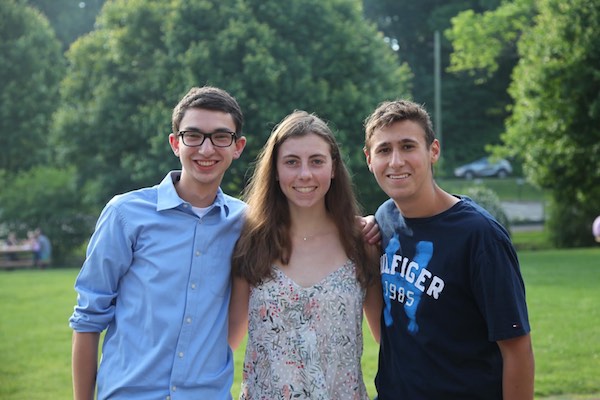 Track team Seniors: Jordan Claman, Sophia Rosset, Adam RossEvery season, the Maroon and White parent's organization hosts a sports awards dinner to recognize athletes for accomplishments in their respective sports. The spring dinner, this year held on Tuesday June 5, especially honors seniors, as the spring season is their last opportunity to compete as Raider athletes. A barbeque is followed by the general awards ceremony, which recognizes seniors for their dedication to Scarsdale athletics. Individual sports teams break into smaller rooms to present sport-specific awards after the ceremony.
The Iron Man award is the first of a series of senior awards. The Iron Man honors senior athletes who have completed 12 full seasons of athletic participation, meaning they have played a sport in every high school season. The Iron Mans were awarded to Lily Steckel for Tennis, Basketball, and Lacrosse, and Jordan Claman and Sophia Rosset for 12 seasons of track and cross country.
The first of three memorial awards, the Elizabeth Timberger Memorial Award, honors an outstanding member of the Scarsdale athletic community. Elizabeth served on the board of Maroon and White prior to her untimely death, and was a friendly, supportive, and cooperative member of the board. The Timberger award is given to a senior who helps a team not as a player, but through some other form of participation. The 2018 award went to Savannah Smith, manager of boys Varsity Lacrosse.
The Nina Mooney award is presented to a senior female athlete who "displays commitment, enthusiasm, spirit, concern for others and a positive work ethic," per Maroon and White President Beth Dell'Orto's presentation speech. Nina Mooney, who passed away in 1991 at the age of 54 after a courageous fight against breast cancer, organized many Maroon and White events, and was loved for her kind and boisterous spirit. The 2018 award was given to Samantha Mancini, a captain and four-year varsity player for both girls Basketball and Soccer.
The Nonie Knopp Memorial Award honors Knopp, an outstanding member of the Scarsdale community, and an avid sports fan who was devoted to Maroon and White as a vice-president and chairperson for the Holiday Basketball Tournament. The award recognizes a male senior varsity player who exemplifies dedication, commitment, spirit, enthusiasm, concern for others and positive work ethic. The winner of this award was Noah Glantz, a captain of Varsity Football, who will continue his football career at Trinity College in the fall.
The Peppers Award honors Sue Peppers, the recently retired assistant principal of Scarsdale High School, as she remains closely tied to Scarsdale schools and athletics through her daughters, who were scholar athletes at Scarsdale High School. According to Dell'Orto, "combining high standards for academics, sports, and team play have always been an important part of the Peppers Family." The female Peppers award was presented to Lily Steckel, who has distinguished herself in athletics and academics, being voted Captain by her teammates in Varsity Tennis, Lacrosse, and Basketball, as well as maintaining a level head, passionate spirit, and an impressive academic record. Steckel will attend Dartmouth in the fall.
The male Peppers award was presented to Jeremy Wolfe, who separated himself from his peers in his captainship of both varsity boys Lacrosse and Volleyball. He was also a member of the Ice Hockey Team, and played a role in founding the boys Volleyball team at SHS. Wolfe will attend the US Naval Academy in the fall.
The Scholar Athlete Honor Society Award is presented to a top male and female student who have excelled in dedication to their sport, performance and leadership on and off the field of play, performance in the classroom, with a GPA of 3.5 or higher and accomplished SAT or ACT scores. The winners of the 2018 Scholar Athlete Honor Society award are Jordan Claman for cross country and track, and Annemarie Horn for Volleyball. Claman will attend Tufts in the fall, while Horn will play volleyball at Dartmouth.
The Scarsdale Raider award, recognizes the intangible characteristics that represent the spirit of a Scarsdale Raider--- the attitude, work ethic, and leadership qualities that the sports community hopes to instill in all Raider athletes. The winners of the Scarsdale Raider Award are Sam Seltzer, captain of Boy's Varsity Ice Hockey and Lacrosse teams, Nash Goldman, captain of boys Varsity Basketball, and Katie Reisman, Captain of Girl's Varsity Lacrosse and member of girls Varsity Soccer.
Although the awards only recognize a select group of senior athletes, the nature of the dinner is to appreciate all seniors as they matriculate and bring a Raider pride with them in their future endeavors.
Jordan Claman of Boys Varsity Track noted that the highlight of the spring track season was finishing his 12th season on a high note by seeing "people from all track--- mid distance, sprinting, and distance--- come together". Claman emphasized that the team's camaraderie was nothing like he'd ever seen before, which allowed the seniors to end their seasons on a positive note. Distinguished Senior Sophia Rosset will run cross country and track and field at Washington University in St. Louis in the fall.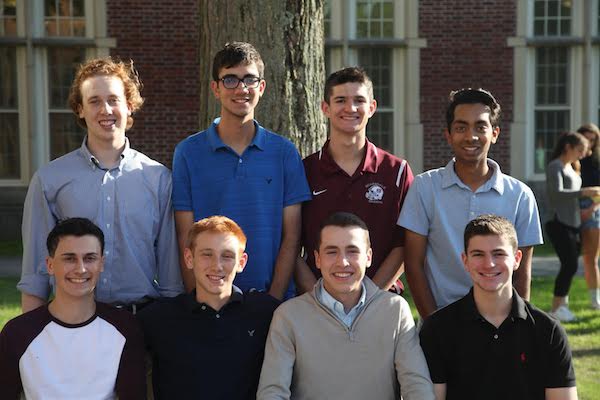 Baseball: Clockwise from top: Michael Green, Matt Daniel, James Conlan, Kiran Ramachandran, Daniel Beitler, Joe Weintraub, Evan Maroney, George Samwick
Evan Maroney, captain and shortstop of the boys Baseball team, noted that his favorite part of his last season was going down to Florida for spring break with the team, mentioning that it helped the team bond, work on their game, and "have a lot of fun off of the field." The Raiders lost in the 1st round of Sectionals against Suffern, but were able to maintain a competitive season led by a strong group of seniors. Senior Michael Green will continue playing baseball at Carleton College.
Lone Senior of the decorated boys Varsity Golf team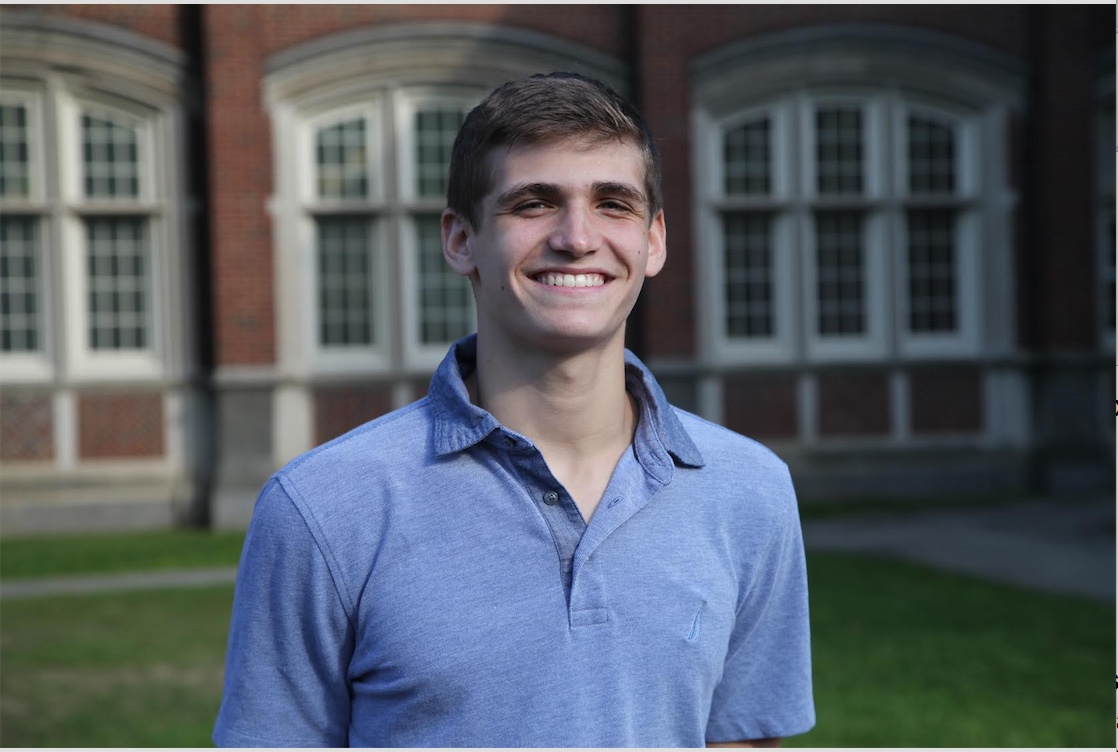 Golf: Scott GalstScott Galst noted simply that the highlight of the team's season was "being able to compete for the section final." The team went on to top a formidable Bronxville squad to win their 4th Section 1 title in 5 years. With a strong core of underclassmen returning next season, Scarsdale's dominance in boys' golf will surely translate to success in 2019.
Lily Steckel of girls Varsity Lacrosse noted that her most memorable moment of the team's season was a win against Mamaroneck, a team that went on to compete in the Section 1 finals. She emphasized the importance of this game, noting "Mamaroneck have been our rivals since as long as I can remember, and beating such an incredible team on their home turf as a cohesive unit was an unforgettable feeling." The girls lacrosse team experienced hardship, as their longstanding coaches were fired just weeks before the start of the season. Still, strong leadership from their seniors allowed the team to have an enjoyable and successful season, which was encapsulated in their close-fought battle against Mahopac in the first round of Sectionals.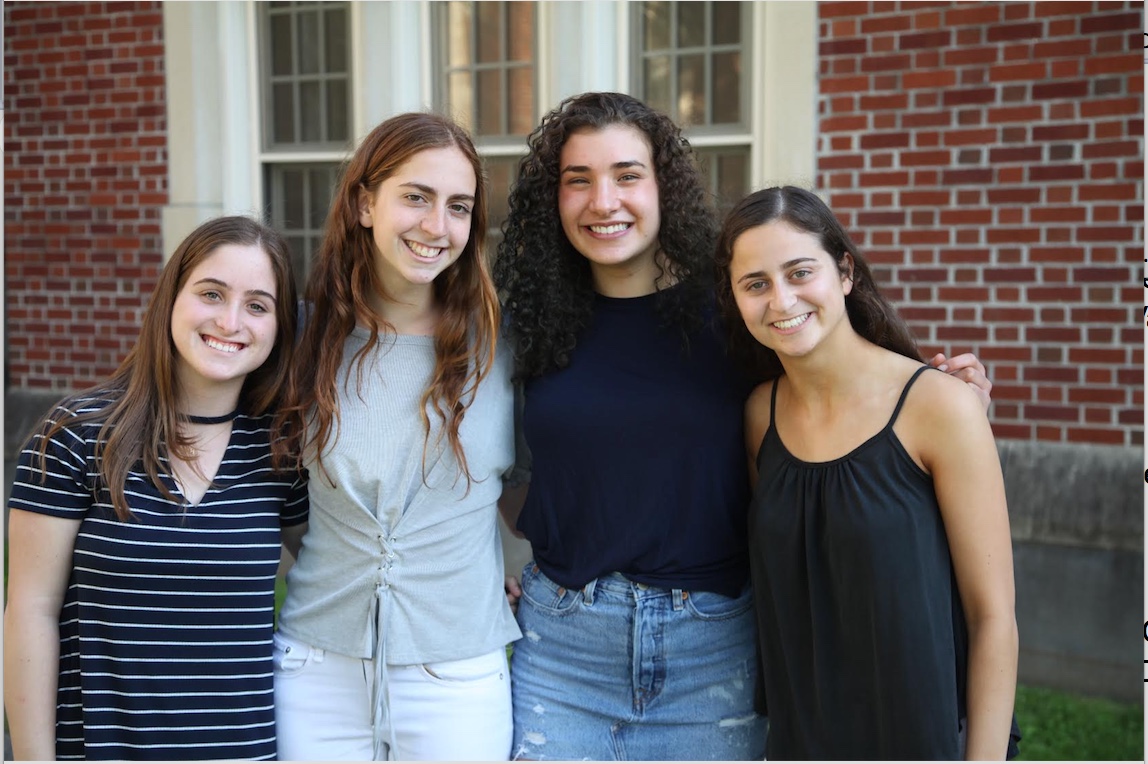 Girls Lacrosse: Left to right: Holly Rittmaster, Lily Steckel, Maya Kulick, Katie Reisman Not pictured: Abby Glaser(image 4, lacrosse)
Left to right: Holly Rittmaster, Lily Steckel, Maya Kulick, Katie Reisman
Not pictured: Abby Glaser
Daniel Koch, one of many seniors on a large boys Varsity Lacrosse team, noted that his highlight for the season was "beating Wappingers by 14 goals", as the team had lost to Wappingers in the Section semifinals in a heart-wrenching end to last season. The boys' team put up impressive statistics, including a 6-0 run to begin the season. The leadership from Scarsdale's seniors brought the boys lacrosse program to a well respected status among Section 1 teams. Senior Seth Thornton will play collegiate lacrosse at Syracuse.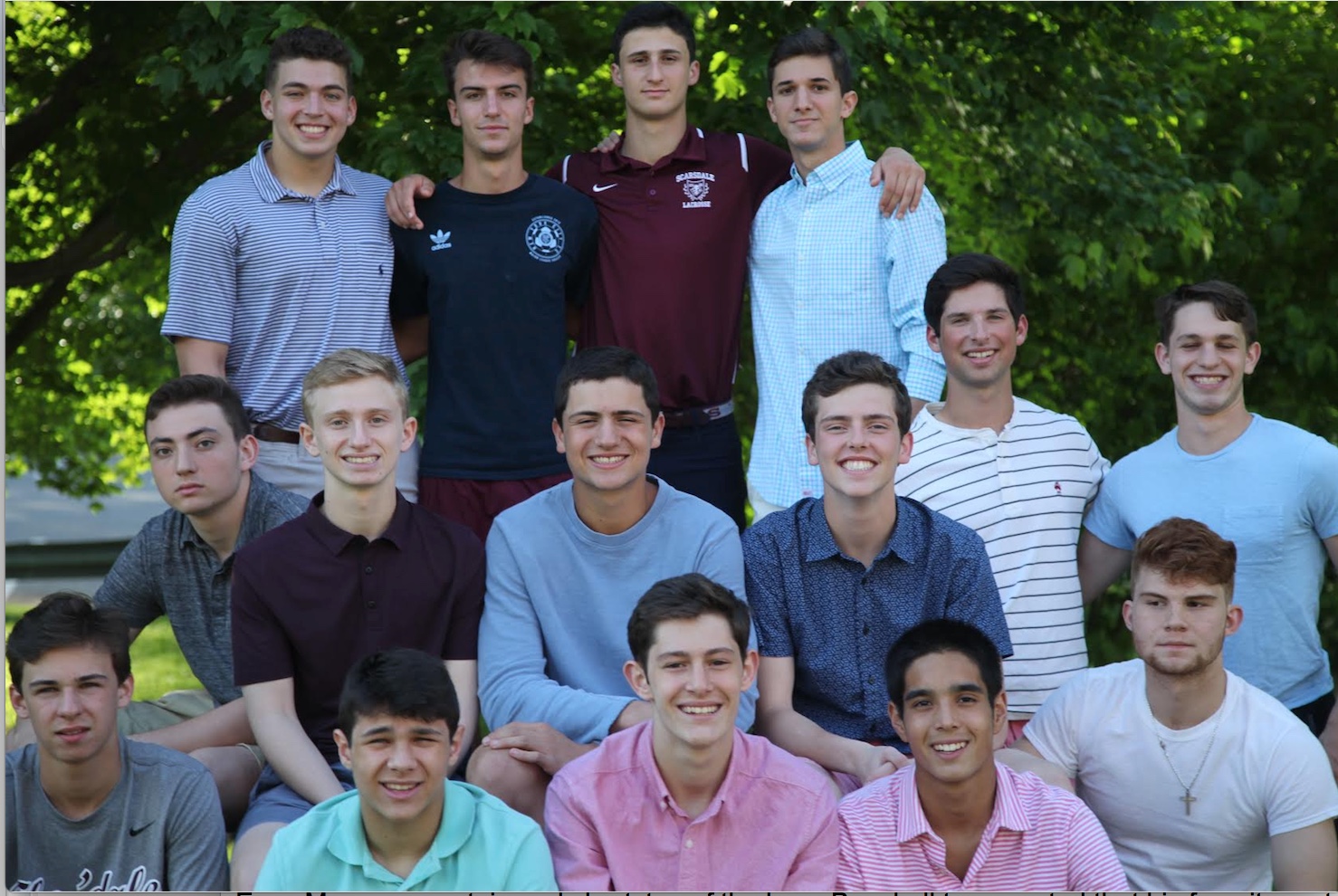 Boys Lacrosse: Left to right: (top row) Noah Glantz, Nick Coeytaux, Jeremy Wolfe, Jason Lipsay (middle row) Jacob Kahan, Sam Seltzer, Daniel Koch, Mason Marsh, John Seider, Miles Rosenstadt (bottom row) Vin Franco, John Keltz, Matt Hyman, David Love, Robert Britto

o