Become a Music Together Teacher and Begin a Fulfilling and Flexible Career
Details

Written by

Joanne Wallenstein

Hits: 1156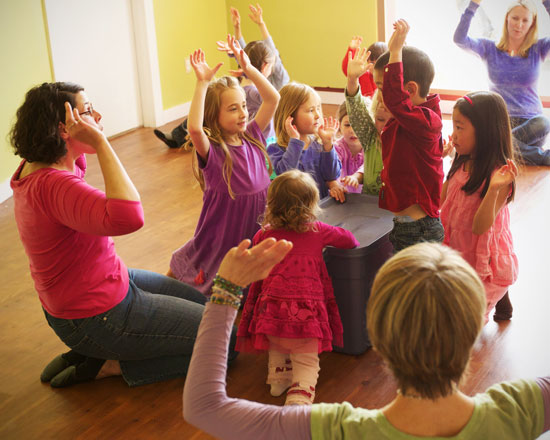 Music Together, the award-winning, international early childhood music and movement program developed in Princeton, New Jersey, is offering an exciting three-day Teacher Training Workshop at Starlight Starbright Music, 78 Garth Road, July 21-23. Participants who successfully complete the three-day training become eligible to teach Music Together classes, either at an existing location or by applying for a license to open and operate a Music Together center of their own.
Being a Music Together teacher is a flexible, fulfilling, and exciting part-time career choice. The thousands of successful Music Together teachers around the world are musicians, actors, dancers, stay-at-home parents, educators, and retirees. No formal academic degree is required to become a Music Together teacher.
The upcoming three-day workshop provides opportunities to learn about how to assess children's rhythmic and tonal development, techniques for presenting Music Together materials, strategies for lesson-planning, and much more. There will also be live early childhood music demonstration classes on each day of the workshop, teaching children and their parents using the Music Together curriculum.
Since 1987, Kenneth K. Guilmartin, Founder/Artistic Director of Music Together, has been a pioneer in teaching parents and caregivers how to nurture their children's musical growth. "Our mission is to enable children and the adults who love them to become comfortable with musical expression and to develop musically at their own pace," says Guilmartin. "Childhood music development is a natural process, just like language development. Every child is born with the ability to make music. Our teachers provide the right environment to nurture and support that music making. We welcome teachers to the Music Together community who are passionate about music education and supporting the bond that music creates between young children and their parents and caregivers."
The cost of the three-day Music Together Teacher Training is $475. Graduate credits, CMTE credits, and CEUs are available. For additional information and to register, visit www.musictogether.com or contact Chris Marietti at (800) 728-2692 x326 or cmarietti@musictogether.com.
Music Together is an internationally recognized, developmentally appropriate early childhood music and movement program for children from birth through grade two. First offered to the public in 1987, the Music Together curriculum, coauthored by Guilmartin and Dr. Lili Levinowitz, is based on the recognition that all children are musical. All children can learn to sing in tune, move with accurate rhythm, and participate with confidence in the music of our culture, provided that their early environment supports such learning. Music Together offers programs for families, schools, at-risk populations, and children with special needs in over 2,500 communities in 41 countries. The company is passionately committed to bringing children and their caregivers closer through shared music-making and helping people discover the joy—and educational value—of early music experiences. More at www.musictogether.com and www.facebook.com/musictogether.
Add a comment
Young Magicians to Stage SHS Performance on June 15th
Details

Hits: 1358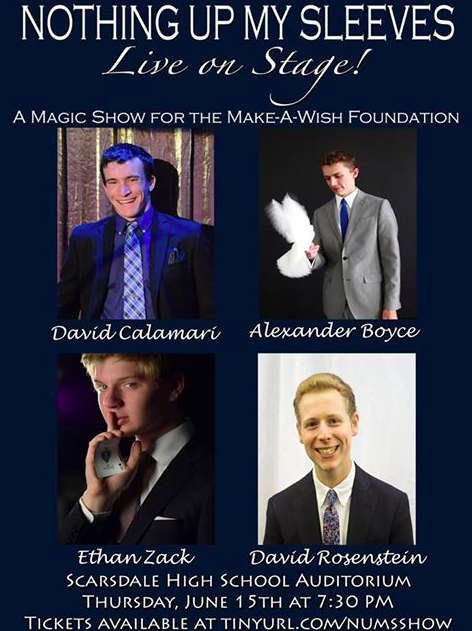 Scarsdale is about to get a little more magical. For his Senior Options project, David Calamari will be presenting a magic show titled "Nothing Up My Sleeves", the proceeds of which will go to the Make-A-Wish Foundation. The show will feature his magic as well as the magic of other young performers. I've had the privilege of seeing some of David's magic firsthand and asked him a couple of questions about his process and the upcoming show. The show will be on June 15th in the SHS auditorium and you can purchase tickets online by clicking here.
When did you first become interested in magic?
I became interested in magic when I was three years old. My uncle showed me a trick where he took a coin, placed it in his hand, and made it disappear. He didn't tell me how it was done, and that kept me interested. My parents could see my interest and they bought me a magic kit for my fourth birthday. My dad then began taking me to Tannen's Magic Shop, the oldest magic shop in the country, which is in NYC.
How do you learn and develop new tricks?
I learn magic primarily from other magicians, and from reading books. Learning the trick is only part of it, the next part if finding a way to present it in a way that doesn't make it seem like a challenge to the audience, but rather some experience that I am sharing with them. I do enjoy learning other magicians' magic, but I also enjoy creating for myself. I go about this in a lot of different ways depending on what I'm going for. Recently, I have been using magic to show things I think about, and how I see the world, but not all of my material is like that. I try to have a wide range of emotions when I do a show, so at one point, the audience is laughing, and at another point, they are carefully listening to a compelling story. My inspiration comes from many different places, usually not other magicians. I have taken ideas from movies to create magic, I have made a routine out of a board game, so there is never an exact science to creating. Whenever I have an idea, whether it be a concept for an entire routine, or just a small moment of something that I want to adapt, I write it down in a notebook or on my phone, and later combine and play with those ideas to create something new.
Do you have any favorite tricks?
That is a really hard question. My favorite trick is always changing, because I don't like doing the same thing for a long period of time, so I am constantly changing what I am doing, to keep myself from getting bored. Each time I am doing new material, my favorite thing to perform usually changes.
Do you get your inspiration from any specific sources?
Not really. I never get inspiration from one specific source. I get inspired by a lot of things. Movies, books, personal experiences, and other magicians sometimes.
What advice would you give to someone interested in learning magic?
My advice to anybody interested in magic would be to read books to learn magic. I have found that this is the best way to learn really good magic. Also, go to an actual brick and mortar magic shop instead of buying things online. The number of shops that are around today continue to dwindle, which is not good. Magic shops are incredible places to meet new people, share ideas, and learn from others. You really can't get the same experience with an online magic shop.
What was it like to rehearse for your show? Is there anything you're particularly excited to show off?
Rehearsing is a little stressful. I have put together several new bits for this show, so I have never done them before. I am really excited about doing them, but also a little nervous. I am beyond honored to be raising money for such an amazing cause, so that eliminates some of the nerves because I know everyone is coming to have a good time. I am really excited to show off a couple of illusions that I have put together, because stage illusions are totally new to me. It was an interesting learning process, as staging and lighting and body movements have a lot more to do with illusions than other things I have done in the past.
Remember to go see David and other magicians at their show on June 15th in the SHS auditorium!
Add a comment
A-School Fair Raises Funds for Ronald McDonald House
Details

Written by

Hannah Glickenhaus

Hits: 1522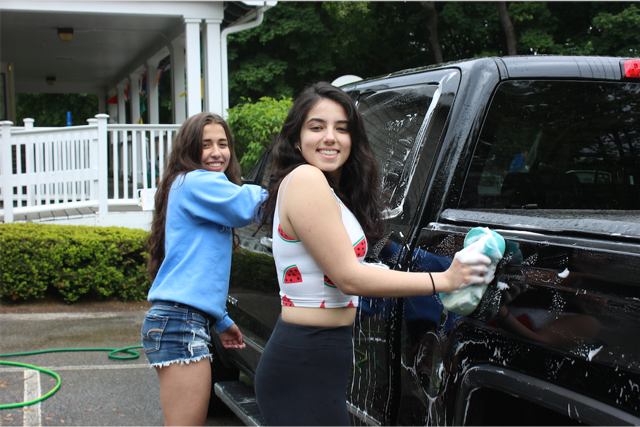 This past Saturday, May 20th, the Scarsdale Alternative School hosted it's annual fair for charity! This year the A-School community chose to raise funds for the Ronald McDonald House of the Greater Hudson Valley, a not-for-profit charity that provides temporary housing, meals, and most importantly, comfort, for families with ill or injured children.

The A- School fair consisted of a successful car wash, bake sale, barbecue, tie dye booth, and face-painting station! These six booths raised around $600 for the Ronald McDonald House charity! This fun community event not only brought together present-day members of the A-School Community and numerous alumni of the A-School, but also around seventy-five members of the Scarsdale community at large.

Despite the threatening weather, it was a pleasant day enjoyed by all!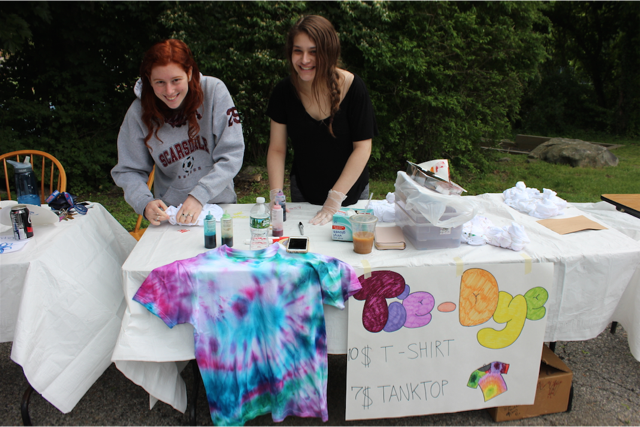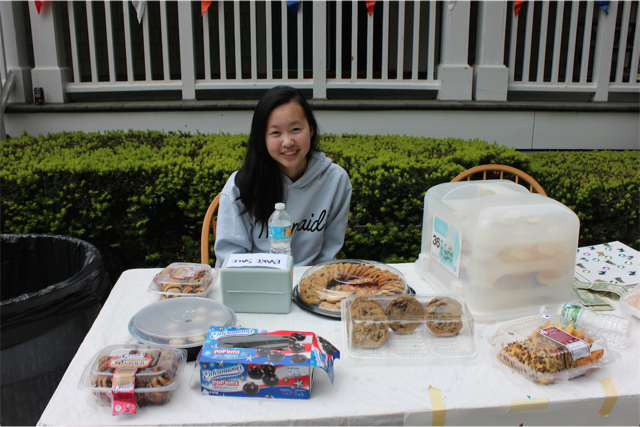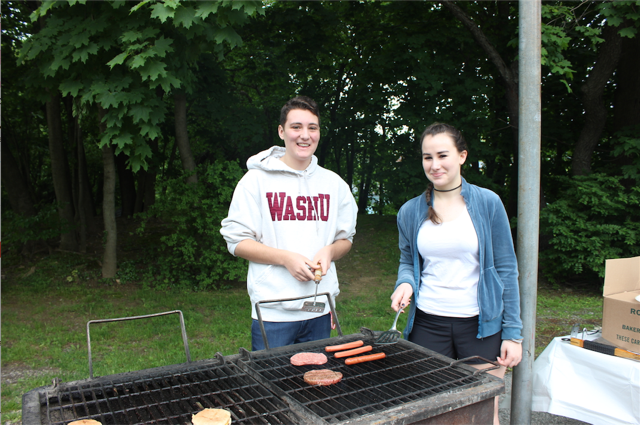 Add a comment
Handmade Chocolate and More at the Chocolate Box Cafe
Details

Written by

Judie Dweck

Hits: 3724
According to Forrest Gump,"Life is like a box of chocolate. You never know what you're gonna get."
A good life is not just any box of chocolate, but one in which you know exactly what you get, namely chocolate prepared with fine quality ingredients by talented chocolatier Sabrina Seetarram, at her glittering new café, The Chocolate Box, conveniently located directly across from the Crestwood train station.
The Chocolate Box, is the brainchild of Seetarram, who designed the cozy spot along with construction by George Retsinas of Spartan Builders. All kitchen essentials, appliances, marble slabs, and tempering machines are tucked behind the counter and display cases, filled with homemade delights. It is amazing how efficiently the small space is used. The Chocolate Box is a feast for the eyes with sparkly pink walls, framed photos of chocolates lining the walls, shelves and display cases filled with confections and overseeing it all, a framed photo of Sabrina's mentor, her grandmother. Sabrina cooked at her grandmother's side as a child and continued pursuing her passion as she matured. Eventually she enrolled in Peter Kump's School to study pastries and at The French Culinary Institute where she gained expertise in preparing chocolates. The very enthusiastic Sabrina said she enjoys observing people eating and enjoying their experience. "The chocolates and food I'm preparing are gifts to the recipients. And they are meaningful gifts. I love connecting with my guests with chocolate and food." Sabrina believes that packaging is important. When customers are purchasing chocolates as a gift, sturdy and attractive boxes are available.
The 16 seat café is much more than a chocolate shop. They serve lovely selections for breakfast and lunch and wonderful coffee and tea selections in many varieties. To suit busy lifestyles, The Chocolate Box offers fully cooked dinners to take home, heat and eat. If you call ahead you will get the weekly menu. Each dinner includes an entrée, a carb, a vegetable and dessert.
On a recent visit I was tempted by the display of chocolates, but my tasting started with some savory dishes, since I was brought up believing that you can't have dessert until you have finished your entrée. Breakfast dishes here included fresh daily baked croissants in several varieties, cinnamon buns, Danish, yogurt parfaits and steel cut oatmeal with a variety of toppings. I savored a frittata, which was baked with ham, eggs, cheddar and roasted peppers among its ingredients. Served on a spinach and feta pinwheel, it was a nice way to start the day. Also intriguing on the breakfast menu was an assortment of stuffed bagel balls. Here, bagel dough is shaped into small balls and stuffed with a variety of flavored cream cheeses. Sprinkled with sesame or poppy seeds, they proved to be a neat way to enjoy a bagel --easy to take with you on the train with your morning coffee or perfect for a breakfast buffet at home.
Lunch suggestions are all freshly prepared each day. Many of the hot dishes are cooked in a pressure cooker for fast tender results. BBQ braised beef with slow cooked pulled beef was enhanced with homemade barbecue sauce. A bit of bourbon gave it a great taste. It was served on herb focaccia. The Mediterranean grilled vegetable sandwich with eggplant, Portobello mushrooms and peppers worked well with skordalia, the Greek potato and garlic spread. Feta cheese topped this divine sandwich on focaccia. Salads are assembled in full view behind the counter.
The soups of the day generally include a fish or meat and a vegetarian selection. I sampled New England clam chowder with potatoes and carrots and fresh clams prepared with lactaid rather than cream for a fine result. A curried chicken salad and an Italian tuna salad were being assembled in full view at our recent visit. The curry chicken was outstanding with its medley of flavors -- just the right amount of curry without being overpowering. Black olives gave a Mediterranean flair to the tuna salad. Yet to be tried are a chef salad, iceberg wedge and pate crostini with fig spread, caramelized onions and pate.
Onto the piece de resistance, Sabrina's homemade chocolates. There are colorful chocolate dipped pretzels, oreos, lollipops, marshmallows and a variety of barks. The chocolate is a combination of a variety of chocolate resulting in a smooth and snappy consistency. Molded chocolates to honor many occasions are custom made. Then there are the ganache filled bon bons with a large and original variety of flavor. With no preservatives they are exceptional. These mouth watering confections were the highlight of my tasting. The lemon curd ginger and vanilla were so flavorful. For those who like a wake up call with their chocolate, try the triple threat bon bons .
Here the ganache is flavored with jalapeno, ancho and chipotle chili. Topping my list of favorites are the mendiants. These are generally a Christmas confection in Provence. Here, these quarter sized disks are garnished with assorted toppings. The dark chocolate mendiants were topped with almonds, pistachios and dried tart cherries. These are a mouthful of deliciousness with a hint of sweet, tart and salt, wonderful at any time of year. At The Chocolate Box they are prepared with white chocolate, as well. All of the chocolates are prepared in small batches with a short shelf life ..... not a problem since they will probably be devoured in a very short time.
I try to remember a suggestion I recently read about... "Put eat chocolate on the top of your to do list. That way at least you will get one thing done. "In the words of Sabrina, "Chocolate IS the answer.". May I add, it doesn't matter what the question is.
Enjoy these excellent confections at The Chocolate Box in addition to light meals soon.
The hours at The Chocolate Box are very convenient for commuters:
Weekdays-6 am --6.30 pm
Saturday – 8AM – 3 PM
Sunday 9am-3pm
The Chocolate Box
300 A Columbus Avenue
Tuckahoe, NY
(914) 714 0677
Recipe: Simple Vanilla Ganache
Ingredients:
200 Grams Semisweet Chocolate Chips
200 Grams Heavy Cream
2 Vanilla Beans
Place chocolate chips in a medium bowl and set aside. Slice vanilla beans in half lengthwise. Scrape the inside of the pods with the blade of a knife. Remove the beans and place them in a medium saucepan. Pour in the heavy cream and the vanilla pods. Stir constantly bringing to a slow boil. Remove from the heat and remove the vanilla pods. Pour the hot cream and vanilla beans over the chocolate in the bowl. Let the mixture sit for about five minutes to give the chocolate time to soften. Mix vigorously until mixture is completely uniform. Now you have ganache which you can pour over ice cream, cakes or cupcakes. Once cooled and thickened place in a pastry bag or use an offset spatula to spread on cupcakes, fill cake layers or place between cookies. Or eat a spoonful at a time... It will last in the refrigerator for about 3 weeks.
Add a comment
Scarsdale Author Publishes First Novel, "Days of Bossa Nova"
Details

Written by

Joanne Wallenstein

Hits: 3752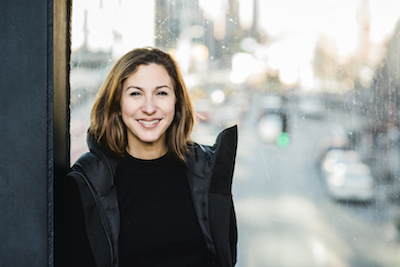 Scarsdale resident Ines Rodrigues will celebrate the publication of her first novel, Days of Bossa Nova at the Scarsdale Library on Saturday June 3 from 12-3 pm. Rodrigues, who is a former journalist and radio host, sited the novel in her native city, Sao Paulo, Brazil.
We asked her a few questions about her book and her life and here is what she shared:
How would you describe your book to potential readers?
It's a historical fiction and a Latin American family saga, flavored with coffee and Brazilian music.
The main character, Felipe Navarra, leaves the countryside with his impoverished mother and young siblings in the 1940's to try a new life in the big city of São Paulo. São Paulo, still the largest metropolis in South America, was a magnet for foreign immigrants and people from all over Brazil in the first half of the 19th century.
Felipe ascends from poverty to become a famous radio personality in the age of Bossa Nova and radionovelas. But his success hides a dirty secret, linked to the dictatorship that took over Brazil from 1964 to 1985.
What was the inspiration behind your new book?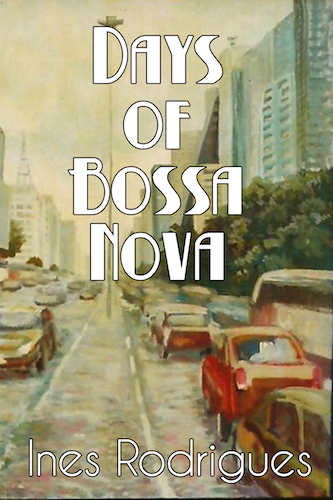 The main inspiration is the city of São Paulo, where I grew up. The story is not based in real life events, but all the music, historical events, food and what I describe in the streets is real. Through Felipe's family I tell the recent story of a city that is diverse, colorful and vanguardist, but that also became infested with crime and problems in the last years.
How did your career as a journalist lead you to becoming a novelist?
Mario Vargas Llosa, a Peruvian writer who won the Nobel Prize in 2010 once said that he had to leave Peru to write about it. I couldn't agree more.
I chose to be a journalist because I couldn't live without writing, even if I had the best time working on radio for a few years back in Brazil. Once I left São Paulo and started to see the city from the outside, the idea for this story began to take shape. At the same time, I also had my two children and stopped working as a reporter, the schedule was too complicated. My time at home as a mom allowed me to pursue my career as a fiction writer, taking courses at Sarah Lawrence College Writing Institute and working on this book.
How did you go about getting a publisher for the book?
Oh, my God! That was more difficult than writing three drafts of the story!

I owe a lot to the Writing Institute at Sarah Lawrence College, because I found great mentors that gave me orientation of how to write good query letters, how to look for agents, how to pitch my book, etc. I also found an amazing writing group. We are eight writers that work together constantly, we read each other's work and help each other in our careers. One of these writers, Rebecca Marks, published her work with Black Opal Books and she introduced me to the editor. But, before that, I spent two years going to Writers Conferences, writing query letters to agents and editors, going to pitch sessions and learning a lot in the process.
How did you find your way to Scarsdale? What do you miss about Brazil and what do you like about living here?
I moved to the US because my husband is based here. We were living in London when my daughter reached kindergarten age and we had to move back to New York. We wanted a short commute to the city and good schools. I think this might be a common story among Scarsdale residents... I moved here 13 years ago and I love the diversity of the community, I found very good friends here, and I enjoy being so close to New York and all of its cultural life.
I'm not a homesick type of person, I love to travel and learn about different cultures. But I miss my parents, I miss eating papaya every day (papayas here is completely different from the Brazilian ones), and I sometimes miss Brazilian parties that never have a time to end.
Meet Ines and get your own signed copy of her novel, Days of Bossa Nova, at the Scarsdale Library on Saturday June 3 from 12-3 pm.
Add a comment