A Unique Dining Experience at Unico Food and Drinks
Details

Written by

Judie Dweck

Hits: 4050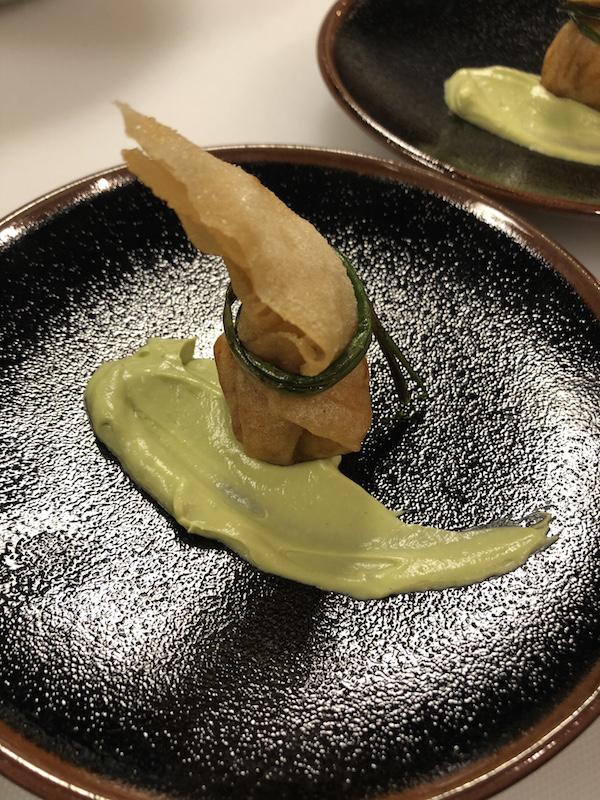 Beggar's Purse with Avocado CreamAs you enter the cozy, new Unico in Hartsdale, your eye focuses on the impressive mural to your left. The blue striped wall embellished with fleur de lys designs surrounds a grand painted lion with chef's jacket in place, welcoming you with a glass of wine in hand. This lion may be "The king of the jungle", but it is the talented owner- chef Brian Sernatinger who is "king of the kitchen" at this delightful new dining spot. He can be seen busy in his open kitchen preparing his unique dishes and his charming wife Deya is attending to the 40 seat dining room. Chef Sernatinger explained that," Unico is more than just a restaurant. We create unique flavors and a unique experience because everyone is unique." Unico means "like no other."

The space is simply decorated with banquettes, free standing tables and several seats at the bar. A tin ceiling, a metal ship sculpture and an open kitchen complete this comfortable setting.

Chef Sernatinger studied psychology at college where he often cooked for his friends. He went on to study at The French Culinary Institute and then worked at the prestigious Gramercy Tavern with Danny Meyer and at Craft with Tom Colicchio. He broadened his experience by working in Europe and returned to the states where he worked as a private chef. His teachers were his mentors who taught him to, "work with your hands and steal with your eyes. At Unico, we offer top quality ingredients, consistency and a comfortable environment. A chef must be a giving person. We spend our working hours making people we don't know, happy... A chef must be a leader who is both driven and focused on the task at hand. He or she needs to multitask. Besides cooking, he is a teacher who must train his staff. "With these qualities Chef Brian moved on to Tulum in Mexico where he opened his own restaurant which is considered one of the best fine dining spots in Tulum.

A very special multicourse tasting menu was prepared for me which included selections from the glorious inventive menu. Several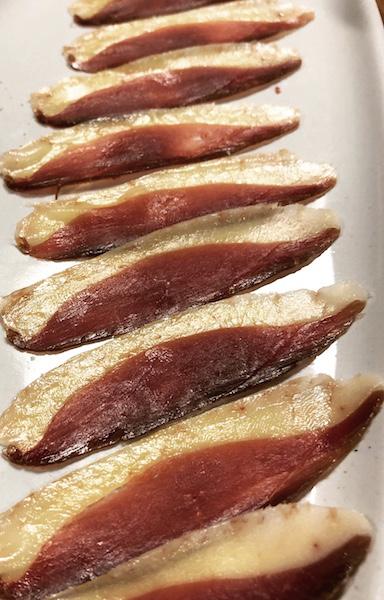 House cured duck ham with pickled mustard seedsstrips of house cured duck ham with a jam like accompaniment of pickled mustard seeds was both sweet and savory and awakened our taste buds for the treats to follow. A small bowl of blue crab salad cleansed our palate. The fresh crabmeat was combined with shredded jicama, tarragon, pickled carrots in tiny dice, and just enough Aleppo pepper to add a bit of spice. It was most refreshing. Crisp nuggets filled with goat cheese and a touch of fresh rosemary were crusted and fried and drizzled with a bit of local honey- very good indeed. Next we savored a mid-east flavor in spiced lamb meatballs with a julienne of chayote, tomato, pistachios and fresh mint leaves. A dish called drunken tiger arrived with head and shell intact jumbo tiger shrimp. They were flambéed with brandy, garlic, butter and fresh parsley. A tangle of fried potato strings were a perfect foil for these tasty shrimp. Skate, a fish we do not see on many menus arrived as crisp tidbits of skate wing with salsa brava, a tahini based sauce.

Just as I thought it couldn't get any better, a plate of plump Prince Edward Island mussels arrived. They were prepared in the Thai style. Imagine lemongrass, garlic, cilantro, coconut milk and peanuts combined in a fragrant sauce. Placed over the steamed mussels on the half shell, and all I can say is WOW. Mussels are also offered in a classic white wine sauce or as angry mussels in a spicy chili sauce.

Seared tuna with arugula and avocado cream painted onto the plate was paired with rounds of sautéed plantains for yet another fine combination of ingredients. For the pasta lover, I suggest the duck confit agnolotti. Cooked al dente, these delicate pillows of pasta were filled with the duck mixture flavored with Marsala and thyme and topped with shitake mushrooms. Braised beef cheeks arrived with the flavor of a cabernet reduction permeating the beef, which certainly needed no knife. Freshly mashed potatoes, roasted broccoli and Jerusalem artichoke bits shared he plate. Future visits may include the vegetable lasagna with whipped ricotta, zucchini, roasted tomatoes, carrots, basil pesto and parmigiana reggiano. There is no pasta in this lasagna. Other future choices may be purple basil pappardelle, bronzini or duck breast each prepared in Unico's unique way. We couldn't manage the house made cheesecake or chocolate lava cake with homemade ice cream, but I certainly will try them on my next visit.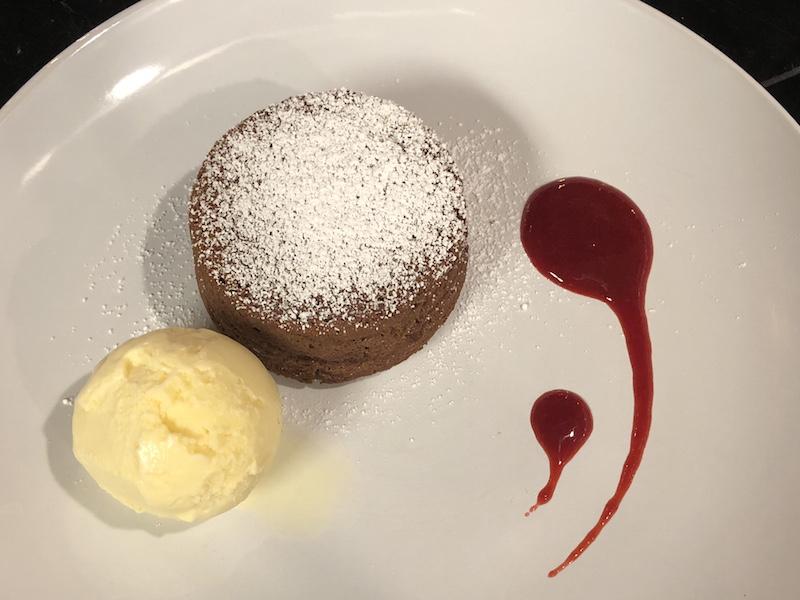 Chocolate lava cake with homemade ice creamA variety of international wines are offered as well as unique cocktails. Very popular is the Mayan Margarita with the addition of jalapeno and a Mexican liquor considered The Mayan Elixer of the Gods.

To sum it up, beautifully seasoned international inspired dishes, combining the finest of ingredients in artistic simple presentations describe a meal at Unico. It felt as though I had taken a worldwide culinary journey enjoying the varied flavors of Mexico, The Mediterranean, The Mid East and Asia and I can't wait to return.

Unico Food and Drinks
10 North Central Avenue
Hartsdale, NY
914-607-3363

Unico's Classic Mussels (Appetizers for 2)

2 pounds mussels
2 scallions, sliced
10 cloves garlic, diced
¼ cup diced onions or leeks
2 Tbsps. unsalted butter
5 ounces dry white wine
2 ounces heavy cream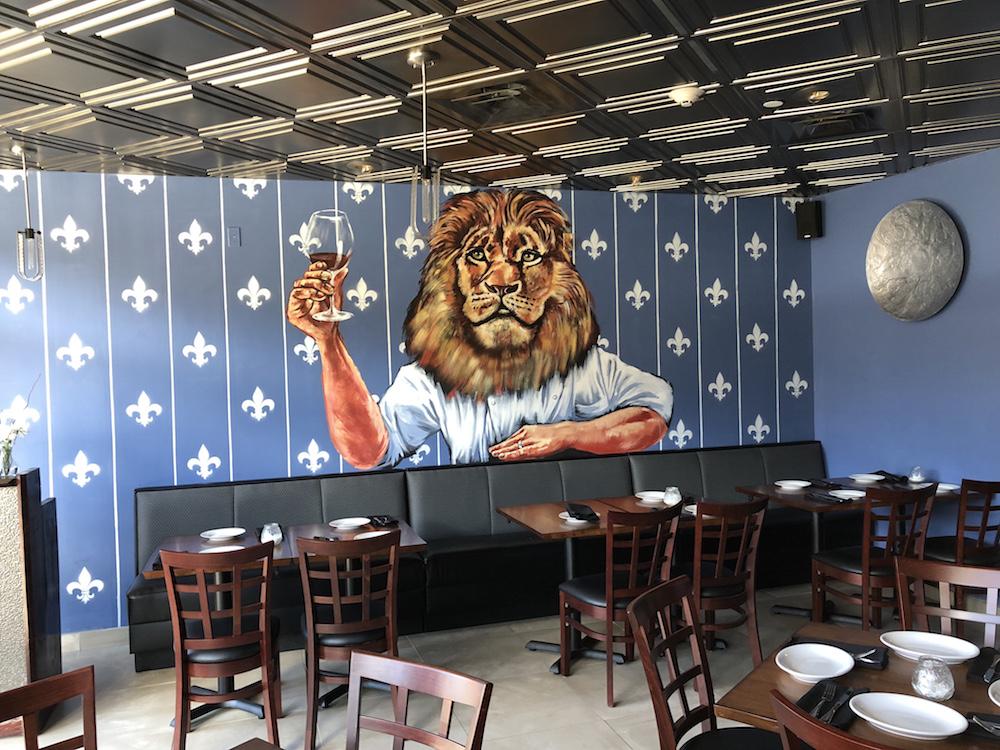 Fresh chopped parsley
Fresh chopped basil
Toasted bread slices
1/8 tsp. salt
Generous grinding of black pepper

Clean mussels in cold salted water removing any beards they may have. Discard any mussels that are open and do not close when tapped against the counter. Melt butter in a pot big enough to hold the mussels. Add the scallions, garlic and onions or leeks and some of the herbs. Cook over low heat for about 2 minutes or until the onion and garlic have softened. Season with a small amount of salt, about 1/8 teaspoon and plenty of ground black pepper. Add the wine and the cream and then the mussels. Turn the heat to medium high and cover the pot. Let the mussels steam until they are all open or about 1 or 2 minutes. Stir once during cooking. When finished add the remaining herbs. Serve with toasted bread and enjoy.
The Sun Shines on the SHS Carnival
Details

Written by

Sarah Kazan

Hits: 2245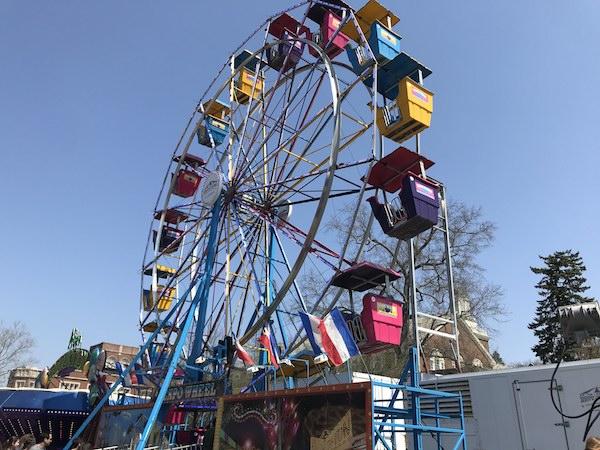 An annual rite of spring, the Scarsdale High School carnival took place Friday, April 13th and Saturday, April 14th. The weekend's beautiful weather beckoned families and students of all ages. The event, run by the Scarsdale High School government, had something for everyone.
Carnival rides such as the pharaoh and the ever-famous zipper enticed thrill seekers, while the ferris wheel and super slide provided fun on a milder level. Other rides like the dragon coaster and teacups were perfectly suited for younger children. Classic carnival games were fun ways to potentially win gigantic stuffed animals.
Along with the traditional carnival rides and games, many Scarsdale High School clubs showcased their programs at dedicated booths. Carnival-goers were encouraged to support the clubs through their unique offerings, such as iced tea, shaved ice and even cactus sales. People could even make their own ice cream sandwiches at a booth sponsored by the school's Habitat for Humanity booth. The Edward Williams club kept their tradition alive with a "pie a teacher" booth, where whichever teachers raised the most amount of money would get pied. The Paulie Strong Foundation displayed a booth to sell clothing in order to raise funds and awareness for pediatric cancer research.
Commenting on the carnival, SHS School Government advisor Lauren Barton said, "The carnival was a great success and we will be able to make considerable donations to Corporate Angel Network, PaulieStrong Foundation and Yonkers Partners in Education. We certainly lucked out with the weather which helped to increase attendance. I can't remember the last time we had two consecutive days of good weather! The carnival is one of few community wide events and its so nice to see students, alumni and families of all ages enjoying the rides, games and booths set up by the high school student run clubs."
The annual event was a perfect way to kick off the beginning of the end of the school year and celebrate the warm spring weather.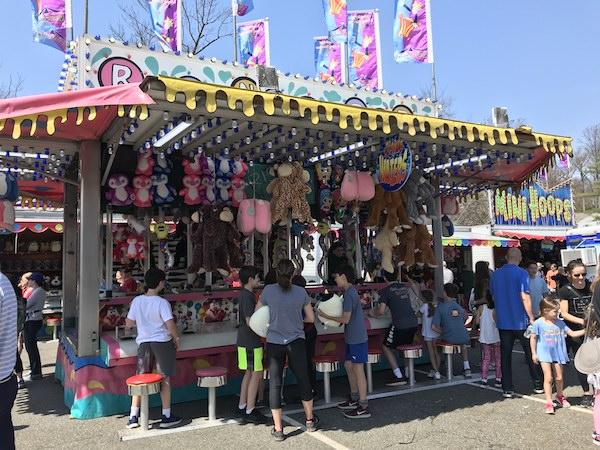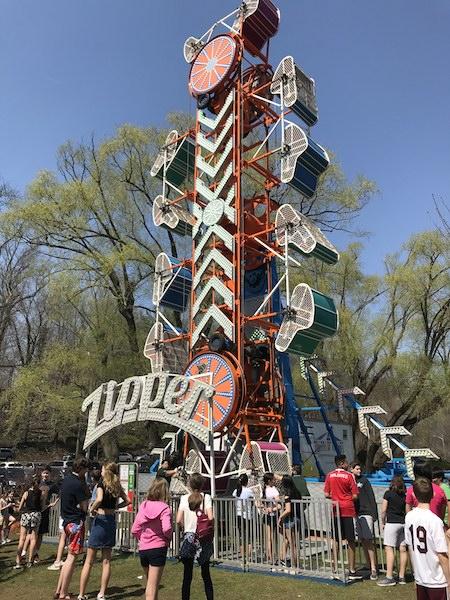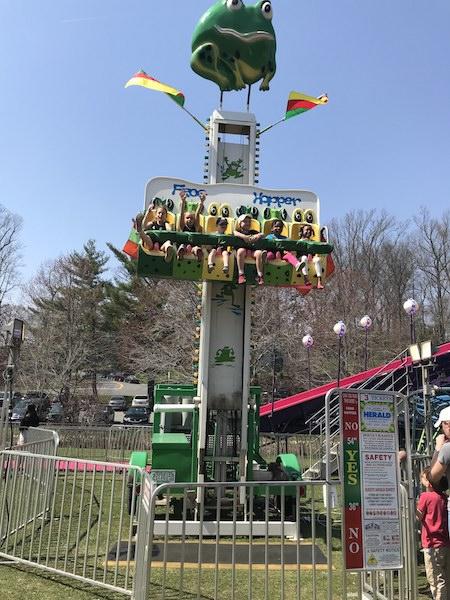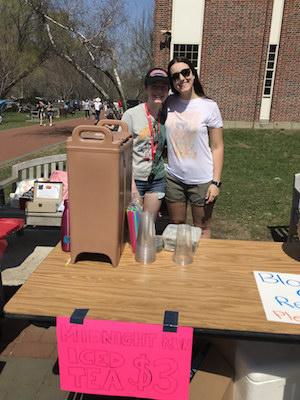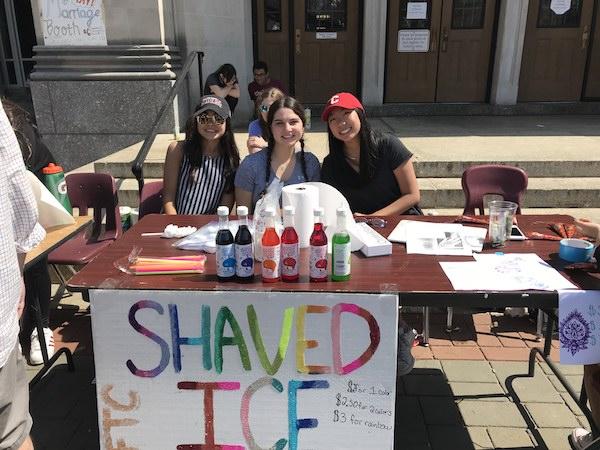 Freebird Kitchen and Bar: The Comfort Dishes of the American South
Details

Written by

Judie Dweck

Hits: 4568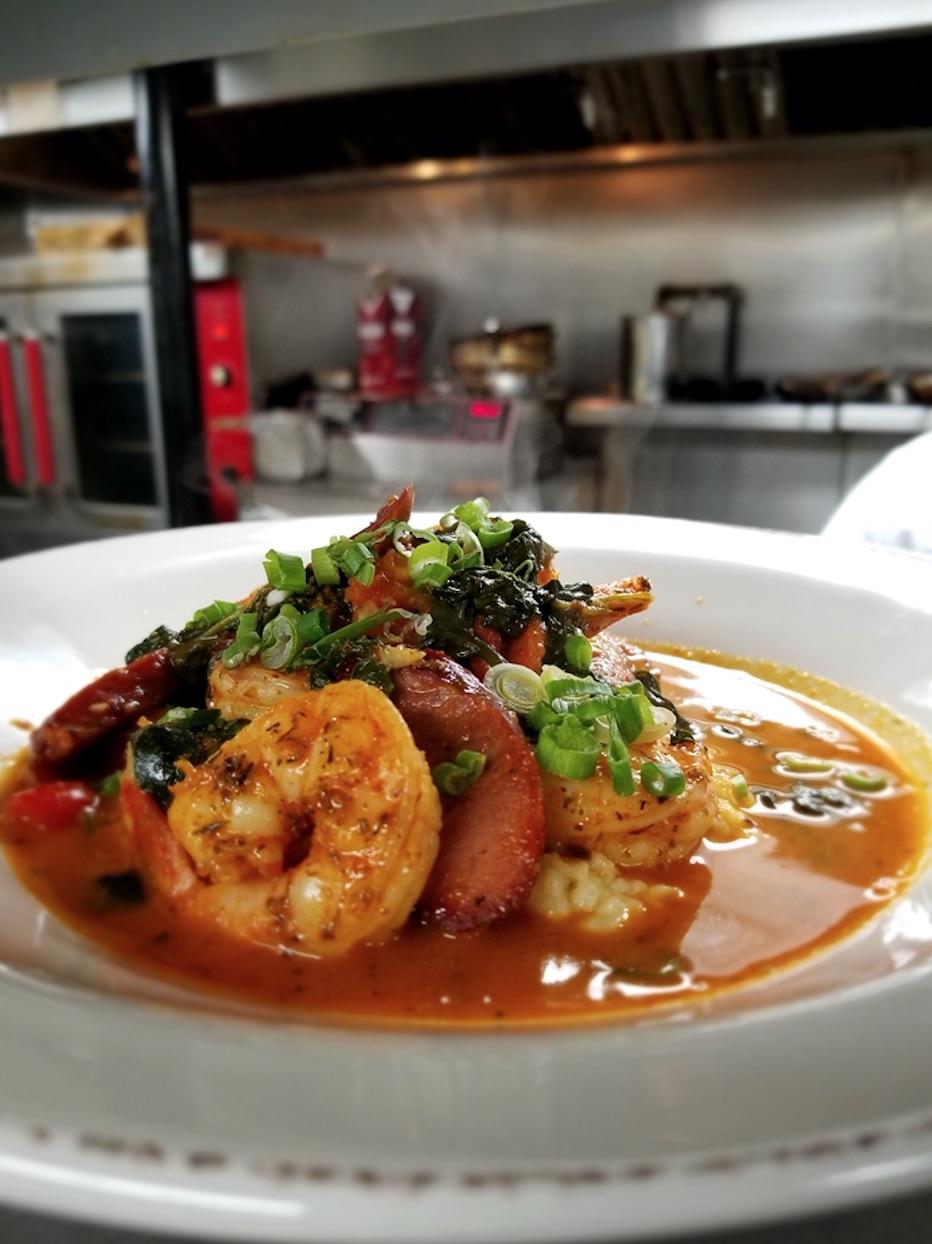 Shrimp and gritsCraig Claiborne, the renowned food writer who grew up in Mississippi, wrote, " Nothing rekindles my spirits and gives comfort to my heart and mind than thoughts of a platter of fried chicken, field peas, collard greens and a wedge of freshly baked pecan pie." The recently opened Freebird Kitchen and Bar, a new restaurant with tastes of our American South offers many of the comfort dishes of this part of our country, right here in White Plains.
As I entered this new dining spot, I was impressed with its rustic and comfortable atmosphere. Wood and brick with a beige and brown color palate gave it a country feel. On the main level, where I dined, there were many wooden topped tables, a large bar, seating 30 and many high top tables, as well. This dining room and bar area seats about 120 guests. Upstairs, there is rooftop dining, perfect for celebrations and seating about 120, as well, with its own bar. In warm weather, seating is set up for about 40 guests along Mamaroneck Avenue. The focal point of the main dining room, is a handcrafted mobile of about 250 origami birds suspended from the wood planked ceiling.
Owner Nick Fusco Jr. indicated that food was very important in his family as he grew up. He gained experience in the restaurant business at Mulino's and at his family owned Iron Tomato and earned a college degree in finance along the way. "I wanted to open my own restaurant and knew it had to be something different, not of the very popular Italian variety. A southern style seemed to be the next cool thing and our southern inspired idea led to the opening of Freebird Kitchen and Bar. As a restauranteur, it is most important to enjoy people and have good service so our guests enjoy a great experience while enjoying the well-prepared food. Being there is very important, as well."
We made ourselves comfortable at a wood planked topped table and spread our no-nonsense kitchen towels on our lap and proceeded to enjoy the warm house made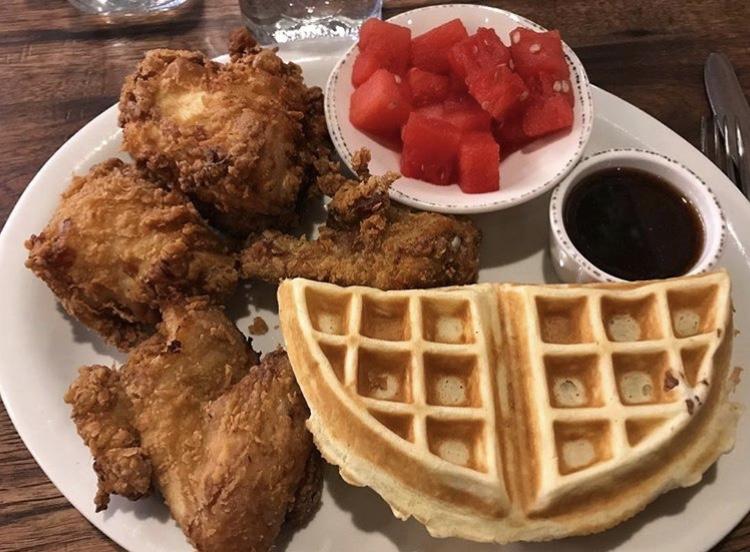 Chicken and Wafflescornbread. As we checked out the menu, the flock of origami birds were swaying overhead.
Heading the kitchen is Chef James McCue who graduated from The Culinary Institute of America. His interest in food started at a very early age when he accidentally broke a window in a pizza shop. The owner invited him in and proceeded to teach him some kitchen skills. His skills led him to culinary school and work at the kitchens of Crabtree Kittle House, ABC Kitchen, The Castle, and most recently at Kee Oyster House. His dishes at Freebird show off his ability to prepare dishes of the American South with his own special flair.
We started with selections from the snack and share section of the menu. Pei mussels were mingled with house-made crumbled sausage resting in a white wine sauce. Grilled bread slices absorbed the well-flavored sauce and provided a perfect shared appetizer. We enjoyed some very fresh grilled oysters with garlic butter. These juicy morsels had us picking up the shell and slurping down the fresh from the sea liquid they emitted. The oysters are delivered daily from a Connecticut oyster farm. A traditional lump crab cake was embellished with a creamy tomato and horseradish sauce. Arugula salad added another dimension to this classic dish. Other enticing starters are burnt ends chili, fried green tomatoes, house wings with a choice of sauces and rubs, and a trio of sliders allowing you to sample several appetizers. I tasted a variety of house-made sauces, as well, from Mississippi Comeback, a thousand island variety, Alabama BBQ, quite hot, dirty south, a creamy cheese sauce and hot pepper jelly both sweet and hot. Don't ignore the salads here. Kale and apple, BBQ bourbon and BLT salad sound quite good. We savored the candy-striped beet salad. Here, the sweet small fresh beets were presented with fresh blueberries and pistachio nuts and a few dollops of yogurt with a lemon vinaigrette. It was an excellent and refreshing combination that probably would even appeal to nonbeet lovers.
From the plates section, we enjoyed a classic of shrimp and grits. The tender tail on shrimp were seasoned with Cajun spices and sat atop cheesy grits along with andouille sausage, cherry tomatoes, and fresh spinach. The slices of spicy sausage added zest to this southern favorite and the grits calmed down the spicy taste of the sausages. Chicken and waffles seem to appear on many menus these days. At Freebird, they start with the exceptional Freebird chickens. The secret lies in the brining process for 2 days. Well coated and fried, the resulting chicken is crisp on the outside and very moist within. A drizzle of the nicely spiced maple syrup both sweet and savory and homemade waffles are a fine combination. Cubes of cooling watermelon completed this plate of many tastes. The dish can be ordered in Nashville Hot Style, as well as a spicier version. Among the plates offered I was very impressed with the off the bone bourbon-braised short rib. This mammoth slow cooked short rib was fork tender, no knife needed here. The flavorful juices permeated the steel cut oats and long-cooked collard greens that accompanied it. Although many would consider this a cold weather dish, I would be comforted by it all through the year. Grilled skirt steak with chimichurri sauce, grilled salmon with roasted red pepper sauce and seared cod are yet to be tried. For the burger lover, try the Freebird burger with pepper jack cheese, the pimento cheeseburger on Texas toast, or a comforting burger with buttermilk drop biscuit, cheddar cheese, mashed potatoes and country gravy. On the side try brisket disco fries, roasted Brussels sprouts, or string beans with house smoked bacon.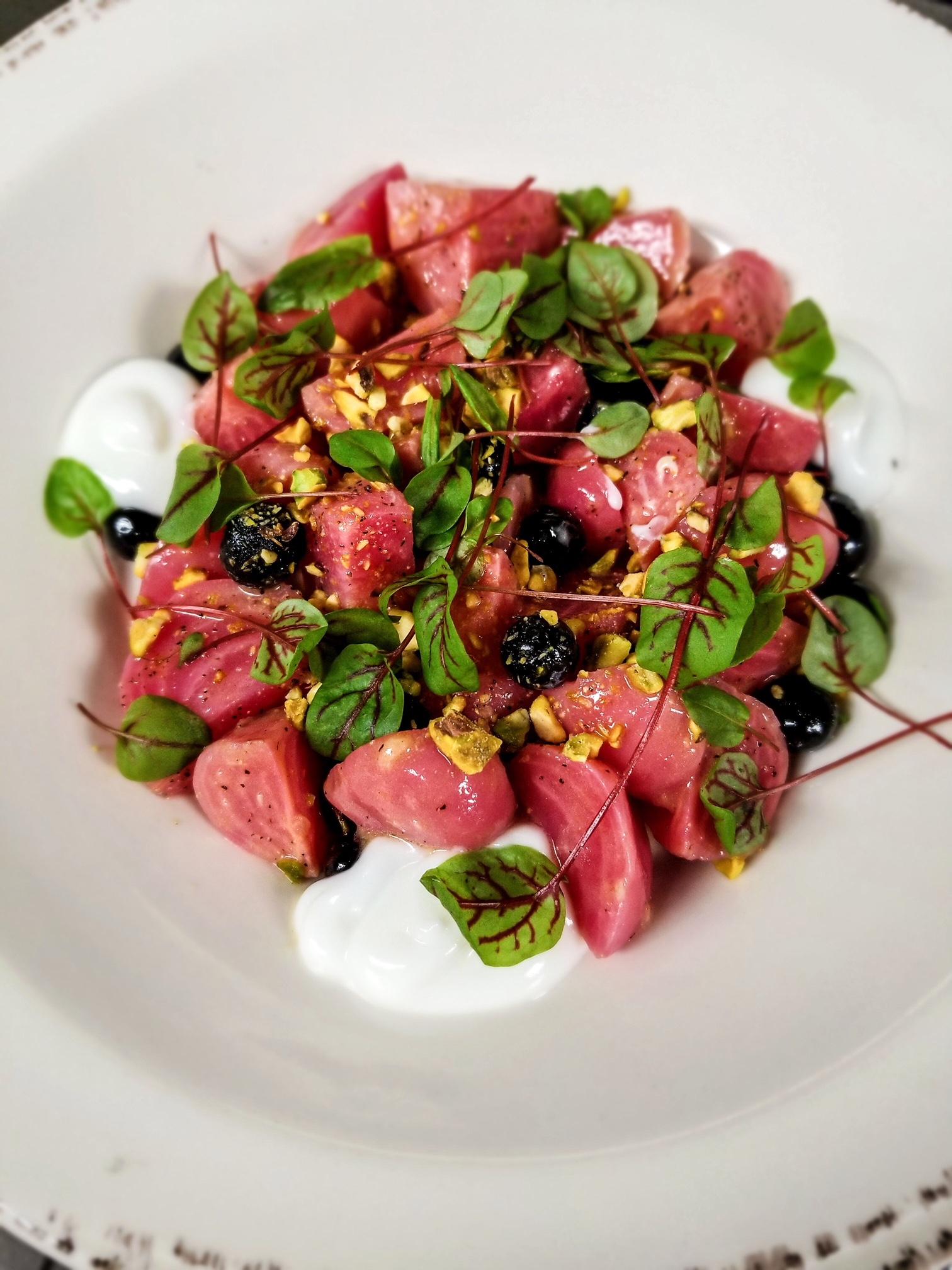 Beet saladYes, desserts are all house-made, as well. We loved the toasted angel cake. The angel cake was thinly sliced and toasted and layered with lightly simmered fresh berries in a Meyer lemon sauce. A sprinkling of confectioners' sugar completed this light and delicious dessert. Lunch and happy hour menus are varied, as well. Specials are offered each day. The roomy bar invites you to sample at least 28 rotating craft beers on tap, as well as small batch whiskey and inventive house smoked cocktails. To add to the feeling of southern hospitality, Thursday evenings offer live acoustic music.
On an avenue where the bar scene prevails, it is a real treat to visit the new Freebird Kitchen and Bar where American cuisine with the warmth and flavor of our American south assures a delightful experience. Visit it soon.
Freebird Kitchen and Bar
161 Mamaroneck Avenue
White Plains
914 607 2476
Recipe for Crab Cakes: (4 Crab Cakes)
1 pound lump crab meat
1 Tbsp. chopped parsley
1 Tbsp. chopped scallion
1 Tbsp. Old Bay Seasoning
½ cup mayonnaise
2 eggs
I cup panko breadcrumbs for the crabcake
1 cup panko breadcrumbs for the coating
1 Tbsp. Dijon mustard
¼ cup diced red pepper
¼ cup diced red onion
Juice of 1 lemon
Salt and pepper to taste
Vegetable oil or canola oil for frying
Directions:
In a bowl, mix together parsley, scallion, Old Bay seasoning, mayonnaise, eggs, 1 cup of panko crumbs, mustard, red pepper, red onion, lemon juice and salt and pepper. When they are well combined add the crabmeat and do not break it up too much. Form the mixture into four cakes and roll each in the extra cup of panko crumbs. Heat oil in a skillet and fry crab cakes until golden on both sides.
Happiness is a Meal at Vento Bistro
Details

Written by

Judie Dweck

Hits: 3799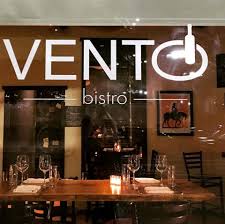 A refreshing breeze has arrived in Westchester. Its name is Vento Bistro, [Vento translated to wind]. The owner, Chef Francesco Coli has graced our area at La Viletta, at Massa' right here in Scarsdale and at Massa' Coastal in Mamaroneck. His latest venture Vento Bistro in New Rochelle, once again showcases is outstanding talent in preparing seafood, as well as Italian specialties from his native southern Italy.

Francesco hails from Salento, near Puglia. He grew up near the water catching sepia, octopus and sea urchin, as a child. "Some of my happiest childhood memories are of the sea. The sea is one of my inspirations when I cook. We ate what we caught and I guess this was the beginning of sea to table cuisine." His family vacationed in New York in 1980 and New York became home to them. Francesco worked with his dad at their first Westchester restaurant, La Viletta and then attended The French Culinary Institute to hone his skills.

Chef Francesco Coli said," My cooking is classic and simple, with my own interpretations. Straightforward pure flavors, with the least amount of ingredients, result in nourishing my diners. It is important to exhibit care in preparation and show respect for your ingredients. I believe, you don't mess with nature. My extensive travels have influenced my cooking. The best part of my work is to see smiles at each table. It is important for your guests to gain your trust. In our busy lives, dining is a means of family and friends coming together with food."

The recently opened Vento Bistro, is the newest venture for acclaimed Chef Francesco Coli, where everything is prepared to order, for fresh, healthy and delicious results. I first met Chef Francesco Coli at La Viletta where his father, Chef Pasquale, Coli shared the kitchen. Francesco credits his father for giving him a fine culinary foundation. I continued to enjoy is cooking at Massa' and Massa Coastal'. Most recently I was delighted to hear of the opening of Vento Bistro, a simple, small and cozy venue in New Rochelle. Seating about 30 guests at both high and low tables, it has a rustic look with off white walls, simple art work and an enticing blackboard of available daily fish offerings. The kitchen is tiny and it is a feat of magic that Chef Francesco can produce such wonders in such a confined area. With warmer weather arriving, patio dining will be introduced.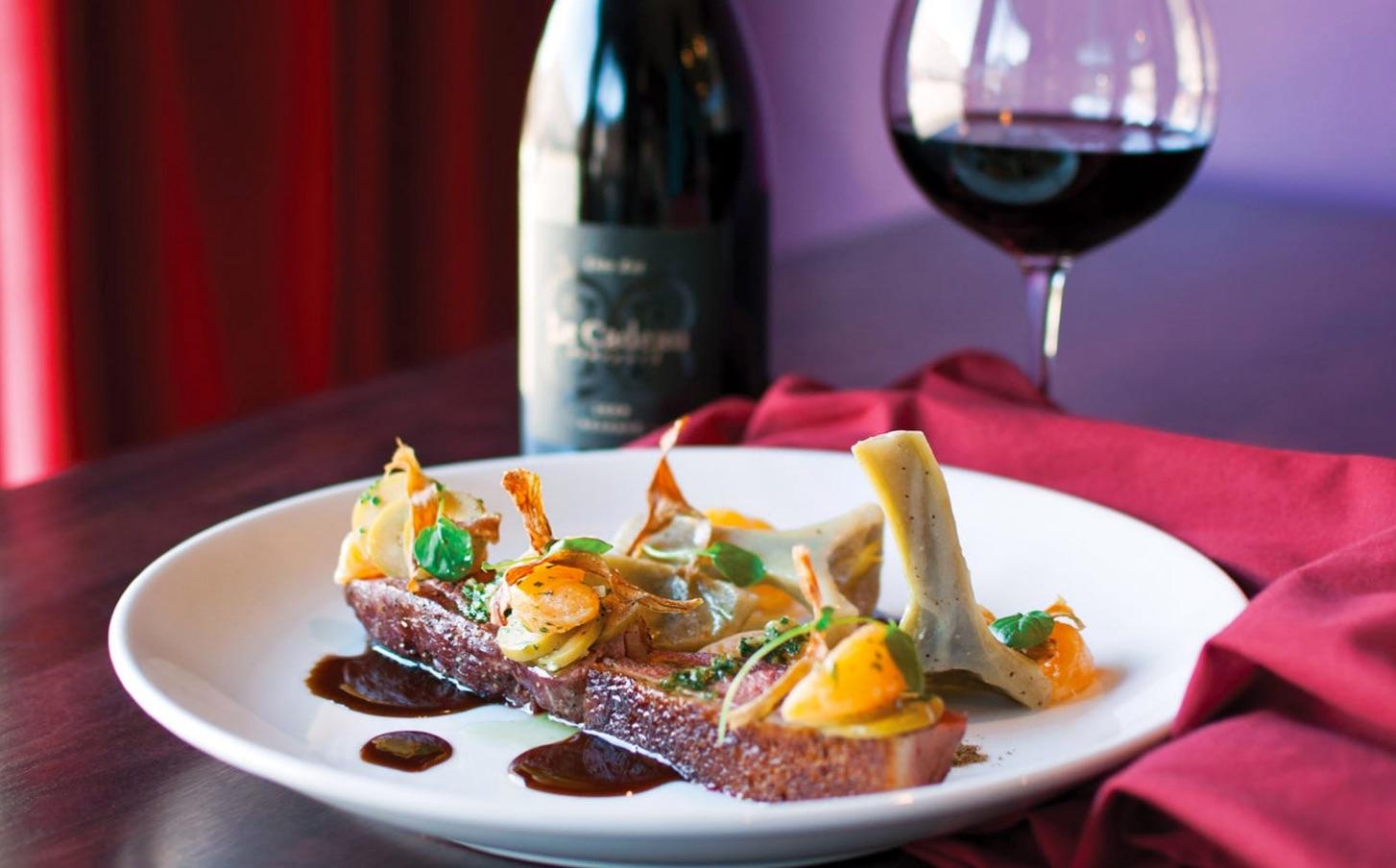 Our feast combined choices from the printed menu as well as from the ever changing blackboard seafood selections. Shared bites of beef meatballs, shishito peppers, and house cured white anchovies are some possibilities. We saved our appetite for the appetizers, pastas, main dishes and variety of fish available each day. Among the starters, pei mussels with pesto, spicy tomato, or white wine and pepper sauces, braised artichoke hearts, eggplant parmigiana, burrata, shrimp with Calabrian chili, and big eye tuna carpaccio were most inviting. We chose the braised Spanish octopus. The tender segments of octopus were paired with cannellini beans, capers, olive and caramelized onions. The combination was hearty and most satisfying. We followed this with a pasta selection. Several of the pastas are house made and gluten free pastas are available upon request. Our tortellacci were home made and filled with a beef and veal combination. The rich sauce of pecorino, white pepper and egg yolk was topped with guanciale. The dish was delicate and just lovely.

Vento offers a rotating selection of oysters from the delicate Belon, to the briny Bluepoint and buttery Kumamoto. We enjoyed the Beau Soleil, oysters from New Brunswick. One was embellished with an aged white wine vinegar mignonette sauce with Holland bell peppers and Vidalia onion and the other with uni, oil and soy. Each slid down easily and evoked the essence of the sea.

The written main courses of filet mignon, Colorado lamb chops, veal chop with sautéed mixed mushrooms and several chicken dishes sounded wonderful but we moved on to the fish and seafood offerings of the day.

We were presented with an artistic plate of langoustines. The white plate was a nice canvas for the split langoustine in the shell. Shredded fennel, with a lemon dressing, and mixed grape tomatoes, gave the plate a splash of color with red, green, yellow and purple varieties. This was a light beautiful dish. The daily changing fish selections are hand selected at the Fulton Fish Market at Hunts Point by Chef Coli. In addition to American seafood, many choices are from Italy, Portugal, Spain and GREECE. The Chef believes that the waters in the east and the Mediterranean provide a pure product. Some of the choices, depending upon market availability are Atlantic selections of big eye tuna, cod, halibut, red snapper or swordfish or European anchovies, Dover Sole and turbot, and shellfish such as Hollander mussels, diver scallops, and langoustines. A selection of nine house made sauces are prepared to compliment you fish choices. Such as livornese, provenzale and meuniere. Chef Francesco will be glad to suggest the sauce that will compliment your fish choice.

Sushi grade tuna was our fish choice. The thick rounds of fish were thickly encrusted with crushed black pepper and lightly seared to reveal its rare center. It was melt in your mouth delicious and rested on a bed of fresh spinach. I sampled two sauces with it. The all'agro, with a fresh orange reduction, fennel and orange segments seemed perfect. The mostardo sauce, a light Dijon cream sauce was delicate and delicious as well. I would love pairing that sauce with halibut or cod. Sauce selections on future visits might include Siciliana with artichokes, capers and tomato or marechiara with clams, mussels, and shrimp in a light tomato sauce.

Desserts are prepared by Pastry Chef, Kelly Kramer. We enjoyed her coconut crusted individual key lime pie. Topped with freshly whipped cream and paired with fresh blackberries and blueberries it was a fine ending to our meal. The creamy filling and the crunchy crust lent nice textures to this finale. A varied selection of wines are available to accompany your meal.

How exciting it is, to enjoy the dishes that are prepared with fresh, hand picked healthy ingredients, where one of the main ingredients is passion. The word fresh, takes on a new meaning with the tastes of the simply prepared dishes of Chef Francesco Coli at Vento Bistro.

Vento Bistro
Chef Franceso Coli
282 Hugeonot Street
New Rochelle, NY
914 738 1600
https://www.ventobistro.com/

Hours:
Monday: Closed
Lunch: Tuesday - Friday: 12 – 3
Dinner:
Tuesday - Thursday: 5 – 10
Friday and Saturday: 5 – 11
Sunday: 4 - 9

Recipe: Bucatini all' Amatriciana

2 tsps. extra virgin olive oil
12 ounces guanciale, sliced ¼ inch thick and then into ¾ inch rectangles
1 small red onion in wedges
4 Tbsps. tomato paste
1 tsp. chili flakes
1 ½ Tbsps. coarsely chopped parsley
20 ounces pureed canned plum tomatoes
1 pound bucatini pasta
¼ cup very finely grated parmigiana reggiano
¼ cup very finely grated pecorino romano

Bring 8 quarts of water to a boil and season with salt. In a sauté pan, combine oil, guanciale and red onion. Cook over medium heat until guanciale is completely rendered and crisp on both sides. Turn onion as needed so it is caramelized on all sides. Add tomato paste, chili flakes and half of the chopped parsley. Let the paste fry in the rendered fat until it darkens slightly, about 1 or 2 minutes. Add tomato puree and stir to incorporate. Simmer for 1 or 2 minutes to reduce. Adjust seasoning. Cook pasta in boiling water for 1 minute less that package directions. Drain and reserve some of the cooking water. Combine pasta and sauce and cook for 30 seconds or 1 minutes. Sparingly add a bit of reserved cooking water to adjust consistency and so the sauce evenly coats the pasta. Add remaining parsley and remove from the heat. Toss pasta gradually with the cheeses allowing the cheese to emulsify into the sauce and serve Immediately.
Eclectic Private Art Collection Now Open to the Public
Details

Written by

Joanne Wallenstein

Hits: 4315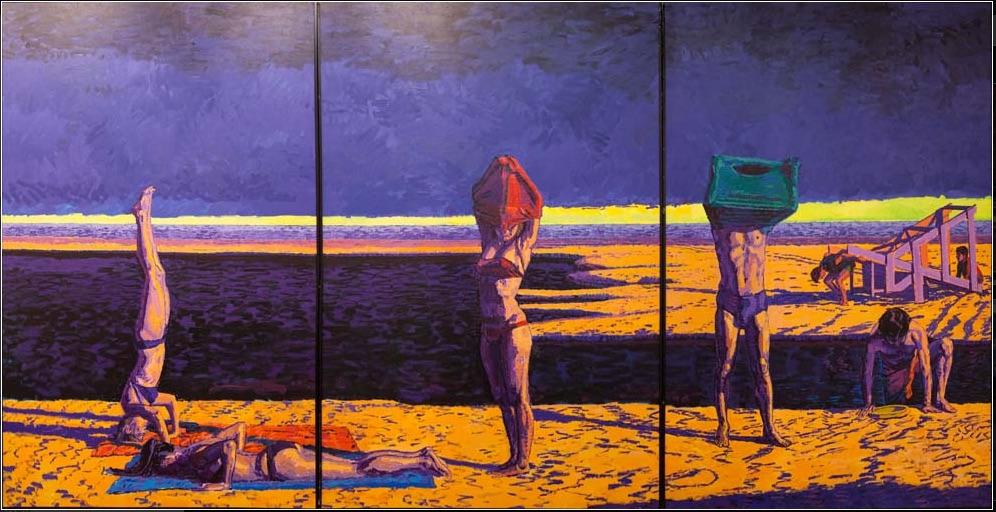 For years I have heard about a special private collection of art collected by William Louis-Dreyfus in Mount Kisco, but I had no idea how to get in to see it.

It sounded intriguing. Apparently Louis-Dreyfus, a successful businessman and the father of famed actress Julia Louis-Dreyfus, had been building this unique collection for fifty years. He passed away at the age of 84 in September 2016 and left a lifetime of artworks, among them a number of important self-taught pieces, in an unassuming building in Mount Kisco. How would I get in to see these 4,000 works?

Fortunately a friend mentioned that the collection, now officially The William Louis-Dreyfus Foundation, is open to the public by appointment and made a date for the two of us to tour it. When we arrived at the building, there were few signs from the outside that the former home of Ideal Electric had been converted into a 16,000 square foot museum.

Curator Christina Kee sat us down at a stunning Nakashima conference table and explained that Louis-Dreyfus was a unique collector who sought out unconventional works throughout his life, acquiring pieces from small auction houses and student exhibitions in addition to international galleries and art fairs. He assembled a diverse collection, purchasing the works of artists he admired throughout their careers. With an open mind and a discerning eye, he identified artists whose talent were not previously recognized or appreciated.

The result is an eclectic mix of drawings, paintings and sculpture, including a range of works from those who were once termed "outsider" artists, many who never attended traditional art schools and forged their own unique styles.

On view last week were the works of self-taught artists such as Bill Traylor, Thornton Dial, James Castle and Judith Scott – all with fascinating stories behind them.

We viewed a series of drawings by James Castle, who was born deaf in rural Idaho, who never learned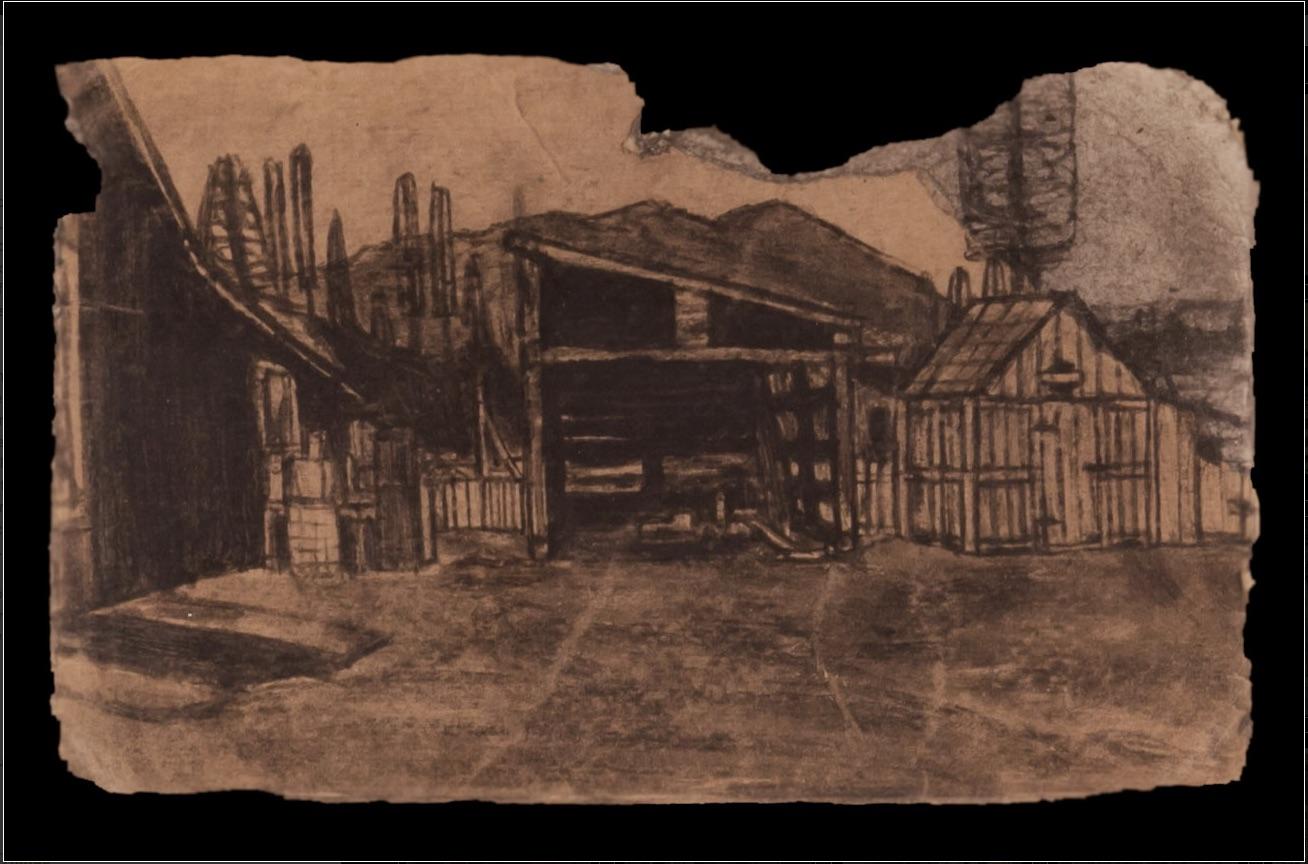 Farmyard View with Sheds by James Castle to communicate through any conventional means. He drew using a mixture of soot from the fireplace and his own spit, creating a medium called "soot and spit" by Castle scholars. He depicts a bleak and simple rural life, often drawing on the backs of cartons and containers.

Bill Traylor from Alabama was born into slavery and for most of his life he was a sharecropper on a farm. In fact, he did not start his career as an artist until the age of 84 when he set up his studio under a tin room in a marketplace in Birmingham. In the remaining years of his life he created over 2,000 drawings. They are simple but expressive works, depicting his unique experience in the south.

Not all the works are small. Large colorful canvases by Graham Nickson depict beach scenes in brilliant hues, and an extensive collection of paintings by the Italian artist Leonardo Cremonini are also part of the mix. Also view the works of celebrated artists like George Grosz, Raymond Mason, Red Grooms, and Claes Oldenburg.

The Foundation intends through the eventual sale of its artworks to benefit the Harlem Children's Zone, a New York non-profit that assists children in Harlem from toddlerhood through college. Founded by Geoffrey Canada the group seeks to end the cycle of poverty by positively impacting entire families over the course of their lives.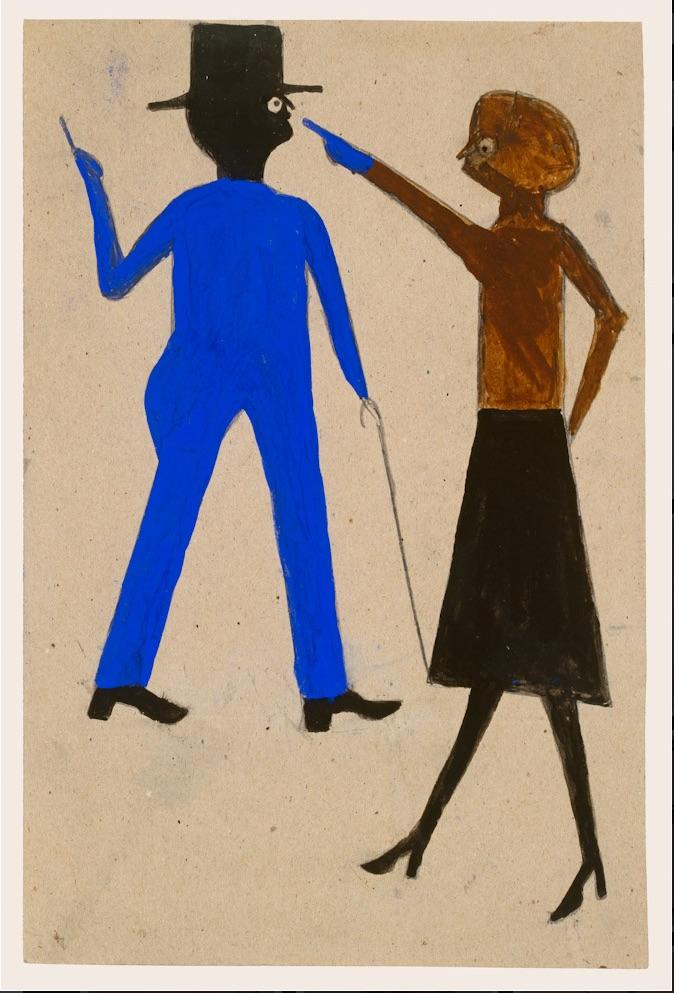 Woman Pointing at Man with Cane by Bill TraylorThe William Louis-Dreyfus Foundation is located in Mount Kisco and open year-round to the public by appointment, with tours regularly scheduled Mondays through Wednesdays. It will also be hosting an open house event on Sunday May, 20 from 1:00 – 4:00. To book a tour or attend the open house please contact info@wldfoundation.org. Space for the open house may be limited. Learn more here: www.wldfoundation.org.
William Louis-Dreyfus