Susanne Pari, American-Iranian Author and Journalist to Speak at LWVS Luncheon on Friday November 3
Details

Written by

Joanne Wallenstein

Hits: 1833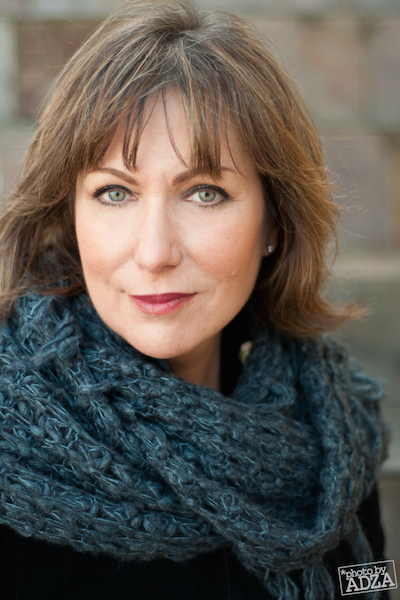 Susanne Pari, an Iranian-American writer and author of THE FORTUNE CATCHER, a novel of a young woman—American and Iranian, Jewish and Muslim—caught in the aftermath of the 1979 Islamic Revolution, will be the Keynote Speaker for the League's annual Food for Thought Membership Luncheon on November 3, 2017 at 11:45 a.m. at the Scarsdale Golf Club. Susanne will speak about "Iran and America: Yesterday and Today," and her talk will include her reflections on the Iranian Revolution, modern Iran and her own identity as an Iranian-American.
Susanne is a frequent speaker on issues of multi-ethnic families, women's rights, immigration, religious fundamentalism, and what it means to her to be an American. Her essays and book reviews have appeared in The New York Times Sunday Magazine, The Christian Science Monitor, The Boston Globe, The San Francisco Chronicle, National Public Radio, and Medium. Susanne was the Program Director for the 25 literary salons of Book Group Expo and taught writing for the Afghan Women's Writing Project. She was a judge for The California Center for the Book's Letters About Literature Contest and for the Lakota Children's Enrichment Writing Project. Susanne is a member of the National Book Critics Circle, the Author's Guild, the San Francisco Writers' Grotto, and the Castro Writers' Cooperative. She regularly conducts interviews, panel discussions, and public conversations with authors such as Amy Tan, Khaled Hosseini, Anna Quindlen, Po Bronson, and others.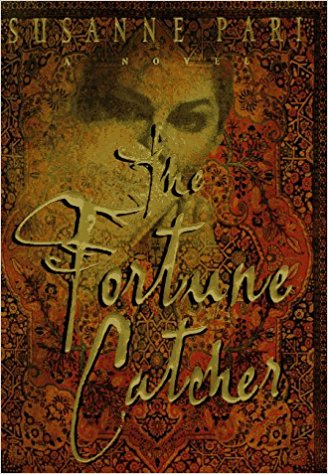 The event is open to the public. The cost to attend the luncheon is $40, $45 after 11/1. You can pay on line at LWVS.org or email Anne Lyons at aulyons@gmail.com for more information.
Add a comment
Too Cute: Halloween Parade in Scarsdale Village
Details

Written by

Joanne Wallenstein

Hits: 1748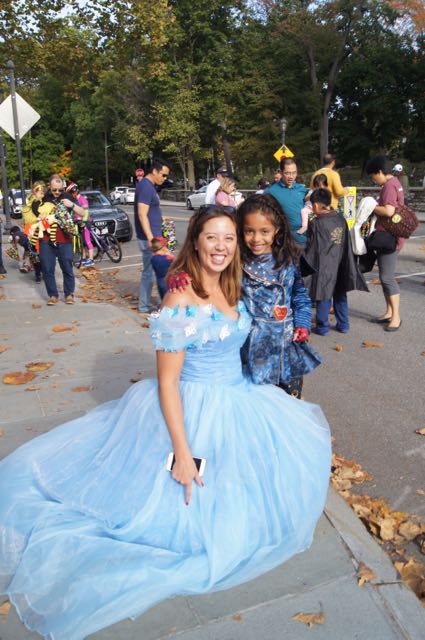 Halloween started early this year for Scarsdale's youngest residents. On Sunday October 22 the Village of Scarsdale held their annual Halloween Parade and included a magic show for those who are too young to paint Halloween windows.
Rec Department personnel were dressed in costumes as were many of the parents. We even spotted a good natured family dog decked out for the big event. Check out our photo gallery of Halloween revelers. If you have your own photos you would like to add to the mix, email them to scarsdalecomments@gmail.com.
Add a comment
Bienvenidos to Mariachi Loco II in Scarsdale
Details

Written by

Judie Dweck

Hits: 2987
Many years ago, I had the pleasure of enjoying some totally homemade authentic Mexican food at a very informal small spot on Central Avenue in White Plains, Mariachi Loco. Through the years, the dining room was enlarged and a Mexican grocery was opened by the owners next door. This week, I continued following the culinary journey of owner Guillermo Arellano and his family, who recently opened Mariachi Loco 11, on Central Avenue, as well, in Scarsdale. It occupies the grand space that was Casa Maya. Arellano arrived here from Puebla, Mexico in the late 1980's. When I chatted with him several years ago, he said," I came to New York to have a better life. Our dream is to open other locations in the future." A few months ago his dream was fulfilled with the opening of Mariachi Loco 11. Raul Rojas, a longtime family friend is its capable manager. Rojas said, "Arellano always enjoyed the popular song Mariachi Loco, and thus his restaurant received that name. They feature a mariachi band on weekends, as well as a performer who serenades the guests with songs from the 1980's.
As I parked conveniently in the shopping strip, the doors to the restaurant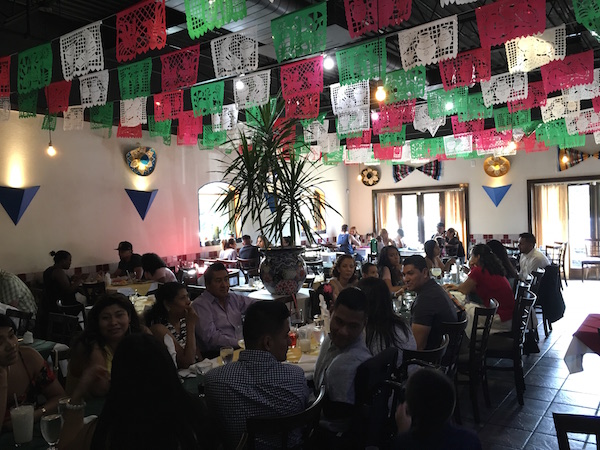 were open and the cheerful sounds of Mexican music filled the late summer air. The large space seats about 95 guests with an additional 20 at the bar. The many tables are covered with white linen and red and green over cloths. The ceiling is hung with a multitude of the popular red, white and green cut out banners depicting kitchen scenes of Mexico. Gold and silver embellished sombreros of many colors, black and white photos of well-known Mexican musicians, Mexican pottery and dolls and a lovely large mural painted by Arelllano's daughter grace the walls.
The menu is very extensive with variations of popular enchiladas, tacos, tostadas, quesadillas, burritos and fajitas, as well as chicken, meat and seafood entrees. It will take many visits to get a true sampling of these delights.
The kitchen is in the hands of Chef Apolo Mendez and his staff. Even the tortillas, the basis for so many of the dishes are handmade in the kitchen for both corn and flour varieties in sizes to suit each dish. Chef Mendez clearly enjoys his job. He has graced the kitchens of many restaurants in Manhattan, Yonkers and Elmsford and is competent in preparing dishes from appetizers to pastries, all from scratch.
Warm chips and a well-spiced salsa kept us busy as we waited for our dishes to be freshly prepared. For starters, we enjoyed Fiesta Mariachi Loco. This sampler platter was centered around a mountain of nachos, layered with tortilla chips, melted cheese and refried beans. Surrounding it was Mariachi's rendition of chicken fingers, tender chunks of breaded chicken seasoned with salt, pepper and parsley, a tasty and juicy tidbit, flautas with beef, queso fresca, that mild delicious cheese, and tortillas topped with chicken, onion and cilantro. Their version of guacamole was chunky to get the full flavor of the avocado and studded with chopped tomatoes. Other starters included a large selection of nachos, tortas, enchiladas, quesadillas and soups. I remember enjoying the seafood soup at their White Plains spot. It was generously filled with shrimp, calamari and crab in the shell all floating in a rich well-seasoned broth.
Our host, Senor Rojas suggested chicken alambre for our entrée. A bed of rice was the base for tender strips of chicken breast with peppers and onions and a touch of cheese. It was light and delicious. All sauces here are homemade. I sampled tomato, green tomatillo, red and mole varieties. Each was unique. My favorites were the salsa verde with tomatillos which had just enough spice to give it a kick and their classic mole, rich and delicious. This complex sauce enjoys the addition of Mexican chocolate in its long list of ingredients.
At a recent lunch, I enjoyed a steak enchilada topped with that piquante green sauce.
The julienne strips of beef filled the tortilla to overflowing and the green sauce gave it a bit of heat. The mild shredded Oaxaca cheese and a touch of Mexican crema complemented this hearty dish. A chopped beef filled chimichanga was loaded with a savory beef filling and lightly fried. Rather than rice and beans I enjoyed mixed sautéed zucchini, onions, peppers and mushrooms with it. Shredded lettuce completed this lunch combination, of which there are many. These lunch combos made good use of the tortillas, "The bread of the people", unleavened corn or wheat flour pancake like discs, prepared by hand in the kitchen of Mariachi Loco 11. I look forward to trying New York Steak Poblano, chiles rellenos, camarones ala Veracruzano , shrimp in garlic sauce and pork chop in green sauce. The choices are numerous and each dish is prepared to order.
The classic non-alchoholic beverages, that are offered here are Aguas Frescas. These fruit waters are freshly prepared in many flavors. We enjoyed a tall glass of hibiscus water, very refreshing, as well as a classic horchata, prepared with strained boiled rice, sugar and cinnamon. My future requests may include tamarind, mango and pineapple. The restaurant is also known for its margaritas and other mixed drinks.
If you choose lunch here, there are many combinations offered, salads and vegetarian dishes. The portions at lunch and dinner are quite large. Desserts are all house made here, as well. Classic flan, churros and sopapillas ae popular. We savored tres leches cake. Beautifully prepared by Chef Mendez with whole, evaporated and condensed milk and garnished with fresh whipped cream and mixed berries, it was a delicious finale to our fiesta of Mexican dishes.
As you leave, note the huge painted ceramic sombrero that sits near the door inviting you to special events at Mariachi Loco 11. It is filled with mints and colorful reminders of Wednesday ladies nights, Monday through Friday happy hours and Sunday brunch that the entire family can enjoy. Take out and catering are offered, as well.
Yes, Mariachi Loco 11 is a welcoming spot to enjoy the authentic home made treats that comprise Mexican cuisine in a casual very festive atmosphere. Try it soon.
Mariachi Loco 11
706 Central Avenue
Scarsdale
914 8745033
Recipe: Salsa Verde
Ingredients:

1 bunch fresh cilantro, leaves only
15 tomatillos
4 fresh cloves garlic
3 or 4 jalapenos, stems removed
Salt to taste
Directions:
Remove the husks from the tomatillos. Wash the tomatillos and the jalapenos. Bring 8 cups of water to a boil. Add the tomatillos and the jalapenos and boil them for 3 to 5 minutes. Remove from the water and cool in a bowl in cold water. When they are cool, put all ingredients in a blender with ½ cup water. Blend and enjoy. If it is too thick add a bit more water.
* tomatillos and jalapenos can be found in Mexican grocery
Add a comment
Casual Italian Dining at Lombardos on Mamaroneck Avenue
Details

Written by

Judie Dweck

Hits: 2978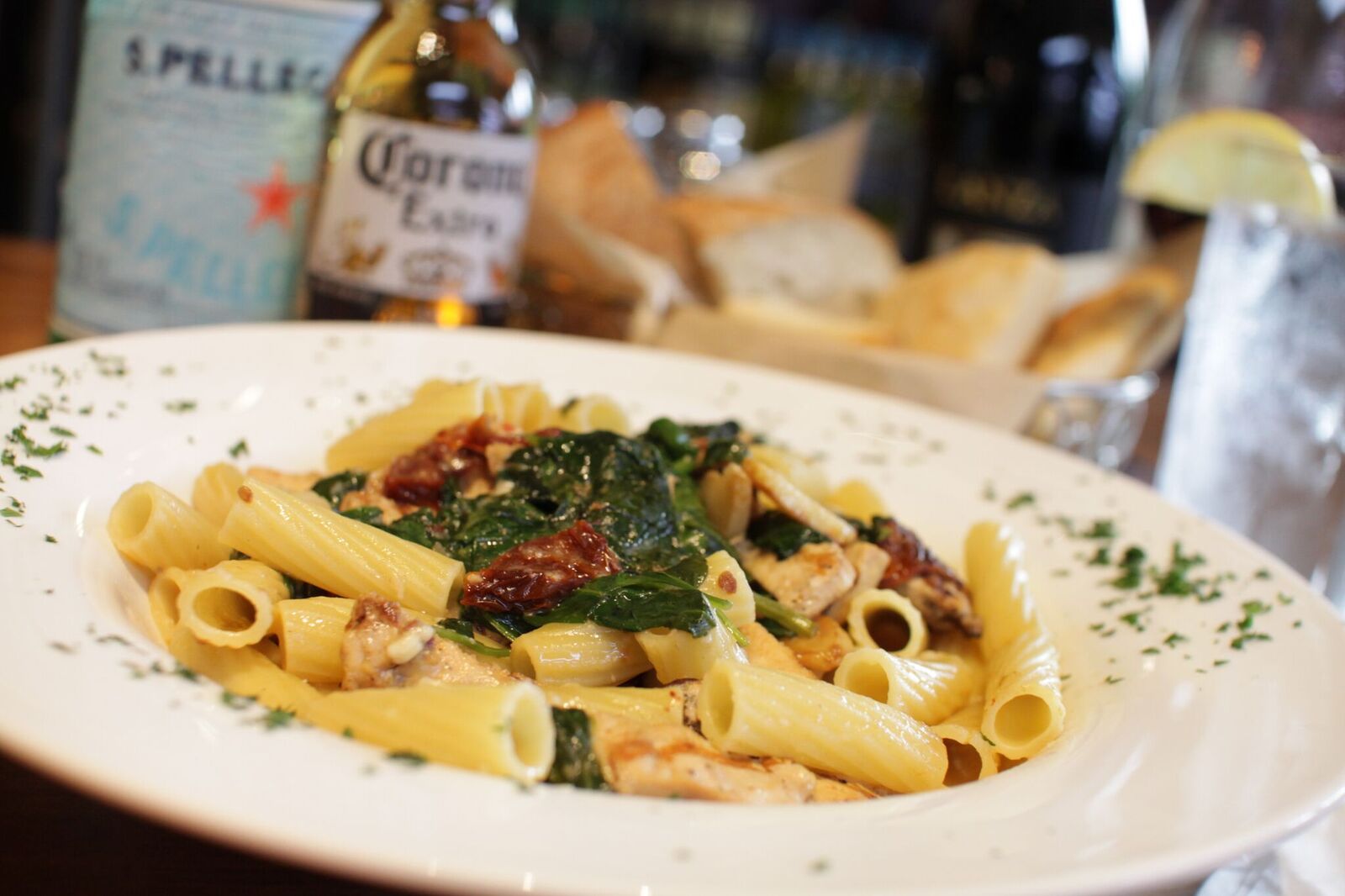 Our county boasts a large variety of Italian restaurants. In White Plains, one of my favorites for a warm welcoming casual dining experience is the four year old Lombardo's where the huge menu of dishes from pizza to pasta to fish and meat dishes is sure to satisfy your craving for Italian dishes. Owner Mario Lombardo literally has a lot on his plate, as he prepares for the opening of an additional Lombardo's in Rivertown Square in Dobbs Ferry in January, and is planning his wedding, as well. Yet, he manages to keep Lombardo's in White Plains in tip top shape. Lombardo keeps things running smoothly with the help of his large and capable staff. Manager Peter Esposito sees that the dining room is well run and Chef Oswaldo Zamora heads the bustling kitchen.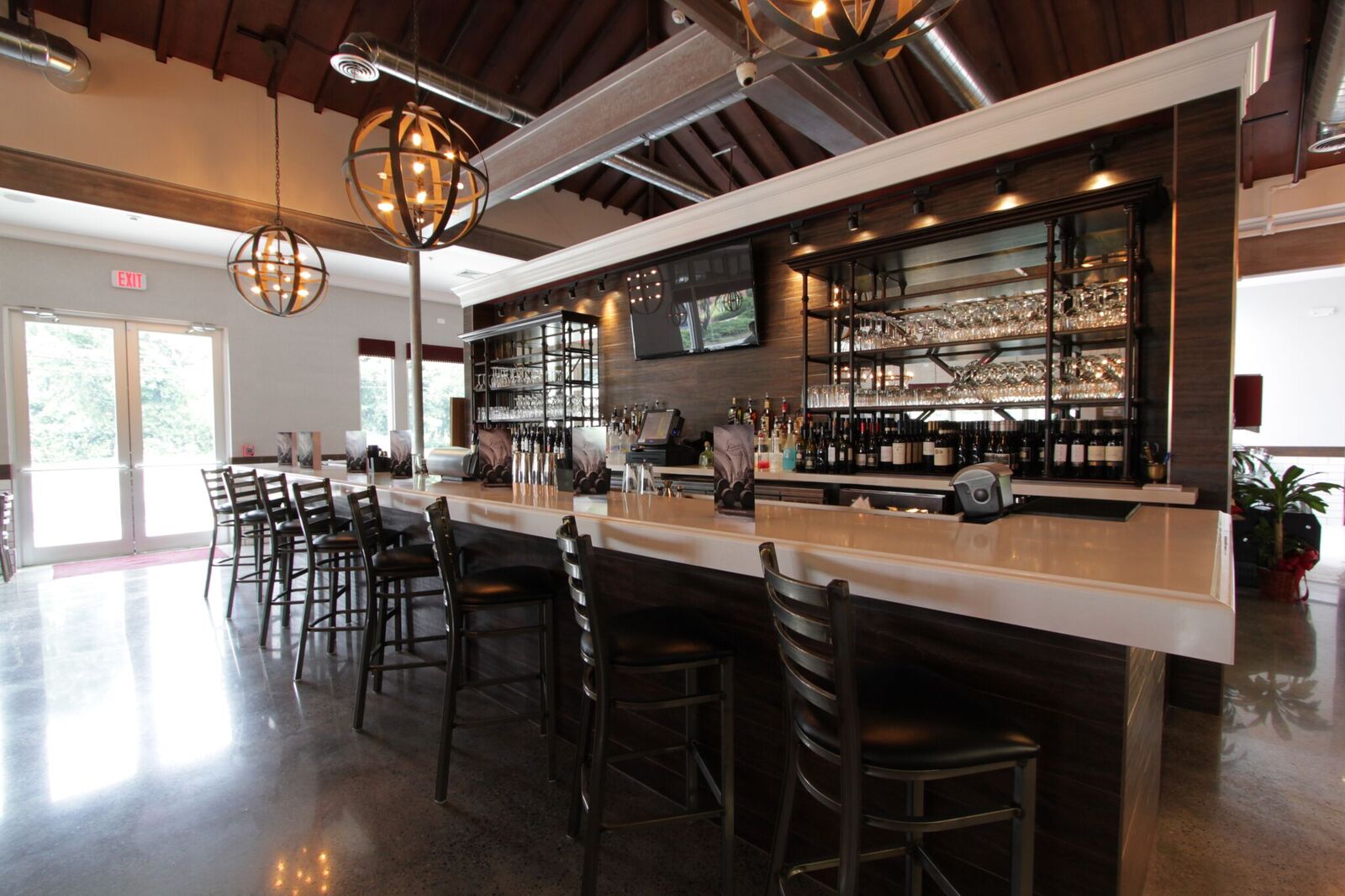 Lombardo describes his restaurant as "an upscale pizzeria where you can enjoy a casual Italian experience." I would add to his modest description, by mentioning that Lombardo's offers much more than pizza, including an extensive selection of house made appetizers, salads, entrees and pastas in addition to the large selection of pizzas emerging from its six pizza ovens. Mario Lombardo grew up with a family in the restaurant business, where his father Mario Lombardo Sr. opened many restaurants in Long Island. Young Mario Jr. worked in these restaurants with his dad, his mentor, where he learned all aspects of the restaurant business. He went on to earn a business and finance degree before opening Lombardo's in White Plains four years ago.

This spacious restaurant is a free-standing building with its own parking. It is quite busy, so valet parking is offered as well, from Thursday through Sunday evenings. The décor is modern with dark grey leather banquettes with high backs for privacy, as well as free standing tables. The barn siding ceiling is hung with interesting bold lighting fixtures. Black and white tile and marble floors and a marble pizza counter give the spot a welcoming feeling. Original artwork depicting restaurant scenes adorn the walls. A 14 seat bar is another dining option, as well, offering unusual cocktails, such as lemon basil and grape sage martinis.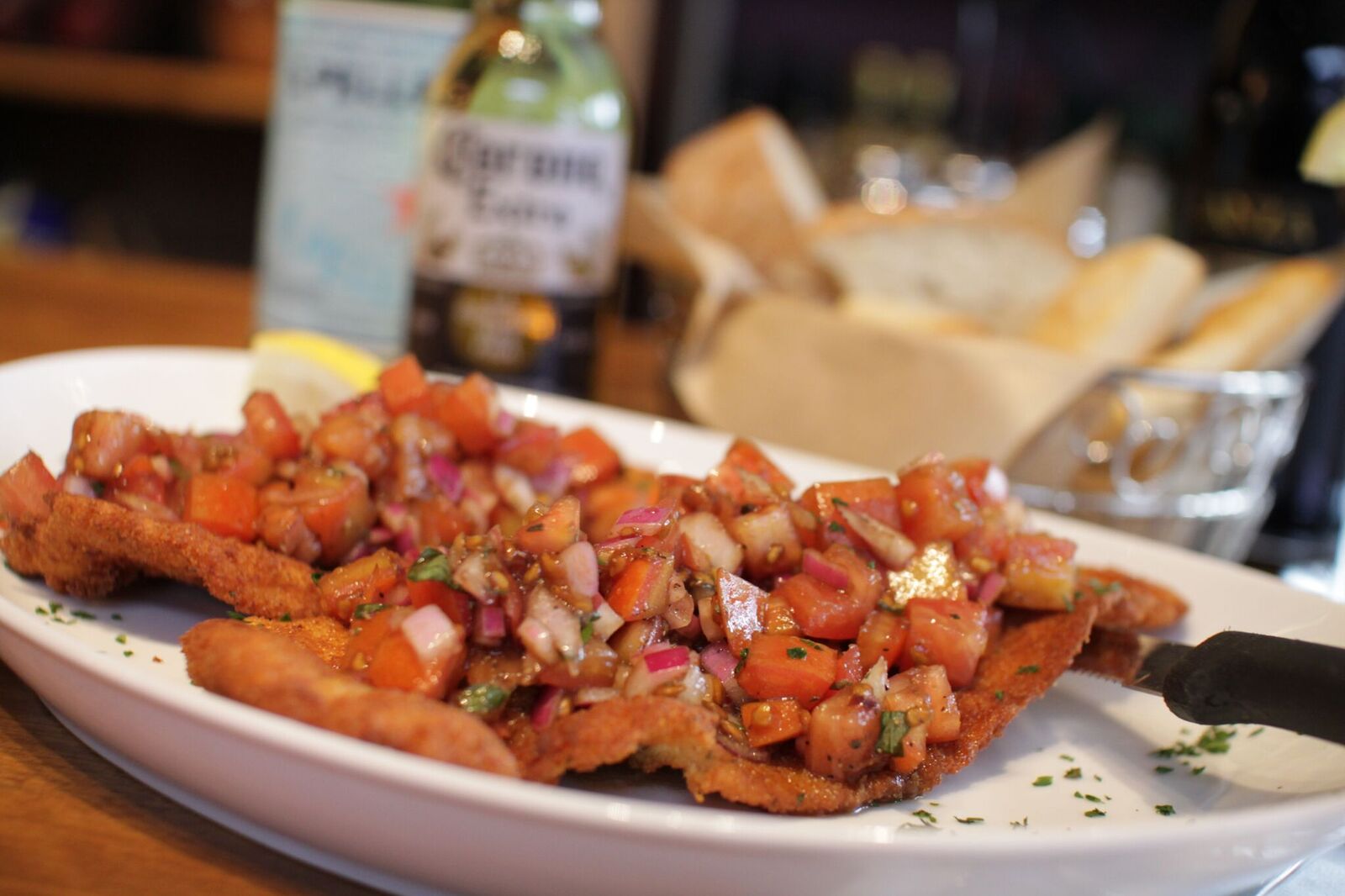 Lombardo said, "With so many Italian restaurants we pride ourselves in daily fish deliveries, and everything prepared from scratch. Since we do a high volume, freshness is supreme here. Our menu has traditional and creative dishes with Americanized touches. We offer daily specials and add new items to our menu regularly. Through the years we have been here, some of our very popular dishes are spaghetti al cartoccio served in a foil pouch and branzino marechiara with clams and mussels." Mario loves food and said, "There is always room for growth and I always try to improve. I would enjoy preparing a meal for chefs, such as Bobby Flay and Mario Batali since I admire both their cooking as well as their entrepreneurship. In addition to in house dining we also offer takeout, catering and cooking for corporate events.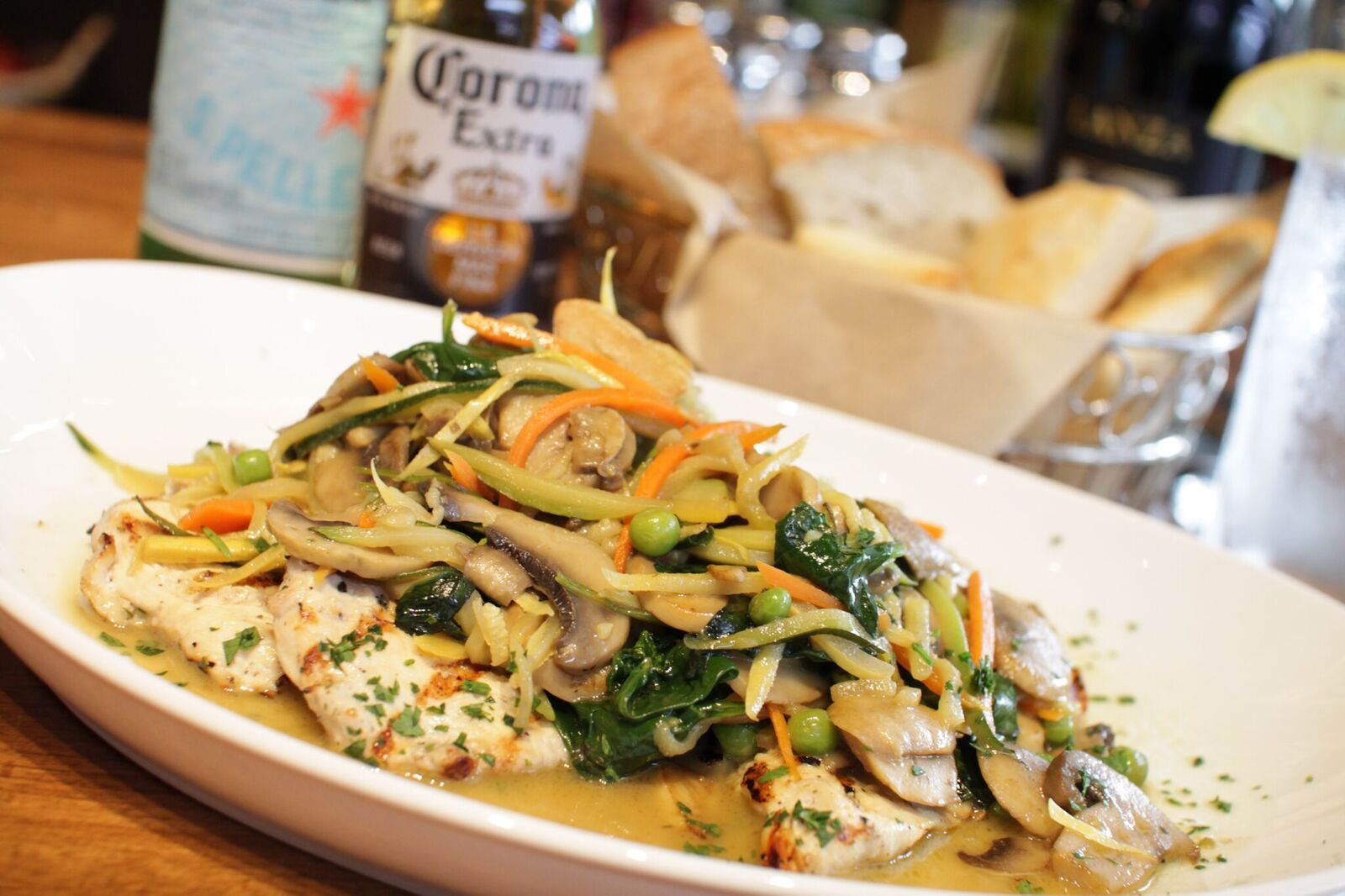 As we examined the large menu, a basket of warm homemade pillows of bread, fresh out of the oven, appeared. More than a dozen appetizers and several specials tempted us. One of the new additions to the menu was a dish of arancini. These mini rice balls were unique with a nice twist on the classic preparation. Here the ground beef and mozzarella filling was mixed with the rice, evenly distributing the filling so every bite was a fine mix of ingredients. They were lightly breaded and fried to a golden hue and rested in a pool of house made tomato sauce. Yummy was the word for this Sicilian treasure. We also enjoyed a classic preparation of eggplant rollatini. Fresh out of the oven, the slices of eggplant were rolled around whipped ricotta and mozzarella. Topped with fresh tomato sauce they were delicious. This was followed by a special of the day which was indeed special- calamari scarparielli. The calamari rings were dusted with flour and fried. They were tossed with crumbled sweet sausage and just enough chopped red cherry peppers to spice up the dish.

We refreshed our palates with a wonderful beet and arugula salad. The greens were enhanced with crumbled goat cheese, dried apricots, cranberries, roasted peppers and a drizzle of balsamic vinaigrette. It was truly a garden on a plate. Other appetizers I have enjoyed through the years are zucchini fritti and the creative spuntino alla Lombardo, an original with goat cheese and roasted peppers wrapped in prosciutto and finished with a balsamic reduction. Mussels, red or white sauce, baked clams oreganata and shrimp scampi are yet to be tried. The salads here, which range from Caesar, farmer's market, and buffalo chicken are available in small and entrée sizes and can be topped with a variety of additions. With cool weather on the way, you may wish to start with a bowl of homemade soup.

It was hard to choose among the two dozen pasta offerings. Would it be a simple pasta marinara, linguine vongole, fettuccine alfredo, or baked homemade meat lasagna? We chose fusilli campagniola. This Southern Italian delight featured broccoli rabe, and sweet sausage bathed in a garlic and oil brodino. The sauce permeated the corkscrew pasta, giving each mouthful a delightful taste. We also enjoyed a special of trofie al pesto. These thin braided pasta morsels were tossed in a pesto cream with roasted pine nuts and shrimp- rich and delicious.

Entrée selections include classics of chicken or veal Marsala, francese, Sorrentino as well as many innovative dishes. We loved a special of scallops, pan seared and served over risotto with bacon and red pepper. A saffron cream sauce finished this fine dish. New to the menu was an outstanding dish of branzino marechiara. The fresh fish filet was pan seared and then simmered with clams and mussels in a white wine and cherry tomato broth studded with roasted garlic. The portion was oversized and excellent. Marinated skirt steak, veal or chicken piccata with capers and artichoke hearts and veal or chicken semi freddo topped with salad might be future choices. Entrees are served with a choice of pasta or salad.

Not to be overlooked are the delights coming from the pizza ovens. Thin crusted Neapolitan, or thick crusted Sicilian pies with a choice of toppings, or choose from a dozen specialty pies from buffalo chicken to margherita or vegetable and the list goes on. I especially enjoyed my pizettes. These 12 inch pies are nicely served with a pie server for easy cutting. They come in many varieties, as well and you can create your own topping, if you wish. My broccoli rabe and sausage pie was tangy and hearty. Very special was the de mare variety. The thin crisp crust was topped with fresh chopped clams and shrimp, mozzarella, garlic and oil and a sprinkling of toasted seasoned bread crumbs. WOW. Calzones, rolls and heroes are offered, as well.

Desserts include seasonal cheesecakes, with a pumpkin variety available now, warm chocolate lava cake, mini cannoli and tiramisu. A refrigerator case filled with many flavors of Longford's ice cream caught my eye and espresso ice cream was the finale of my meal.
Mario Lombardo said, "I don't serve anything I wouldn't enjoy eating myself." The menu at Lombardo's proves that Mario Lombardo certainly has good taste. Pay Lombardo's a visit soon and enjoy the casual Italian dining experience.

Lombardo's
1203 Mamaroneck Avenue
White Plains
914 615 9090

Recipe: Spaghetti Al Cartoccio (Serves 2)

Ingredients:
1 Tbsp. butter
1 cup crumbled sweet sausage
½ cup diced shrimp
¼ cup scallions, chopped
16 ounces tomato sauce of your choice
8 ounces heavy cream
2 ounces Sambuca
¾ pound spaghetti cooked al dente

Directions:

Melt butter in a skillet. Sauté scallions in it. Add shrimp and sausage and cook for 2 minutes. Add Sambuca and cook for 1 minute. When Sambuca is reduced, add tomato sauce and cream. Cook and reduce for 5 to 7 minutes. Toss with spaghetti. Add cheese to taste.

• At Lombardo's the mixture is divided into 2 foil packets that are sealed. When they are opened tableside, the mixture is perfectly steamed and the aroma is divine.
Contributor Judie Dweck has been writing about restaurants and food for many publications. She teaches creative cooking to children at Scarsdale elementary schools. Through the years, her articles have appeared in Jack and Jill Magazine, Spotlight, The Pleasure of Cooking and The Scarsdale Inquirer. She balances her restaurant tastings with daily ballet classes.
Add a comment
Library Offers New E-Library Resources
Details

Written by

Joanne Wallenstein

Hits: 1729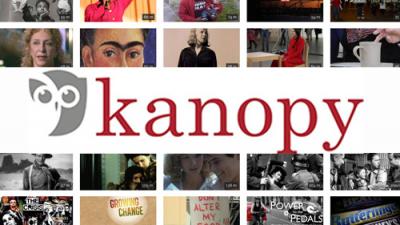 The Scarsdale Public Library is adding to its extensivee-library collection with three additional electronic resources beginning October 2.

Kanopy is video streaming service with more than 30,000 documentaries, classic and indie films available on desktop, mobile and Roku for students, professors and library patrons.

Book Browse is an online magazine for booklovers that includes reviews, previews, "behind the book" articles, author interviews, reading guides and more. It is an excellent resource for recommendations and book groups.



Literature Resource Center offers up-to-date biographical information, overviews, full-text literary criticism, and reviews on more than 130,000 writers in all disciplines, from all time periods and around the world. It is a valuable resource for students.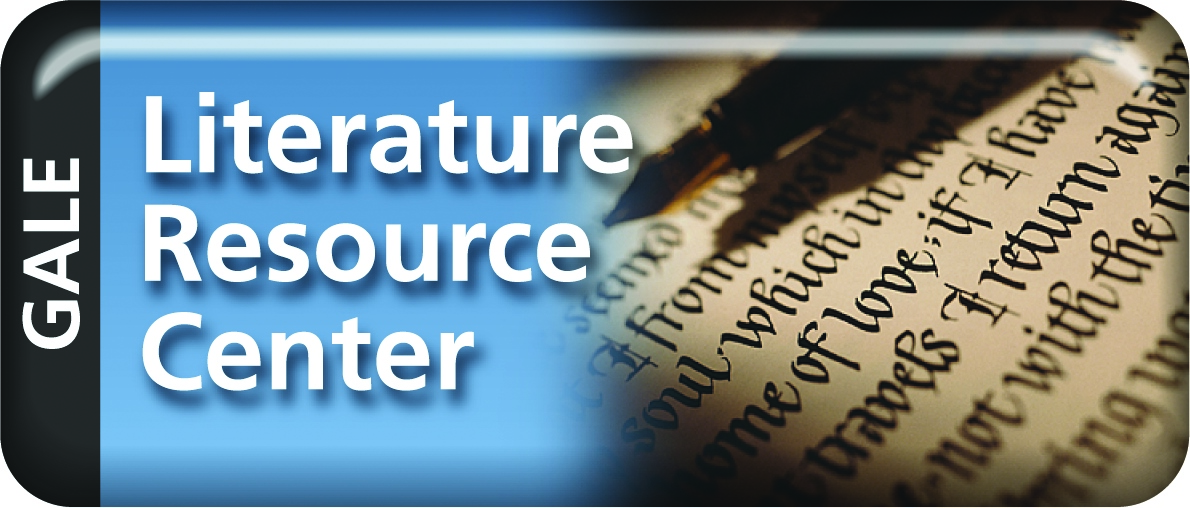 To access the new additions, as well as the entire e-library, visit the library website, scarsdalelibrary.org and click on e-library on the left column.
Add a comment