Improve Your Vision While You Sleep
Details

Hits: 2488

Imagine being free from glasses or contact lenses all day long without the need of any kind of surgery. With a new process called Ortho-K you can improve your vision while you sleep.
Ortho-k is the process of using custom designed vision retainers to gently reshape the cornea while you sleep. These vision retainers resemble rigid oxygen permeable contact lenses. Wearers remove them in the morning and will notice a significant improvement in their uncorrected visual acuity, even after the first night. Ortho-K is safe, effective and FDA approved for both children and adults.
Several new studies indicate that Ortho-K can potentially reduce the progression of myopia (nearsightedness) in children and teenagers. So, if you try Ortho-K in your teens and then decide to discontinue wearing the reshaping lenses later in life, you may be less nearsighted as an adult than you would be if you had worn eyeglasses or conventional contact lenses during your teen years. It is great for many patients who are near sighted or near sighted with astigmatism.
Ortho-K is a wonderful option for athletes. In order to excel in sports, athletes need to have the best vision possible. Glasses can be knocked off or broken while participating in sports. Contact lenses can dry out, move off center, and do not correct astigmatism as well as eyeglasses. Eye allergies can also be a problem for contact lens wearers. Patients who opt for Ortho-K do not have to worry about any of these problems.
Dr. Abraham Zlatin of Eye Q Optometrist was one of the first doctors in New York State certified in Corneal Refractive Therapy and Orthokeratology. Dr. Zlatin has offices in both Scarsdale and in New York City. To find out if you are a good candidate for Ortho-k contact Dr. Abraham Zlatin at 914-472-5932 in Scarsdale or at 212-724-8855 in NYC. Learn more at www.eyeqdr.com.
Add a comment
Around Town: Benefits and Events
Details

Hits: 5004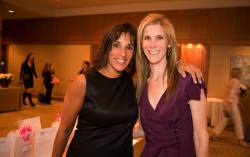 Scarsdale residents have had a busy month, attending civic and charitable events. Here are the highlights of a few that took place in the past few weeks: The Pediatric Cancer Foundation held their annual luncheon on September 30, 2010 at the Ritz Carlton Westchester. The event featured a fashion show from The Look of Rye Brook, and presentations by pediatric cancer survivor Amanda Luiso and Dr. Julia Glade-Bender of Edgemont. Dr. Glade-Bender heads the Developmental Therapeutics Program at the NY-Presbyterian Morgan Stanley Children's Hospital at Columbia University Medical Center. To learn more about the foundation's work, visit their website at www.pcfweb.org
Pictured above: (left)Jennifer Stone, PCF Board Member, (Scarsdale, NY) Right: Dana Hokin, PCF Financial Director, Luncheon Co-Chair, (Scarsdale, NY)
From Left to Right: Cheryl Rosen, President of Pediatric Cancer Foundation,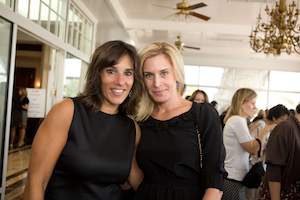 (Scarsdale, NY 10583); Evette Guerzon, Luncheon Co-Chair ( Elmsford, NY ); Jackie Kabot, PCF Vice President, Luncheon Co-Chair, ( Rye Brook, NY); Suellen Singer, PCF Vice President, Luncheon Co-Chair (Scarsdale, NY); Stefanie Bartell-Zednik, PCF Vice President, Luncheon Co-Chair (Greenburgh, NY ); Dana Hokin, PCF Financial Director, Luncheon Co-Chair (Scarsdale, NY); Wendy Schimel, PCF Board Member, Luncheon Co-Chair (Armonk, NY); Stefanie Mittman, PCF Chairman of the Board, (Purchase, New York)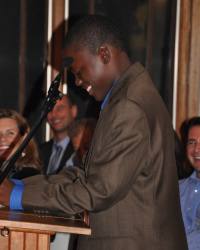 Focus For a Future held their fundraiser at Westchester Reform Temple's Center for Jewish Learning on September 28. Jack Kaminer, former SHS Varsity basketball coach founded the organization in 2002 and Kaminer remains a mentor to many. The organization helps young people from underprivileged areas learn the importance of focusing on academics, athletics, interpersonal relationships and the importance of making positive choices in life.
The most significant component of the organization's work has become the Camp Scholarship Program that rewards hard work and good character, giving inner-city children the chance to experience a summer (and often many summers) that they will never forget.
Pictured above is Marlin Dixon who just spent his third summer at Camp Iroquois Springs due to the work of Focus for the Future.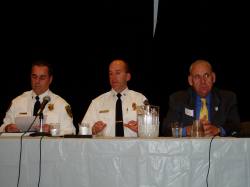 The Scarsdale Forum met on October 7 at the Scarsdale Library where a standing room only crowd honored the Scarsdale Volunteer Ambulance Corp and Scarsdale Volunteer Firefighters.
Speakers included John A. Brogan, Scarsdale Chief of Police, Thomas Cain, Scarsdale Fire Chief, and Anthony W. Sutton, Westchester County Commissioner of the Department of Emergency Services.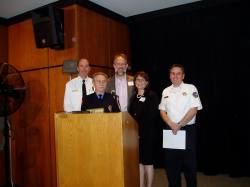 Shown here, from left to right are: Thomas Cain, Scarsdale Fire Chief, Scarsdale Volunteer Fire Company #3 President Steve Fuchs, Bruce Wells, Scarsdale Forum President, Mayor Carolyn Stevens, and Scarsdale Volunteer Ambulance Corp President David Raizen
Camp-A-Palooza to benefit the United Way of Westchester and Putnam was held on Sunday October 10 at Camp Hillard. Among the attractions were a rousing performance
by Pete and Maura Kennedy, who played their own hits as well as music to remember John Lennon, who would have turned 70 this month.
Kids had a wonderful time on the zip line, doing arts and crafts, having their faces painted and playing games. All proceeds from Camp-A-Palooza went to United Way's Born Learning Initiative, which teaches new parents, grandparents and caregivers how to turn everyday activities with infants and toddlers into fun learning opportunities for eager little minds. Learn more at: www.uwwp.org/campapalooza.htm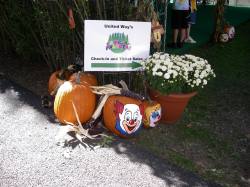 On October 13, The UJA Federation of New York's Scarsdale Women's Philanthropy group held their opening event at Westchester Reform Temple. Ruth Gruber, now a foreign correspondent and photojournalist told an overflowing room of attendees about her life adventures. Raised in the shtetl called Brooklyn, she was sent to Germany where she eared her PhD. During her illustrious career, she travelled to the Soviet Arctic, escorted 1,000 Holocaust refugees to America and covered the Nuremberg trials. She didn't just report the news, she made it.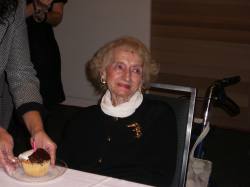 Evelyn Stock of Scarsdale asked Gruber what her parents did to create such a marvel and Gruber replied, " My parents were from the Ukraine and I was one of five children. When I was offered the chance to study in Germany my mother objected to sending me abroad, but my father was wise. He said, "I hope you get married, I hope you have children, but God forbid your husband dies …. You need to have a career." When Ruth told her father that she wished to be a writer, he said, "What kind of career is that for Jewish girl!" Now 99 years-old, Gruber gave a moving talk tailored to the audience of Jewish women who were amazed at her many accomplishments. A documentary about her life called "Ahead of Time, the Extraordinary Journey of Ruth Gruber" was recently released.
To learn more about the work of the UJA Federation of New York, visit www.ujafedny.org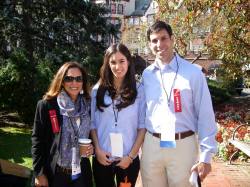 The Scarsdale Concours in Scarsdale Village on Sunday October 17th was bigger and better than ever. Both new and antique cars were on display including Jaguars, Rolls Royces, Cadillacs, Ferraris, Mercedes Benz, and more. Hats off to the team who put the show together: Ralph Della Cava, Lucas Meyer, Bill Doescher and Gordon Rafajac.
Pictured here: Ralph, Geralyn and Nicole Della Cava
Add a comment
Local Candidates to Attend Forum Hosted by the LWV
Details

Hits: 2359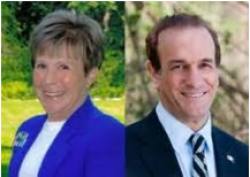 Residents are invited to attend a Candidates Forum to educate local voters on Tuesday, October 19th in the Scott Room of the Scarsdale Public Library at 7:30 p.m. Candidates scheduled to participate are Bob Cohen (R) and Suzi Oppenheimer (D) for 37th District of the New York State Senate; and Rene Atayan (R) and Amy Paulin (D) for 88th District of the New York State Assembly.
Each candidate will make a brief prepared statement, after which the League will pose questions for each candidate to answer. There will also be time allotted for questions from the floor. Attending judicial candidates will be introduced from the floor.
In other campaign news, State Assemblywoman Amy Paulin is to receive the NYS Coalition Against Sexual Assault's Special Ally Award for her decades of work on behalf of women. A former executive director of My Sisters' Place, an agency which assists victims of domestic violence, she has continued her efforts to protect these victims as a member of the Assembly. October is Domestic Violence Awareness Month.
Bob Cohen, candidate for NYS Senate, received several key endorsements this week. On Sunday, the New York Post gave him their support and this week he was endorsed by the National Federation of Independent Businesses and the Business Council of New York State.
The campaign for the Senate seat has become heated with Oppenheimer running television ads and sending mailers that accuse Cohen of being a slumlord. In return, Cohen has charged Oppenheimer with raising taxes on small businesses, voting for the MTA payroll tax and bowing to the powerful NYS Teacher's Union. Learn more at the Forum on Tuesday.
League of Women Voters Candidates Forum
Tuesday October 19  at 7:30 pm
Scott Room
Scarsdale Public Library
Add a comment
Andrew Ross Sorkin To Speak at Westchester Reform Temple
Details

Hits: 2355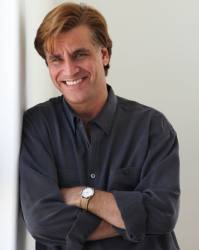 On October 31, 2010, Andrew Ross Sorkin will be the guest speaker for Westchester Reform Temple's Annual Gantcher Family Lecture. Mr. Sorkin's lecture, "Too Big to Fail: Where are we Now?" will discuss the current business climate and his thoughts on what is next for 2011. The program will begin at 11:00 AM, preceded by a Men's Club Breakfast at 10:30 AM.

Andrew Ross Sorkin is The New York Times' chief mergers and acquisitions reporter and the editor of DealBook, an online daily financial report he started in 2001. He is the author of "Too Big to Fail: The Inside Story of How Wall Street and Washington Fought to Save the Financial System — and Themselves" (2009), winner of the 2010 Gerald Loeb Award for best business book of the year.

The Annual Gantcher Family Lecture was established 14 years ago by Nathan and Alice Gantcher to bring outstanding Jewish thinkers and leaders to the community to address important contemporary issues. Previous noted speakers have included Dr. Martin Indyk, former US Ambassador to Israel, Abraham H. Foxman, National Director of the Anti-Defamation League (ADL), and Deborah E. Lipstadt, American historian and author of the book "Denying the Holocaust: The Growing Assault on Truth and Memory" (1994).
This event is free and open to the public at Westchester Reform Temple, located at 255 Mamaroneck Road in Scarsdale, NY. For directions or information, call the Temple at 914-723-7727, email to office@wrtemple.org, or visit the web at www.wrtemple.org.
Add a comment
Fire Fair 2010
Details

Hits: 1883

All three volunteer fire companies will be participate in the Fire Fair at the Crossway Firehouse on Saturday October 16 from 10 am to 2 pm, rain or shine.
Activities will include:
A "smoke trailer" -- which is a simulated house with a smoke machine.
Apparatus demonstrations
Fire demonstrations
Fire prevention videos
Fire prevention poster contest award ceremony
Food and fun
In addition, fire extinguishers, smoke detectors. Carbon monoxide detectors and fire escape ladders will be on sale.
Prior to the Fair on the 16th, the Fire Department will visit first graders in all of the Scarsdale elementary schools.
The theme of this year's Fire Week is "Smoke Alarms: A Sound You Can Live With." The Fire Department will hand out fire inspection checklists that residents should review to make sure they are doing everything they can to prevent fires in their homes and to escape safely in the event a fire does occur.
Fire Fair
Crossway Fire House
Saturday October 16
10 am to 2 pm
For more information contact the Fire Department at 914-722-1215
Add a comment