Tread-X at Bodyfit - Try Your First Class FREE
Details

Hits: 6188
Cold weather and icy streets pose a challenge to my exercise routine. Tennis is out, and the winter chill had made it difficult to get myself outside for a walk or a game of platform tennis. Though time on the treadmill or the elliptical does the trick, it quickly get's boring and that's why I was happy to find a new way to get an endorphin rush.
Bodyfit on Scarsdale Avenue has recently added a new interval-training program to their mix. Tread-X combines the use of treadmills and suspension training with traditional floor exercise and aerobics. The routine changes with each class to alleviate the ennui and time passes quickly as you burn calories walking, running and doing exercises that tone your entire body.
One of the Bodyfit studios has been refitted with sparkling new equipment and you don't have to be in top shape to benefit. Each phase of the one hour program allows you to work at your own level of ability without the pressure of meeting set standards.
In the class I attended, we did three ten minute sessions on the treadmills, along with an aerobic warm-up, a session on the bench and a workout session for chests and arms using suspension pulleys. During the treadmill intervals, the instructor had us vary the incline and speed on Bodyfit's new custom-made machines to raise and lower our heart rates for an effective workout. Floor exercises included lunges, squats, leg lifts and pushups designed to sculpt the entire body.
After an hour I emerged feeling invigorated and well toned – and to my surprise I didn't have any aches, pains or pulled muscles the next day.
Another benefit of Bodyfit is that you pay as you go. You can pay by the class or buy a series, but there is no monthly fee or annual commitment. However, since space is limited you do need to call to reserve your class in advance. Tread-X is offered on weekdays at 8:30 am and 9:45 am and at 11 am on Mondays and Fridays. For early risers there's a 6 am session on Wednesdays. On Saturday, you can try a Tread-X Class at 8:15 am or 9:30 am.
And if you do call, let them know you read about it on Scarsdale10583 and receive your first class free!
Bodyfit Studio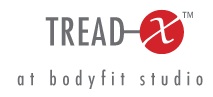 858 Scarsdale Avenue
Scarsdale New York 10583
(914) 725-9400
email: GetLean@Tread-X.com
URL: http://tread-x.com/
Annual Martin Luther King Shabbat Service at WRT
Details

Hits: 2089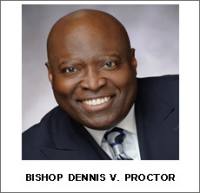 Westchester Reform Temple (WRT) will hold its annual Shabbat service honoring the legacy and teachings of Dr. Martin Luther King, Jr., on Friday, January 21, 2011 at 7:45 p.m. Rev. Dr. Dennis V. Proctor, a bishop in the Pennsylvania A.M.E. Zion Church of Baltimore, Maryland, will be the guest speaker. Bishop Proctor will be joined by the voices of choir members from Greater Centennial AME Zion Church, Mt. Vernon, NY.
Bishop Proctor has held three pastorates, St. James A.M.E. Zion Church in Massillon, Ohio, where he led the congregation in the building of a new church and purchased a parsonage. His second pastorate was the St. Luke A.M.E. Zion Church of Wilmington, North Carolina. There he led the congregation in remodeling the church, purchased a new parsonage and commissioned a life-size mural. He currently pastors the historic Pennsylvania A.M.E. Zion Church in Baltimore, Maryland. He was elected bishop on July 18, 2008 at the 48th Session of the General Conference as the 97th bishop in succession of the A.M.E. Zion Church.
Bishop Proctor is the Founding President of the Congress of National Black Churches (Baltimore Affiliate) and serves on the Connectional budget Board. He co-authored Christians under Construction with Dr. Staccato Powell. He is the Chair of the Finance Committee of the Philadelphia-Baltimore Annual Conference (Mid-Atlantic II Episcopal District) and an active member of the International Minister's and Lay Association of the A.M.E. Zion Church. His extensive educational background includes receiving his Bachelor of Arts (Summa Cum Laude) from Livingstone College, Master of Arts in Pastoral Care and Counseling, from Ashland Theological Seminary, with a C.P.E. Diploma from Western Reserve Psychiatric Habilitation Center, a J.D. from The Ohio State University college of Law, and a Doctor of Ministry from the United Theological Seminary, where he was named a Samuel D. Proctor/Otis Moss Fellow. He was inducted in Martin Luther King, Jr., Board of Preachers at Morehouse College, Atlanta, Georgia. He was honored by his Alma Mater by receiving the Doctor of Divinity from Hood Theological Seminary and Livingstone College. Bishop Proctor has also been a featured lecturer at the prestigious Hampton University, Hampton Minister's Conference. In addition one of his sermons is published in the book of Outstanding Black Sermons Volume 4, Judson Press.
This event is free and open to the public at Westchester Reform Temple, located at 255 Mamaroneck Road in Scarsdale, NY. For directions or information, call the Temple at 914-723-7727, email to office@wrtemple.org , or visit the web at www.wrtemple.org.
Top Five Ways to Winterize Your Skin
Details

Hits: 3317

This time of year I see a lot clients with dry, flaky, irritated skin. It's no wonder, with outdoor temperatures being well below freezing, and the dehydrating effects of indoor heat. Basically winter skin takes a lot of abuse.

Here are a few tips that I always tell my clients, and I want to share with you:

Hydrate! Drink lots of water, and no it doesn't count if it's filtered through coffee beans. However, a cup of decaf tea actually does count towards your 8 glasses a day and flushes out toxins.

Exfoliate! The top layer of skin is made up of dry, dead cells that need to be removed to reveal the brighter, healthier skin beneath. This is why I recommend microdermabrasion to my clients, even those with the most sensitive skin including lips, chest and hands. The process is gentle, yet extremely effective. In between treatments you can use exfoliating products up to 3 times a week, just be sure that they are not too abrasive. You can actually damage and irritate your skin if you use too harsh a product.

Lubricate! A good moisturizer is like a shield that protects your skin from harsh environmental elements. I recommend a richer nighttime moisturizer and one that has an SPF of at least 15 for daytime—remember the sun is still strong even in the dead of winter. For added protection use a tinted moisturizer with SPF as foundation. Be sure to apply moisturizers to your neck and décolletage. And don't forget eye cream for the delicate skin under the eyes, lip balm for the lips and hand cream. (You can even use lip balm on your hands in a pinch).

Eliminate! Get rid of unhealthy additives, especially when you're talking about what you put on your skin. Many products are filled with chemicals. This is why I use Jurlique products on my clients. They are natural, organic and have an amazing smell. There are lots of other organic skin care lines out there, so read the label when making your next purchase.

Evaluate! Be sure to visit your Dermatologist at least once a year to have your skin examined for sun damage, unusual discoloration and other skin-related issues. If you follow the rules above I bet they will be very impressed with the condition of your skin, even in the harshest weather conditions.

Following these simple tips can make the difference between dull, damaged skin and a healthy, bright glow. Pssst, and guys, these tips apply to you too. Wishing you all a healthy, happy and beautiful holiday season.

Julianne Steiner is a local esthetician, make-up artist and was named The Skin Care Wizard of Scarsdale, by Scarsdale10583. Read the article by clicking here. She is currently offering $50 off a combination facial and microdermabrasion—a $235 value for just $185.

Julianne Steiner, Esthetician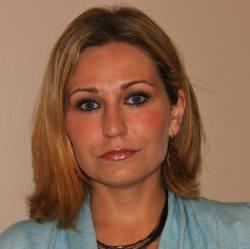 6 Palmer Ave.
Scarsdale, NY 10583
www.jsskincare.com

To schedule an appointment call: (914) 874-4453



Scarsdale Library Offers Passes for Free Admission to Area Museums
Details

Hits: 2711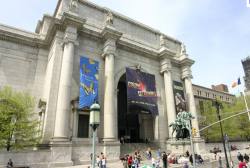 With the cost of museum admission rivaling that of a baseball game, the Scarsdale Public Library has introduced a program to provide free admission to ten area museums for resident cardholders. The program is sponsored by the Friends of the Scarsdale Library.
Cardholders, 18 or older, with no outstanding fines or overdue items, can borrow a pass for a specific museum and date. The number of people allowed on each pass varies by museum.
"This is a great addition to the numerous services offered by the Scarsdale Public Library," says Sara Werder, Scarsdale Library Board President. "Our great thanks to the Friends of the Scarsdale Library for funding this program."
Passes may be reserved up to one month in advance either online, on the Scarsdale Public Library website, or by calling the Reference Desk. The cardholder prints out a confirmation sheet to bring to the library when picking up the pass. The pass is available at the Reference Desk on the day before the visit, and must be returned to the Reference Desk within three days. A fine of $10 will be charged for each day the pass is late, or if it is returned in the book drop. The cardholder will be charged the full membership cost for a lost pass.
"The museum pass program has been extremely popular in several other communities, and we are thrilled to offer it to Scarsdale cardholders," says Elizabeth Bermel, Director, Scarsdale Public Library. "It is part of our ever-growing emphasis on bringing new and creative programs to the community."
Participating museums are: Aldrich Contemporary Art Museum, American Museum of Natural History, Bruce Museum, Children's Museum of Manhattan, Frick Collection, Guggenheim Museum, Intrepid Sea, Air & Space Museum, Katonah Museum of Art, Neuberger Museum of Art, and Stepping Stones Museum for Children.
Please check museum websites for latest information before the visit. Additional information can be found on the Scarsdale Public Library website or by calling the Reference Department, 722-1300 ext 2.
Scarsdale Moms Rock Rye
Details

Hits: 11986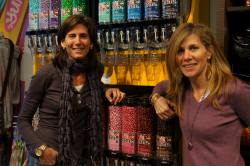 Two Scarsdale moms have opened a dazzling candy store in Rye – packed with goodies of every sort – for you and your kids, as well as great merchandise, gifts and a party facility. The store is beautifully appointed, well stocked and delightful to visit. Trish Frohman of Greenacres and Valerie Stone of Edgemont are the proprietors of Candy Rox and here is the story behind the store:
Trish is the mom of two teenage girls and worked in the city before she embarked on this entrepreneurial venture. For nearly seventeen years, she worked at Turner Broadcasting overseeing the Sports Sales and Marketing Group as well as the Event Marketing and Local Ad Sales Groups. Valerie is the mother of a son in tenth grade and twin girl sixth graders. For the past 15 years she was a stay at home mom, giving her time to the PTA and various charitable causes. Valerie has a background is in merchandising and product development, and worked for ten years Perry Ellis Menswear and in private label product development for retailers such as Neiman Marcus, Ann Taylor and Land's End.
The two met on the train platform when they were commuting back and forth to work and have known each other for over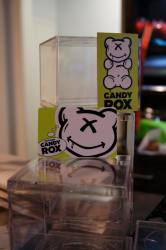 16 years. They started to formulate their concept for Candy Rox when they walked to work together and continued those conversations over many dinners.
The store wasn't born overnight. Trish and Valerie did lots of legwork to determine the viability of their idea, researching local markets to see what kind of competition already existed, and interviewing candy and retail proprietors in New York and outside of this market to better understand the dynamics of the business. They also attended several industry trade shows to meet with suppliers and storeowners, taking notes on everything from product, pricing and display ideas. The internet was also a tremendous tool in helping them research the hippest trends and finding the newest retailers that were making news.
Once they determined that their concept was a go, they looked at which towns in the area would make the most sense for their first store. They chose Rye because it is a destination town, with vibrant retail and restaurant businesses, good parking and most importantly, a number of schools that are within walking distance of the town. Resident of Harrison, Rye Brook, Purchase, Port Chester, and Greenwich also use Rye as "their town."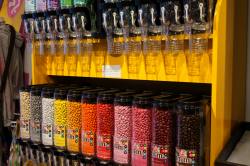 Both women liked the sense of community in Rye and felt that Purchase Street in particular was thriving at a time when many downtowns were having difficulties. Lastly, Rye is busy year-round as much of the community spends their summertime nearby.
Selecting the name Candy Rox was another big decision and once they chose it, they hired a branding expert to help bring the name to life, create a cool recognizable logo, develop store materials and build a website that will be up and running shortly.
In designing the store they sought to create an atmosphere that was a bit edgier than the typical candy store to appeal to both sexes and all age groups. To accomplish this, they pulled together images from a variety of sources that conveyed the kind of atmosphere they wanted and brought this information, along with their branding and mission statements to a series of design experts. They selected David Ashen of D-ash Design to bring it all together. The graffiti-tagged walls, barrel lights, chain link fence ceiling, and skate ramp lounge coupled with some old fashion touches like the glass jars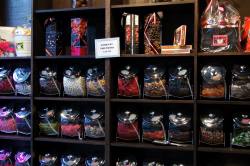 are a few of the design elements that distinguish Candy Rox.
The store is meant to be a destination for kids…. a place they can call their own. Its sensibility is general store meets industrial/X-games sensibility and kids are invited to hang out there as their parents might do in Starbucks. Candy Rox marries candy, cool gift items and music that allow people of all ages to come in and have and immediate association with the product. Everyone can relate to candy and music and everyone has a fond memory of what it means to them. The gift items sold in the store are affordable and reflect those feelings. There is everything from jewelry, framed posters of bands, t-shirts, bags, writing journals and notebooks to retro candy, bulk candy and headphones.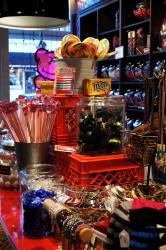 Candy Rox offers birthday parties, and their PJ parties are already a hit. For the holidays, they are already providing beautifully packaged corporate gifts, using three-tier candy towers and their client's favorite candies. For teachers and small holiday gifts there are candy filled boxes and with teddy bears.
On weekends, Candy Rox will host visits from artists and artisans to feature and sell their products. This Saturday, December 18, the artist known as "Reskew" who tagged the store walls with graffiti, will be appearing from 12-5pm to airbrush original t-shirts, creating unique gifts for all.
The store opened just a few weeks ago and so far, Valerie and Trish are extremely happy with the reception from the community, where shoppers are telling them that Candy Rox is "the coolest store ever." Among the most popular candies are the sour gummis for younger kids and teens with older folks gravitating to the retro candy. They've gotten big smiles from the adults when they see the Bonomo Turkish Taffy.
Stop by yourself to see what's so cool about Candy Rox and tell Trish and Valerie you read about them on Scarsdale10583.
Candy Rox
84 Purchase Street
914-844-6750
http://www.candyrox.net
Store Hours:
Weekdays: 11-6pm
Saturdays 12-5pm and Sundays 12 – 5 pm through the holiday season