The Mayor's Chocolate Cookies
Details

Hits: 2785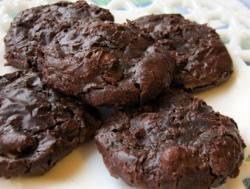 Scarsdale Mayor Carolyn Stevens is an excellent baker who often offers her homemade treats at Village meetings. On Monday night 12-6, she brought in a delectable tray of chocolate cookies to fortify the Trustees and participants during back-to-back meetings on historical preservation and the proposed Scarsdale Community Center. Several people asked her for the recipe and here it is:
Flourless Chocolate-nut Cookies
2 1/2 cup pecan of walnut halves

3 cups of confectioners' sugar

1/2 cup plus 3 tablespoons of unsweetened cocoa powder

1/4-teaspoon salt

4 egg whites (1/2 cup plus 1 tablespoon)

1-tablespoon vanilla extract
Preheat oven to 350 degrees. Roast nuts for 9 minutes...until fragrant. Cool slightly and chop finely.
Mix confectioners' sugar, cocoa and salt a bowl. Add nuts and stir. Add egg whites and vanilla and mix with an electric mixer on medium until batter is just moistened.
Drop batter by teaspoonful on to baking sheets covered with parchment paper in evenly spaced mounds.
Bake cookies until tops are lightly cracked and glossy - about 15 minutes.
Allow to cool for a couple of minutes and remove to a rack to cool.
Can be stored at room temperature in a tin for about 1 week.
Makes about 60 cookies.
Candlelight Tours Light Up December Nights
Details

Hits: 2047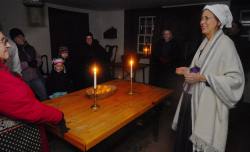 Washington Irving's Sunnyside in Tarrytown and Van Cortlandt Manor in Croton-on-Hudson, are offering candlelight tours on select December evenings. All Sunnyside and Van Cortlandt Manor tours during December are holiday themed and the sites are fully dressed in traditional holiday attire.
At Van Cortlandt Manor, the evening begins with a tour of the decorated Manor House, which features a harpist in the formal parlor. A guide carrying a candlelit lantern then brings visitors to the site's Ferry House, where a first-person account of Twelfth Night takes place, featuring the Lord of Misrule who leads the festivities. Inside the Ferry House, visitors are encouraged to dance to fiddle music. Afterwards, it's time to toast the season with cider and cookies near the warmth of a bonfire.
At Sunnyside, candlelight tours bring an 1850s Christmas to life. Visitors are escorted down a lantern-lit path and the house is decorated with holly, evergreens, and candles. Excerpts from Irving's Christmas tales and family letters are the evening's theme. Visitors can also participate in caroling. Hot cider is served beside a roaring fire.
Both sites, part of the Historic Hudson Valley network, offer evening candlelight tours on Saturdays, Dec. 11 and 18, and Sunday, Dec. 26. These tours begin at 4 each evening and the last tour is 8pm. Reservations are a must. Tickets — $14 for adults, $6 for children 5-17, free for those under 5 — may be purchased online at www.hudsonvalley.org or by calling 914-631-8200.
These Boots Are Made for Walking
Details

Hits: 2474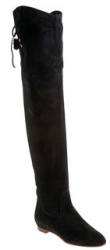 Although not unique to the fashion statement of the season, this year's "in your face" style accessory is a pair, or a few pair, of good-looking boots. Many of us are thrilled that a shopping endeavor can be focused on our pedicured limbs – for most of us, the easiest part of our bodies to dress! Yet, even within this seemingly simple shopping task, the menu is broad and quality and price points abound.
So, after having gazed at the boots through store windows and on your friends' legs, it is time (if you have not already done so) to purchase at least one pair of boots - quickly. Inventory at many stores is already depleted and sales are rampant. I am sure that all of you have boots lined up in your closet – the ones you pull out each year and then, half way through winter, realize it is not worth buying a new pair, thereby delaying the purchase yet another season. This year's rage is the over the knee cuff boot – an attractive quality as it hides many less desirable characteristics of our legs – yet sometimes less comfortable and, often only wearable with jeggings or skin tight pants (a discomfort all on its own.) A dress length can determine whether or not it can handle a cuff at the top of the boot.
For those women whose lower legs will not cooperate with this present style, and who feel that their legs look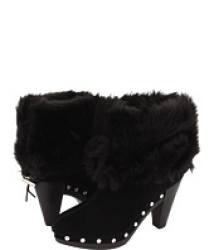 broader rather than leaner in a tall boot, consider wearing shorter booties under straight leg pants, with a 2 – 4 inch heel, or sporting turn of the century retro lace up or cuffed booties with skirts.
Needless to say, since the boots will be worn for many hours of the day, be sure you do not purchase an uncomfortable foot fashion and beware of heels that are too high. A three-inch heel will still supply the long and lean look and a small platform under the toe box will afford appreciated comfort. Beyond your purse (the subject for another day,) your boots will confirm that you have some fashion sense, and, that you have modernized your closet's outfits for the next five months.
Although you may be able to boot shop on your own, personal stylists from Mon Amie are available for helpful advice on how to coordinate boots and shoes into your wardrobe, along with consultations on event styles and ready to wear. Mon Amie exists to be sure that you are not pressured into any purchase by salespeople who, by virtue of their positions, push their store's wares. As Mon Amie is not married to any inventory, the client's best look is our only motivation and, we try to insure that our clients do not spend unwisely. By virtue of its name, Mon Amie allows you to shop with a " girlfriend" – the most loyal kind who has your best presentation as her foremost priority.
Written by Peggy Marx, Mon Amie, Personal Shopper/Stylist, Monamie17@gmail.com
Mara Liasson to Address the Scarsdale Forum
Details

Hits: 1879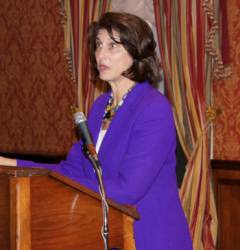 The Scarsdale Forum hosts its second Sunday Speaker Series program on Sunday, December 12th at the Scarsdale Womans Club, 37 Drake Road at 3 pm Mara Liasson a national political correspondent for National Public Radio, can be heard on their award winning news magazines,
All Things Considered and Morning Edition
.
Liasson provides extensive coverage of politics and policy from Washington, DC, focusing on the White House and Congress and also reports on political trends beyond the Beltway.

Years of experience allow her to offer an interesting perspective on the role and responsibilities of the media in today's society. A Scarsdale High School graduate, Liasson returns to Scarsdale to present "A View from Washington." Following Liasson's talk, the audience will have an opportunity to continue the discussion with her over refreshments. The Sunday Speaker Series programs are open to the public, free of charge and are underwritten in part by a generous grant from the Irving J. Sloan Education Fund, made possible by the Liz Claiborne-Arthur Ortenberg Foundation. For more information, visit www.ScarsdaleForum.com , call (914-723-2829) or e-mail: .
office@scarsdaleforum.com
Storm Drains Marked by Volunteers
Details

Hits: 2060
On Saturday, October 30, 2010, members of the Eastchester/Scarsdale based Annie Sullivan Lions Club continued to assist the Village in implementing it's Stormwater Management Program by continuing to mark catch basins, commonly known as storm drains, in the Village Center, Overhill, Drake Edgewood, Heathcote, and Arthur Manor neighborhoods.
Storm drains discharge directly into rivers, lakes, ponds, streams, wetlands and bays. This means that any debris, chemicals, dirt, and/or other pollutants that flow or are dumped into storm drains, flow untreated into the water bodies we use for swimming, fishing, and providing drinking water.
The group met at Village Hall at 8:30AM for coffee and refreshments. They then split into three groups and marked catch basins with circle markers, pictured below, until 1:30PM. The group marked an estimated 260 catch basins and plans to return to mark additional catch basins in the spring next year.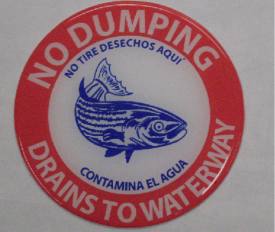 On July 24, 2010, the Annie Sullivan Lions Club marked an estimated 230 catch basins in the Greenacres and Fox Meadow neighborhoods. The Village thanks the Annie Sullivan Lions Club for their continued assistance with the Village's Stormwater Management Program and New York State Assemblywoman Amy Paulin for her assistance in coordinating this activity.
For information about the Annie Sullivan Lions Club contact Joanne Pergolis at jrpergolis@verizon.net and/or 914-282-3294.
If anyone is interested in volunteering to mark catch basins (storm drains) in the Village, contact John D. Goodwin in the Village Manager's Office at jgoodwin@scarsdale.com or 914-722-1110.
Pictured above from left to right: Annie Sullivan Lions Club members Joanne Pergolas, Margie D'Ambrosio (Pres.), Elaine Papa, and Vicki Fattorusso. Not Pictured: Lois Campbell and Peter Pergolis