The Tantalizing Taste of Thai Food at Little Thai Kitchen
Details

Written by

Judie Dweck

Hits: 3081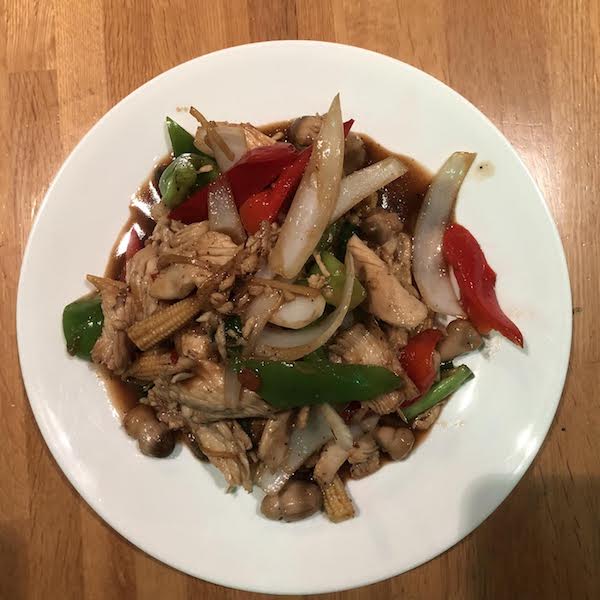 Eating in, takeout and delivery are the many options offered at Little Thai Kitchen, conveniently located on the Popham Road Bridge at the Scarsdale train station. Seating about 20 people it is a very casual spot to savor the tantalizing taste of Thailand and a fine alternative to the usual Chinese or pizza takeout meal.

I stopped in for lunch recently and chatted with Manager Jeab, who indicated that lemongrass, lime leaf, basil, and chilies are some of the important ingredients in the Thai kitchen. "At Little Thai Kitchen, everything's made to order so we can adjust the seasonings to suit your taste. We enjoy welcoming and serving guests who are familiar with our cuisine, as well as those who are trying it for the first time." It's nice to know that gluten free dishes are available and msg is not used in their cooking. Jeab said, "Our cooking is nicely spiced clean food." The owner Billy Peter Rung, met with success in Scarsdale and new branches of Little Thai Kitchen have opened in Chappaqua and Rye.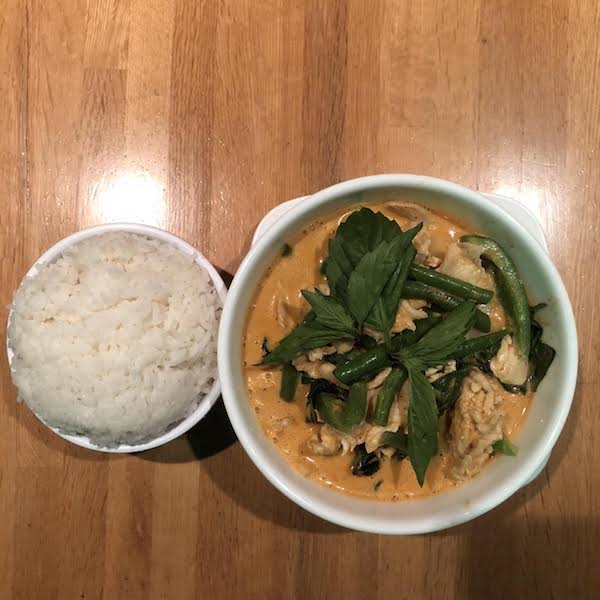 Simplicity is the best way to describe the atmosphere of Little Thai Kitchen. The seating here consists of white plastic molded chairs, a long bench, many shelves housing a variety of sauces and relishes, white dishes and paper napkins. The focus is clearly on the food. Delightful aromas are evident as you enter Little Thai Kitchen. For a tiny restaurant the menu is very extensive. We started with the classic tom yum soup. This savory soup has a hint of tartness. We enjoyed ours with shrimp. Lemongrass and lime leaves gave it a unique flavor and prepared us for the many starters to follow. Chicken satay was nicely grilled on a skewer and served with a classic house made peanut sauce which enhanced the thinly sliced chicken breast. Beef satay is available, as well. Thai curry puffs arrived as a thick flaky pastry crust exploding with a tangy mixture of minced chicken, onions, potato, and curry powder. They were very flavorful and were perfect with a sweet plum sauce. Several variations of dumplings are a nice starter. We enjoyed the basil chicken steamed variety, as well as pan fried pork dumplings. With warm weather on its way, two good choices are po pia sod and summer shrimp rolls, each wrapped in rice paper. The shrimp roll is filled with shrimp, vegetables and basil and the po pia sod is flavored with fresh mint and vegetables, for a very refreshing taste. Hoisin sauce complements these rolls.

Salads are a popular part of a Thai meal. Papaya salad combines green papaya, carrots, tomatoes, peanuts and Thai fresh chilies. It usually includes fish sauce, but that can be left out upon request since it is an acquired taste. Yum Nam Sod is a must try suggestion with ground chicken, lime dressing, chili, onion scallion and roasted peanuts. Of the many salad choices, duck, beef, chicken, tofu, calamari and shrimp are the main ingredients.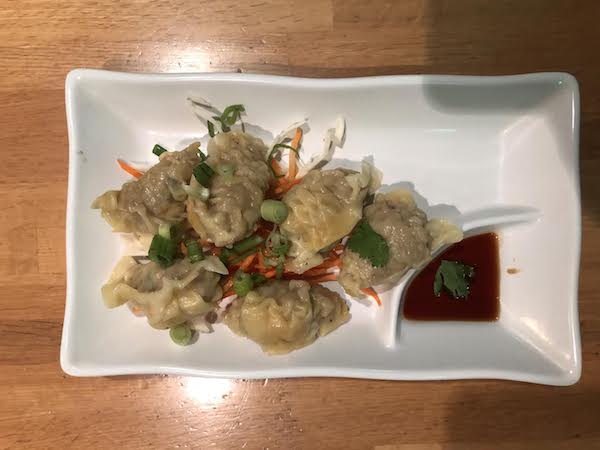 Entrees of duck, chicken, flank steak, seafood and vegetables are numerous. Classic and impressive curries are offered, as well. We loved our Thai Massaman Curry, with coconut, beef, onions, potatoes, carrots and peanuts. The sauce was just divine and worked well with the fragrant jasmine rice. If you prefer your curry without coconut, try the jungle curry with eggplant, string beans, bell peppers, bamboo shoots, mushrooms and basil. Red, green, yellow and panang curry are offered here as well. Among the entrees we loved the flavor of the cashew chicken with pineapple, onions, bell peppers, celery and cashew nuts. Noodle dishes are standard fare in Thailand. Choose from drunken rice noodles spicy in a basil sauce, pad see -ew with broccoli, egg and soy sauce or as we enjoyed pad Thai. These thin rice noodles were combined with bean sprouts, eggs, peanuts and chicken and flavored with tamarind were a fine rendition of a classic dish. You can also enjoy your rice noodles in a big bowl of Thai noodle soup with shrimp, chicken, tofu, duck or beef. Thailand is one of the greatest rice growing countries in the world. If rice is your desire, there are several varieties to choose from. Try the Indonesian nasi goreng fried rice or perhaps the fresh basil fried rice. Future entrees may include duck tamarind, Thai mango chicken, beef basil, shrimp with three flavored sauce and sweet and sour fish. This is a very busy kitchen with so many delicious choices.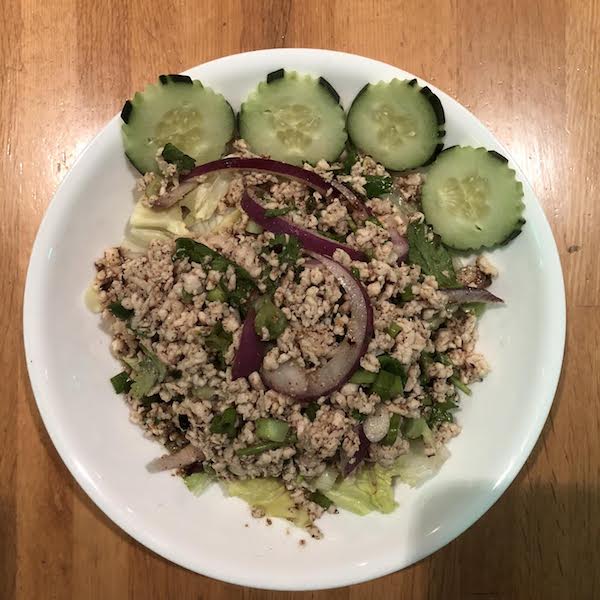 It was time for dessert, and I just couldn't resist the mango with sweet sticky rice. The ripe mango was peeled and thickly sliced and sat beside a mound of Thai sweet sticky rice and coconut cream. A sprinkling of sesame seeds completed this perfect dessert. My beverage of choice was Thai iced coffee, a sweet ending to a lovely meal.
After a few meals at Little Thai Kitchen, lemongrass, galangal, kaffir lime and nam prik pao will become part of your culinary vocabulary. Thai cooking is a varied cuisine that is beautifully executed at Little Thai Kitchen. Try it soon.

Little Thai Kitchen
13 Popham Road, Scarsdale
914 472 6600
Tom Yum (Thai shrimp soup) serves 4-6
10 cups cold water
1 ½ pounds fresh shrimp, shelled and deveined, reserve shells and heads
2 stems lemongrass, pounded to release flavor *
2 inch piece of galangal *
2 whole chilies *
2 Tbsps. vegetable oil
3 leaves of kafir lime, torn into pieces*
2 shallots, sliced
2 Tbsps. nam prik pao [chili paste]*
2 Tbsps. salted fish paste*
¼ cup fresh lime juice
4 grape tomatoes, halved
6 button mushrooms, sliced
2 Tbsps. chopped fresh cilantro leaves
*Available in Asian markets
Wash the shells and heads and drain well. Heat oil in a saucepot. Fry heads and shells until pink. Add water, lemongrass, galangal, lime leaves, whole chilies, and shallots and bring to a boil. Cover the pot and simmer for 20 minutes. Strain the stock and discard the solids. Return stock to a boil and add the shrimp and simmer for about 4 minutes until cooked. Add fish sauce, chili paste, lime juice, tomatoes and mushrooms and heat. Divide among bowls and sprinkle with chopped cilantro. Serve.
Family Fun, Food, DJ, Games to Rock Chase Park at PBA Community Day May 20
Details

Written by

Sarah Kazan

Hits: 2703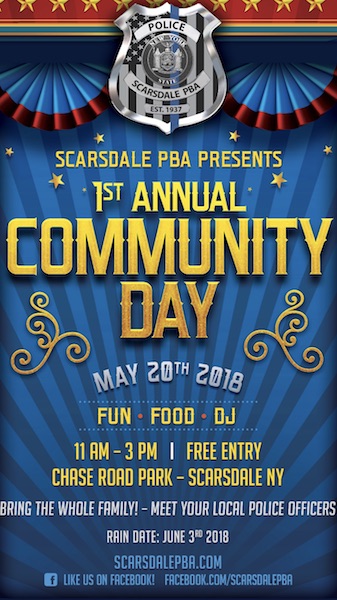 Scarsdale will be rocking Sunday, May 20, from 11 a.m. to 3 p.m., at Chase Park, as the community turns out for a fun, open-air Community Day sponsored by the Scarsdale Police Benevolent Association. This event, free to residents, business owners and workers in the Scarsdale community, promises food, music, games, entertainment and family fun. It will also be a casual, positive way for children and adults to get to know their local police.
The Scarsdale PBA represents the organized union of the village's uniformed police officers. They are the men and women who are present and visible in the village, around the schools and in Scarsdale's neighborhoods, serving the community every day.

According to Scarsdale PBA member Sergeant Ronnie Arefieg, one of the event organizers: "This Community Day was conceived as a fun, casual event in appreciation for the tremendous support that our police officers receive from the community as a whole. We want to demonstrate that we are all working together, and we want to send a message that we're grateful and thankful for the community's support. This kind of support is so important because it really makes for a healthy environment in which to live, work and interact. It makes our jobs much easier."

Part of the service ethos of the Scarsdale Police Department is to ensure public safety for residents and their families, business owners and workers in the community with a level of professionalism, compassion and care they would want extended to members of their own families. "A fun, casual outdoor event, centrally located in Chase Park which is like the heart of the village, seemed like the perfect way for all of us to come together in a positive way and for the Scarsdale PBA to say 'thank you' to this great community that we serve," Arefieg said.
Uniformed and off-duty Scarsdale police, all of whom belong to the Scarsdale PBA, will be present at the Community Day to socialize and mingle. "We want people, and especially kids, to know that we are there to protect them and help them. We want to be mentors to the kids and be a resource for them. All the kids in the community should know they can reach out and talk to a police officer whenever necessary, whenever they have a concern or just need to talk.
Other members of the community are getting involved in the Community Day too. One is Tony Domini, the owner of Lange's Deli in the village for the last 19 years. In support of the event, Lange's is generously donating food, such as hamburgers and hot dogs, for the public to eat.
"This should be a really nice day for everyone to come out and have fun together," said Domini. "It's my pleasure to be part of it."
"Lange's has long been an active institution in the village., and at least an entire generation of kids has grown up with Lange's," Arefieg said. "The Scarsdale PBA is delighted to work with Lange's for this event. Tony is a great guy, and his involvement shows how much he cares about the village."
By including music, games, food and lots of family fun, Community Day promises to be a fantastic opportunity to get kids away from digital technology and out of the house for a day of old-fashioned, hands-on fun.
"The Scarsdale PBA really looks forward to a big turnout. This will be a day of appreciation, kindness and support, all wrapped into one and directed toward this great community that we serve," Arefieg said. "It is our honor and privilege for the PBA to host this event. It is our small way of giving back, and it truly comes from our hearts."
In case of inclement weather, the Scarsdale PBA Community Day will be rescheduled to a rain date of June 3.
A Unique Dining Experience at Unico Food and Drinks
Details

Written by

Judie Dweck

Hits: 4358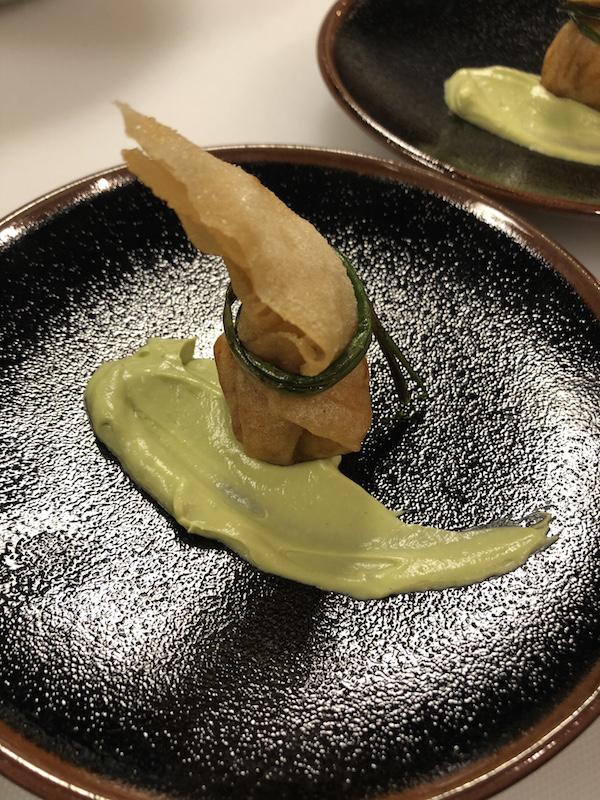 Beggar's Purse with Avocado CreamAs you enter the cozy, new Unico in Hartsdale, your eye focuses on the impressive mural to your left. The blue striped wall embellished with fleur de lys designs surrounds a grand painted lion with chef's jacket in place, welcoming you with a glass of wine in hand. This lion may be "The king of the jungle", but it is the talented owner- chef Brian Sernatinger who is "king of the kitchen" at this delightful new dining spot. He can be seen busy in his open kitchen preparing his unique dishes and his charming wife Deya is attending to the 40 seat dining room. Chef Sernatinger explained that," Unico is more than just a restaurant. We create unique flavors and a unique experience because everyone is unique." Unico means "like no other."

The space is simply decorated with banquettes, free standing tables and several seats at the bar. A tin ceiling, a metal ship sculpture and an open kitchen complete this comfortable setting.

Chef Sernatinger studied psychology at college where he often cooked for his friends. He went on to study at The French Culinary Institute and then worked at the prestigious Gramercy Tavern with Danny Meyer and at Craft with Tom Colicchio. He broadened his experience by working in Europe and returned to the states where he worked as a private chef. His teachers were his mentors who taught him to, "work with your hands and steal with your eyes. At Unico, we offer top quality ingredients, consistency and a comfortable environment. A chef must be a giving person. We spend our working hours making people we don't know, happy... A chef must be a leader who is both driven and focused on the task at hand. He or she needs to multitask. Besides cooking, he is a teacher who must train his staff. "With these qualities Chef Brian moved on to Tulum in Mexico where he opened his own restaurant which is considered one of the best fine dining spots in Tulum.

A very special multicourse tasting menu was prepared for me which included selections from the glorious inventive menu. Several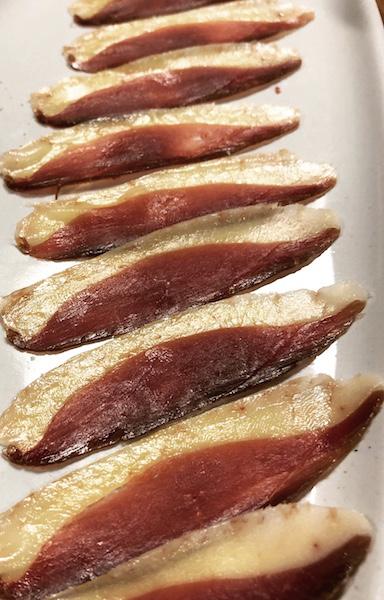 House cured duck ham with pickled mustard seedsstrips of house cured duck ham with a jam like accompaniment of pickled mustard seeds was both sweet and savory and awakened our taste buds for the treats to follow. A small bowl of blue crab salad cleansed our palate. The fresh crabmeat was combined with shredded jicama, tarragon, pickled carrots in tiny dice, and just enough Aleppo pepper to add a bit of spice. It was most refreshing. Crisp nuggets filled with goat cheese and a touch of fresh rosemary were crusted and fried and drizzled with a bit of local honey- very good indeed. Next we savored a mid-east flavor in spiced lamb meatballs with a julienne of chayote, tomato, pistachios and fresh mint leaves. A dish called drunken tiger arrived with head and shell intact jumbo tiger shrimp. They were flambéed with brandy, garlic, butter and fresh parsley. A tangle of fried potato strings were a perfect foil for these tasty shrimp. Skate, a fish we do not see on many menus arrived as crisp tidbits of skate wing with salsa brava, a tahini based sauce.

Just as I thought it couldn't get any better, a plate of plump Prince Edward Island mussels arrived. They were prepared in the Thai style. Imagine lemongrass, garlic, cilantro, coconut milk and peanuts combined in a fragrant sauce. Placed over the steamed mussels on the half shell, and all I can say is WOW. Mussels are also offered in a classic white wine sauce or as angry mussels in a spicy chili sauce.

Seared tuna with arugula and avocado cream painted onto the plate was paired with rounds of sautéed plantains for yet another fine combination of ingredients. For the pasta lover, I suggest the duck confit agnolotti. Cooked al dente, these delicate pillows of pasta were filled with the duck mixture flavored with Marsala and thyme and topped with shitake mushrooms. Braised beef cheeks arrived with the flavor of a cabernet reduction permeating the beef, which certainly needed no knife. Freshly mashed potatoes, roasted broccoli and Jerusalem artichoke bits shared he plate. Future visits may include the vegetable lasagna with whipped ricotta, zucchini, roasted tomatoes, carrots, basil pesto and parmigiana reggiano. There is no pasta in this lasagna. Other future choices may be purple basil pappardelle, bronzini or duck breast each prepared in Unico's unique way. We couldn't manage the house made cheesecake or chocolate lava cake with homemade ice cream, but I certainly will try them on my next visit.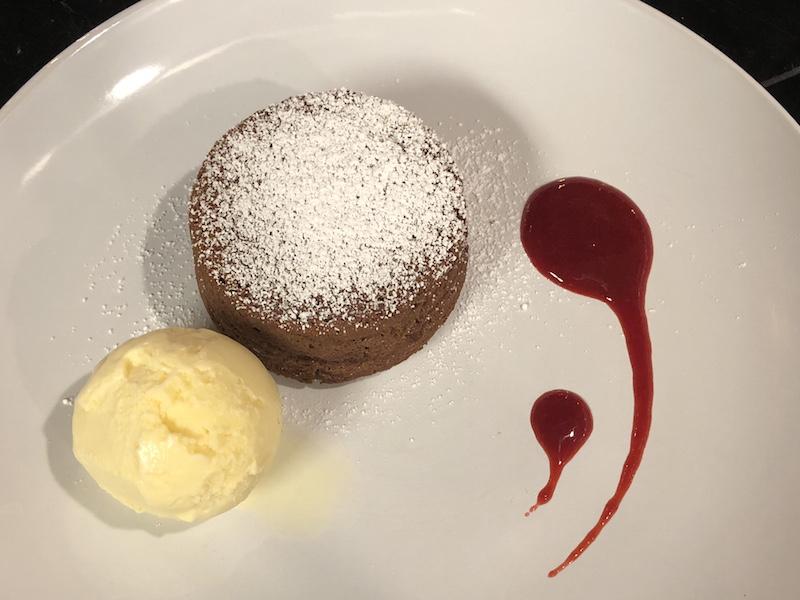 Chocolate lava cake with homemade ice creamA variety of international wines are offered as well as unique cocktails. Very popular is the Mayan Margarita with the addition of jalapeno and a Mexican liquor considered The Mayan Elixer of the Gods.

To sum it up, beautifully seasoned international inspired dishes, combining the finest of ingredients in artistic simple presentations describe a meal at Unico. It felt as though I had taken a worldwide culinary journey enjoying the varied flavors of Mexico, The Mediterranean, The Mid East and Asia and I can't wait to return.

Unico Food and Drinks
10 North Central Avenue
Hartsdale, NY
914-607-3363

Unico's Classic Mussels (Appetizers for 2)

2 pounds mussels
2 scallions, sliced
10 cloves garlic, diced
¼ cup diced onions or leeks
2 Tbsps. unsalted butter
5 ounces dry white wine
2 ounces heavy cream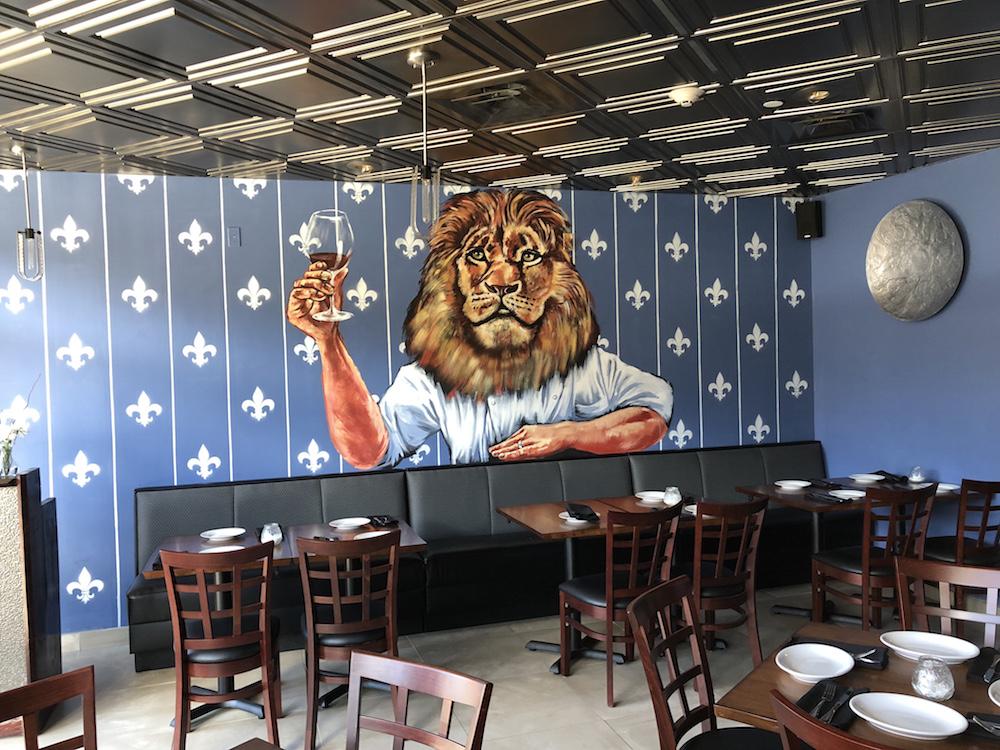 Fresh chopped parsley
Fresh chopped basil
Toasted bread slices
1/8 tsp. salt
Generous grinding of black pepper

Clean mussels in cold salted water removing any beards they may have. Discard any mussels that are open and do not close when tapped against the counter. Melt butter in a pot big enough to hold the mussels. Add the scallions, garlic and onions or leeks and some of the herbs. Cook over low heat for about 2 minutes or until the onion and garlic have softened. Season with a small amount of salt, about 1/8 teaspoon and plenty of ground black pepper. Add the wine and the cream and then the mussels. Turn the heat to medium high and cover the pot. Let the mussels steam until they are all open or about 1 or 2 minutes. Stir once during cooking. When finished add the remaining herbs. Serve with toasted bread and enjoy.
Popojito Med Mex Kitchen is Hip, Vibrant and Fun
Details

Written by

Judie Dweck

Hits: 4759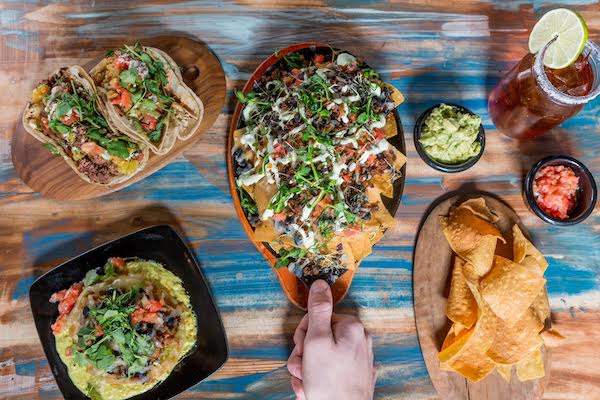 On a stormy day in late April, the rain was coming down in torrents, but as soon as I opened the door to the new Popojito Med Mex Kitchen on Christie Place in Scarsdale, the atmosphere inside was bright and sunny. Christie Place is becoming a restaurant row in our community with several dining choices. Popojito is its newest addition.
Enter Popojito and note the green metal chairs, a metal container holding silverware, several hot sauces, pickles and napkins at each table, several counters at the windows, and an industrial ceiling. A large blackboard announces the menu choices and the open kitchen allows you to see the chefs busy at work. Popojito seats about 45 inside and as the weather gets warmer tables for about 12 will be set up outside. Chef Richard Hughes is at work in the kitchen. He describes Popojito as, "family style, casual, and healthy with a pleasant environment." He works as a team with Saul Delacruz , the manager, who said, "The staff is like a family. I love serving people and given the chance I would order octopus fajitas." Jeffrey Rosen is the director of operations and finance. His background is in the corporate world. Ownership in a northern Westchester restaurant and consulting work, prepares him for becoming part of the Popojito team. He loves interacting with the guests and aims to make Popojito successful and profitable.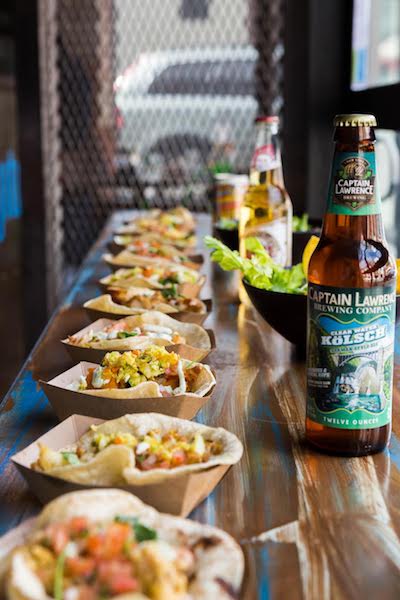 Chef Hughes grew up in Rhode Island and at age 15 he worked as a dishwasher in a local restaurant. He substituted for the chef and that was the start of his blossoming career. He worked his way up, and he considers Mills Tavern in Providence his "culinary school" where he honed his skills. "I believe that Mediterranean cuisine fuses well with the food of Mexico. It is important to treat our natural ingredients with respect. We hope to make Popojito a fixture in Scarsdale and Westchester and make it an accessible part of the community. Cooking at Popojito is never boring and my knowledge is always growing. Working with fish, as fresh as possible, from butchering to cooking is a favorite activity." In a few words, hip, vibrant and fun are words he uses to describe Popojito.
Popojito is totally gluten free with no gmo's, antibiotics, refined sugars, or Trans fats and our proteins and vegetables are locally sourced. At the time of my visit, wine and beer are offered with a full liquor license in the works. Our meal started with a large basket filled with three homemade dips and chips. A nicely textured chunky guacamole was a familiar starter, pico di gallo a delightful tomato based dip, and vegan chipotle eggplant a nice and spicy beginning. Next, a trio of soft shell tacos arrived, warm and in several varieties. We loved the pulled pork with salsa verde, the line caught seared mahi mahi and the cilantro and garlic shrimp fillings. Each was garnished with a dab of whipped avocado sauce, dairy free lime and cucumber crema , and pico de gallo. With a squeeze of fresh lime, you can readily see why these are a very popular menu item. Other possible fillings include grass grain fed beef barbocoa, mescal lime chicken and special ground beef seasoned with paprika, cumin, turmeric and coriander, sustainably sourced ahi tuna and calamari. There are also organically sourced vegetables from local farms. We loved the caramelized cauliflower and tomato relish and will return to try the charred Brussels sprouts and mushrooms and summer vegetable hash. Chef Hughes enjoys showcasing his vegetables in interesting preparations. The quesadilla at Popojito are delicious, as well. We enjoyed ours stuffed with cheese, roasted shredded pork, fresh pineapple chunks and scallions. Fresh lime and cilantro leaves added flavor to this fine choice.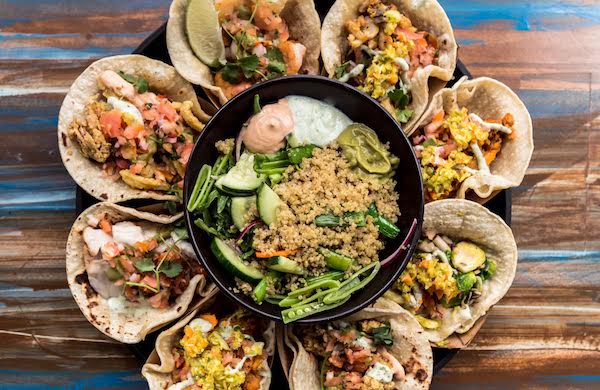 For the salad lover, try ensalada de la casa with farm fresh greens, tomato, seasonal garden vegetables and a med mex lime vinaigrette. You can top it with mahi mahi, chicken, chicken or beef. Another healthy choice is a med mex bowl of charred snap peas, quinoa, bitter greens, radish, cucumbers, and onion with crema and avocado sauce. These bowls can be topped with your protein of choice. Fajitas are offered with hominy, beans, chilies, onions and a choice of octopus, flank steak, shrimp or chicken. I'll try these on my next visit.
A weekend special of roasted garlic hanger steak was tender, beautifully seasoned and sprinkled with chimichurri sauce. With yucca fries on the side, it was a dish to return to soon. Yet to be sampled are homemade soups, fried calamari, spicy jumbo wings and loaded nachos.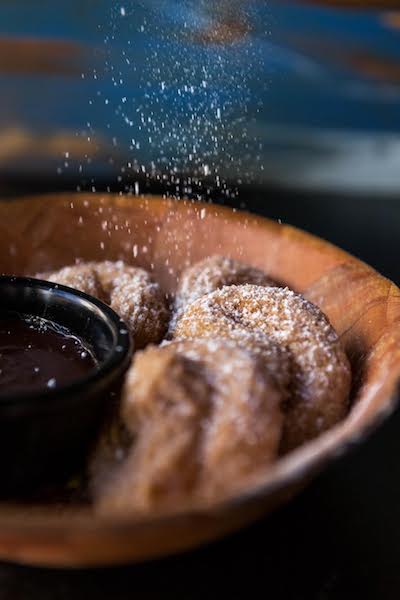 This truly community minded Popojito offers student specials of 2 tacos and a soft drink on school days as well as tacos, sangria, wine and beer on Mondays through Fridays from 2-5 for only 4 dollars each. For the little ones, cheese quesadillas, chicken tenders, brown rice and beans and sweet potato fries are offered.
I completed my tasting with a churro sundae. The churro, squiggly fritters, were prepared in gluten free style shaped like a cup. They were non oily and crisp and filled that rich and creamy Longford's ice cream and topped with warm chocolate sauce and a sprinkling of cinnamon. Yummy. Other dessert options are flourless bittersweet chocolate cake, blood orange macaroons and snickers fudge.
How nice to have a restaurant that offers options for all members of our community. Visit Popojito soon and enjoy a casual and friendly experience.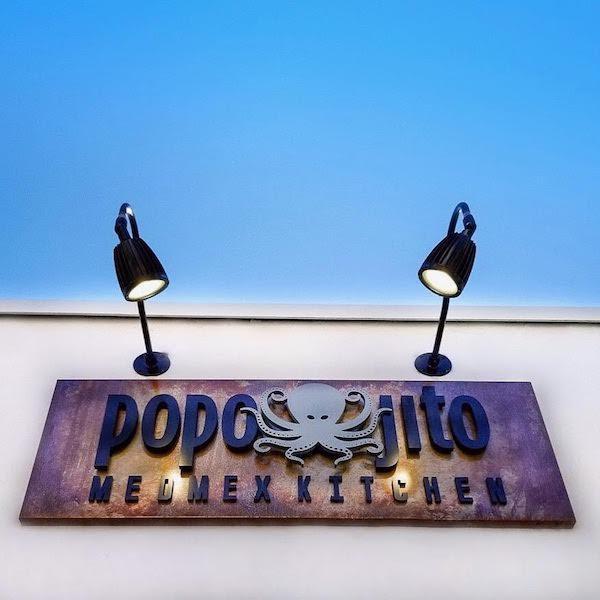 Popojito
MedMex Kitchen
46 Christie Place, Scarsdale
914-713-8964
Open for Lunch and Dinner
Marinated Hanger Steak with Chimichurri
Ingredients:
2 pounds cleaned hanger steak in 4 eight ounce portions
Marinade:
1 cup olive oil
1 Tbsp. black pepper
1 Tbsp. chopped rosemary
1 Tbsp. chopped cilantro
2 Tbsps. sherry vinegar
2 cloves minced garlic
1 minced jalapeno
Whisk marinade ingredients in a glass bowl. Toss meat in it and marinate for at least 2 hours.
Chimichurri:
1 cup chopped cilantro
1/2 cup chopped oregano
1 jalapeno seeded and minced
½ cup sliced scallion
4 cloves minced garlic
Zest of 1 lime
1 cup olive oil.
Mix all together and let it steep for at least 2 hours or overnight. You can also blend it all in a food processor.
Preheat oven to 450 degrees. Bring a heavy bottomed skillet to a high heat. Sear steak for 3 to 4 minutes per side. Roast in oven for 8 minutes or to desired degree of doneness. Let it rest for 10 minutes Slice thinly against the grain. Serve with chimichurri.
The Sun Shines on the SHS Carnival
Details

Written by

Sarah Kazan

Hits: 2510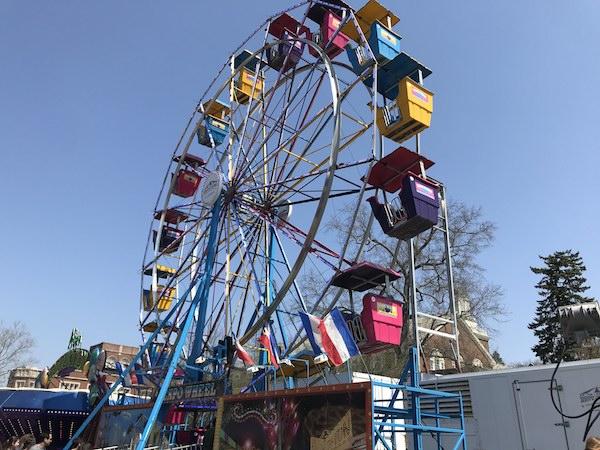 An annual rite of spring, the Scarsdale High School carnival took place Friday, April 13th and Saturday, April 14th. The weekend's beautiful weather beckoned families and students of all ages. The event, run by the Scarsdale High School government, had something for everyone.
Carnival rides such as the pharaoh and the ever-famous zipper enticed thrill seekers, while the ferris wheel and super slide provided fun on a milder level. Other rides like the dragon coaster and teacups were perfectly suited for younger children. Classic carnival games were fun ways to potentially win gigantic stuffed animals.
Along with the traditional carnival rides and games, many Scarsdale High School clubs showcased their programs at dedicated booths. Carnival-goers were encouraged to support the clubs through their unique offerings, such as iced tea, shaved ice and even cactus sales. People could even make their own ice cream sandwiches at a booth sponsored by the school's Habitat for Humanity booth. The Edward Williams club kept their tradition alive with a "pie a teacher" booth, where whichever teachers raised the most amount of money would get pied. The Paulie Strong Foundation displayed a booth to sell clothing in order to raise funds and awareness for pediatric cancer research.
Commenting on the carnival, SHS School Government advisor Lauren Barton said, "The carnival was a great success and we will be able to make considerable donations to Corporate Angel Network, PaulieStrong Foundation and Yonkers Partners in Education. We certainly lucked out with the weather which helped to increase attendance. I can't remember the last time we had two consecutive days of good weather! The carnival is one of few community wide events and its so nice to see students, alumni and families of all ages enjoying the rides, games and booths set up by the high school student run clubs."
The annual event was a perfect way to kick off the beginning of the end of the school year and celebrate the warm spring weather.