Sue Silver Says Goodbye After 43 Years at SHS
Tuesday, 22 May 2018 13:07
Last Updated: Tuesday, 22 May 2018 13:10
Published: Tuesday, 22 May 2018 13:07
Sarah Kazan
Hits: 2264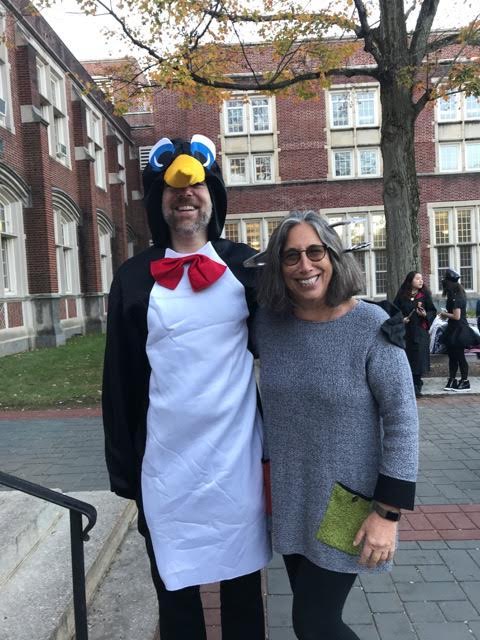 Mr. Vermes (Left) and Sue Silver (Right) on HalloweenThroughout her 43 years at Scarsdale High School, Sue Silver has been a prized teacher who brightened the lives of the many students who were fortunate enough to be in her class. She taught with passion and energy; with the ability to captivate any student who walked into her classroom. Senior Anna DeNelsky who had the privilege of being in Silver's Advanced Topics English class this year said, "Her AT class was always intriguing and the conversations we had as a class were sophisticated, going far beyond the text. I always looked forward to her class." DeNelsky is the among the last students to benefit from Silver's class, as "Sue" as she is known, will retire at the end of the school year.

Sue never intended to teach in a district like Scarsdale. After graduating college with a master's degree, Sue discovered that New York City had just laid off 6,000 teachers and there were absolutely no jobs available. Although she considered going to Australia to look for work, her boyfriend at the time, now her husband, was settling in New York City and she wanted to stay. She originally planned to work with underprivileged children in the city, but given the bleak hiring market she applied for jobs in both Chappaqua and Scarsdale. Scarsdale just happened to respond first.

Sue began her high school teaching career in Scarsdale High School's Alternative School, where she spent 14 years. In her words, the A-School gave her what she needed to grow as an educator. She loved the opportunity to have a close-knit relationship with an entire group of students, which the A-School encourages, and she felt passionately about her role as an advisor to students. The environment in the A-School was different than the main school, which is something Sue valued. She aspired to bring this same sense of community to the high school when she transitioned to the regular school. She got involved in the school's Civ Ed program and brought the American Studies program into the high school.

As a teacher who believes in interdisciplinary learning, Sue started the American Studies program, which is offered to high school juniors and integrates American history with literature. The history and English teachers leading this class collaborate and the students learn how history affects literature. For the first three years only one class was offered due to lack of popularity. Since then, however, the program has grown and now it is one of the most popular options for juniors.

Teaching 43 years ago is not what it was like today. Sue noted that when she first started, teaching would translate to lecturing. However, now teachers are more like facilitators who set up lessons or activities for students. "The best way to learn is to discover it yourself; where we make mistakes but that's okay," said Sue. In her opinion, this transition has definitely been for the better, since "no one can impart information as a god-like teacher." Another big change since Sue started as SHS has been the implementation of technology. When Sue started, there were no computers; she commented that using new technology has been tough, but she challenges herself to learn how to use at least one new piece of technology a year.

Another way Sue says the culture of education has changed is that students do not read for pleasure anymore; part of this comes from the pressure to get into college. Sue finds students reading Spark Notes instead of enjoying literature. She encourages students to put their phones down, turn off the TV, and just read. In fact, the most frustrating part of being a teacher for Sue has been trying to convey a love of learning for learning itself rather than grades. "Just trying to get a grade has destroyed what is important," noted Sue. She believes that the stress of trying to get perfect grades for college admissions limits students' room to explore, experiment, and fail. "You don't have to be great at everything; not everyone is great at everything all the time," said Sue.

What did she like best about teaching? Sue says she will miss forming relationships with her students and advising them as a teacher. "I will miss that moment when they say something that blows me away, which is almost everyday," she commented. About her colleagues she said, "I'm really lucky there's a great staff and administration in Scarsdale." She looks forward to playing tennis and paddle, going walking, seeing friends, traveling, reading and figuring out the next phase of her life.

Sue is a vital part in SHS who will surely be missed by students and faculty alike.