Four SHS Grads Receive Fulbright Awards
Wednesday, 06 June 2018 07:36
Last Updated: Wednesday, 06 June 2018 07:50
Published: Wednesday, 06 June 2018 07:36
Joanne Wallenstein
Hits: 3554
Fo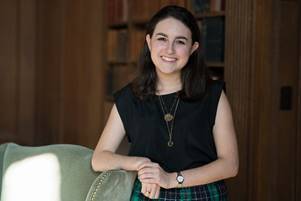 Charlotte Blattur 2014 Scarsdale High School grads, who completed their college educations this year, have been selected as Fulbright Scholars. Sponsored by the U.S. government, the Fulbright Program is designed to increase mutual understanding between the people of the United States and the people of other nations through international educational exchanges in more than 155 countries. Fulbright awards are available for research, graduate study, and teaching English.
Two Scarsdale students will pursue research projects and two will participate in the English Teaching Assistant Program. Here are their stories:
Charlotte Blatt, a 2018 graduate of Dartmouth College, will spend the next year at the Queen's University in Ontario as a Fulbright research fellow at the Centre for International and Defense Policy. Charlotte, a government major and French minor, at Dartmouth, plans to study how NATO countries can better integrate women into the international security community.
Commenting on the news Blatt said, "I am so excited to begin my Fulbright year in Canada and to do my part in fulfilling Senator Fulbright's mission of international student exchange as a means of increasing ties between nations." After completion of her year in Canada, Charlotte will attend Yale Law School.
Maleeha Chida, a 2018 graduate of Columbia University who majored in English and Political Science will teach English in Spain. She will serve as an English language Teaching Assistant in a secondary school in La Rioja, a region in Northern Spain. She hopes to incorporate her passion for literature and storytelling into the classroom, and is excited to pursue her interest in education and immerse herself in Spanish culture.
Maleeha Chida
Maleeha has been interested in literature since high school, and in the summer after her first year of college, she worked as a counselor at a summer reading and literacy camp. It was here that she discovered her love of teaching, and in particular, she became interested in literature as a means to enable students to tell their own stories.
Audrey Nadler just graduated from Hamilton with a double major in world politics and Hispanic studies. She is also the recipient of recipient of a Fulbright English Teaching Assistantship (ETA). Next year she will be in Madrid, Spain working as an English Teaching Assistant at a secondary school. In addition to teaching academic courses in English, she will be prepare students for Global Classrooms conferences, which are similar to Model UN conferences. She played viola in an orchestra in Madrid during her junior year abroad there and plan to rejoin the group this coming year.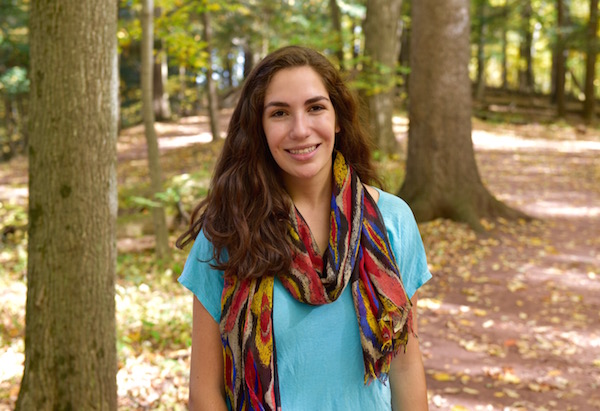 Audrey NadlerAbout her year in Spain Nalder said, "Throughout the year I worked to integrate myself into the Spanish society, whether that was through joining an orchestra, taking classes alongside local students, or through internship opportunities," said Nadler. "I'm thrilled to pick up where I left off in Madrid while also having these new experiences teaching and continuing to immerse myself in the Spanish culture. Being in Spain combines my interests in Hispanic studies and world politics – I can strive for fluency in Spanish while also gaining different perspectives on European politics."
Brett Pogostin, a 2018 Chemistry Major at Haverford College will use his Fulbright Award to go to Lund, Sweden to work in the lab of physical chemist Ulf Olsson. He will study how lipid molecules impact the peptide aggregation that forms plaques in the brain of Parkinson's patients.
Pogostin said, "I want to put my Haverford chemistry and biochemistry education to work developing novel materials that could improve access to and quality of healthcare," says Pogostin, who plans to pursue a bioengineering Ph.D. after his Fulbright year. "Taking health studies classes incited my interest in health access and equity. Often these issues are only tackled from the social and policy side, and I want to conduct research in a manner that is more conscious of existing inequality in the health care system and how new biotechnologies could ameliorate these issues."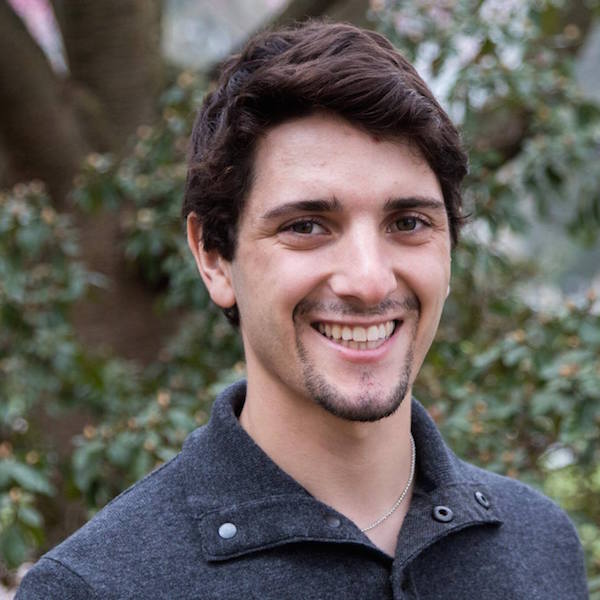 Brett Pogostin
Pogostin will be one of only eight student-research award winners in Sweden next year. Receiving the Fulbright—which will fund round-trip travel; room, board, and incidentals; and health insurance for the year—means that not only will he get to continue his peptide research, but it also ensures that the avid hiker and member of Haverford's Ultimate Frisbee team will get to spend plenty of time exploring the Swedish outdoors.
"I intend to take full advantage of the Scandinavian wilderness," he says. "This past summer I did a two-week solo backpacking trip through the Swedish artic on the King's Trail, and I would love to go back and explore more. I'm also excited to see the Northern Lights, cross-country ski, and backpack through Norway and other parts of Europe. There is still much to explore in Sweden, and I'm excited to go back!"